Ducati has been teasing the DesertX for several years and, with the demo tour making its first stop at Overland Expo, we couldn't wait to get our hands on it. A quick spin from the Mountain West venue revealed the mid-weight adventure bike promises to be a strong contender in the category and tons of off-road fun.
The Ducati DesertX is powered by a 937cc liquid-cooled Testastretta V-Twin engine that cranks out 110 horsepower and 68 foot-pounds of torque. Ducati shortened the gearing on the low end, particularly first and second, to allow for precise off-road control. Clicking all the way up through the gear box, I found sixth to be plenty long, letting the engine purr smoothly at highway speeds.
With a 21-inch front and 18-inch rear tubeless wheel, completely redesigned trellis frame, and long travel suspension, the DesertX rides like an easy-handling adventure bike. This is, in fact, Ducati's first motorcycle with a wheel set of that size and, when paired with 9.1 inches of suspension travel in front and 8.7 inches in the rear, the bike promises plenty of capability off-road. In my on-road demo ride, it handled like a dream with the sort of fitness and control that makes getting to the dirt a pleasure, rather than a chore.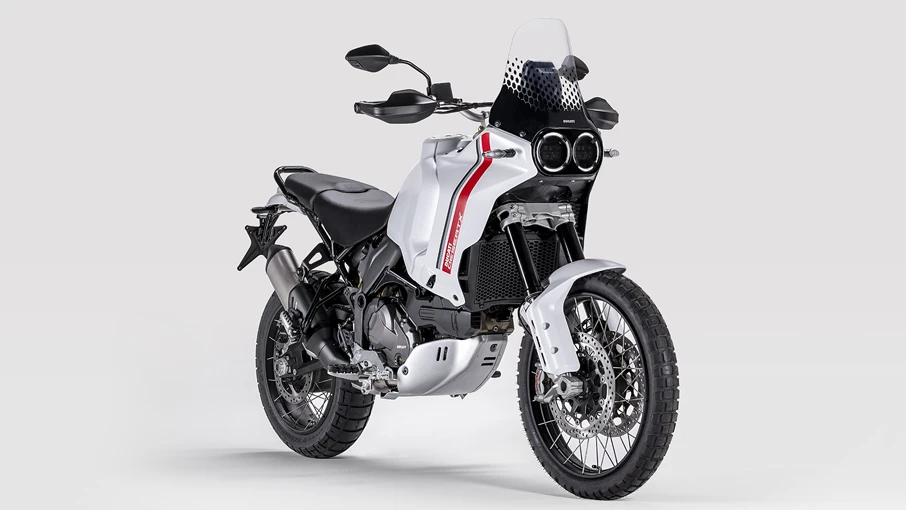 From the moment I threw a leg over the DesertX, Ducati's attention to ergonomics was clear. The bike itself feels compact and the slim seat, with a 34-inch height, makes it easy enough to touch the ground. The geometry between the foot pegs, seat, and handlebars gives out-of-the-box comfort, both standing and seated. Weighing in at 445 pounds dry, the bike carries 5.5 gallons of fuel in the main tank. A 2.1-gallon rear tank can be added as a factory accessory to further extend your range. Even at close to 500 pounds, the DesertX feels light and incredibly well balanced. 
Like other adventure bikes with a premium price tag, the DesertX comes equipped with a host of rider aids and electronics. The instrumentation is displayed in a vertically-oriented, 5-inch color TFT display and controlled with accessible handlebar buttons. Toggling through the Riding Modes modifies engine braking, traction control, ABS, and more. All of which work in combination with four Power Modes (Full, High, Medium, Low) to modify the power output and responsiveness of the Testastretta engine.
In addition to having plenty of power and stellar ergonomics, the DesertX is stylish to the nines, as well. The Italians have a way of keeping things classy and this motorcycle has been turning heads from the moment it was revealed to the public back in 2019. Bright white with bold graphics, it presents a modern spin on an '80s enduro aesthetic. Needless to say, I was feeling a bit underdressed during my demo ride.
All in all, a quick spin on the Ducati DesertX left me hungry for more. This is the sort of middleweight motorcycle that wants you to top off the accessory fuel tank, pack your luggage, and head for the dirt. From everything I've experienced up to this point, the DesertX seems to be as well suited to long-haul overland travel, both on- and off-road, as it will be ripping around on weekend rides. I'm certainly looking forward to a proper adventure ride on it in the near future.