Safety and adaptability are key elements in successful off-road operations. Gear from Safe Jack comes through with safe lifting and supporting equipment that is highly adaptable.
A good example of that is the 37M-Sergeant Kit. This kit comes packaged in a tough and water tight, 50 caliber ammo can to protect the components. This makes for easy storage and handling. All Safe Jack components are powder-coated for durability.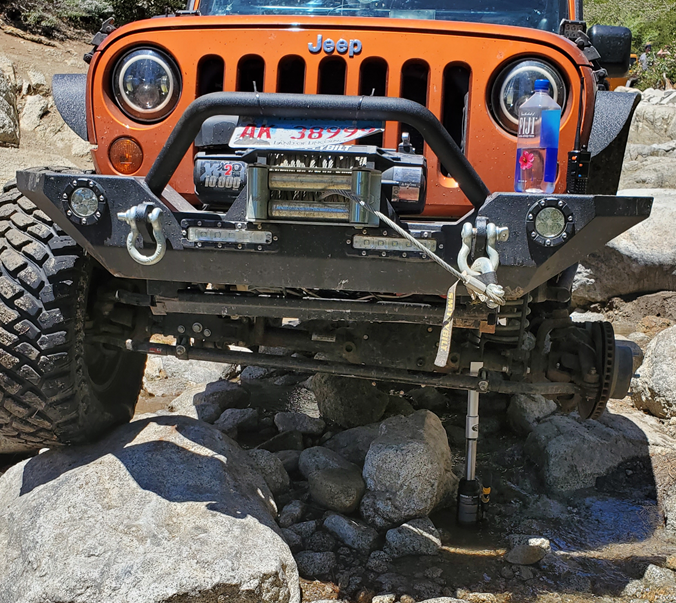 Inside, are an industrial quality 6-ton hydraulic jack and a set of stackable extensions of 3-, 6-, 8-, and 12-inches. These stackable extensions give the jack an operating range of 8 – 36 inches.
Jack and extensions are topped with one of two pads included in the kit. The flat pad is good for lifting against flat surfaces and the universal round pad is perfect for engaging an axle, frame member or rock sliders. The pads virtually eliminate slipping between the jack and the load which is the cause of the majority of jack related accidents.
A red 12-inch, zippered tool bag (37M-SJBAG12) made out of heavy duty canvas can be substituted for the ammo can.
Anytime a vehicle is jacked, protocol requires the tire diagonal from the lifted tire to be chocked. That is the minimum requirement and more is better. Safe Jack has a pair of folding wheel chocks (17M-F7F5) that actually fit inside each other. The heavy gauge steel 7-inch chock holds the 5-inch chock inside and the pair tucks nicely into a 3-inch space.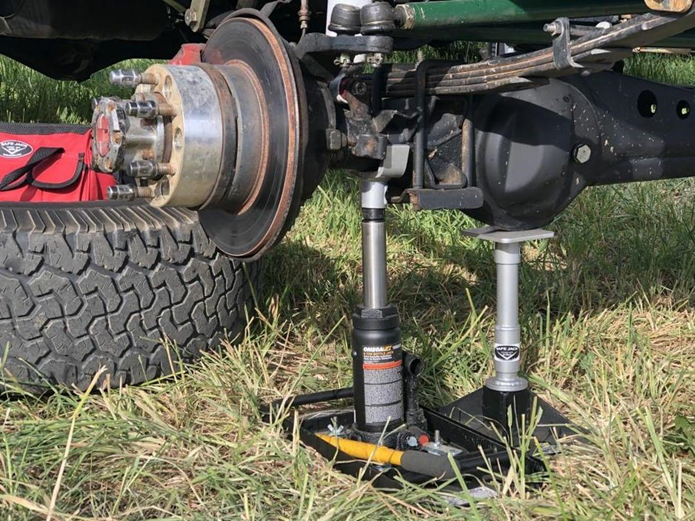 What to Know:
Lift range of 8″ – 36″
Stroke of 6 ton bottle jacks is ~5.25″
Ammo can measures: 11.5″ x 6″ x 7″
Extension Screw Collar provides max useful stroke
Extensions and jack pads can be combined in any combination
Lift at an axle, frame or other lift point
Durable steel construction
MSRP: $319.00
Additional equipment from Safe Jack includes: