Quick Take: The 23Zero Bandit 1400 is a luxuriously large swag with a thick, comfortable mattress. Having huge windows and doors all the way around the bag makes for easy egress and great airflow on summer nights. It is a massive piece of kit to haul around, though. Weighing in at nearly 40 pounds and taking up the whole backseat when packed, it's not for overlander's who are pressed for storage space.
I first encountered swags at the 2013 Bathurst 1000 of all places. I had gone to Australia to attend the race and I decided that camping at the track for the weekend was the way to really experience it. I brought my trusty old Springbar two-man backpacking tent and, while being light and easy to pack, it was a relative pain to set up. When I got to the track, I saw that all the camp spots around me were dominated by swags, ranging from what was little more than a bivy sack with a sleeping pad up to large four-man units. I was immediately fascinated by them. Once my neighbors got over their curiosity of a Yank being at Australia's Great Race, everyone was eager to show me how easy their swags set up and broke down.
Once I got back to the States, I purchased what was, at the time, one of the only swags available here; an ARB Skydome. This little one-man swag has served me incredibly well for nearly a decade now. My friends joke that it looks like a zip-up coffin. But I love that I can set it up in three minutes and be lounging in my camp chair sipping a cool beer while my homies are still hammering stakes into the ground.
With these positive experiences with swags, I was eager to take the 23Zero Bandit 1400 for a spin. I've been impressed with the other 23Zero products that I've used. So, I figured that its swags would be equally good. It was time to find out.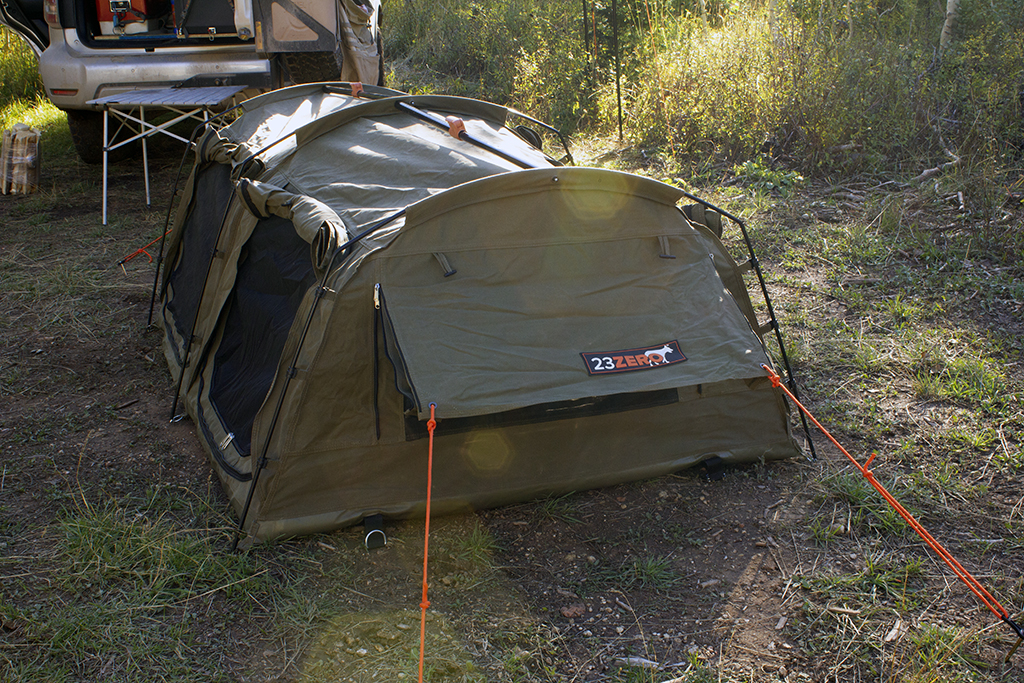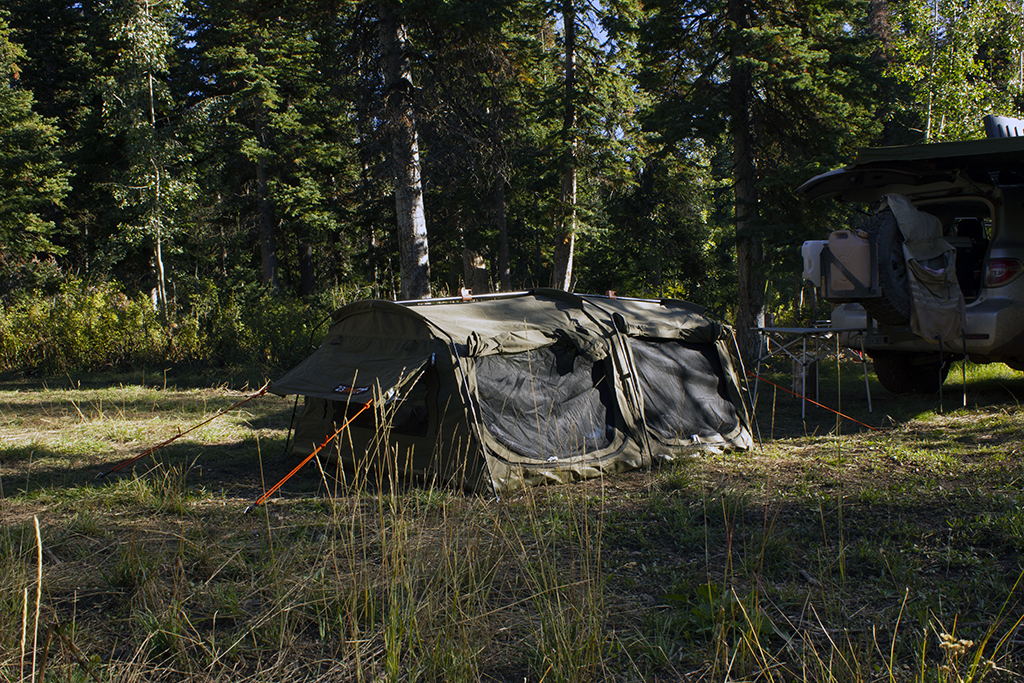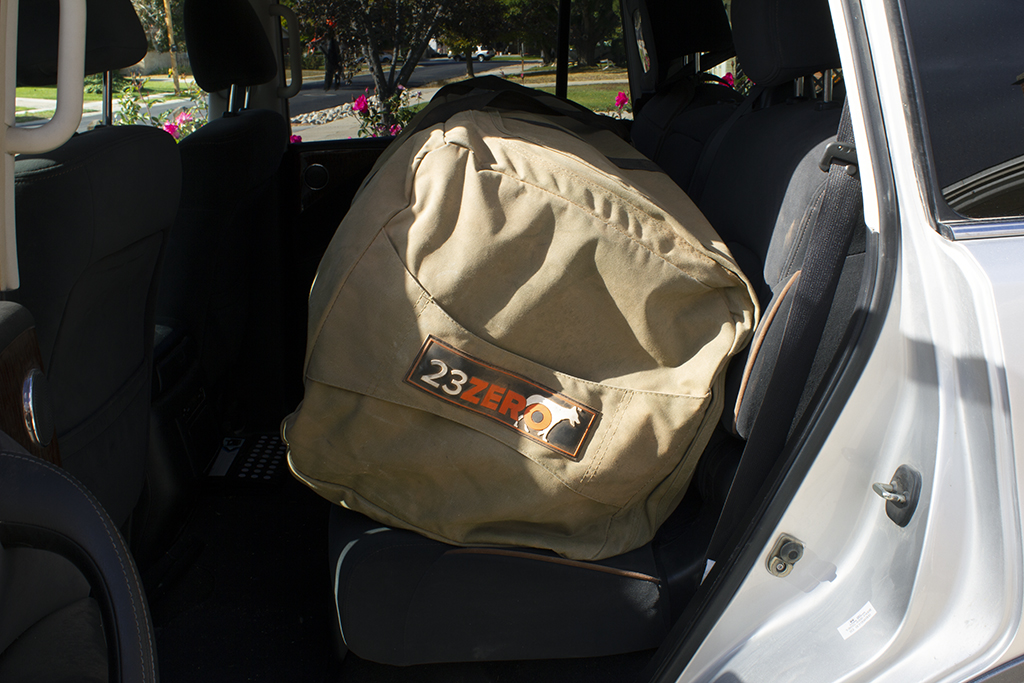 Going Big
Let's get the "negative" part of the Bandit 1400 out of the way first. It is big and bulky. When it's packed up it weighs in at 37 pounds and measures 57 inches long by 16 inches in diameter. It literally takes up the entire backseat of my Nissan Armada, which is not a small rig. Much of this is due to its heavy duty canvas construction. This is a well-built tent designed to endure pretty much any weather. So if you're limited in space or don't want to hoist this beast onto a roof rack, this may not be the tent for you.
The tradeoff for its heft is how easy it is to set up. Unroll it, put the three dome poles in and cinch the two ridge polls into place and you're done. Your nice, thick memory foam mattress is already in the swag and I leave my sleeping quilt and pillow in there as well. And unless you've got high winds to contend with, you don't even need to worry about staking it down. I clocked myself during my last trip and it took me barely over five minutes to set up the Bandit and that was with putting a couple guy lines out.
Luxury Sleeping
Sleeping in this thing is fantastic as well. For one 6'2" dude, it's like living that bachelor life sleeping in a queen bed all by your lonesome. Add another adult and it gets a bit tight, but not terrible if you're using a quilt instead of two sleeping bags.
I camped with my 1-year old son for a night in the swag. There was plenty of room for him to roll around and kick me in the back and flail his arms, while I laid there enjoying the rustling of leaves in the forest all night. (How toddlers wake up refreshed in the morning I will never know.)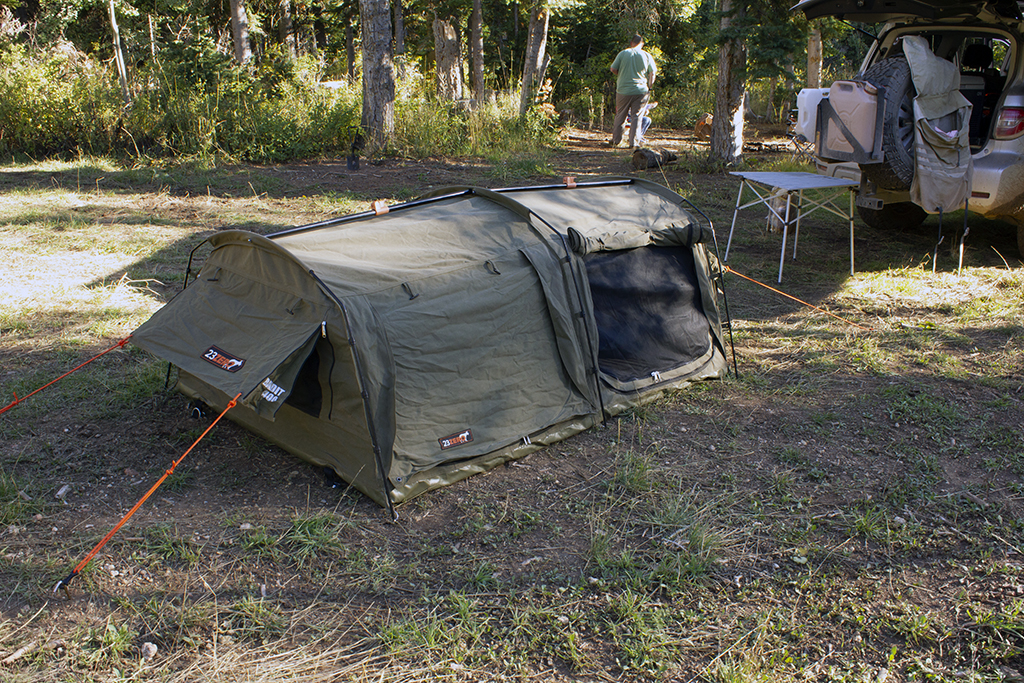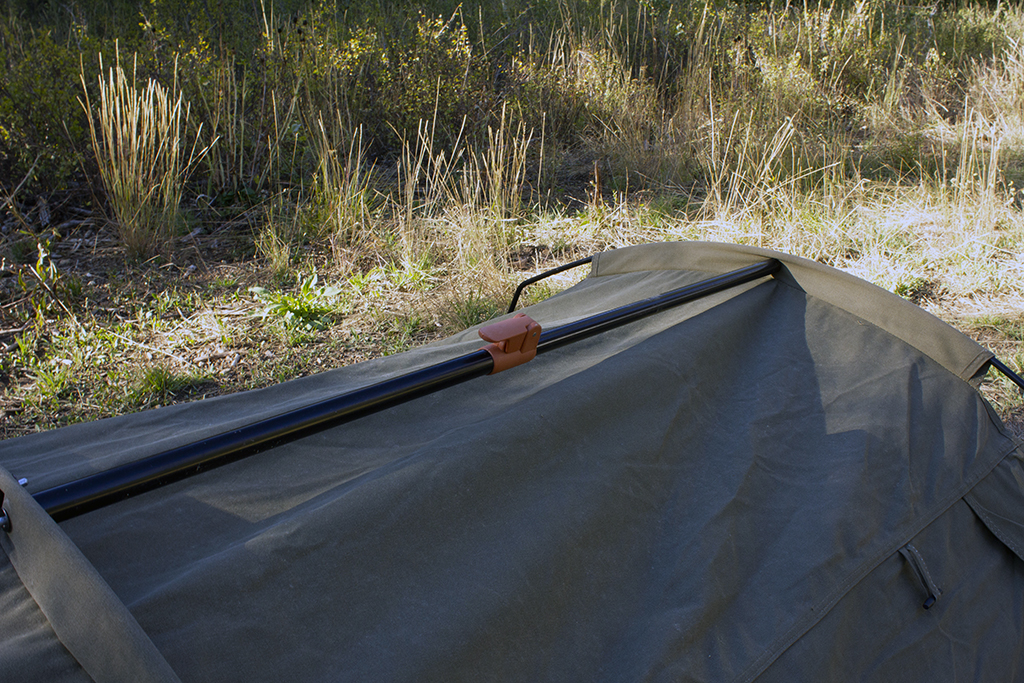 In the heat of the summer, I rolled up every door and window and let the night breeze through the mesh while I sunk into the thick mattress. In the cool fall weather, I zipped up all the thick canvas windows tight and kept warm enough that I tossed off my quilt in the night. If only that heat could transfer to the outside when I had to get out of the swag in the morning.
While I was already a swag fan, the Bandit 1400 has reinforced my love for them. It's a big piece of kit to haul around, but the payoff of easy setup and comfort more than makes up for that. This has already become my primary tent on my trips and will be for years to come.
---
What to know:
Freestanding segmental arch style single swag
Convenient 4-way entry
Panoramic views with excellent cross flow ventilation
Roomy swag providing a comfortable internal sleeping area
Climate control zip down canvas all weather gusseted canopies
Handy storage pockets
Full zip down storm covers
Four all-weather awnings
Fully seam sealed
400 gsm proofed plain weave poly/cotton 65/35 canvas
2.75 Inch hi-density thick foam mattress
Poly cotton foam mattress cover
PVC Coated Poly super-fine insect mesh
Strong 3/8 mm T6 anodized aluminum dome poles
Easy to use aluminum trigger locking adjustable ridge pole
Heavy duty HF welded 550gsm PVC bucket floor
No.10 Heavy core spiral self-repairing poly zips.
Extra Large Carry bag included
2-year warranty
MSRP: $479
---