Quick take: OZTENT's RV-3 tent sets up in 30 seconds (no, really), packs down nearly as fast, and can withstand 50-mile-per-hour winds. These bona fides make it one of the best ground tents I've ever tested.
My third overland trip with OZTENT's RV-3 started off as innocuous as any before it. Skies were clear, as we pulled into camp around 3 p.m. We set up camp and the sun set just after 4 p.m. — Oregon in the winter is a real treat.
Without the semi-warm rays of the winter sun, nighttime temperatures hovered around freezing. Roughly forty minutes after the sun disappeared, the full moon rose over the horizon, illuminating the wilderness around us in an eerie white light. The moonlight was so bright, you could be convinced the sun was miraculously rising again.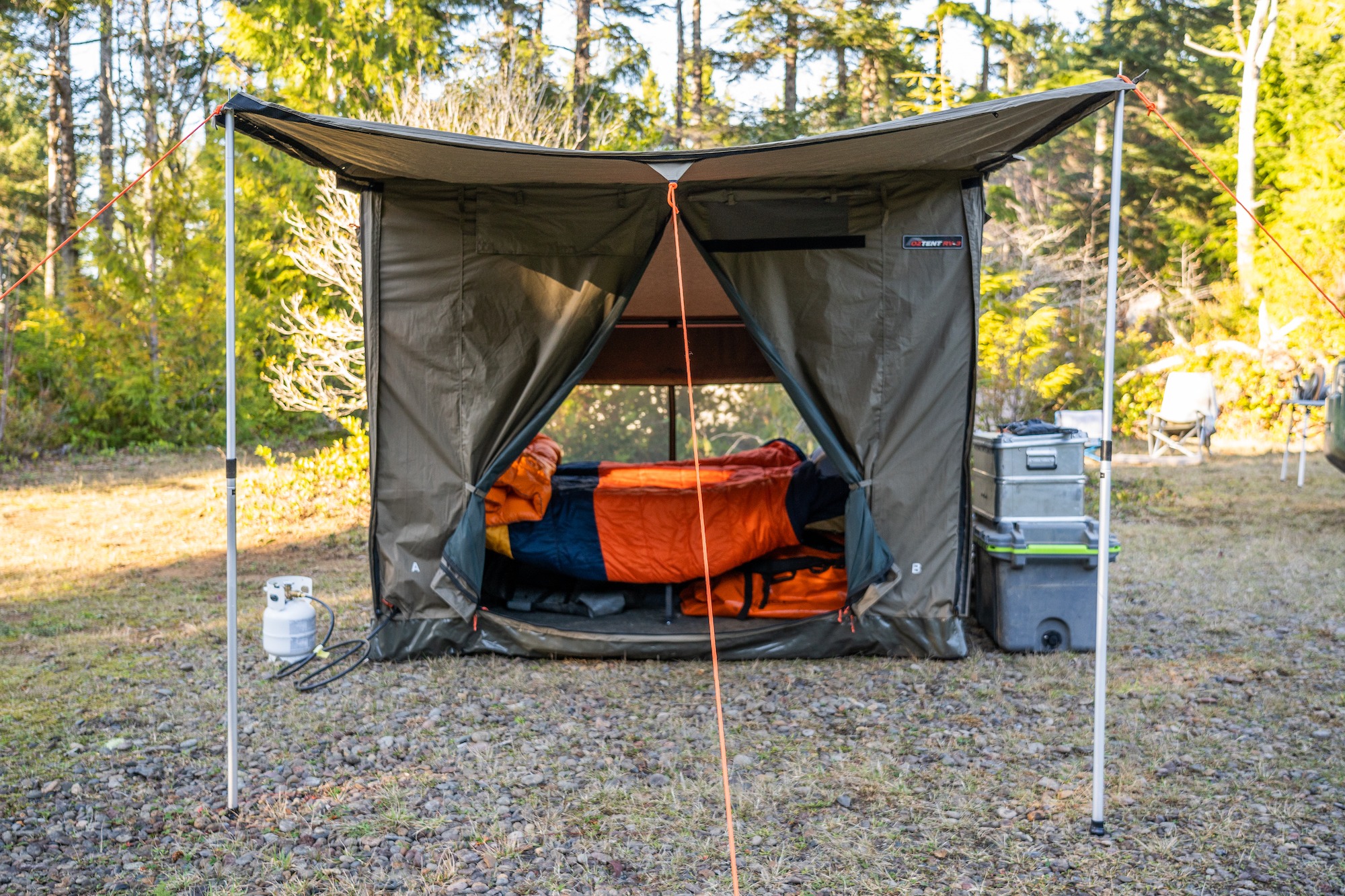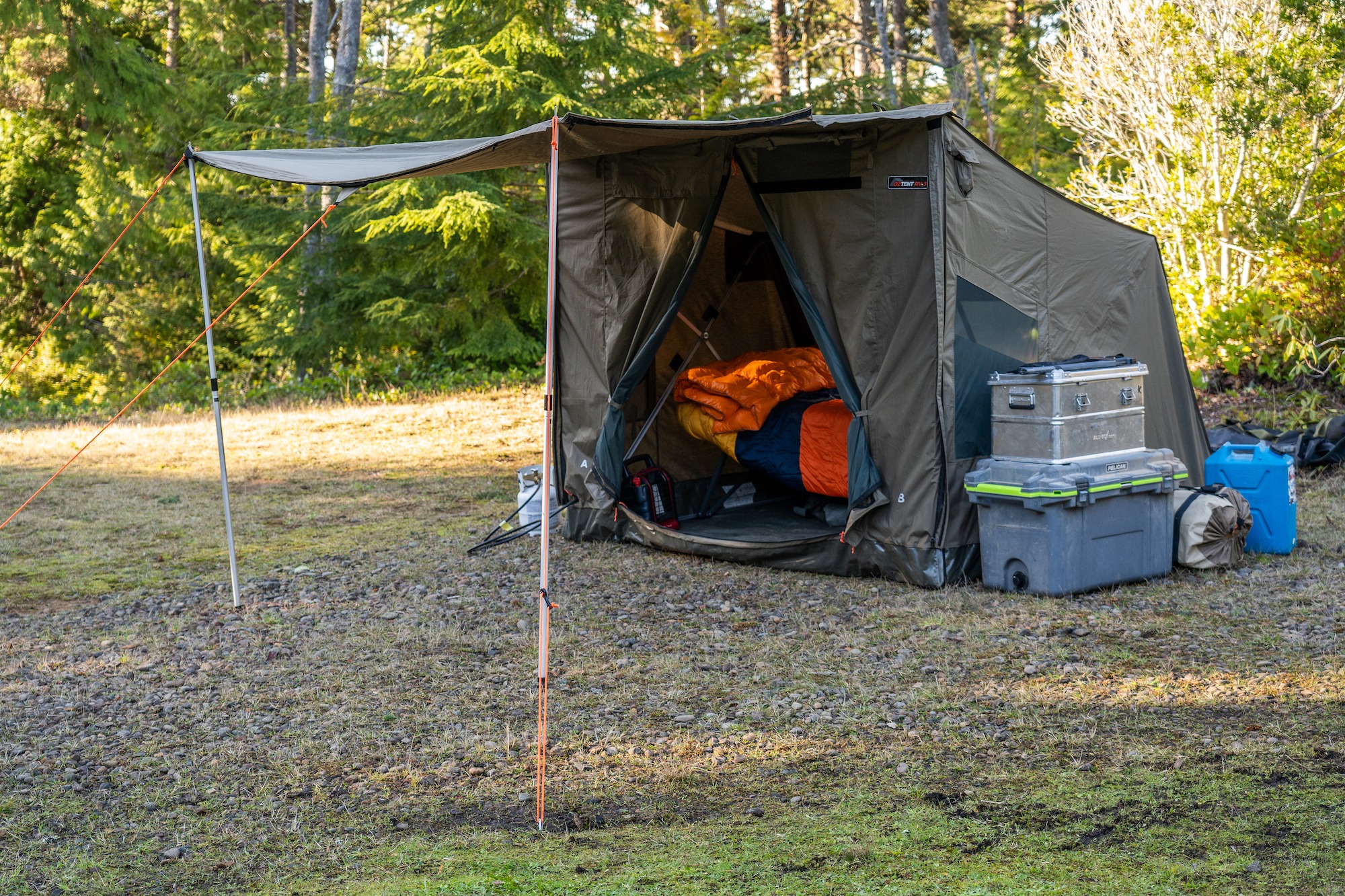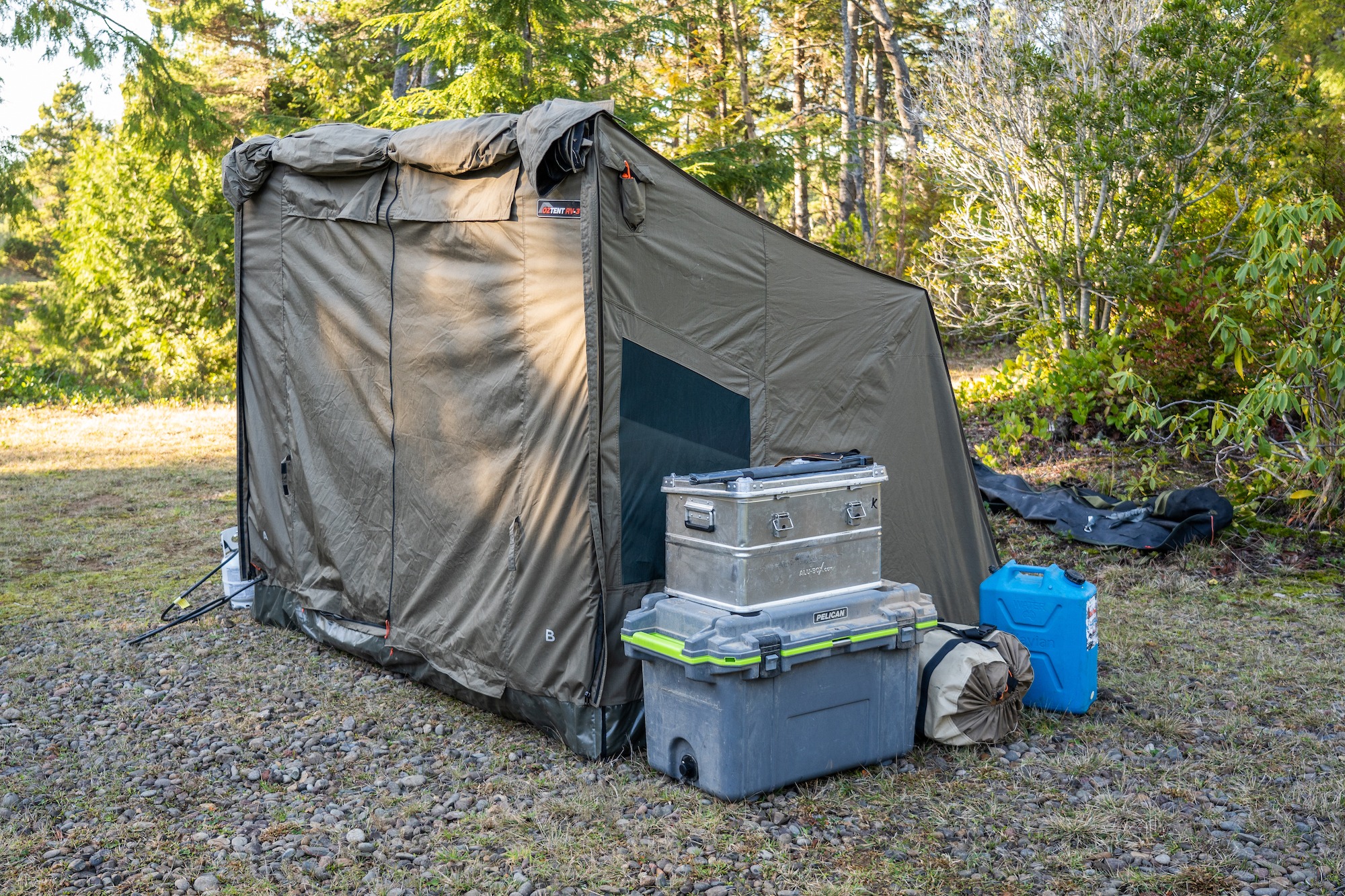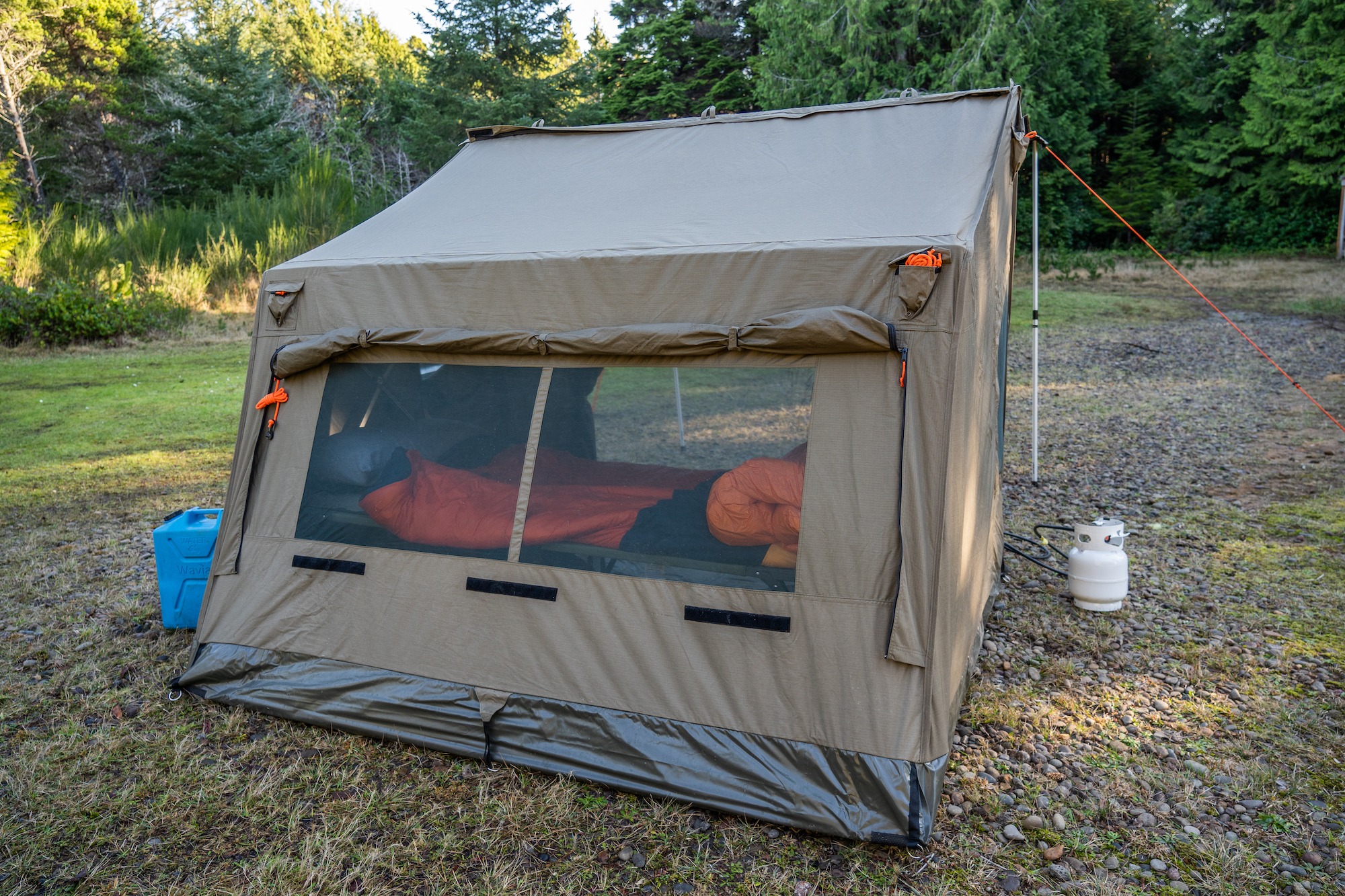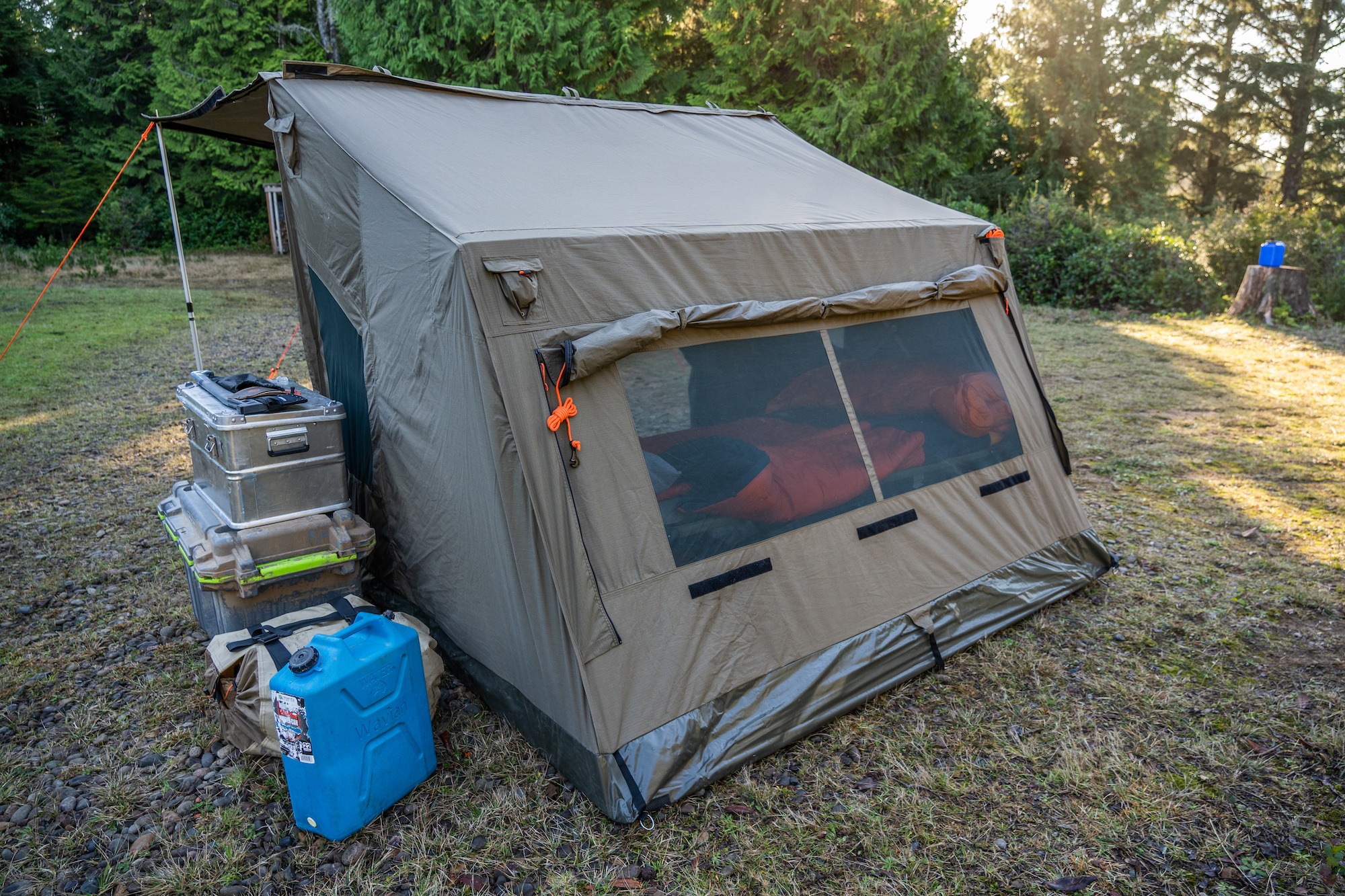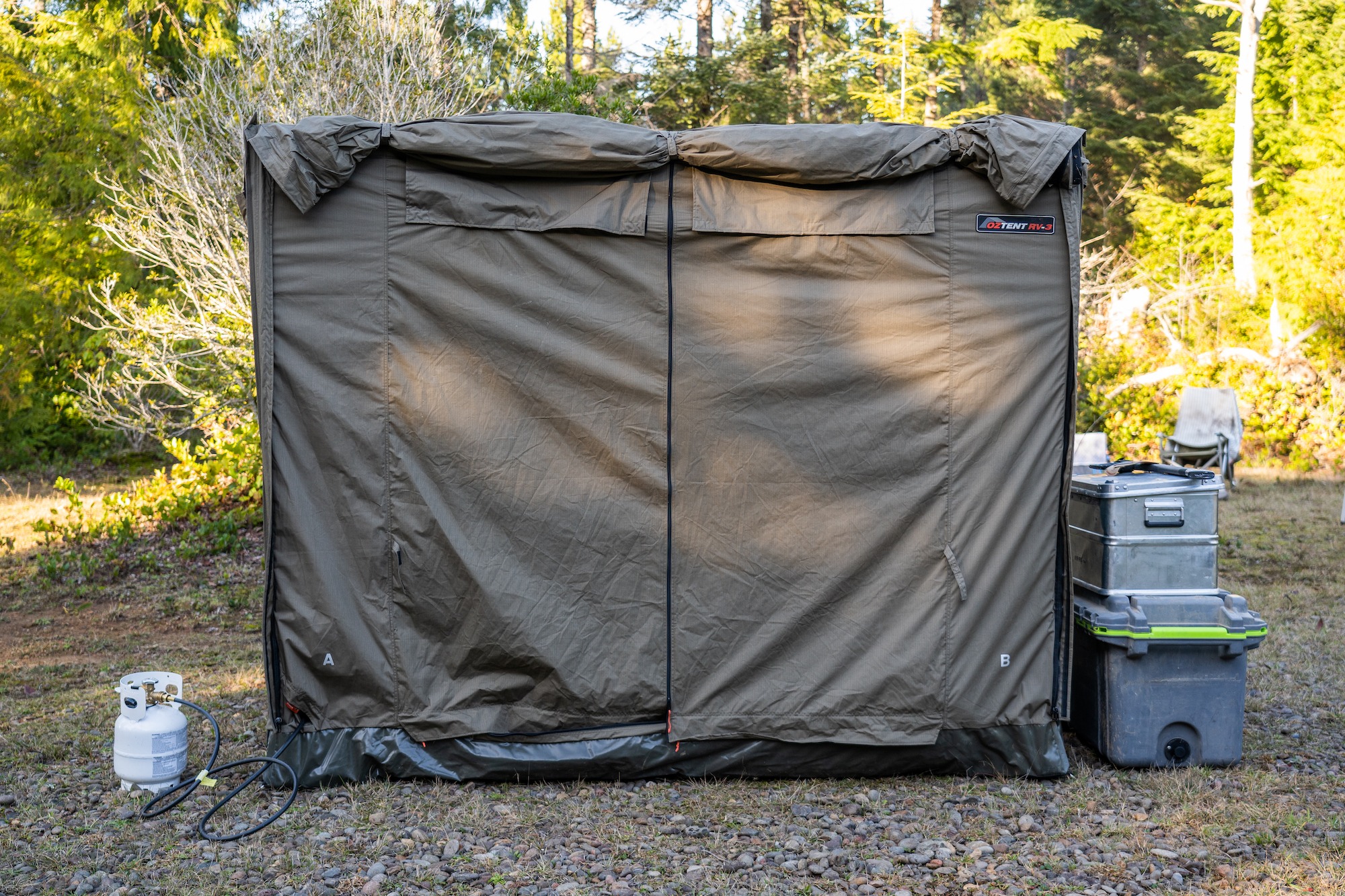 After hovering over the campfire for several hours, I bid my buddies adieu and hit the hay early. Despite the bright moonlight and cold air, I fell asleep rather quickly with my Labrador, Arlo, tucked neatly between my feet at the bottom of my extra-long cot.
I slept soundly until I awoke with a snap at approximately 2 a.m., as my OZTENT was pummeled by 50-mile-per-hour winds that whipped up off the basin below and over the ledge we were camped next to. For the next four hours, I lay awake as the virtual jet engine of wind slammed my RV-3. As a light sleeper, the noise was too much for me to ignore.
In the light of the moon, I watched the tent material ripple and flex in the continuous blast of freezing air. The lightweight aluminum frame did not creak, it did not bend; it was unphased. Although the RV-3 sets up in 30 seconds, its patented design is stout enough to confidently withstand near-hurricane-force winds.
I will note that if you put up the built-in awning, set up will take several minutes. But you don't have to put up the awning. Honestly, I have only it put up once — for this photo shoot. Otherwise, I just run the OZTENT at its most basic level.
By 6 a.m., after my friend's ground tent collapsed (from a brand that shall remain nameless), we gave up on the campsite. The windchill must have been around 19 degrees. Hands nearly frozen, I helped my friend hurriedly stow his tent in his truck. He climbed in his rig, blasted the heat, and waited while I collected the OZTENT.
The RV-3 doesn't fold up quite as quickly as it deploys. It drops flat to the ground in seconds. However, the longest part of the fold-away process is getting it back into its carry bag. That is, if you don't put up the awning. Folding that away takes extra minutes. All told, I'd peg the RV-3 goes from fully deployed to zipped away in its bag in around five minutes — not bad, considering its size and fortitude.
Final take
I've tested the OZTENT RV-3 over four overlanding trips now and I've become absolutely smitten with the thing — especially for winter camping.
It is rated at sleeping three to four people, and it may. All I know is that it has enough room for an extra-long cot, which is essential for my six-foot-five frame, plus two-or-so-feet of space for standing and dressing.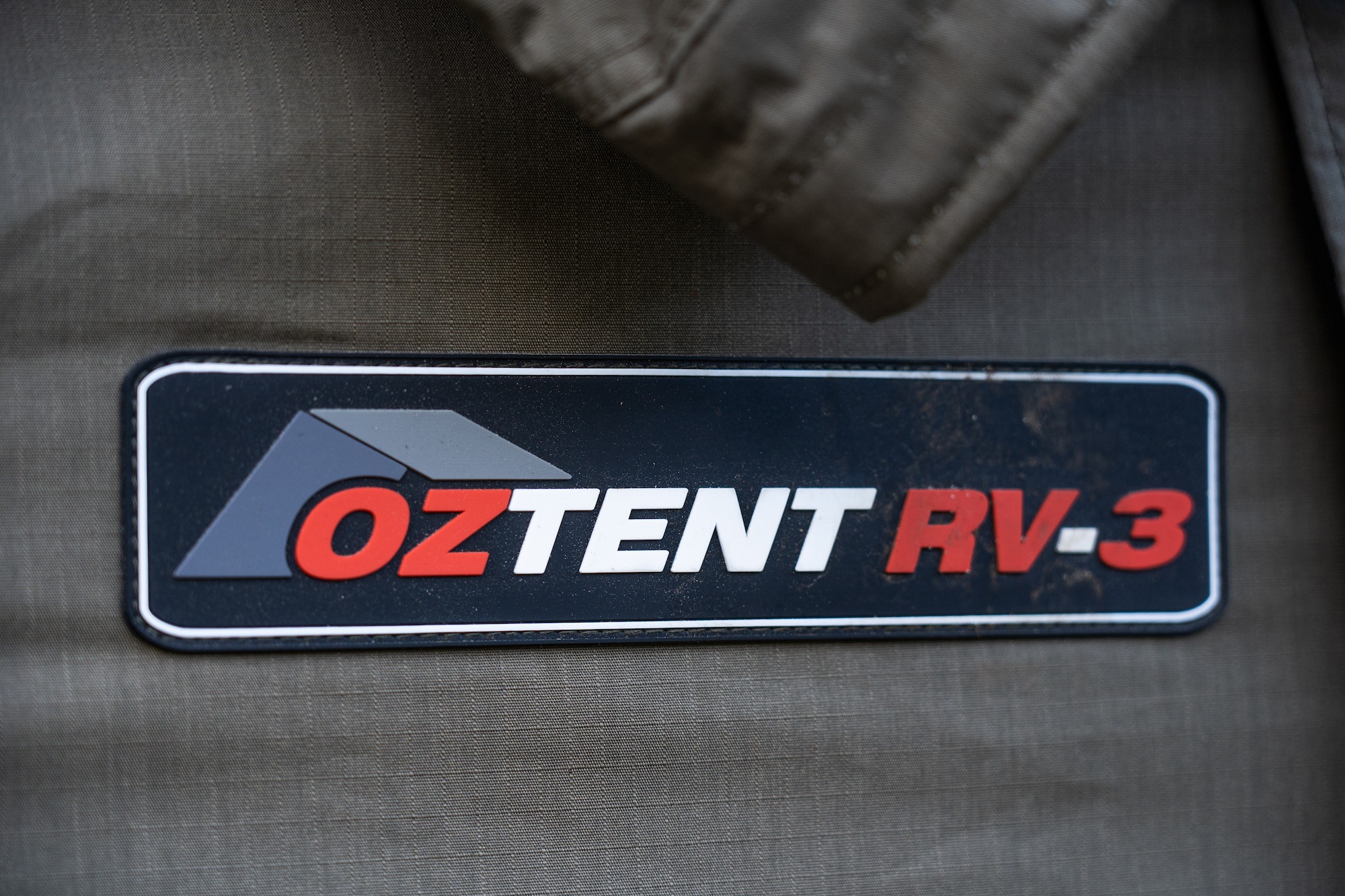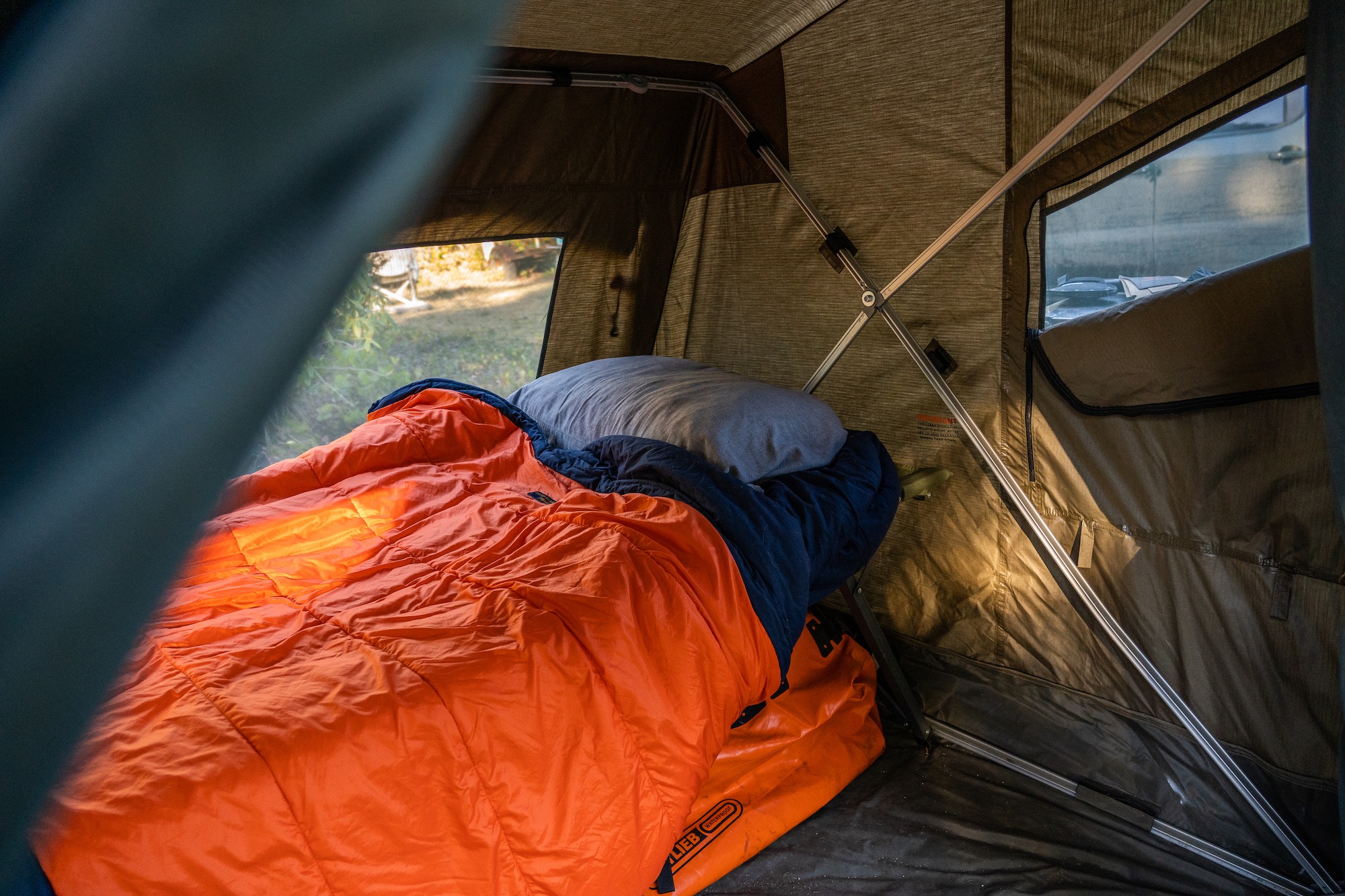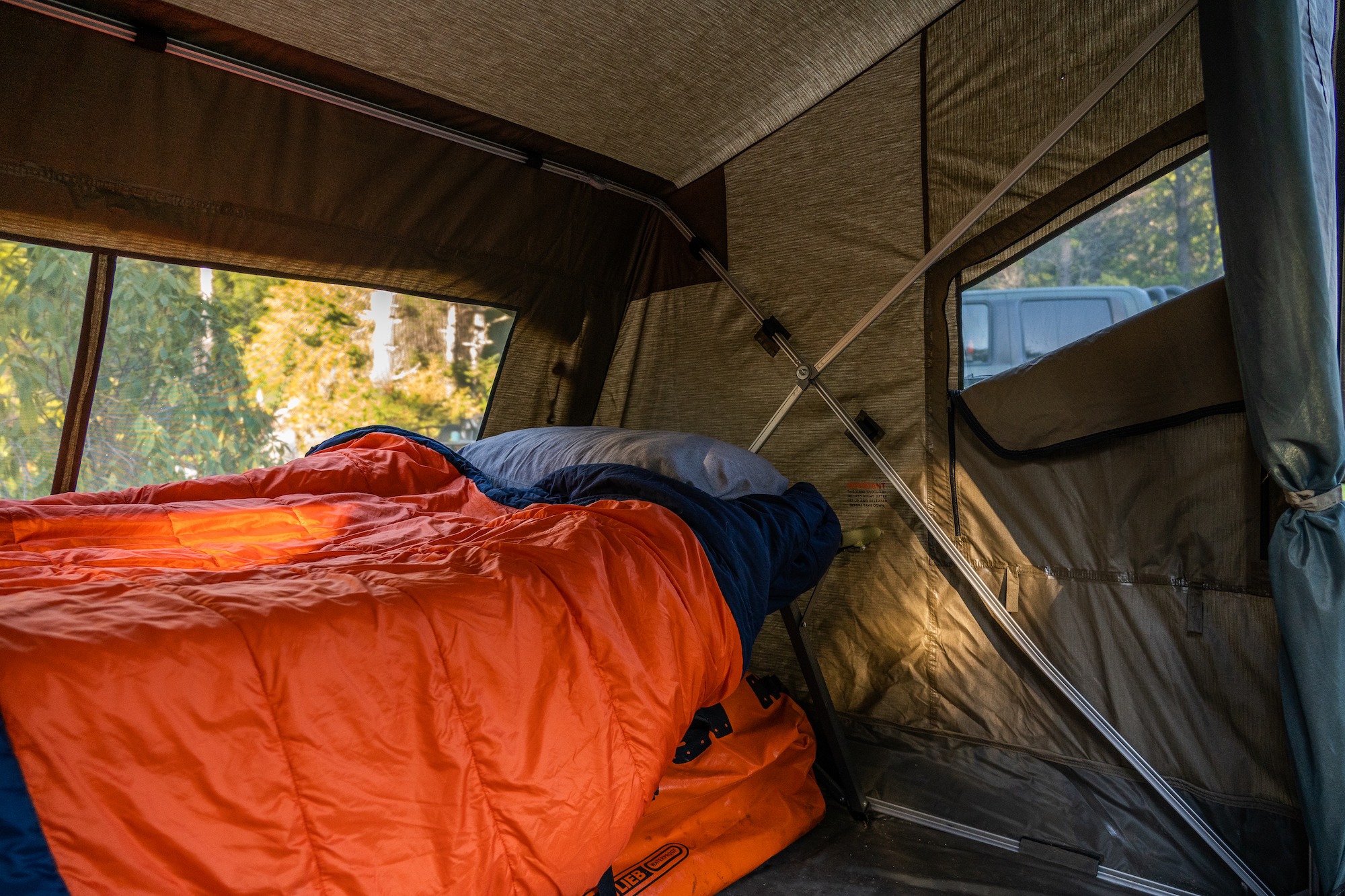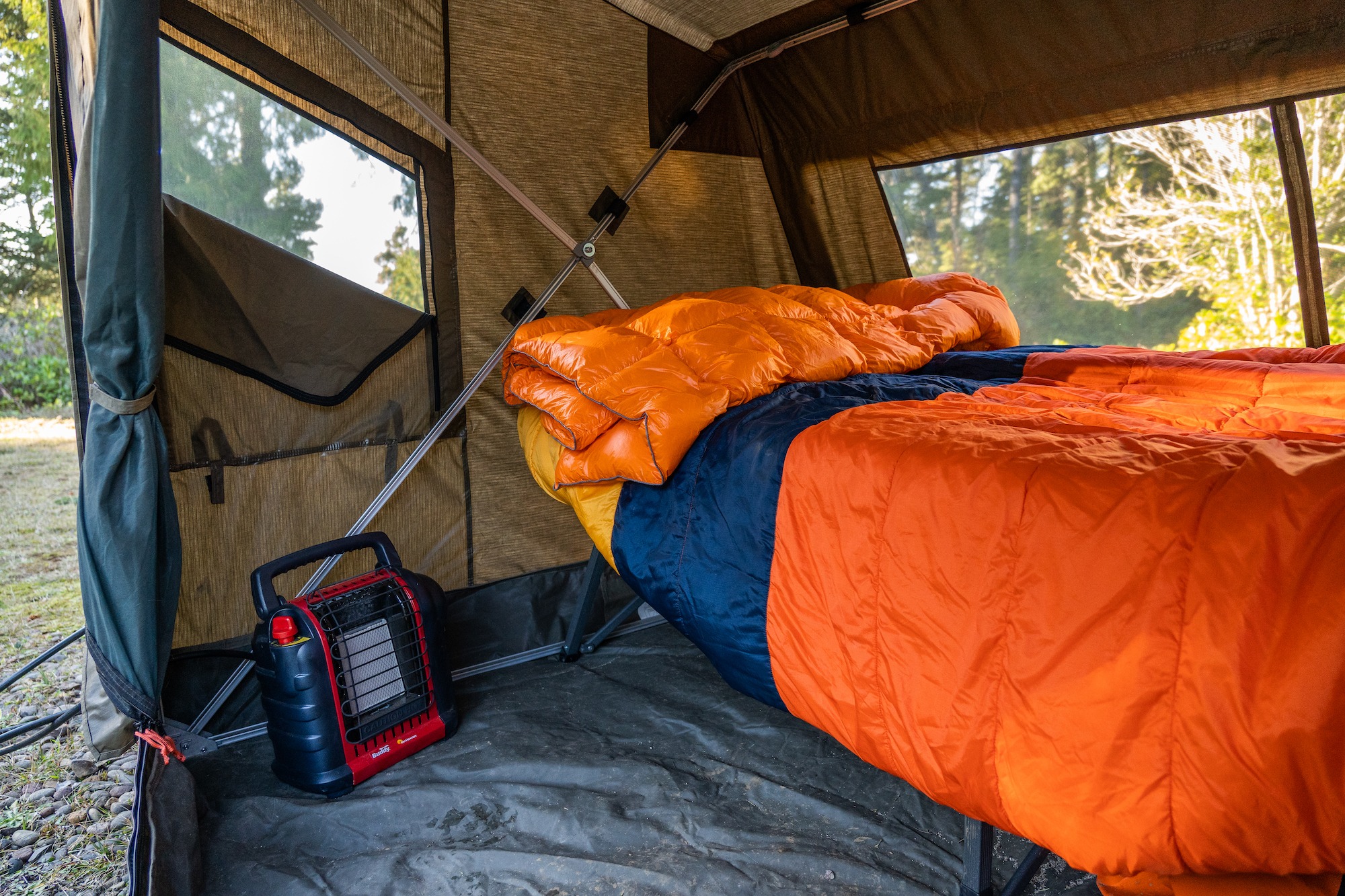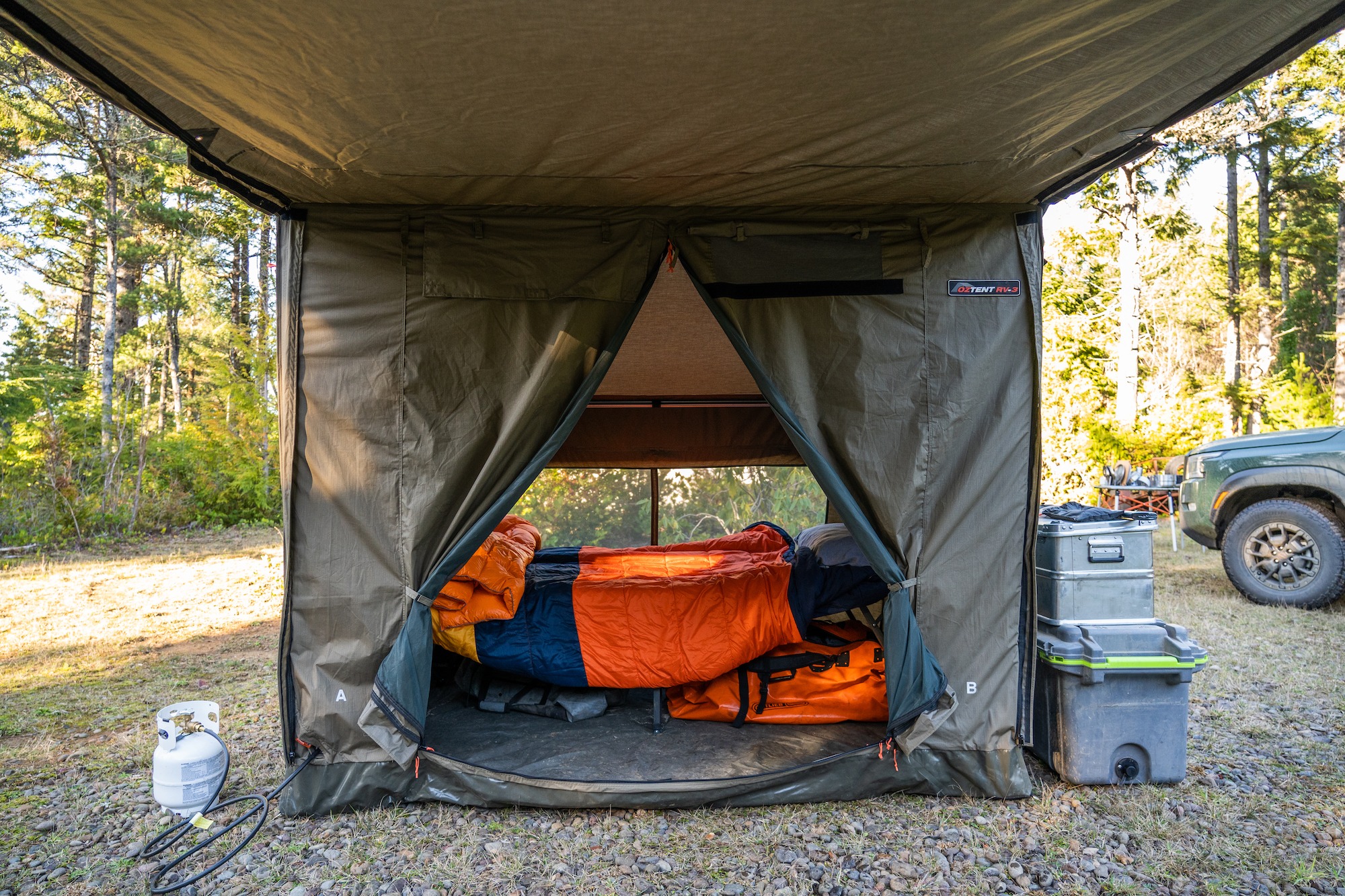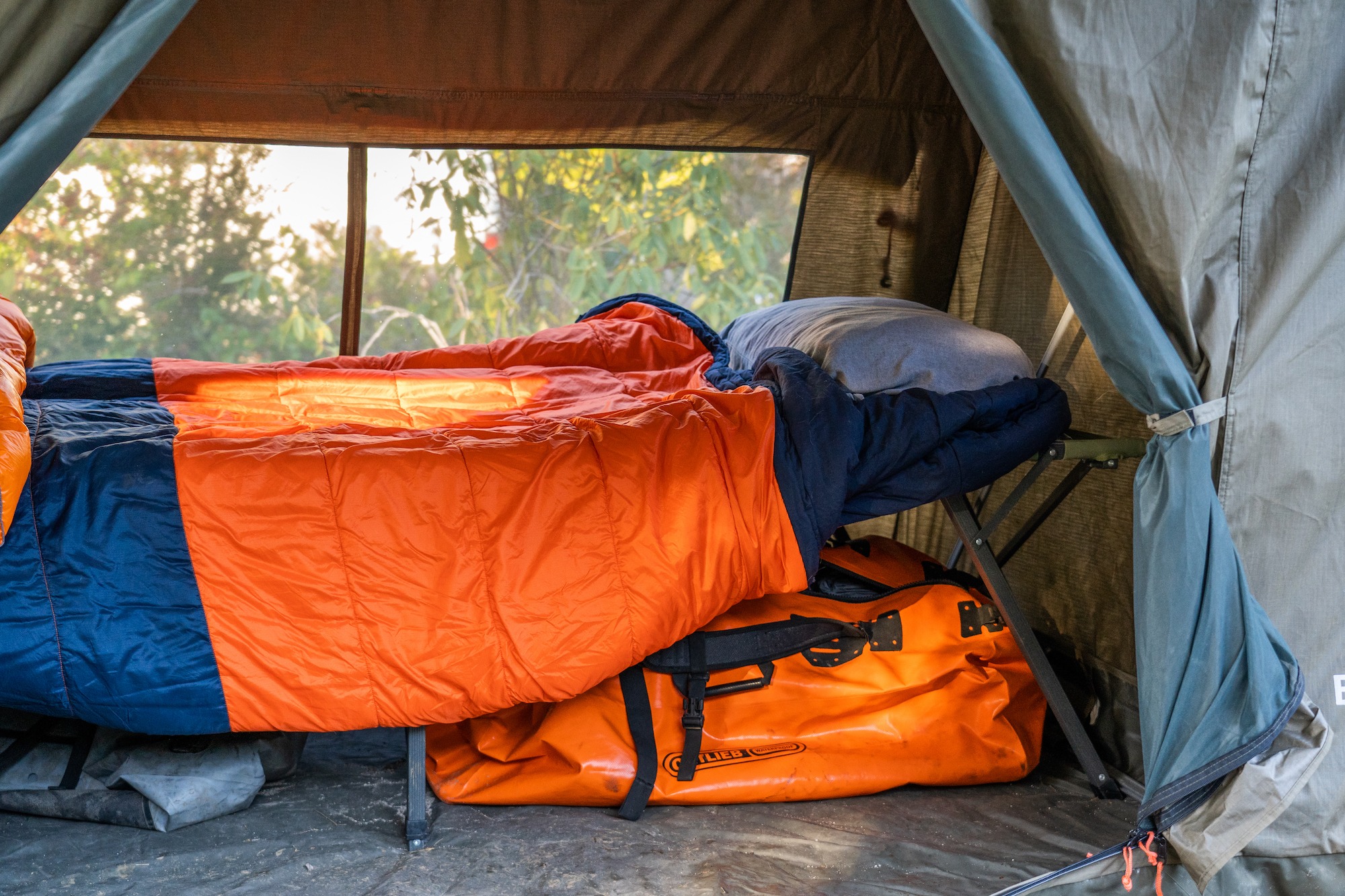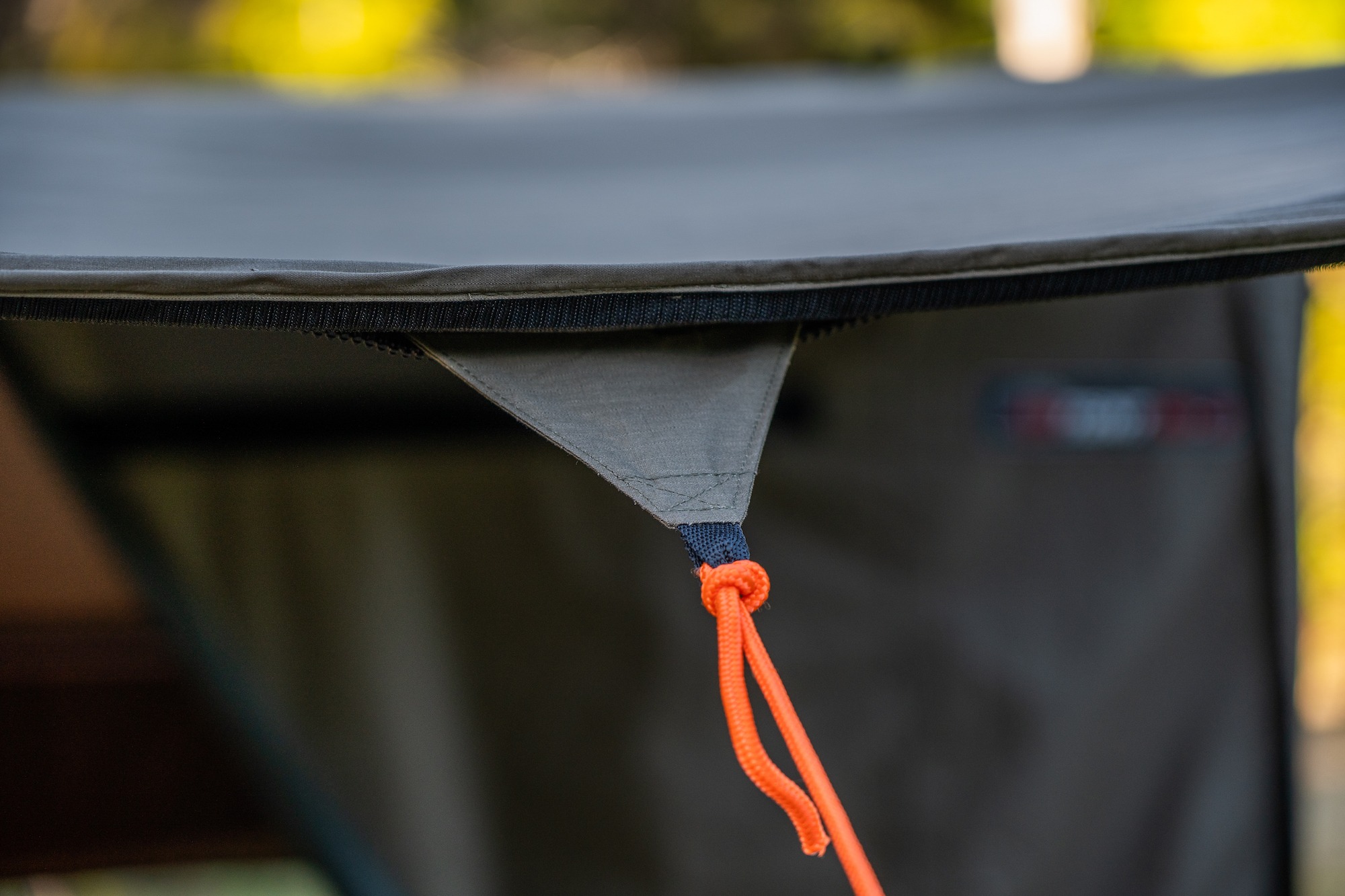 Plus, RV-3 has enough ventilation for me to safely run my Mr. Heater Buddy. This makes winter camping even more tolerable, especially for my pup. RV-3 has a slit in the right hand side of its outer wall, designed for power cables, through which I run my propane bottle hose. This way I know the heater is nicely separated from the propane bottle.
I've been a rooftop tent (RTT) devotee for many years now, finding few ground tents that could even potentially tempt me away from the comfy, quick-deploying designs of RTTs. However, OZTENT RV-3 has done just that.
It has a great design. And it's a pleasure to use. In fact, it might be the best ground tent for winter camping I've ever encountered.
Don't get me wrong: I'm likely never going to become a full-time ground-tent guy — I like rooftop tents too much. But the OZTENT's RV-3 has earned a permanent spot in my overlanding kit. And that says a lot.
---
What to know:
Key features

30-second setup
100% waterproof material
High-quality construction
Patented design
Sleeps 3-4

Dimensions

Packed Size: 10.6″ (L) x 79.5″ (W) × 8.3″ (H)
Setup Size: 78.7″ (L) x 94.5″ (W) x 74.8″ (H)
Awning Size: 78.7" (L) x 94.5" (W)
Net Weight: 47.4 pounds

Materials

Tent: 8-ounce Ripstop polycotton canvas

Floor: 510-gram PVC
Frame: High quality strong aluminum
Fly Screens: 65-gram No-See-Um mesh

MSRP: $999.00
---