Awnings are a quick way to add immediate value to your overland set up. An awning can really transform the livability of your campsite — from keeping rain off your camp kitchen to shading you from the hot sun. A simple awning can have a huge effect on protecting you from the elements and your enjoyment of the outdoors.
In alphabetical order, here are some of our favorite awnings.
23 ZERO — Peregrine 270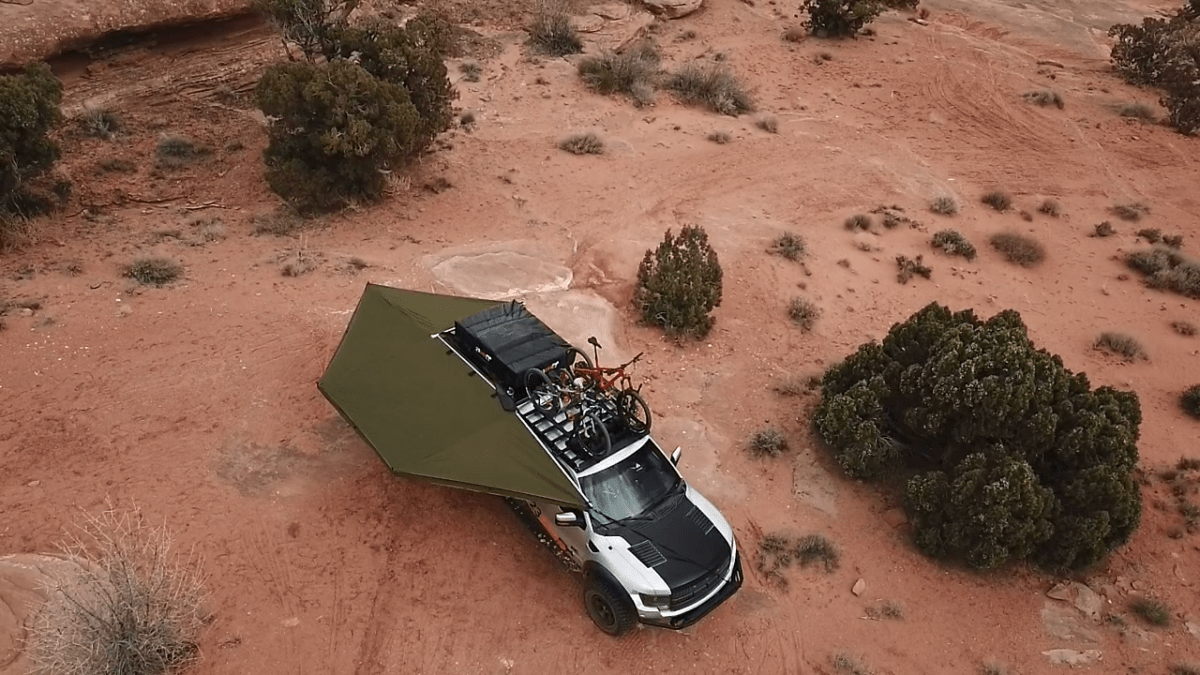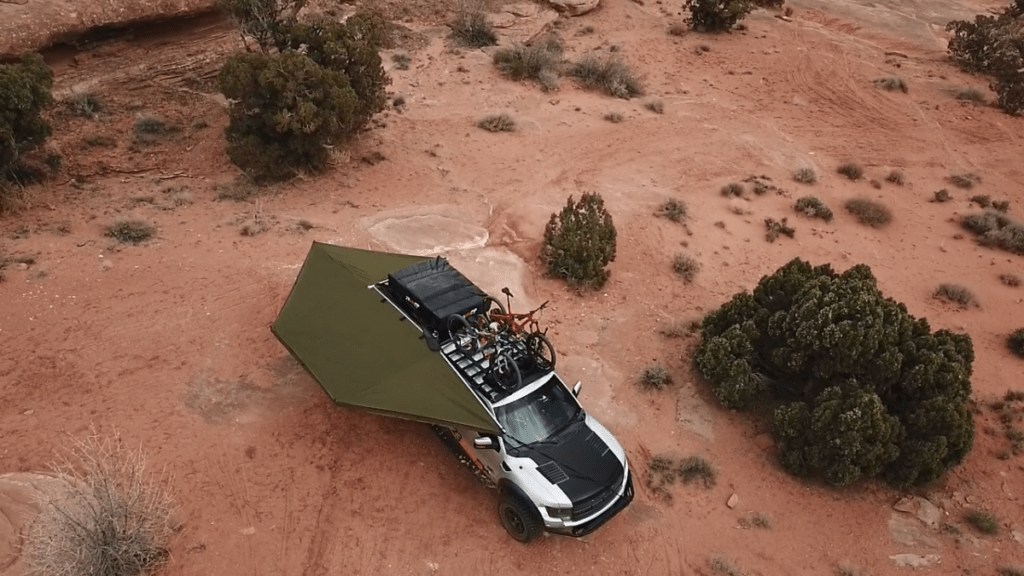 The Peregrine 270 Awning from 23 Zero offers an incredible amount of shelter and is the perfect choice for your overlanding or off-grid camp set up. This awning is Ideal for overnight stays, meal breaks, and long-term base camping.
With a span of just under 20 ft along the length of the vehicle when fully deployed the Peregrine 270 provides second to none shelter and coverage. With the optional two walls added, the peregrine goes to the next level with up to 279 square feet of shelter around your vehicle making it ideal for both sun and rain protection. The Peregrine 270 measures 88 inches when stowed and surprisingly lightweight at under 51 pounds.
ARB – Aluminum Encased Awning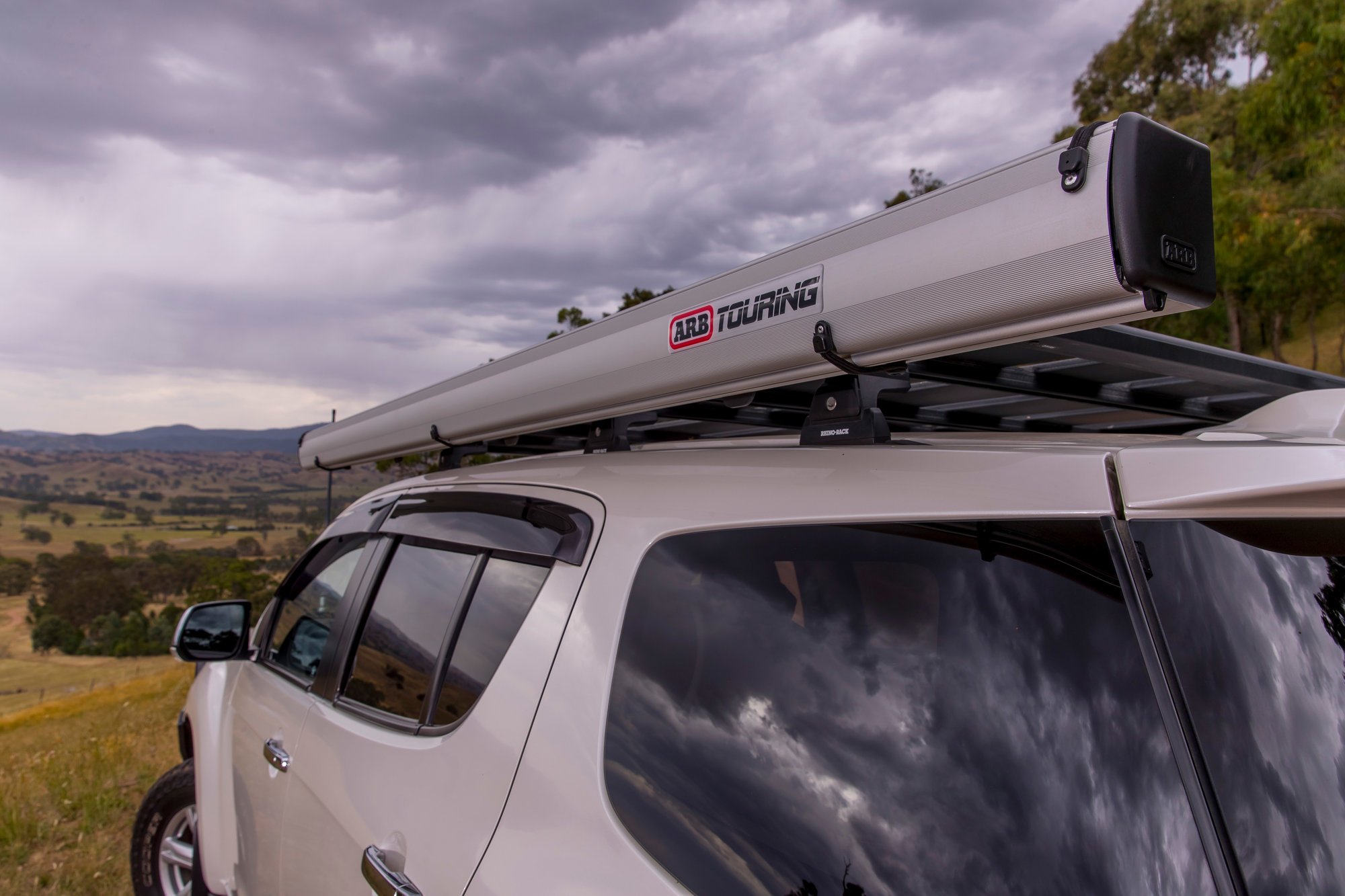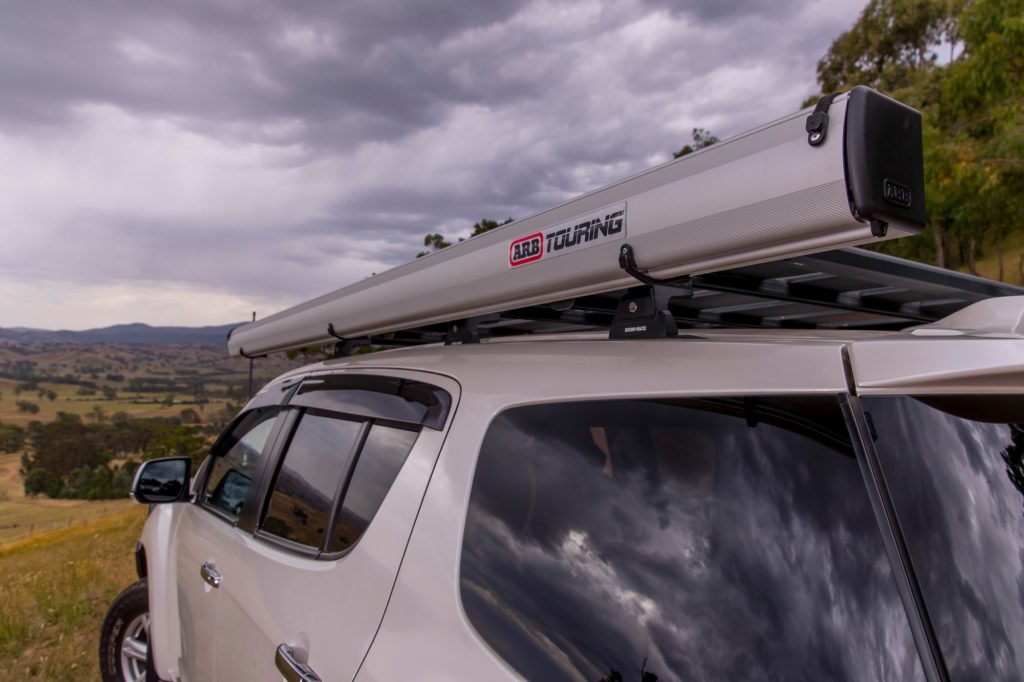 The ARB Aluminum Encased Awning is an upgrade from the standard ARB awning and offers a sleek contemporary look that compliments the sophisticated design of modern 4x4s. The aluminum encasement is easier to use than the traditional ARB awning and is easily deployed using three quick-release bungees and flip-up lid.
The awning material is abrasion resistant, waterproof, and UV protected and is perfect for shelter from storms or the sun. The ARB Aluminum Encased Awning can be fitted with optional lighting, screen rooms, and sun shades to provide even more relief from the elements.
Bundutec USA — Bunduawn Awning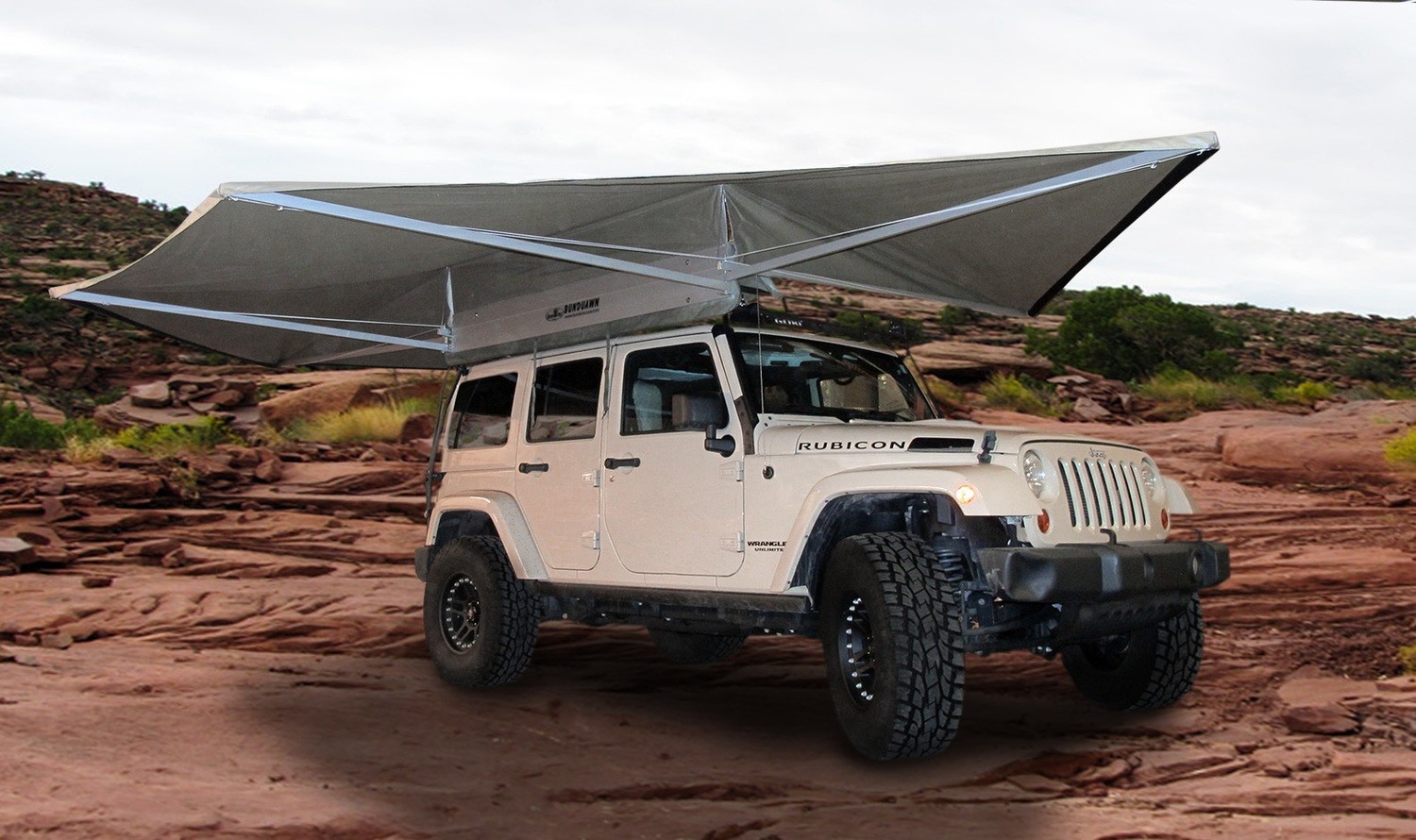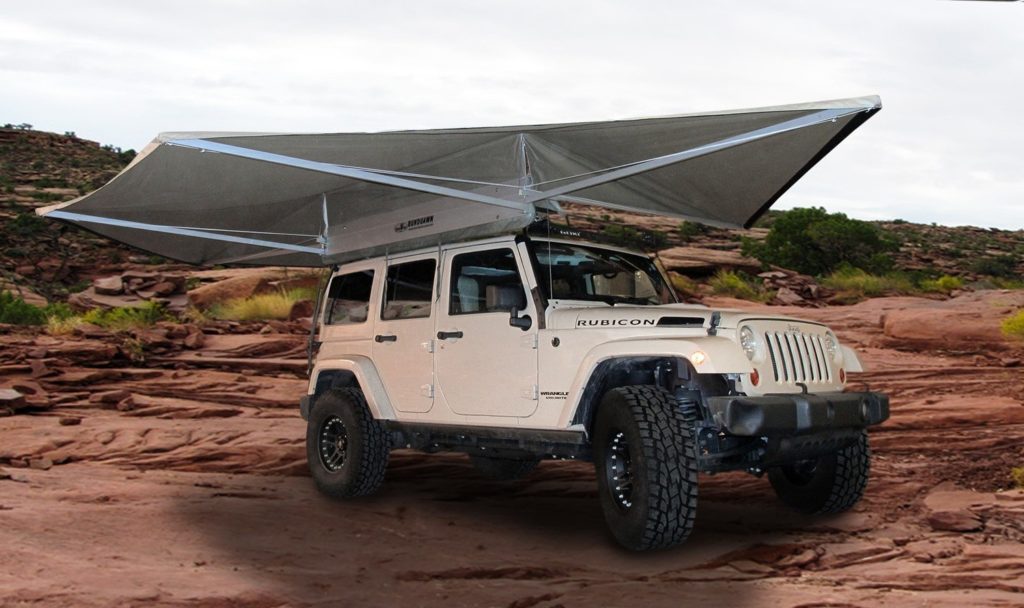 The Bunduawn from Bundutec comes in a variety of sizes including; 270, L-shaped, Half-wing, and 360 — so you can choose the best option for your needs. The polyester/acrylic material uses a silver resin coating on one side to deflect the sun and keep things under the awning as cool as possible, while at more than 8 feet wide, it does take up a considerable amount of space. At least it's relatively lightweight, although that does mean you have to keep it tied down securely to prevent it from getting away from you in the case of a sudden wind storm. Still, it's an efficient design that doesn't require a lot of effort to set up or take down.
Cascadia Vehicle Tents — Pioneer Series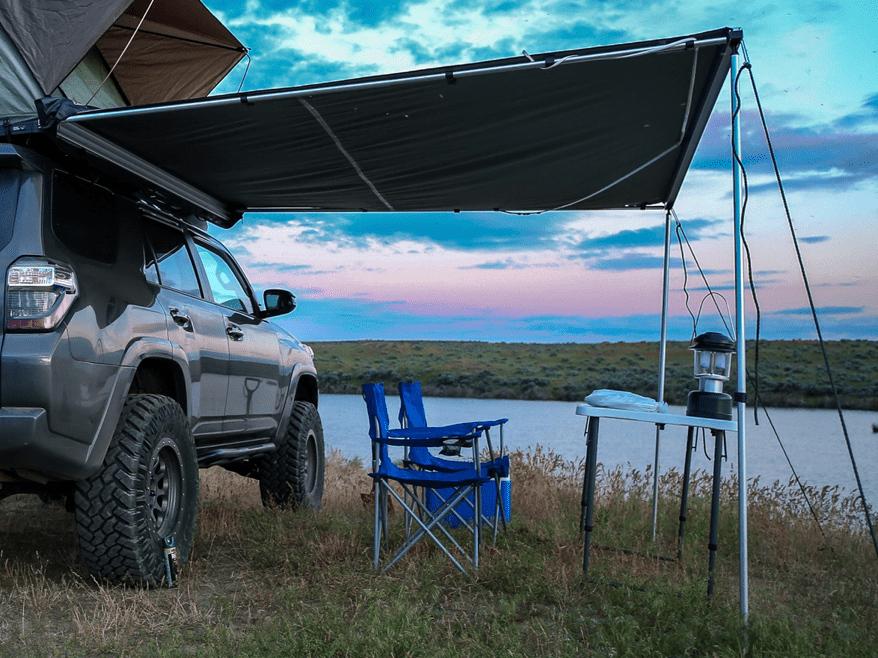 The CVT Pioneer Series or Hybrid Series Awnings can fit your needs with its generous selections of sizes and materials. Available in four widths and three colors, the 79-inch-long awning can also be equipped with additional walls or floors to enhance the outdoor experience in the shade. While the standard Pioneer grade offers a generous size, the upgraded Hybrid Series version adds increased protection from UV as well as rainwater, and adds an LED light strip underneath the awning.
Dometic — Kampa Tailgater AIR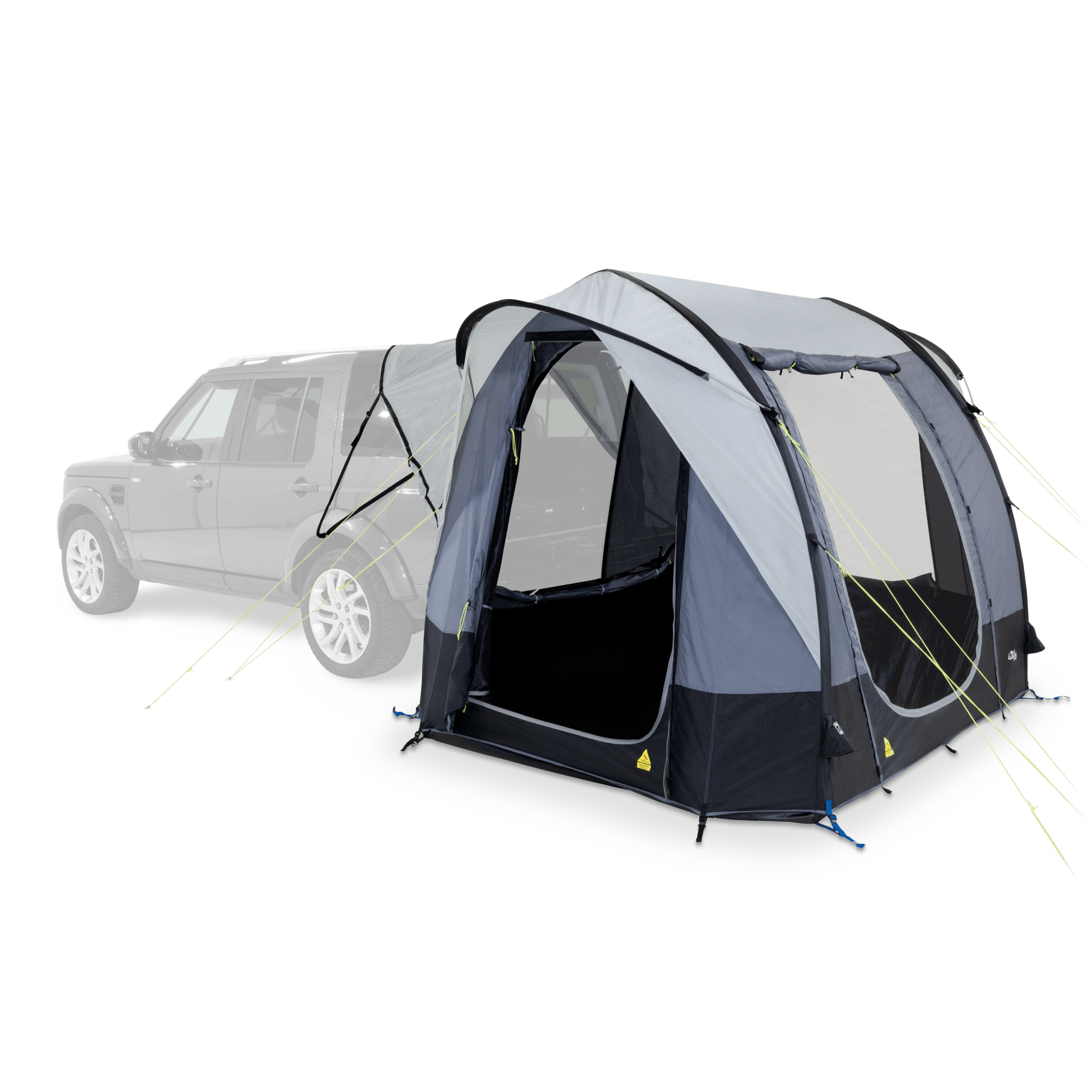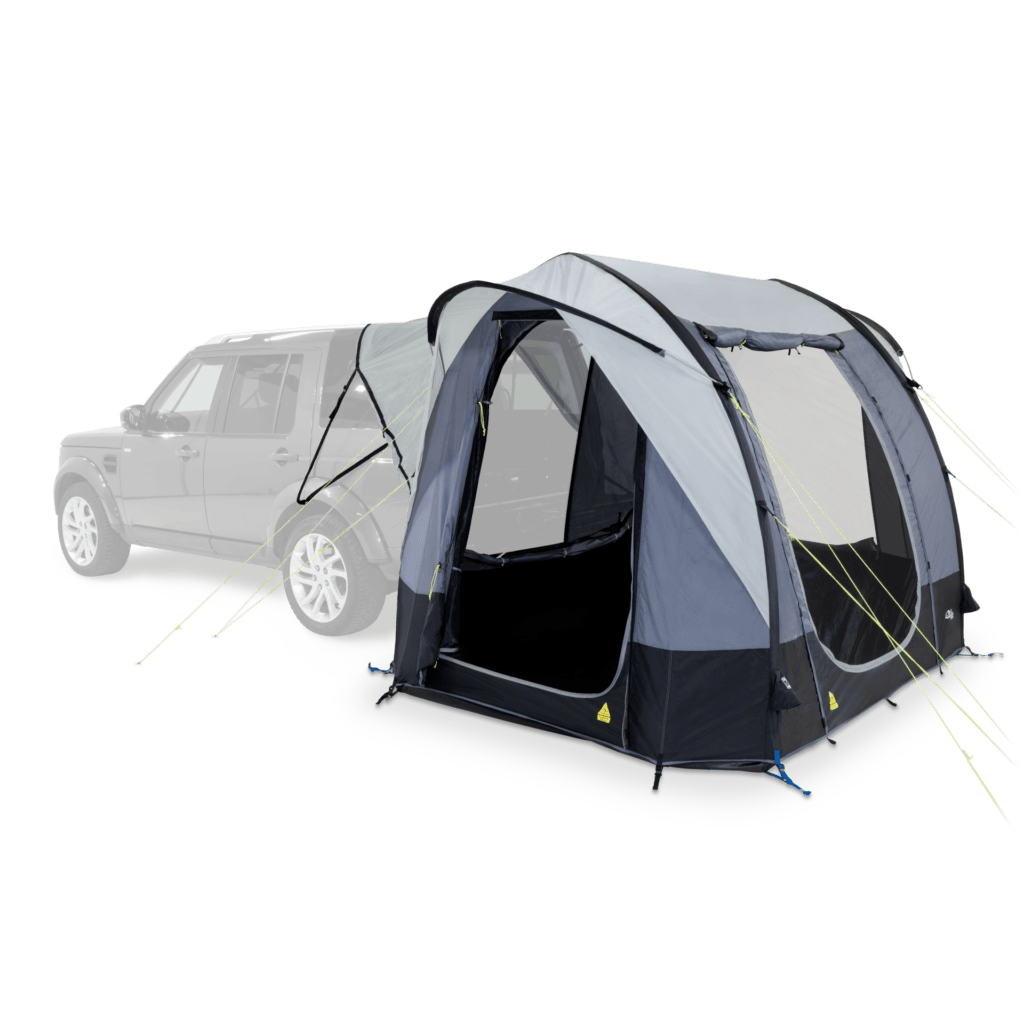 The Dometic Tailgater AIR is a universal fit awning/ tent/ screen room for vehicles with a rear tailgate. Despite weighing just 26.5 pounds, the Tailgater AIR inflates to seven feet tall. It's just over seven feet deep by almost 10 feet wide.
As the name suggests, the Tailgater AIR extends the living space of vehicles with a tailgate and includes a soft, weather-resistant awning that reaches over the back of the rig. Distinctively, it can stand on its own. That means you can leave it up and drive away, if you need to head into town for groceries or to explore that amazing trail nearby.
Eezi-Awn — Series 1000 Awning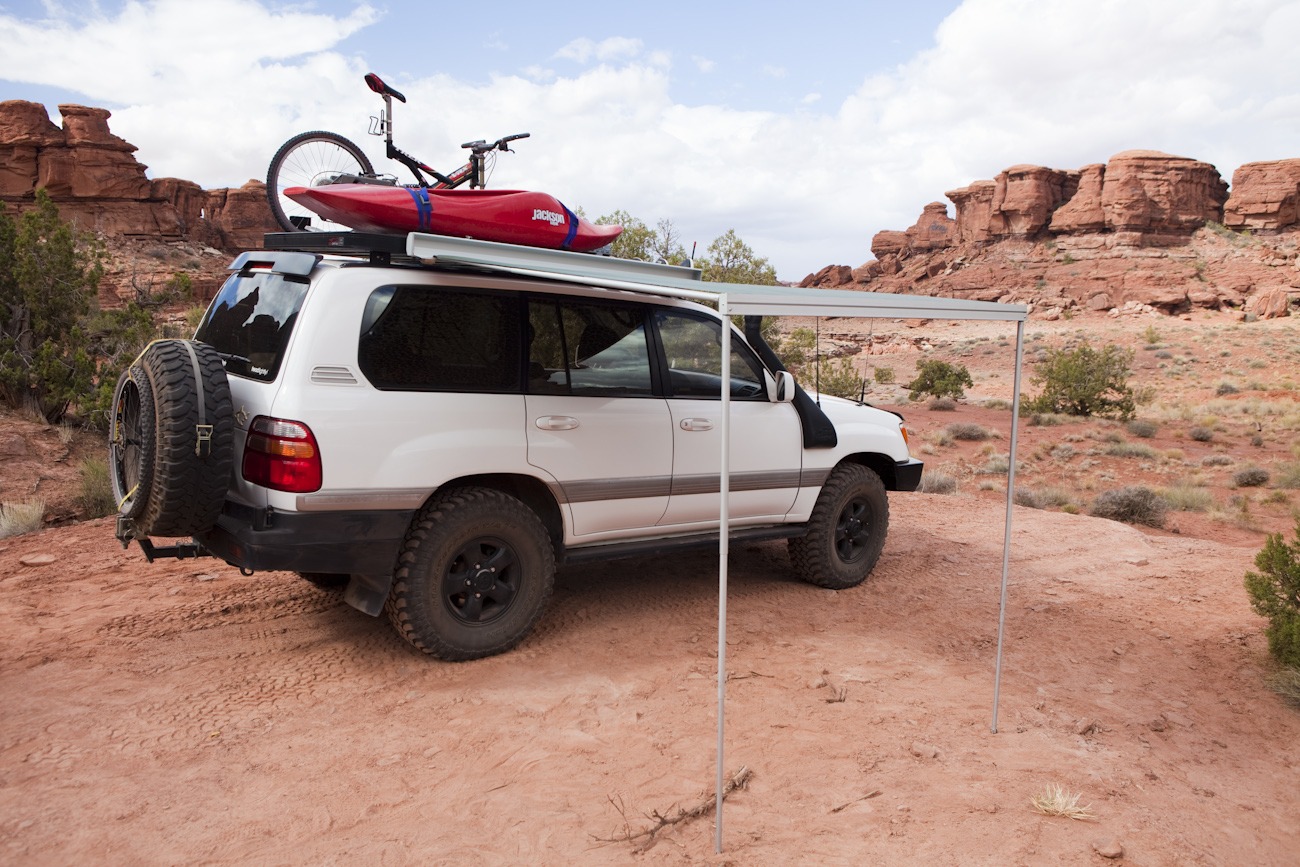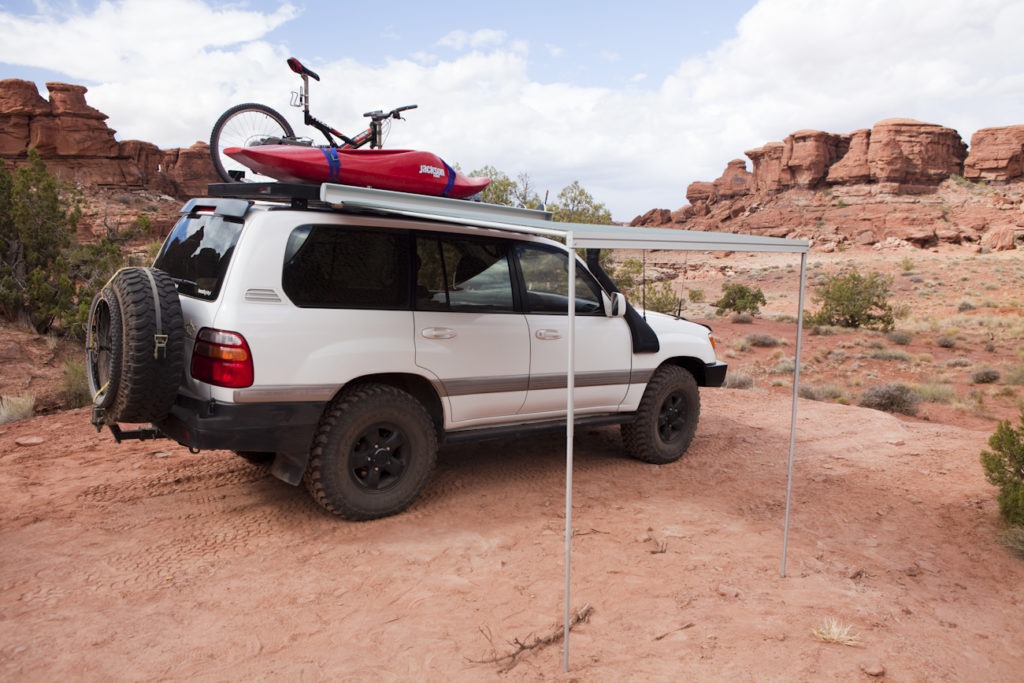 Combining the strength of a hard-case awning with the simplicity of a bag awning, the Series 1000 is ideal for those who want a relatively inexpensive option to attach to their vehicle's roof rack. Available in two sizes that covers around 50 square feet, the Series 1000 is covered in a PVC material and made from a light aluminum framework, keeping weight down below 30 pounds, extremely light for an awning of this size.
Front Runner Outfitters

— Easy-Out Awning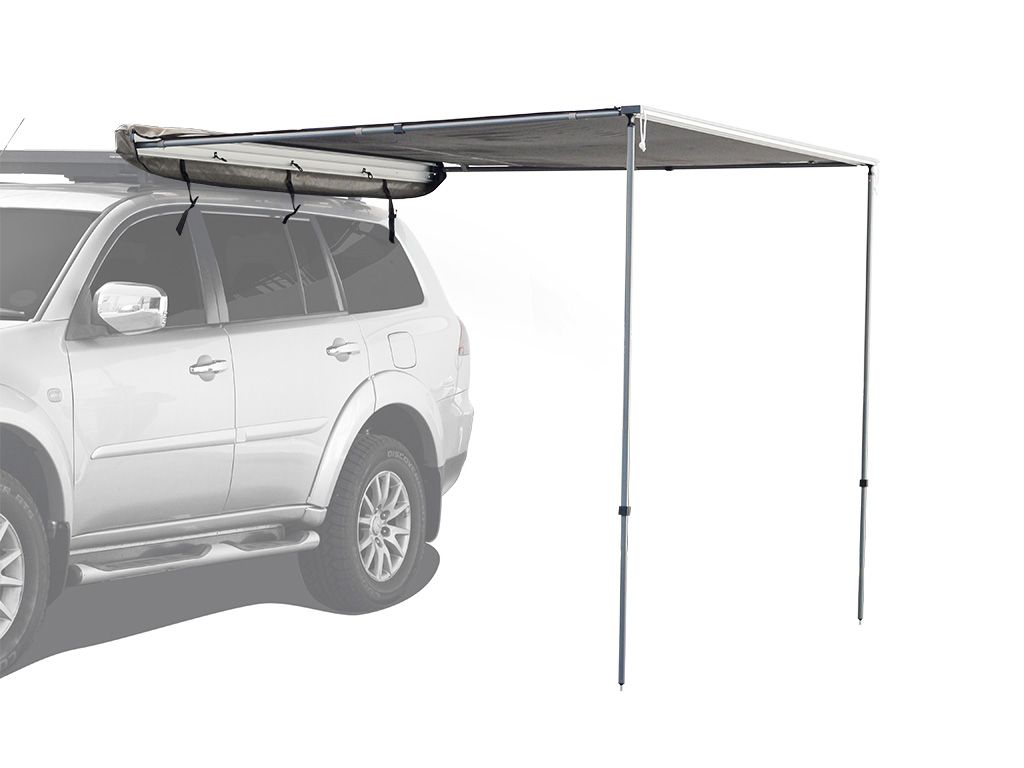 This cleverly designed awning from Front Runner Outfitters (FRO) has the largest canopy of all their awning systems and can be mounted off a vehicle attachment point or it can stand free for protection from the elements. Made of Poly-Oxford Nylon — a strong yet lightweight, breathable, mold resistant, waterproof, PVC coated, heavy duty fabric, the FRO Modular Awning is incredibly lightweight, weighing in at 13.5 pounds, but that low weight packs 113 square feet of shade!
iKamper — Awning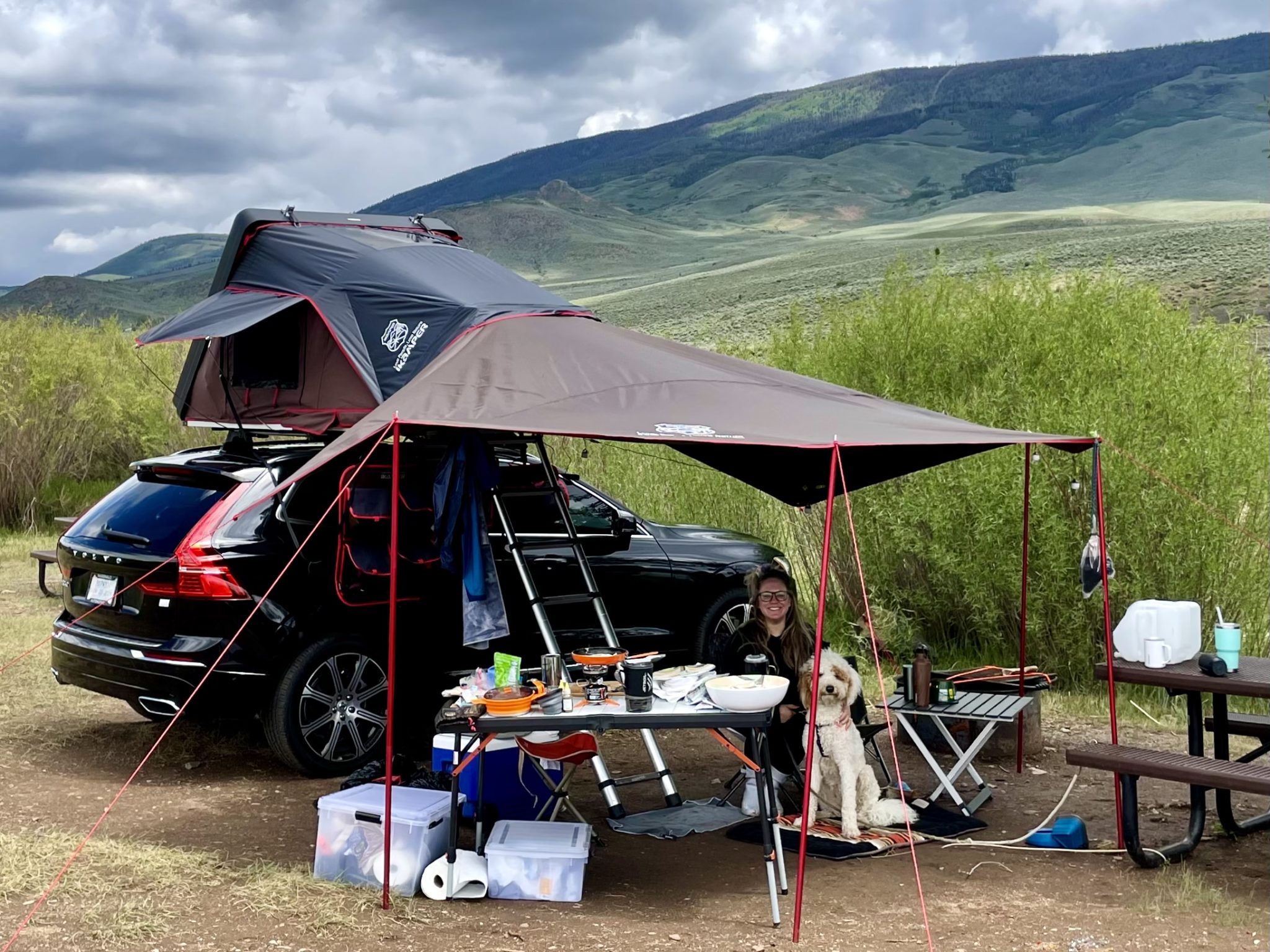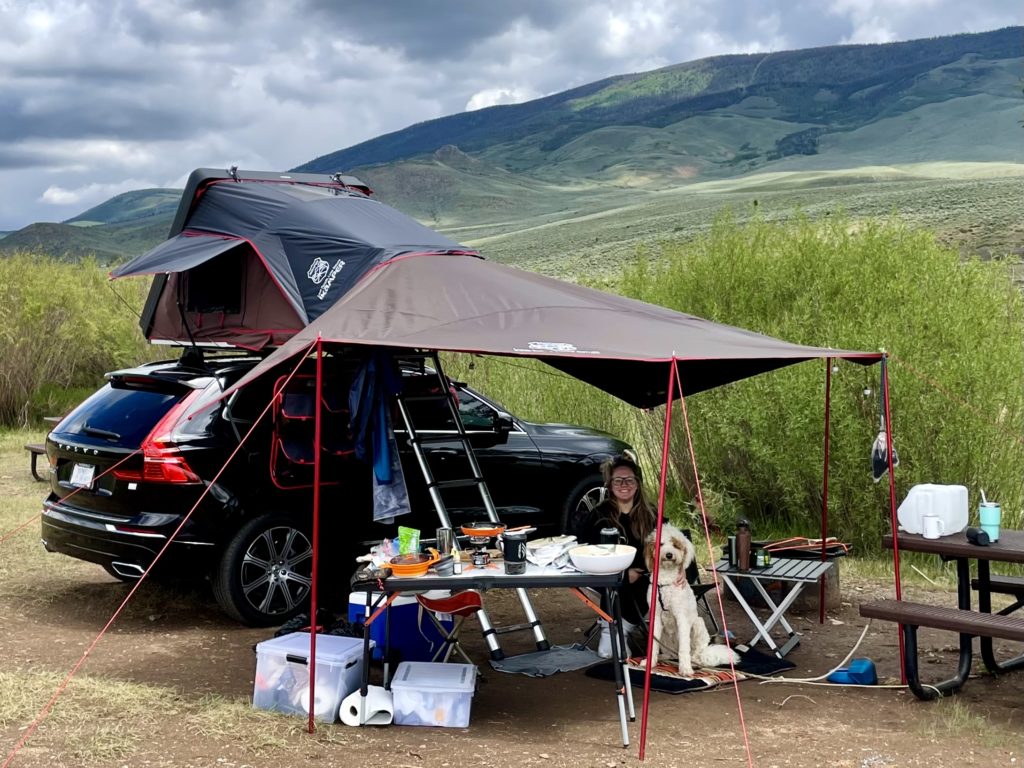 The Skycamp rooftop tent can be equipped with this awning that zips neatly into it, offering shelter from changing weather with minimal effort to quickly set it up. The coated polyester material that covers the four-pole structure is 100% waterproof and serves as a large rainfly for the tent's entrance. Its oversized covering also keeps UV rays and heat out on hot days.
Roofnest — Condor Awning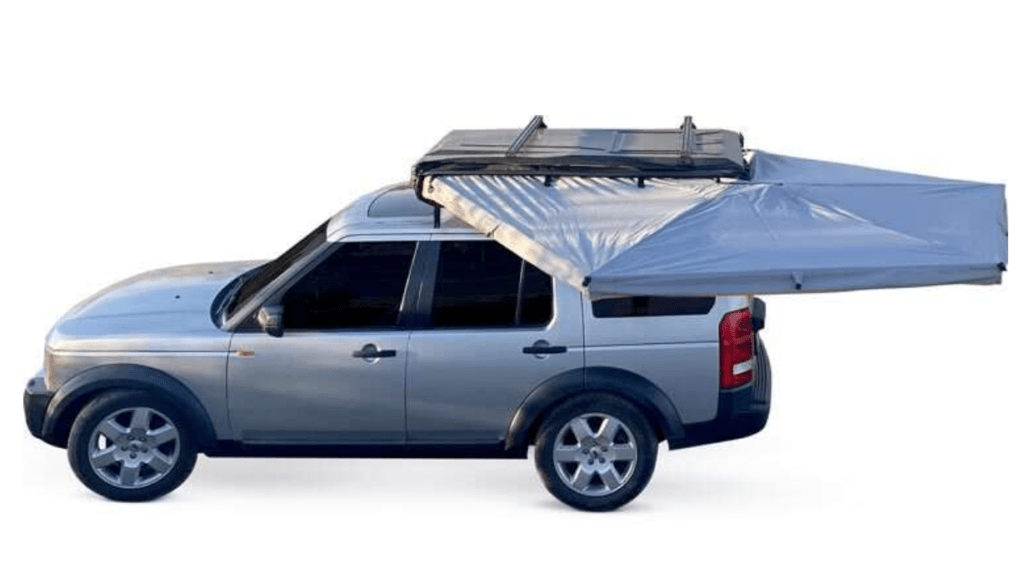 The Condor is a relatively simple awning that can easily attach to one of the company's rooftop tents. Its simplicity keeps it affordable and easy to assemble, too. The awning zips into the rainfly of the tent and is supported by four aluminum poles, while the material itself is waterproof and heat-resistant canvas.
And the whole thing stores in a dedicated bag to keep things compact. Available in two sizes, the Condor is a simple accessory to a Roofnest tent that makes a camping space more habitable when the weather changes.
Thule — Hideaway Awning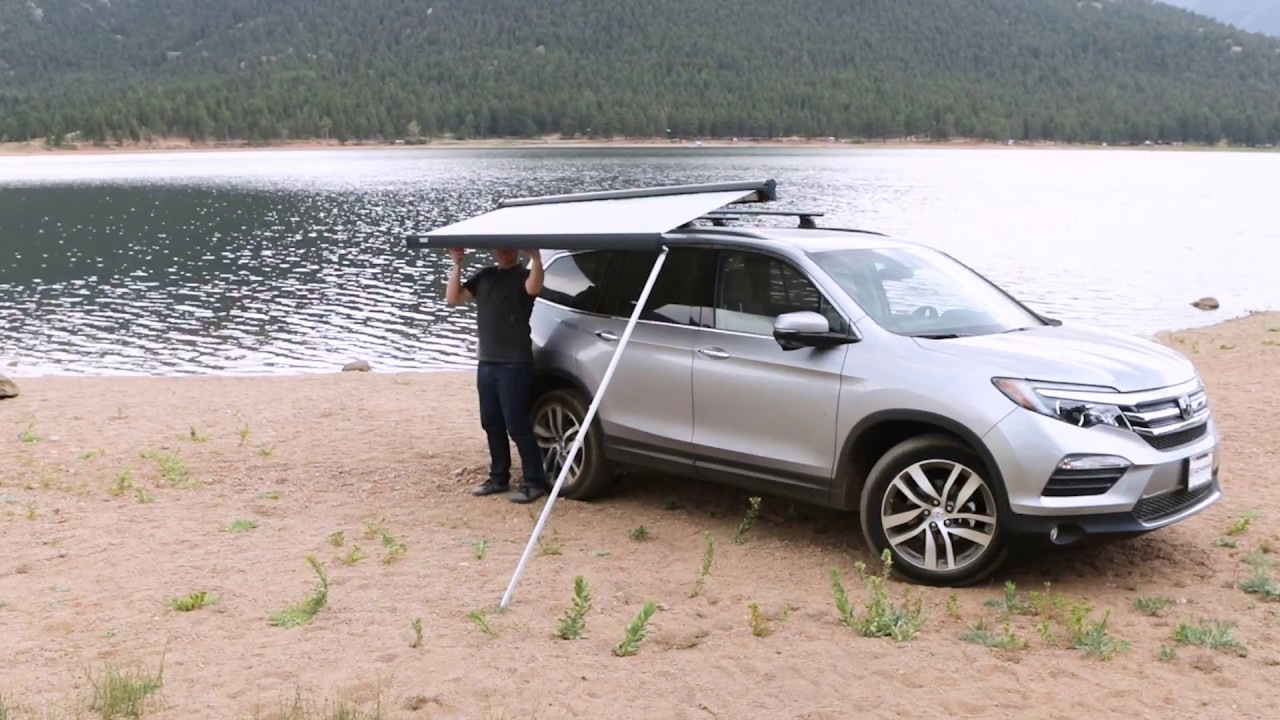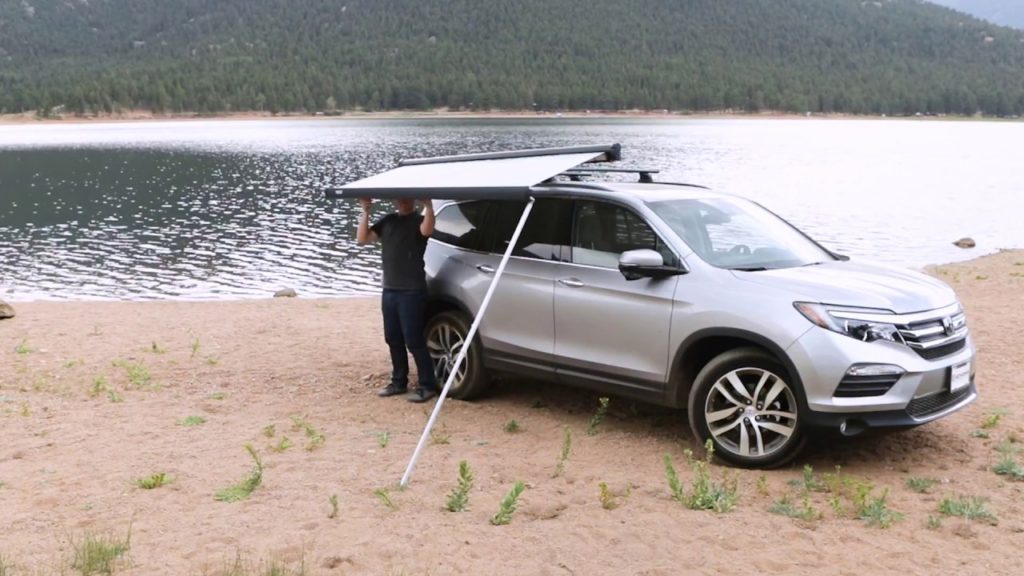 The Thule Hideaway is a lightweight, aerodynamic awning designed to integrate perfectly into the roofline of popular vans like the Mercedes-Benz Sprinter or Dodge ProMaster. The awning features easy, crank operated opening and closing with spring loaded tension arms to absorb movement and ensure stability and wind resistance. The Thule Hideaway has a host of optional accessories available to turn your awning into a screen room, a tent, or create a bit more privacy.