As an attendee, we know you love walking the exhibitor area at Overland Expo and discovering all of the fantastic aftermarket parts and accessories for your vehicle or moto. Finding that perfect piece of kit that helps you enjoy your time at basecamp, helps you tackle rougher terrain, or fits your storage needs is an amazing feeling.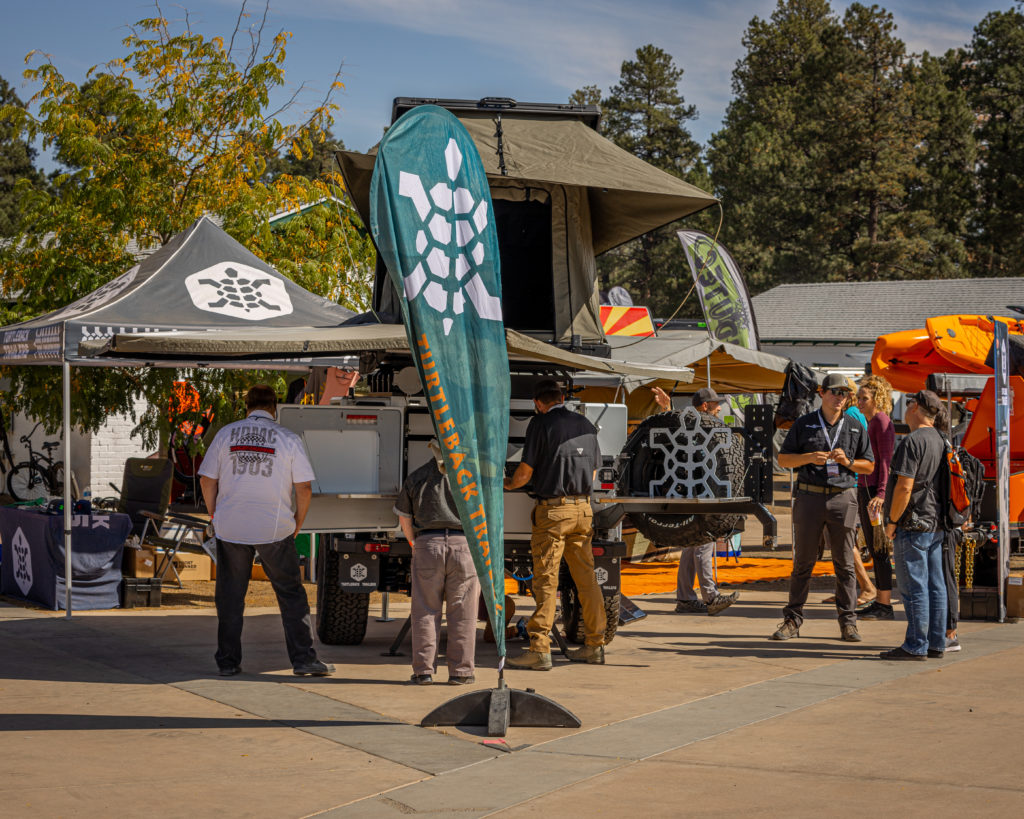 If you can save your hard-earned dollars, that's even better. More money in your pocket means more time out exploring (or let's be honest nowadays … more money to pay for fuel.)
Hot off the presses, we are releasing the list of exhibitors offering show special discounts at Overland Expo WEST in Flagstaff, Arizona, May 20-22, 2022. Make sure you start your shopping with these vendors to save you money.
Here are the deals in alphabetical order by exhibitor:
| | |
| --- | --- |
| COMPANY NAME | SHOW SPECIAL OR DISCOUNT |
| Aiden James Customs LLC | 10% off any Aiden James Customs products. In stock at show, not in stock to be shipped later or pre-order of our On Point Drawer Systems. |
| BAKCOU | $600 off any bike + free pannier bags + free trailside repair kit + free shipping- $400 off any scooter- 40% off apparel |
| Battle Born Batteries | $25 off per battery show special! |
| BundutecUSA | Discounts on Standard BunduTops and Original BunduAwns |
| CBI Offroad Fab | We are offering 10% off all CBI products and accessories at the show. Also, some products will be available to take home at the show and save you shipping as well! |
| Centerforce Clutches | 20% off complete clutch kits and clutch-related products. |
| DENALI Electronics | 15% off any purchase over $500 at the event, 10% off any purchase over $500, code expires 06/05/22 |
| Eibach, Inc. | Giving away a PRO-TRUCK-LIFT STAGE 2 System. Sign up at the Eibach booth J7 for a chance to win! Plus, a free Eibach hoodie with purchase of any lift system. |
| Fifteen52 | 10% off your first set of Fifteen52 wheels with offer code: OVERLANDEXPO22 |
| Four Wheel Campers | Four Wheel Campers will be offering "Free Camper Installation" (up to a $750 value) for any campers ordered at the Overland Expo West event. |
| Geyser Systems | $50 off any purchase of a Geyser System + Heater or a Geyser System. Limit one discount per customer. |
| LINE-X of Flagstaff | $150 off spray-on bedliners. |
| OFFGRID Outdoor Gear | Voyager Tent ($1100 w/ Free shipping, XL Camping Chairs ($45 or 2 for $80 – Must pick up at show), Rotomolded Cooler ($175 – Must pick up at show), Electric Cooler ($350 – Must pick up at show), 8,2′ Awning ($200 + Shipping), JEEP JK/JL/JT Stubby Front Bumper ($350 w/ Free shipping), JEEP JL/JT Full Front Bumper ($375 w/ Free shipping), JEEP JK/JL/JT Rear Bumpers ($350 w/ Free shipping), Slide Track Series Aluminum Steps ($375 w/ Free shipping + Free Bracket Covers), RT Steps ($325 w/ Free shipping), RT Gen2 Steps ($350 w/ Free shipping), Universal LED Light Kits ($35.00 w/ Free shipping) |
| Pakmule | With the purchase of a Pakmule at the show, you will receive $150 off of wanted accessories (mule straps, step stool, hitching post, bike bits, and more) |
| Prinsu Roof Racks | We are offering 10% off all Prinsu roof racks and 20% off on Prinsu rack accessories. We will have product on hand as well so you can save on shipping too! |
| REDARC | 10% off all gear at the show for ticket holders. |
| REIKA Vehicle Solutions | We will be offering a 15% off coupon code to be used on our REIKA VS website for the duration of the show. |
| RinseKit | We will offer 20% off our website to all attendees. |
| SCOSCHE Industries, INC. | We are offering 30% off MSRP! |
| TailGater Tire Table | Tables will be discounted up to 25% of retail pricing. |
| TAXA Outdoors | $500 deposit drops on all habitats for show attendees! Use code oewest at checkout! |
| Tred Cred | 20% off all patches and stickers. |
| UBCO Bikes | Test ride & Win! For every Overland Expo attendee that signs up and test rides an UBCO 2×2 will be entered to win an overland accessories package. |
| Wagan Tech | Offering our Lithium Cube 325 portable power supply at a show special price of $297. |
| WANDERLUST | Travel books are discounted from $15 to $10 each. Sweatshirts and tee shirts are only $35 during the show. |
| Wellvisors | Use code "overland2022" on WELLvisors.com for 10% off. Expires on 5-29-2022. |
Check out our full list of sponsors and exhibitors here: https://www.overlandexpo.com/sponsors-exhibitors/overland-expo-west-2022/
We hope to see you in Flagstaff, AZ, May 20-22, 2022.