It wasn't very long ago that "overland" and "Harley-Davidson" were as unlikely a pair as you could come up with. With the release of the Pan America, things have certainly changed and, a number of manufacturers are beginning to offer gear to kit them out. SW-Motech has already released a wide array of gear for the Pan America, with no less than 26 new SKUs available, ranging from tank bags to heel guards.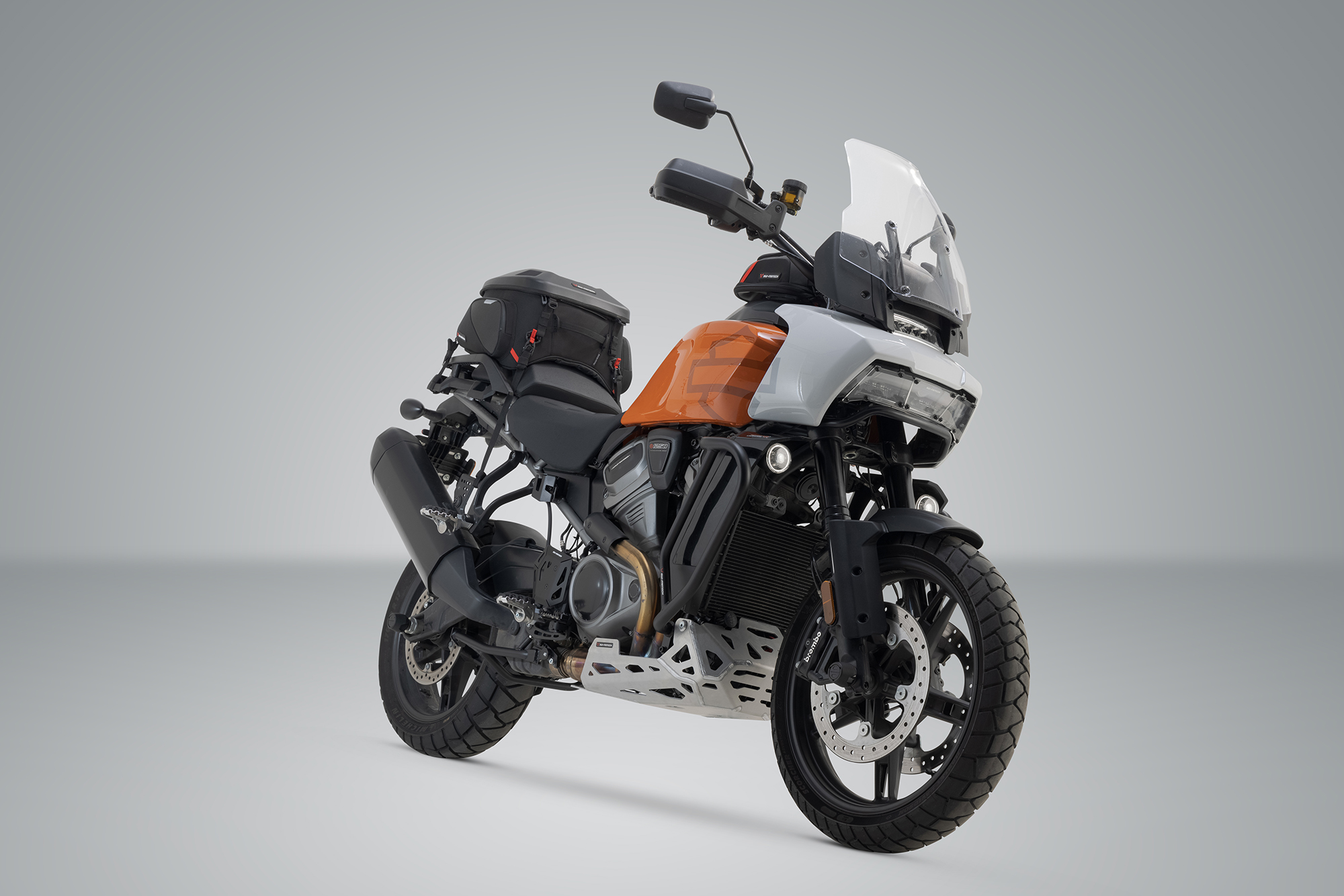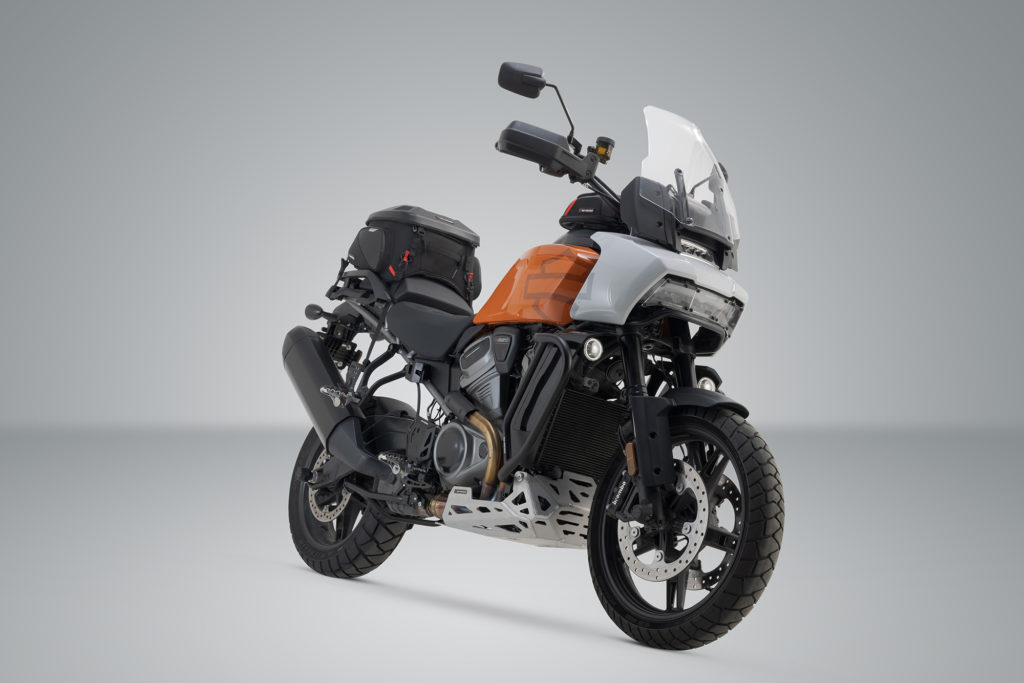 Tank and Tail Bags
SW-Motech has five new tank bags available in their PRO series, ranging from the 3 liter Pro Micro Tank bag to the voluminous 16 liters expandable Pro GS Tank bag (you can guess what other model that one fits). Each of these bags is constructed of UV-resistant 1680D ballistic nylon with a splash-resistant inner lining and a laminated EVA material for the top and bottom of the bags. For those looking for a waterproof option, SW-Motech offers the 6 liter PRO Yukon WP tank bag that has a body constructed of a seamless, welded TPU, with the same laminated EVA material at the top and bottom of the bag offered on the rest of the PRO line.
Each of the tank bags utilizes SW-Motech's updated quick-locking PRO Tankring for attachment. The new incarnation of the tank ring has a magnetic guide designed in conjunction with Fidlock and utilizes magnets to guide the bag's side of the ring into the correct position relative the bottom ring. This should make getting the bag attached a little less of a fiddly affair, with less trying to feel for the correct alignment under the bag. An easy, one-step connection is always a welcome bonus, especially while wearing riding gloves. If a non-tank ring option is preferred, SW-Motech also makes three new strap bags, the ProCross WP, Pro Enduro, and Pro Enduro WP.
To compliment the tank bags, there are three new tail bags available, the PRO Rearbag, PRO Rack pack, and Drybag 600. The two PRO bags have the same 1680D nylon body and EVA top, and bottom materials as the non-WP tank bags and the Drybag is constructed of a 500D nylon with a double-sided PVC coating.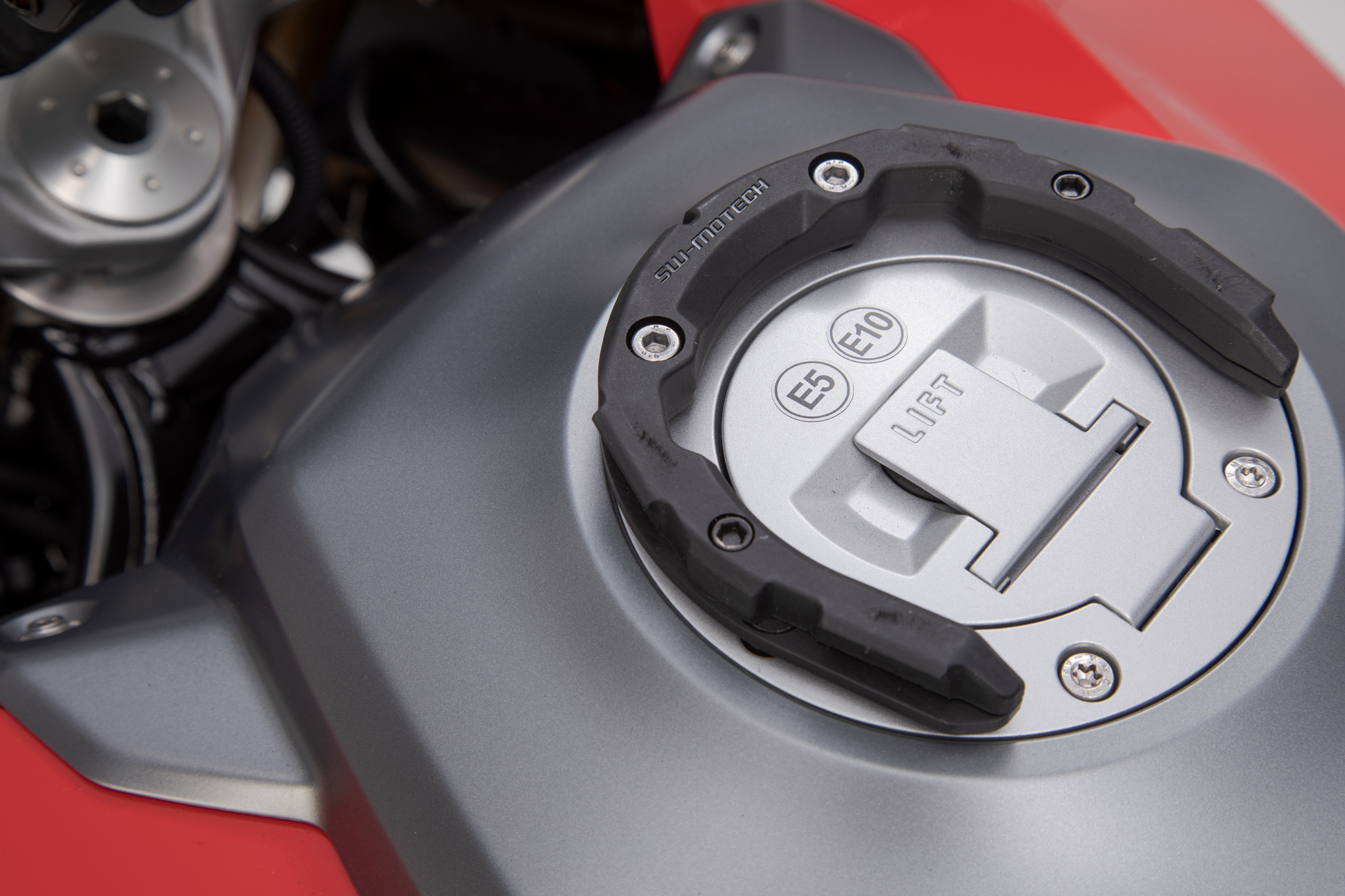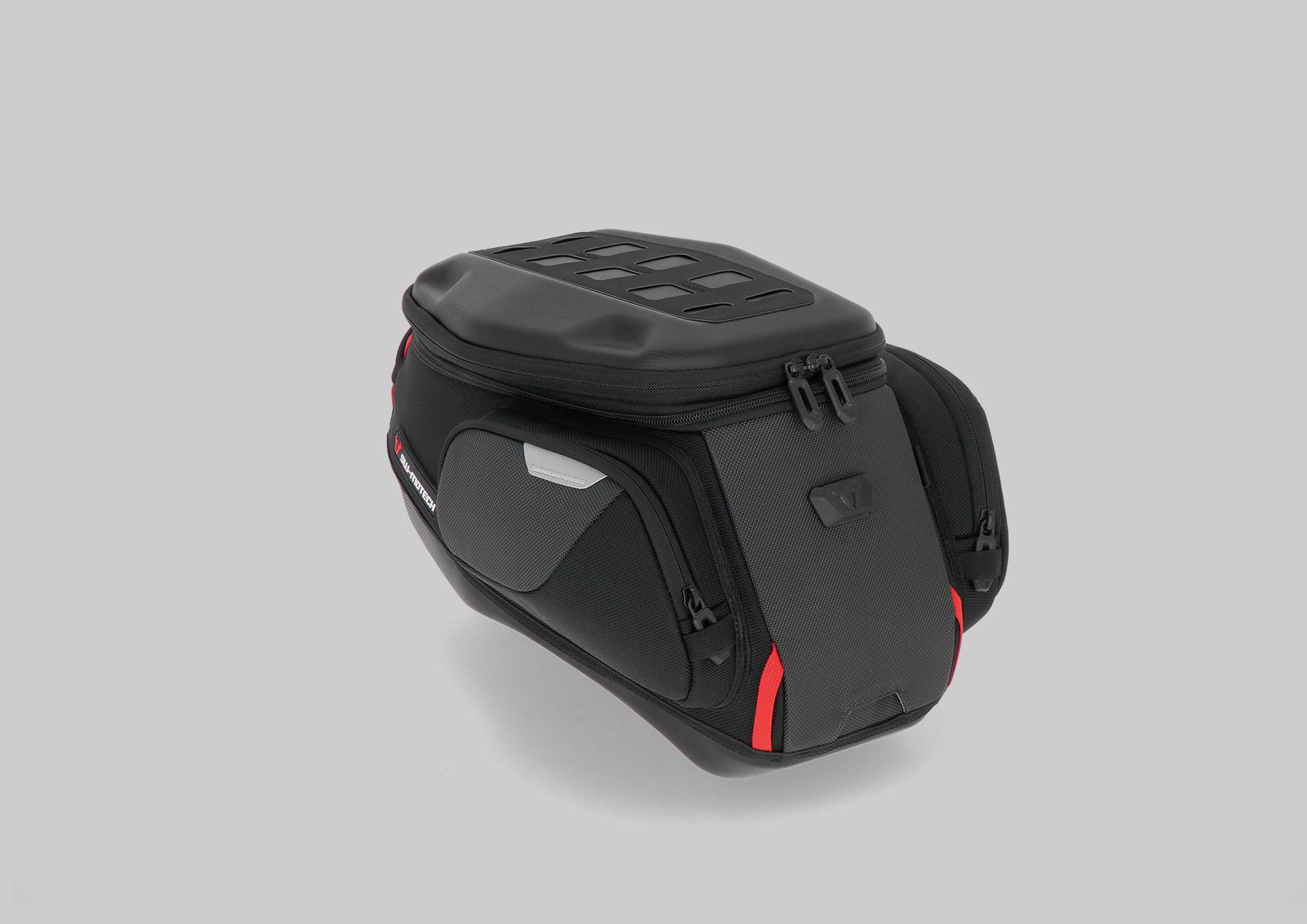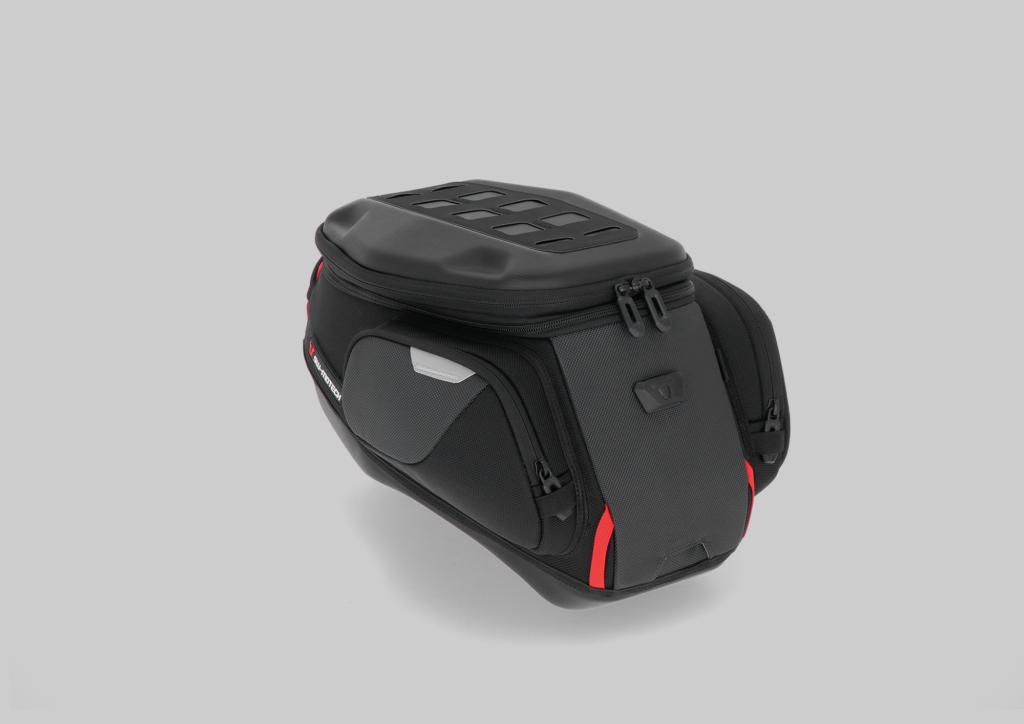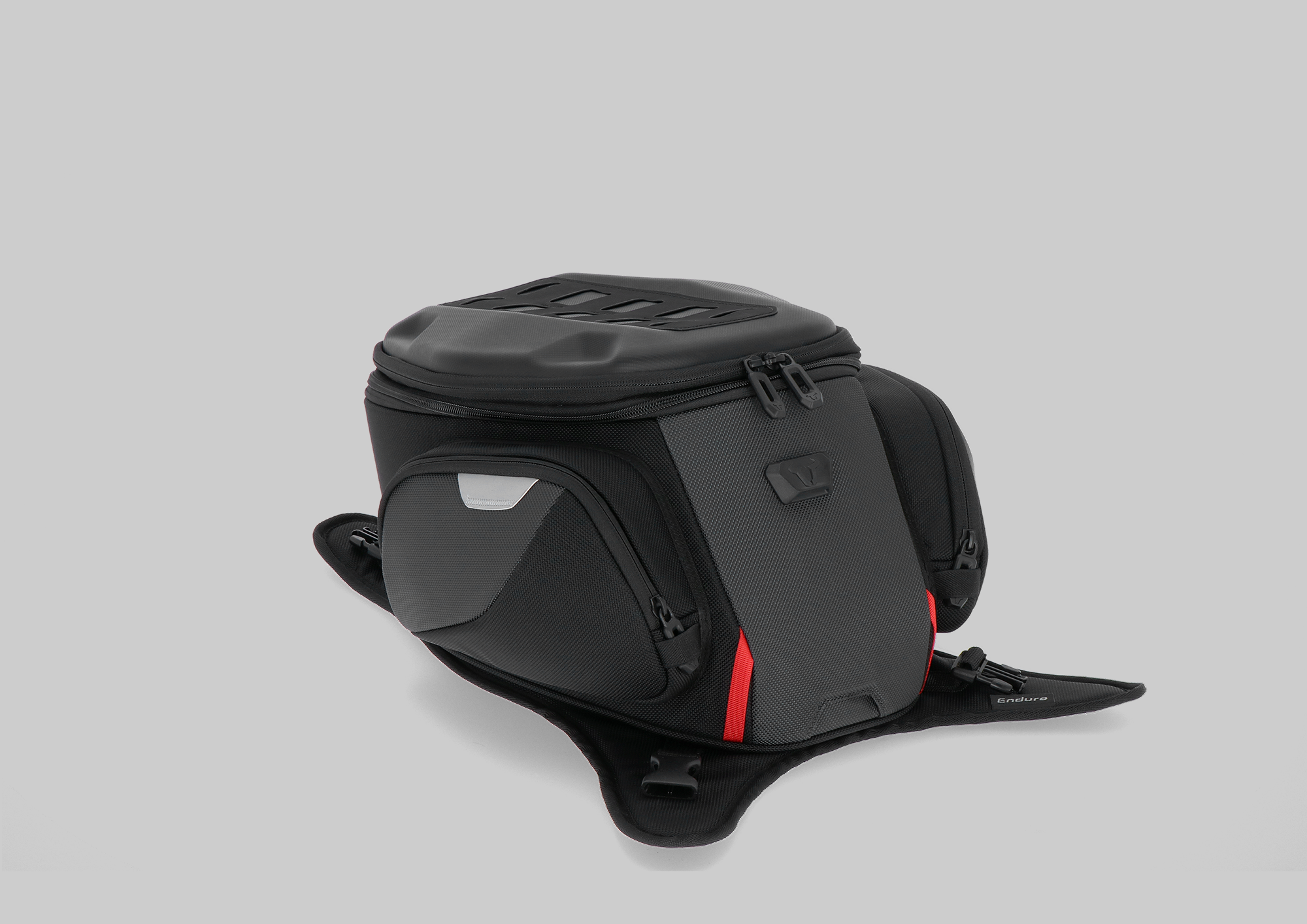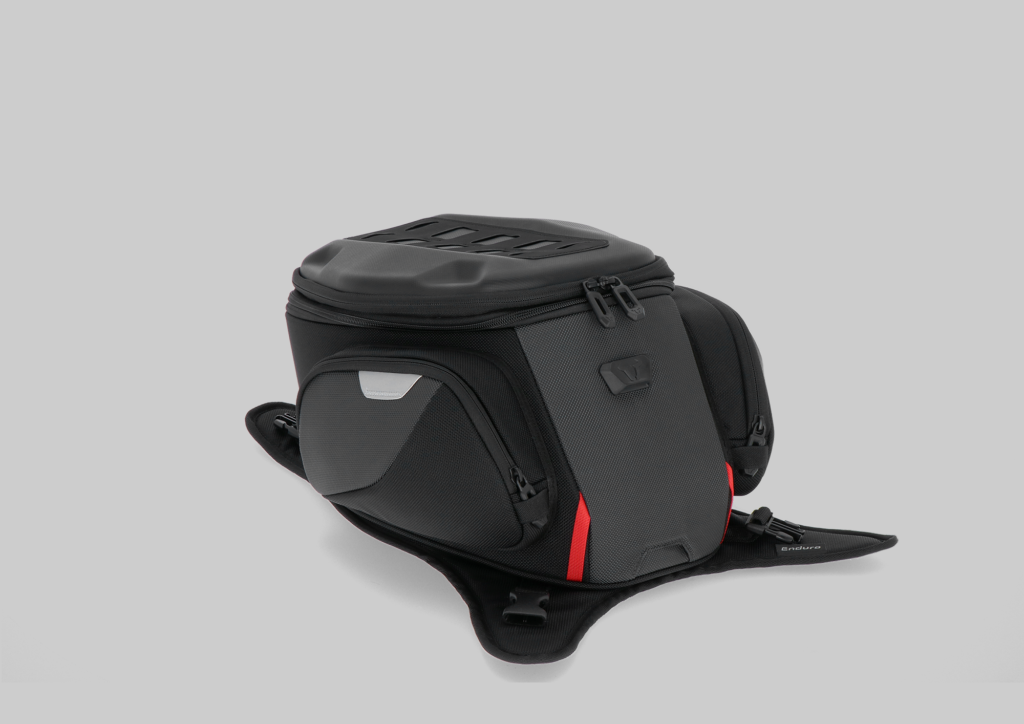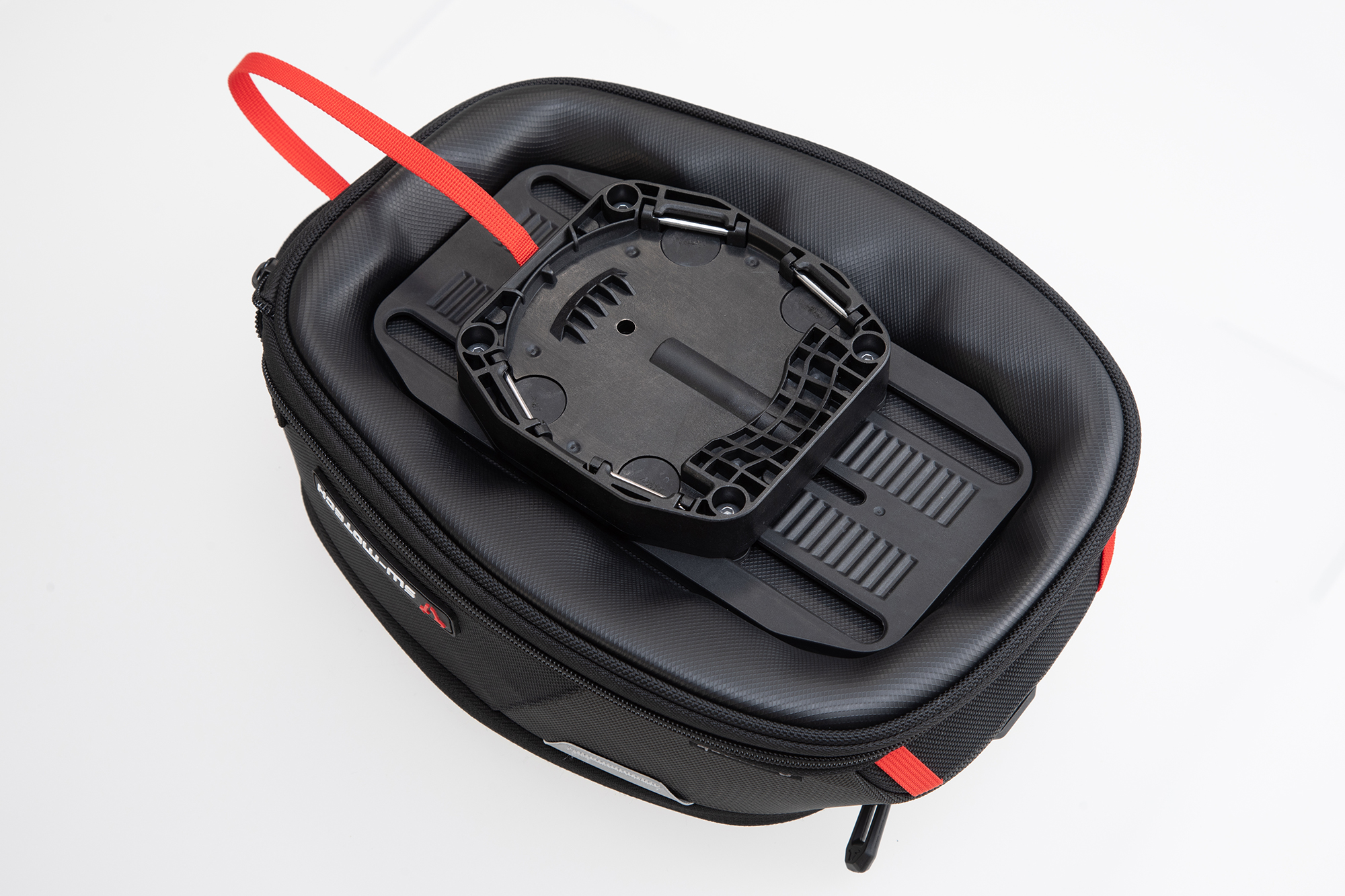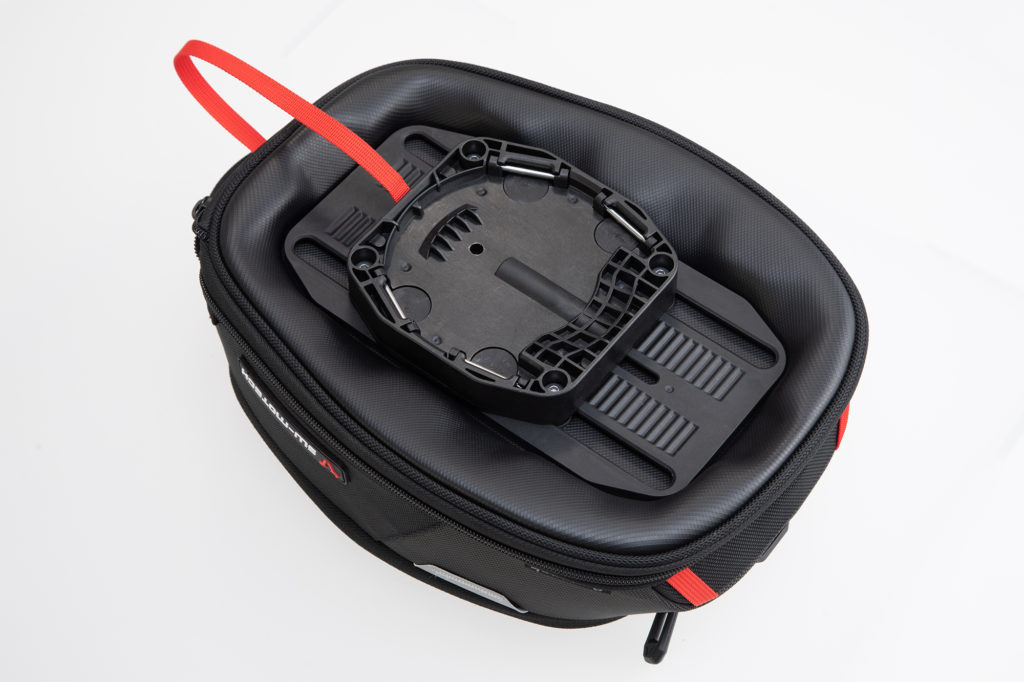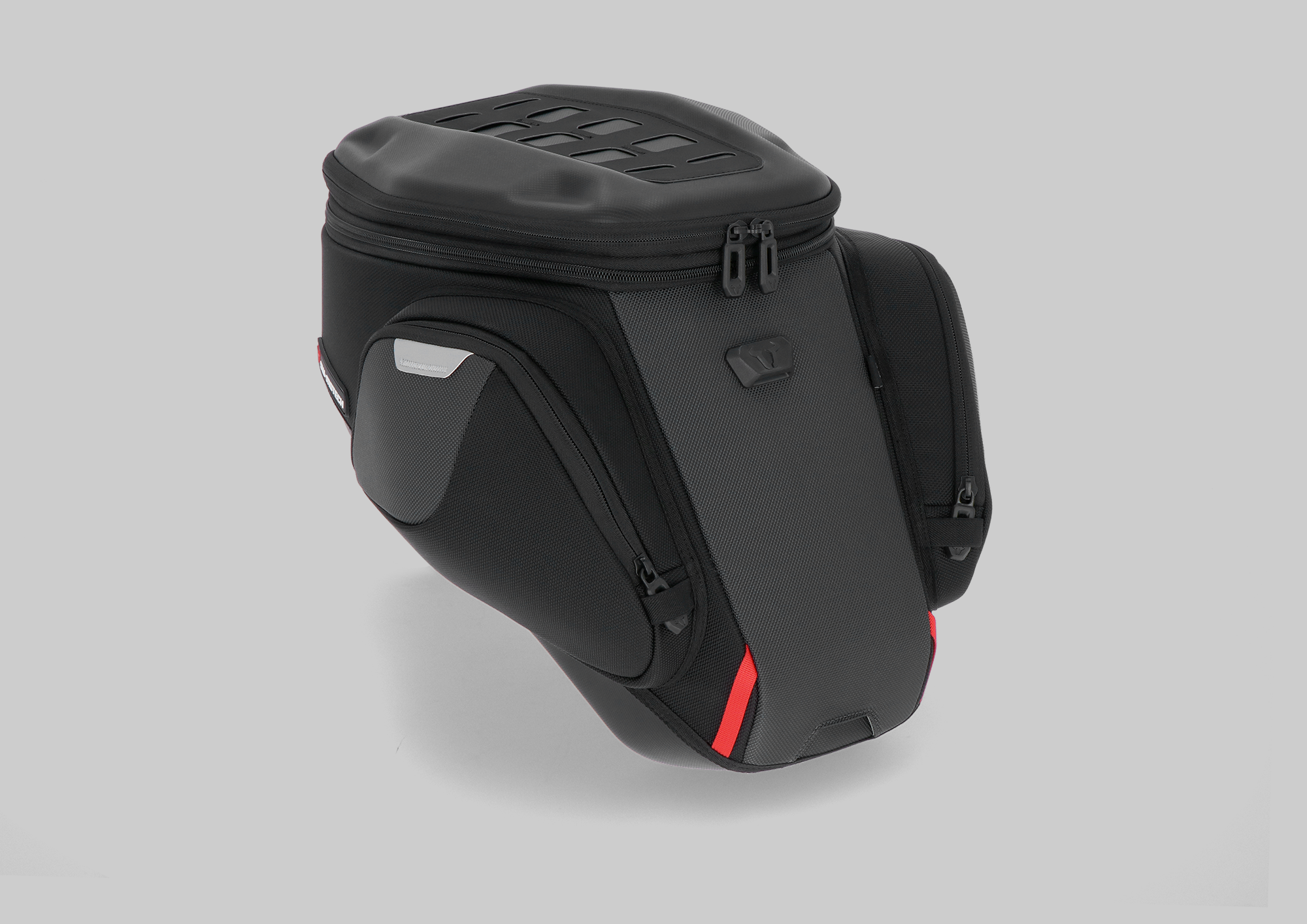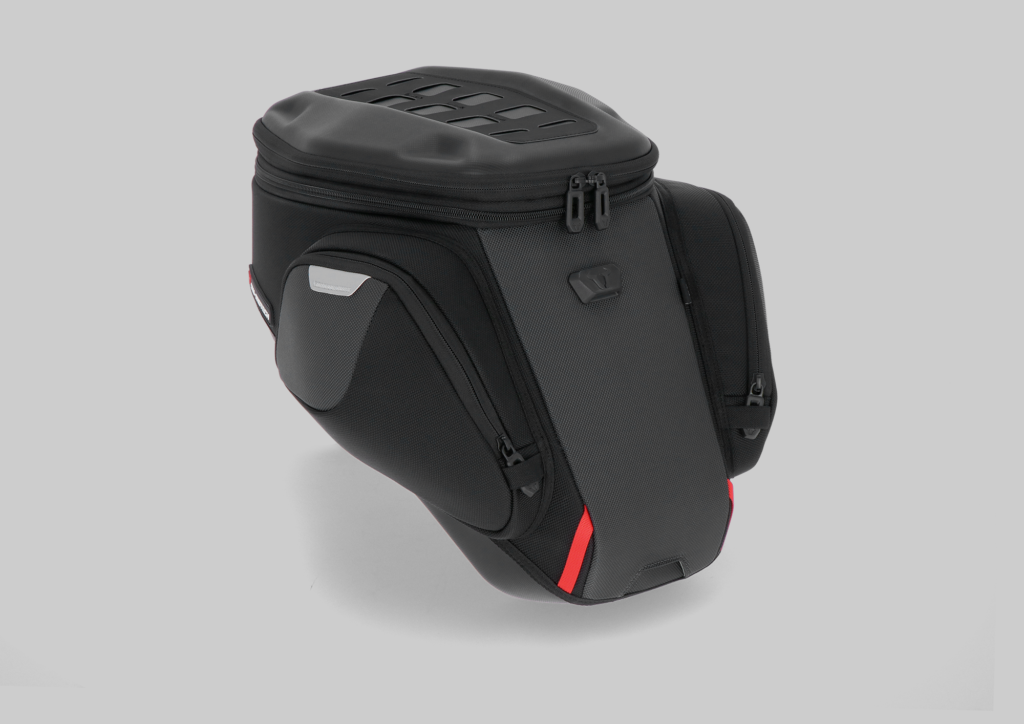 SW-Motech Bag Specs
| | | |
| --- | --- | --- |
| | Capacity | MSRP |
| Tank Bags | | |
| PRO Micro | 3 liters (expandable to 5) | 159.95 |
| PRO Daypack | 5 liters (expandable to 8) | 210.95 |
| PRO Engage | 7 liters (expandable to 10) | 240.95 |
| PRO City | 11 liters (expandable to 14) | 291.95 |
| PRO GS | 16 liters (expandable to 20) | 349.95 |
| Waterproof Tank Bags | | |
| Pro Yukon WP | 6 liters | 231.95 |
| Strap Tank Bags | | |
| Pro Cross WP | 5.5 liters | 189.95 |
| Pro Enduro | 12 liters (expandable to 15) | 225.95 |
| Pro Enduro WP | 11 liters | 268.95 |
| Tail Bags | | |
| PRO Rearbag | 22 liters (expandable to 34) | 305.95 |
| PRO Rackpack | 32 liters (expandable to 42) | 305.95 |
| Drybag 600 | 60 liters | 119.95 |
Protection Components
Beyond tank and tail bags, SW-Motech has also released a wide array of protection components for the HD Pan America, including a crash bar, front, and rear axle sliders, engine guard, header pipe guard, left heel guard, brake cylinder guard, and a brake fluid reservoir guard. The crash bar consists of 1-inch outside diameter steel tubing at the main bar and 7/8-inch tubing at the support bard. The 10.2-pound powder-coated crash bar hugs the lines of the Pan America closely, striking a good balance between protection and ergonomics.
What stands out most from the collection, at least aesthetically, is the engine guard. Made of rather beefy 4 millimeter-thick aluminum plate, the 7.3-pound skid looks like a piece of modern art. The same aesthetic is echoed in the stainless steel brake pump guard and the aluminum brake fluid reservoir guard, and the left heel guard. Call me a sucker for clean lines and an aggressive profile, but I'd have these on my Pan America in an instant if I were a new buyer.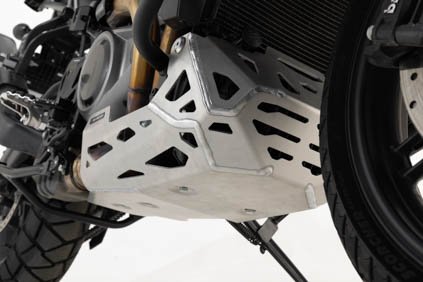 Engine Guard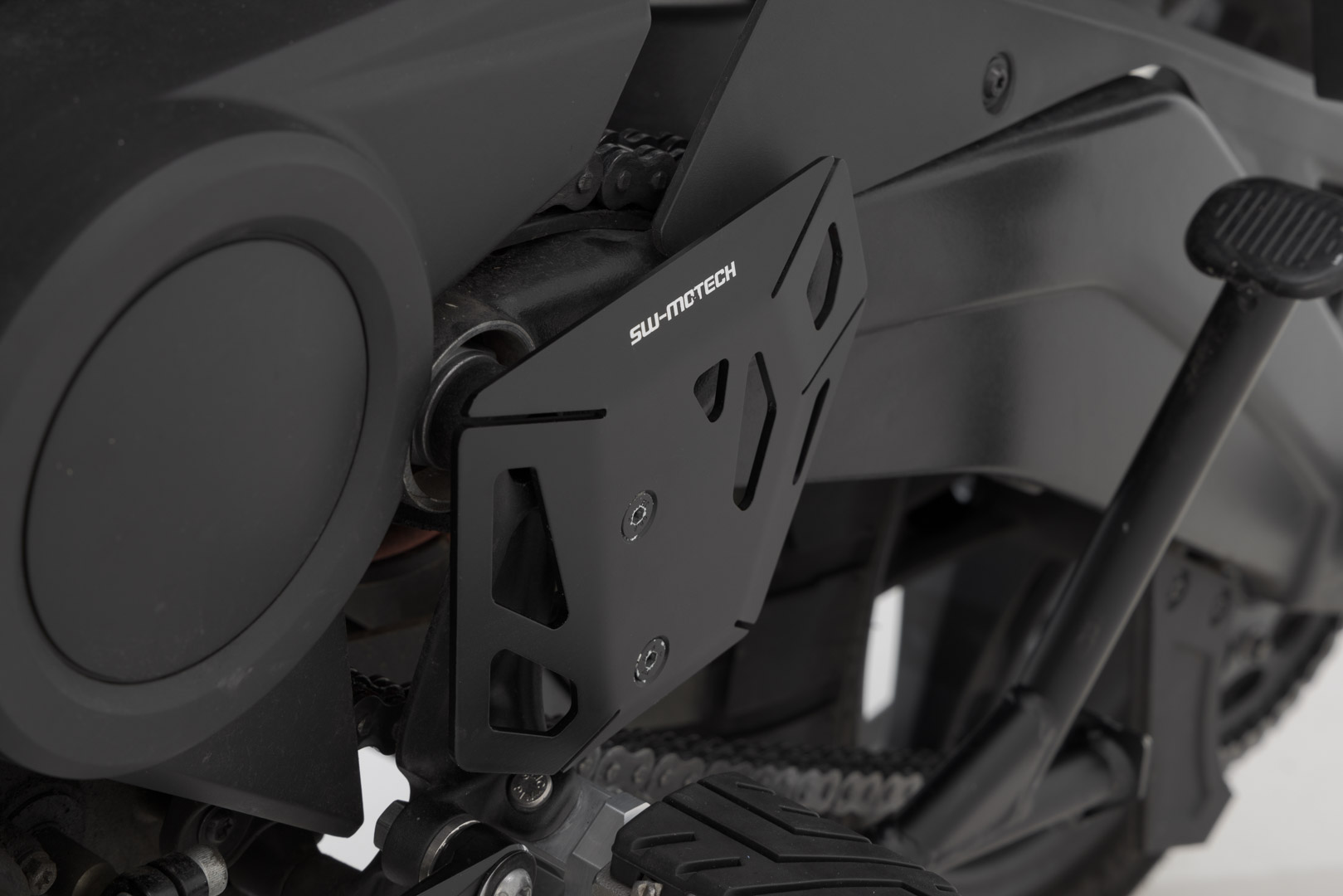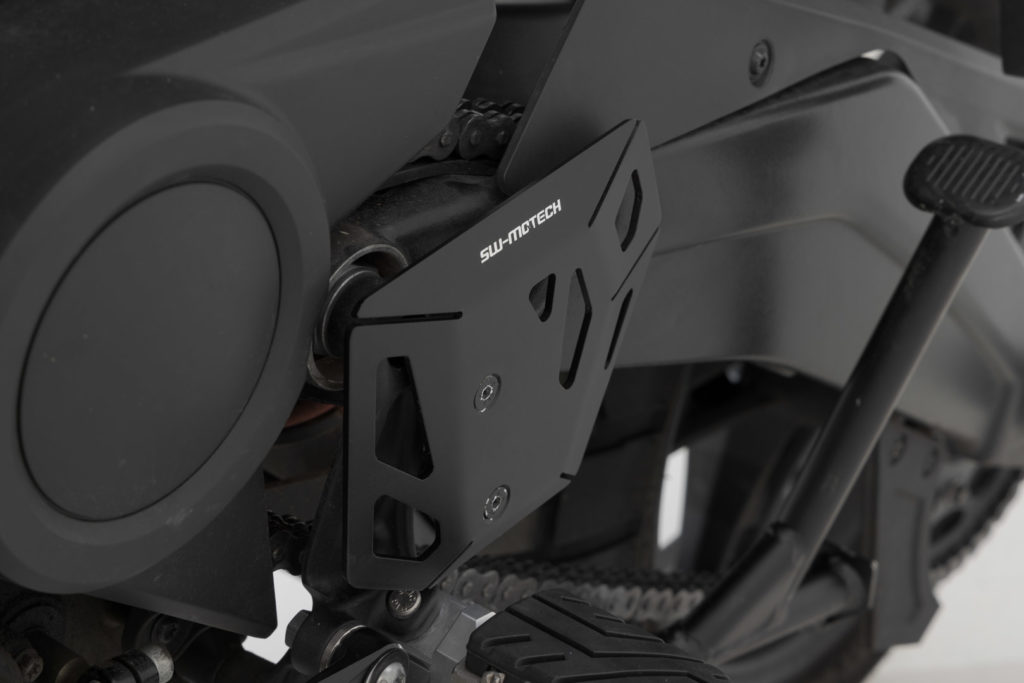 Left Heel Guard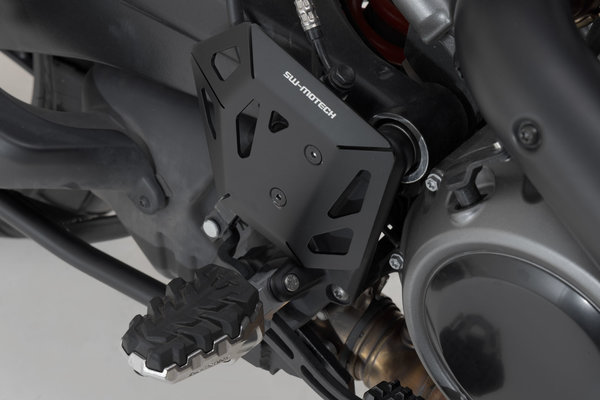 Protection Component Pricing
| | |
| --- | --- |
| Component | MSRP |
| Crash Bar | $299.95 |
| Engine Guard (Silver or Black) | $349.95 |
| Front Axle Slider Set | $102.95 |
| Rear Axle Slider Set | $102.95 |
| Brake Cylinder Guard | $56.95 |
| Brake Fluid Reservoir Guard | $50.95 |
| Left Heel Guard | $63.95 |
| Header Pipe Guard | $44.95 |
| Headlight Guard | $160.95 |
Additional Pan America Kit
Rounding out the collection of gear, SW-Motech has also released a center stand, EVO fog and high beam lights, footrests, passenger footrests, gear levers, and an array of GPS mounts, among other available components. Check out sw-motech.us for more details.