Just a few hours from Overland Expo West in Flagstaff, sitting just below Cedar Mesa, lay the stunning geologic formations of Valley of the Gods, a novice off-highway loop that begins just 9 miles from the town of Mexican Hat, UT (where you can also stock up on fuel and food supplies before hitting the backcountry.)
Known as a miniature Monument Valley, these sandstone monoliths were eroded by the winds of time over centuries. These monoliths provide an eerie, yet contemplative backdrop to your camping experience.
Valley of the Gods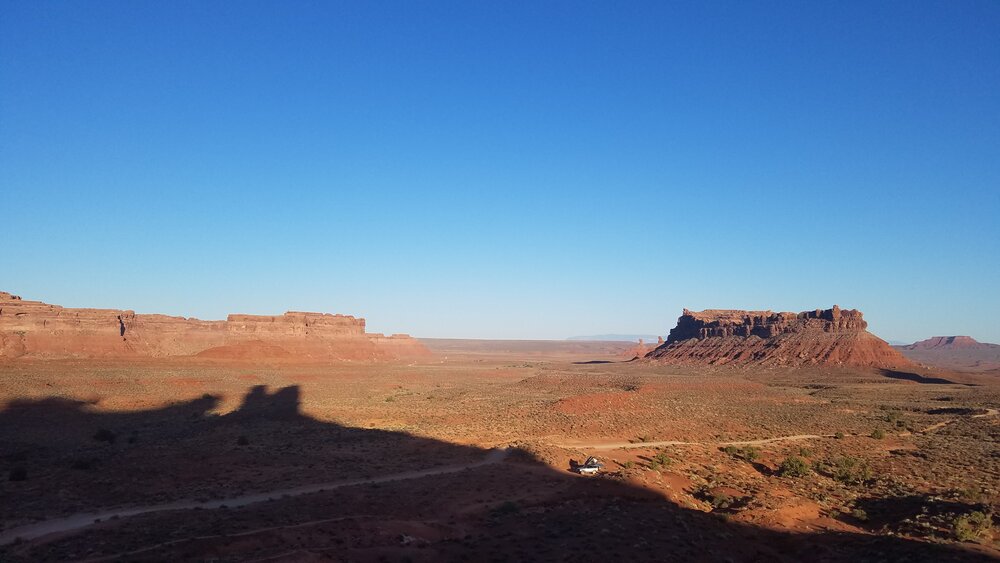 Valley of the Gods is quintessential Desert Southwest and you've probably seen this backdrop in many western films (and even Doctor Who.) You can tour the area via a 17-mile (27 km) gravel road (San Juan County Road 242) that winds around the red sandstone formations and provides access to many dispersed camping spots peppered throughout the valley. The Bureau of Land Management (BLM) asks that you only use previously created primitive campsites. Staying in previously-created sites keeps vehicles off of the cryptobiotic soil – a literal living soil that retains water and helps desert plants grow. No campfires are allowed, so bring your propane fire pit instead.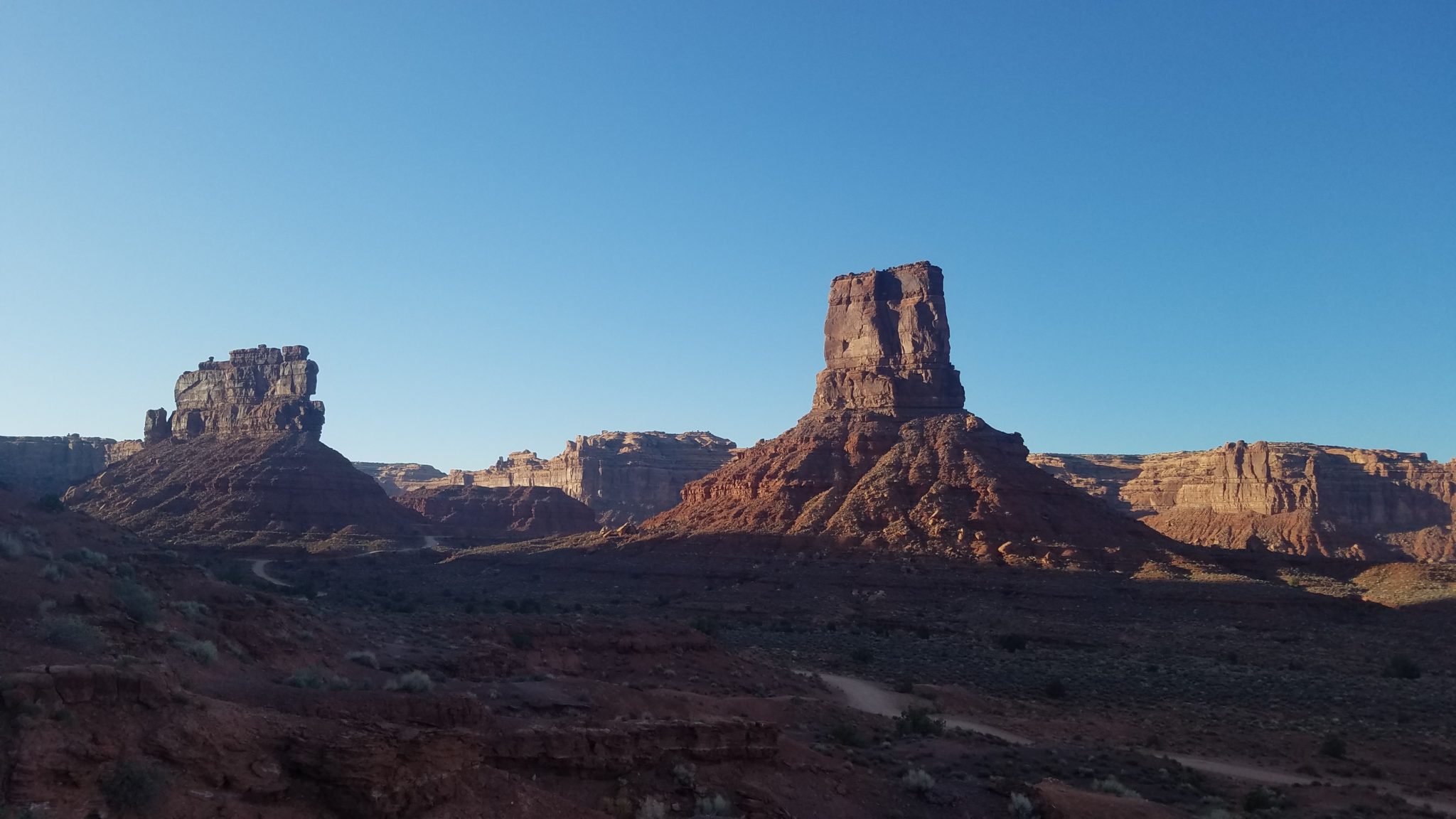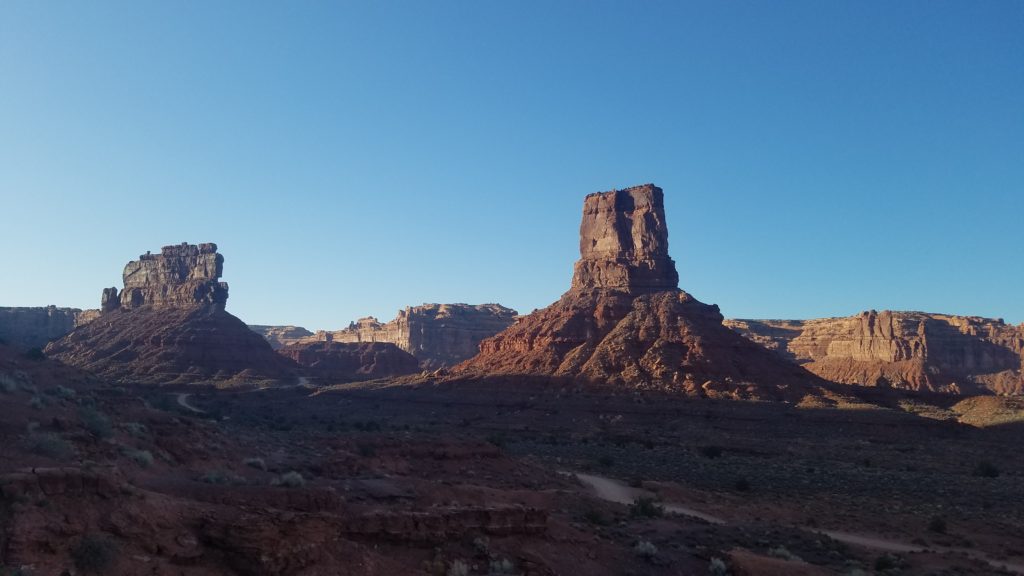 The area is part of the Navajo Nation, but it doesn't have the tribal restrictions of nearby Monument Valley. So you can explore to your heart's content. That isn't to say that Valley of the Gods isn't an important area for the Navajo people, so as always look, but don't touch – and leave any artifacts you might come across where they lie.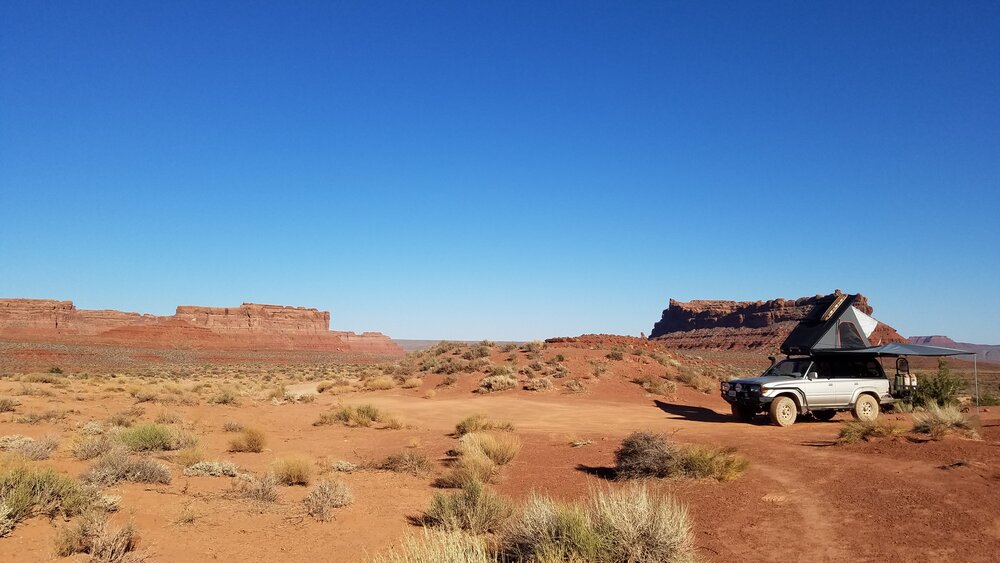 The road is rather steep and bumpy in parts but is passable by non-four-wheel drive vehicles in dry weather. The western end joins Utah State Route 261 shortly before its 1,200-foot (370 m) ascent up Cedar Mesa at Moki Dugway, while the eastern end starts nine miles (14 km) from the town of Mexican Hat along U.S. Route 163 and heads north, initially crossing flat, open land and following the course of Lime Creek, a seasonal wash, before turning west toward the buttes and pinnacles. In addition to the gravel road, the area is also crisscrossed by off-road dirt trails.
WHAT TO KNOW ABOUT VALLEY OF THE GODS:
Time: 1-3 hours, but plan to stay MUCH longer.
Distance: 17 miles
Fuel: There is fuel at Mexican Hat, UT. Just 9 miles away..
Water: Plan to bring more water than you anticipate requiring. Anticipate more than one gallon of water per person per day, especially in summer months.
Permits: No permits are required.
Other considerations: Rainy weather makes the roads incredibly slick and often impassable. Check with BLM Monticello Field Office for weather and conditions updates.