The BLM manages 54 designated National Back Country Byways covering approximately 2,952 miles in 11 western states. One of which is the Owyhee Uplands Back Country Byway which stretches between Jordan Valley, Oregon, and Grand View, Idaho. This 104-mile, graded gravel road makes for a fantastic overland drive with high desert scenery, history, and geography throughout.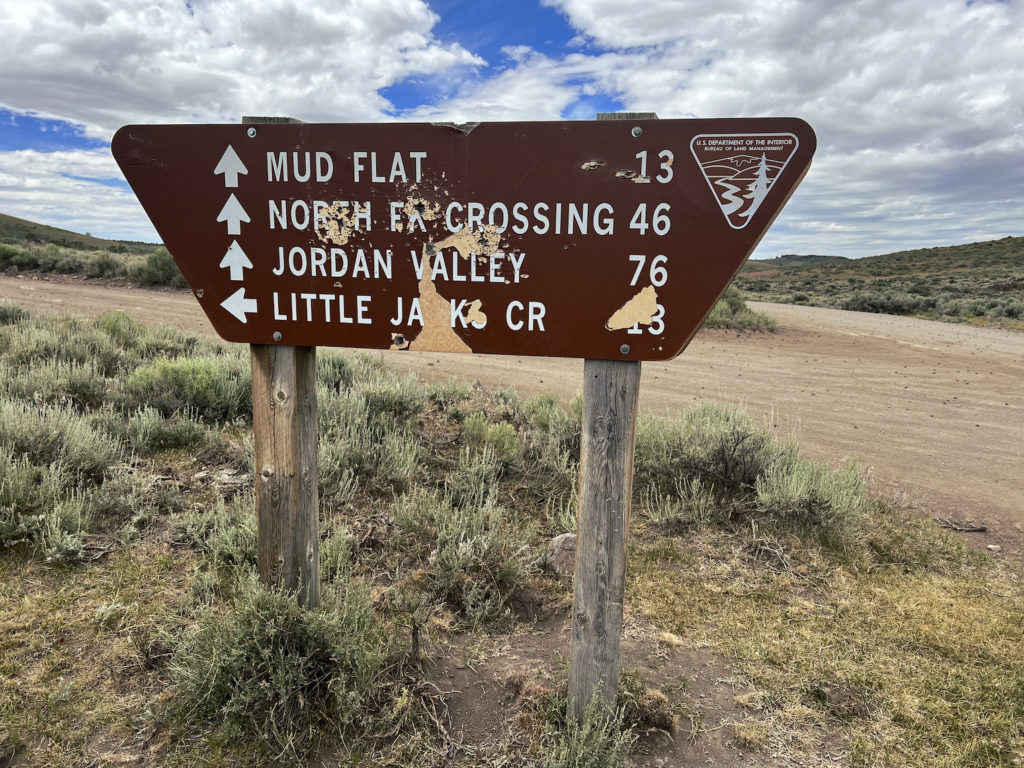 The entire length of the Owyhee Uplands Back Country Byway can be traveled during good weather by most passenger cars, though rain and snow make the road notoriously slick. Also known as Mud Flat Road, the Byway crosses the Owyhee Plateau and Canyonlands.
The ride begins in Jordan Valley, which was originally a supply depot for the Owyhee gold mines. As mining waned, ranching took hold, and the Byway was formed as a wagon route to access the remote ranchlands.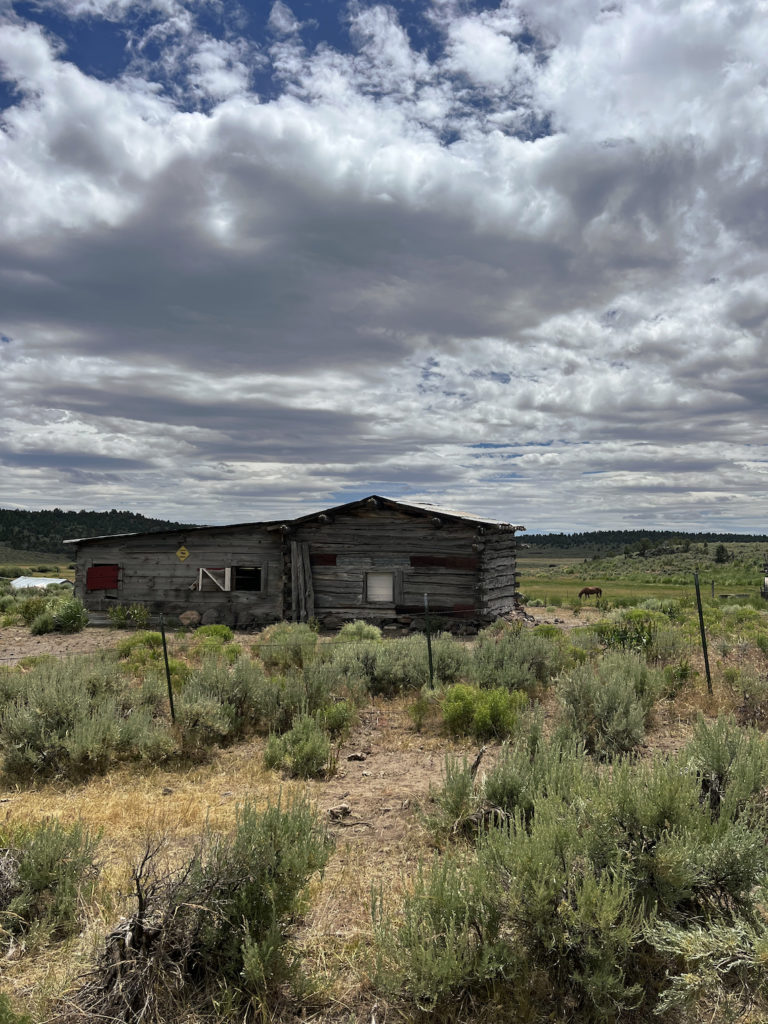 After gassing up in Jordan Valley, you'll head east along the sagebrush-covered hills along Jordan Creek. South Mountain rises 7,800 feet above the valley to the south. Just past the 22-mile mark, you'll reach Three Forks Junction, where you can take a 25-mile, out-and-back detour to overlook the confluence of the North Fork, Middle Fork, and Main Owyhee Rivers. With over 100 miles between gas stations on this route, just make sure you've got sufficient range for this side trip.
Thirty miles into the ride, you'll begin dropping into the North Fork Owyhee River Canyon. Looking westward, you'll see the meandering gorges of the Owyhee River system cutting through the plateau. About one-fifth of the world population of native California bighorn sheep live in and around these canyons. At the 31-mile marker, the North Fork Recreation Site has picnic tables, fire rings, and vault toilets.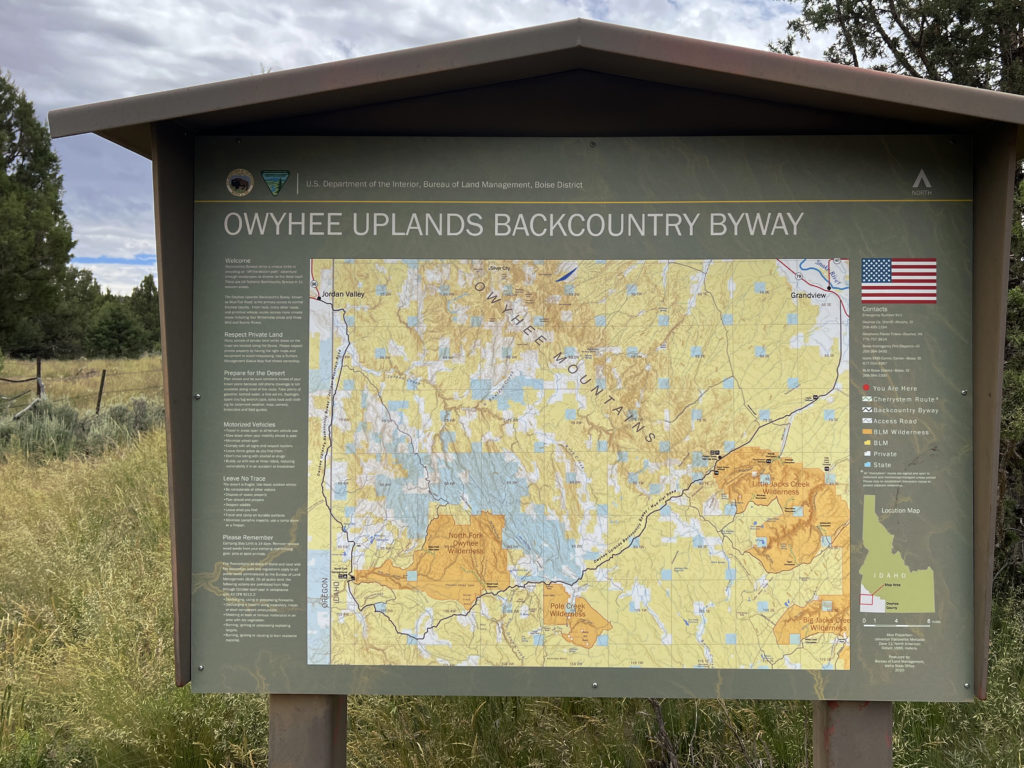 As your journey continues, old-growth juniper stands line the road, framed by the sagebrush-steppe ecosystem and ancient volcanic geologic formations. In addition to being the home to the ancestors of the Shoshone, Bannock, and Northern Paiute Indian tribes, the Owyhee also drew European explorers, homesteaders, and miners.
The rugged southwestern corner of Idaho, known as the Owyhee Canyonlands, contains roughly 500,000 acres of Wilderness Study Areas (WSA), some of which border the Byway. Off-highway motor vehicle travel is prohibited in these BLM-managed public lands, so please mind land use designations when traveling and camping along the Owyhee Uplands Back Country Byway.
What to Know:
Time: 4-6 hours
Distance: 104 miles
Fuel: Gas is available at either end of the Owyhee Uplands Back Country Byway in Jordan Valley, Oregon, and Grand View, Idaho.
Highest elevation: Elevation along this route ranges from 2500 to 6300 feet. Be prepared for the arid high desert climate.
Water: There are natural water sources along this route that require purification. Or fill your bottles when you're getting gas in Jordan Valley or Grand View.
Camping: Ample dispersed camping is available on BLM land along this entire route, but mind the Wilderness Areas and private lands that are in the area. Please pack out anything that you bring in with you.
Other considerations: You'll be able to navigate this route in any capable vehicle in good weather, but it is typically impassable from late November through March due to snow. Cell service is virtually nonexistent, and you'll be very remote for much of the journey, so plan on being self-sufficient for the duration of the drive.