No one cares about my whereabouts as much as my mother does.
Throughout every single overlanding trip I take, my mother is constantly texting me to make sure I am alive. I am generally out of service, so I get a raft of these "R U OK" texts all at once as soon as my smartphone catches a scant signal from a nearby cell tower.
I mostly ignore these messages.
No one else in my life — not friends nor girlfriends nor siblings nor my father — is as worried as my mother about my safety. I am 36 years old and a seasoned overlander with a solid track record with zero life-threatening events during my travels. This is good enough to quell the fears of most everyone else who cares about me. And yet, my mother persists, barraging me with constant digital check-ins.
Due to my mother's penchant for digital obtrusion (I get away on overlanding trips to get away), I was wary of testing the ZOLEO Satellite Communicator. That's because I wasn't sure I liked the idea of having a device that telegraphed my exact location to others on a customizable time schedule.
Nevertheless, on my most recent trip, I threw the ZOLEO in the door pocket of my truck and headed off to Central Oregon for three nights.
Leaving without you
Heading off for a trip in mid-November, Eric, my friend riding shotgun, and I decided that it was too cold to spend time in the mountains of Oregon, where we usually explore on our overlanding treks. Instead, we headed toward the high desert of central Oregon, southeast of Bend, just east of the Deschutes National Forest.
You don't have to get far outside Bend before hanging a right-hander into Federal land. A few miles down the track, the land opens up, revealing a crisscrossing jumble of ancient roads and trails.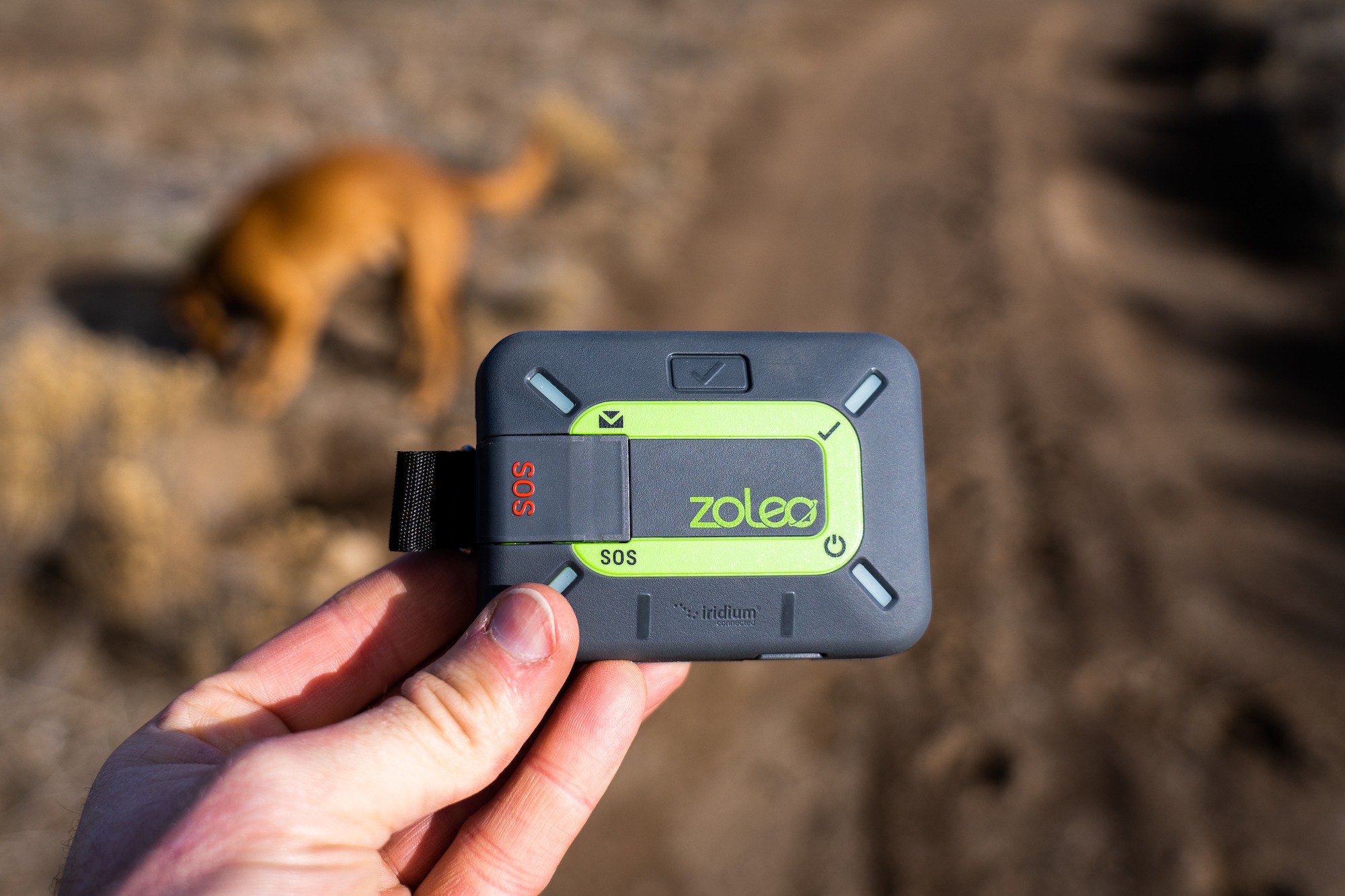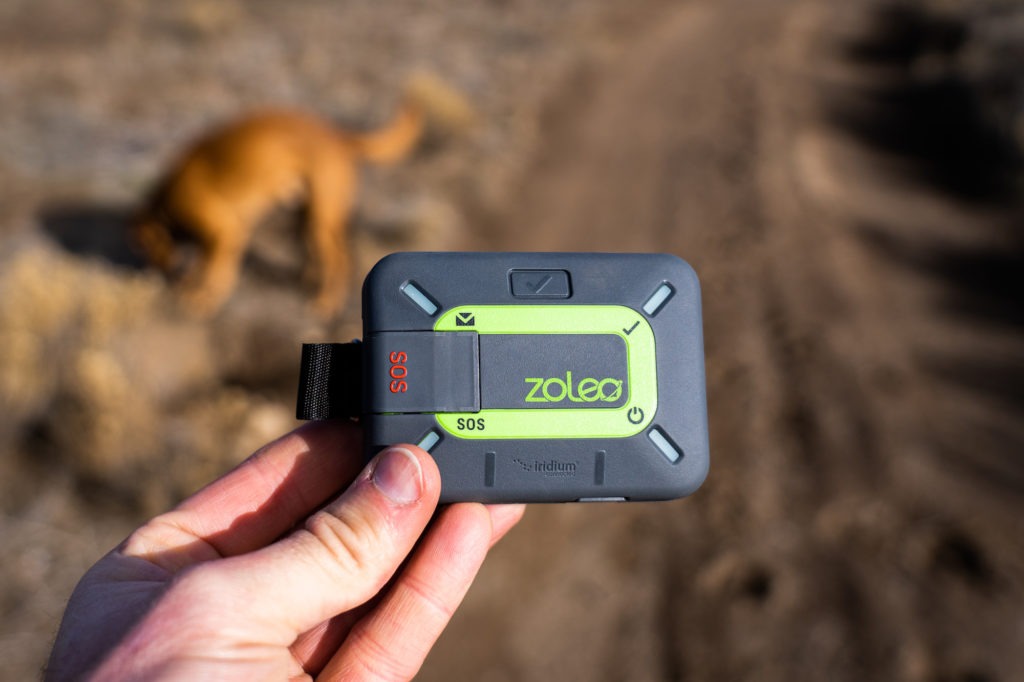 It's a virtual choose-your-own-adventure out there — a sea of sagebrush and sand as far as the eye can see and miles of tracks to choose from.
Even though Eric and I left Portland in the morning, the five hours of driving ate into most of the late fall daylight. With sunset due around 4:30 p.m. (don't get me started), we found a suitable campsite up atop one of those aforementioned plateaus. I parked my truck just off the trail, and we set up camp. With tents tucked in amongst the trees, we wandered to the rocky ledge that overlooked the valley below. We gathered rocks to make a fire ring and got a blaze burning.
Before we departed Portland that morning, we anticipated our friend Robert would catch up to us. Robert was supposed to leave with us but got waylaid. So we left without him. On the road out to central Oregon, Eric and I sporadically checked out smartphones in anticipation of finding an "I'm on my way!" text from Robert. But one never came.
Still, with no word from Robert, Eric and I made dinner — pasta cooked in its own sauce, a trick we learned from Shawno from 4WD 27/4. We sat there quietly in our camp chairs, leaning forward into the heat of the fledgling fire in front of us, and watched the sun set beneath the valley floor as the light of the day faded from orange to blue to black.
Not long after the sun went down, the moon rose. It was so clear and the moon so big and its light so bright that you might think the sun was miraculously rising again. Just over the flickering fire, I watched as the moon slowly illuminated the valley in front of us in a white-blue glow.
Right as the moon crept over the hill to our left, the cabin of my truck lit up from the light of my smartphone's screen. Puzzled, since I had no cell signal, I furrowed my brow and sauntered over to the truck. I found that, despite having zero cell reception, Robert was able to shoot a text over to me through the ZOLEO.
Robert apologized for his late start. He had a work project he needed to finish before leaving Portland. But he saw our location on the ZOLEO app and was headed our way — more than three hours out.
"Fancy that," I said to Eric. "Robert will be here around 8:00 p.m."
"Just in time for bed," Eric chuckled.
This was then that the absolute value proposition of the ZOLEO hit me; it's not just for calming the worries of loved ones but also for reuniting friends on the trail.
About ZOLEO
ZOLEO works like other satellite communicators. It allows you to send messages anywhere on the planet, utilizing the Iridium satellite network or cellular or Wi-Fi signals. It has SOS alerting with 24/7 monitoring. You can check in to let others know you're OK and share your GPS location. And it offers weather forecasts, too.
It's the cellular- and Wi-Fi-messaging feature through the free ZOLEO app that distinguishes it from its competitors. Even if your ZOLEO is off, but you're connected to cell or Wi-Fi, you will still be able to receive your messages.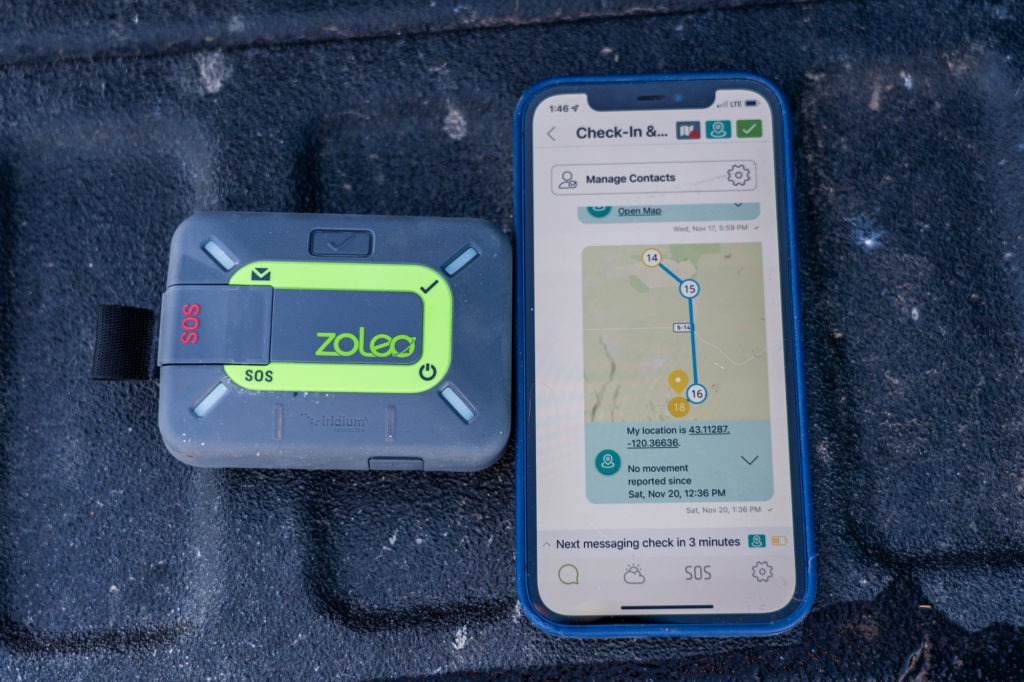 Priced at just $199, it's around 40% less expensive than its competitors, too. And the pricing for monthly plans run from $20 to $56 per month. So you can tailor your plan to your budget and needs.
The plan I'd pick would be the base $20/month plan, which covers 25 text messages over satellite and unlimited SOS monitoring. I'd add the $6/month Location Share + upgrade that gives you unlimited location check-ins and texts with five contacts throughout the ZOLEO app.
With LS+ your contacts can track your whereabouts like breadcrumbs on a map in their ZOLEO app. This feature alone makes the ZOLEO worth getting, in my opinion, and the feature I know my mom would most appreciate.
Late but not lost
More often than not, I have a friend or two who intend to join me on any given overlanding trip but can't make the set departure time. Robert is perpetually guilty of this. Instead of riding in convoy, I furnish my friends, my would-be travel mates, with a rough estimate of where I'll be on any given day in the hopes they can catch up.
Honestly, I do this half-heartedly. If you can't make it, that's on you, dude. I am not going to sit around and wait because you can't leave on schedule. Sorry, not sorry.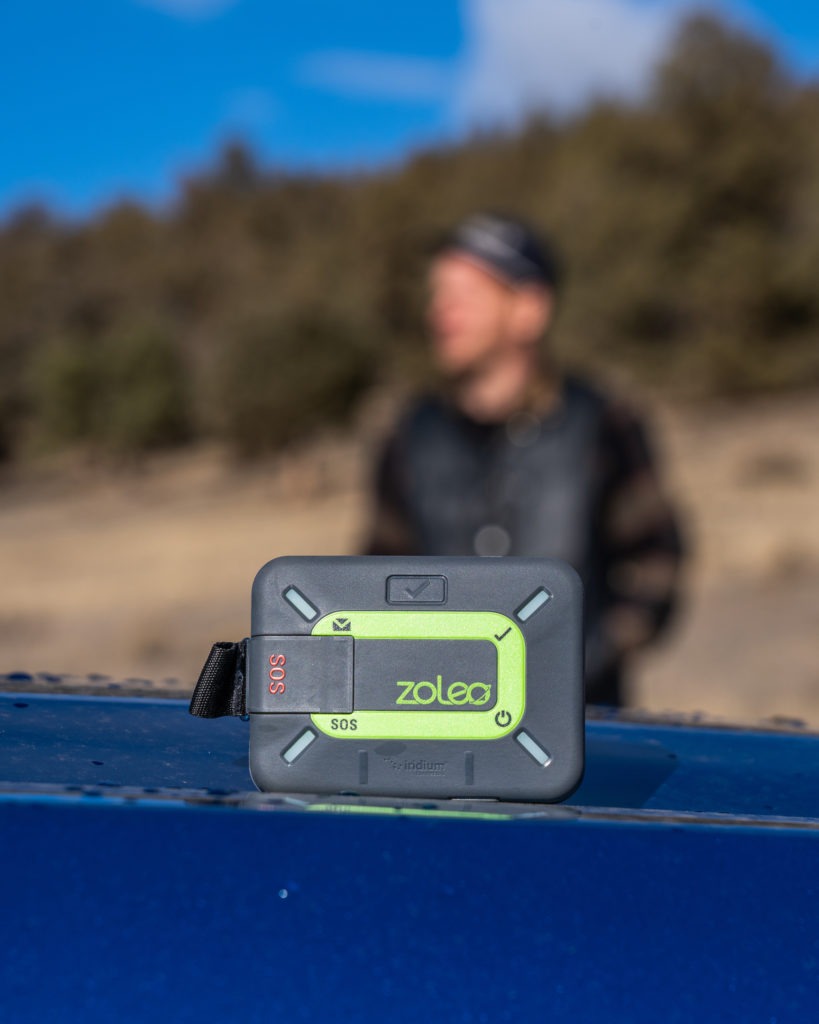 Although I'll give my friends GPS coordinates and timelines, it rarely works. They almost never find me. They either fail to meet up with me or never leave for fear of spending their entire trip alone playing catch up. Occasionally, Robert will indeed find us after departing late, but it's rare. I can hardly blame my friends — they want to join me, but work, family, general malaise, and other responsibilities get in the way.
Standing there in the chilly evening air, smartphone in hand, reading Robert's texts on the ZOLEO app, my brain lit up like the interior of my truck had just moments before. Now, with a ZOLEO, my preoccupied and tardy friends will always find me on my trips, unlocking more excitement, adventure, and camaraderie.
This will be a game-changer for my friends and me.
Keeping track
Eric and I spied Robert's headlights weaving down the trail towards us just around 8 p.m. that night — right on schedule. His headlights illuminated the sagebrush in bouncing fits as he hightailed his way toward us. The droning burble of his vintage Mitsubishi's V6 echoed its way up to our ears as he neared the final hillclimb up to our campsite.
As soon as he got to camp, we handed him a beer, had a laugh or two, and hit the hay.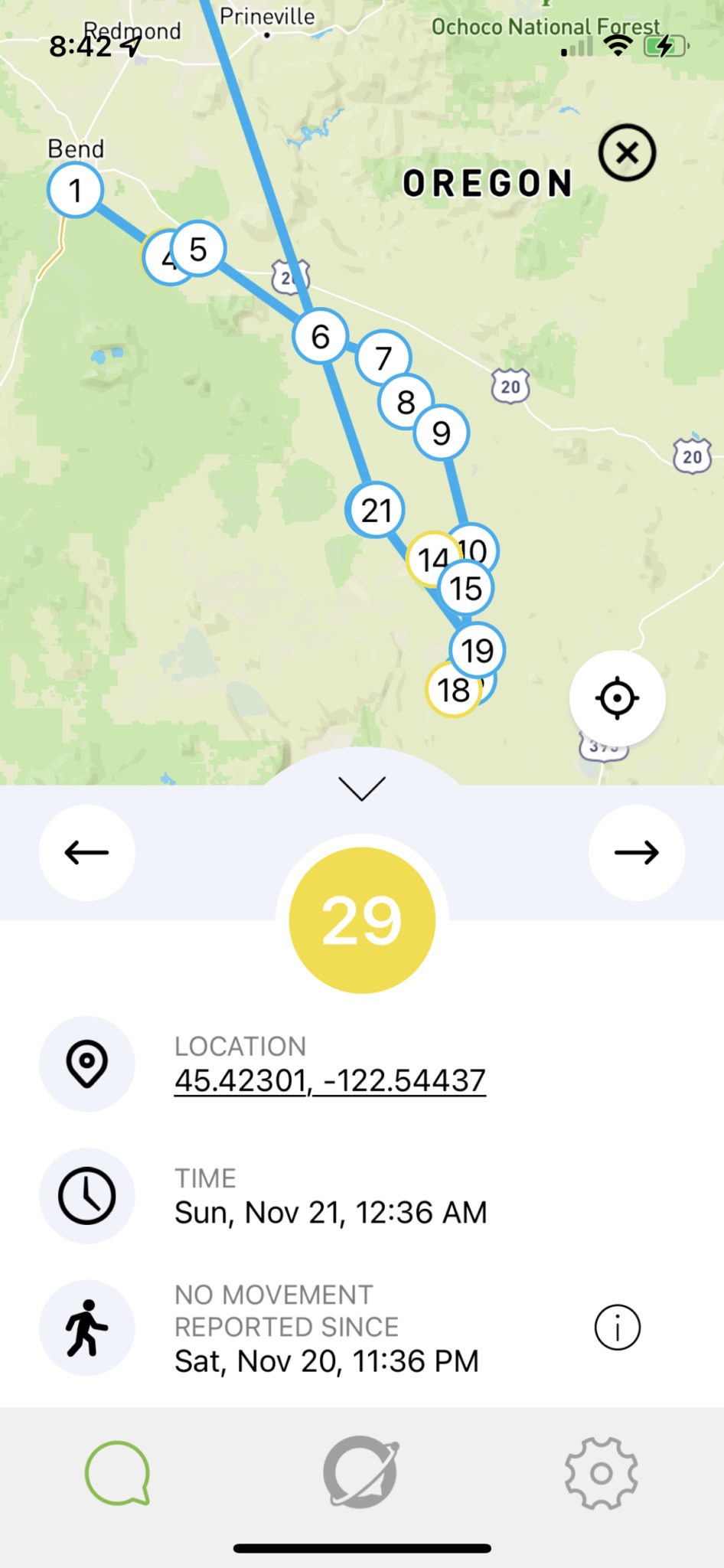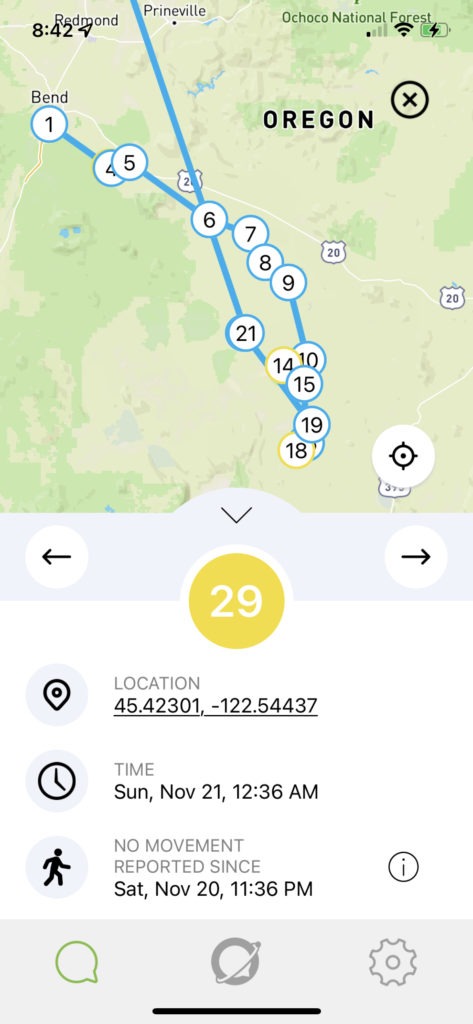 Because Robert no longer needed to track my whereabouts via ZOLEO, I instead sent my location to Overland Expo's Associate Editor, Rick Stowe. Rick inherited the unfortunate job of receiving the push notifications of my location every hour for an entire four-day weekend.
Occasionally, Rick would text me through ZOLEO asking if the location was correct. It always was.
At the outset of the trip, I feared ZOLEO would be a tool that would remove one of the benefits of overlanding: the lack of digital connection, the remoteness, the solitude. And, in a way, it does do that.
More importantly, however, ZOLEO plays double duty. It can keep my loved ones (i.e. mother) quietly cued into my location while at the same time reuniting me with my slacker friends. That doesn't even begin to touch on its SOS and emergency communications capabilities, which are also a huge relief to have.
I went on this trip fearing ZOLEO might take something away from my overlanding trips. Instead, it did the opposite. It connected me with my friends.
As for my mother, I know what I am asking for her to give me for Christmas this year: A yearlong subscription to ZOLEO with Location Share +.