Out of all of the exhibitors, classes, and gear available at Overland Expo Mountain West, it's difficult to walk more than a few steps without running into an incredible rig. No matter if you're in the exhibitor area, the campgrounds, or even the parking lot, you can find rigs intended for their own brand of adventure. Over the weekend, we tried to find some of the most unique and surprising rigs of the event. Here's what we found.
AMC — Eagle SX/4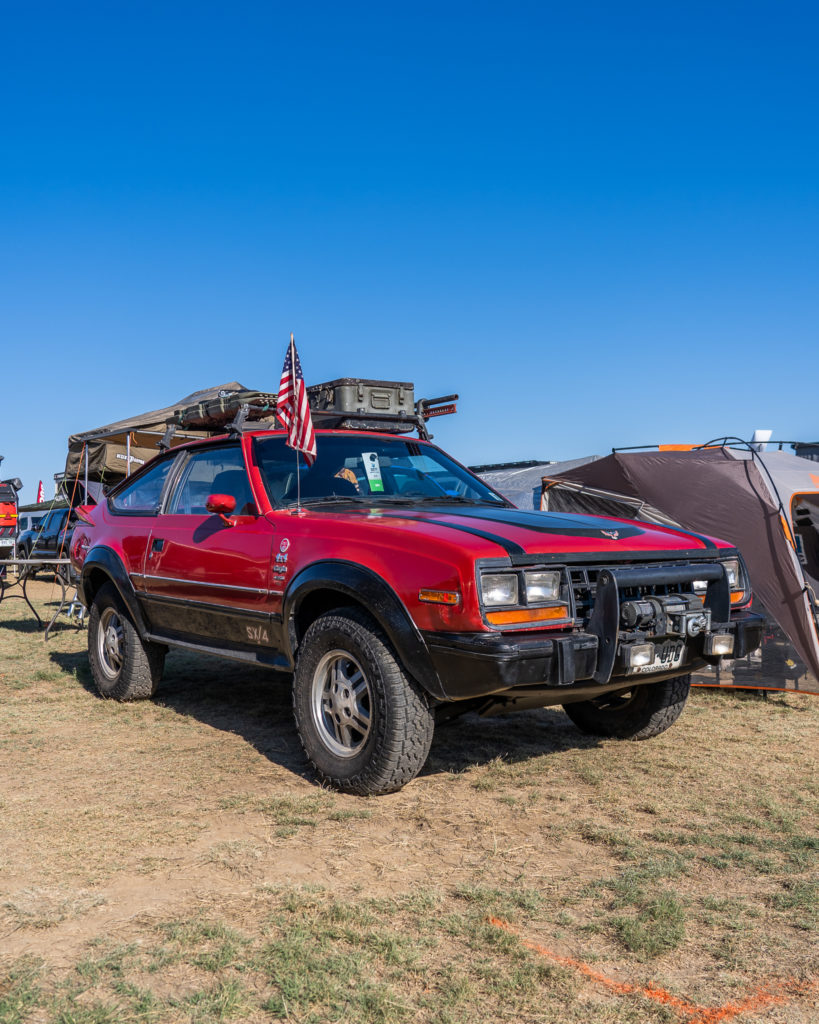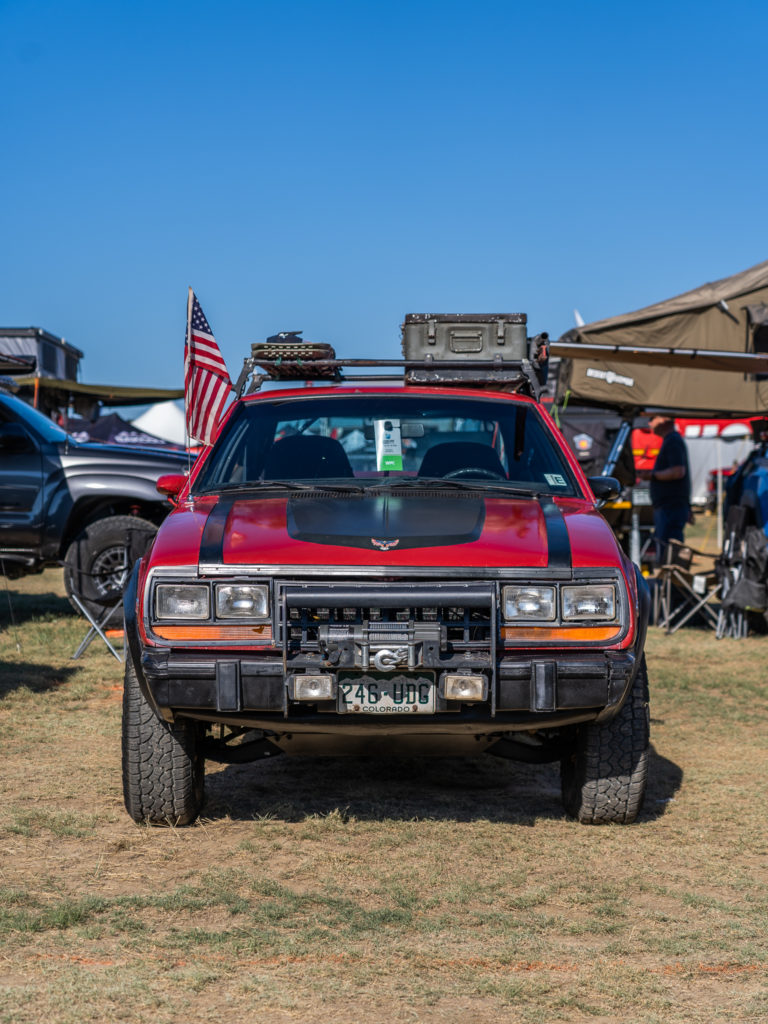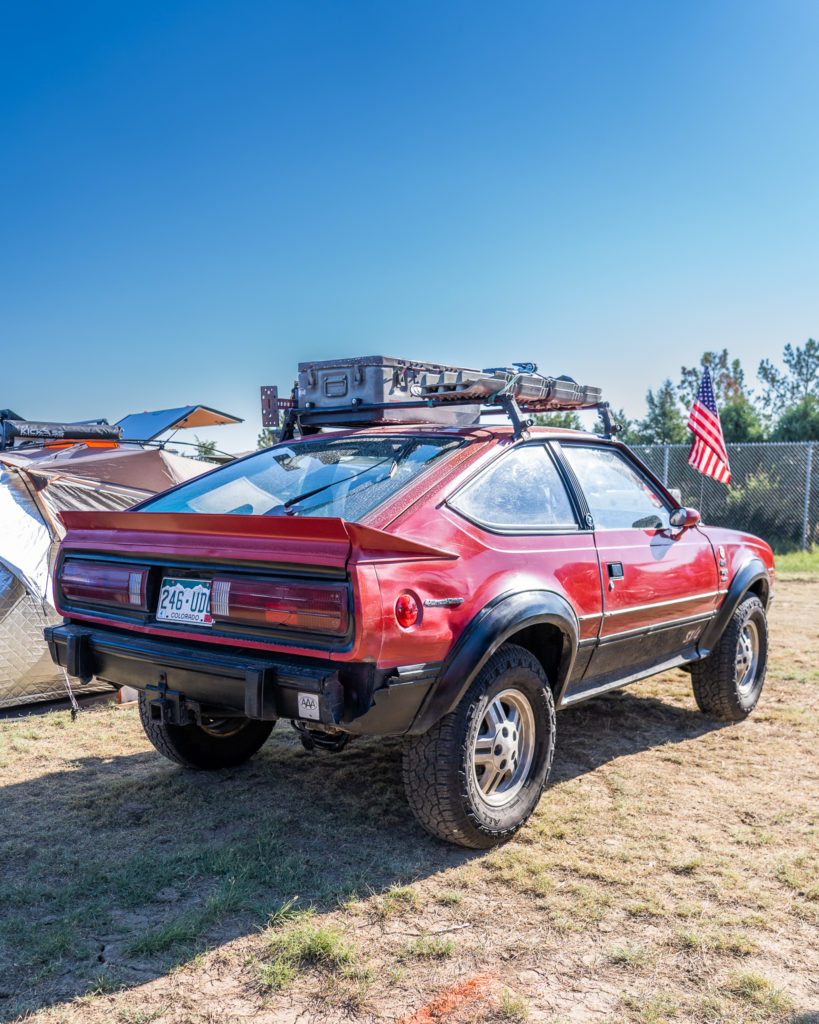 There are a lot of reasons to respect this rig. The Eagle SX/4, if you're not aware, was one of the first sport crossover vehicles, mating a sporty three-door hatchback design with tall ground clearance and AMC Jeep's 4×4 system underneath. The SX/4 was offered with a four-cylinder or the venerable 4.2-liter inline six. We don't know which this example has, but we're going to go ahead and hope it's the I-6 variant. We love this rig because it's rare and weird. What's more, with a winch, roof crossbars topped with expedition gear, and all-terrain tires, it looks like this twee four-bee gets used. And, for that, we salute the owner.
Porsche — Cayenne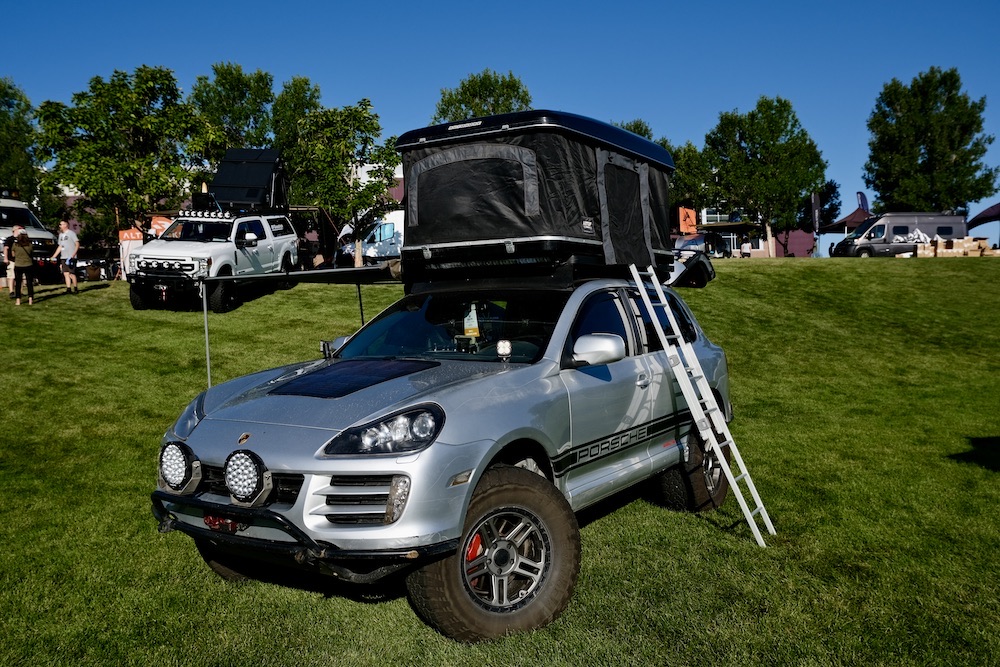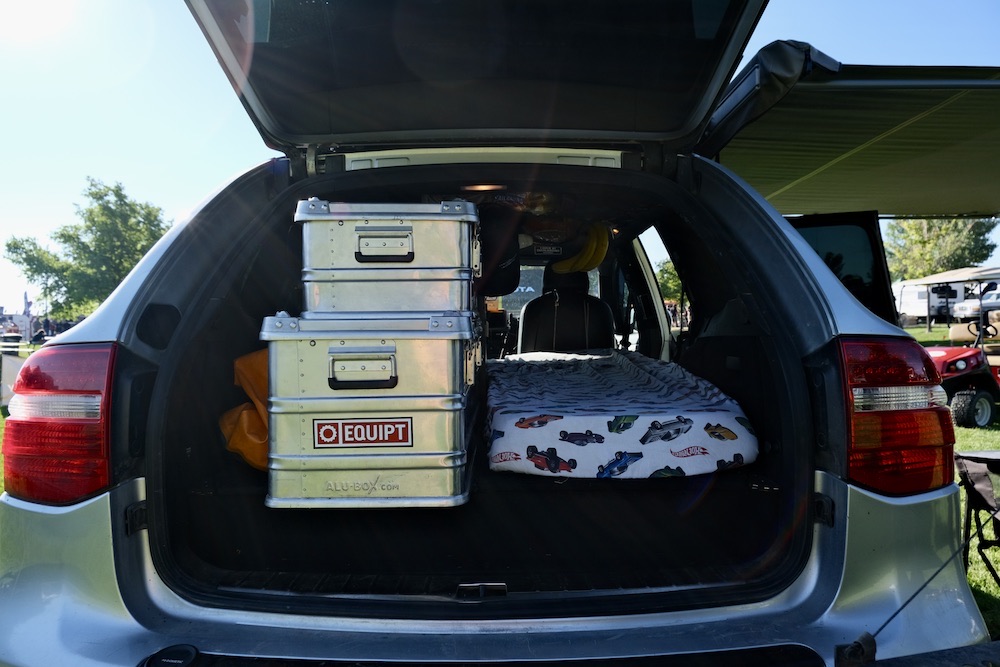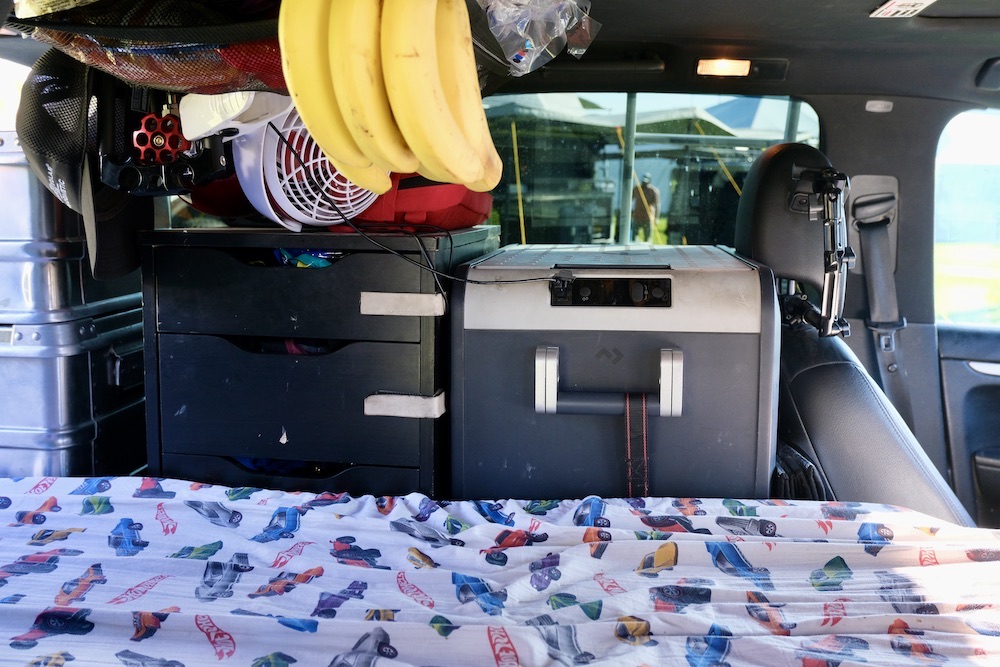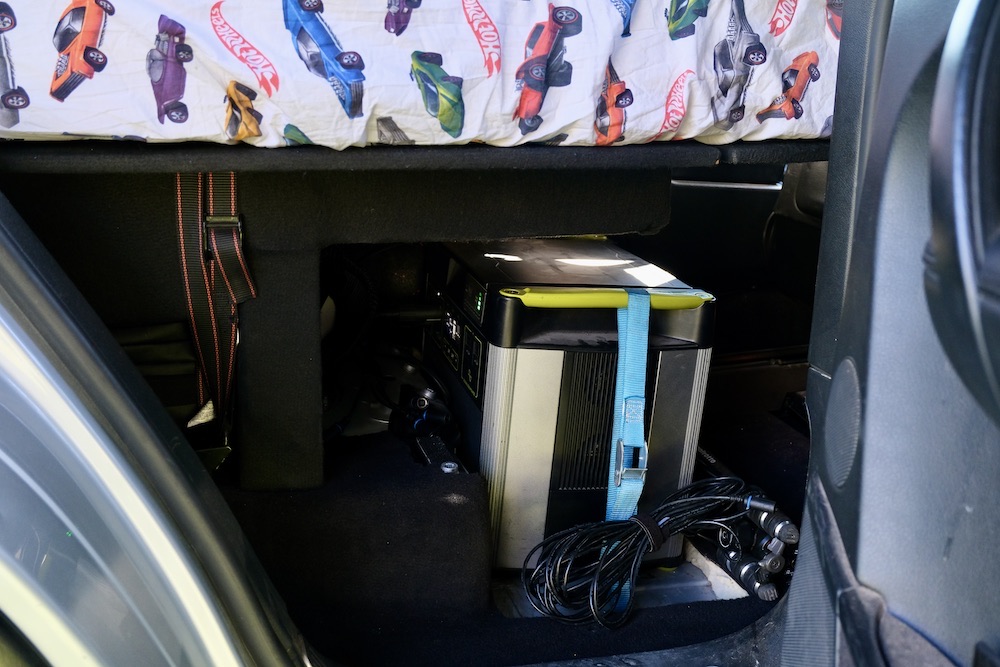 A decade ago, it would have been rare to see a Cayenne at Overland Expo, but in the last few years, they've begun to trickle into the overland realm. While there were more than a few Cayenne's at Overland Expo Mountain West, this example in the DIY was our favorite. With options to sleep in the rooftop tent or in the awesome interior build, the owner is ready for anything. After a short chat, we learned that he purchased this awesome rig in stock form for only $9,000. He's lived in it full-time for the last eighteen months, and during that time, he's racked up an impressive 57,000 miles. With a center locker, plenty of power from the V8, and such an excellent build, we're sure it will continue to serve him well for many more miles of exploration.
Toyota — FJ60 Land Cruiser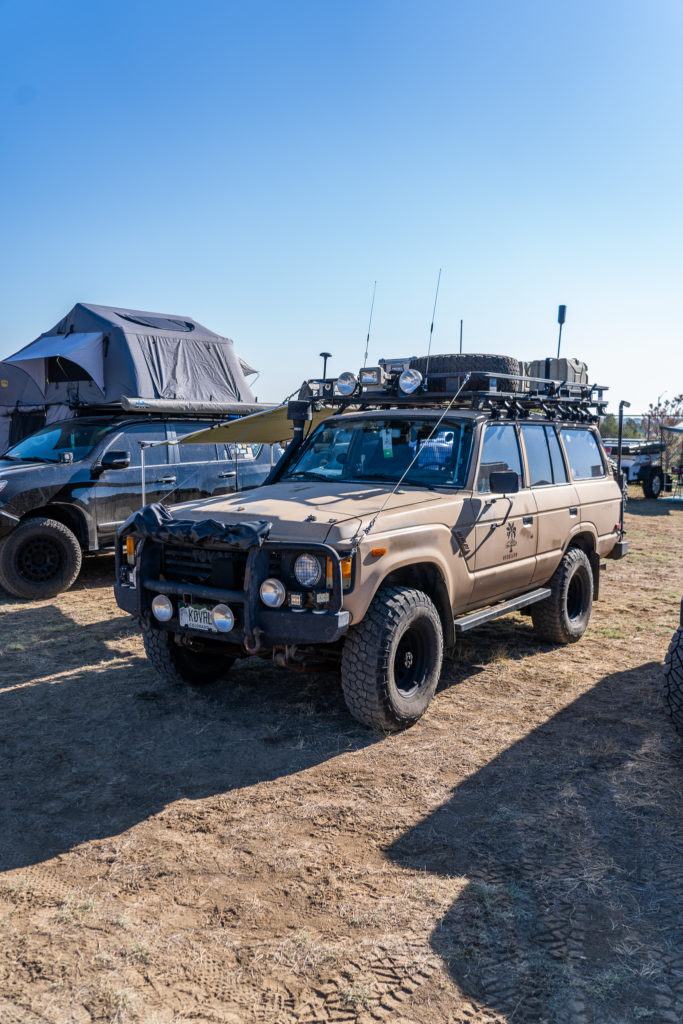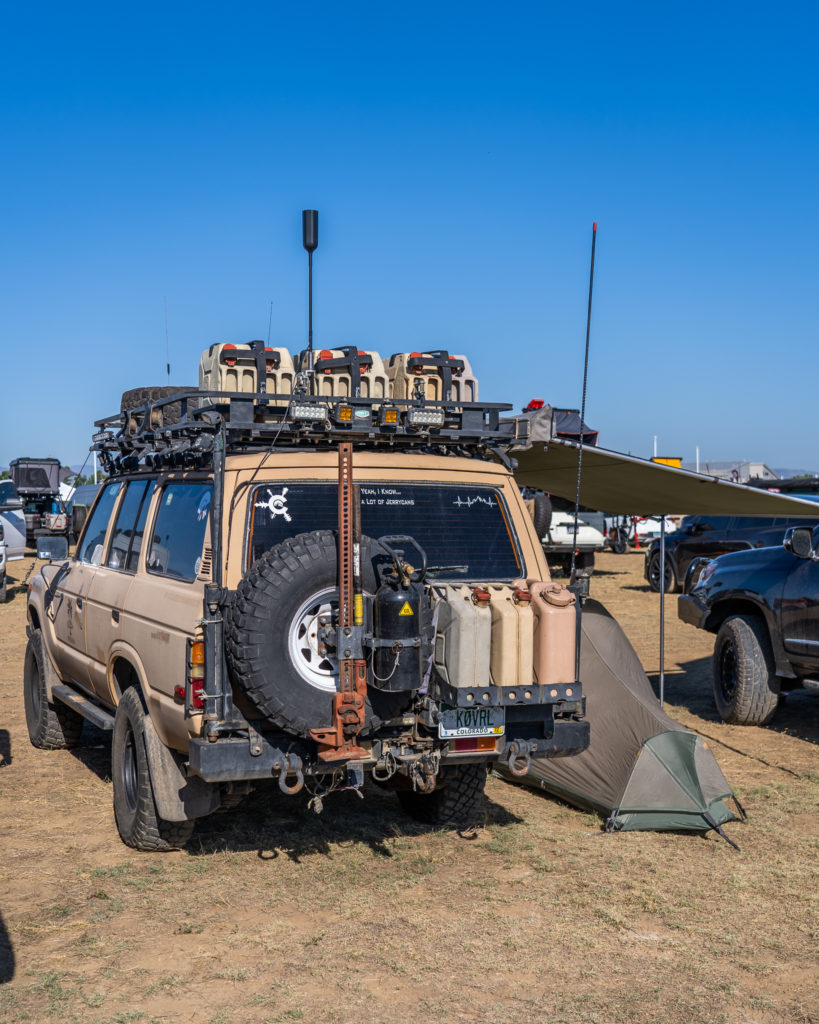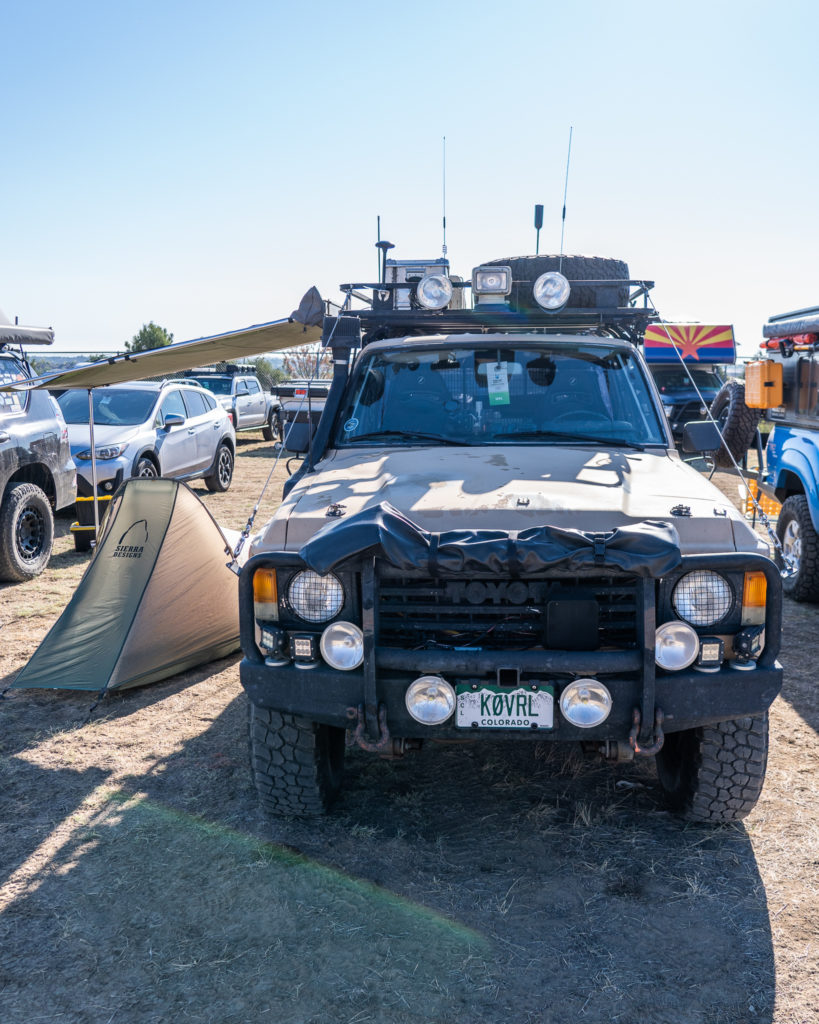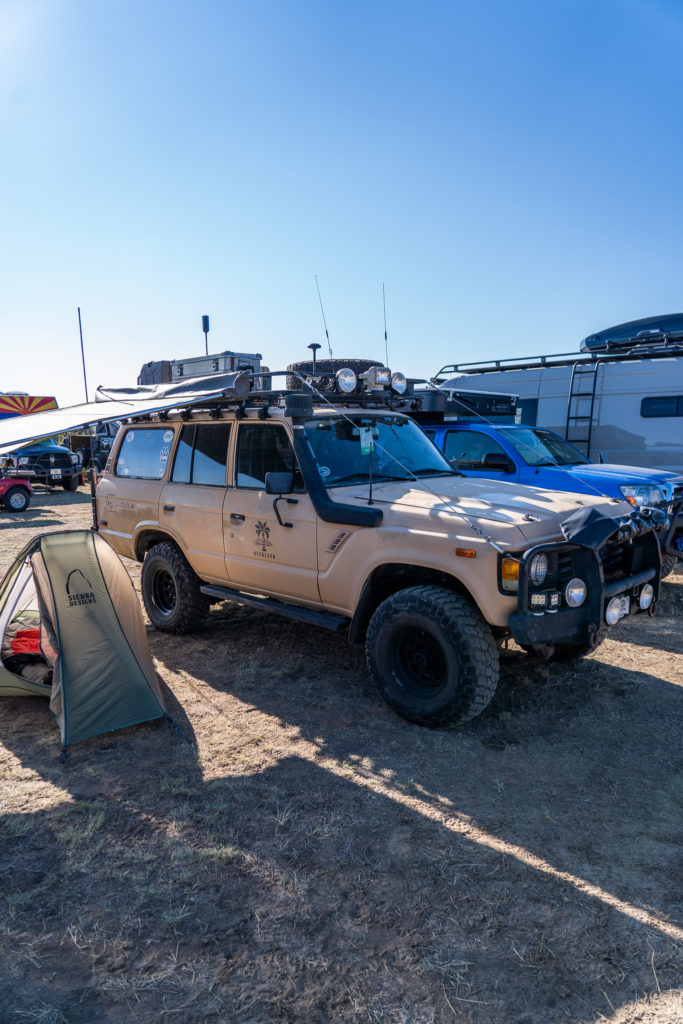 The color, accessories, and general condition (heavily used) first caught our attention when we strolled past this FJ60. However, it was the sticker in the center top of the rear window, which reads "Yeah, I know … it's a lot of jerry cans," that sent us over the top from like to love. We weren't able to catch up with the owner of this one either. But we can really respect the build. Further underscoring the truck's South African or Australian motif, rather than a rooftop tent, this owner has opted for a one-man tent underneath the awning. If this rig alone didn't tell you this overlander is tough, their sleeping arrangements does.
Toyota — 2021 Tacoma with Prototype Camper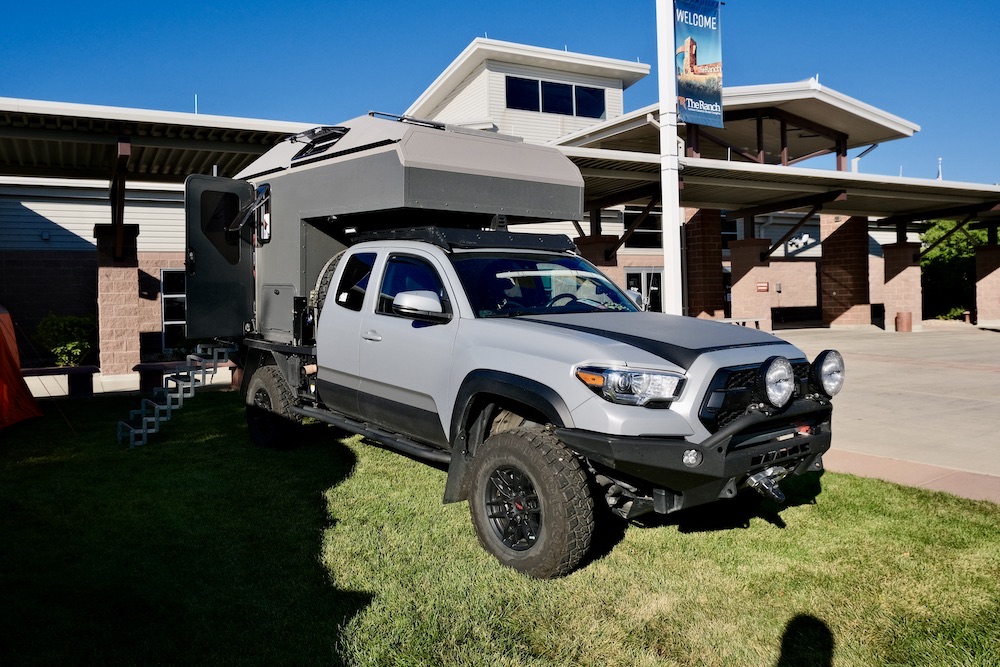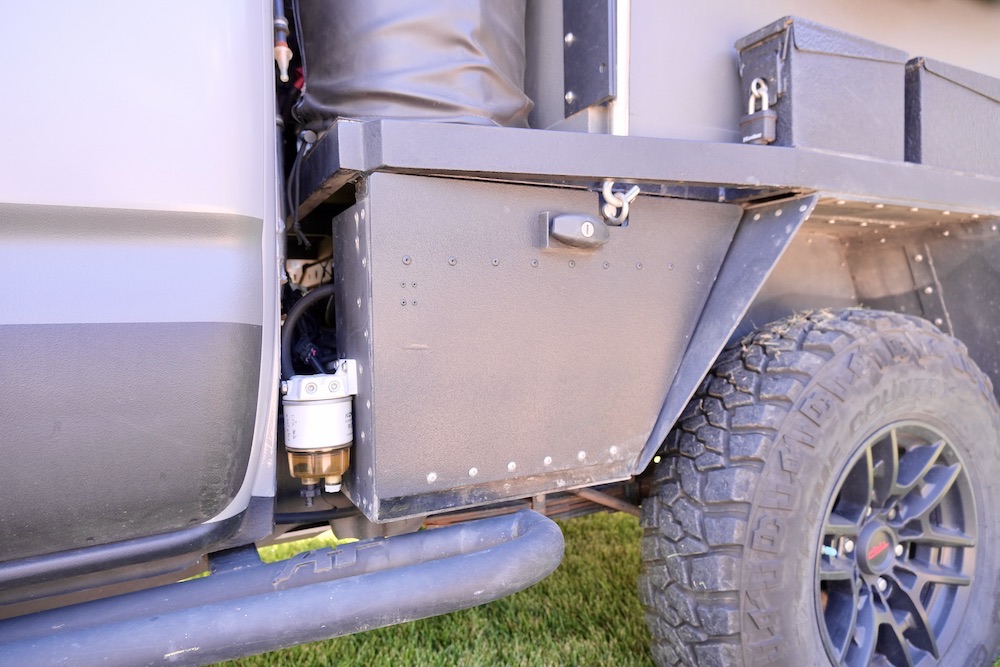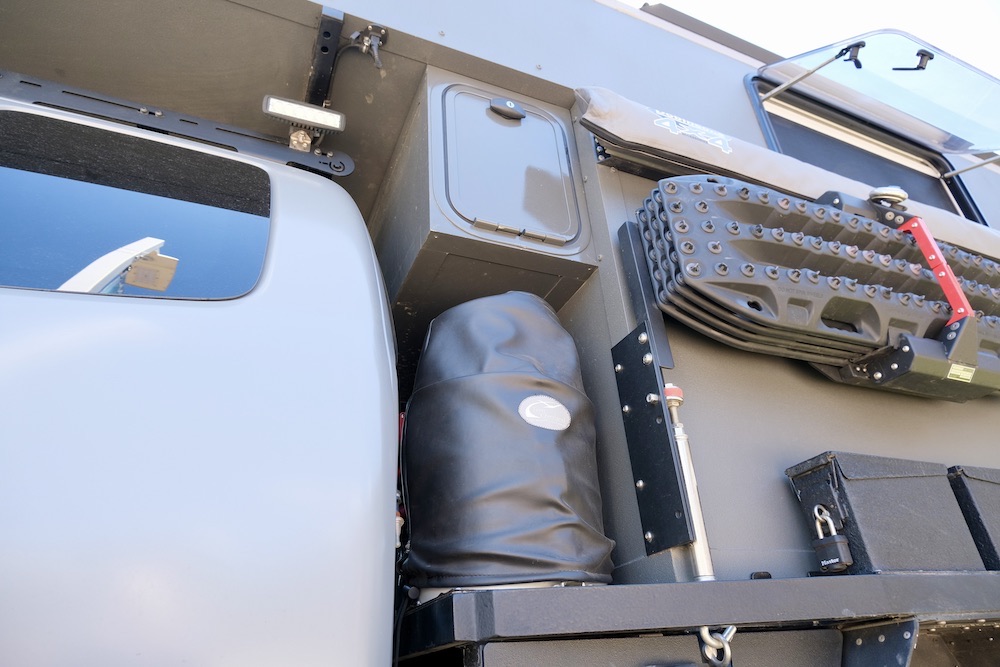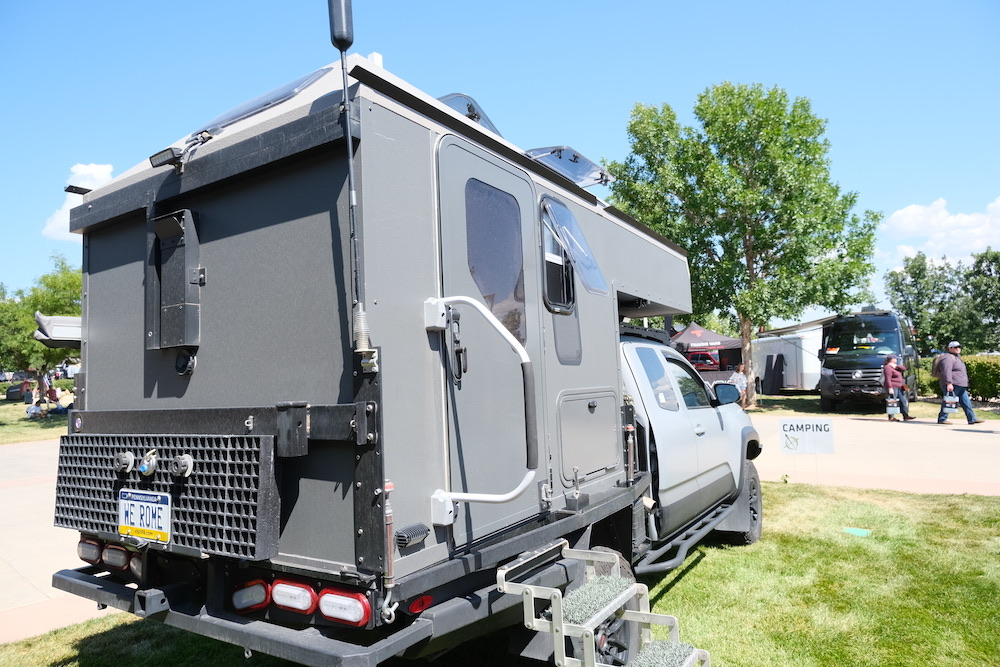 There's no shortage of Tacomas at any Overland Expo. On occasion, we see one that truly stands out with an interesting build, and that is definitely the case for this rig. The current owner purchased this truck from an individual that planned to produce these campers, but then changed their minds after constructing this prototype. That means this is a true one-of-a-kind camper that's loaded with smart features. For starters, the auxiliary fuel tank, spare tire, and chainsaw box are all in the middle of the truck for weight distribution purposes. The auxiliary tank also includes an inline filter to make sure that any questionable fuel is cleaned before entering the running tank. The side entry camper features four Tern Overland windows on the roof to allow for maximum sunlight and ventilation. Rain gutters channel water away from the windows and doors. The truck is also outfitted with a WeBoost, off-road bumpers, rock sliders, and a roof rack over the cab to round its expedition-ready accessories.
Ford — Fourteenth-Gen F-150 Single Cab
Unfortunately, we weren't able to catch up with the owner of this excellent rig, but we wanted to share our appreciation nonetheless. The single cab paired with a Four Wheel Camper, all with a matching color scheme, is a stylish sleeper of a rig. Equipped with a rear locker and sporting a relatively short wheelbase, we think this excellent-looking Ford can get you just about anywhere you'd like to be, and the camper setup would make for a nice home for the night. Props to the driver of this understated rig.
Steyr-Daimler-Puch — Pinzgauer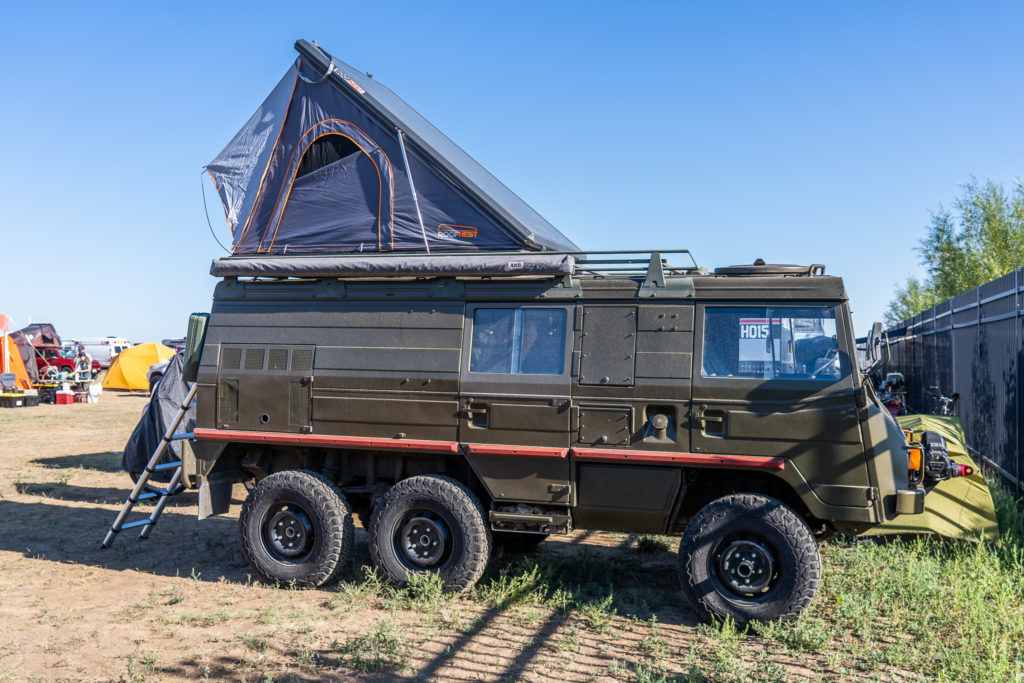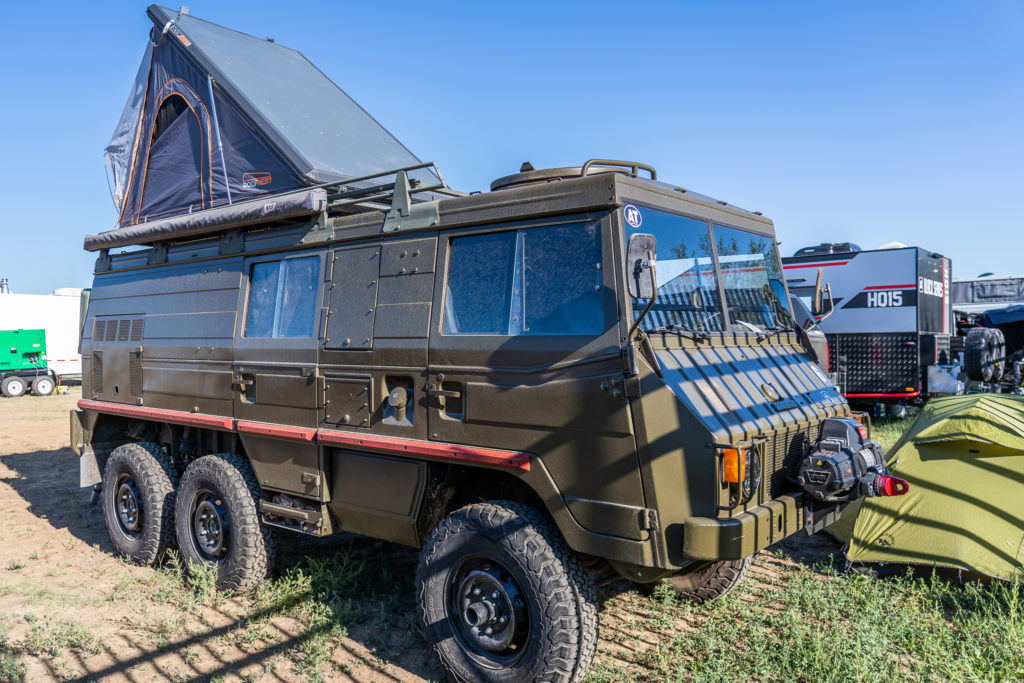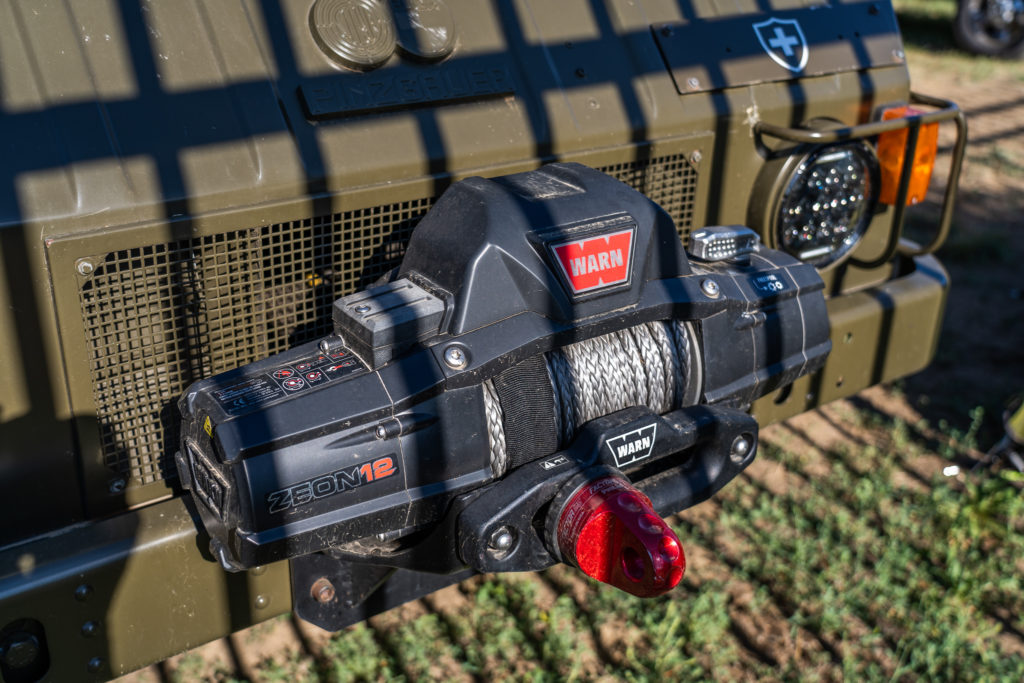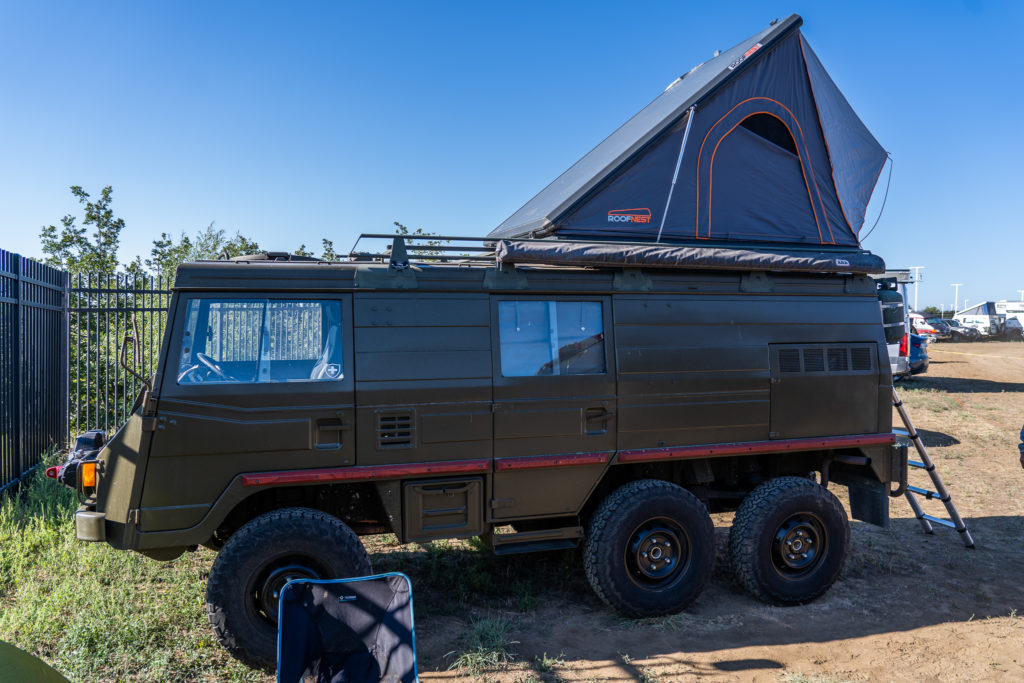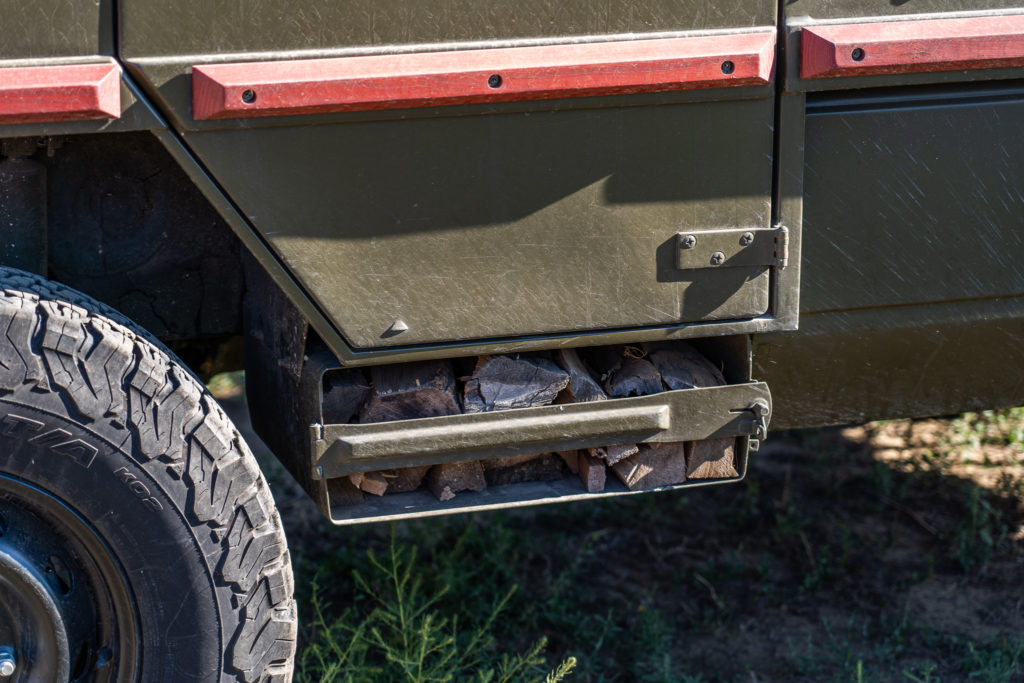 Though Puch officially left the U.S. market in the late 1980s, some Americans may be familiar with the Austrian brand because of its motorcycles and mopeds. Steyr-Daimler-Puch never imported its Pinzgauer rig to America, some have made their way stateside. The ones that have, it seems, are resigned to garage queen status, only rolled out for Sunday drives. That or to slowly transport people around a winery. Not this bad chicken, though. Originally built in 1971, the Pinzgauer lasted until 2000. It's not clear which year this one is (though some keen observers may be able to tell, we can't). Two of our favorite features were the Roofnest rooftop tent and the firewood cage down in the bottom middle. What we also couldn't surmise from staring at the thing was what powered it: a four-banger gasoline engine or a five- or six-cylinder diesel engine — all of which were offered. We can say, though, that it's a bad-ass rig.
Volkswagen — Mk4 Golf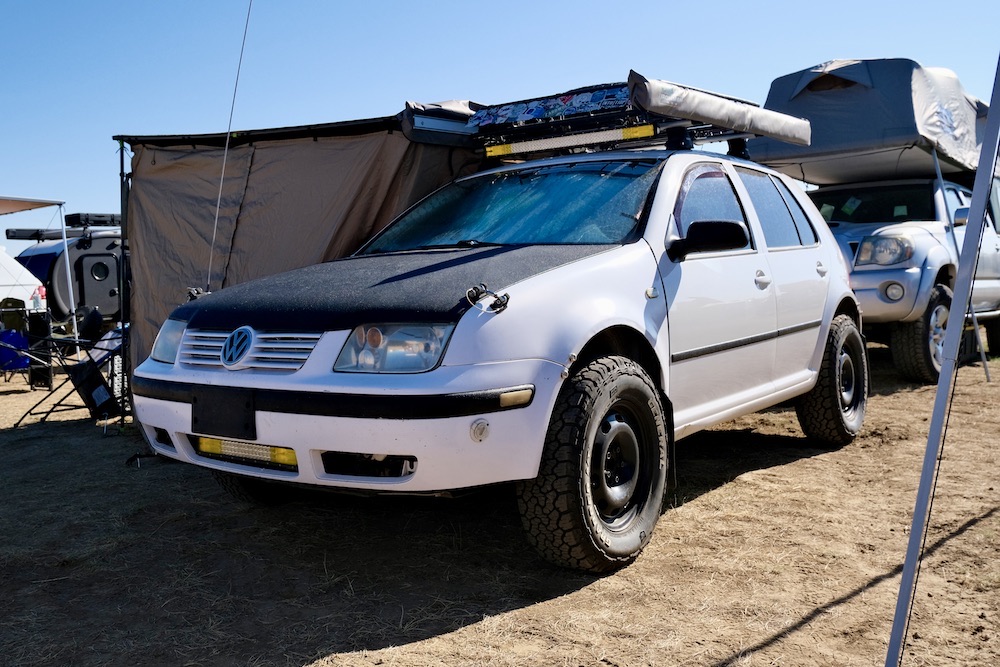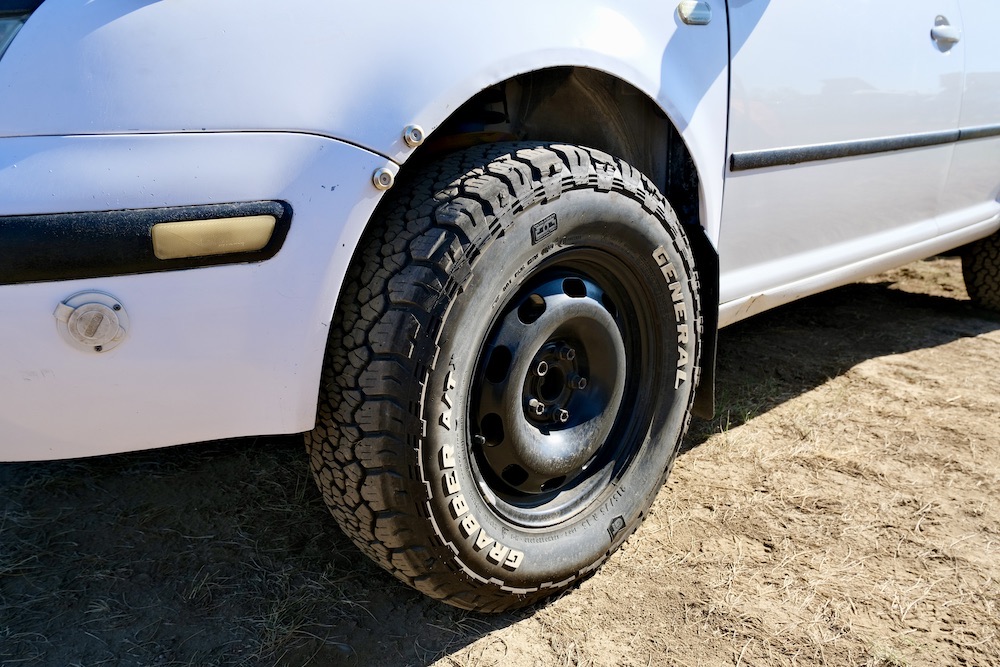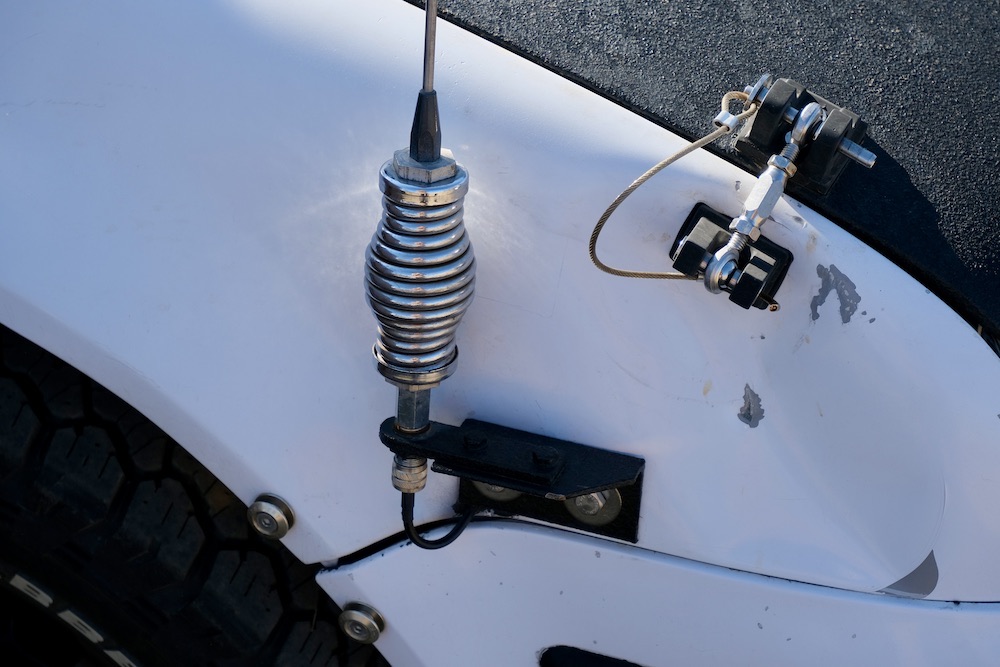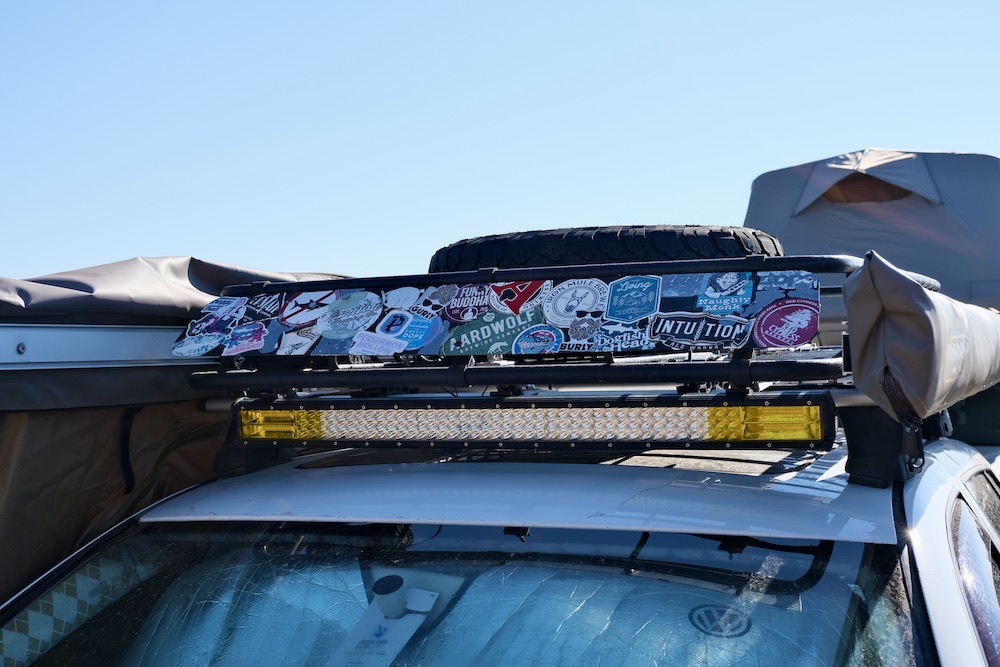 At first, this little white VW got our attention because, well, it was a little white VW at Overland Expo. As we got closer, we realized that it was well equipped and significantly modded for backroad adventures. Just a few moments after we approached the Golf, the owner joined us. That's when we learned it is extensively modded and very well traveled. The Golf is sporting Jeep JK springs in the front and the springs from the front of a Jeep XJ in the rear. These XJ springs are paired with airbags from a Cadillac Deville. Go ahead, read that again. It took me a moment as well. Apparently, this setup is working well because this impressive backroads prowler has racked up over 330,000 miles. This includes a trip up to 12,500 feet on the slopes of Mount Bross. With the addition of a roof rack, some awnings, a lightbar, and steel wheels it's ready for plenty of overland adventures.
Toyota — Tundra with Experimental Camper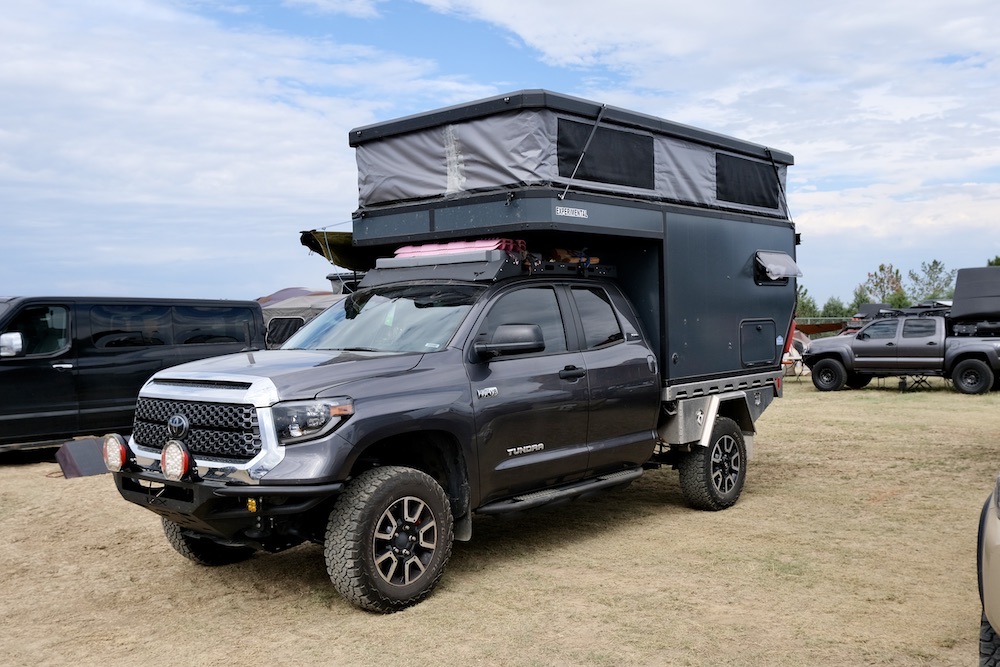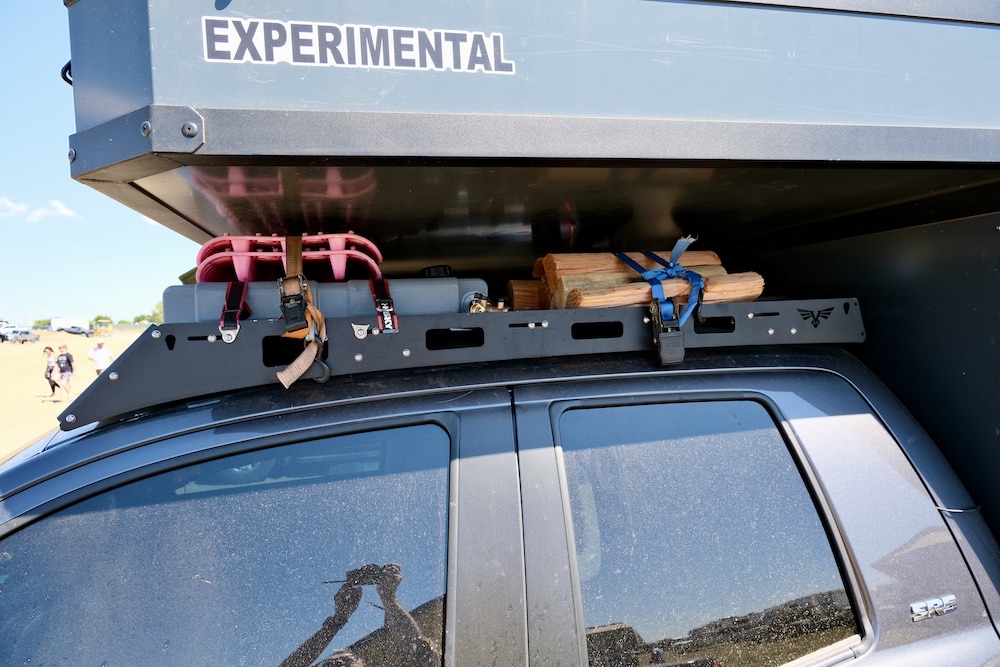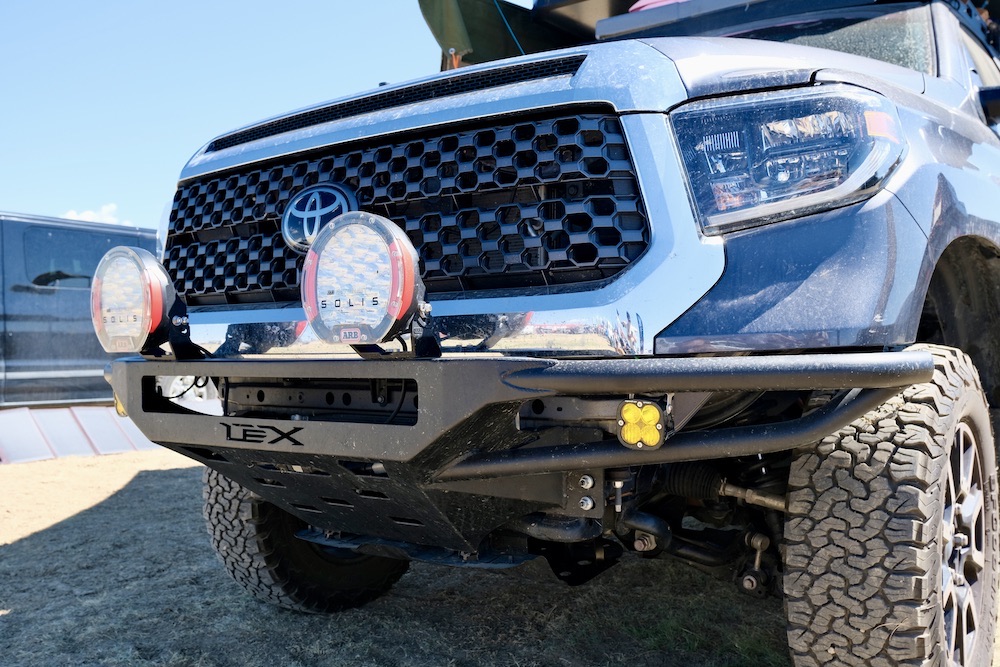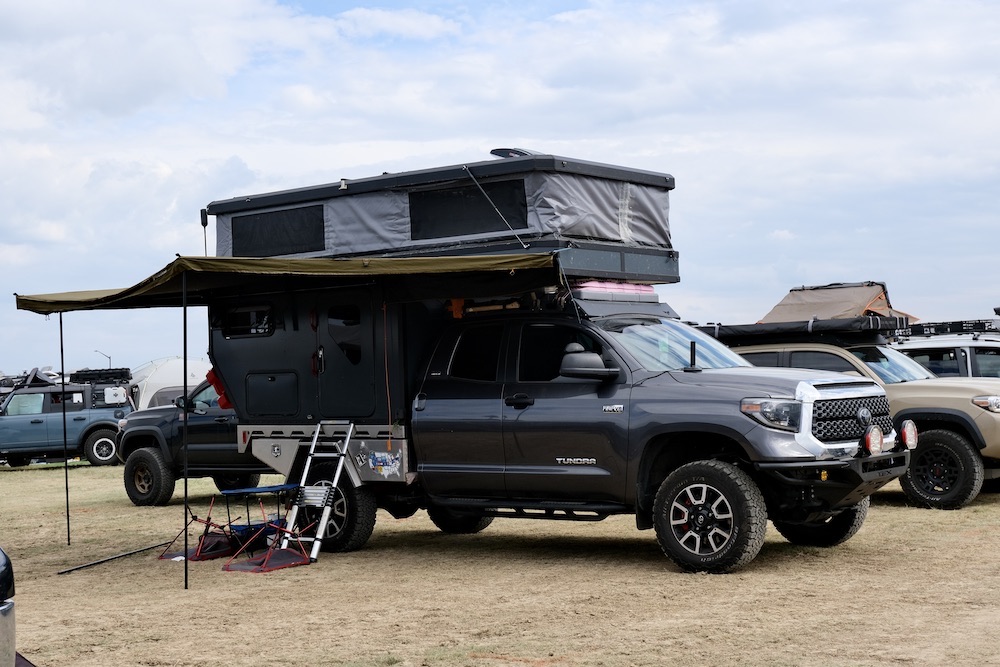 Unfortunately, we weren't able to catch the owner of this interesting rig, but we were instantly drawn to this all-in-one package. With a flatbed, a huge 270-degree awning, and clever storage throughout, it seems like an excellent long-term adventure rig. Outside of the camper flatbed combo, the roof rack, and the light-equipped bumper, this Tundra appears to be unaltered. We'd love to know more about this build. It appears the camper is totally DIY, and if so, then bravo to the owner. The decals denoting that it's experimental add a nice touch, but honestly, it looks pretty close to a production model if you ask us.
Toyota — 79 Series Land Cruiser Troop Carrier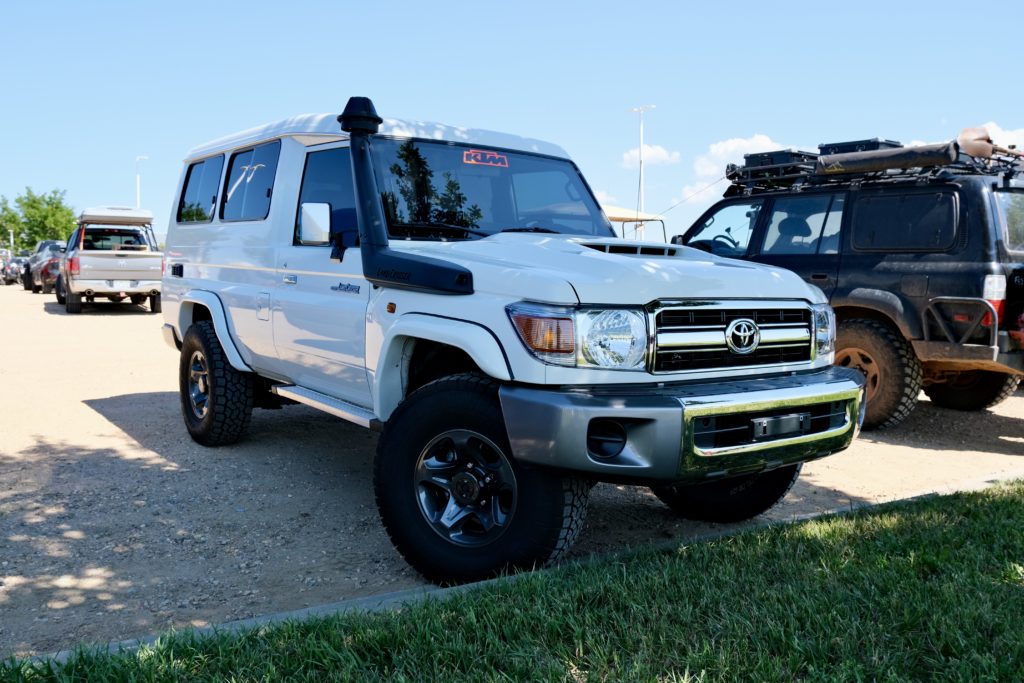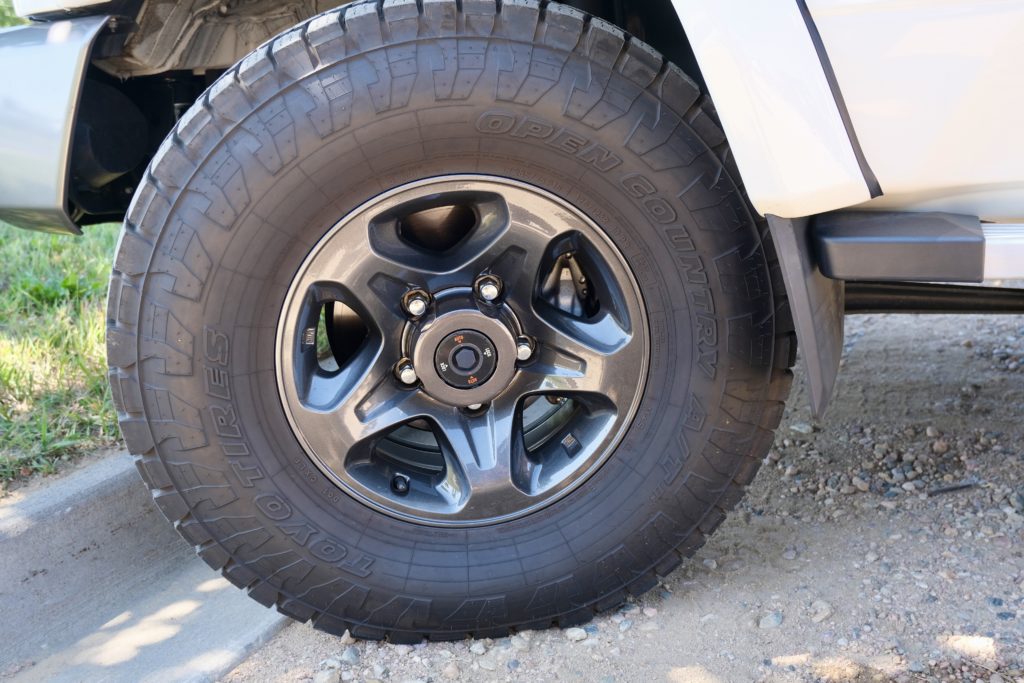 Don't tell anyone, but we suspect this rig is illegal. We say that because there's no way under god's blue heavens that this rig is 25 years old. If the front clip weren't a good hint, which is entirely modern, the V8 badge out back gives it away. Modern 79 Series Land Cruisers are powered by a 4.5-liter turbocharged V8 diesel engine. Sure, someone could have popped on a modern front clip and a fake V8 badge on an older 70 Series. But we doubt it. What's more, this one is left-hand drive, which makes us wonder where it came from and how the heck it got to Oklahoma where it's titled. Australians will tell you the 79s aren't actually that good. Honestly, we don't care. They're so sweet looking, they could be the worst car on the planet and still earn our adoration.
Toyota — Runnin' 4 Tacos-FJ Cruisers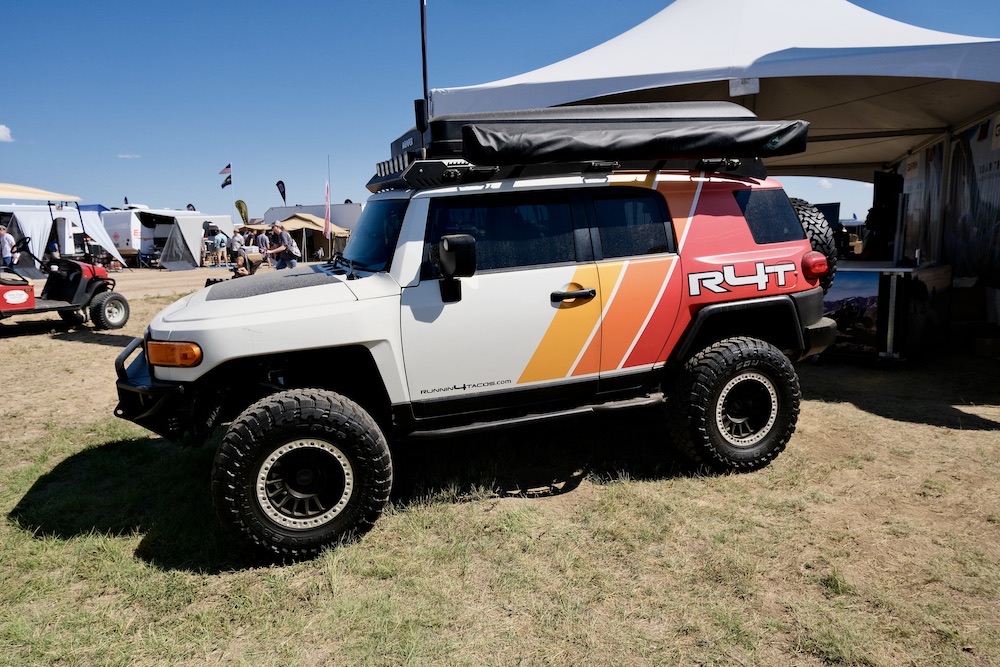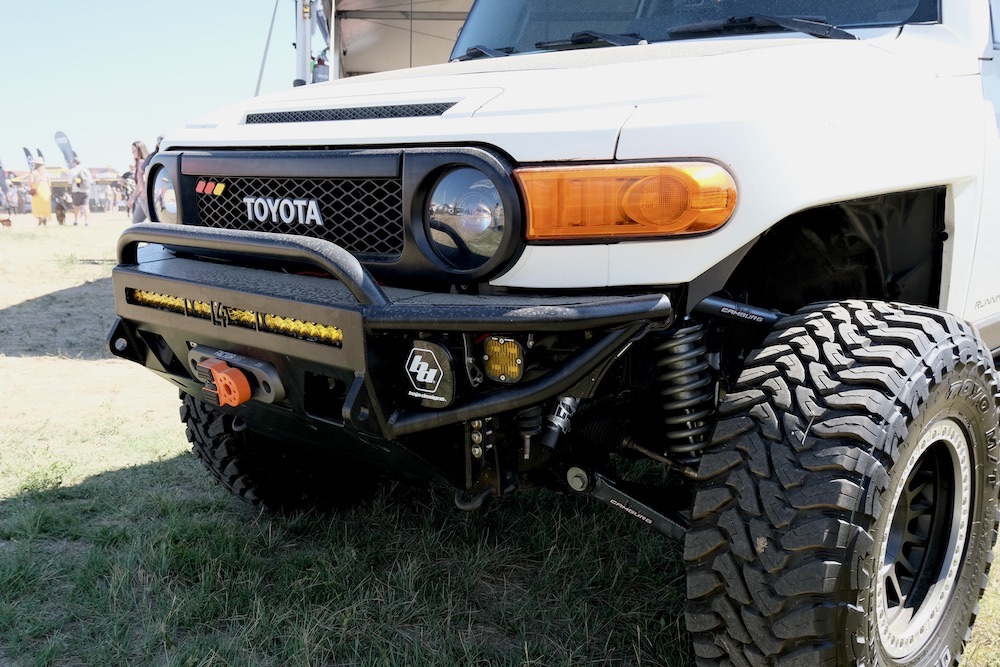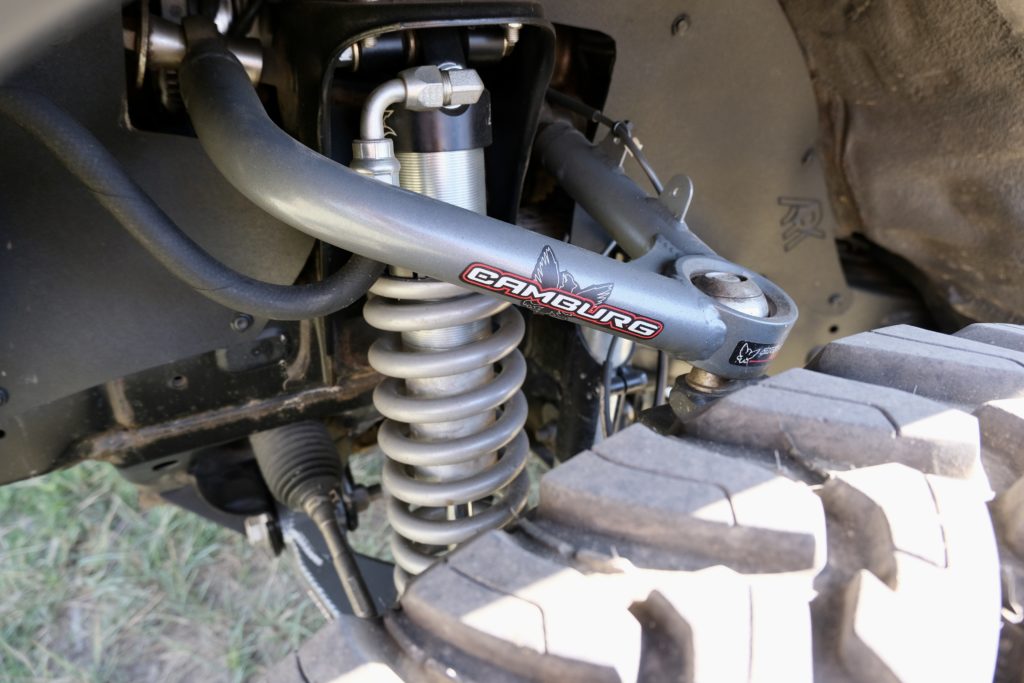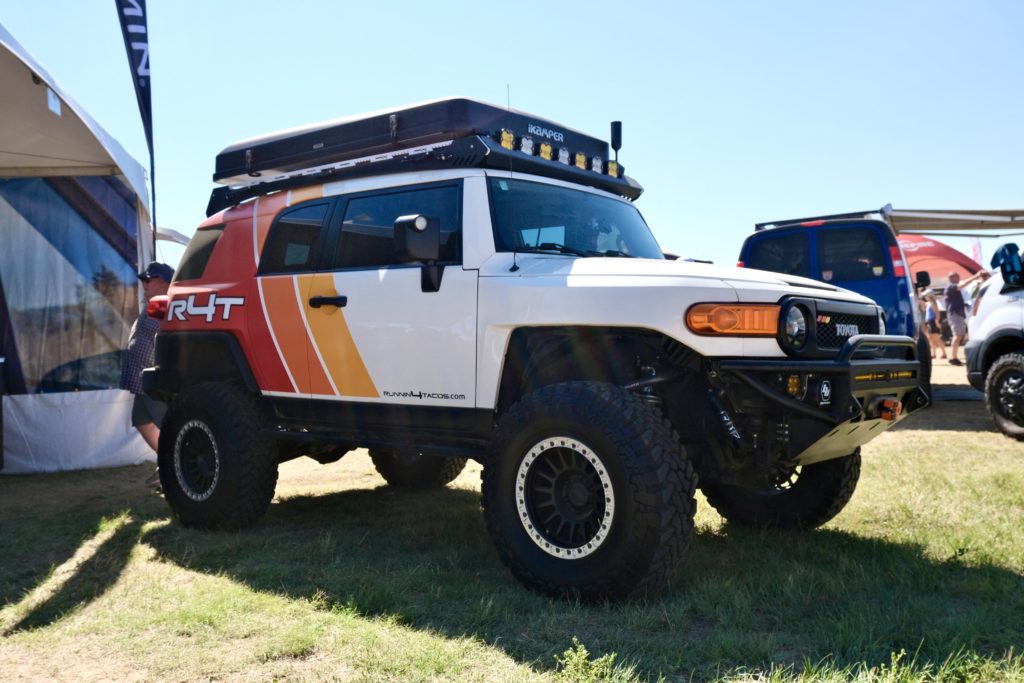 This FJ Cruiser is the perfect blend of a well-equipped but conservative rig that includes plenty of throwbacks to Toyota's design heritage. With a lift, a winch-equipped bumper, and plenty of trail armor, it's obviously a capable rig. Up top, the rooftop tent, off-road lights, and roof rack are put together in an exceptionally clean package. The build is topped off with some classic beadlock wheels and an added bit of tech in the form of the WeBoost. While the FJ Cruisers aren't without flaws, they're plenty capable, and this example is also a looker.