The morning before tackling McGrew Trail, my dog Arlo and I woke up with the sun just before 5 a.m. The sun rises early during Oregon summers — well before five.
To be honest, I didn't exactly wake up with the sunrise. Arlo did. Once a two-year-old Labrador is awake and bouncing around your tent, there's no bedding him back down.
I slid on my dusty boots, unzipped the Gazelle Tent, and I shuffled out into the early morning light. From my periphery, in the dark gray light of the morning, I saw Arlo bound away from camp down the road to my left. Blurry-eyed, I looked around camp. My four friends and one journalist were camped around me at the McGrew Trail staging area, still sound asleep.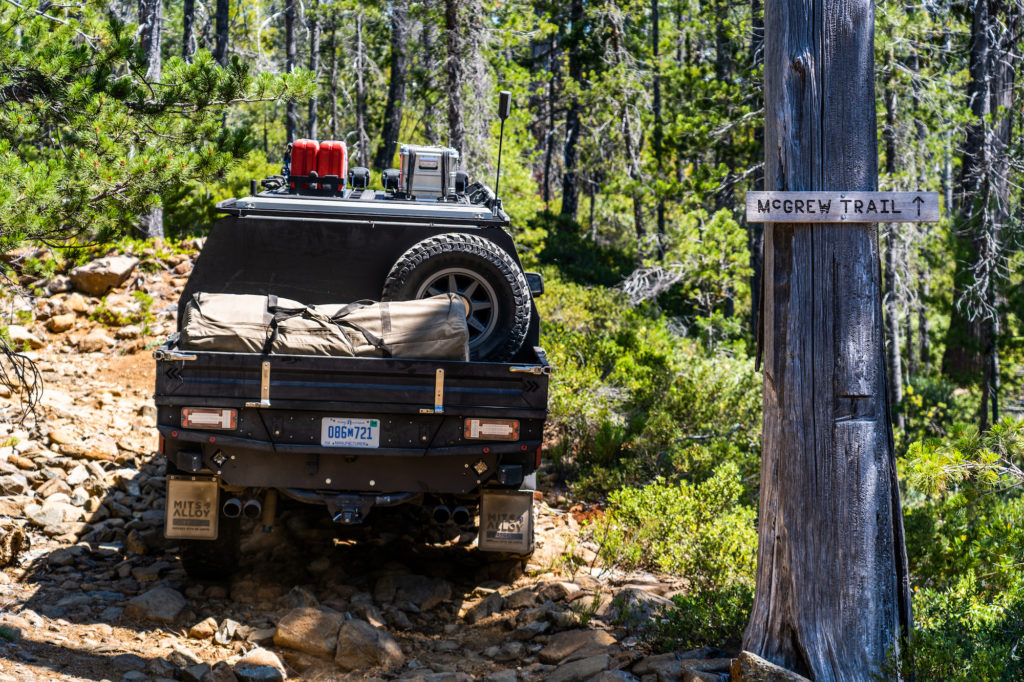 Rather than wake them at this ungodly hour, I leashed up Arlo and his bottomless energy, and we walked down the road. 100 yards or so away from camp, I let Arlo off leash. Delighted by freedom, he sprinted down the dusty track. I trudged along, staring down at the dirt road, which looked silver in the blue light of the morning.
As I walked, the road slowly climbed a hill, curving up and into the mountain to our right. Perhaps a mile down the road, I heard the telltale sounds of running water off to my left. I sauntered to the lip of the road and spied a shallow creek far below me. I wordlessly scanned the creek from left to right. It wound its way through the rounded rocky landscape below. Nothing stirred but the water, Arlo, and me.
Turning around, Arlo sighted me at the lip of the road. He excitedly took it as an invitation to dive into the ravine, to explore whatever I was studying. I watched my powerful pup rush down the rocky slope toward the water at breakneck speed. I followed him trepidatiously, step after careful step, fearing a misstep and a bad tumble.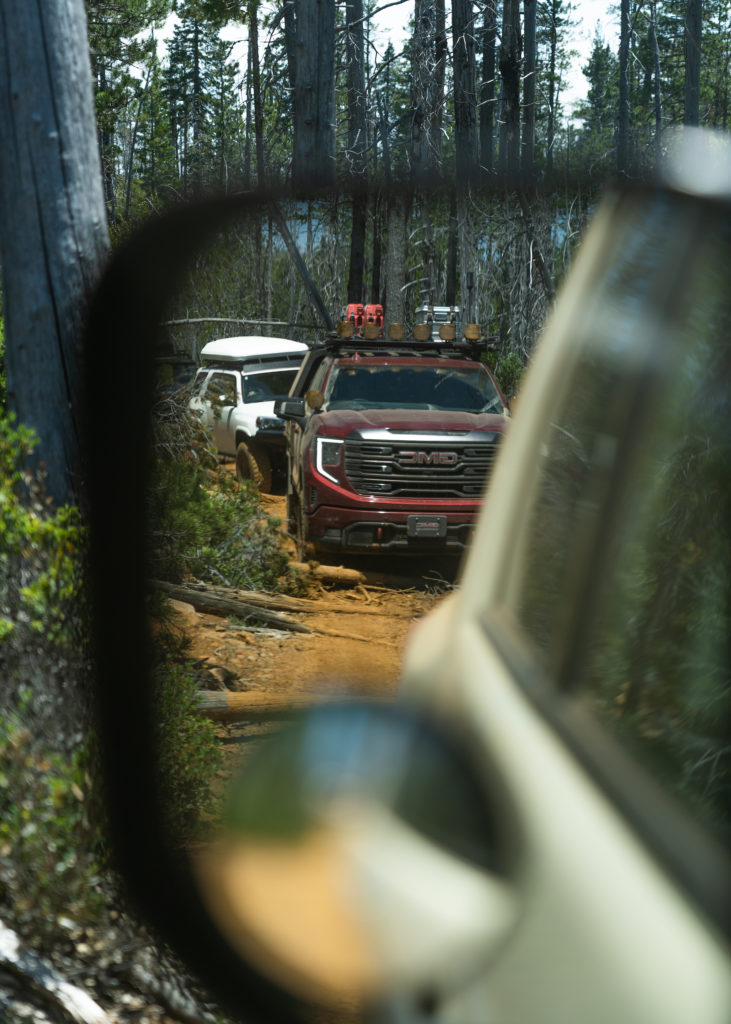 Wasting no time at the water's edge, Arlo splashed through the water overjoyed, jumping and bucking like a mule having a fit. He rejoiced in water like a creature that'd been lost in the desert for millennia. Less exuberant, I knelt down by the water's edge. I scooped a handful of the clear mountain runoff and splashed it over my dusty hair. Cold water streaming down my face, I paused. A grin spread across my face as I watched Arlo play.
There was nothing else in the world but Arlo and me in that moment, enjoying what felt like our own private little oasis. During those tender minutes, the sun finally crested the hill ahead of us. It bathed us in its orange glow, accenting Arlo's natural red coat.
I looked at my watch. To my surprise, it was already 6:30 a.m. — time for coffee. I slowly climbed the ravine back toward the road. Arlo followed. We strolled back to camp and had our breakfast.
I share this moment with you not because it has really much to do with McGrew Trail. I mean, it's there, at the entrance to the track, and you can find this spot for yourself. Moreover, though, I share it because it's the kind of moment that really sticks with me. It's these fleeting points in time that haunt my memories, in good ways, and make me happy to be an overlander.
A wicked test
I first traversed the infamous McGrew Trail in southwest Oregon in the summer of 2021. And, as the legend suggests, McGrew proved to be a wicked test of endurance for my friends and me. Since I was shooting a video of the trail and dragging our friend Eric's stock Jeep Cherokee XJ through the obstacles, McGrew took us one-and-a-half days to complete.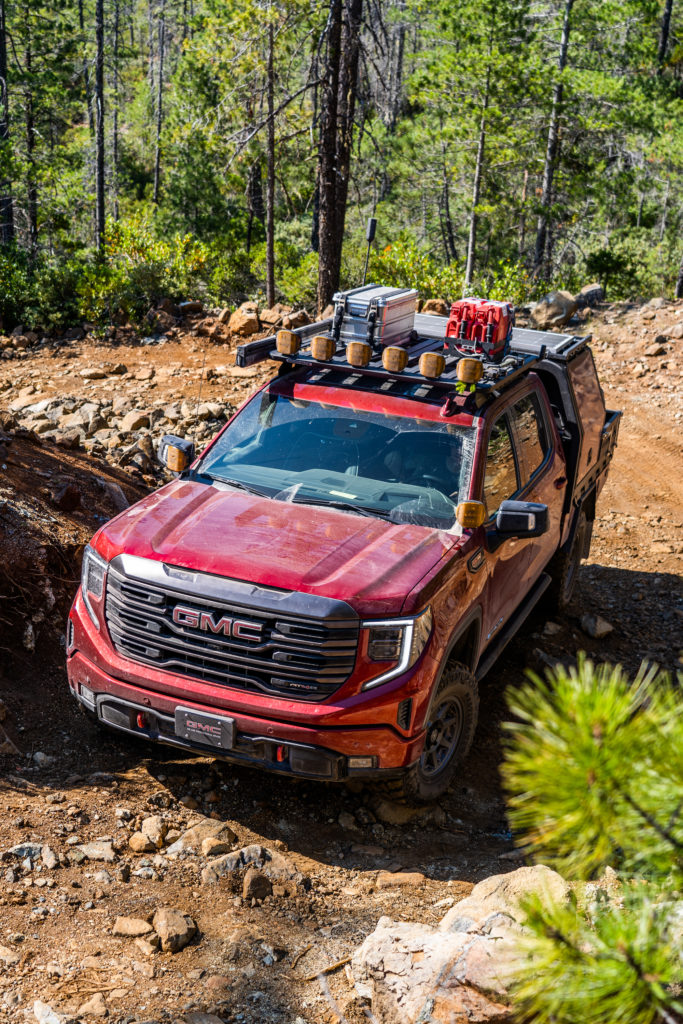 This time we had a better understanding of how best to tackle the 26-mile rocky track that winds east along the Oregon-California border and ends at the North Fork Smith River. Moreover, we didn't have to shoot a video nor did we have a clapped-out 4×4 taking up the back of the pack. With heaps more knowledge, experience, and better-built trucks, we devised a good plan of attack.
If you'd like to know the details of McGrew Trail and how and when to run it yourself, you should check out our Trips & Trails write-up on McGrew Trail. There you will find what you need for your own adventure.
Last year I led the party over McGrew in a Jeep Gladiator Rubicon. This year, I took point-position from behind the wheel of my 2008 Toyota FJ Cruiser. I was followed by my buddy Robert in his two-door 1991 Mitsubishi Montero, Jason Schaub from Overland Cookery in his fifth-gen 4Runner riding on 35s, journalist Derek Powell in the 2022 GMC Sierra AT4X Ultimate Overland Vehicle, and Overland Expo exhibitor Josh Ashcroft from NOMADICA Outfitters in his 1986 Land Rover 110.
We cracked the gate of McGrew around 9 a.m. and immediately hit our first challenging rock step. McGrew Trail is sponsored by a 4Runner club. This became apparent by the ruts dug into the first obstacle. Vehicles with longer or shorter wheelbases found the traction needed to climb the rock.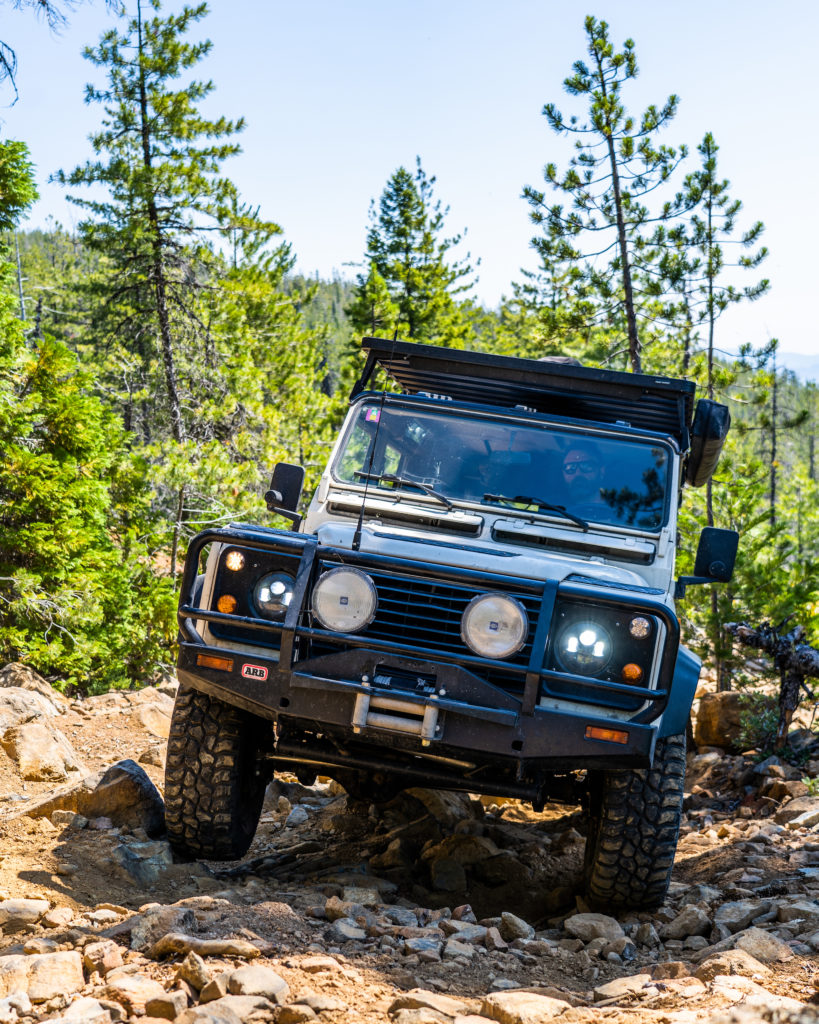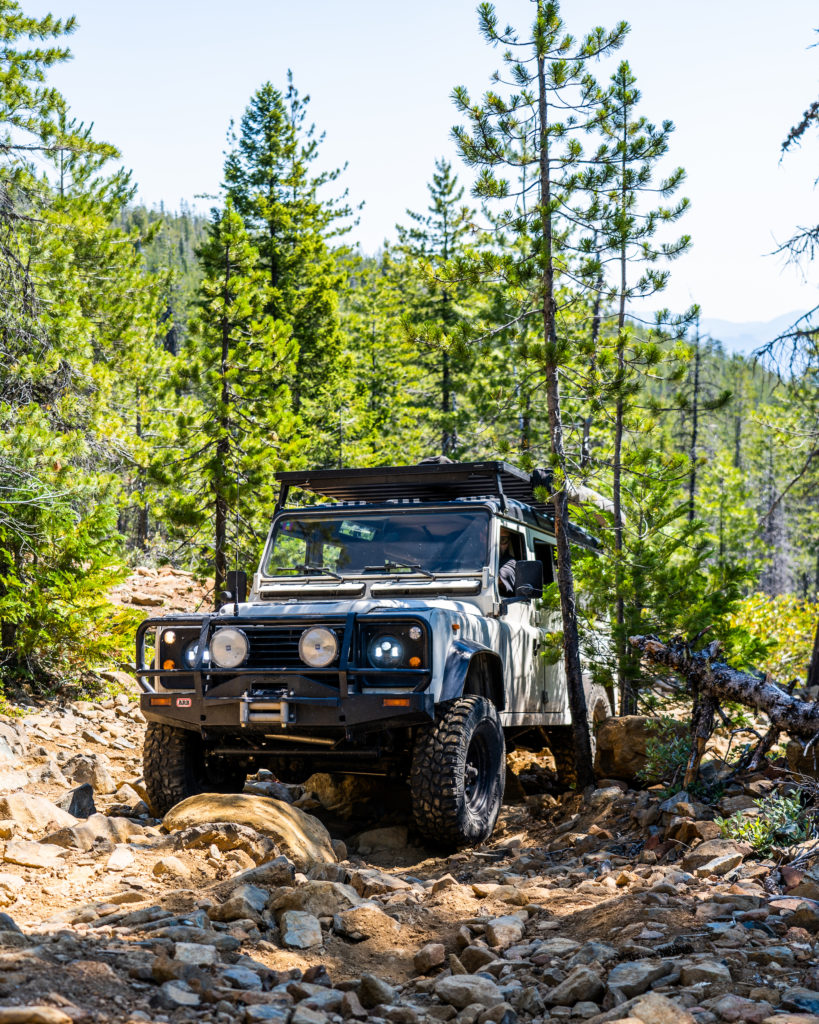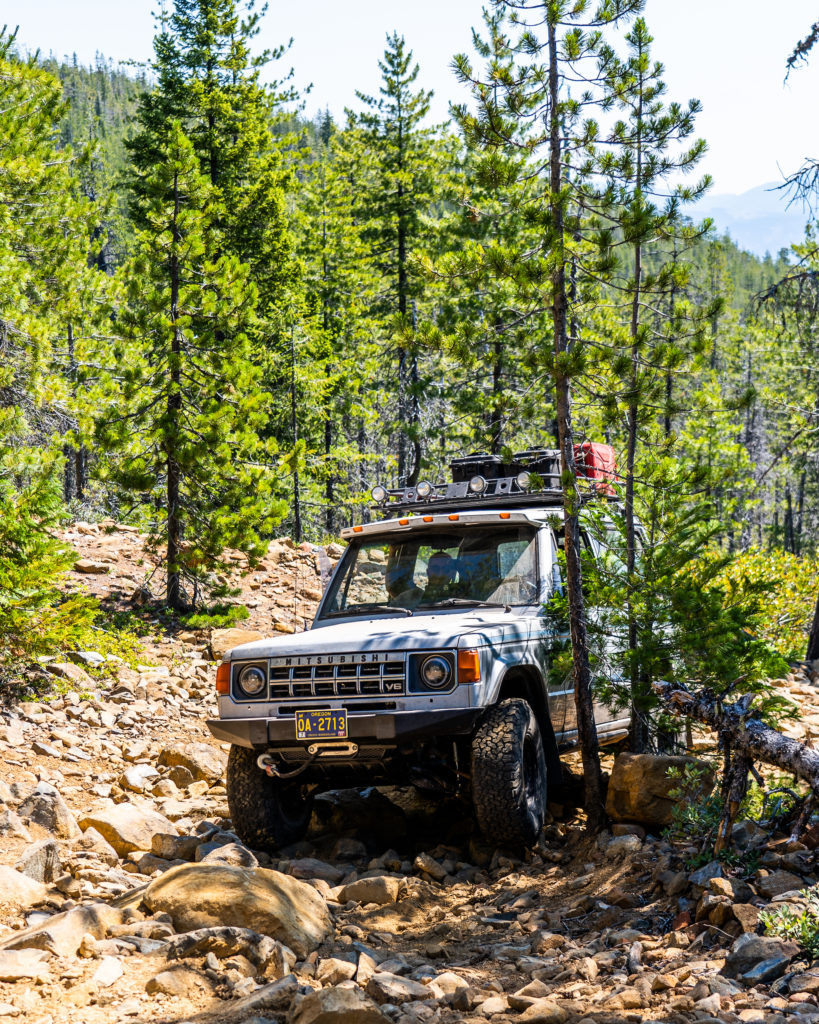 Jason's 4Runner, though, got hung up in the holes churned by his fellow 4Runner owners. Despite being triple locked, Jason couldn't cut the mustard. No judgments, though. We knew it wasn't for a lack of driving skill; Jason was hindered by so many other 4Runners ripping up the terrain before him.
Full of adrenaline from summiting the first obstacle, Josh roared off down the trail ahead of us, leaving us in the literal dust. It's hard to blame him. Josh recently upgraded his 110's stock 3.5-liter gasoline V8 to a more modern 4.6-liter Rover V8. He gets nine miles per gallon no matter how he drives it — like a madman or a nun. Sure, we'd rather ride with him. But we also enjoyed the sounds of his V8 in the distance echoing back down toward us.
Hot & dry
McGrew is not the toughest track I've ever driven. That trophy goes to an unnamed track in central Oregon — a literal 10-mile-long black diamond track on which I drove the Bronco Raptor. McGrew might not be as tough, but it's longer. I'd say McGrew is a blue diamond; you can keep a good pace, but it's incredibly rocky. If your rig has a loose bolt or nut, McGrew will find it and shake it loose.
It's a beautiful piece of country. Until 20 years ago, McGrew cut through a thick forest. A wildfire came through and changed the landscape. Two decades on, most burned trees have faded away. Ground cover has returned. So, too, have the manzanita bushes. And a few new trees have grown, too. It's nothing like what it used to be, though.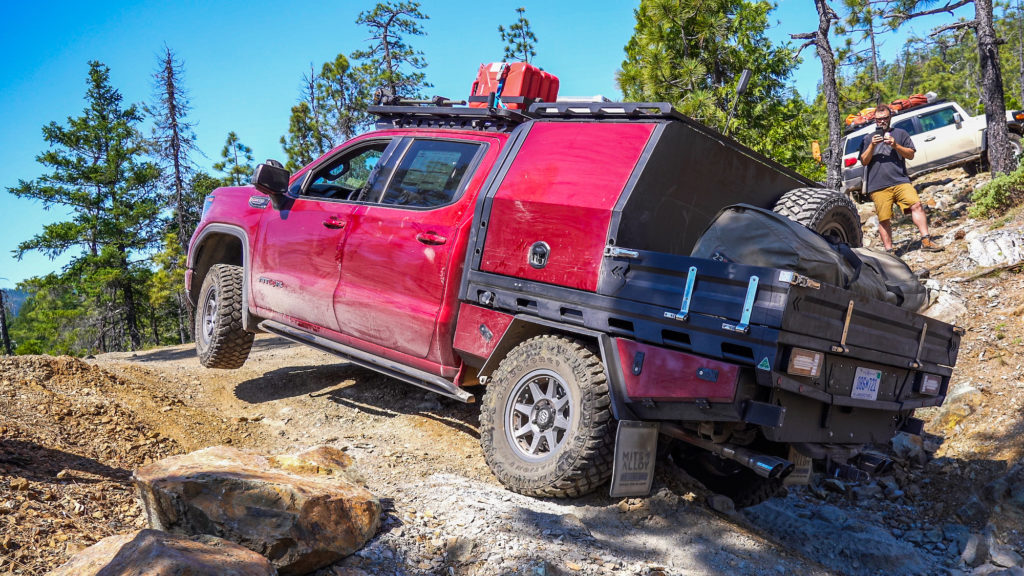 You can still find glimpses into the past as you drive; the fire wasn't uniform. Especially near the end of the track, you dip down into remnants of the old forest. You won't hit the old forest, however, until evening. If you stop for lunch midway through the track, you'll want to find shade. That is, if you drive it during the heat of the summer, as I have. That's because there won't be any natural shade. So, be sure your rig has an awning. Otherwise, you risk a mighty burn in the high-elevation summer sun.
On this second run of McGrew, we had our lunch at a rare flat spot probably a third of the way down the track. The front half of McGrew is much more technical and slower going than the back half. That means you'll stop well before the halfway mark. You may wonder, like my friends did, if you'll make it to the end camp by nightfall. You will, don't worry. It just doesn't seem that way at first.
The AT4X
McGrew wasn't the first trail our Ultimate Overland Vehicle GMC Sierra AT4X tackled since its debut at Overland Expo West 2022, but it was the hardest to-date. We left the rig at stock ride height and didn't lift it. That's because the Multimatic shocks that come on the AT4X from the factory are so good, you — like us — would be hard-pressed to find a more competent replacement. What's more, the truck was so new that the aftermarket didn't have lift springs for it yet.
With front and rear electronic locking differentials and careful placement of the 33-inch Firestone Destination M/T2 tires, we knew the truck should get through unscathed. Watching the 420-horsepower full-size truck trundle its way along the rough track in my rearview mirror was a bit nerve-rackng. Nevertheless, it handled everything — every boulder or mud pit or off-camber sandy slope — without skipping a beat. It's incredible what a stock full-size luxury truck is capable of these days.
Even though the A/C is strong in my FJ Cruiser, I was still envious of Derek in the AT4X. That's because, in addition to General Motors' prodigious A/C system, he also enjoyed cooled and massaging seats. The only massage I got in my Toyota was from the trail. As the rocks baked in the hot Oregon summer sun, you might say I got a hot stone massage — #dadjokes!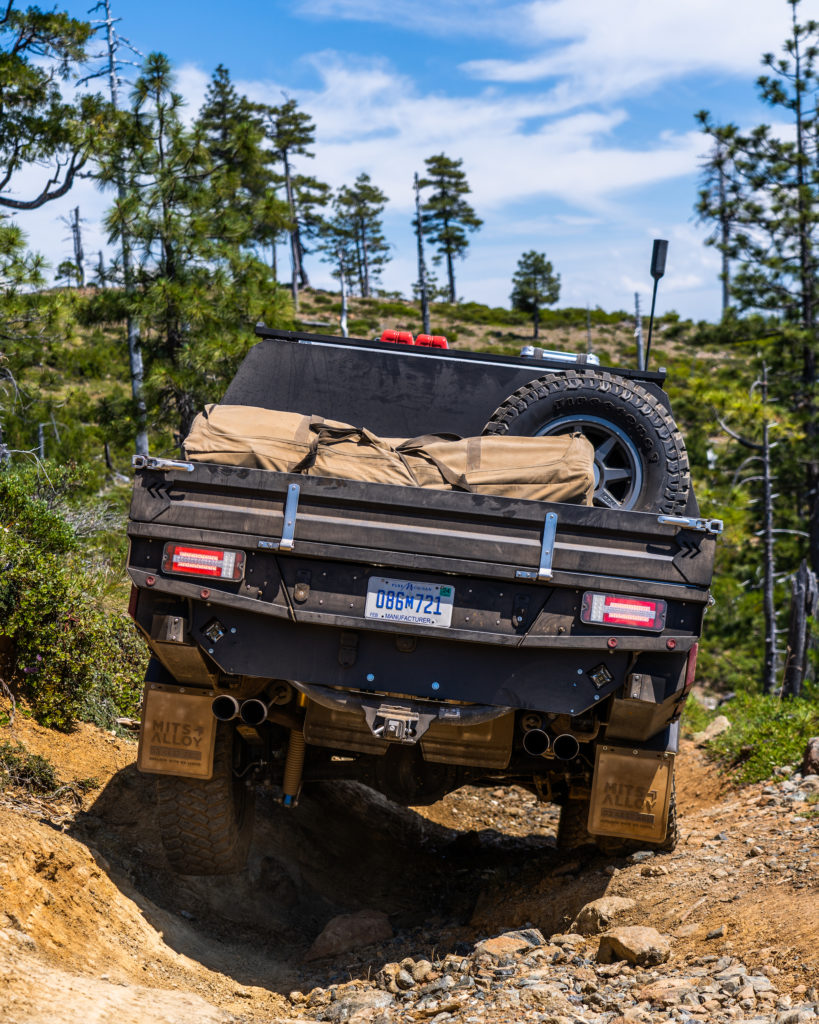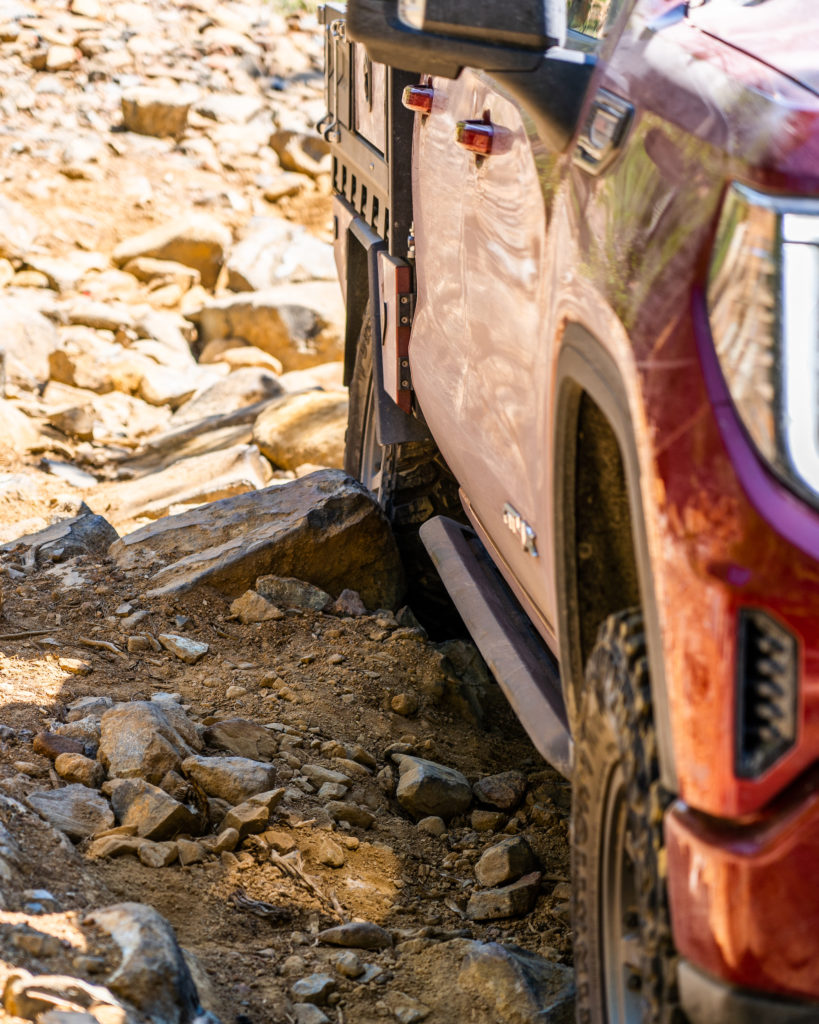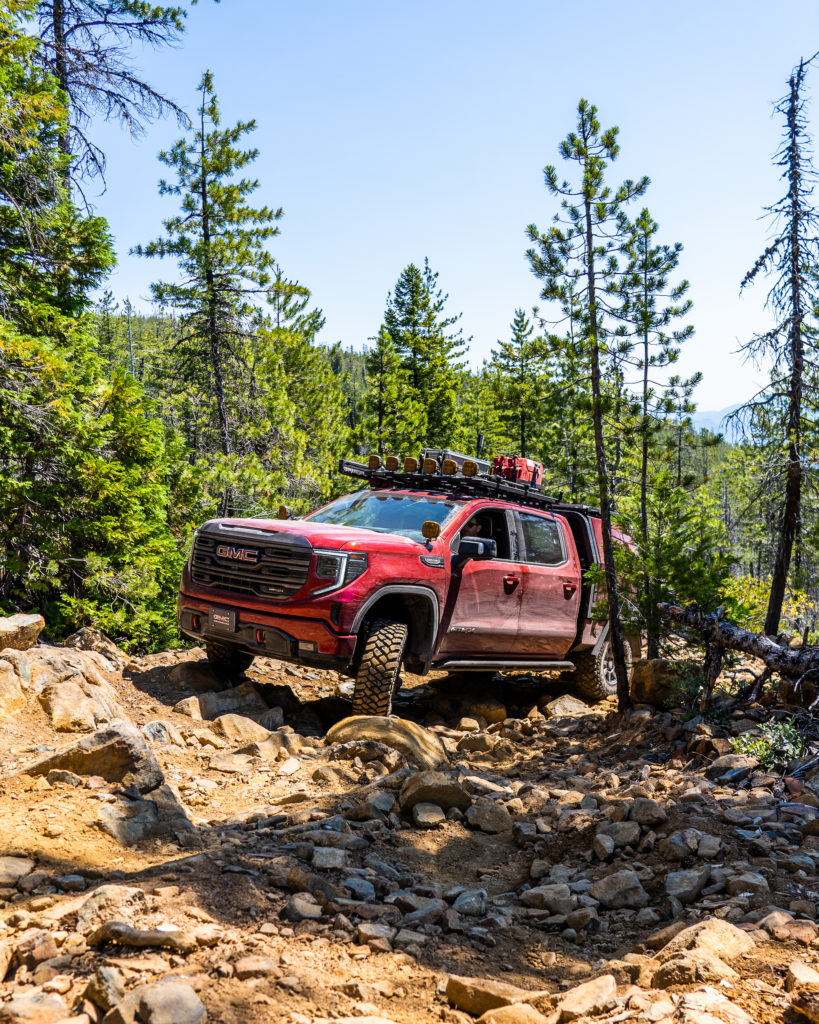 Because my FJ Cruiser is set up for four-wheeling and not overlanding, Derek and I relied on the GMC's gear to support the non-driving parts of the McGrew adventure. The 110-liter Dometic CRX-110 standup fridge in the passenger compartment of the MITS Alloy metery (Australian nickname for 'meter') canopy supplied food and beverages for us both — with room to spare.
Pinstripe payoff
Honestly, I can't tell you that the AT4X came through McGrew completely unscathed. That painted metery door, like all other painted surfaces on the truck, left the trip with bountiful pinstriping. The back half of the McGrew Trail is lined by manzanita bushes, which are hard and unforgiving things. To make matters worse, their branches encroach on the trail, choking it down to a path just barely wide enough for a side-by-side to slip through.
One driver in our convoy described the heavily wooded section of the trail as "a carwash from hell."
Even the narrowest truck, Robert's Montero, suffered some trail pinstriping. The wide full-size GMC fared the worst. It left permanent and deep scratches all down the side of the AT4X. I didn't bat an eye when I inspected the truck at the end of the trail, however. We built the AT4X to tackle every trail. And we had no intentions of babying it or backing off.
The payoff to the merciless pinstriping is the Sourdough Camp at the end of McGrew Trail. At the northwest corner of the camp are the North Fork Smith River and a lovely little watering hole, which you can see in the Instagram video I embedded above. In this little pocket of the river, where two forks meet, the water dips down to perhaps 11 feet deep, and there are large boulders to hang out on.
We reached camp later in the evening, so the sun was already behind the hills a bit, shading the area. Temperatures had already dropped enough that hanging by the riverside was a bit chilly. If we had arrived earlier or had time to hang for another day, we could have really made the most of that oasis — soaking up the heat of the sun and then cooling ourselves in the river.
As dusk fell, Jason wowed us with some of his incredible culinary skills. When Jason from Overland Cookery is the chef, you'll enjoy some of the best meals of your life. I don't just mean great camp meals, but great meals full stop.
Jason heaped our plates with herb-y panzanella salad, perfectly cooked hanger steak, and watermelon and feta salad with lime-cured onions. Jason is truly a master. If you have a chance to sample some of his cooking on the trips he caters, do not hesitate.
We spent the rest of the evening digesting our huge and sumptuous meal around a propane fire pit (no wood-burning fires are permitted in that part of the world during the dry summer months).
Getting out
Although not gated off like the McGrew is, the track out from Sourdough camp back to civilization is nearly as tough. Don't think that because McGrew is in the rearview mirror that you can set cruise control and head home in ease.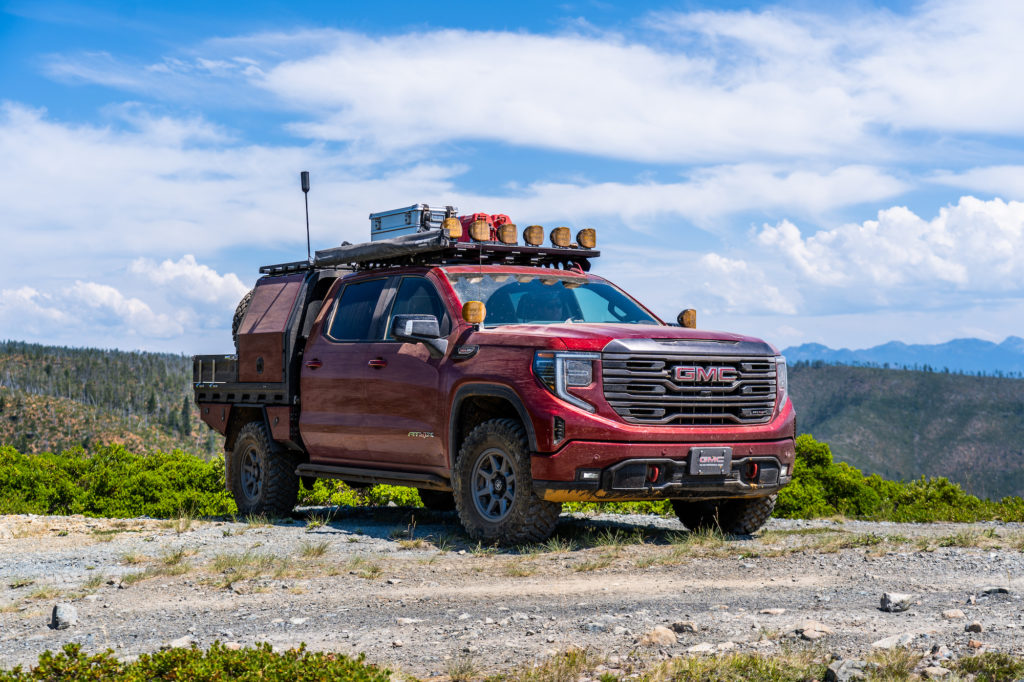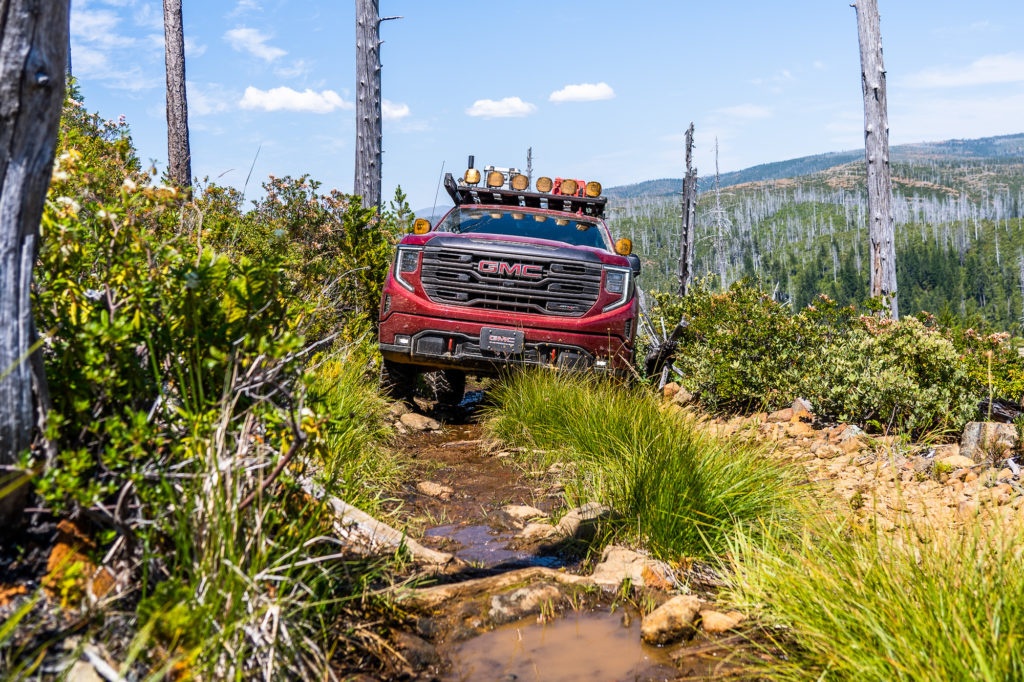 That's part of the fun. You'll spend a day or two getting to the trail. A day on the track. Then you'll spend a day or more getting back out from it. To that end, bring extra fuel. If your rig is as thirsty as Josh's 110, you'll need it.
In case you don't read the Trips & Trails story on the McGrew, let me reiterate here that you need a permit for McGrew. Permitting is open from September to late December, the year prior to the permit period. And your permit, should it be approved, won't be issued until later in the spring of the permit year.
This is to say: Plan ahead and be patient.
Is McGrew the toughest, most beautiful trail? Naw. But does its limited access make it a bit more special? You bet. If you live in Northern California, Nevada, Oregon, Idaho, or Washington, it's worth the visit. Bring some friends, take your time, and plan to explore the Rogue River-Siskiyou National Forest while you're out there.