Quick take: Gazelle's T4 Hub Tent Overland Edition is a quick-deploying tent with lots of interior volume and enviable headroom. In its base form, it pops up in around a minute and folds away nearly as quickly. However, it isn't without its foibles. Entry and egress can be cumbersome, due to the D-shaped doors. Installing the rainfly during a storm will flummox some overlanders. And the bagged tent is nearly 68 inches long — too long for the interior of most overland rigs. The Gazelle T4 Hub Tent Overland Edition is ideal for overlanding in a dry, warm climate in a pickup truck with a long bed.
I first spotted the Gazelle T4 Hub Tent Overland Edition at Overland Expo East 2021. I was immediately intrigued by the tent's size and its quick-deploying and -folding nature. So, I asked for one for review.
After having received the tent in late winter 2022, I have used it a dozen times or more in all kinds of weather, from subfreezing nights on the dunes of Central Oregon to blisteringly hot, riverside nights in southwest Oregon.
In that time, I've grown to love, hate, and once again appreciate the Gazelle T4 Overland Edition all over again. In short, it's a great overlanding tent. But it's not without its flaws. Let me explain.
Large duck blind
The construction of the Gazelle T4 is that of a large duck blind, or a soft-sided ice-fishing hut. It sets up in under a minute — once you have experience setting it up. The floor space is good, fitting two cots very easily. The space is also improved by the more or less vertical walls. The overall head height is great. Even at six-foot-five, I had no issues standing up in the tent.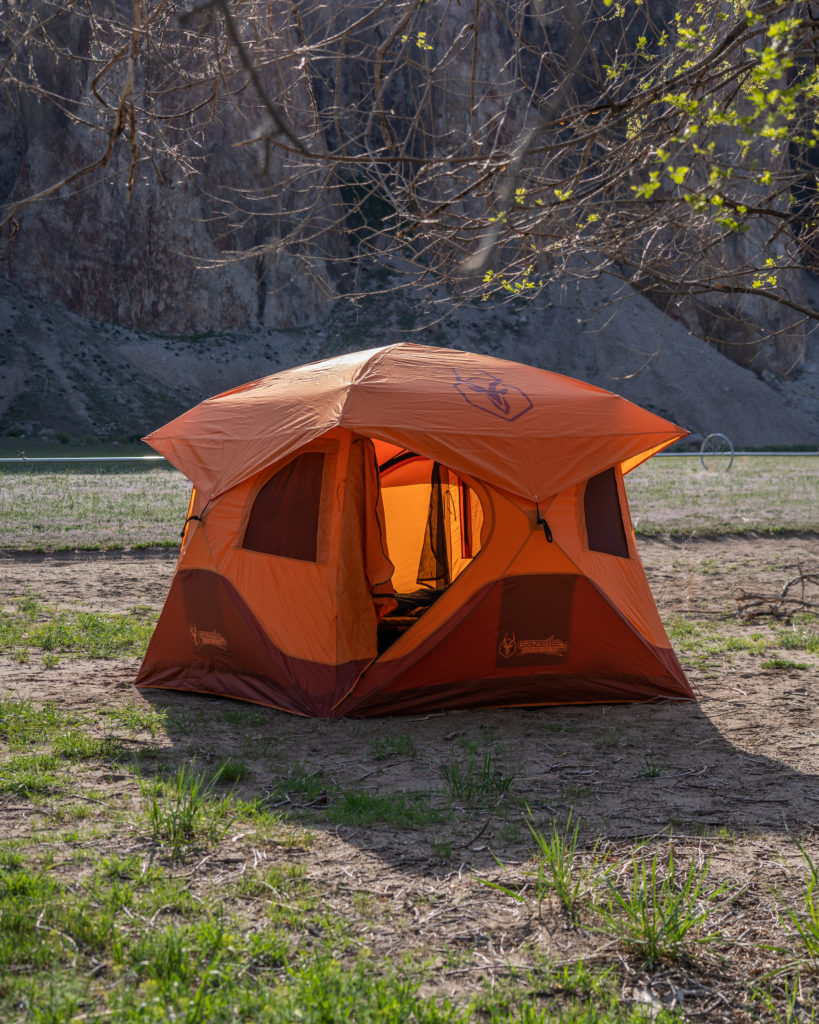 There are two doors, one on each corner. They are an unusual V shape. This is due to the quick setup poles that prevent a traditional door shape and placement. Because of the V-shaped doors, it can be difficult to get in and out with a heavy bag or cot.
There are multiple windows on each side, so you can fine tune air flow and visibility to your liking. The roof has a large amount of mesh, and the stars are visible if you wake up at night (without the rainfly). The multiple window also creates a lot of zippers and visual clutter internally, which is only really a problem if you're obsessed with tent aesthetics.
The fabric is of good quality with a good waterproof coating. There is seam tape on a large portion of the seams, however it is not on aIl seams. This is a little unusual, particularly along the edges of the floor. This could create a situation where water can make it into the "tub" of the tent. And then you'll be sleeping in puddle city.
After studying the Gazelle T4 Hub Tent, I realized that stitching is inconsistent on some of the seams. This is made more visible by the factory not using different color threads on the spool and bobbins (my buddy who is a bag designer informed me of the cause of these inconsistencies). Some of the pattern breaks don't quite match the other design lines of the tent either.
It appears that in the prototyping phase they found out they needed a reinforcement and slapped a piece on regardless how it matched the aesthetics. Again, this isn't a performance problem. However, it is evident of the R&D process, which was evidently not ironed out in the end.
Breakdown & wind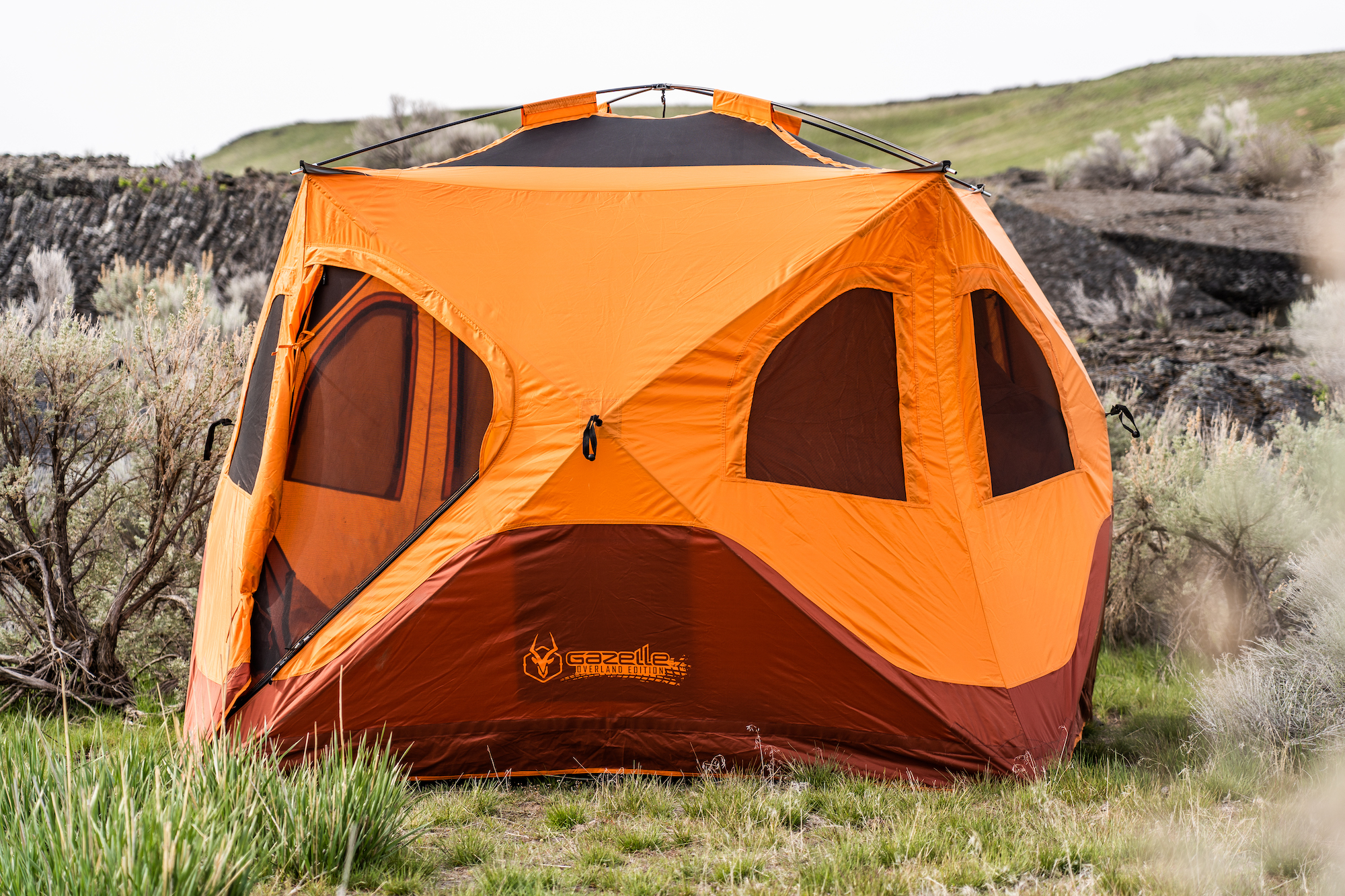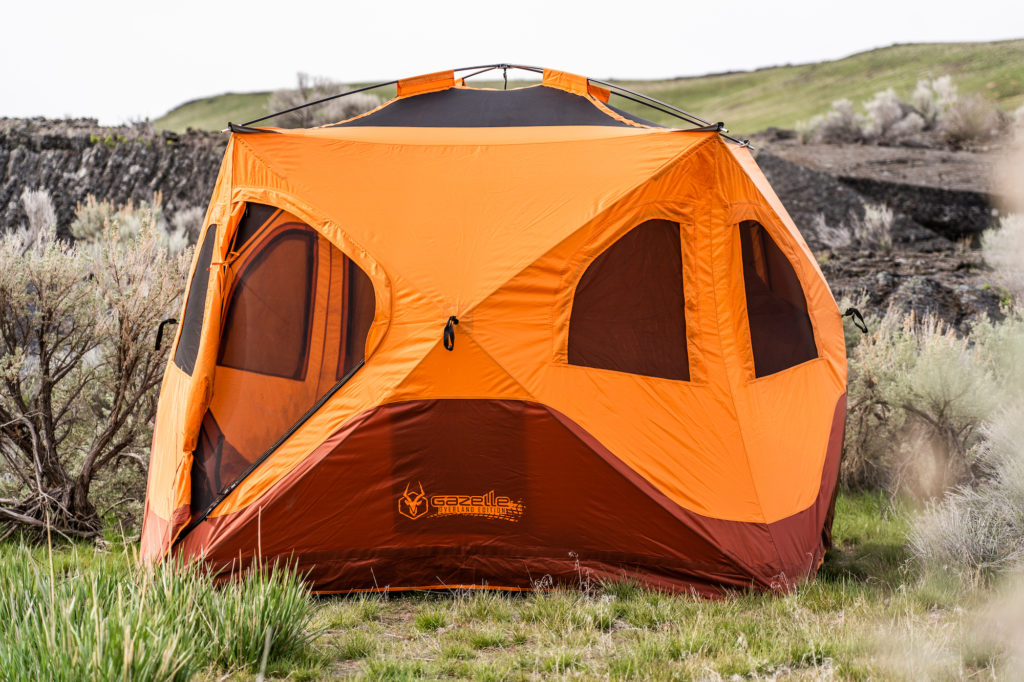 The tent had two styles of stakes, six basic L-shaped bent steel with a black coating, and 12 T-shaped stakes with a spiraled tip and a plastic molded top. It also comes with four lengths of cord with an adjuster for tie downs. In testing, a moderate breeze caused the tent to collapse without it being staked down.
When this tent starts to "pop" down it can collapse very quickly, which is normally a blessing. But during a windy gust in the middle of the night, it's a nuisance. After watching wind batter the Gazelle T4, I am not convinced the base grommets and four tie downs could secure the tent in high winds. That's because vertical walls act as sails.
Take down is as quick as the minute-long setup, which is great. You "pop" the junctions at the top and the sides and fold everything into a bundle. Taking down any tent in the rain is difficult. With this setup, however, you end up directing all the water into the floor of the tent, which is bad.
Although the Gazelle T4 does pack down quickly, it doesn't pack down small — roughly 8 inches by 8 inches by 68 inches. So, your best option for transporting it is on your rig's roof. That is, unless you have a long-bed pickup.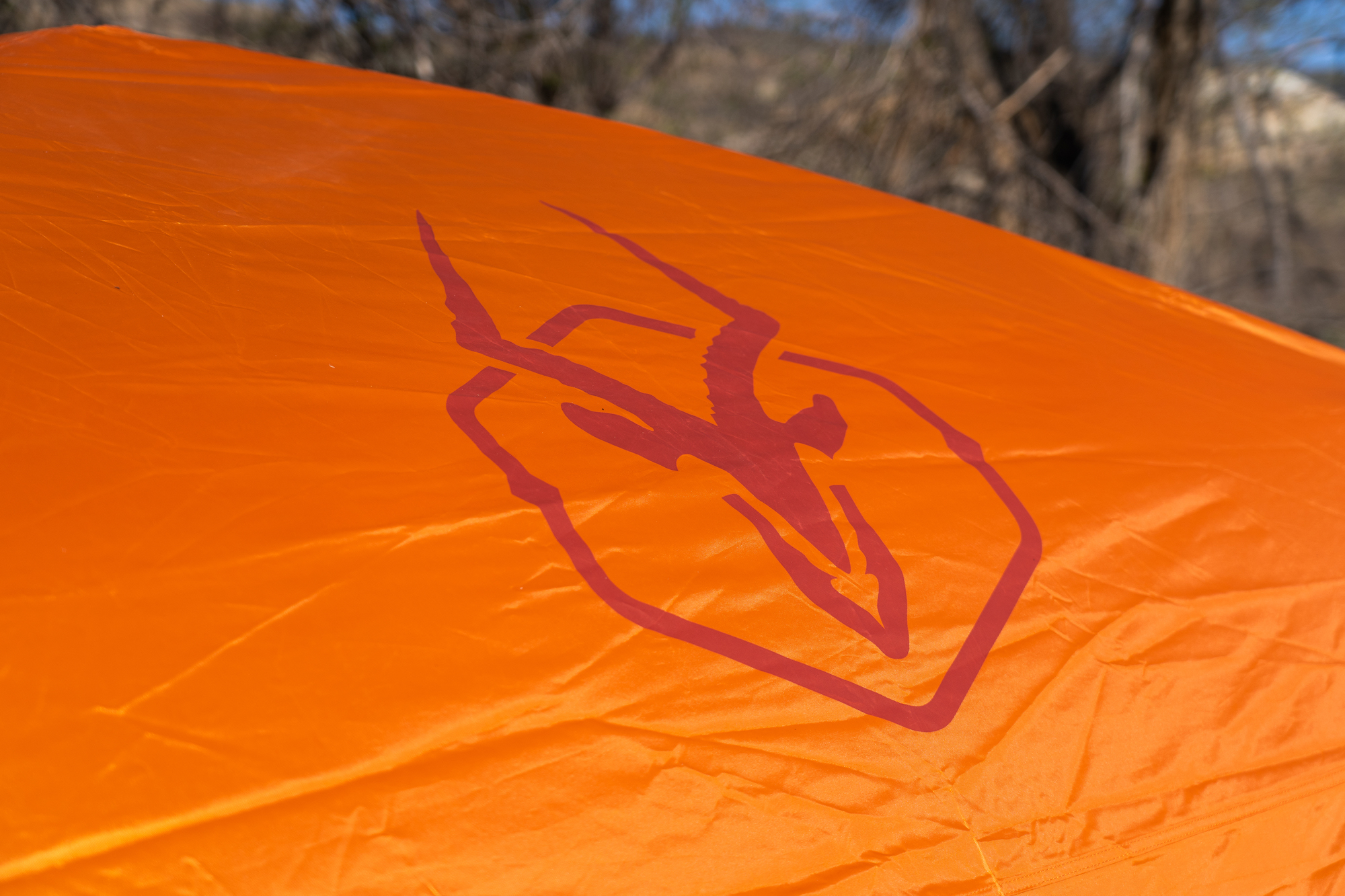 The T4's bag is also robustly built with a comfortable handle and shoulder strap, compression straps, and #10 YKK zippers. But the layout of the bag is a little difficult to use. It is set up with a three-quarter zip, with a pocket for stakes at the bottom of the zip.
The weight of the stakes can make it mildly difficult to get the folded tent into the bottom of the bag. The bag is also seam-taped, but not on all seams. This is most notable on the zipper for the bag, which means the bag is effectively a bucket for collecting water in your tent bag. And rainwater was a big issue during winter and spring overland trips here in the Pacific Northwest.
Overall, The Gazelle T4 Hub Tent Overland Edition is a good tent. And I have really enjoyed using it. However, it seems the T4's biggest selling point is its quick deployment, which is fantastic in mild, dry weather. If it's raining, though, you'll need to futz with the rainfly, which takes several more minutes to deploy and install. Then suddenly the T4's chief benefit is nullified.
Honestly, there are shorter tents with quicker setups and better constructions out there.
Does this mean that the Gazelle Hub Tent T4 is a tent to skip? Not at all. Folks in the Southwest with a roof rack would likely find the T4 a slam dunk, a no-brainer. But those of us who overland in regions with inclement weather may want to opt for something like the OZTENT RV3.
What to know:
MODEL: GT401SS
COLOR: Sunset Orange/Sedona
CAPACITY: Sleeps 4
HEIGHT: 78 inches
FLOOR DIMENSIONS: 94″ x 94″
FLOOR SPACE: 61 sq. ft.
HUB TO HUB: 101″ x 101″
COLLAPSED SIZE: 8″ x 8″ x 67.5″
WEIGHT: 34 pounds
STAKES: 12 all-terrain stakes
DOORS: 2 D-shaped doors
WARRANTY: One-year limited
MSRP: $559.99
---