The Toyota Land Cruiser is a legendary off-road rig, hitting the trifecta of quality craftsmanship, reliability, and durability. If you're just getting into overland travel and considering a Land Cruiser for your adventures, or if you've had a Land Cruiser sitting in a garage or a driveway for many years and you're looking to kit it out for vehicle-based exploration, you'll quickly understand why the Toyota Land Cruiser has a fanatical fan base – after all – 10 million Land Cruisers have been sold worldwide since 1951.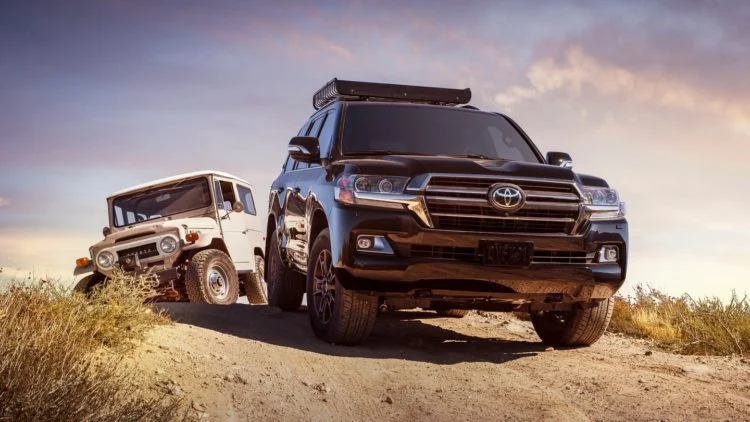 Let's be honest here, buying a Toyota Land Cruiser is getting significantly more expensive each year – with classic models fetching $100K to $150K, and with new models breaking the bank at $90K-plus, you have to be ready to open your wallet to get into one of these venerable off roaders. But if you can swing it, a Land Cruiser will be your loyal travel companion for many years to come.
Toyota breaks down the Land Cruiser model into a few designations; Heavy Duty, Light Duty, and Station Wagon. Heavy Duty Land Cruisers are the short-wheelbase "jeep-style" BJ Series, 20 Series, and the workhorse 40 Series and 70 Series. Light Duty Land Cruisers are the Light 70 Series and Wagon (created for leisure travel) and the Prado 70, 90, 120, and 150 – and yes, the Prado is a Land Cruiser – though purists will heartily disagree. Station Wagon-style Land Cruisers are the type we most often see as overland vehicles in the U.S. the 55, 60, 80, 100, 200, and 300 Series SUVs. The 300 Series is not available in the U.S. market, but we'll chat about that later.
For the purposes of this comparison, I'm going to highlight the Land Cruisers that I see most often in the wild in the U.S. as well as those that are the most available to the general public. I'm sure to ruffle some feathers by leaving some vehicles out of this article, but this is one man's opinion. I also have a set of criteria that may be helpful while you're looking for your next overland rig.
An overland vehicle should not be so expensive that you don't want to take it out on the trails,
It should be easy to maintain – or at least have specialists nearby that know how to work on your vehicle,
Replacement parts should be readily available, and
There should be a significant catalog of aftermarket parts and accessories to choose from.
These are the criteria you should use to help you choose the best Toyota Land Cruiser for overlanding. Let's dive in.
Choosing a Toyota Land Cruiser for Overlanding
40 Series Land Cruiser
While an FJ40 is far and away from my favorite Land Cruiser, I won't even be recommending one in this article. The FJ40 is now considered a classic and is fetching ridiculous prices, like $32,000 on average for a barn find housing rodents, let alone a fully resto-modded 40, which could command as much as $150,000+. That said, the FJ40 is a beast of a vehicle and has a place in the lore of overlanding, but it is simply out of most people's price range when they're thinking about a long-term adventure vehicle. Unless you can talk that guy down the street into selling his for pennies on the dollar, stranger things have happened.
60 Series Land Cruiser
Made from 1981 to 1990, the FJ60 is a nearly indestructible offroad monster of a vehicle. With a bulletproof frame, a solid front axle, and a slow, but steady 3.9-liter inline V6, the FJ60 is another amazing Land Cruiser that is starting to hit the same price heights as the FJ40 – with a $22,000 average sale price and a high sale price of $52,000, the market is only going up on these 4x4s, so pick one up now if you can before they're unobtanium.
70 Series Land Cruiser
From Ernesto and Taisa's super-capable long-wheelbase 78 Series Troop Carrier or Troopy (pictured above), to the short wheelbase BJ70, to the bombproof pickup (Ute), the 70 Series is the Land Cruiser everyone in the U.S. wants. Solid axle, powerful, and almost indestructible, the 70 Series is the vehicle of choice for the United Nations and a good number of militaries around the world. Since the 70 Series was not introduced in the U.S., you'll be paying import and shipping fees if you want to build out one of these amazing rigs. Prices on the used market average $25,000. If you went this route, you would also need to import aftermarket parts and accessories to fit this vehicle.
80 Series Land Cruiser
I'm a bit partial to the FJ80 Land Cruiser. The one in the photo above is mine. Built from 1989 to 1997, the 80 Series boasted a solid front axle, a 4.5-liter inline V6, Full-Time 4WD with a locking center differential, and for the first time, this model featured coil springs for ride comfort, factory option front and rear differential lockers, as well as luxury upgrades like leather seating. You can still get into an 80 Series Land Cruiser without destroying your wallet, though these rigs are fetching higher prices of late, with a $24,000 average selling price (though you can get them significantly cheaper), and one 80 Series recently sold for $136,000. The aftermarket accessories catalog for the 80 Series is abundant, and you can easily find bumpers, shocks, and racks that fit the 80. Parts, on the other hand, are slowly becoming more and more scarce – but with so many 80s still on the road, there are a lot of aftermarket manufacturers that are creating parts for this rig. I wouldn't hesitate to recommend an 80 Series as an overland rig.
100 Series Land Cruiser
Toyota introduced the 100 Series Land Cruiser in January 1998 with some significant changes to the platform. Gone were the solid front axles – replaced with independent front suspension, which sacrificed off-road performance in favor of ride quality and a 4.5-liter V6 or 4.7-liter V8 (a first for the Land Cruiser.) Even with the suspension changes, the 100 Series is an incredibly capable vehicle for adventure travel. Parts and accessories are readily available and you can still get into a 100 Series without breaking the bank. The average sale price is $21,800, but I have seen them for much less. The 100 Series is a solid choice if you're thinking about buying one.
200 Series Land Cruiser
The 200 Series Land Cruiser has become a behemoth. With a 4.7-liter V8 or 5.7-liter V8 in the Lexus and weighing in at a staggering 5,815-pounds (curb weight). This luxury SUV is starting to become a popular choice for overlanders. Though it is much bulkier than its predecessors, the 200 Series is still amazingly capable off-road and drives like a dream on the highway. Parts and accessories are abundant, and you can get into one for $47,600 on average, though newer models are still in the $50,000 – $60,000 price range.
300 Series Land Cruiser
The 300 Series Land Cruiser has only been out a few short months at the time of this writing, but the biggest gripe is that it is no longer available in North America (at least under the Land Cruiser moniker.) Maintaining the dimensions of the 200 Series and doubling down on the Land Cruiser's legendary offroad prowess, the 300 Series features more suspension articulation, the world's first E-KDSS (Electronic Kinetic Dynamic Suspension System), and a Multi-Terrain Monitor and Multi-Terrain Selector that displays obstacles in front of you and then chooses the correct drive mode to tackle that terrain. I hope the rest of the world enjoys the new Land Cruiser, and yes, I'm jaded.
There is some hope for Land Cruiser fanatics in North America though as the new Sequoia TRD Pro will be built on Toyota's new Global Architecture F platform, meaning that the new Sequoia will sport a Land Cruiser chassis, at least. You can read more about the 2023 Sequoia TRD Pro here. If you have really deep pockets, you might take a look at the Lexus LX 600 too.
Hopefully, this helped you come to a decision on purchasing a Toyota Land Cruiser for overland travel. At this time, I would go for an 80 Series or 100 Series based on price, parts availability, and off-road performance. What you ultimately choose depends on your bank account.
Happy travels.