One of the first purchases many new overlanders make is a set of traction boards. You know, those brightly-colored convex ramps with lots of teeth sticking up off the surface?
Unfortunately, a lot of folks don't buy traction boards because they intend to use them. They buy them because traction boards let onlookers know that they are an "adventurer" and they intend to get out into the wilderness and get stuck. Mostly though, traction boards tend to be another accessory that is purchased and seldom used because they look good strapped to their roof or rear tire carrier of their rig in all of their Instagram shots.
That's a shame because traction boards are some of the most versatile pieces of recovery equipment on the planet. They're easy to carry, they're easy-to-use, and they can get you out of some pretty sticky situations. I've used my traction boards in sand, mud, snow, and I've used them doubled up as a bridge between two rocks that would have swallowed my tire whole in a slot canyon in Anza Borrego State Park in California. I've even used my traction boards as leveling blocks when setting up my camp for the night. Versatility is king when it comes to overland travel!
Traction boards are worth more than their weight in gold. You just need to learn how to use them correctly.
Using Traction Boards
Luckily it is an easy process to get your bogged down rig out of mud, sand, and snow. Here's how:
Start by digging in front of and underneath each tire as well as digging away any mud, snow, or sand touching the frame or undercarriage. Most boards can be turned over to use as a shovel with their concave side.
Next, drop the traction boards in front of each tire and lower your tire pressure to 15-20 psi – letting the tire expand onto the board.
Then, slowly feather the gas pedal (don't spin your tires – let the tire and boards do the work) and roll your wheels up onto the boards and drive off.
If you get stuck again, just rinse and repeat until you're on a hard-packed surface. Easy peasy.
How To Choose Traction Boards?
There are quite a few traction board manufacturers out there, and their prices range from below $100 to upwards of $500 per pair. Picking which one is right for you depends on your budget, how often you'll use them, and the warranty the manufacturer puts on the boards. Cheaper, less strongly-constructed boards can shatter under the weight of your rig, teeth can fall off or wear down too quickly, or they might have problems standing up to UV light. Some brands offer a no-questions-asked replacement policy. Factor all of these variables into your purchasing decision. I'm of the camp that one should "buy once, cry once," meaning that I will almost always pay more in the beginning, so I don't have to replace faulty products in the future.
With that diatribe out of the way, let's look at the best traction boards for overlanding — in alphabetical order, of course.
ARB 4×4 Accessories — TRED Pro Traction Boards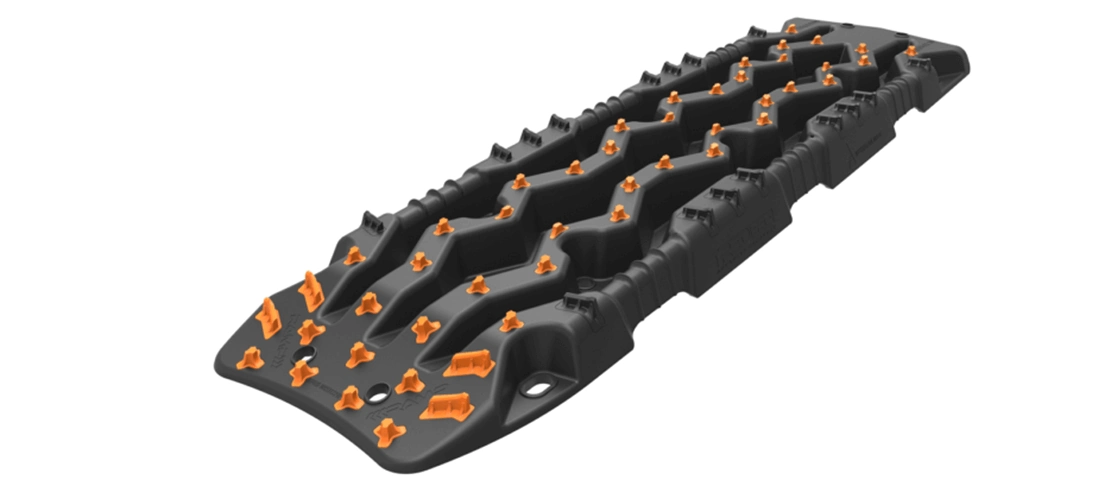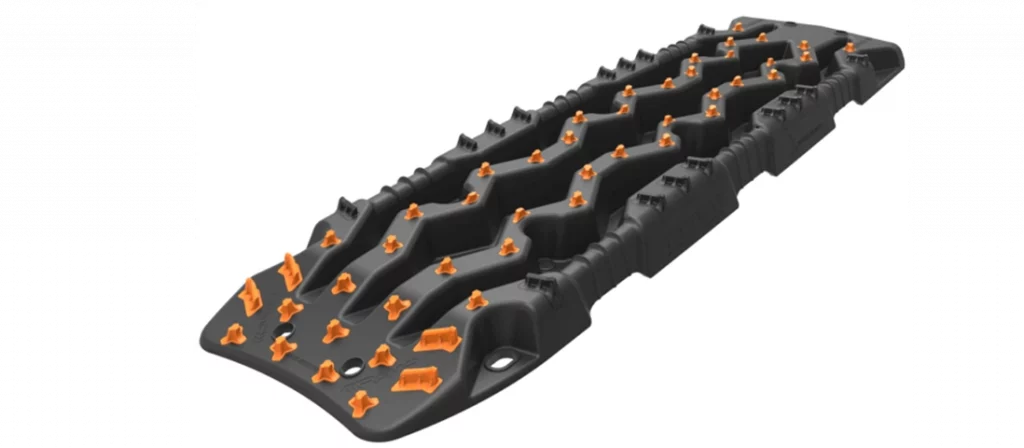 TRED Pro is a highly-engineered all-in-one off-road vehicle recovery device designed to get your four-wheel drive out of trouble when traction is lost in sand, mud, or snow. TRED Pro is engineered, manufactured, and tested on some of the toughest terrain on the planet in Australia. A set of TRED Pro will allow you to explore with confidence without letting traction issues disrupt your journey.
MSRP $299.00 per pair
GoTreads – XL Traction Boards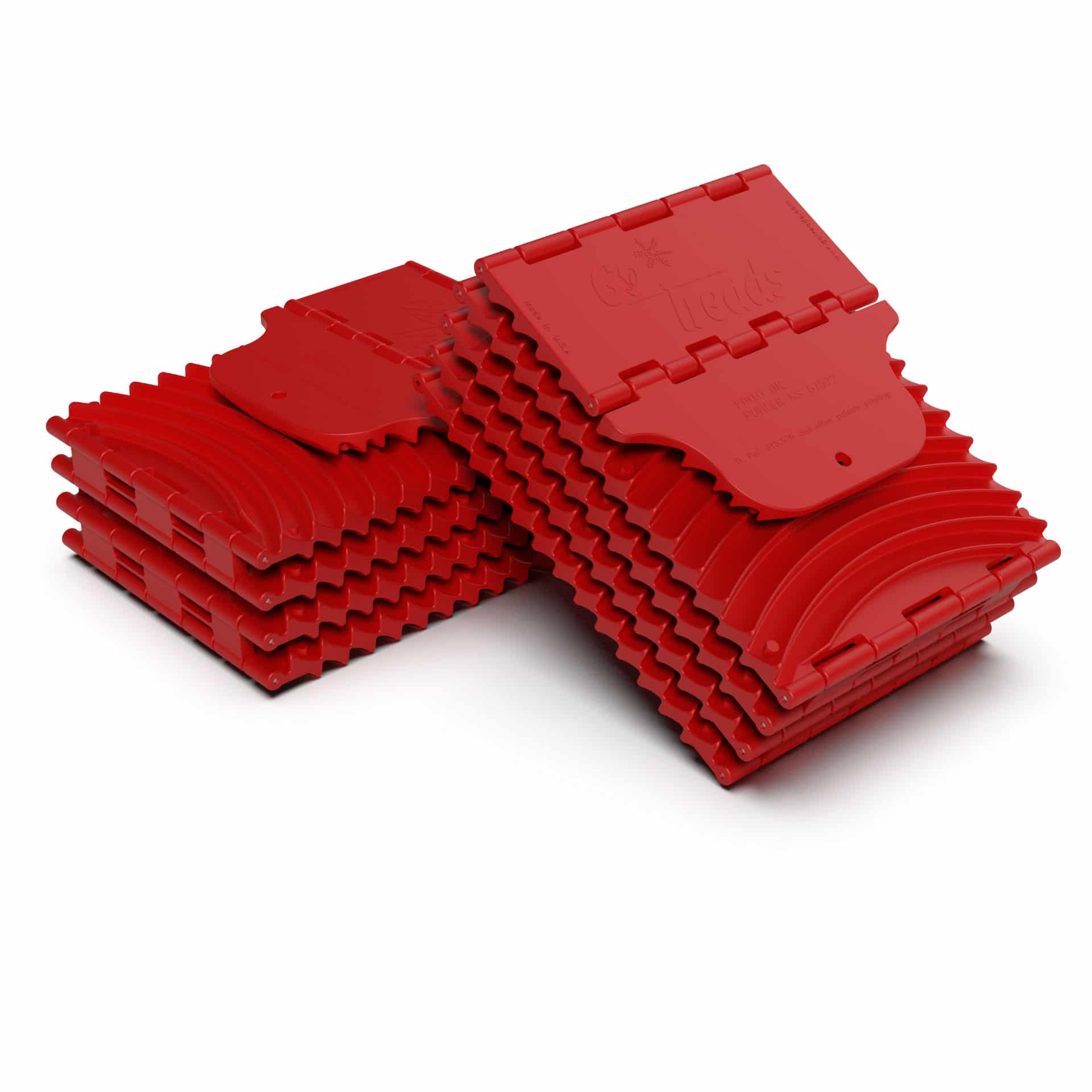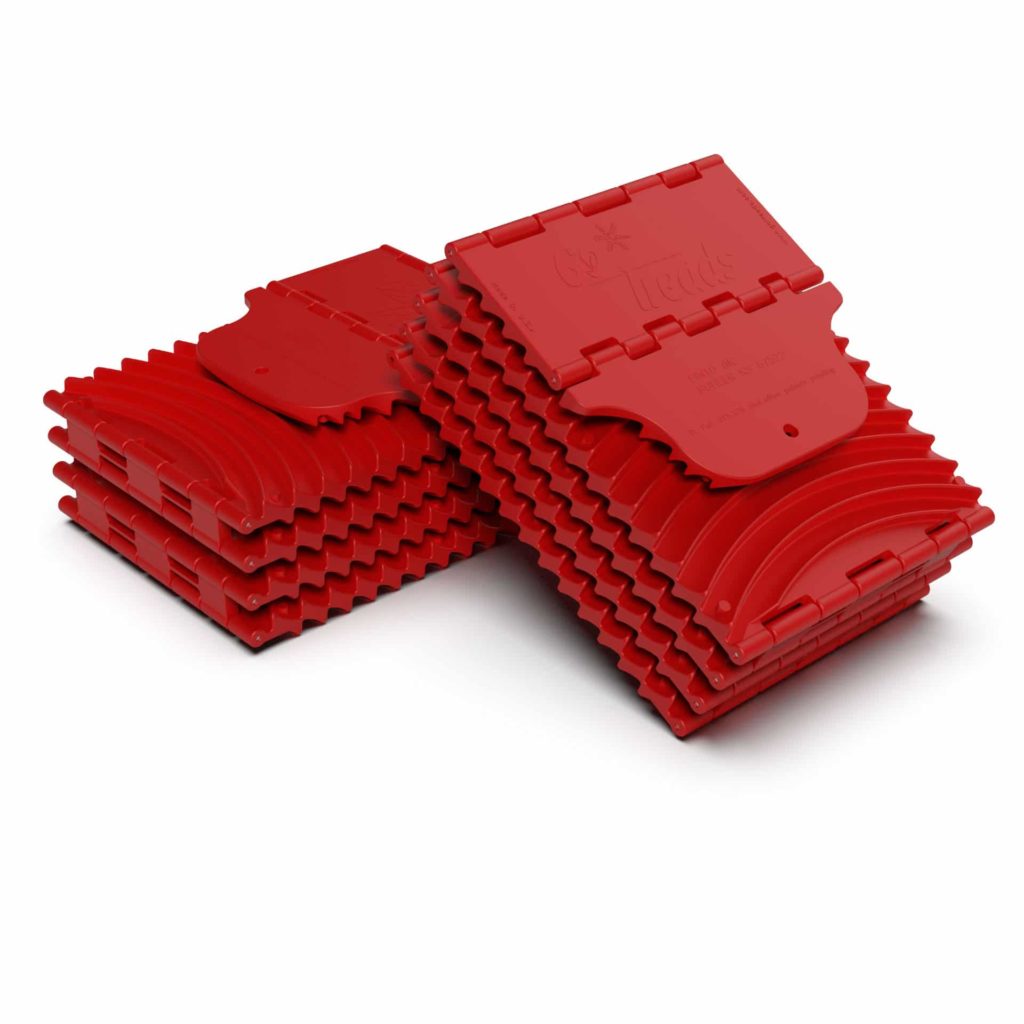 GoTreads are designed to provide the traction needed to get vehicles going again when stuck in snow, mud, or sand. The four-panel version offers one extra panel than their standard version for situations when you need more length. GoTreads XL provided an extra 12″ of traction and 1″ of leveling. For vehicles with larger tires (33″ diameter +) or those more often in extreme terrain conditions. The XL variant provides an extra foot of traction surface beneficial in these scenarios.
GoTreads were designed around one word – simple. They store in small places. They can be put into position in a matter of seconds – no tools, no assembly, no attaching to the tire required. The smooth finish of the tool allows the snow and mud to shake off for easy cleaning. GoTreads are made of flexible, high strength, high impact polypropylene copolymer with special additives to give this durable plastic even greater toughness. Yet, with all this strength, it weighs only 7.2 pounds.
MSRP: $159.00 per pair
MAXTRAX MKII Vehicle Recovery Boards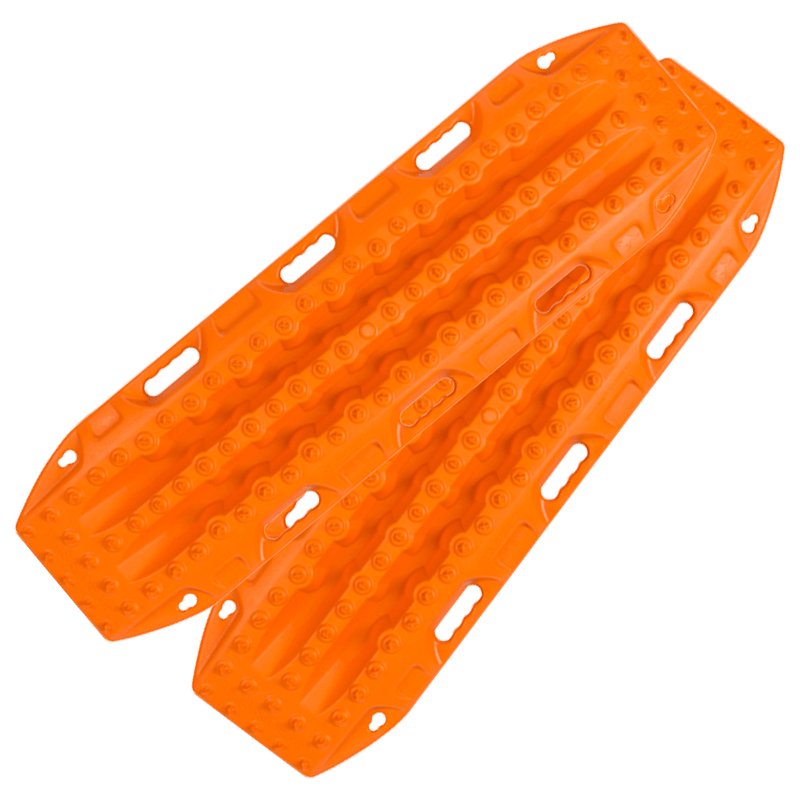 MAXTRAX is the brand that started the traction board craze. Before MAXTRAX, Australians used metal ladders to get their rigs free. But MAXTRAX changed all that with its signature bright orange, flexible, stackable, and incredibly durable traction boards. These might be the most cliched traction board look, but I swear by them.
As always, they're made in Australia, from Australian fiber-reinforced, engineering-grade nylon. They come with a lifetime warranty against manufacturing faults and workmanship. How you prove that, I am not sure.
Each MAXTRAX board has six built-in handles, and a shovel on each end, making MAXTRAX perfect for use in sand, snow, or mud. They're 45 inches long and 13 inches wide and weigh eight pounds each. MAXTRAX boasts one of its boards was tested at the University of Queensland to completely wrap around a 33-inch tire without failure while returning to shape. MAXTRAX are also available Mini and Xtreme versions depending on your needs.
MSRP: $299.99 per pair
Rough Country — Traction Boards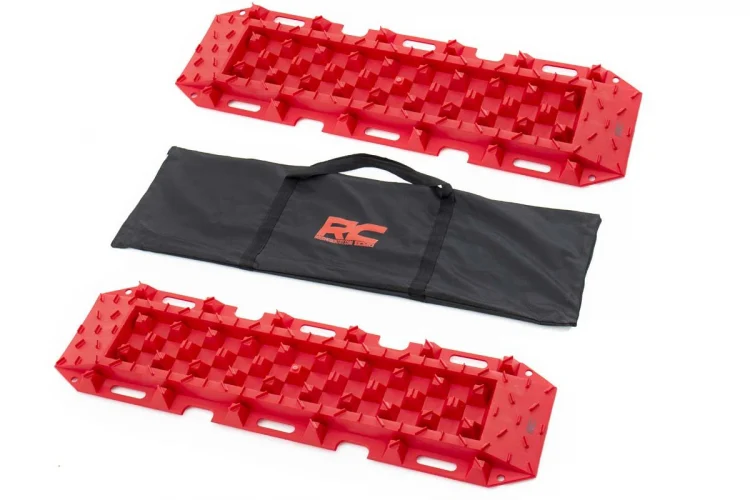 Distinguishing themselves from the rest of the field, the Rough Country boards come with their own handy black tote bag, which is nice. They measure 45 inches long by 13 inches wide. They're made from high-density material with a deep studded design for increased traction. The ends of the boards are ramped for easy entry. They're not the snazziest looking traction boards, nor are they backed by a lifetime warranty. But they are the cheapest. So there's that.
MSRP: $129.95 per pair
Rugged Ridge — Traction Recovery Kit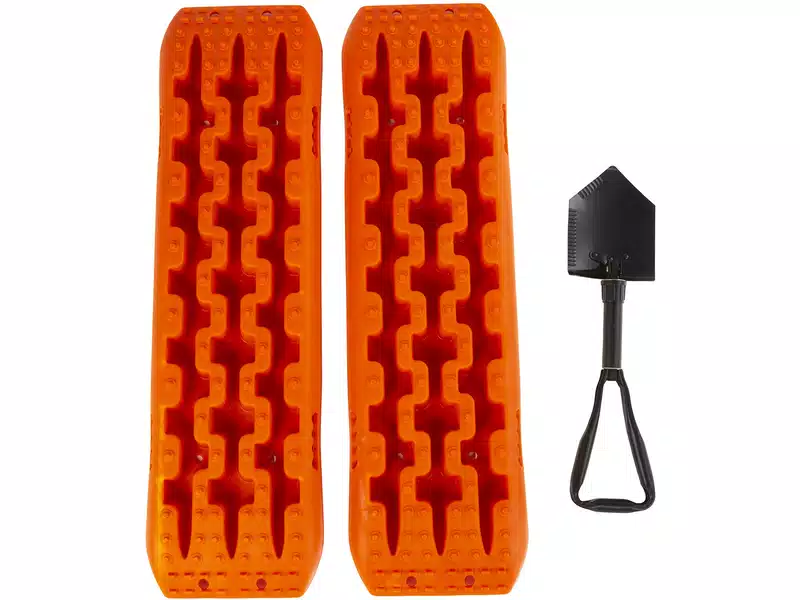 If you pick the Rugged Ridge traction boards, they come with a little shovel so you don't have to use the backs of the boards to shovel snow, mud, or sand from under your rig.
That's not the only way in which the Rugged boards are different than the rest. They're rated for use on vehicles up to 20,000 pounds — more than double that of the ARB TREDs. Plus, they're backed by a five-year limited warranty. Again, it's not clear what use would violate the warranty. So, recover carefully.
MSRP: $167.99
Smittybilt — All Element Ramps Traction Aids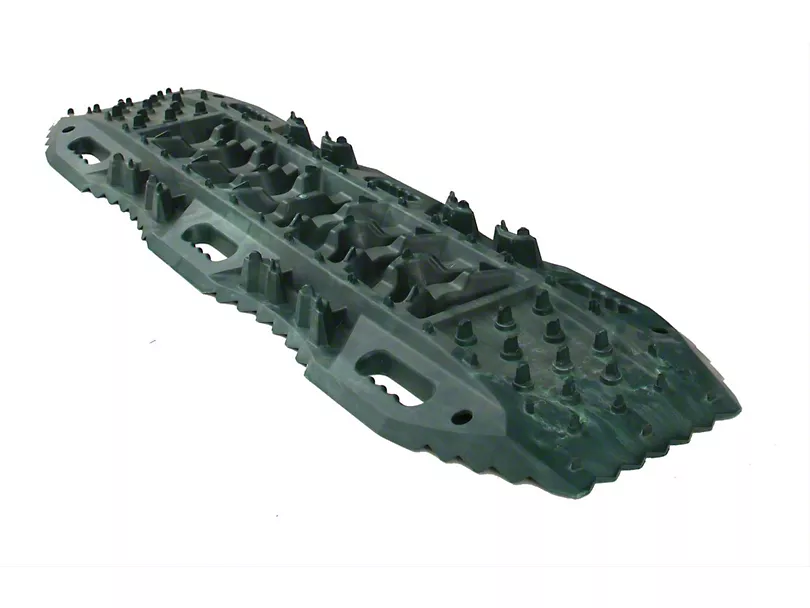 Lastly, we have the Smittybilt and its straightforward named 'all element ramps traction aids.' It's not branding that rolls off the tongue. But for the mid-level pricing, you may be willing to look past the weird name to their bona fides.
Each Smittybilt ramp can support up to 7,700 pounds. They're made from heavy-duty nylon reinforced plastic construction. Carrying handles and sloped entry make for easy carrying and extraction. Like virtually all the others, they're stackable. And they come with a nylon carrying bag. No word on the warranty, though, so tread lightly.
MSRP: $172.99 per pair