Quick take: MAXTRAX recovery boards might be expensive. But they are the cheapest, easiest way to get your rig unstuck. The trick to using them, though, is to mount them in an easily accessible spot. That way, you don't have to dig for them when you're in a pinch. Also, though it may be tempting to match the color of your rig, buy the orange ones; you don't want to lose a $330 pair of MAXTRAX in the mud.
A girlfriend once asked whether MAXTRAX were overlanders' pieces of flare — the items they had to attach to their vehicles to show that they were indeed serious overlanders. I had never looked at the brightly colored traction boards that way. She wasn't wrong.
At the same time, however, that isn't a wholly fair or accurate way to categorize MAXTRAX. Though they may be a frivolous overland-gear flex for most, for those of us who use them — and use them regularly — they're essential pieces of off-road kit.
Maximum Traction
I don't know the genesis of the MAXTRAX name, but I assume it's Australian nonsense for maximum traction. And, if true, the boards earn this moniker handily.
If you're not familiar with MAXTRAX or the concept of traction boards in general, they're big, strong, flexible pieces of plastic that you wedge at the lip of your tires in order to extricate your rig from, well, being stuck.
Admittedly, it seems unlikely that such devices will work. I was entirely skeptical of the efficacy of such wedges of plastic. Even after watching videos of men and women freeing themselves from sand, snow, and mud with MAXTRAX, I didn't quite believe — it must be Australian YouTube magic.
Nevertheless, being an overland-gear sucker myself, I purchased a set. The first time I used them on the Firebreak 5 trail in Oregon's Tillamook State Forest, I was a convert. I've purchased a set of four for every one of my rigs ever since. And I will going into the future.
Snow recovery
As is often the case with recovery, I never am in the mindset to pull out my camera and document the moment. I'm too caught up in the act of recovering myself, getting unstuck, to think about snapping some smart pictures of my recovery gear.
So I had to make a conscious effort to go on a trip on which I knew I'd get stuck in order to implement my MAXTRAX and then document their success. This took my friends and me to the high desert of Central Oregon. There we encountered temperatures in the teens and inches and, in some cases, feet of snow. Even though we drive lifted vehicles with traction tires, and electronically locking differentials, we inevitably got stuck when the snow became deep enough. Time to bust out the MAXTRAX.
Using both shovels and inverted MAXTRAX themselves (they play double duty as shovels), we scooped out the snow in front of the tires and then kicked the leading lip of a MAXTRAX board beneath the edge of each tire. Bumping the throttle, we were able to pull the MAXTRAX boards just beneath the tires.
Some drivers laid on a heap of throttle. Others just gently climbed out. There may be an official, proper way to do it. Nevertheless, either style resulted in a truck freed from its snowy tomb and on down the trail. Yes, it's really that easy.
You can even use them as a road-building device to cover up other would-be sticky spots on the trail. We did this often, as we encountered deep snow. It's faster to just string a bunch of them together to make a bit of plastic road than it was to wait for a truck to get stuck and then implement them. Work smarter, not harder.
Worth it?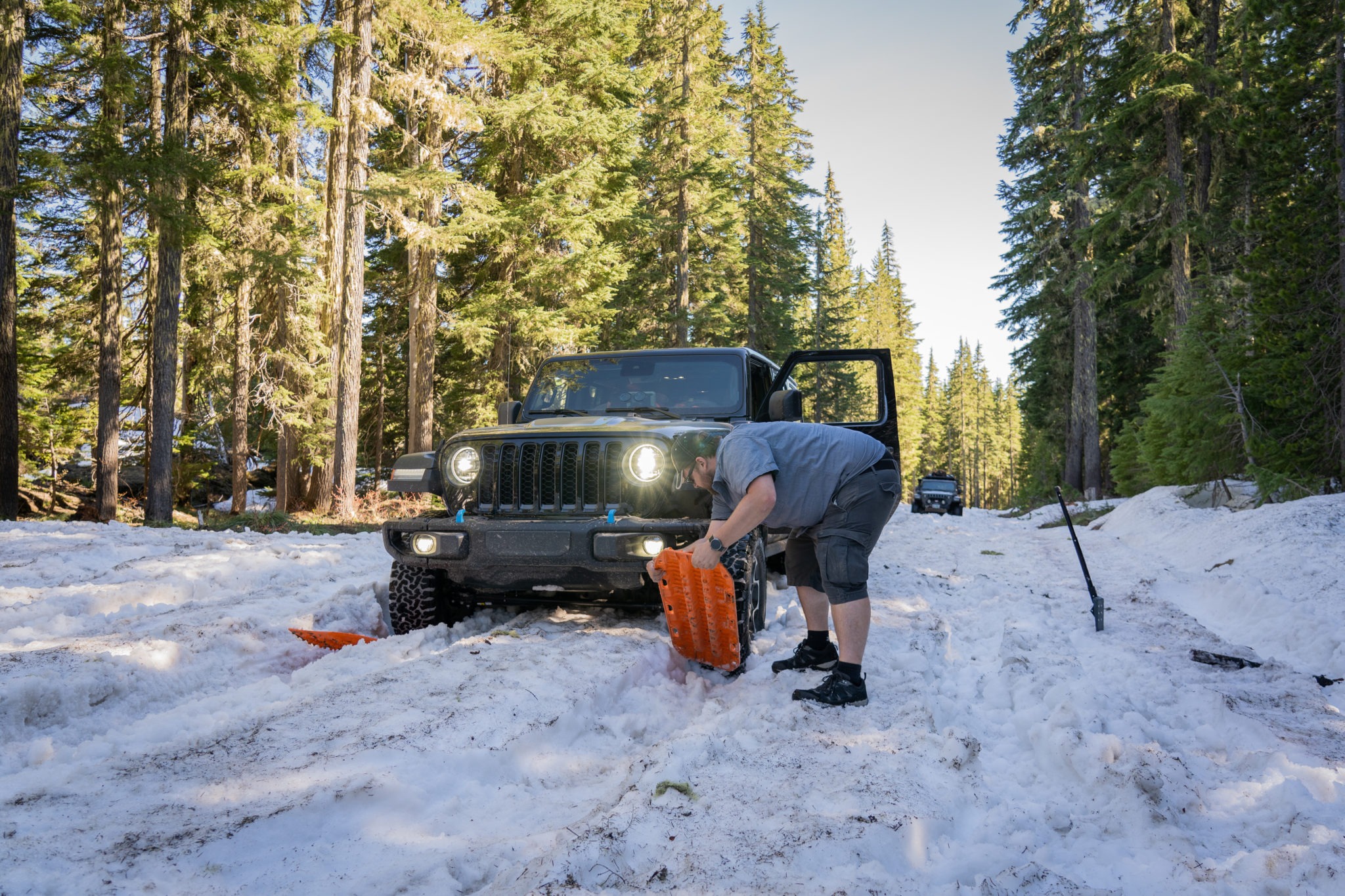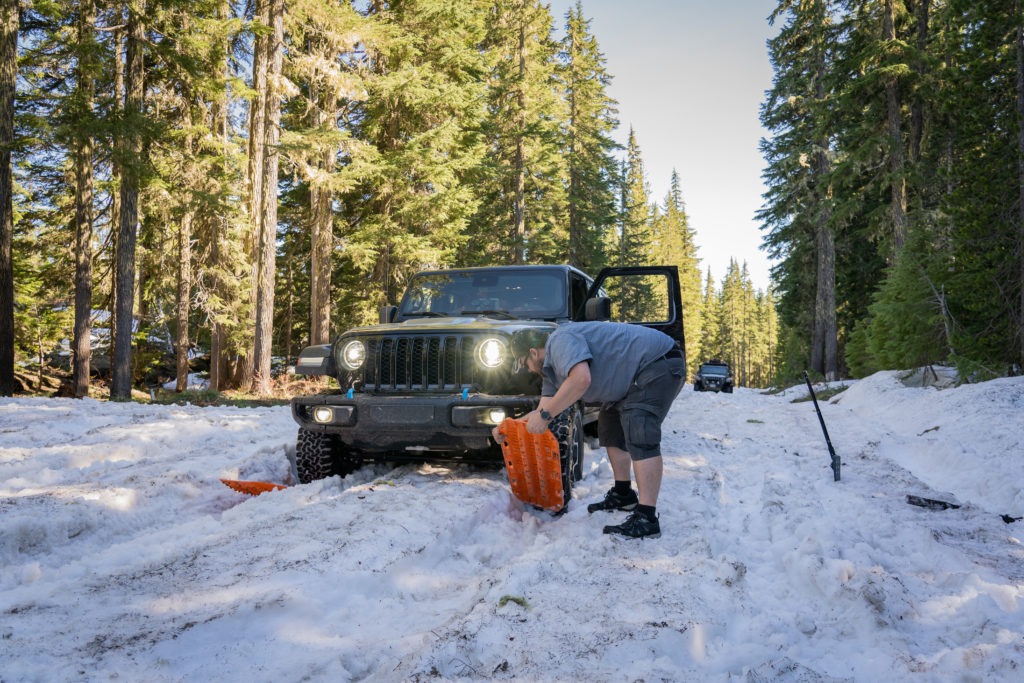 A set of four MAXTRAX will set you back $659.98 — a pretty penny, to be sure. But they are truly invaluable. Yes, you could perhaps do without them and rely on a winch. Winching, however, is time-consuming. And there isn't always something to winch off of. Moreover, let's not forget, winches are even more expensive.
If you're going out and driving any trail tougher than a 3/10 or anticipate encountering low-traction environments like sand, snow, or mud, I 100% recommend you carry a set of four MAXTRAX with you. Not only will you save yourself a ton of hassle in the future, but you can also show off to all onlookers what a keen overlander you are.
I'll conclude this review with two final things to consider:
Mount them where they're easily accessible. The last thing you want to do is to unpack a heap of gear just to get at your MAXTRAX. Believe me, I've made this mistake. The roof of your rig is a great place.
Get the brightly colored ones. You'll inevitably lose these in the snow, sand, or mud. And dark earth tones will ensure you never find the MAXTRAX ever again (a bonus to the importer of MAXTRAX). But save yourself a $330 lesson and just get the orange ones.
---
What to know:
Materials:

Fiber-reinforced, engineering-grade nylon construction won't break, crack, or stress whiten after use — or MAXTRAX will replace it for free.
UV-stable material won't fade or degrade in the sun.
Proprietary material resists wheel spin without risking tire damage for non-professional users.

Warranty:

Lifetime warranty against manufacturing faults and workmanship.
Includes a lifetime warranty against faults in materials and workmanship, along with a set of MAXTRAX Telltale leashes to pull your MAXTRAX out of the muck.

Features: Six built-in handles and a shovel on each end make MAXTRAX perfect for use in sand, snow, or mud.
Dimensions and weight: 45L x 13W x 3.5H, 7.5LB (3.4KG) per board, 15 pounds (6.8KG) per pair.
Origin: Made in Australia, from Australian materials.
MSRP: $329.99