The popularity of overland trailers is on the rise. If you attended the recent Overland Expo Mountain West, this would be no surprise, given how many trailers were at the event. We saw not only the debut of some new models from longtime builders but also the introduction of some new brands.
If you're short on time you can check out this video to get a closer look at some of the trailers we discuss below. Plus, Eva visited some different trailers from a couple of the featured brands so that you can see the different models that they offer.
Black Series — HQ17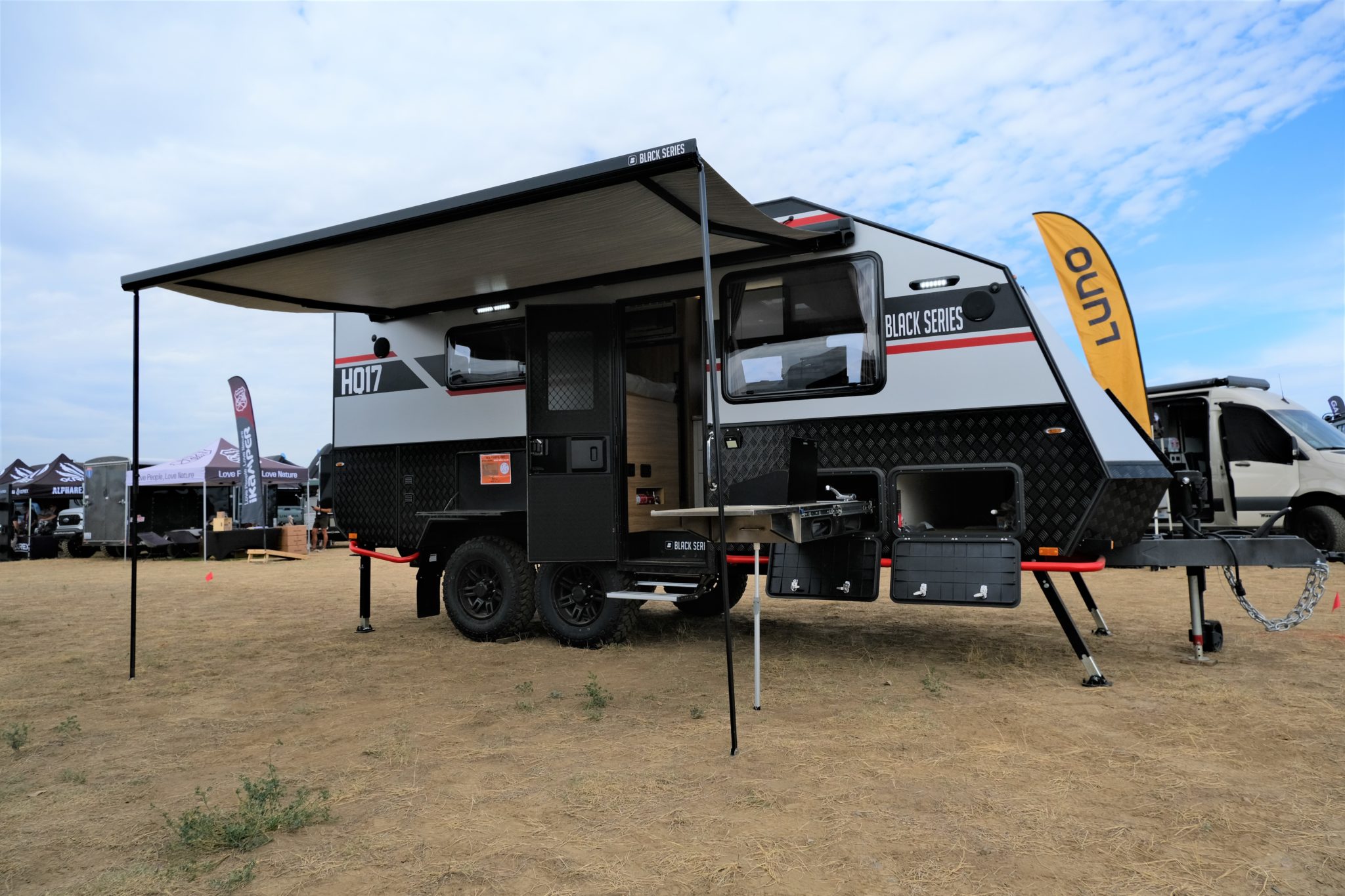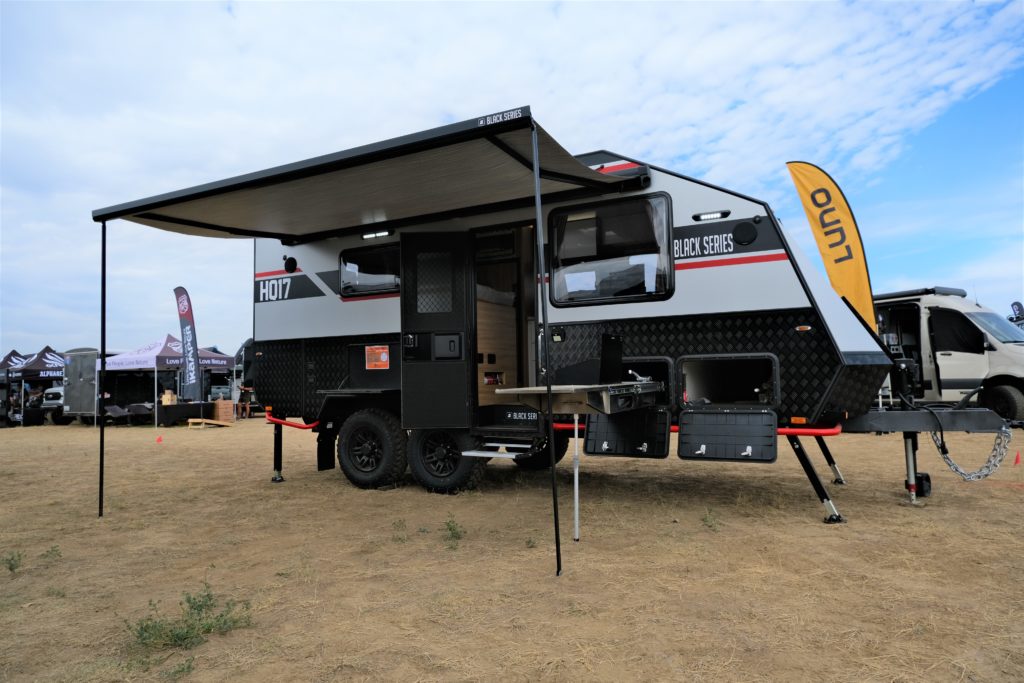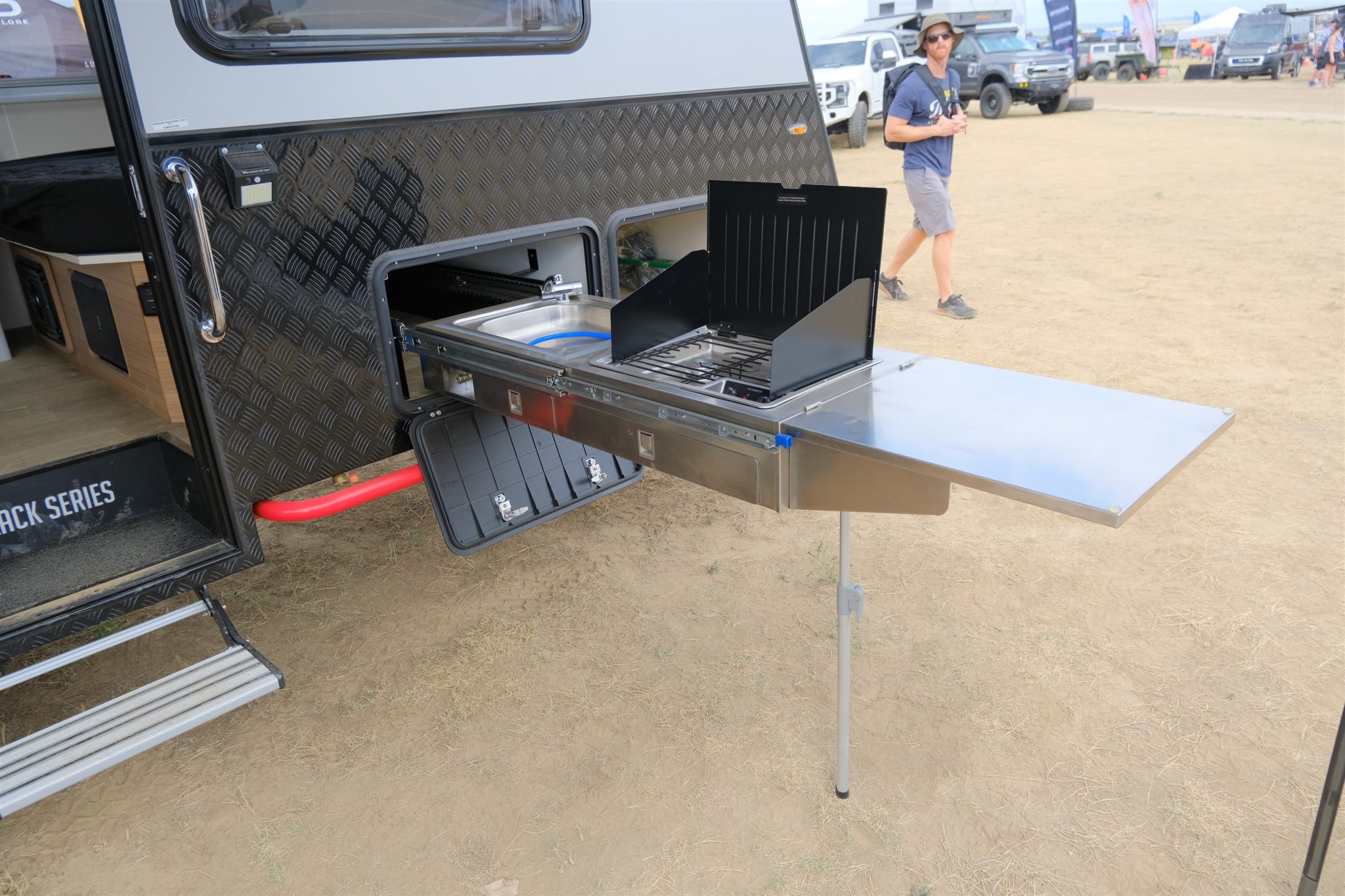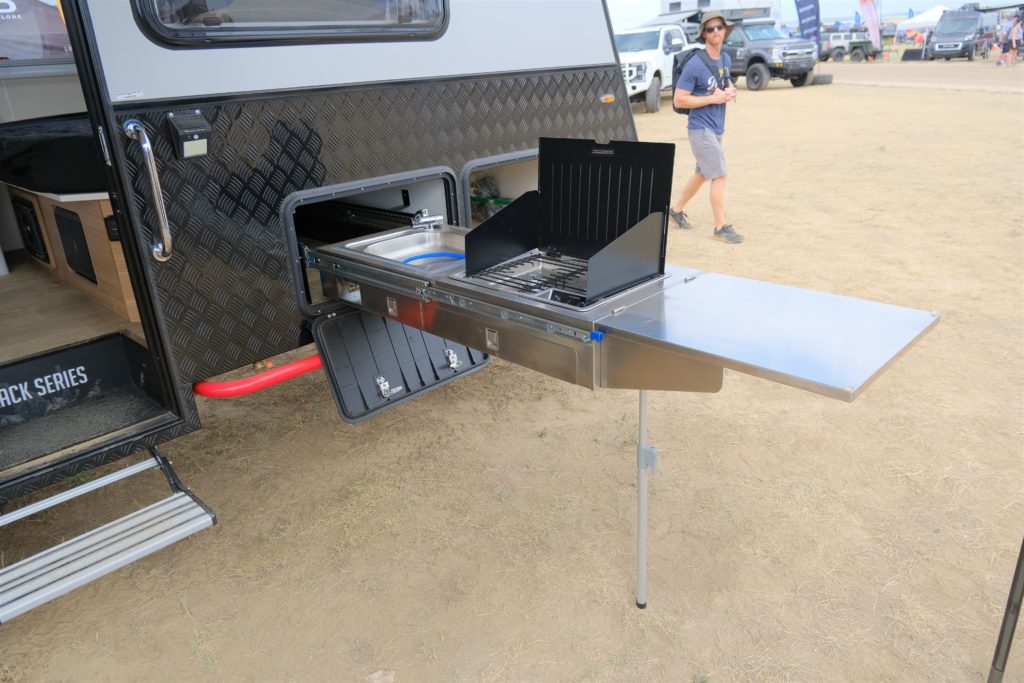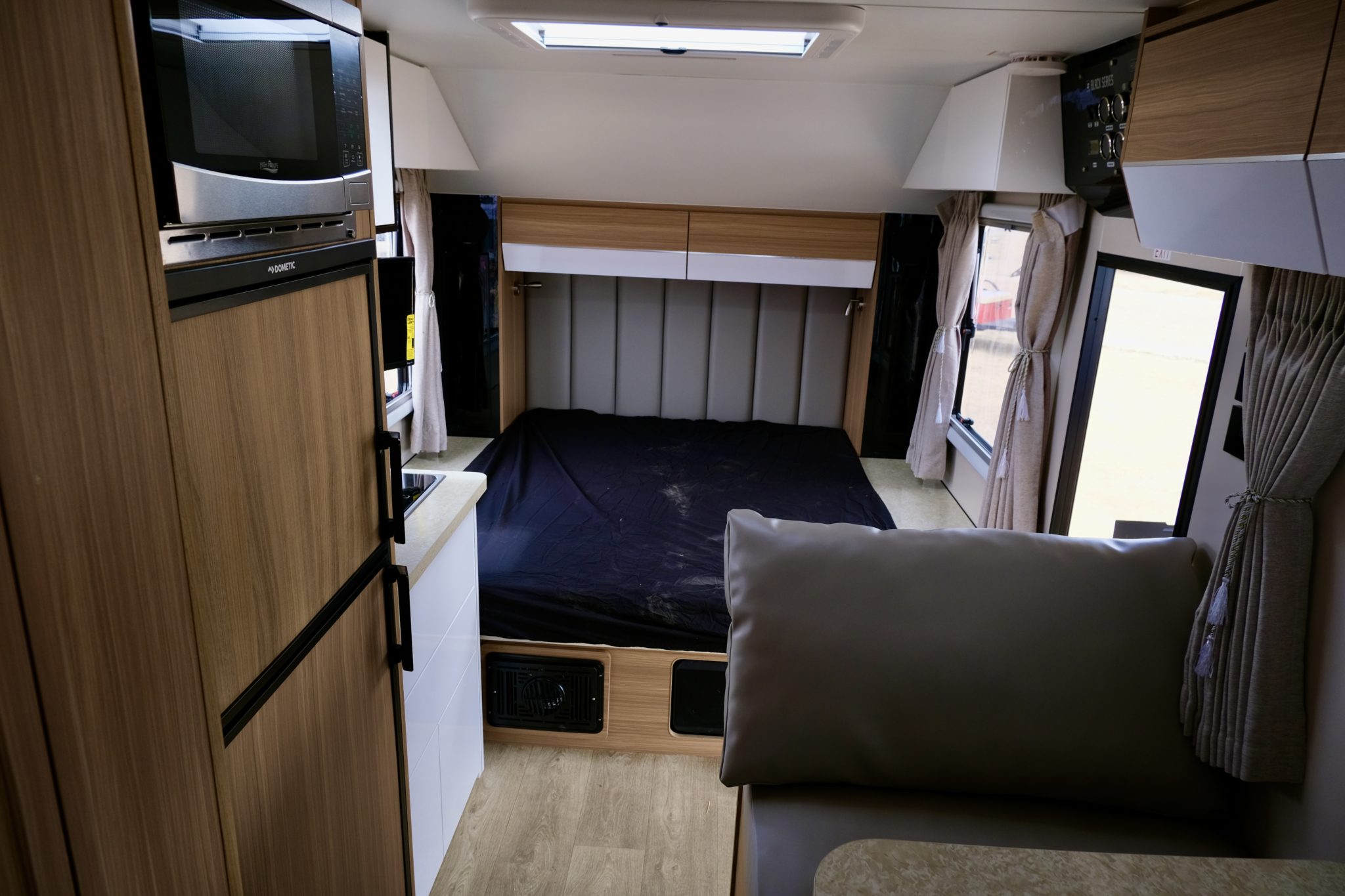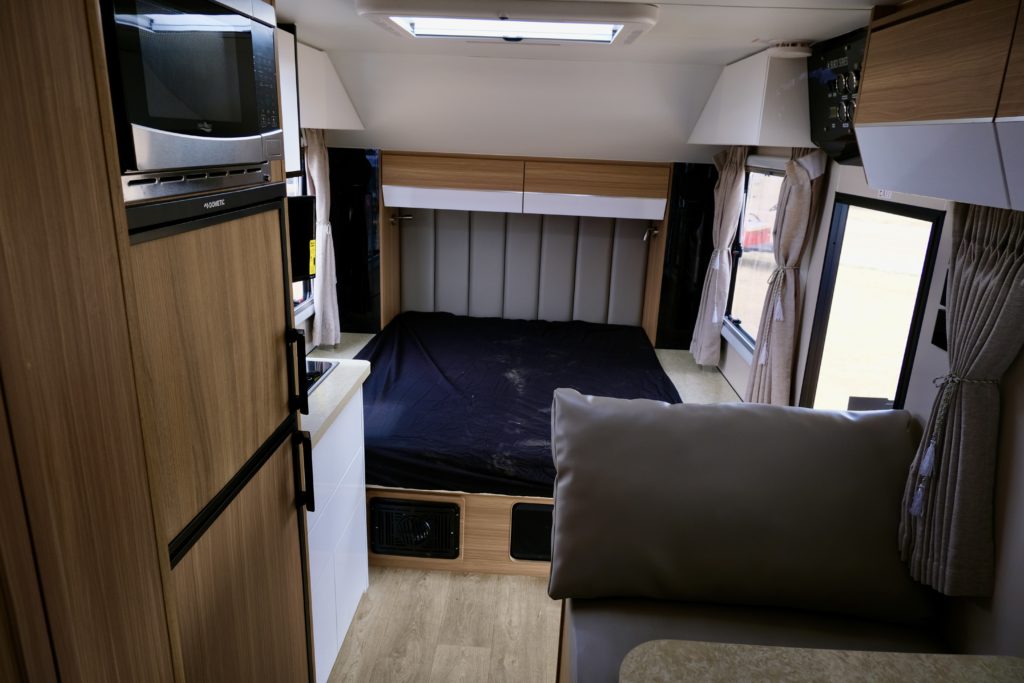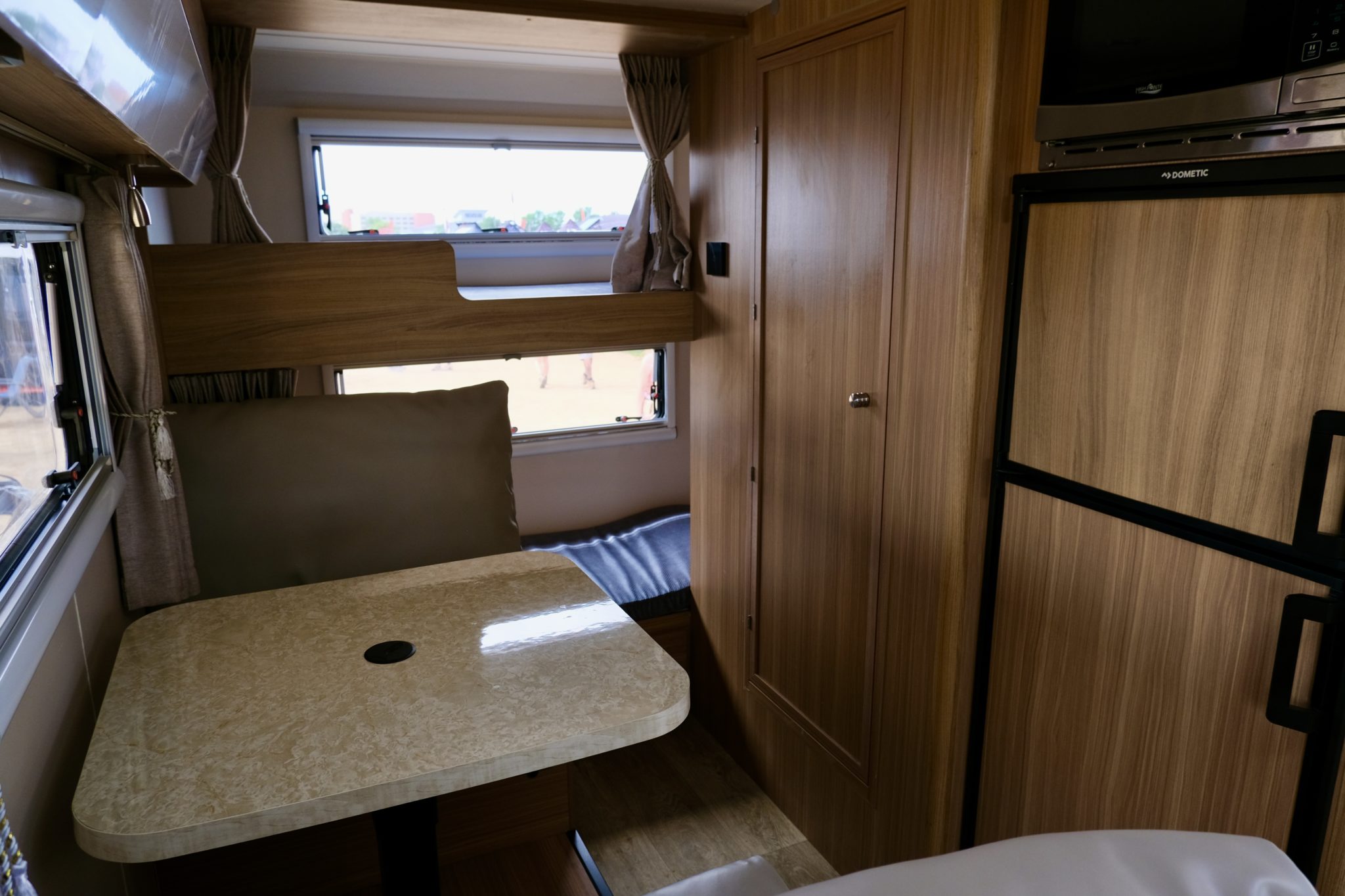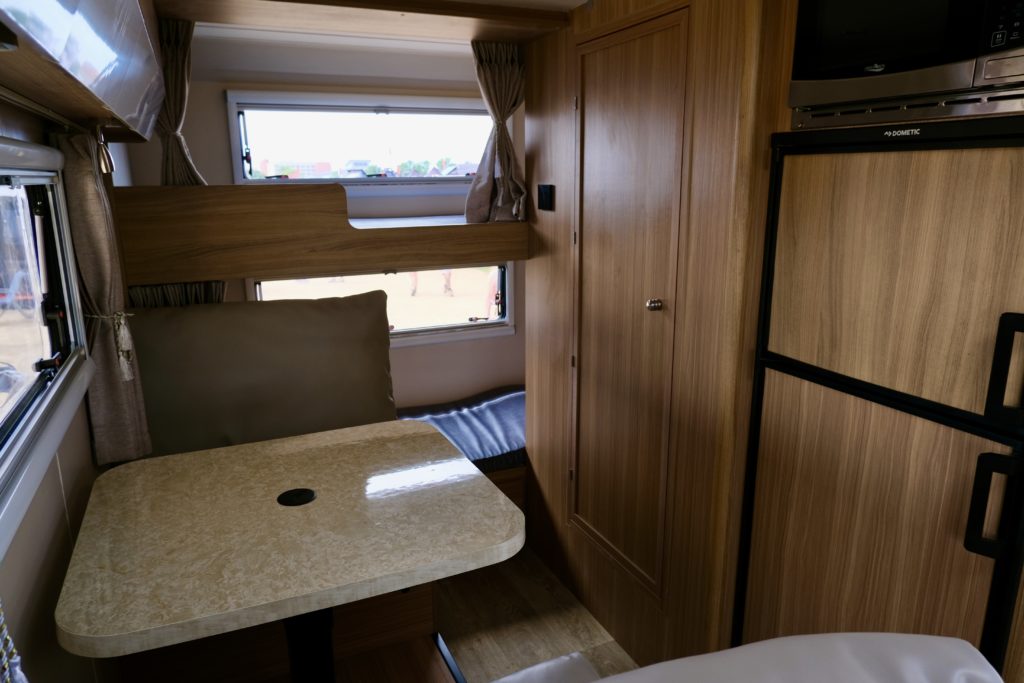 Black Series campers are known for offering luxury and large spaces in an off-road-capable package. The HQ17 lives up to this expectation with a host of features that will keep you comfortable on the trail for extended trips. With bunks in the back, you take the whole family along, and they won't be crowded. Even when everyone is gathering in the dining area, the large windows bring the outdoors inside and lets you enjoy the views. When you prefer to spend time outdoors, you can cook your meals in the outdoor kitchen. With a full interior kitchen, heat, air conditioning, hot water, solar power, a fiberglass shower, a toilet, MT tires, and an independent suspension, you'll be ready for plenty of extended adventures while enjoying the comforts of your home. This may sound like a lot, but it's really just the beginning of the features packed into this trailer. Black Series chose an appropriate name because the HQ17 would make a great headquarters for your adventures.
Weight: 5,952 pounds
Ground Clearance: 16 inches
Overall Width: 90 inches
Overall Length: 283.2 inches
Xpedition Trailers — Voyager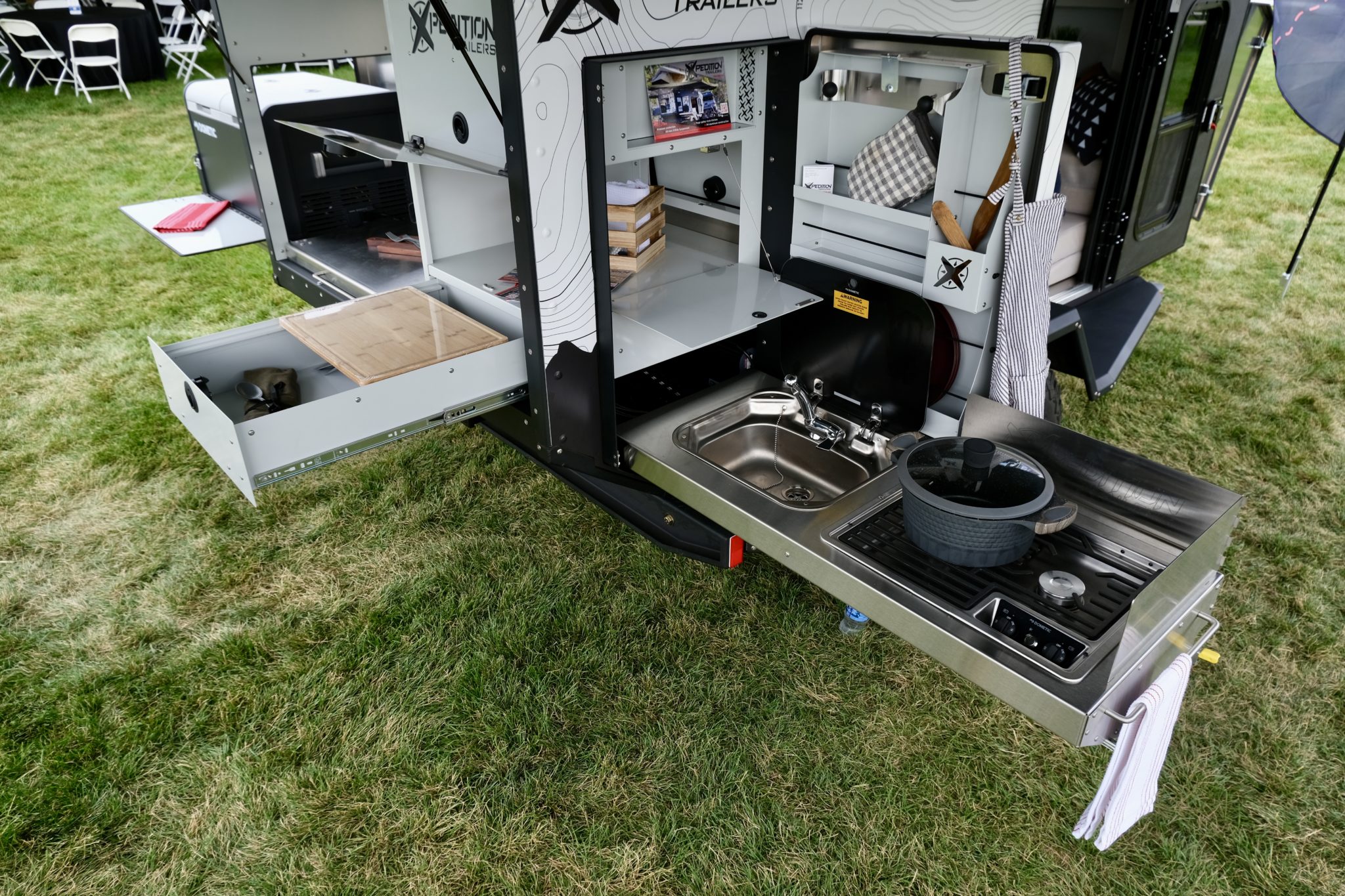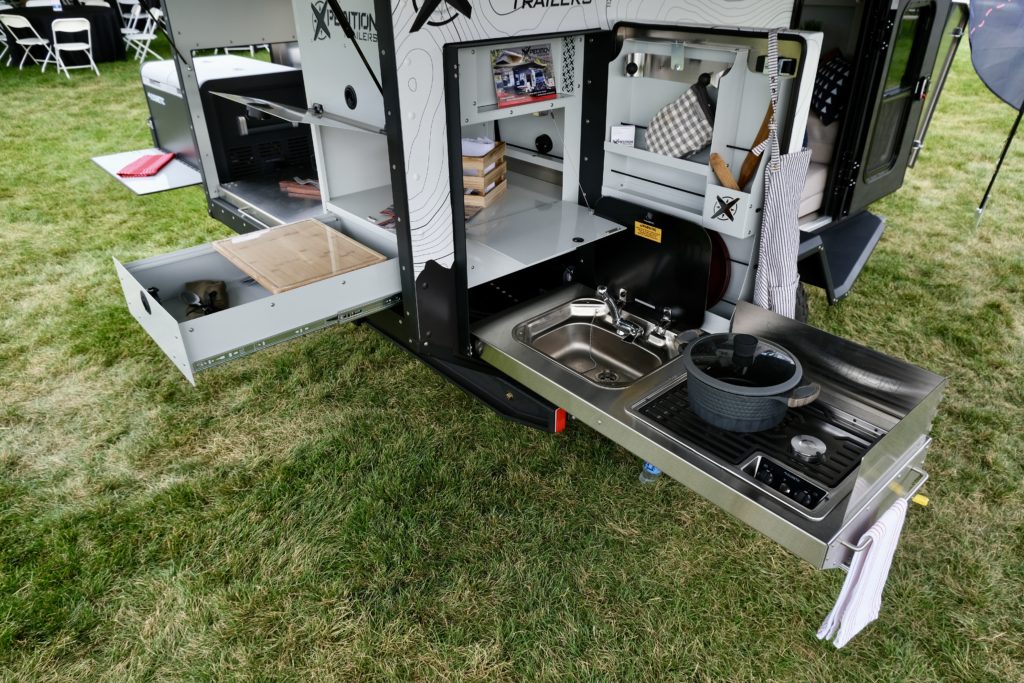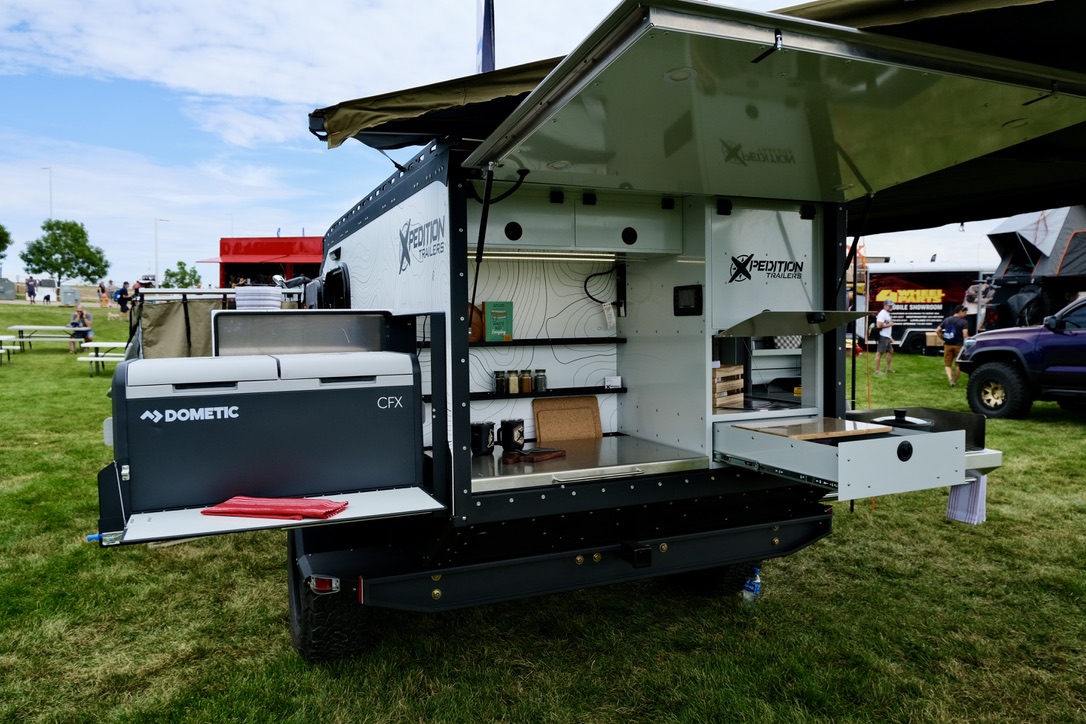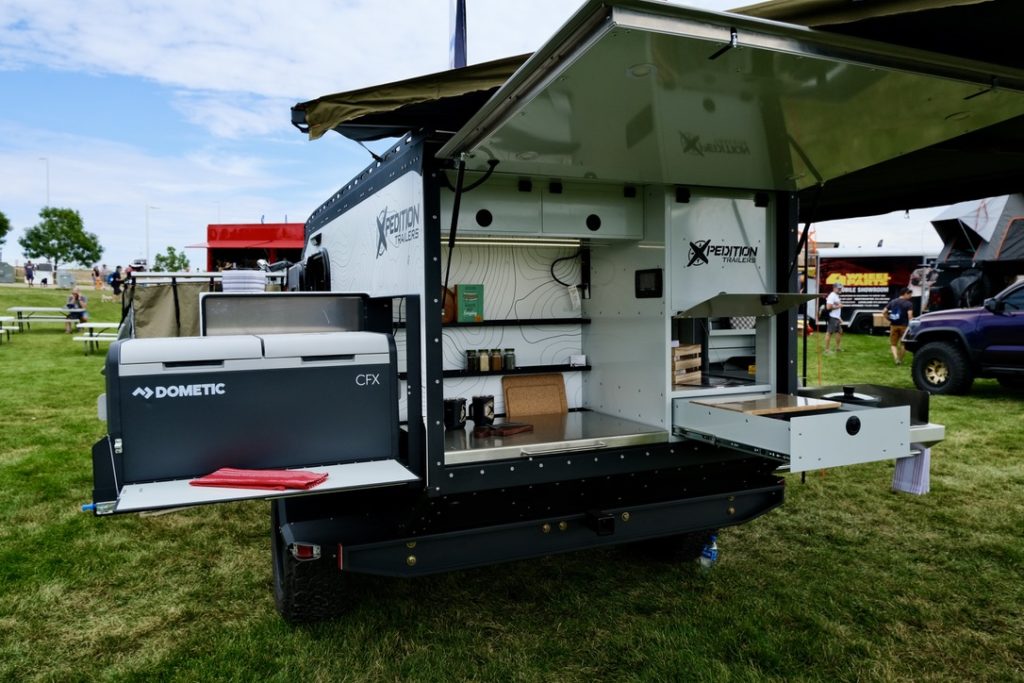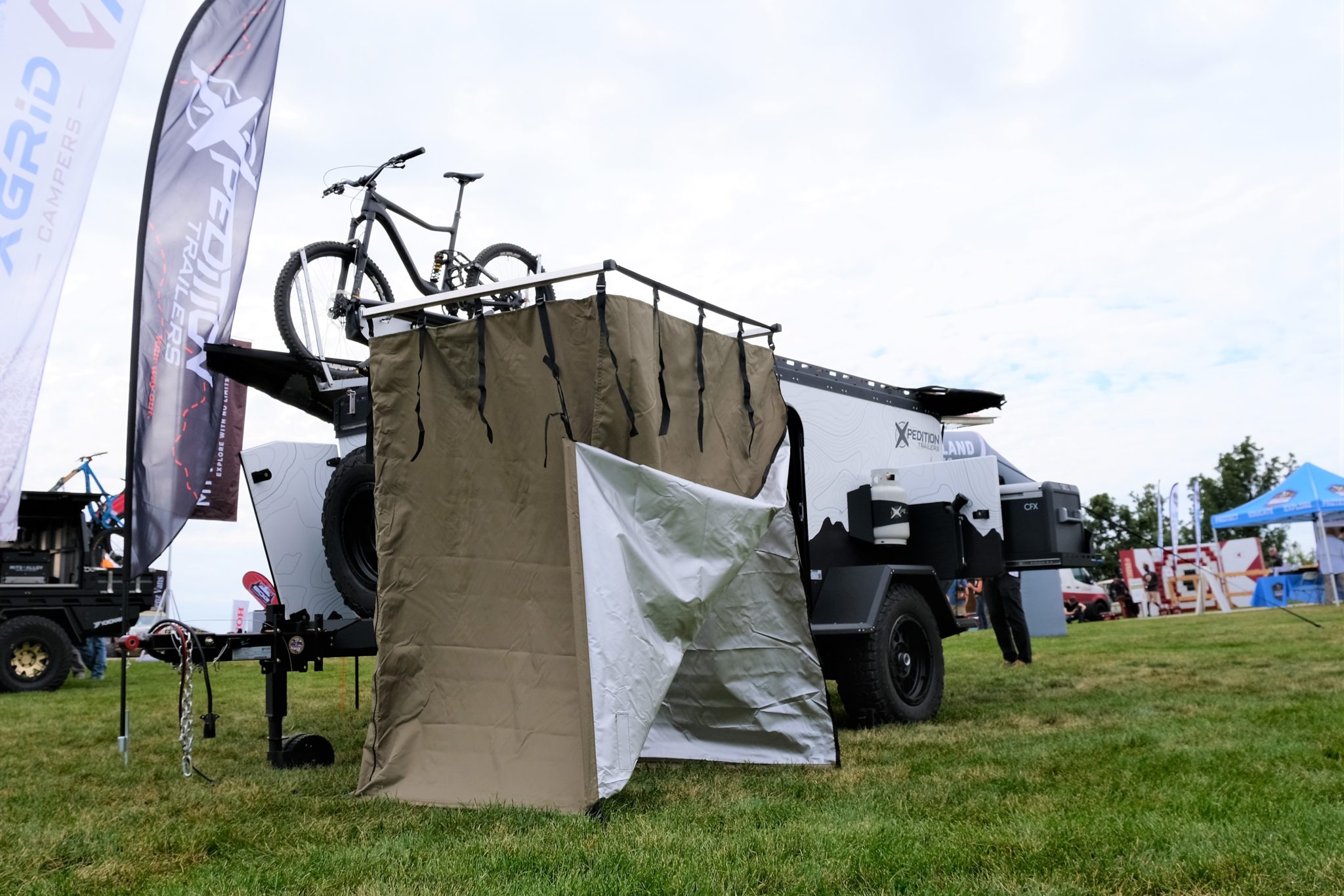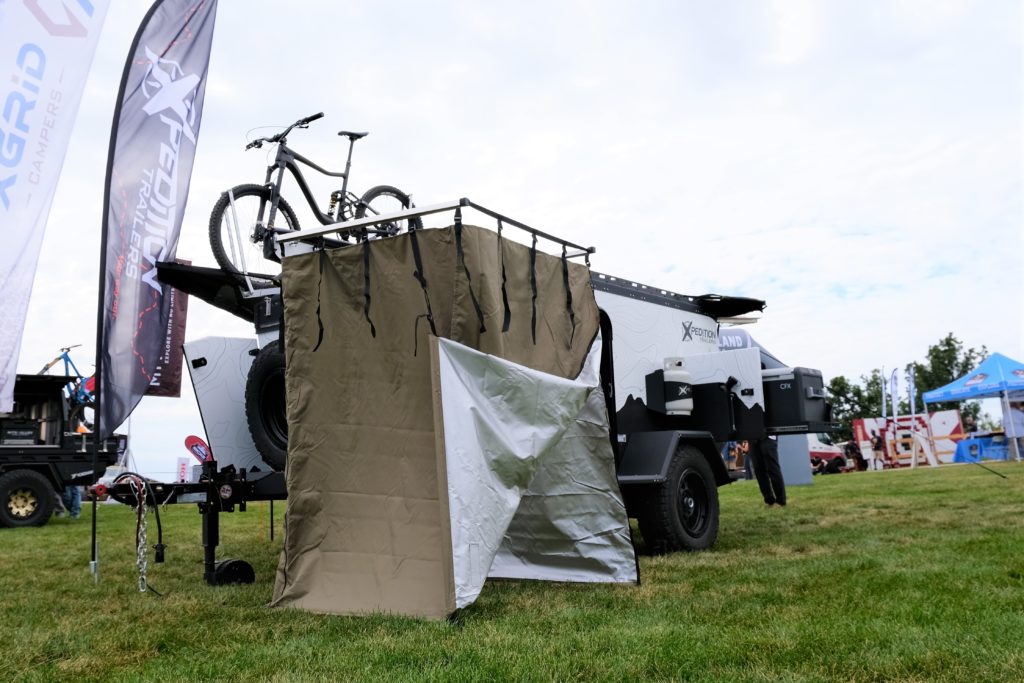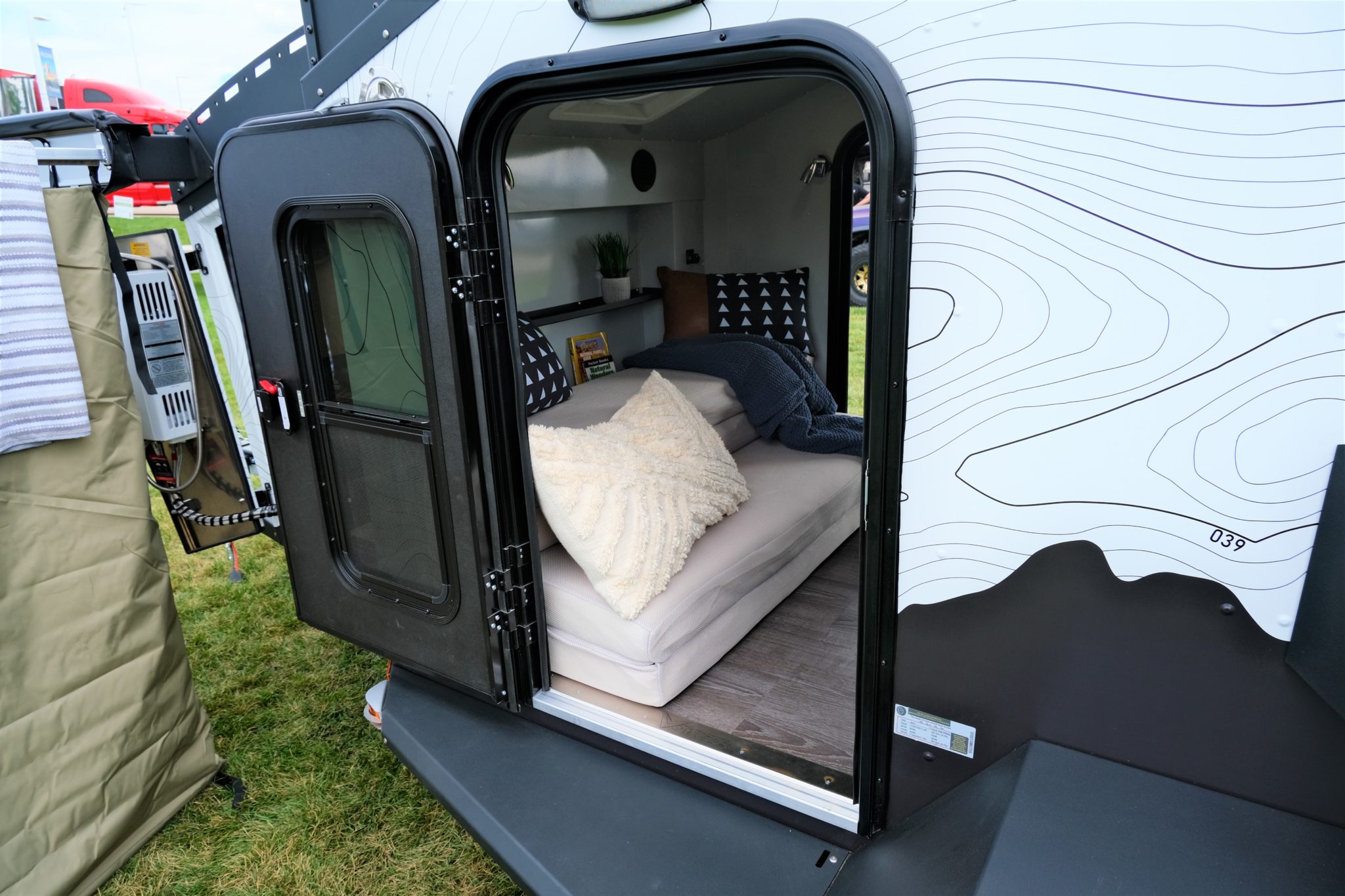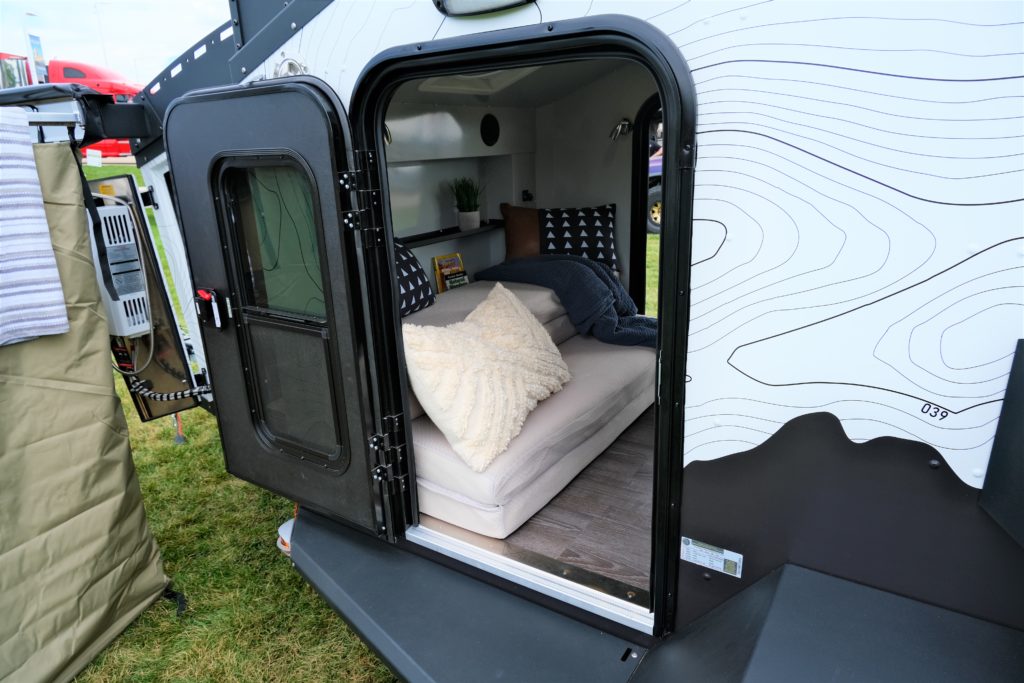 When you first walk by the Voyager Camper Trailer, you have to give it a second glance. For a trailer of this size, the kitchen area is absolutely massive, thanks to a unique combination of slides and storage areas. Expedition Trailers advertises that three adults can work in the kitchen simultaneously, and we believe it. The whole setup is close to twice the width of the trailer's frame. Up top, you'll find a unique roof rack that follows the contours of the Voyager and allows the mounting of cargo cases and a rooftop tent. You can access the interior through dual side doors. Inside, you'll find a LED-lit sleeping area that provides 130 cubic feet of usable space, and it's outfitted with a mattress that folds into a couch, a fan, and plenty of storage.
Weight: 2,300 pounds
Ground Clearance: 16 inches
Overall Width: 89 inches
Overall Length: 192 inches
InTech — Flyer Discover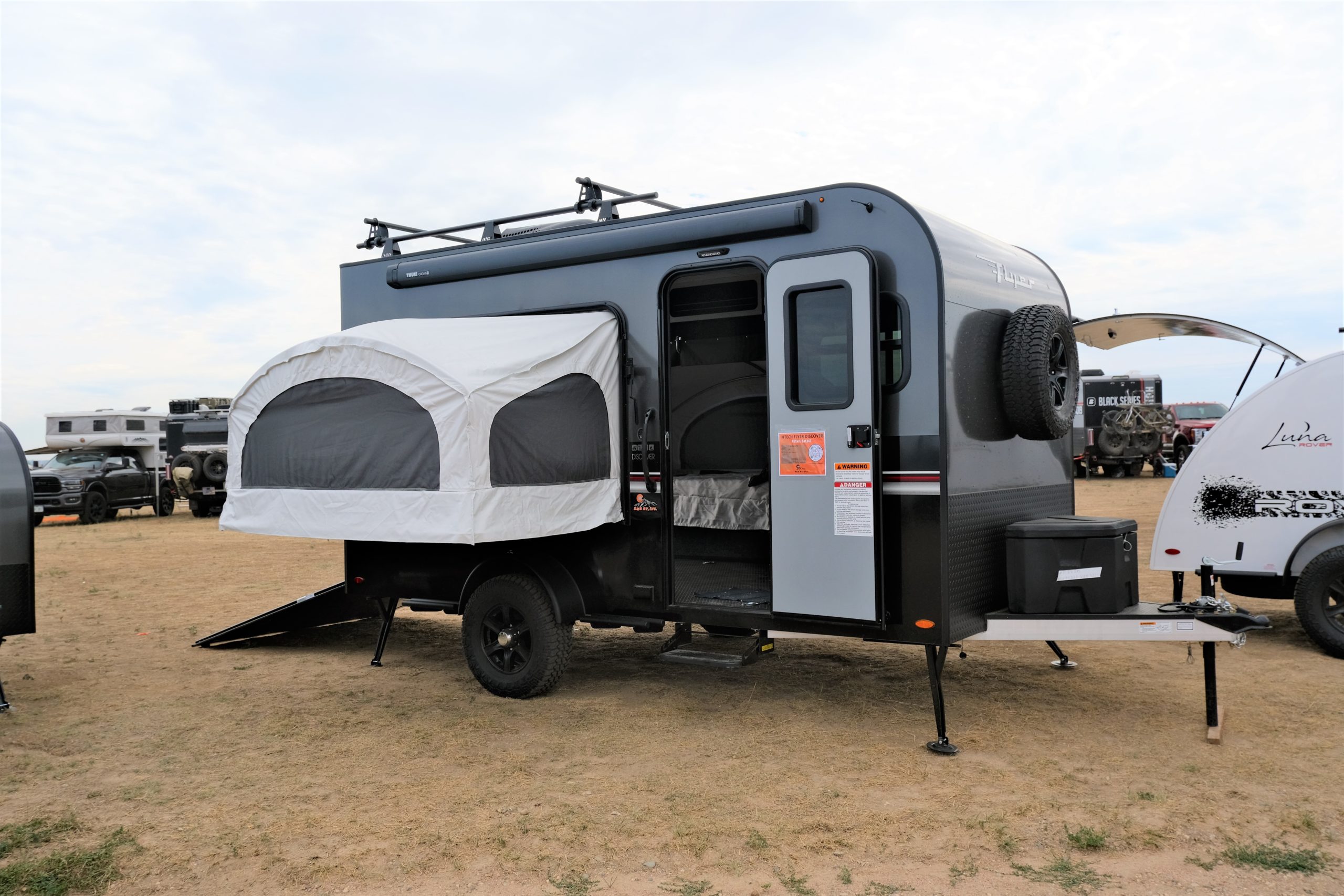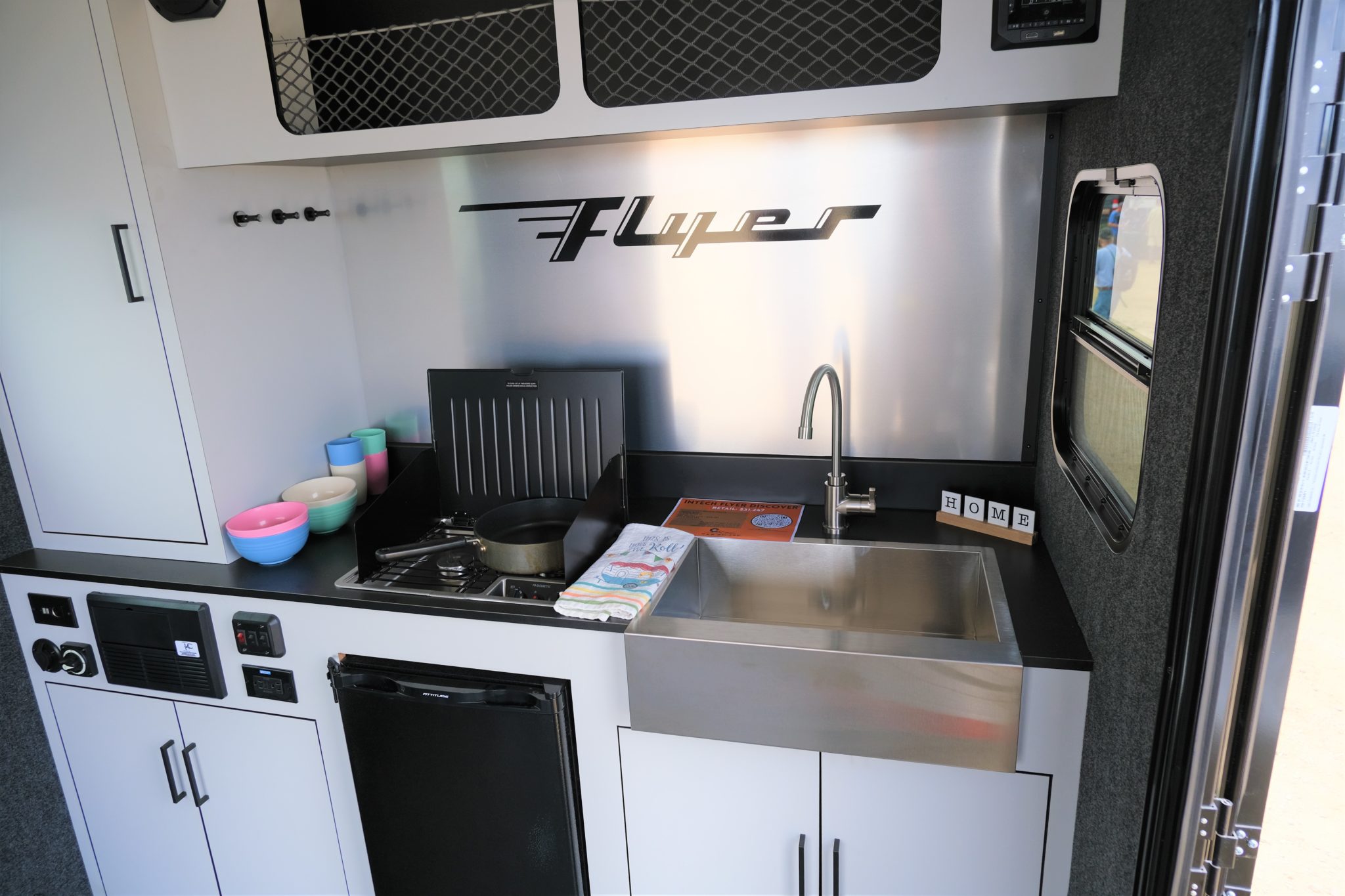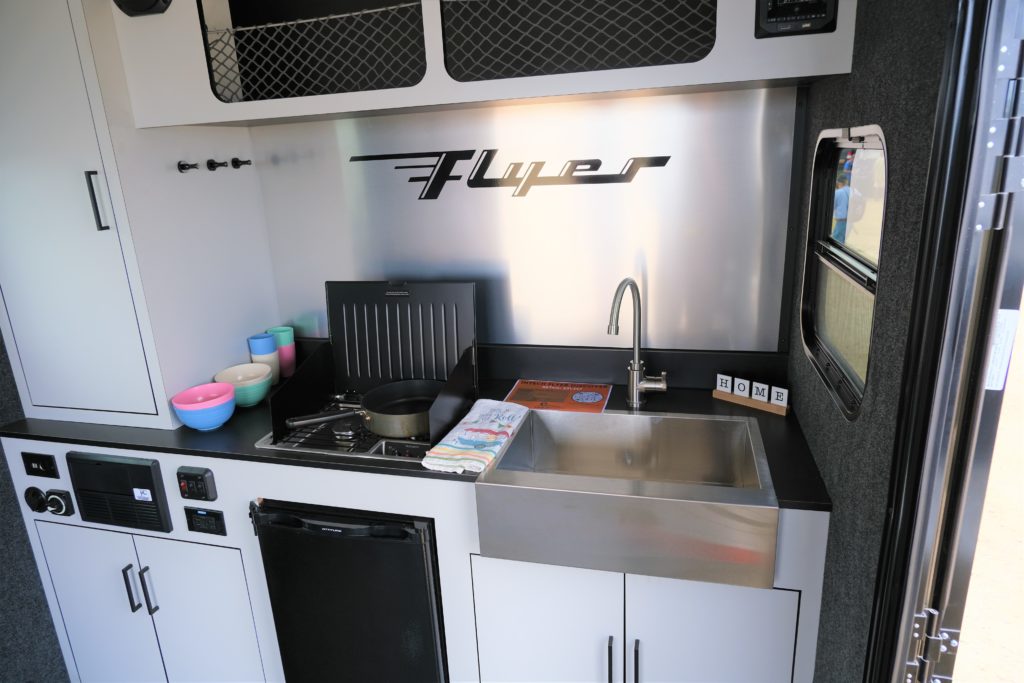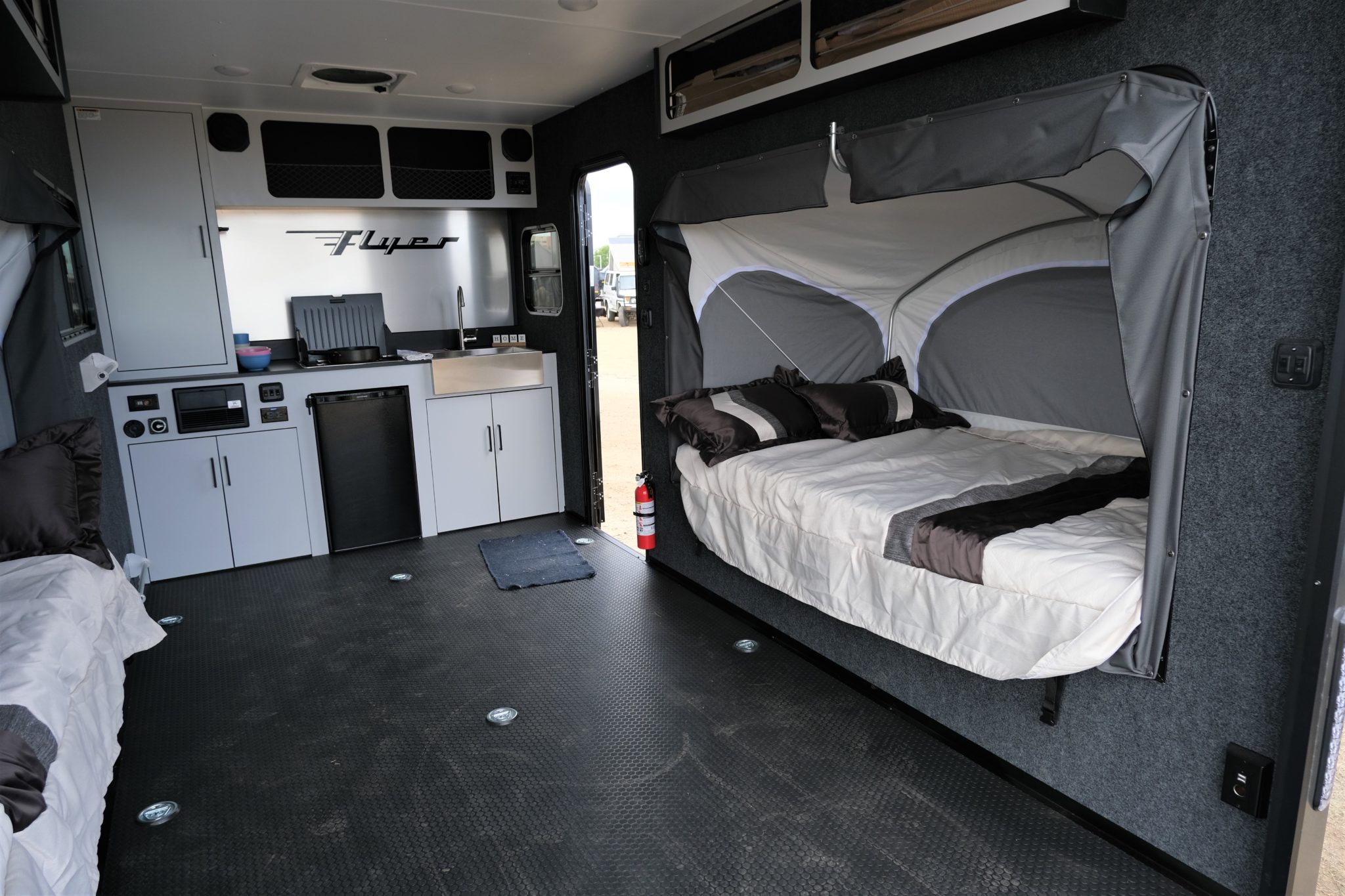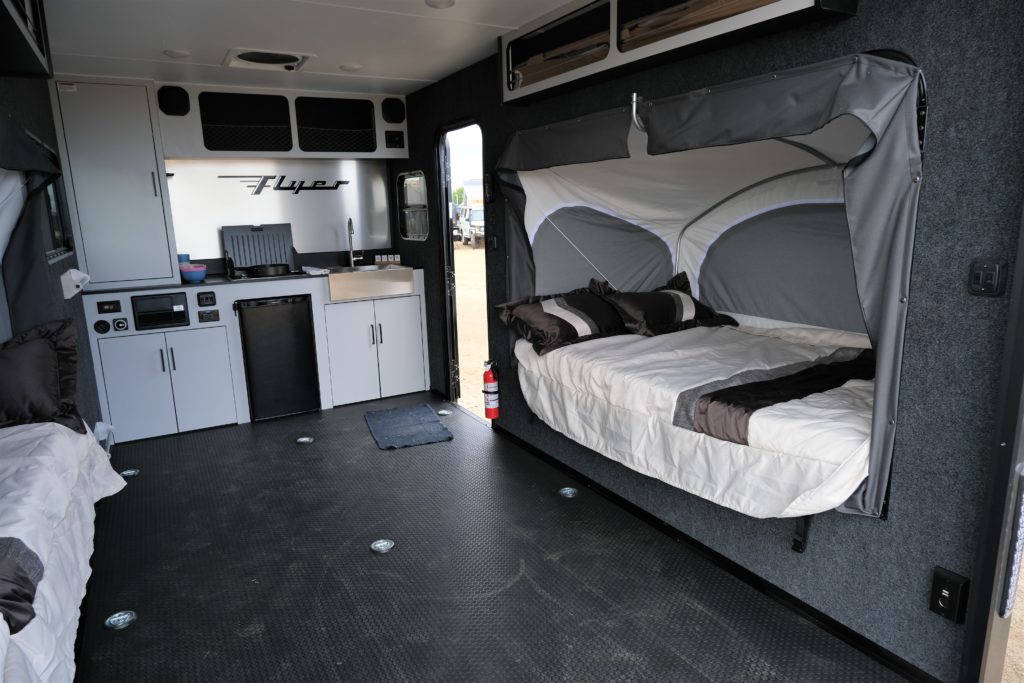 If you're looking to venture out with your rig, a trailer, and a UTV or ATV for further exploration, then the Intech Flyer Discover is right up your alley. This impressive toy hauler provides plenty of space for your off-highway vehicle, sleeping, and kitchen needs. The dual tip-outs can sleep four adults, and there's still room for a group of that size to hang out in inclement weather. The Discover features a fully welded aluminum cage and frame construction to provide the durability needed to venture off the beaten path. The kitchen area is downright homey, with ample storage and all of the amenities you would expect. The exterior of the trailer can be outfitted with spare tire carriers, awnings, and roof racks to match your needs.
Weight: 2,475-2,750 pounds
Ground Clearance: 16 inches
Overall Width: 84 inches
Overall Length: 216 inches
Lifestyle Campers — Reconn R2 Elite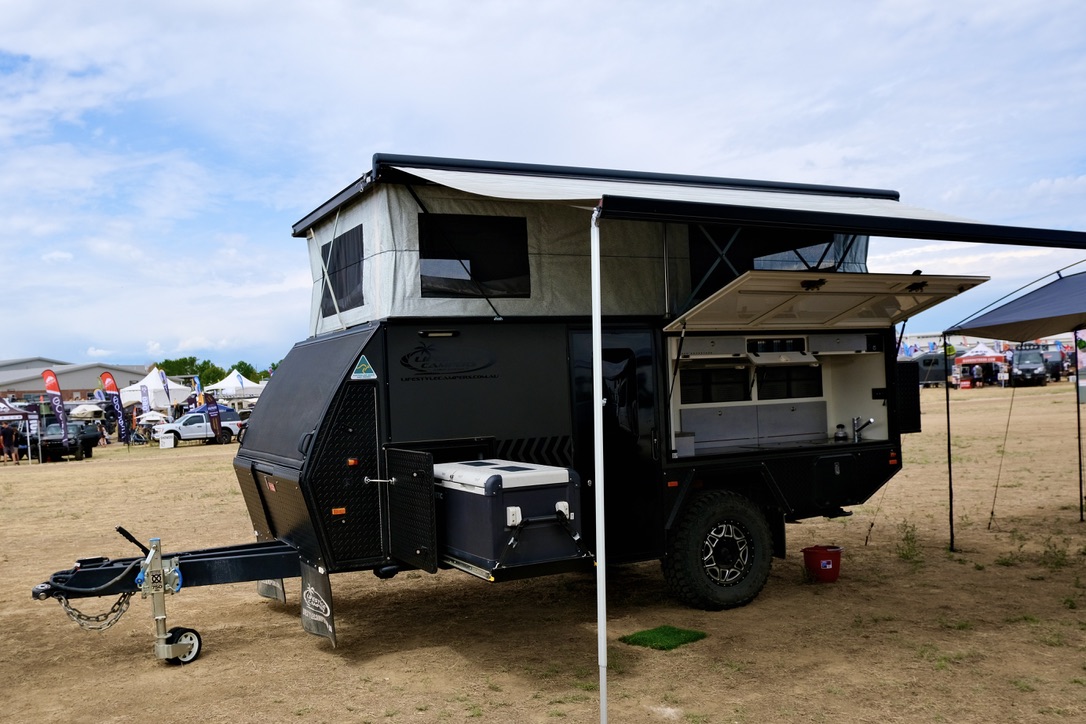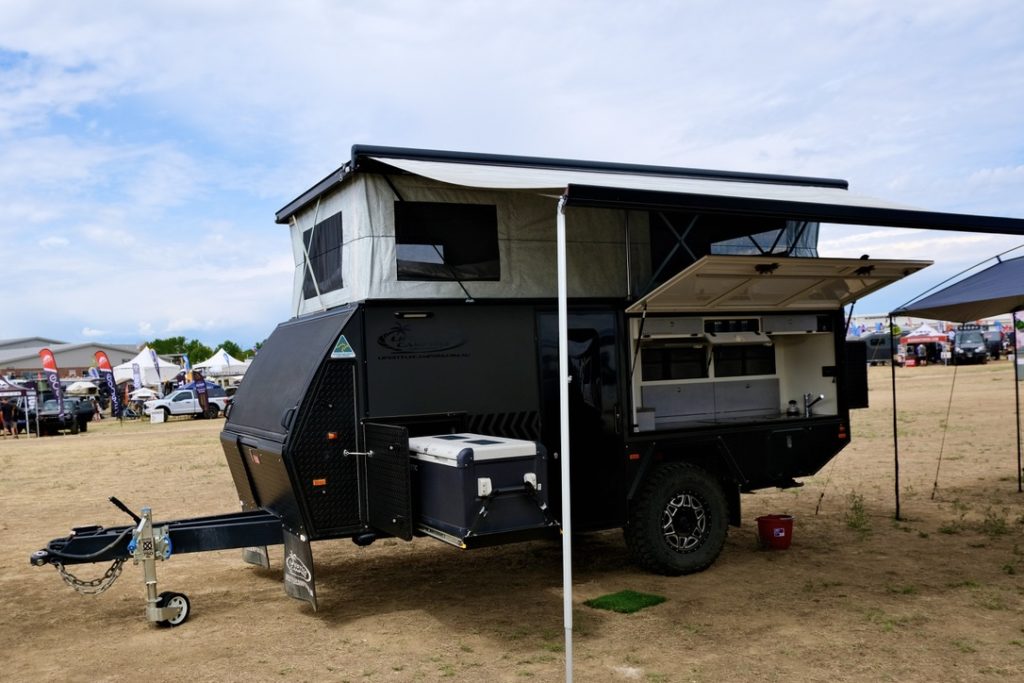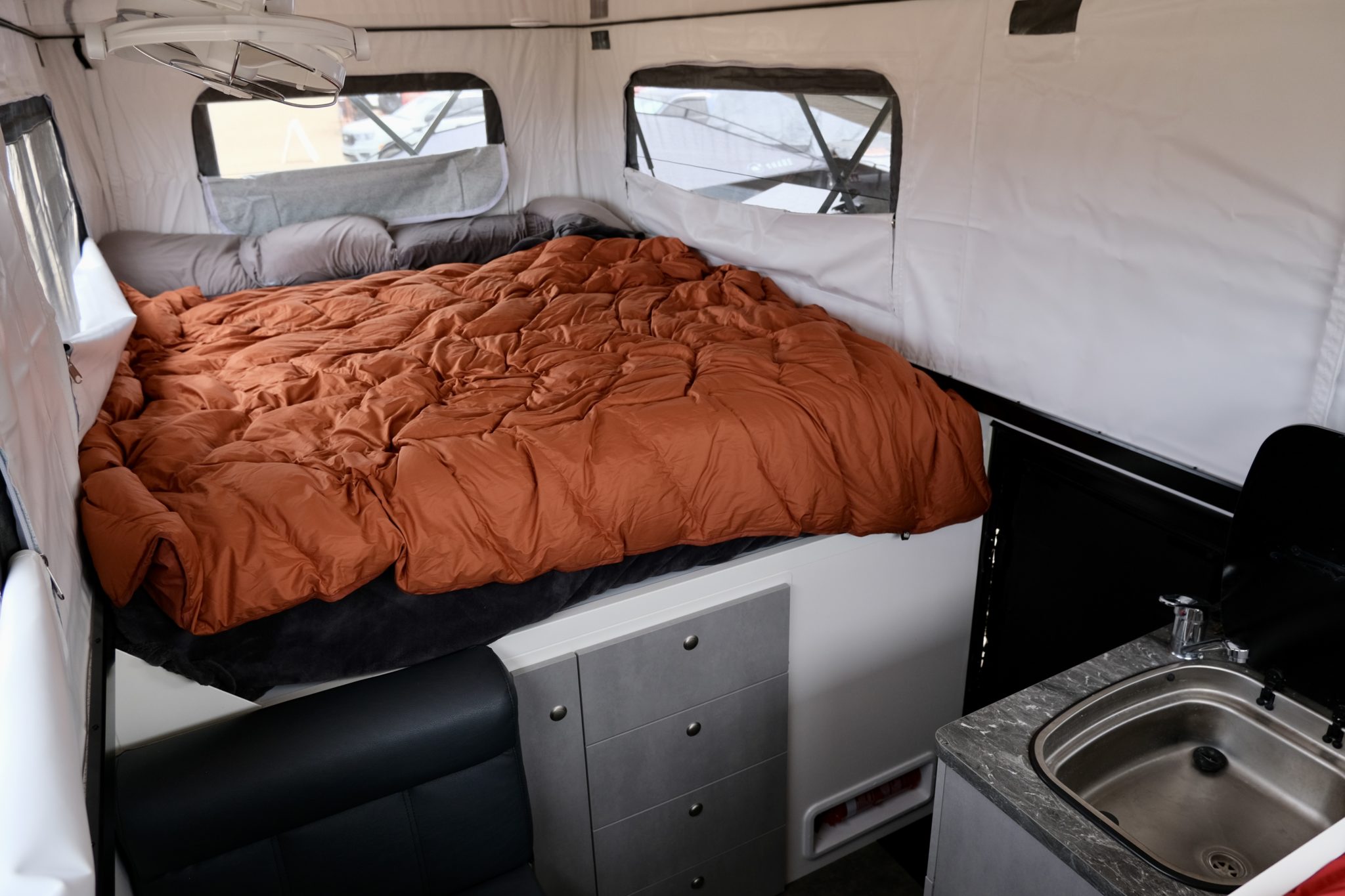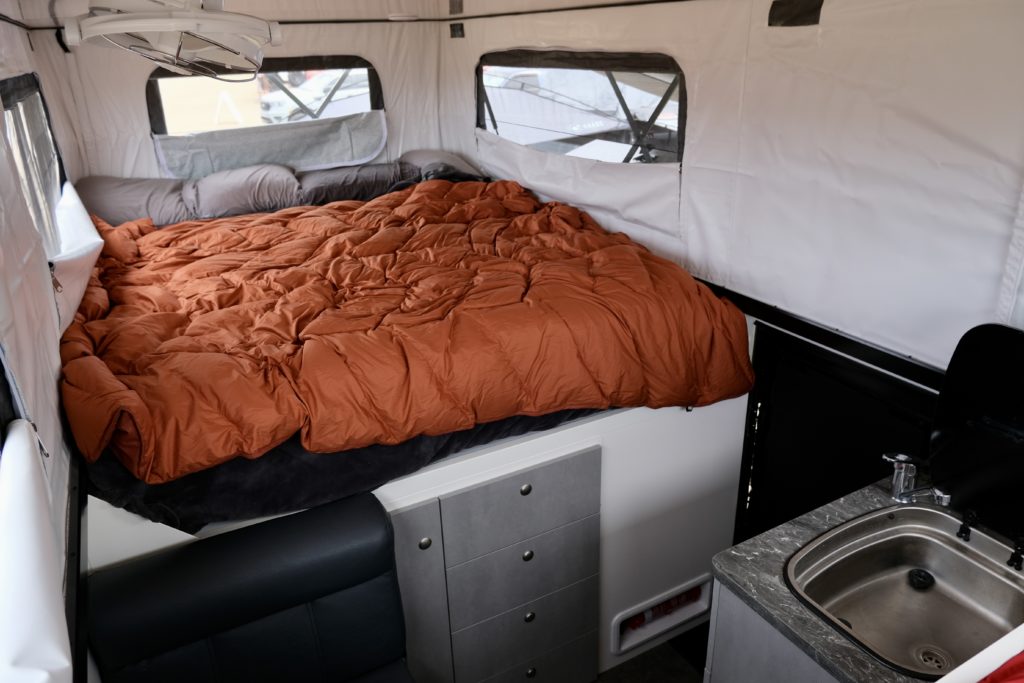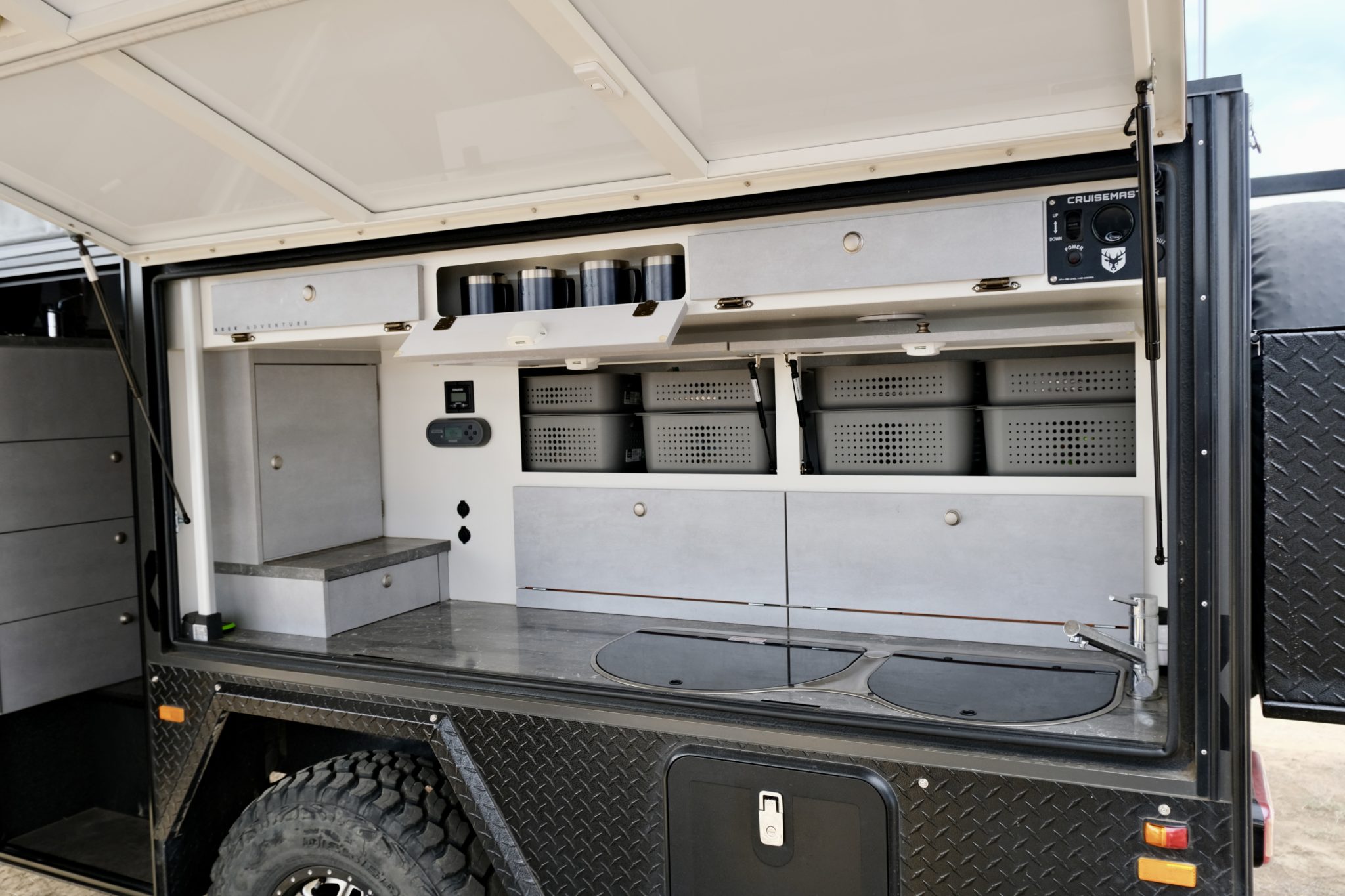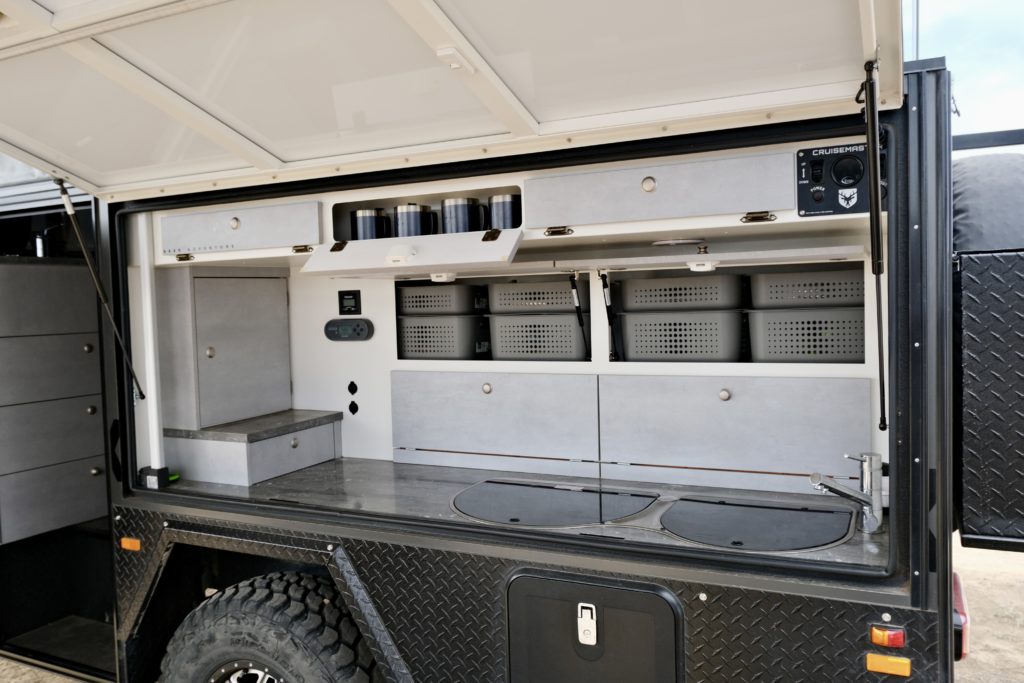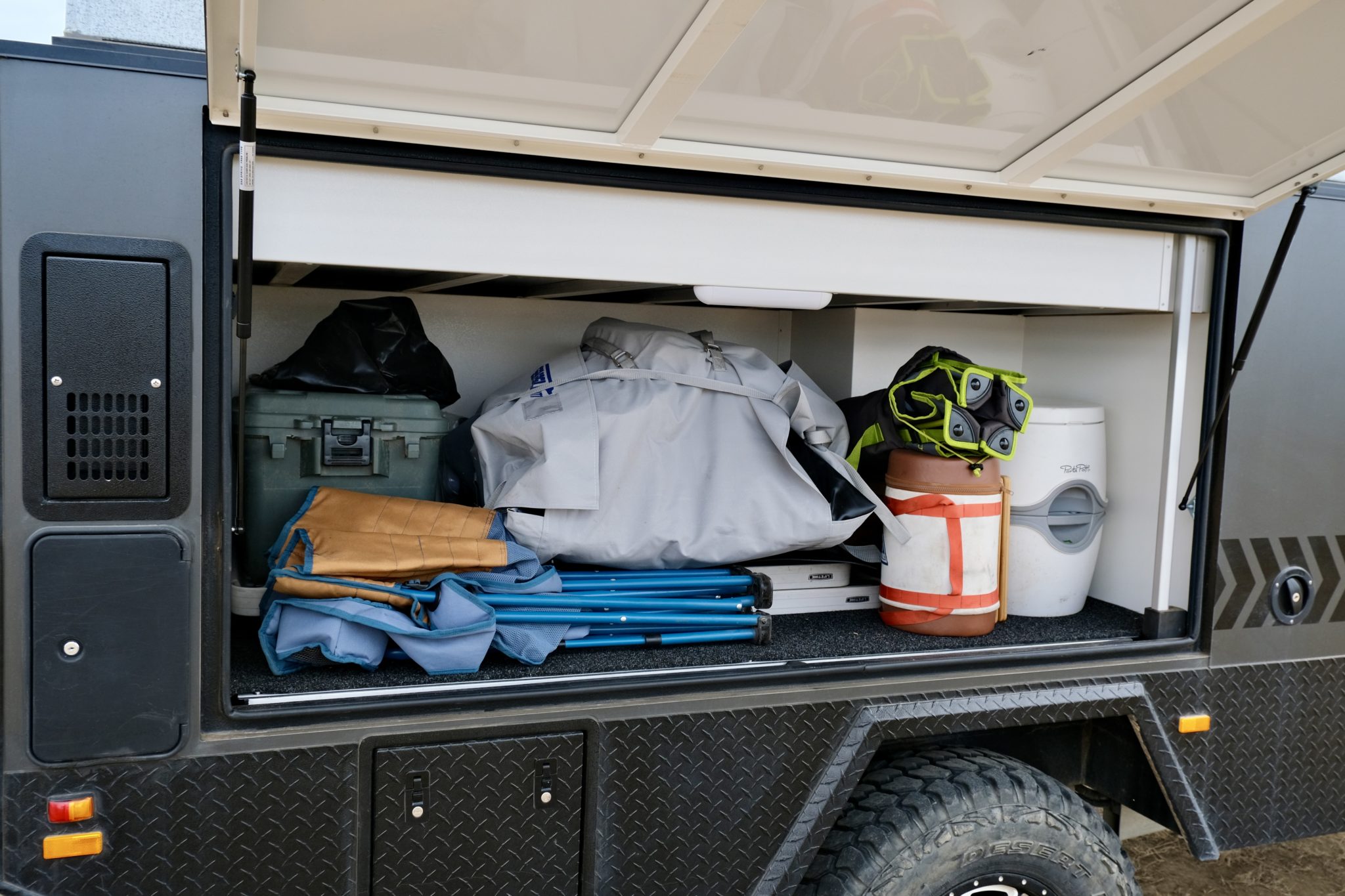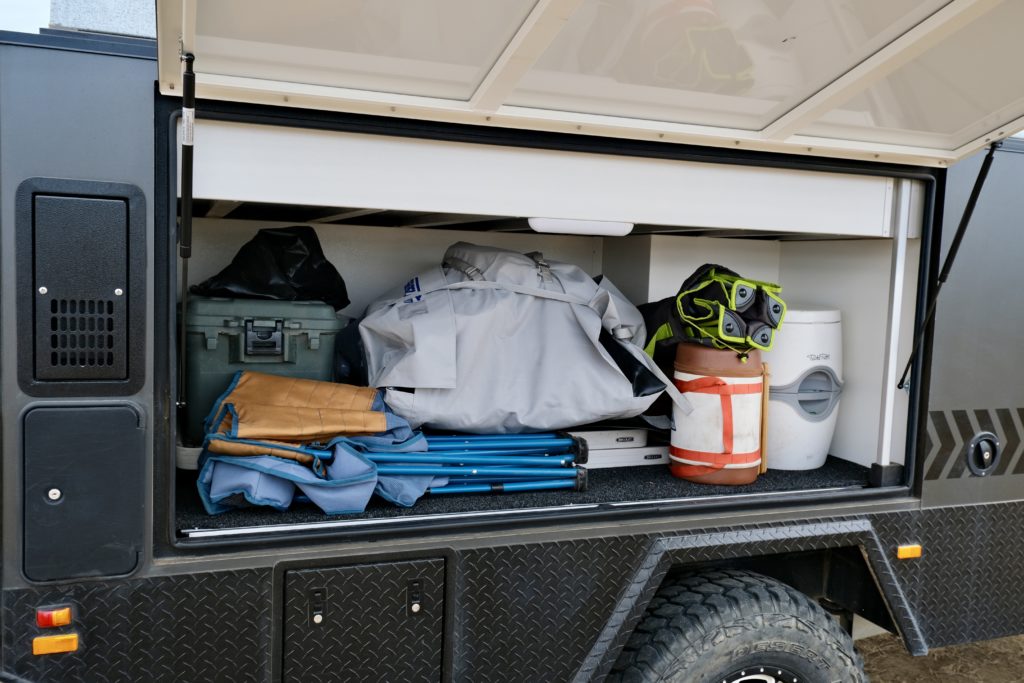 Lifestyle Campers are a very new addition to the US overland trailer scene, and we expect they'll make a big splash. With a unique automatic pop-top design and clever design packed into every feature, the Reconn trailer is very impressive. The outdoor kitchen has plenty of storage and work surfaces to prepare homestyle meals in the backcountry. On the opposite side, you'll find a huge amount of storage for all of your gear. The interior of the camper features excellent fit and finish and sleeping space for two adults and one child. A look under the trailer proves it is meant for off-road travel. There's zero exposed plumbing, wiring, or other delicate bits to be damaged while traveling over rough terrain.
Weight: 3,637 pounds
Ground Clearance: 18 inches
Overall Width: 74 inches
Overall Length: 228 inches
Off Grid Trailers — Pando 2.0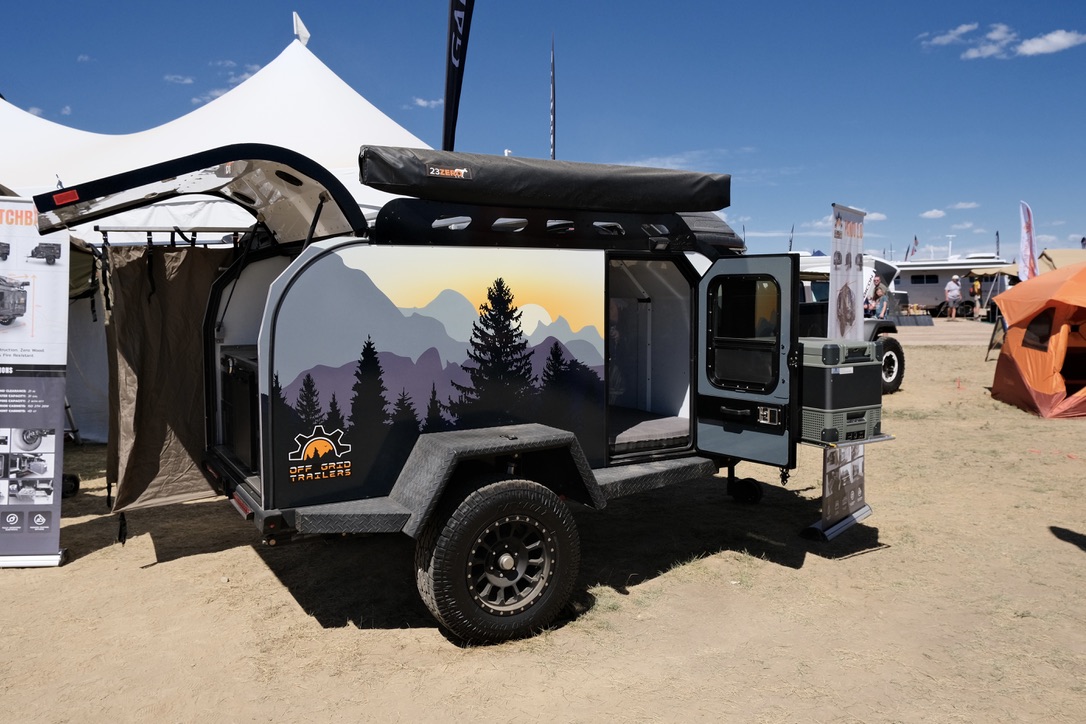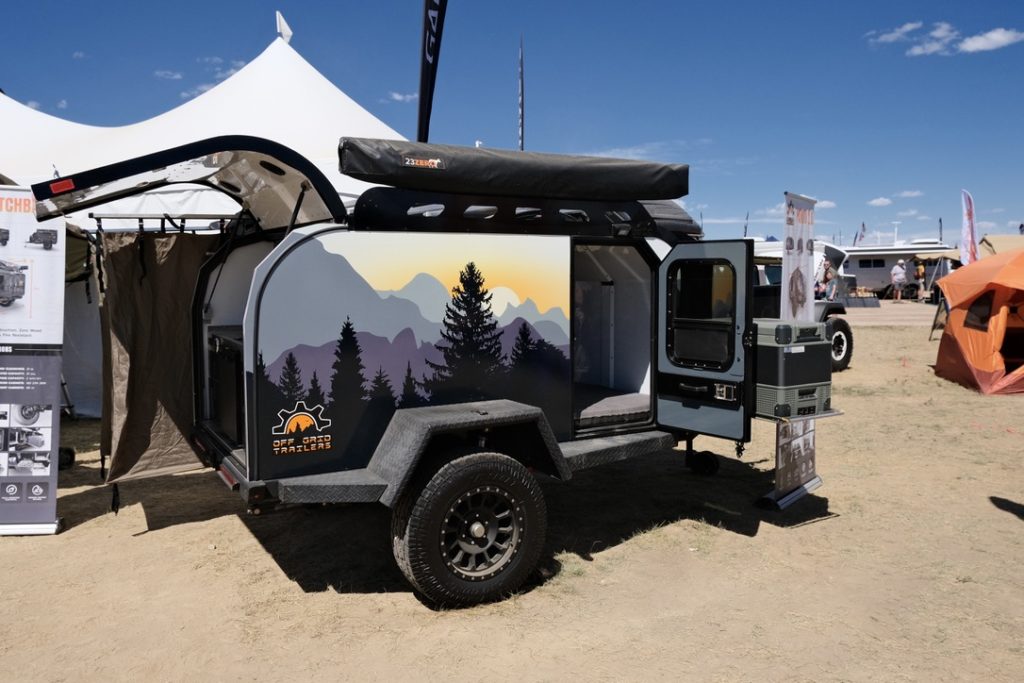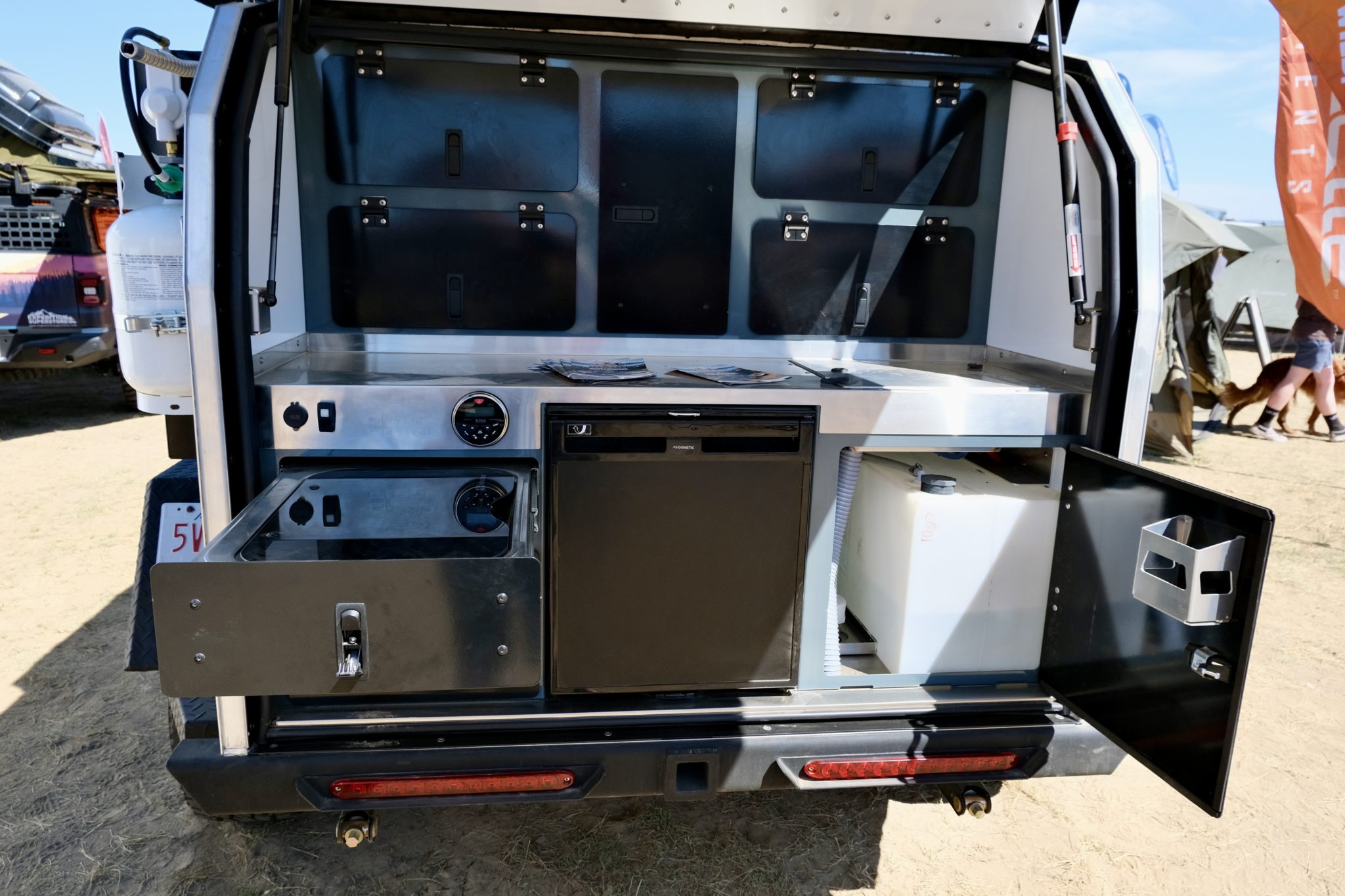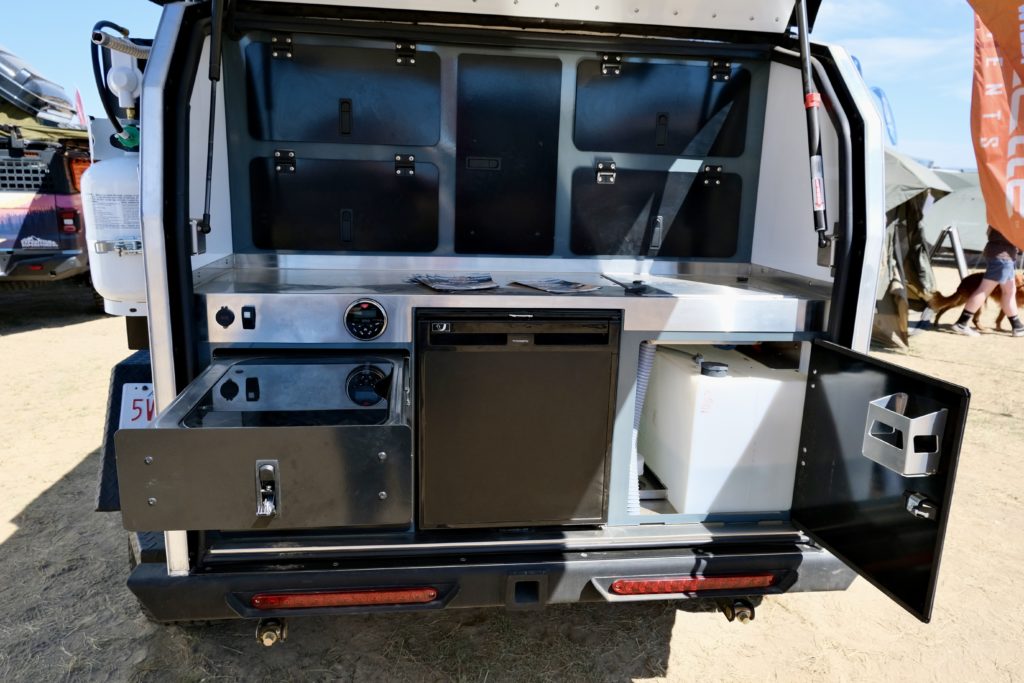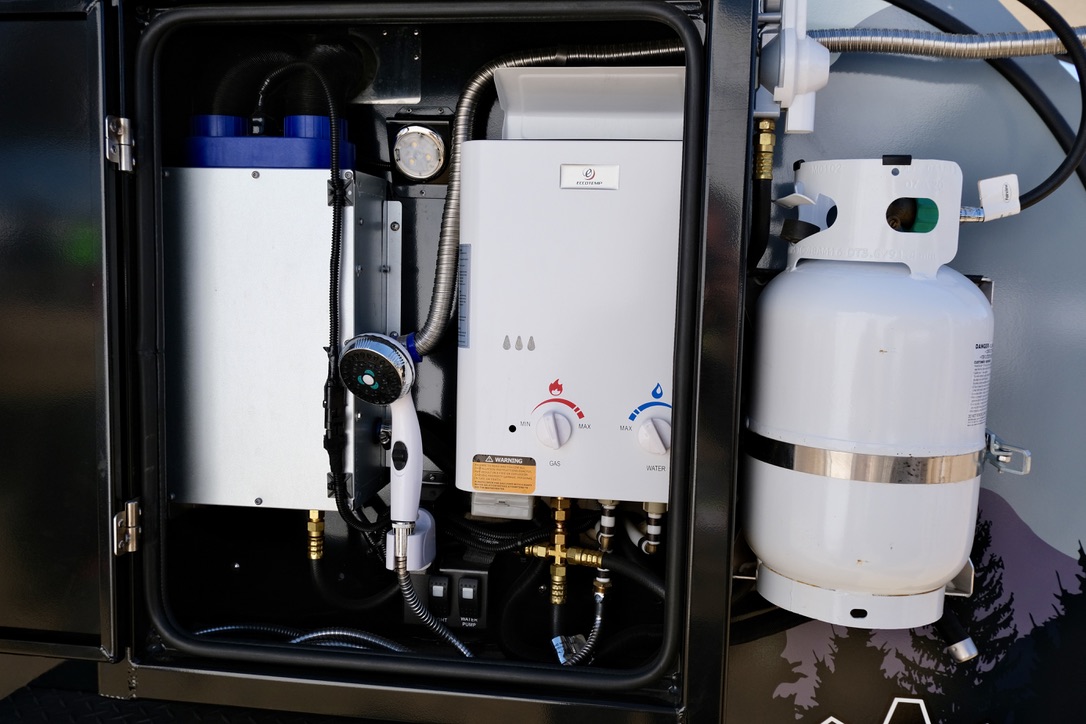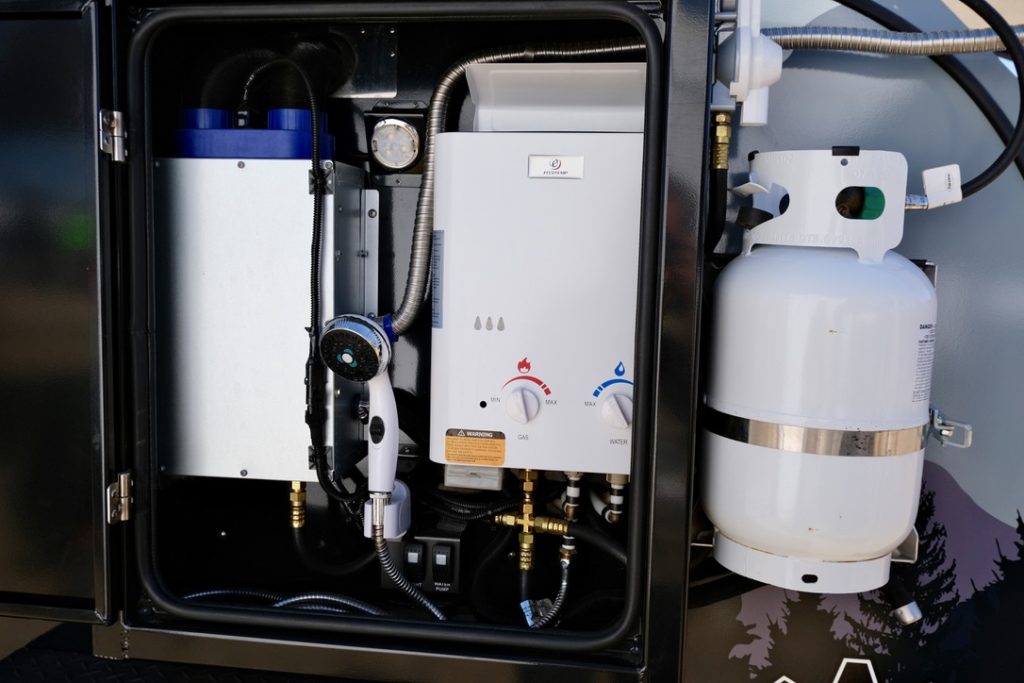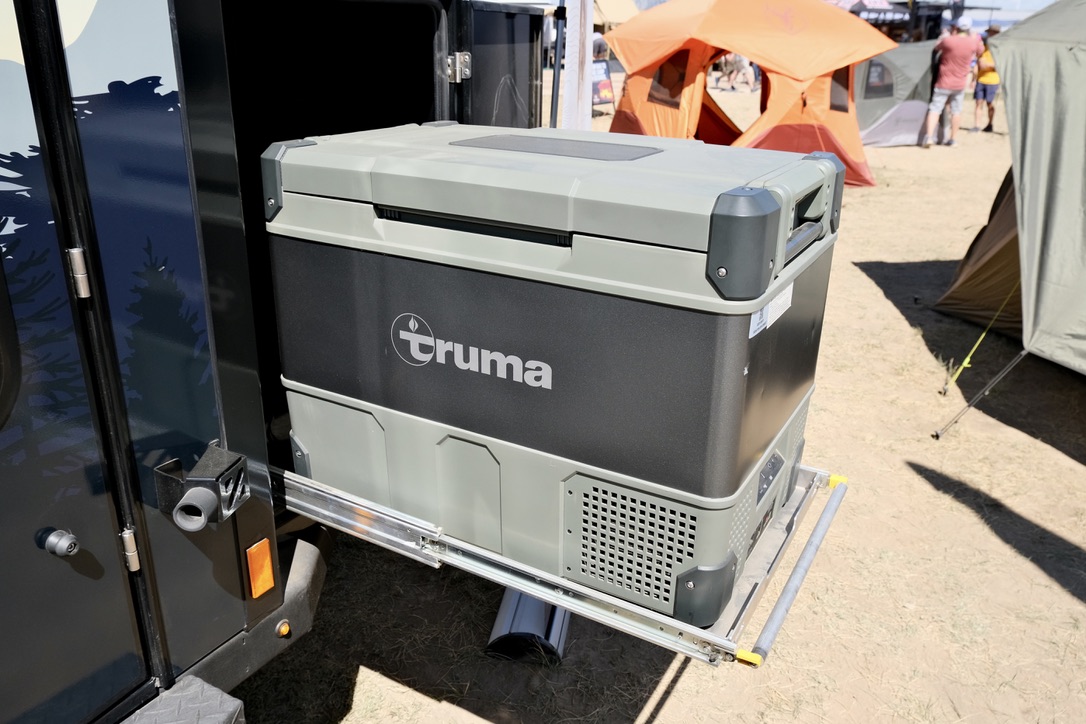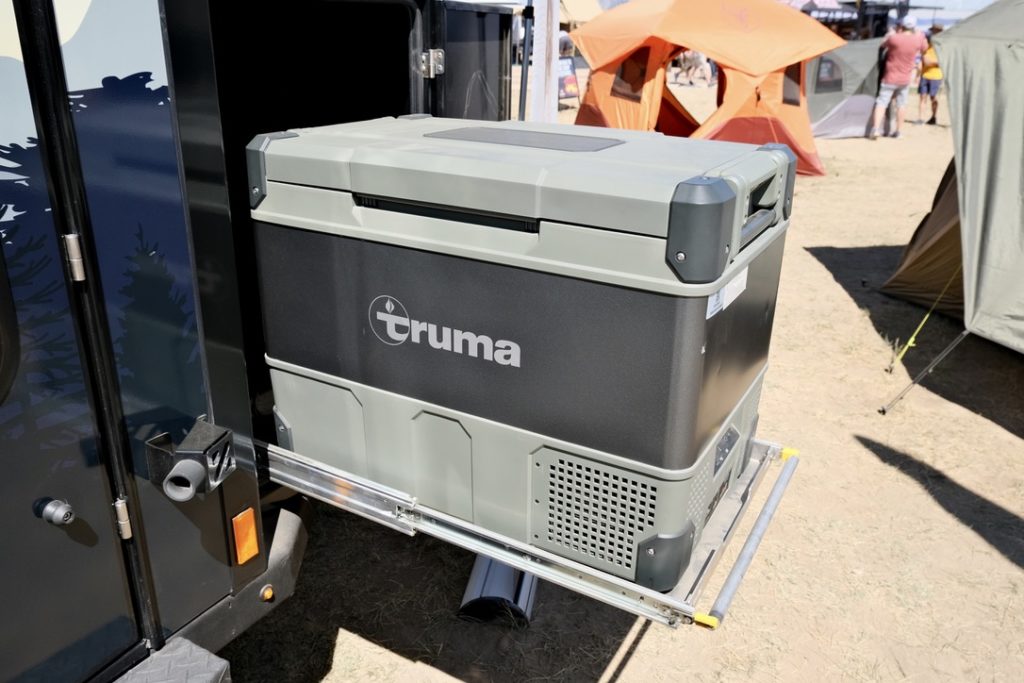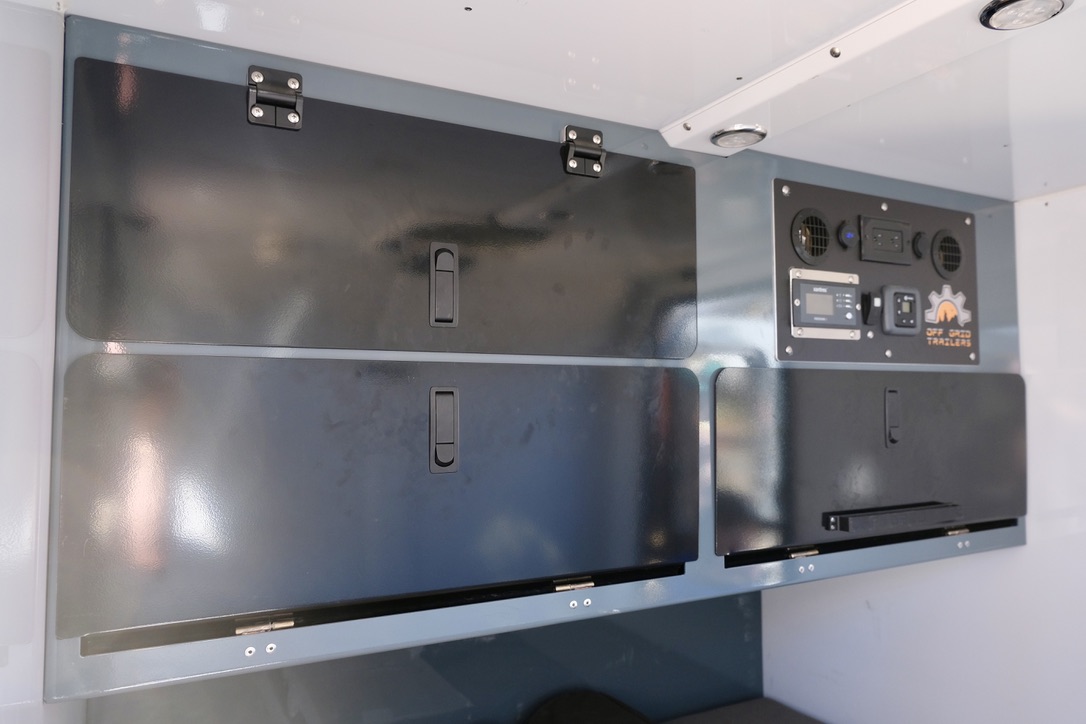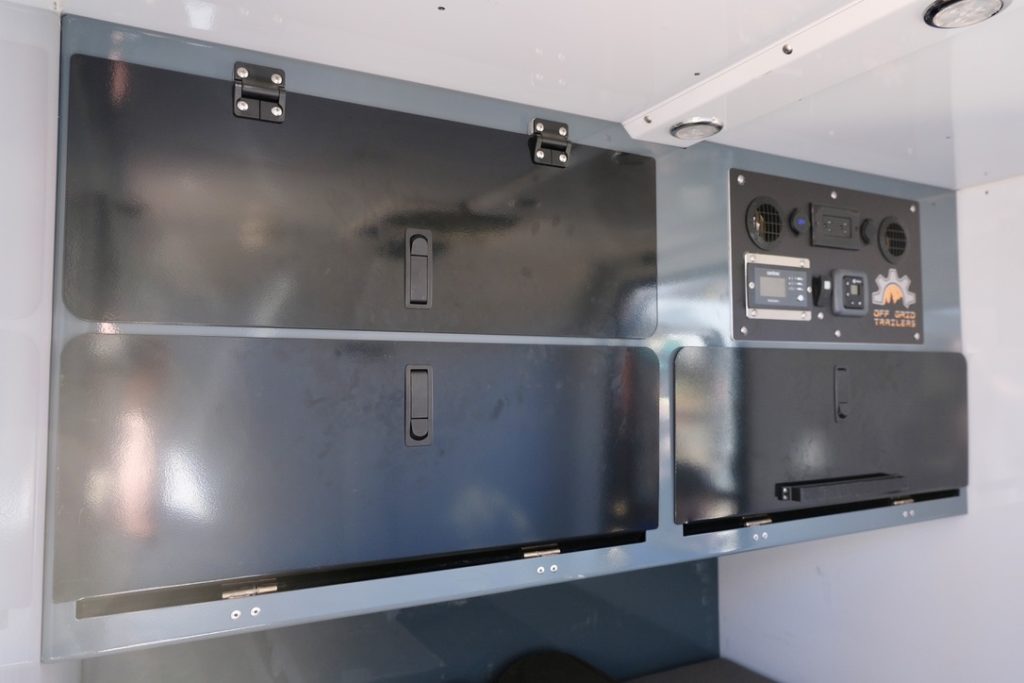 This unique off-road teardrop is all about durability and customization. The Pando 2.0's all-metal construction means it's resistant to mold, mildew, and fire. It's also tough to take the punishment required of a truly off-road-ready trailer. With options for a front and rear fridge paired with the solar and dual 12V battery system, you can take this trailer into the backcountry for extended trips without the need to re-provision. You can even stay clean on extended trips with a heated shower and up to 19 gallons of onboard water. Off Grid offers a number of custom colors and vinyl wraps so that the end user can customize their trailer to fit their personal style.
Weight: 2,200 pounds
Ground Clearance: 21 inches
Overall Width: 89 inches
Overall Length: 166 inches
OPUS — OP Lite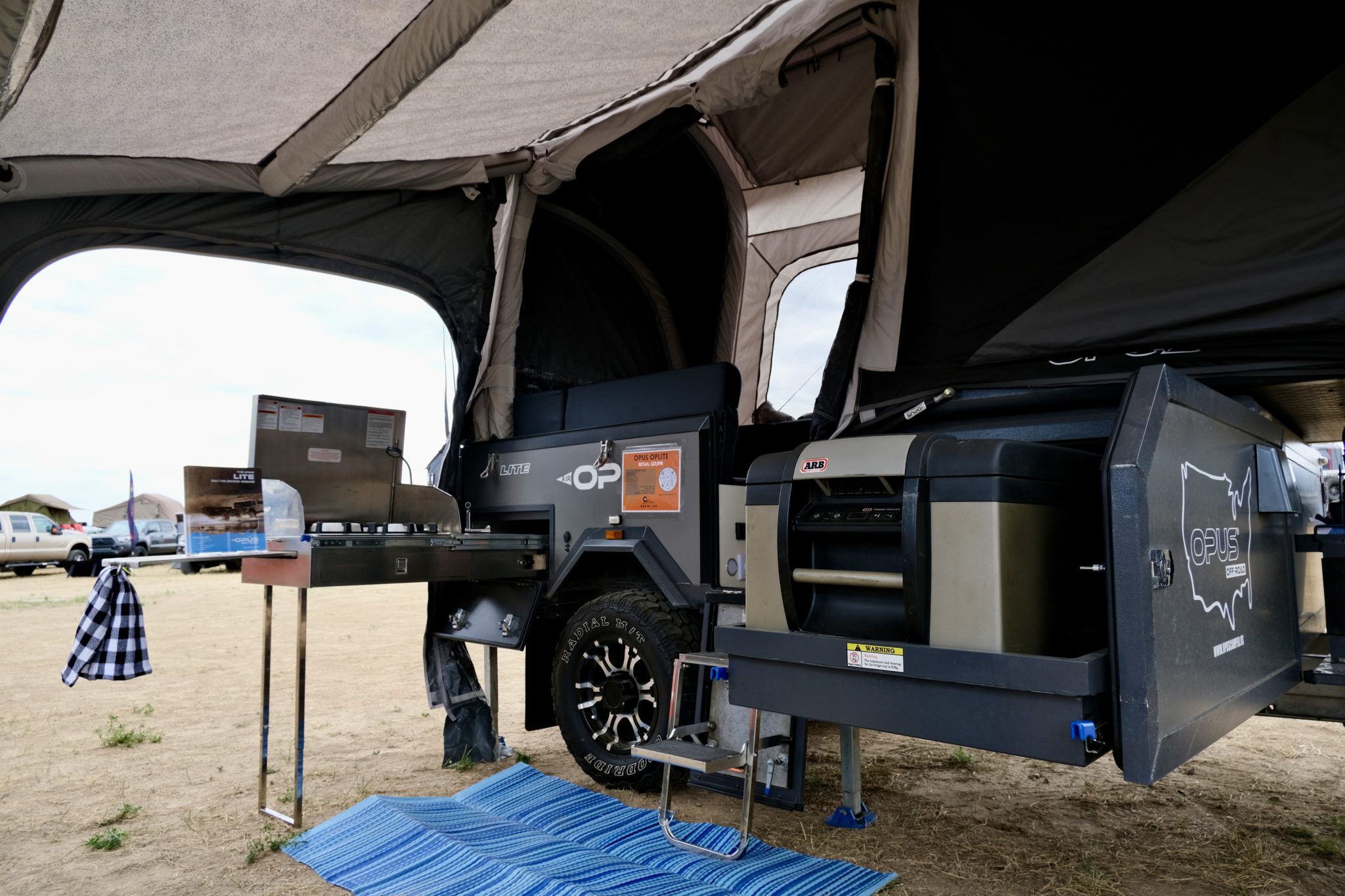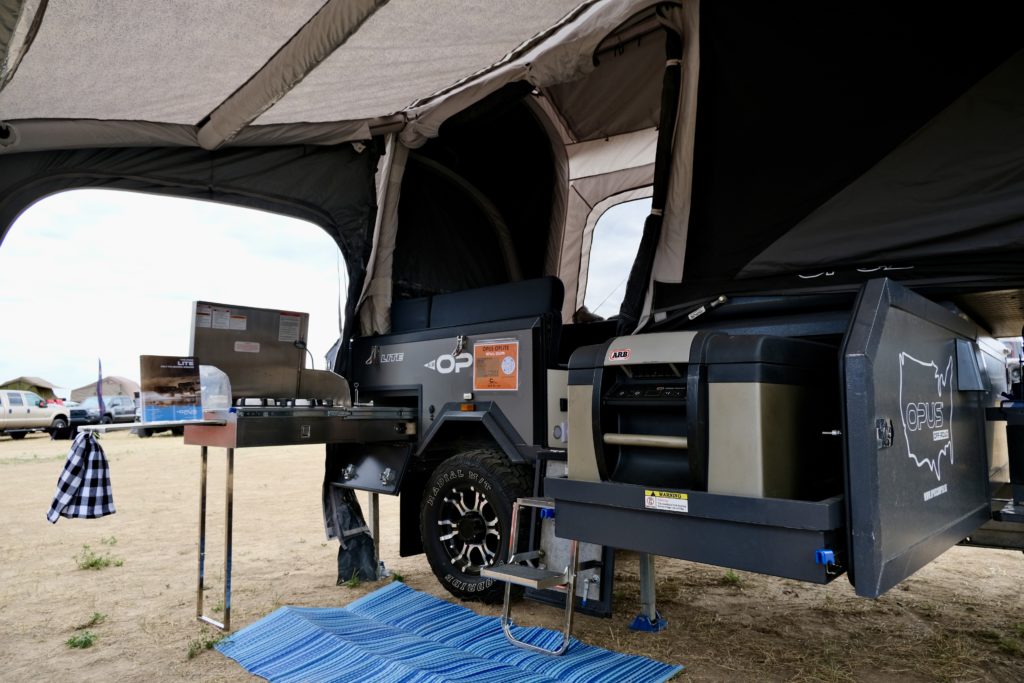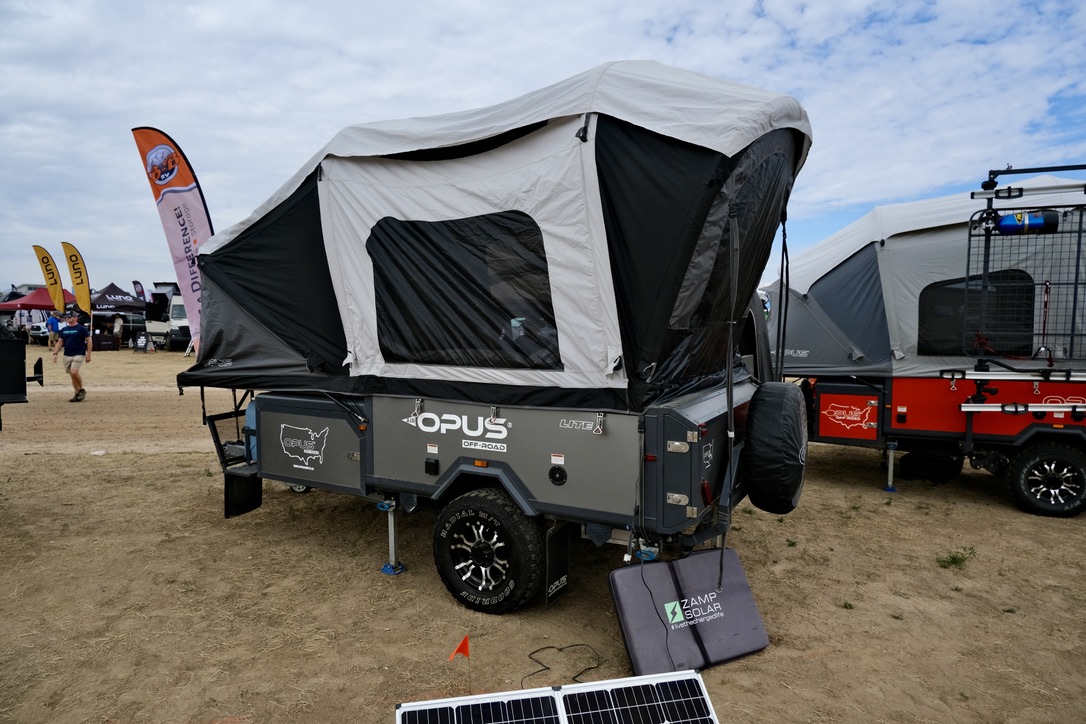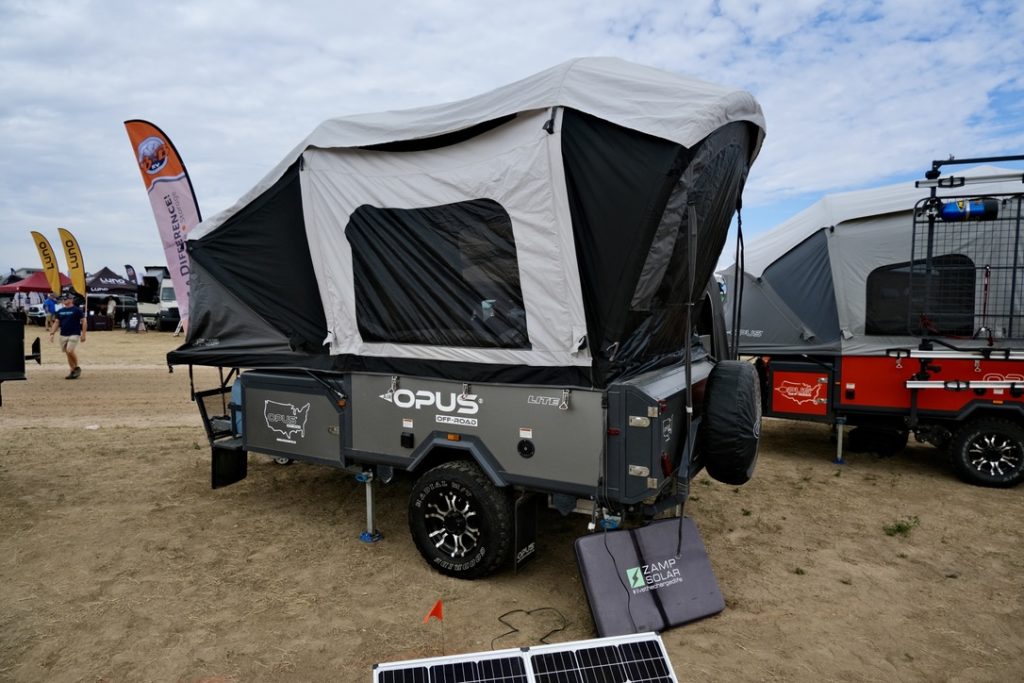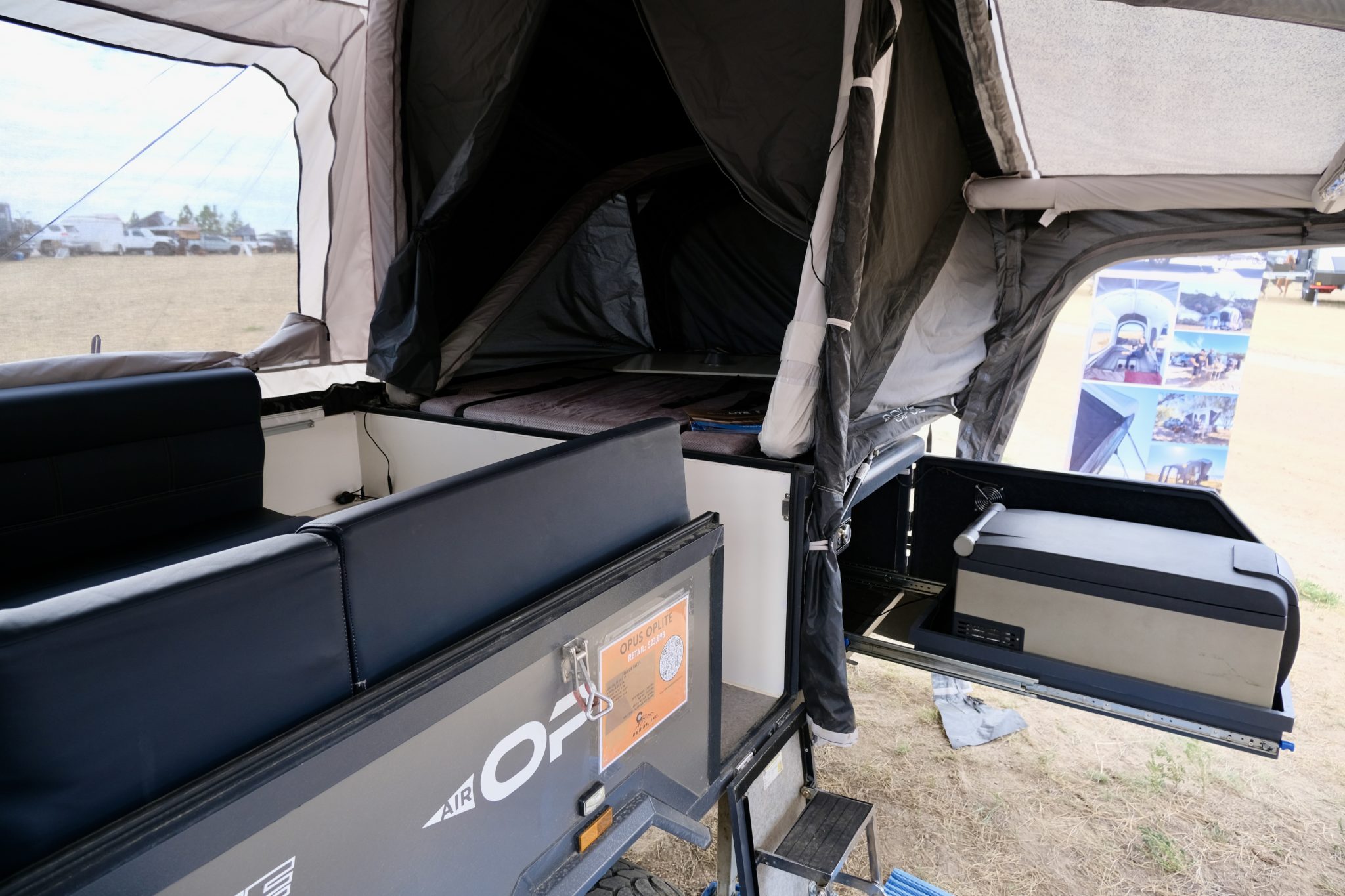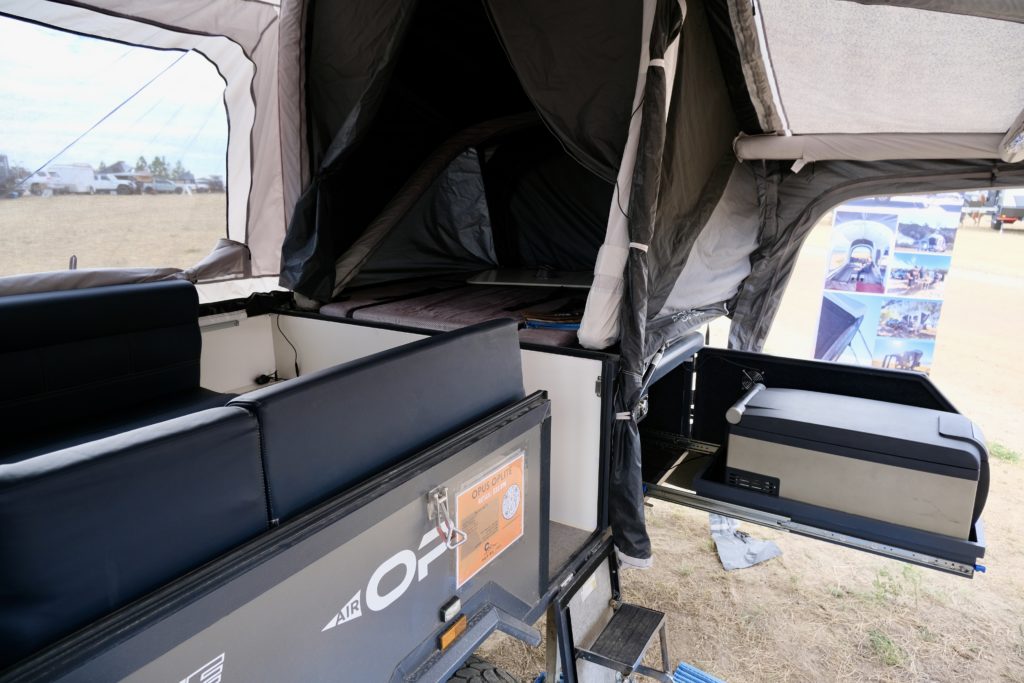 The OPUS Op Lite is one of the more interesting trailers we've seen. The tent structure is supported by air beam technology. Dubbed AIR OPUS, this provides an incredibly fast setup that goes from packed to ready for use in 90 seconds. It's equipped with heavy off-road shocks and plenty of storage, making this trailer a great option for families looking to get out on the trail for a weekend of adventure. With eight-foot ceilings, a full kitchen slide-out, plenty of seating, 12V power, and LED lighting, it's hard to believe how compact this trailer is when everything is packed away.
Weight: 2,380 pounds
Overall Width: 66 inches
Overall Length: 206 inches
ROC — ASD10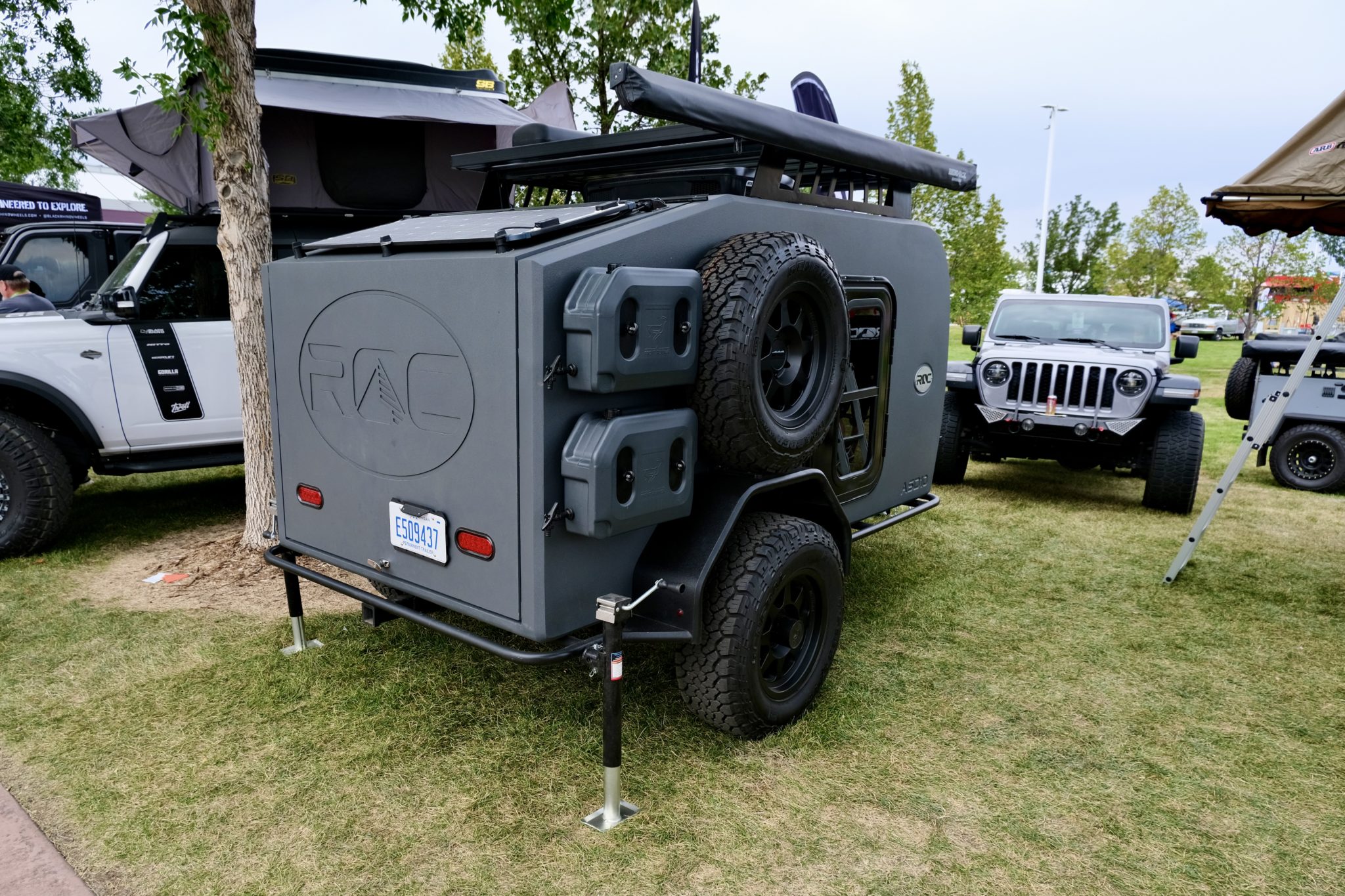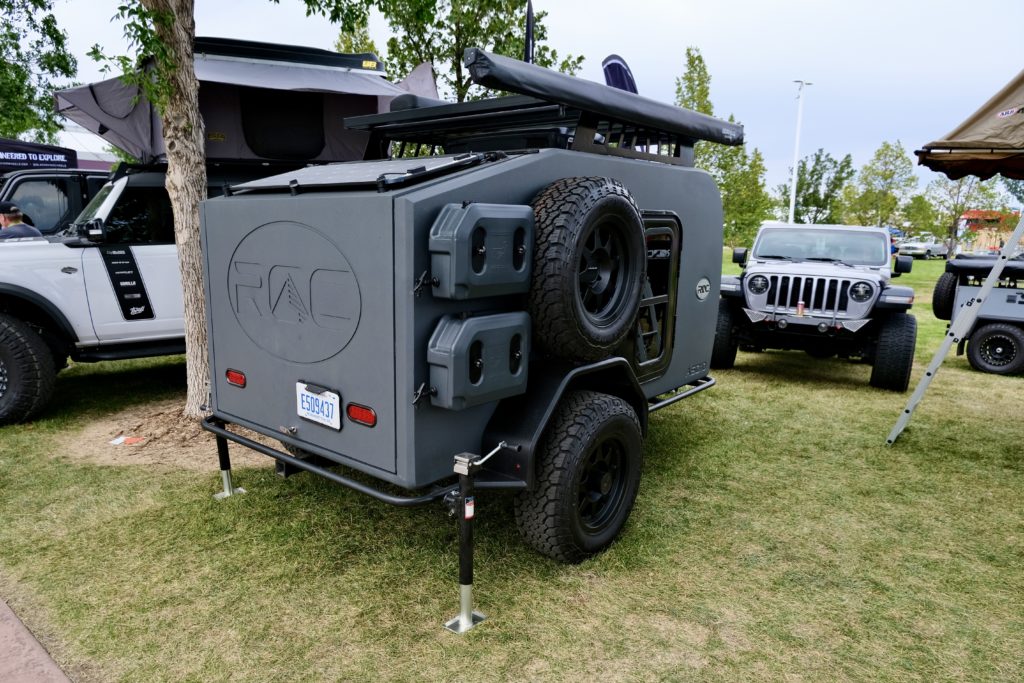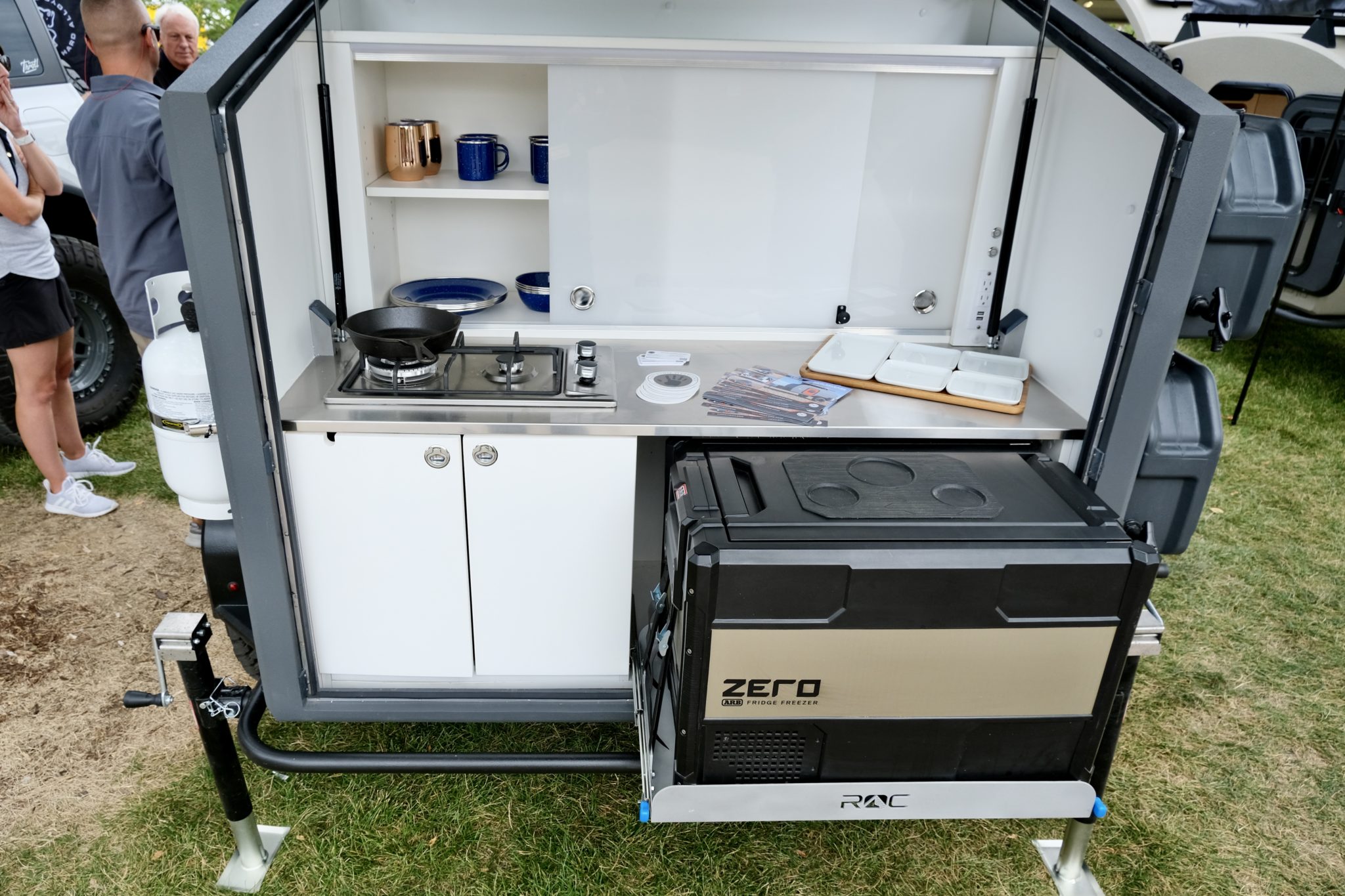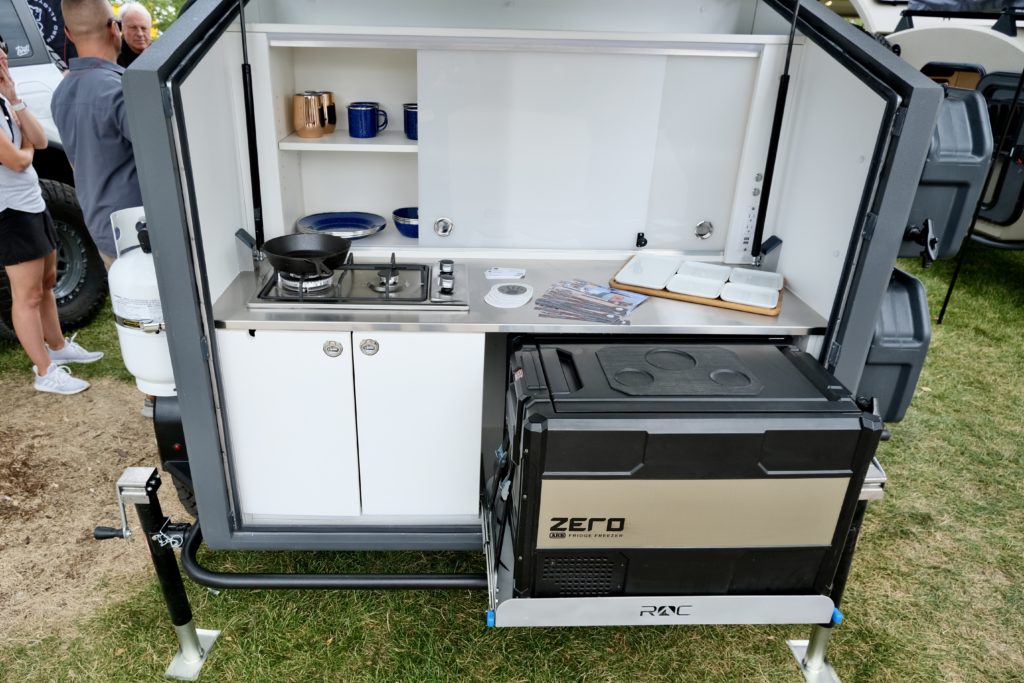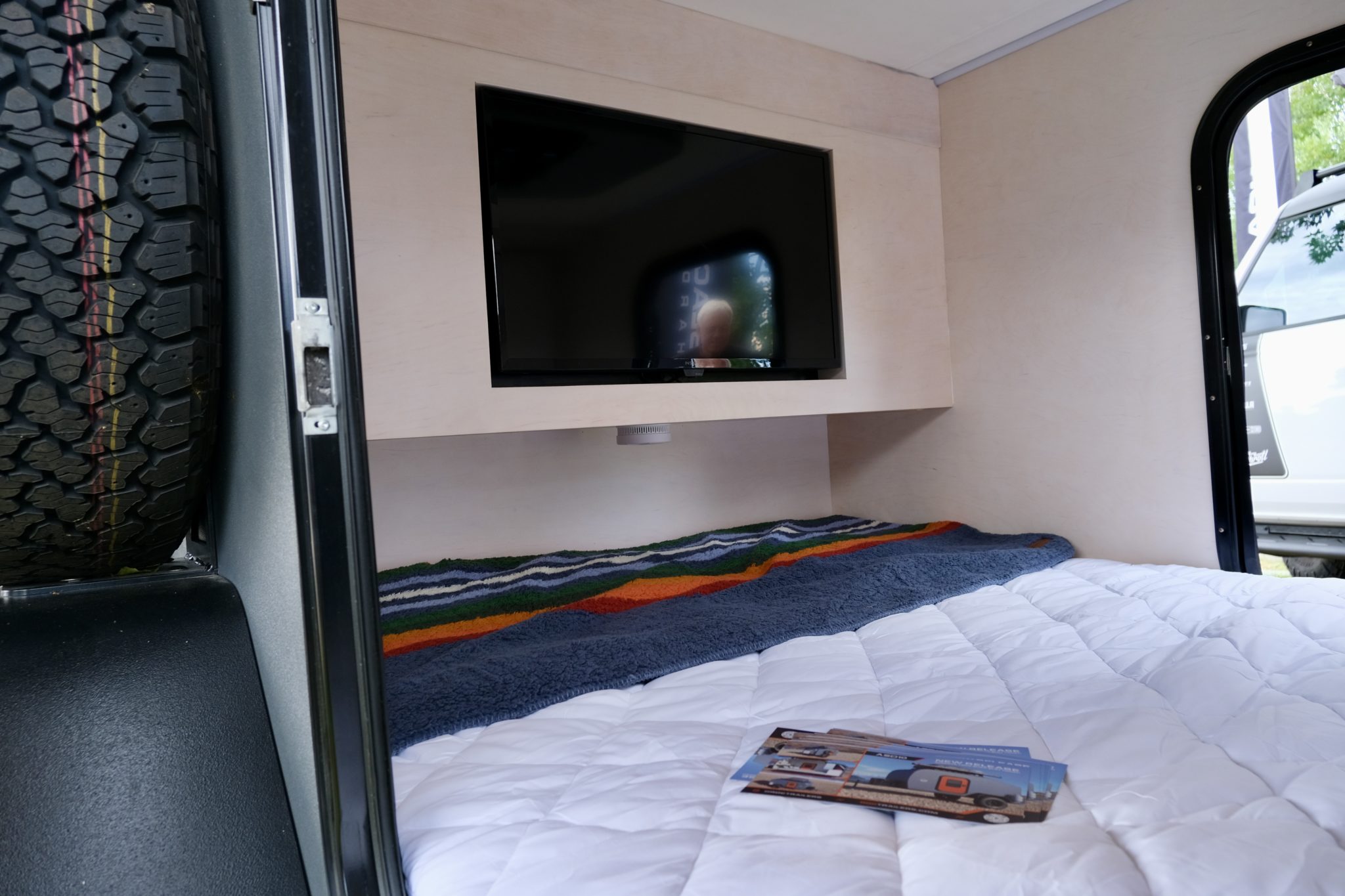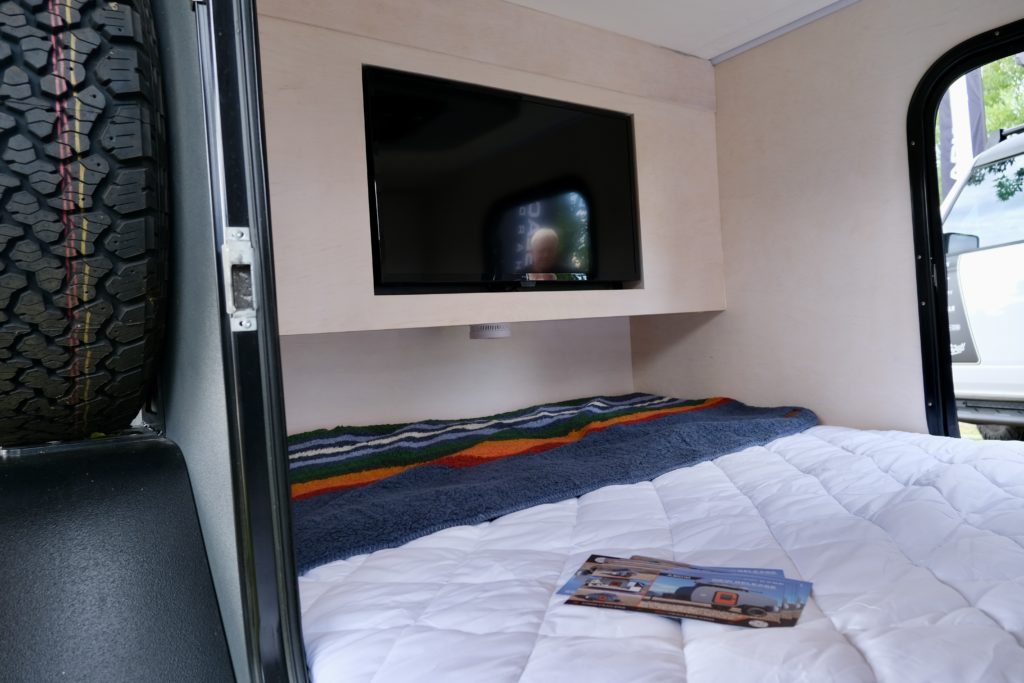 This compact enclosed trailer debuted at Overland Expo Mountain West. The ASD10 is built on a tubular frame that extends up and over the tires providing significant strength to the fenders. The entire outer surface is coated with a textured finish that's offered in a wide array of colors. You can build it out to suit your needs with accessory packages that include awnings, deployable solar panels, extra batteries, kitchen accessories, and more. Regardless of the accessories, the ASD10 is constructed of composite materials to increase strength and durability while simultaneously reducing the weight of the trailer. This all rides along on a 2,200-lb axle-less independent suspension to provide stability both on and off the road.
Weight: 1,900 pounds
Ground Clearance: 18 inches
Overall Width: 181 inches
Overall Length: 85 inches
Turtle Back Trailers — Expedition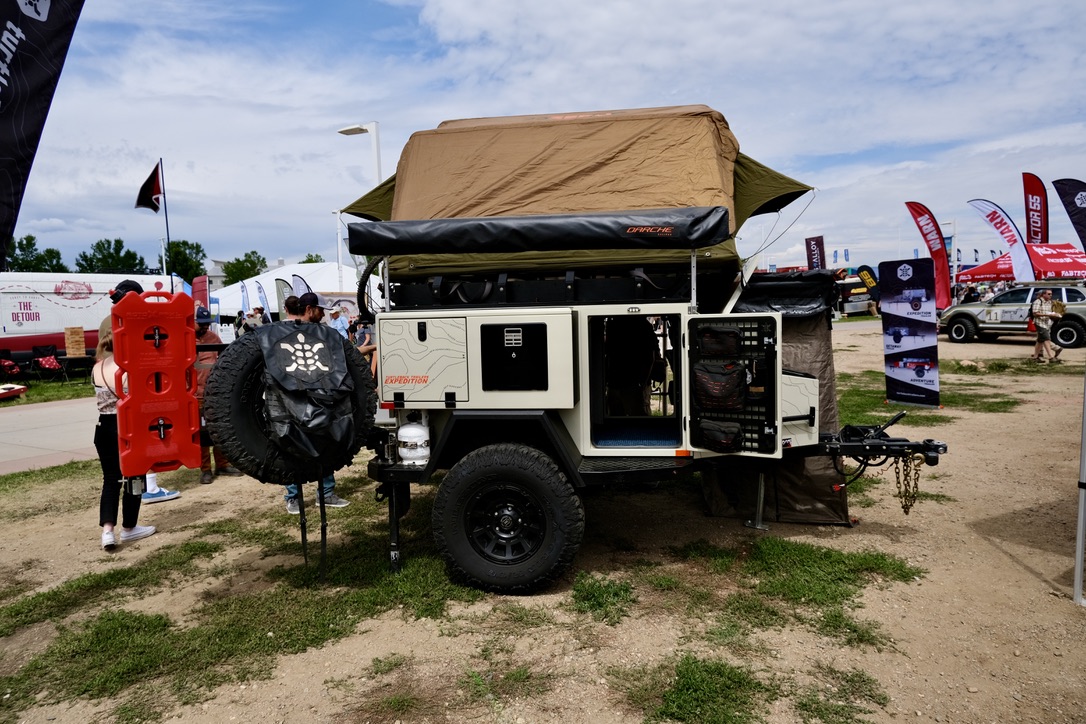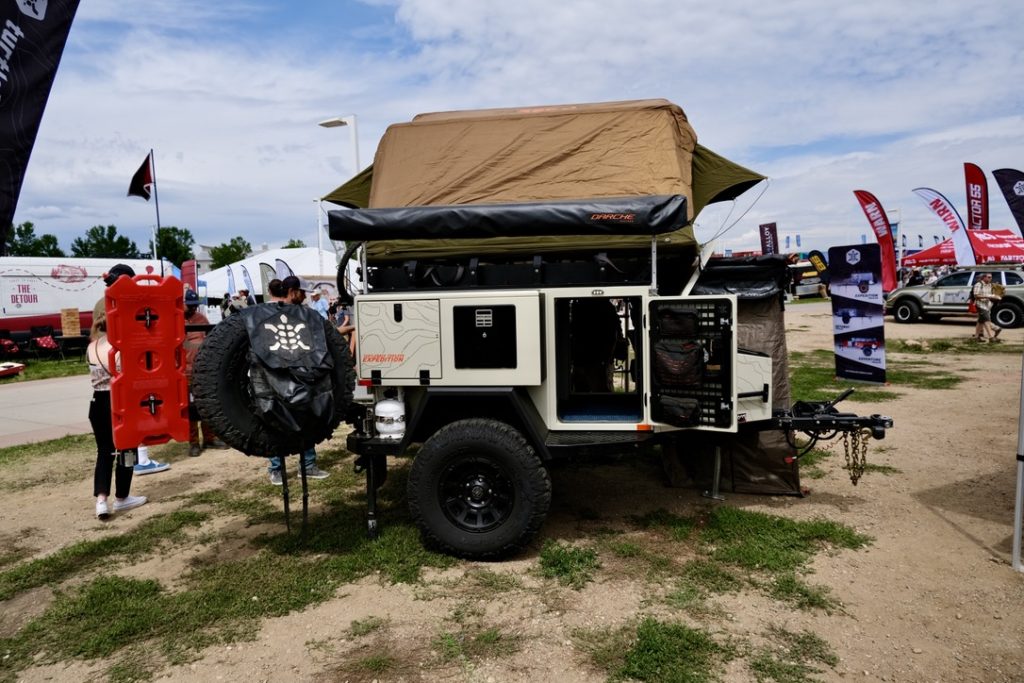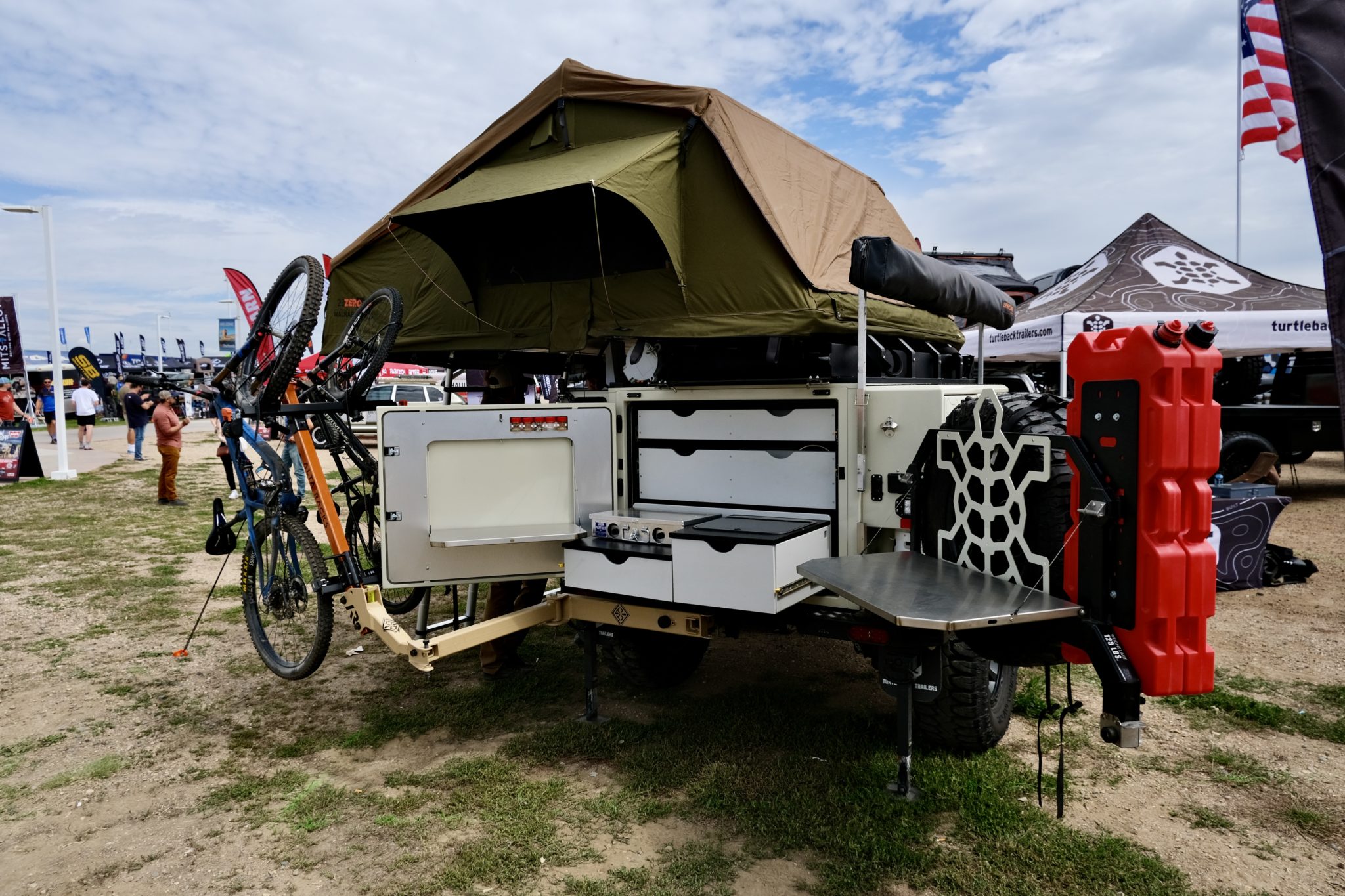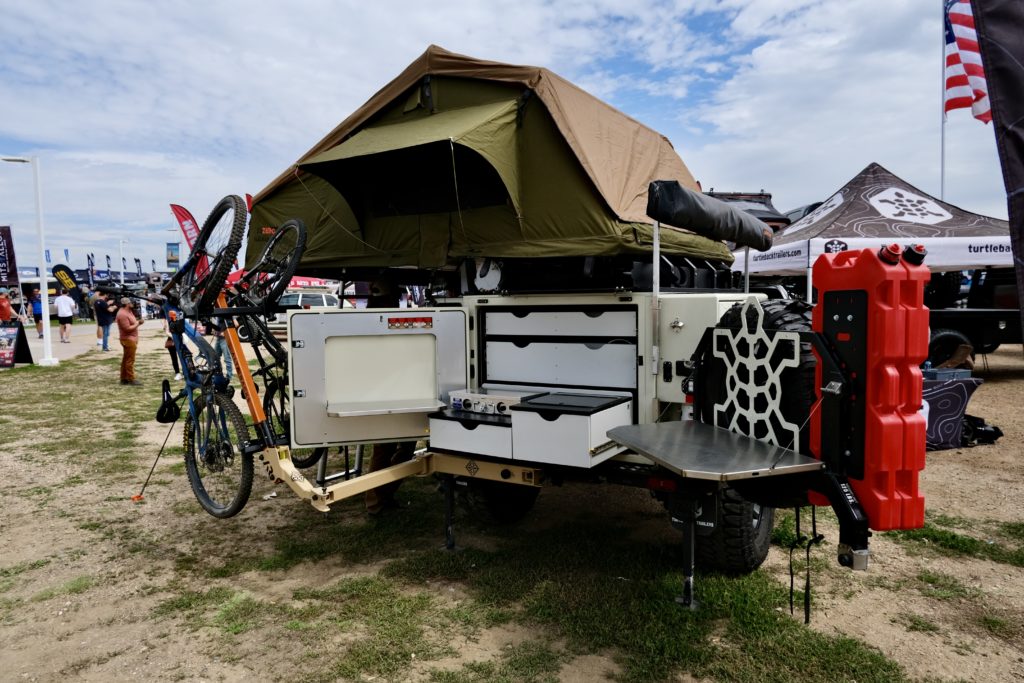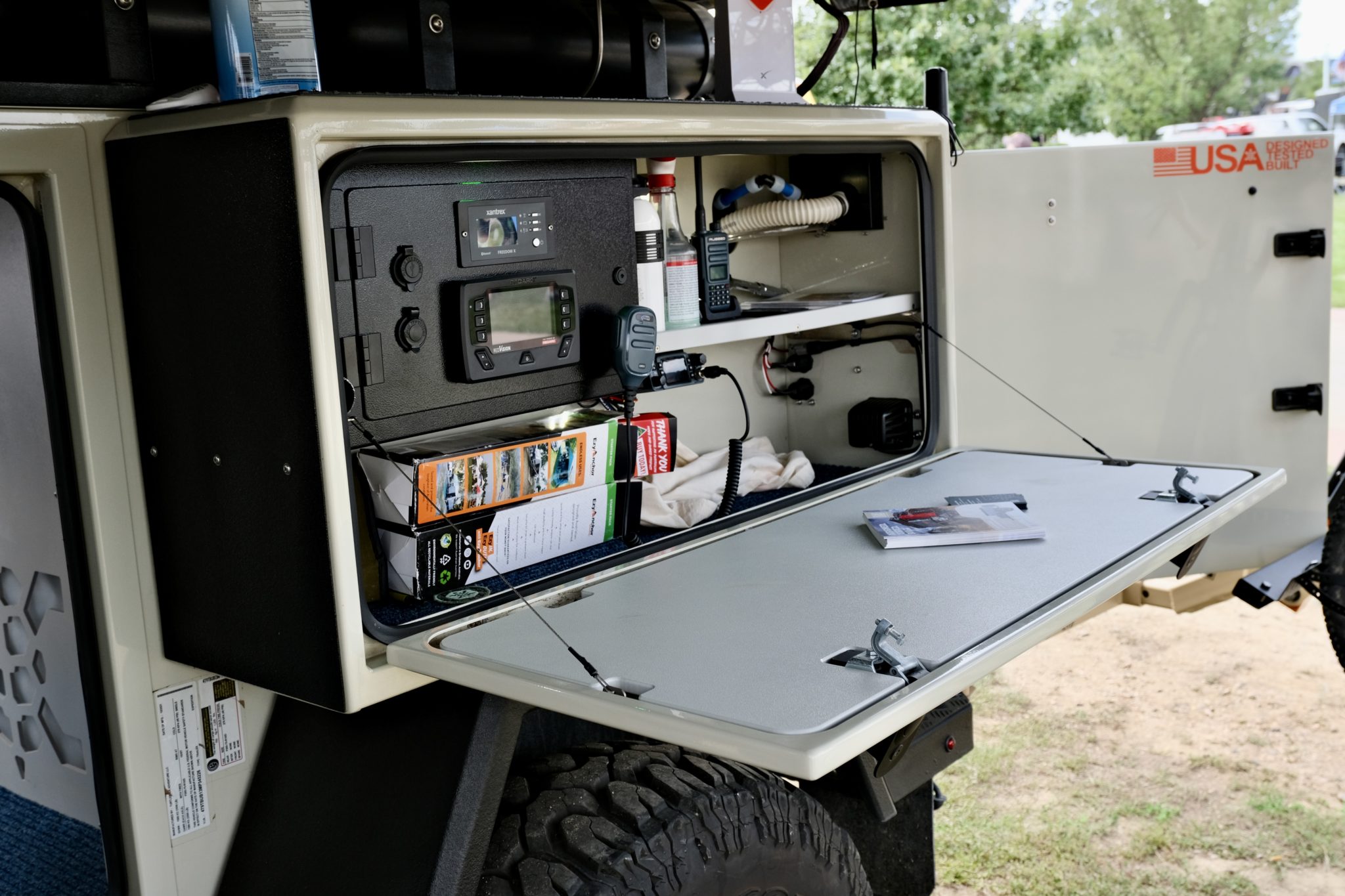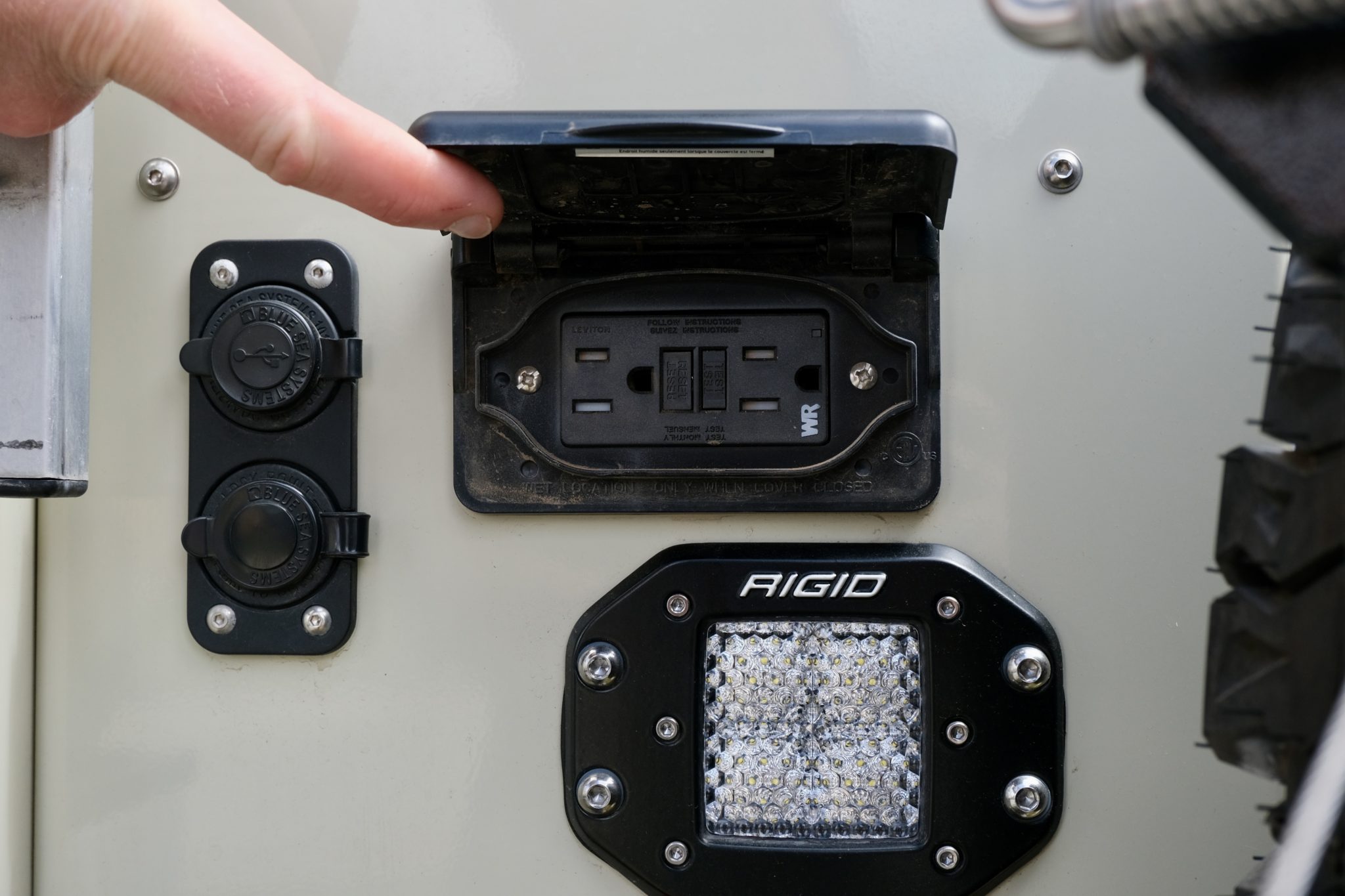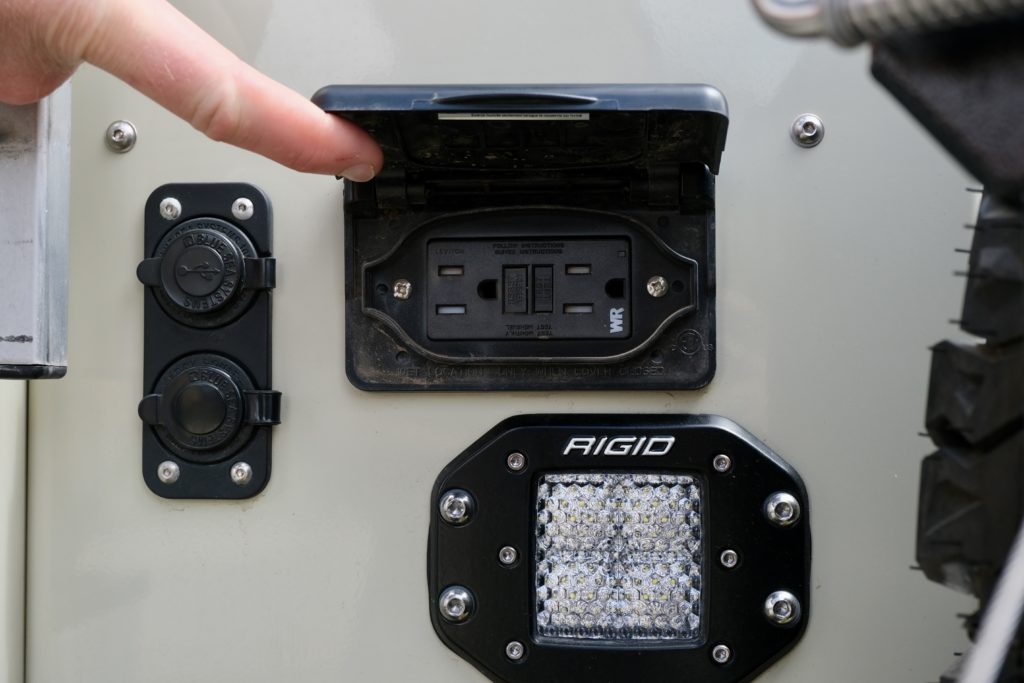 The Expedition is the largest trailer in Turtle Back's lineup, but it still packs a lot of features and space into a relatively small package. The Expedition has all of the features you would expect with a rear kitchen, onboard 12V power, an independent suspension, and 50-plus feet of cubic storage. You'll also find features that set the Expedition apart, such as the 12-volt DC water pump, 42-gallon freshwater tank, 6-gallon DSI water heater, and a host of optional features that allow you to customize your Turtle Back Expedition to fit your individual needs. Up top, you can mount your choice of rooftop tent on the custom-built steel roof rack.
Weight: 2,345 pounds
Ground Clearance: 18 inches
Overall Width: 74 inches
Overall Length: 138 inches
Vorsheers — XOC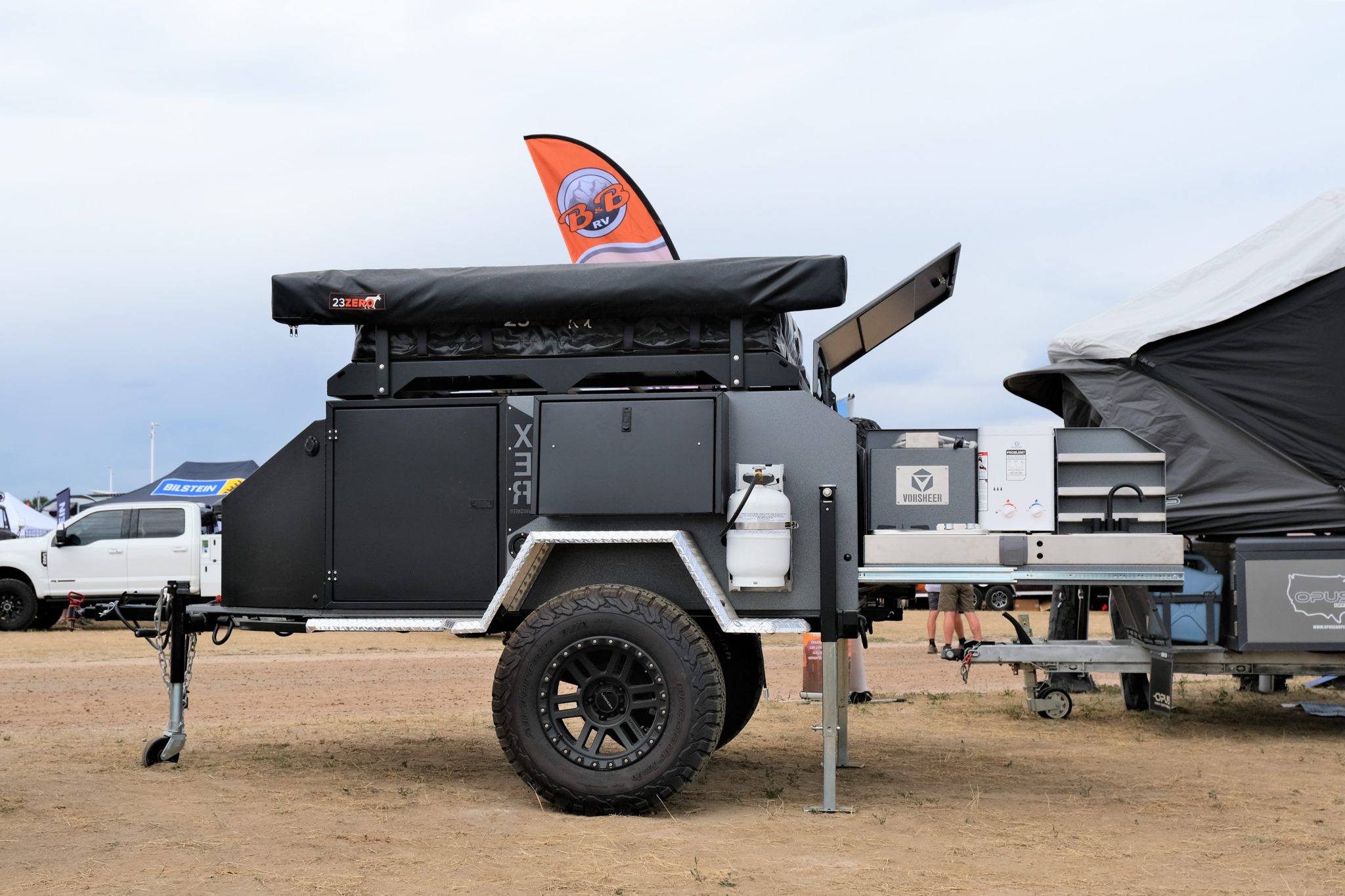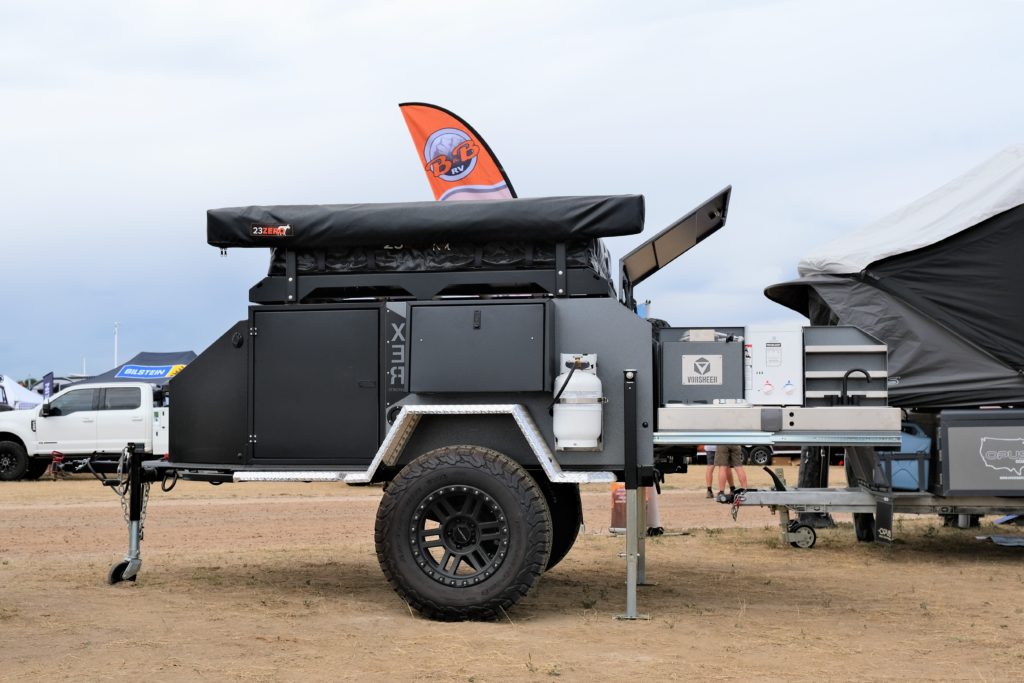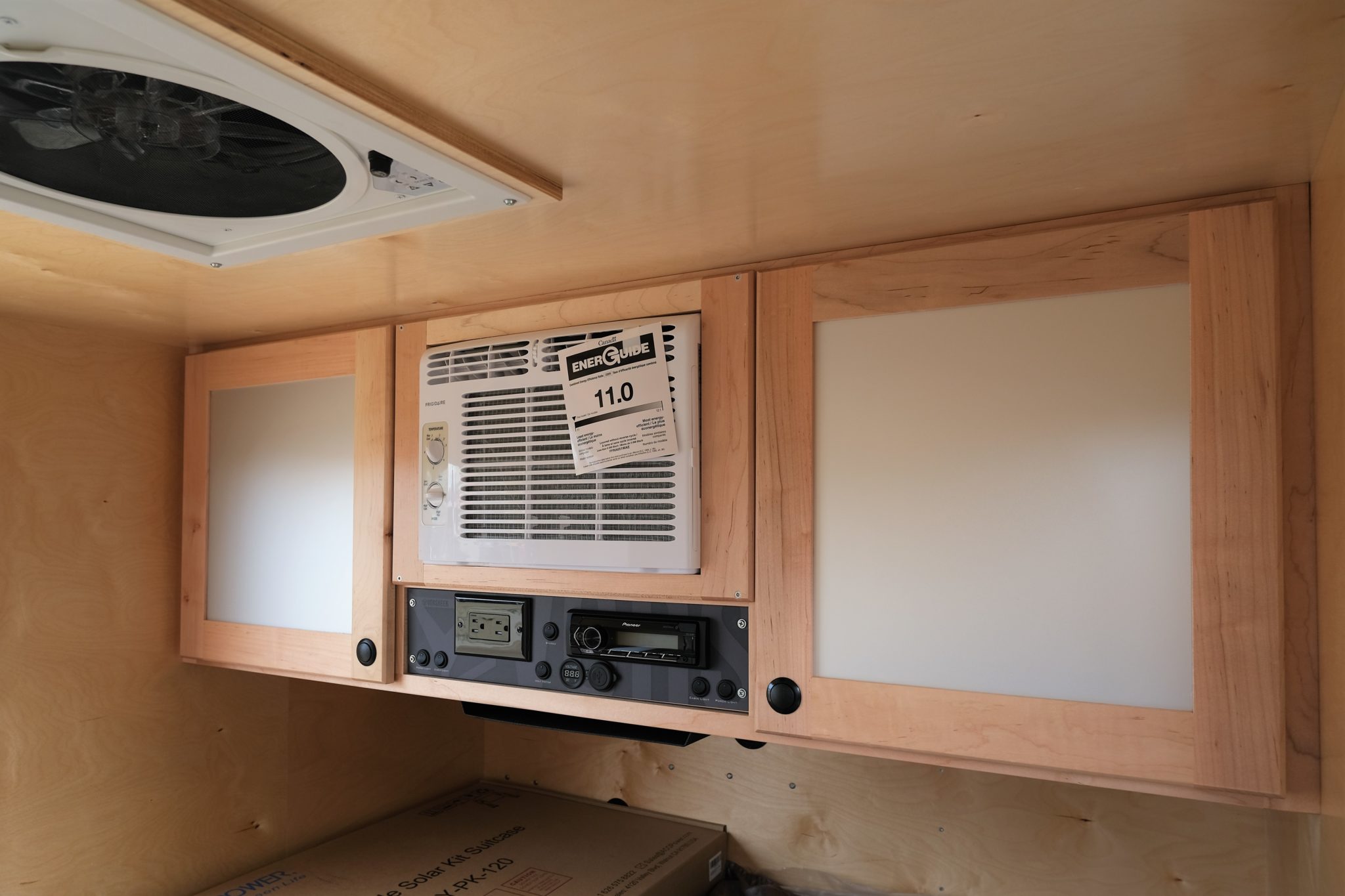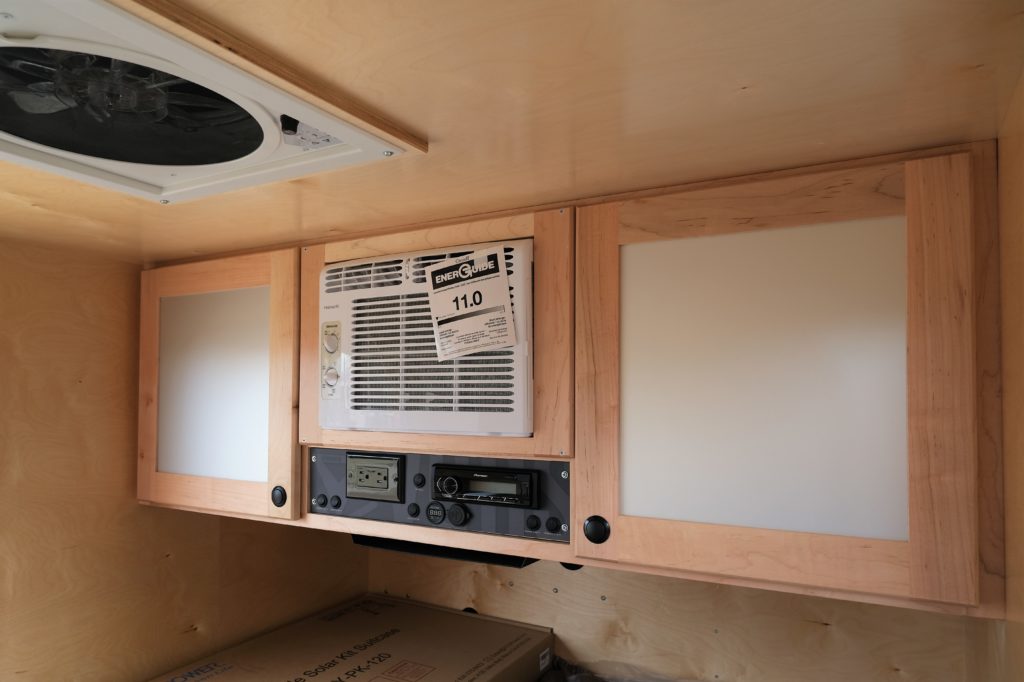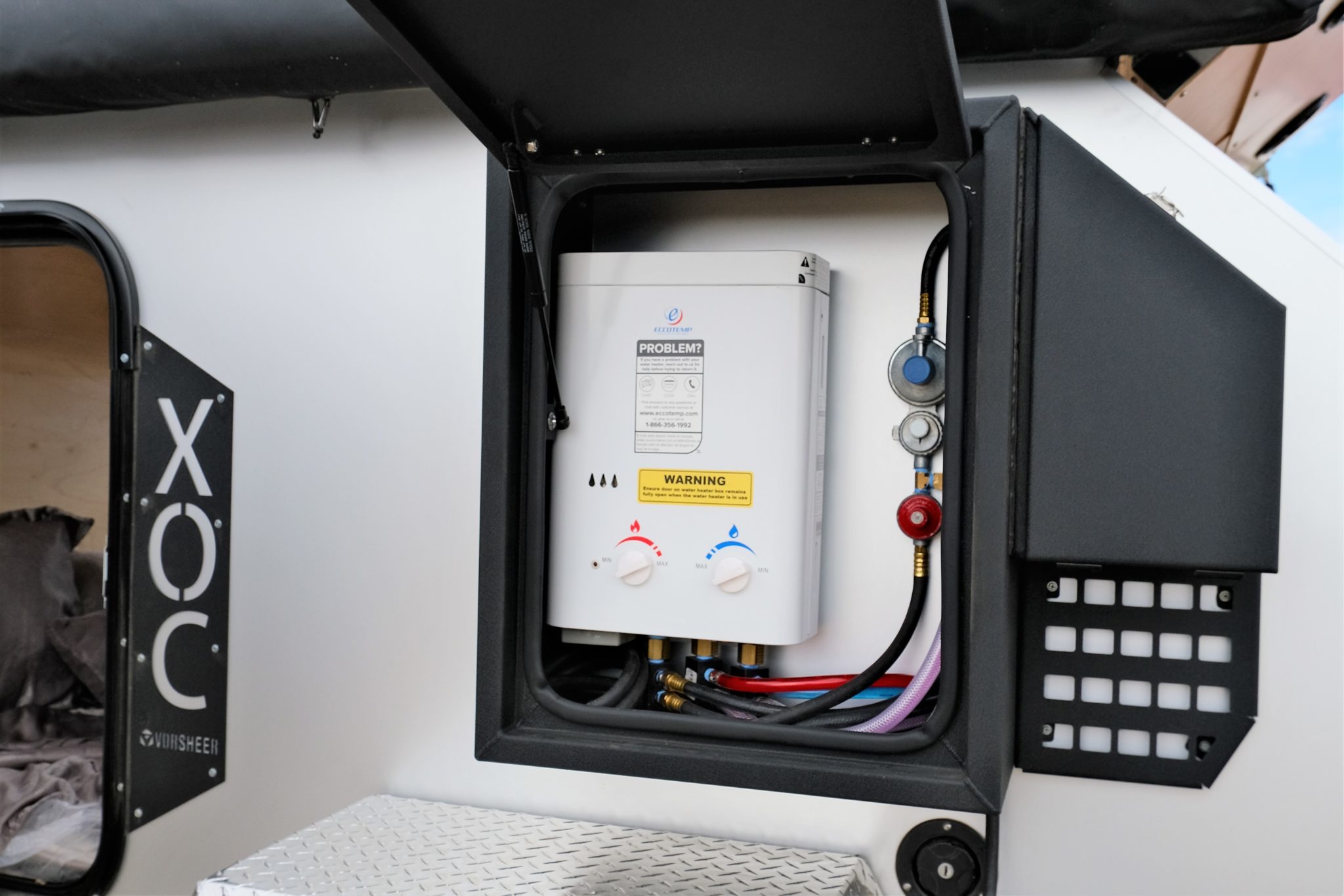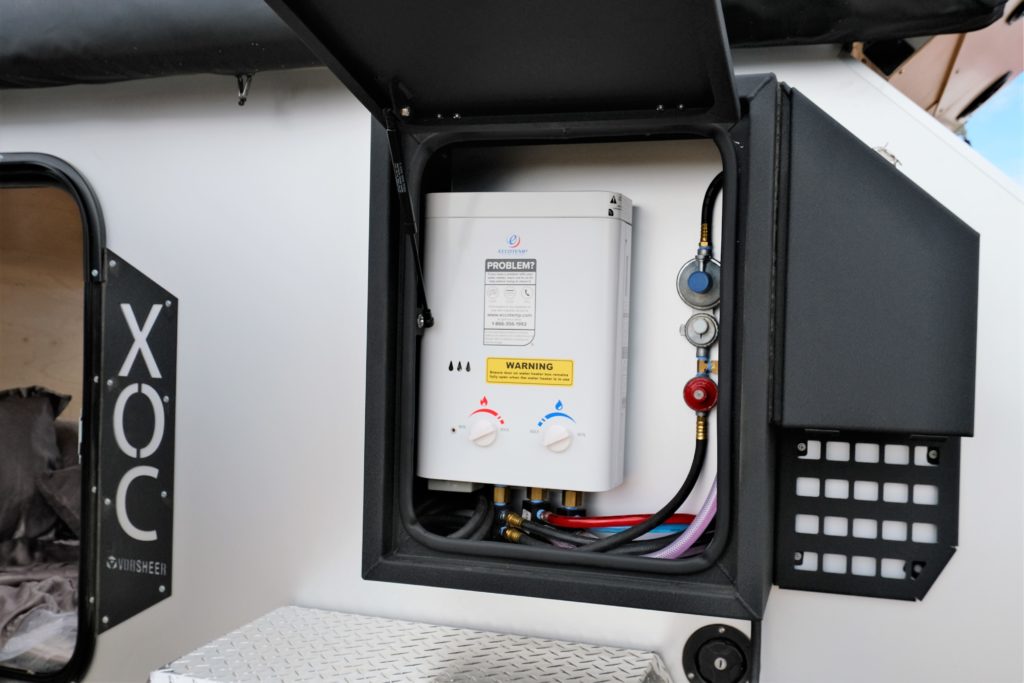 The Extreme Overland Camper, shortened to XOC, from Vorsheers lives up to its name. With a frame that's rolled 30 degrees to add a unique look and durability. The over tongue storage includes room for your jack, recovery boards, hand tools, and more. Inside you'll find a fan, and optional heating and cooling systems are available. The Timbren suspension provides excellent ground clearance so the chances of getting the XOC hung up on a trail obstacle are slim to none. The rear kitchen features hot and cold water, a high output stove, a dual zone fridge freezer, and plenty of space for prep and storage.
Weight: 2,600 pounds
Ground Clearance: 23 inches
Overall Width: 88.8 inches
Overall Length: 180 inches