SEMA Show 2022 just wrapped up. From Tuesday through Thursday, I wandered the show's four massive halls and studied the millions of dollars of heavily modified rigs on the floor. And of all the amazing builds, these were the ones that caught my fancy, that most piqued my interest. Is this the definitive list of the best builds? Naw, they're just my favorites. I'm a weirdo and these cars reflect that.
I will warn you, though, that if you're looking for purple F-550s on eight-foot lift kits, you'll be sorely disappointed; most of my picks are pretty subdued.
Here are the best rigs I saw at SEMA Show 2022, presented in the order in which I photographed them.
Swampy First-Gen Bronco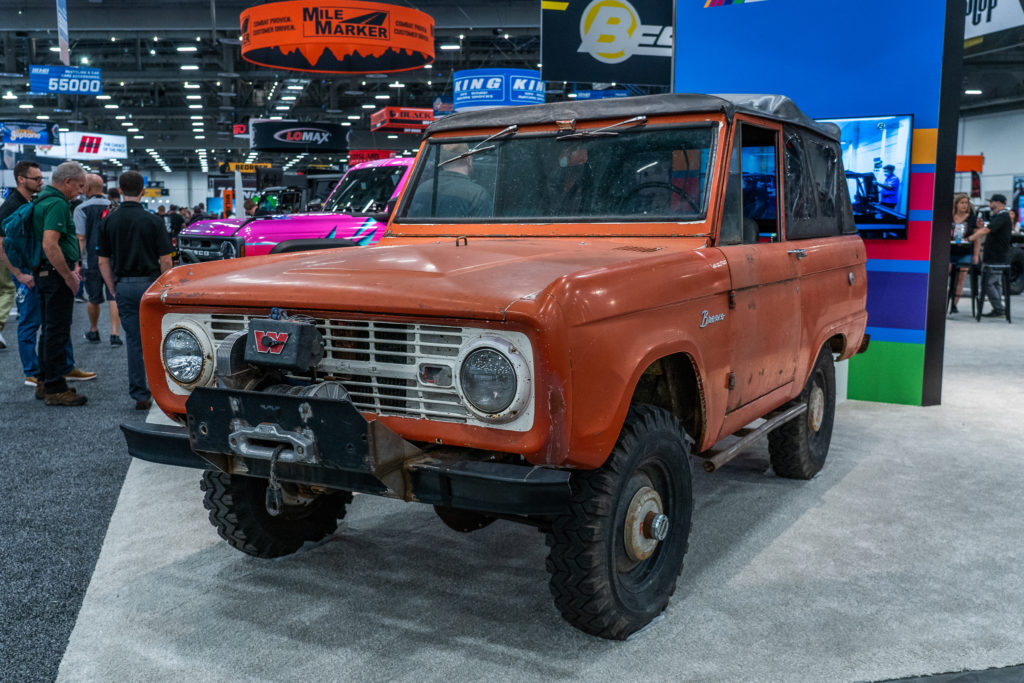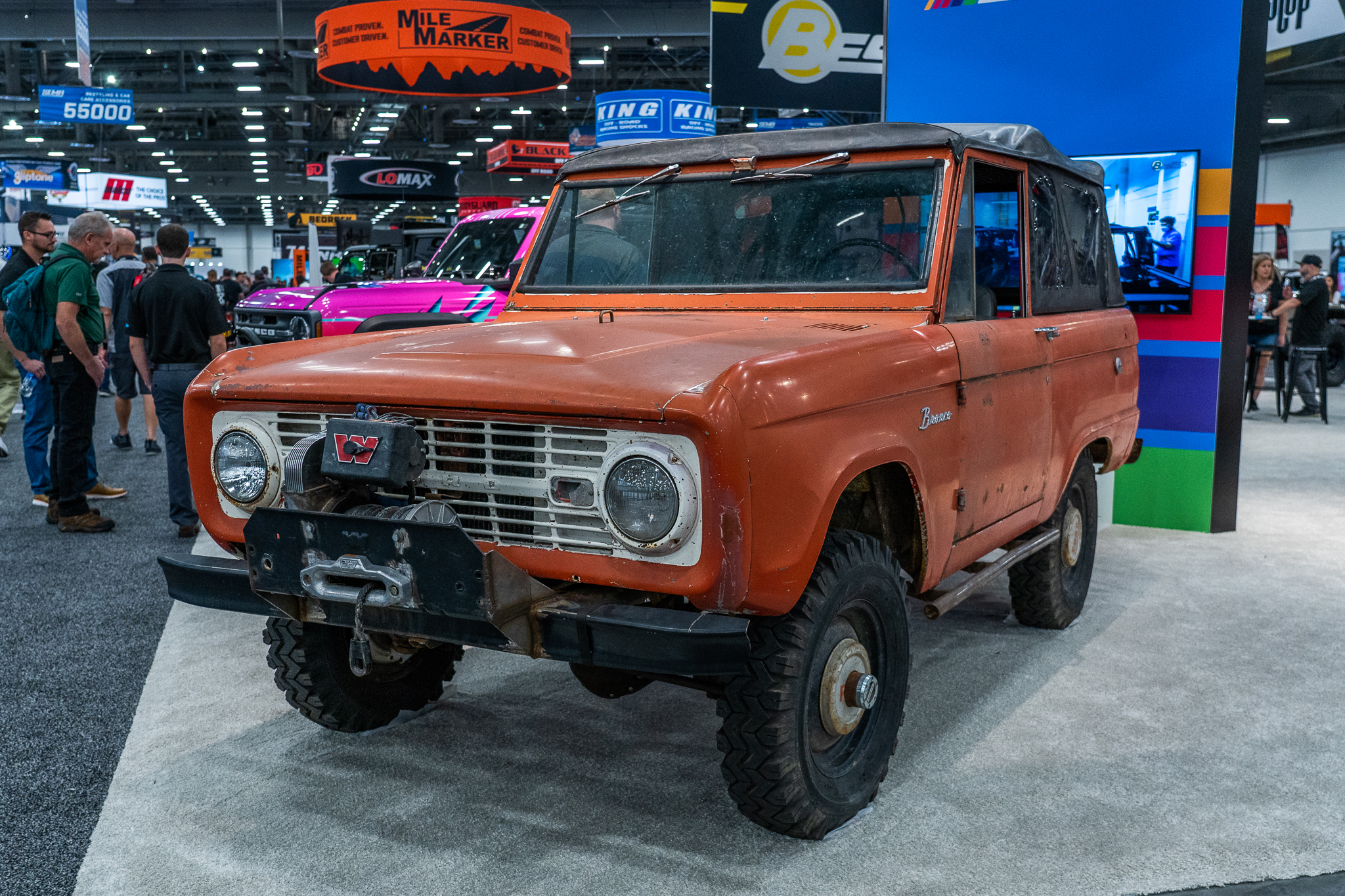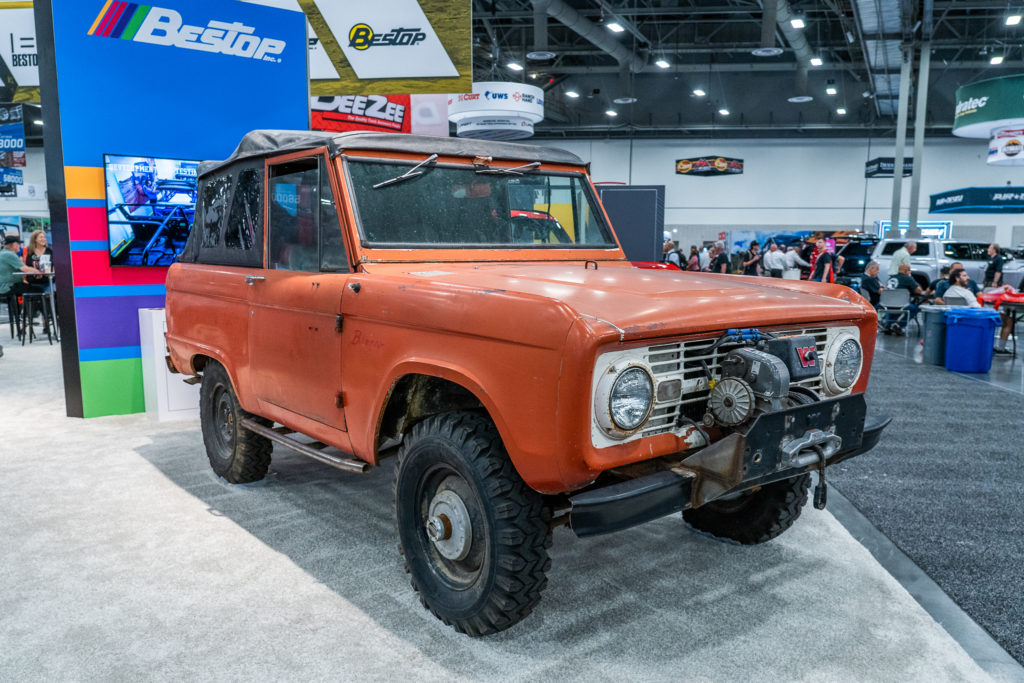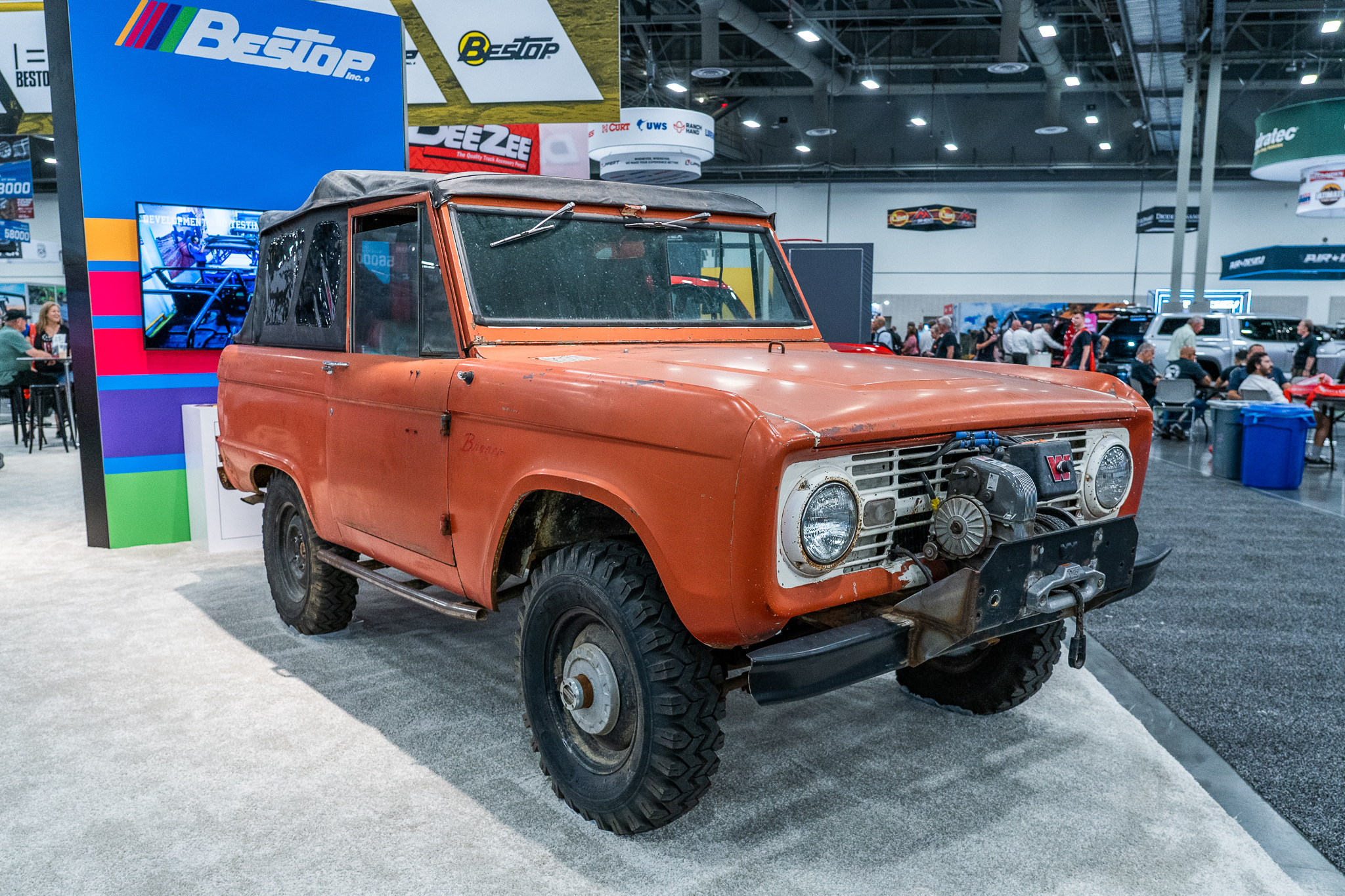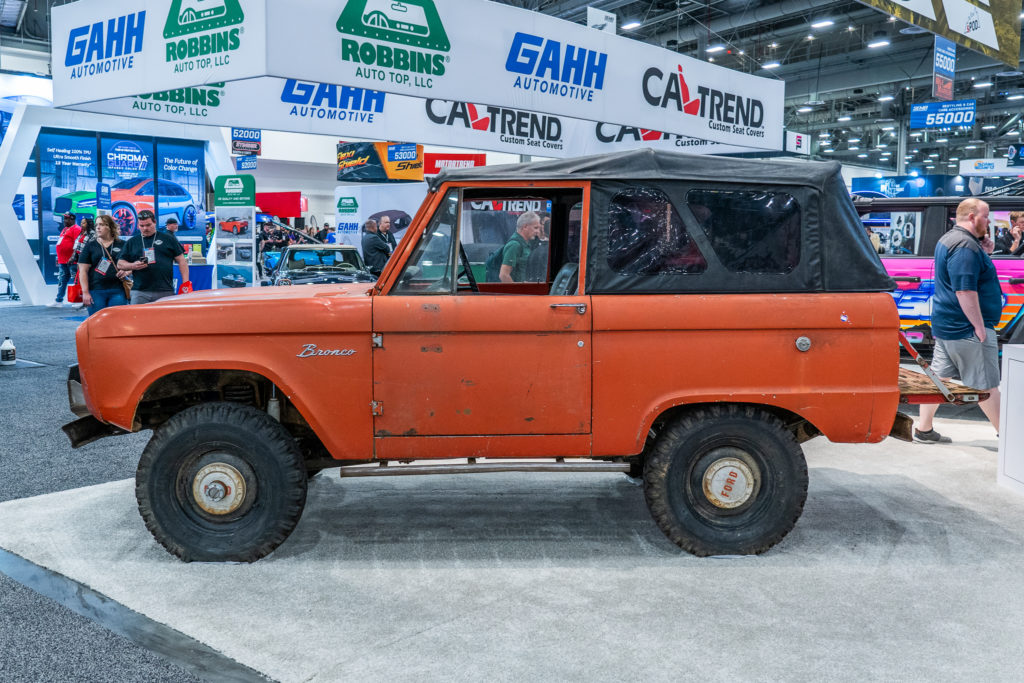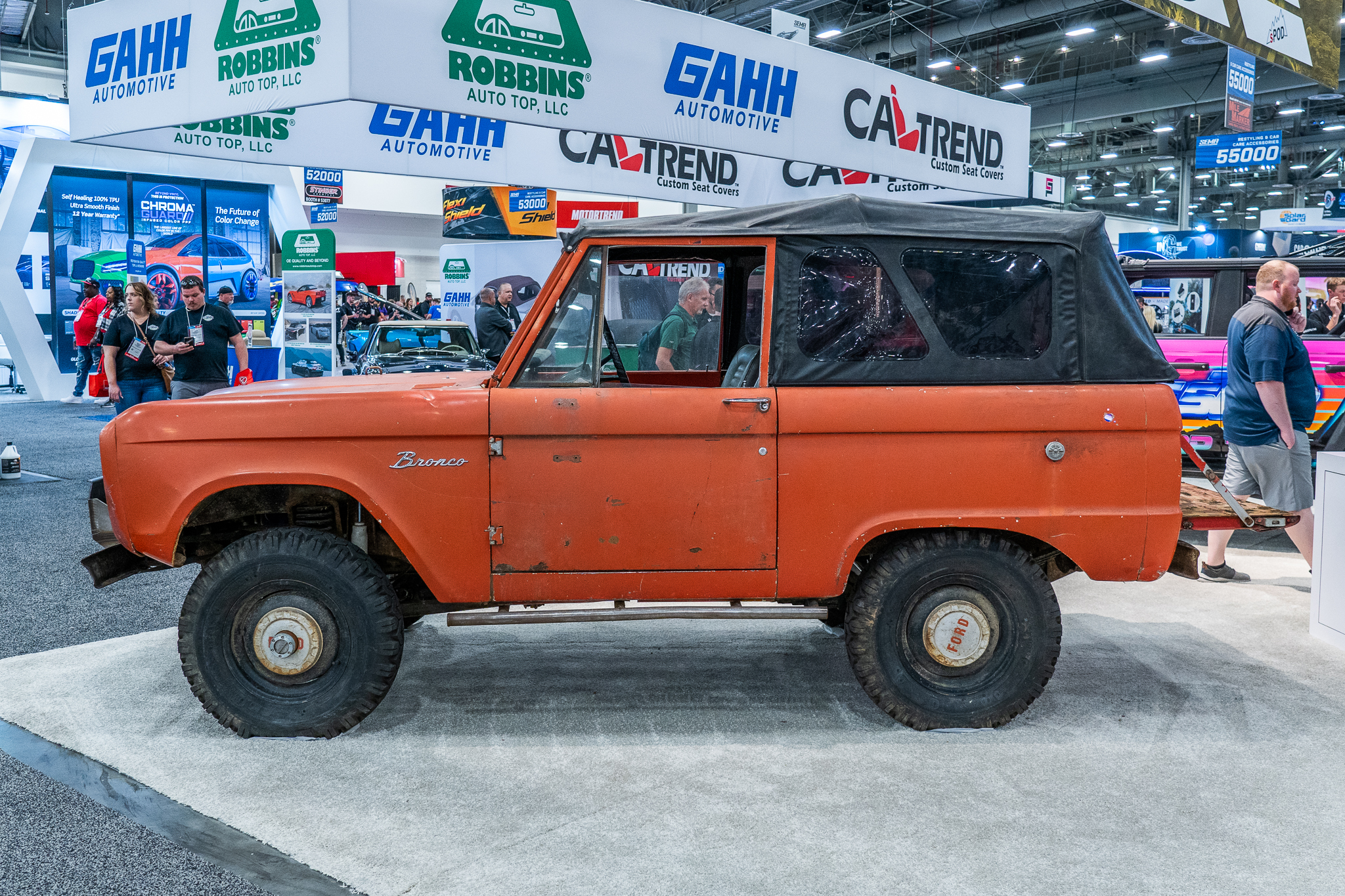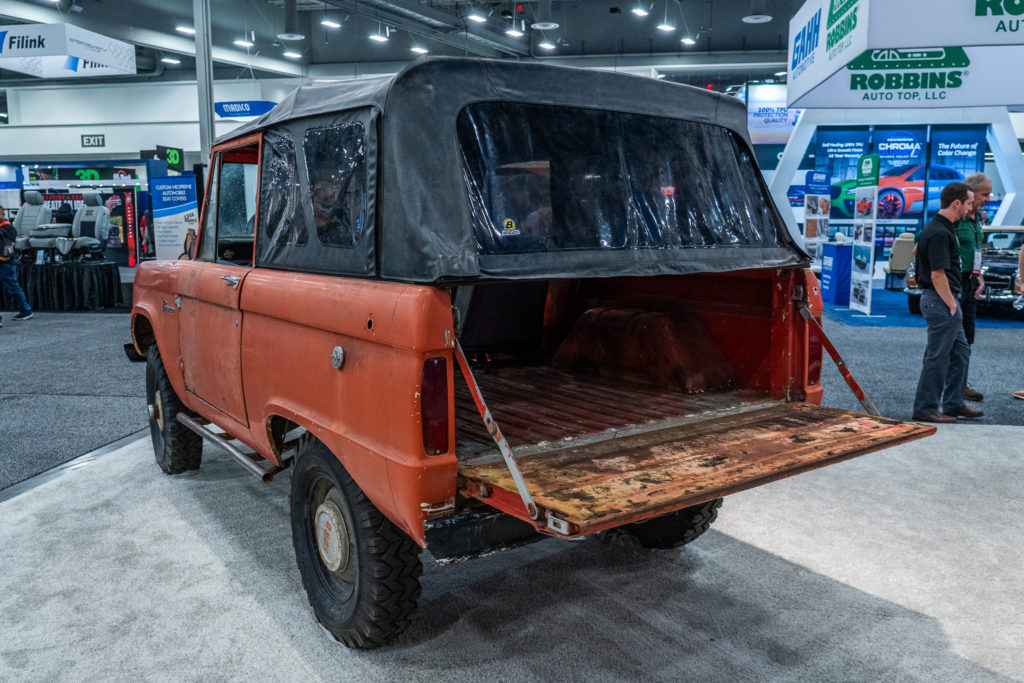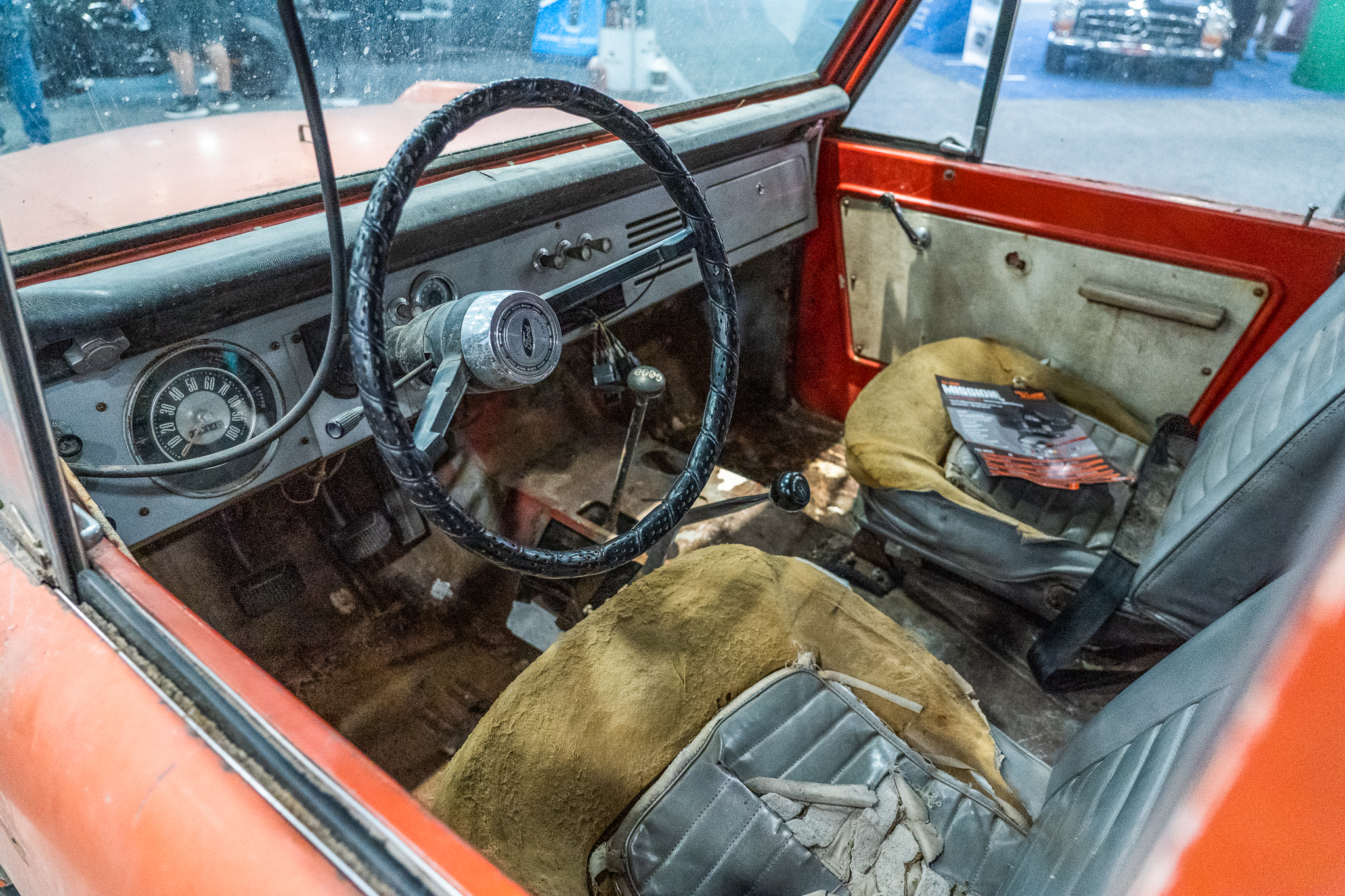 Before you get up in arms, I give this truck the 'swampy' moniker lovingly. I personally love swampy cars. And this is one of the swampiest. It's also perhaps the least "SEMA" truck that was at the show this year, which is what drew me to it. It's brutally — with an emphasis on brutal — original with only a Bestop soft top having been fit to it … many years ago. This thing looks like it was yanked from a swamp and slapped on the SEMA floor. And I love it.
Rivian R1T & R1S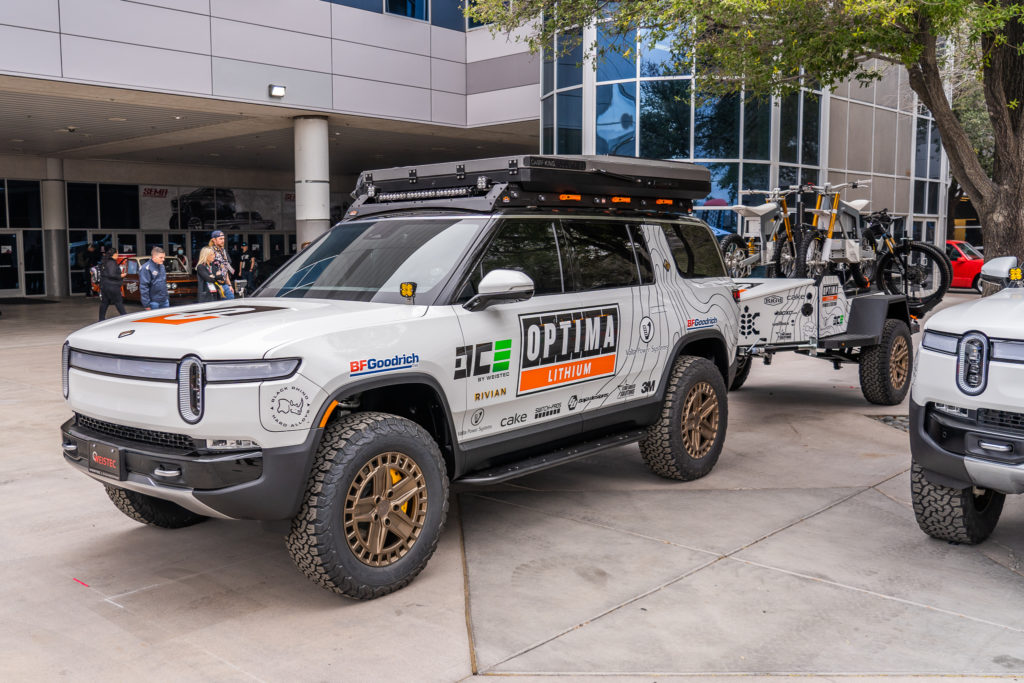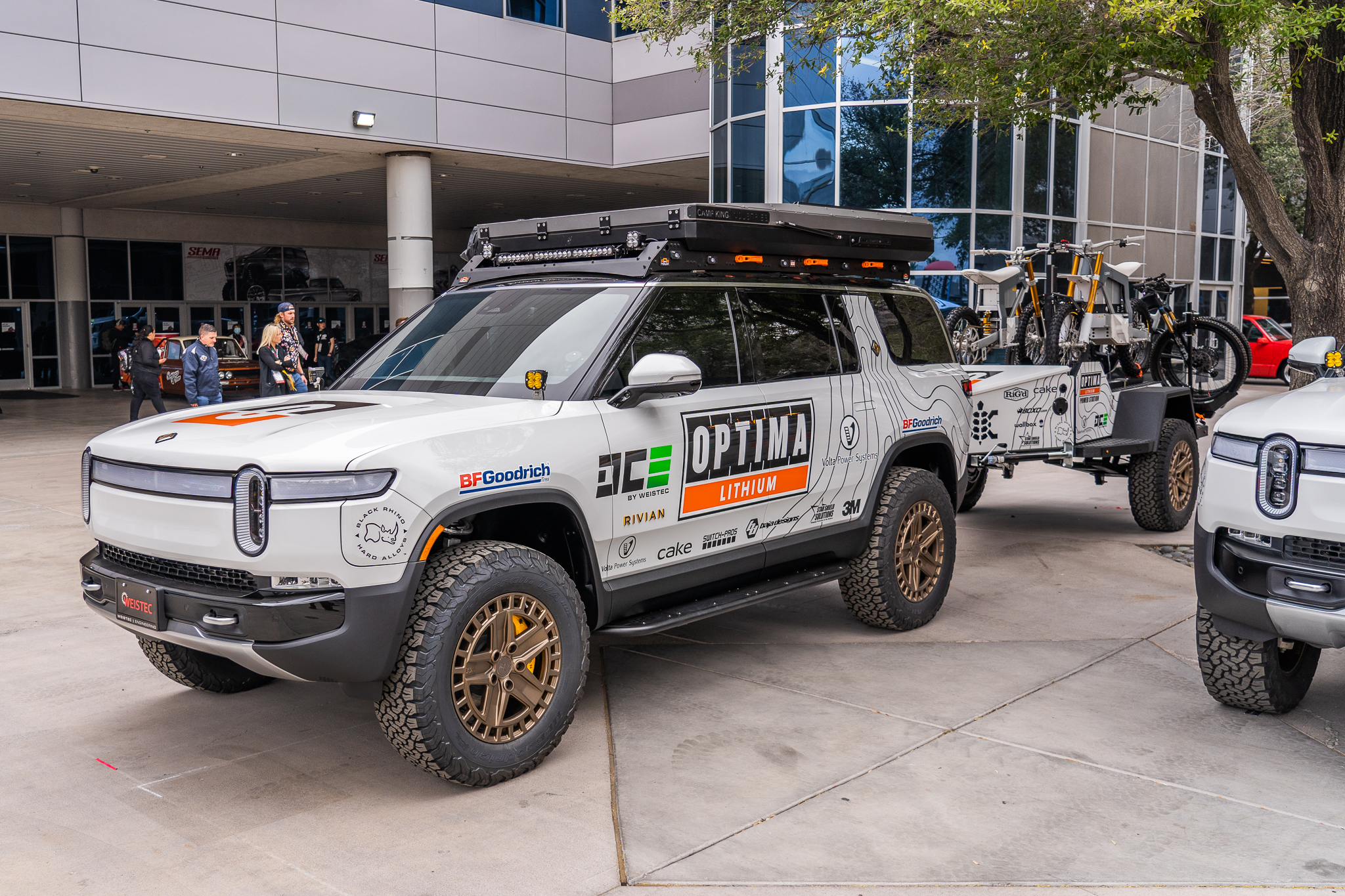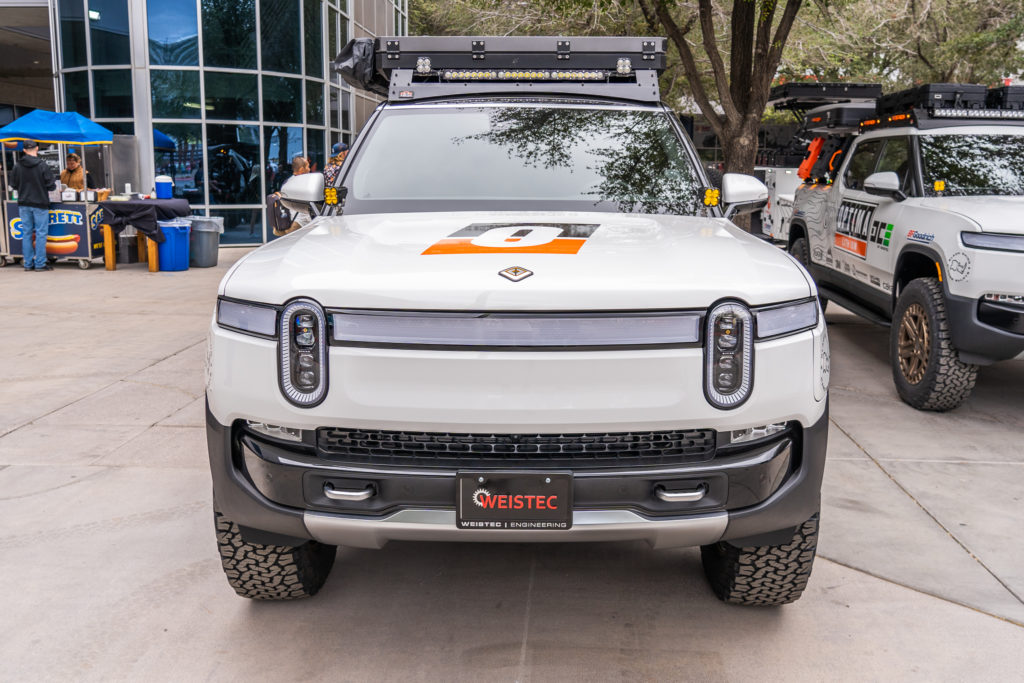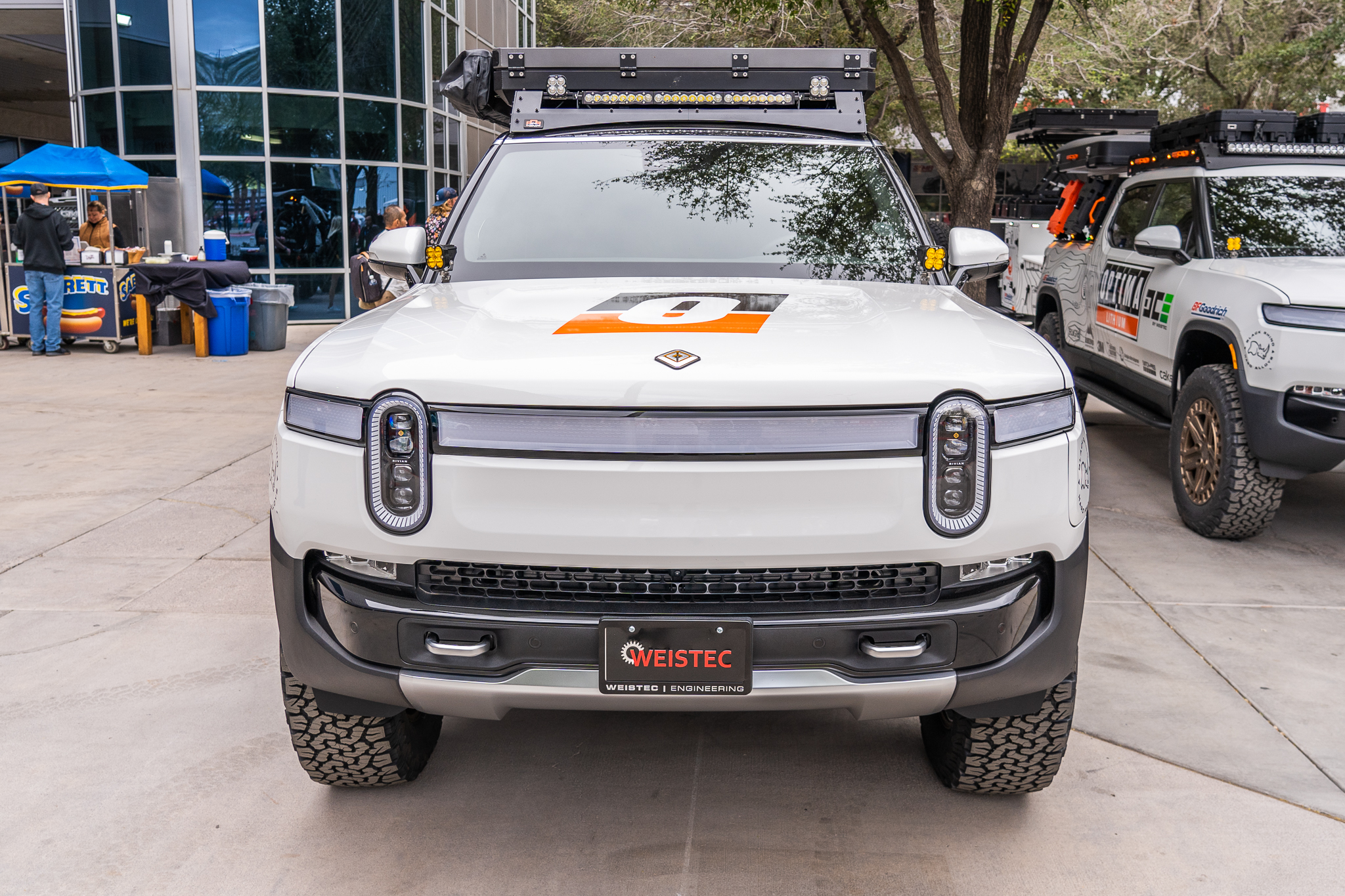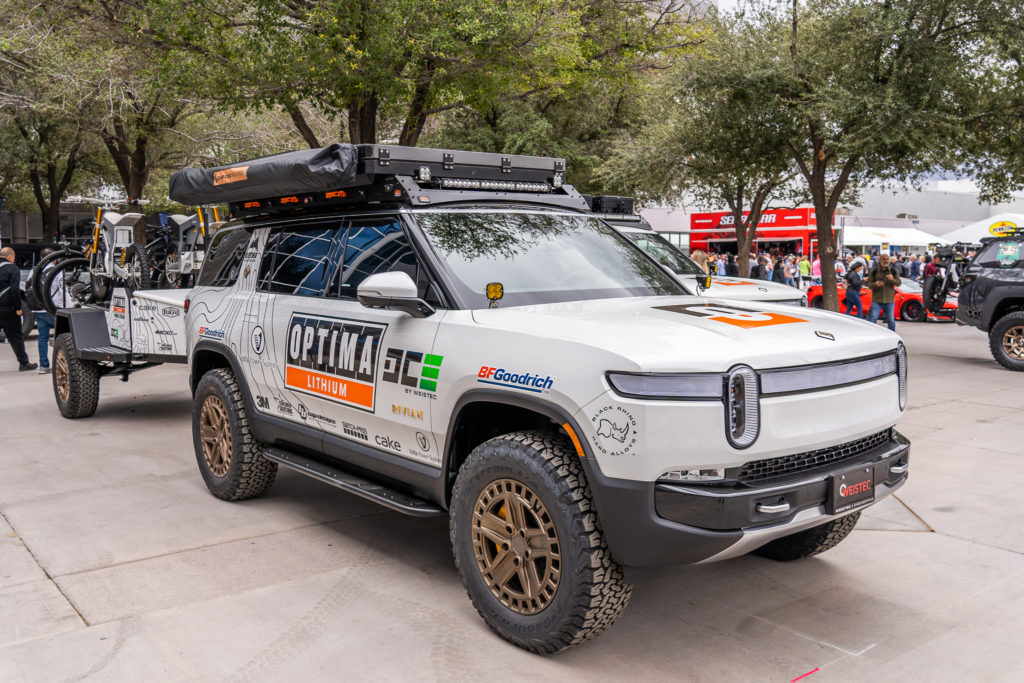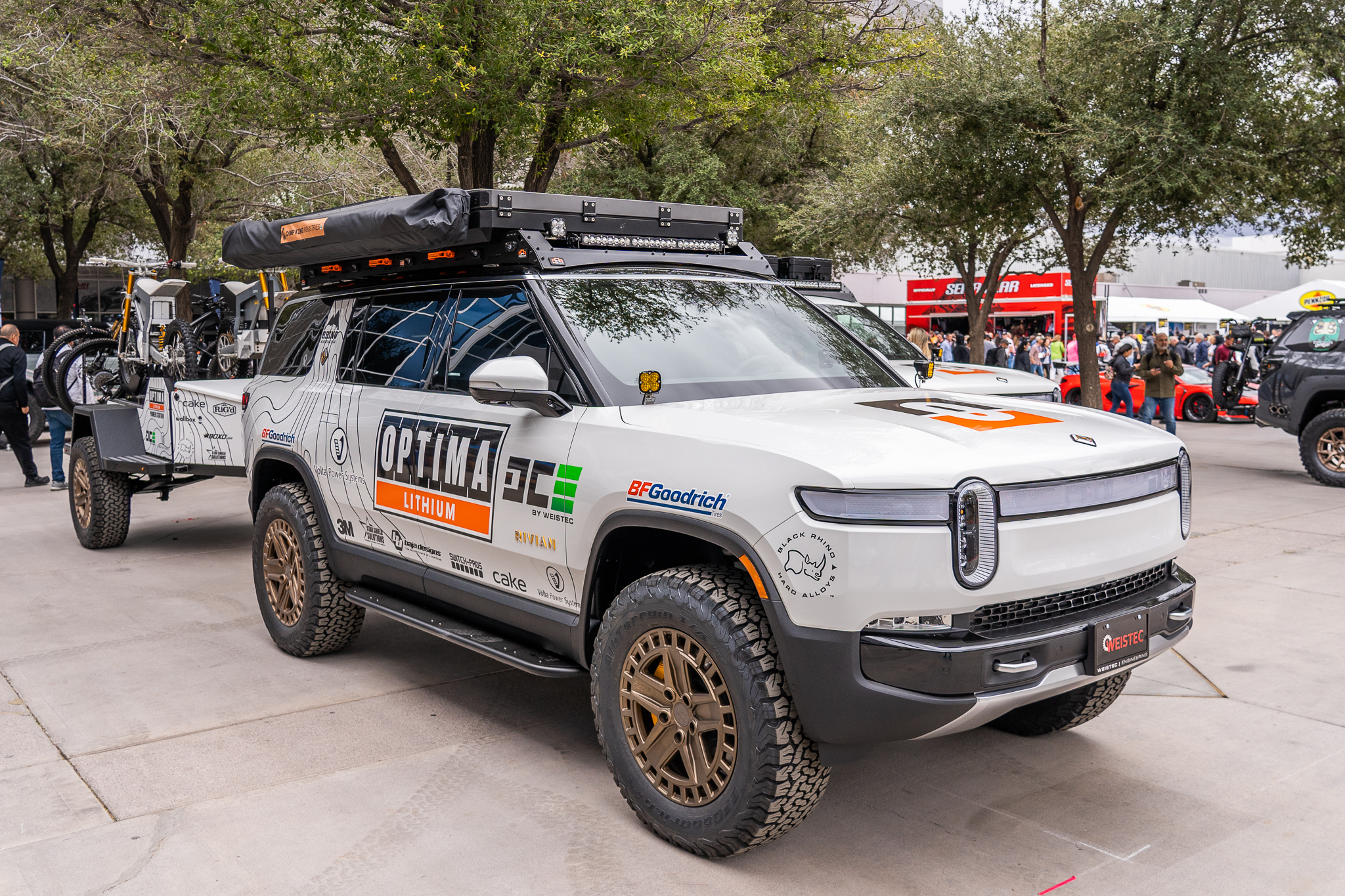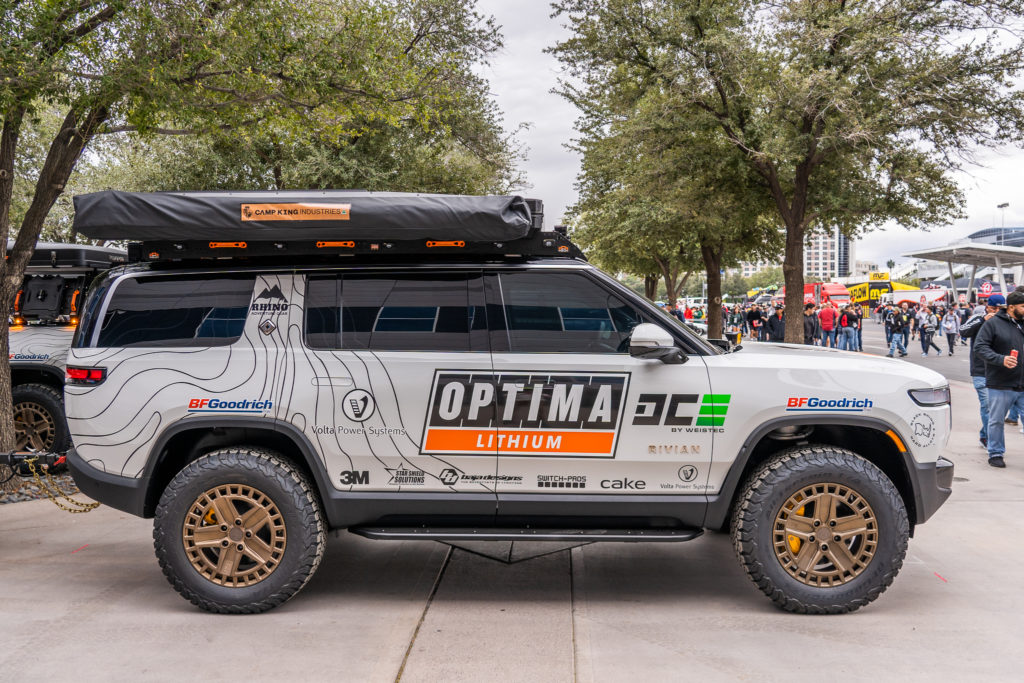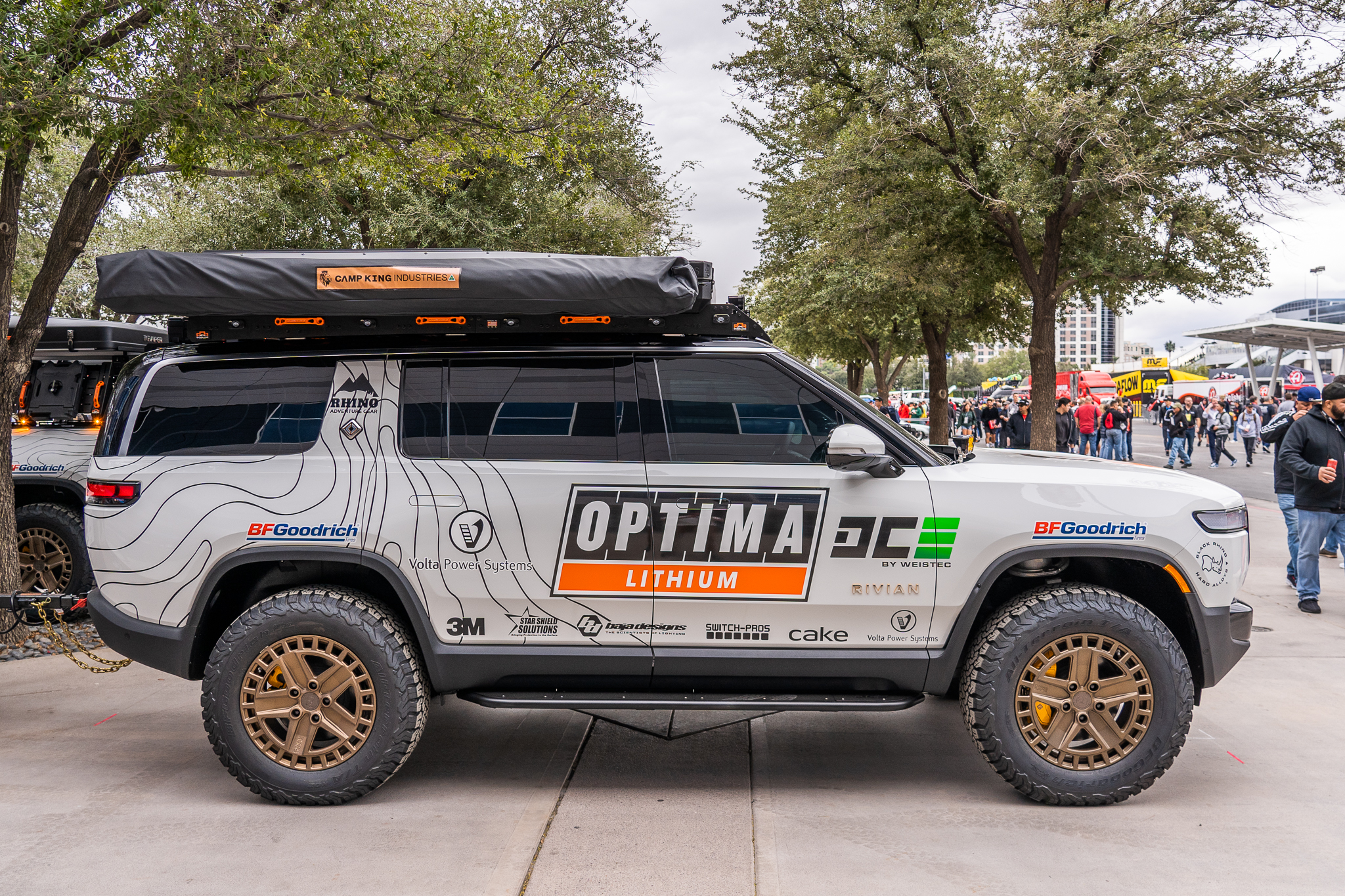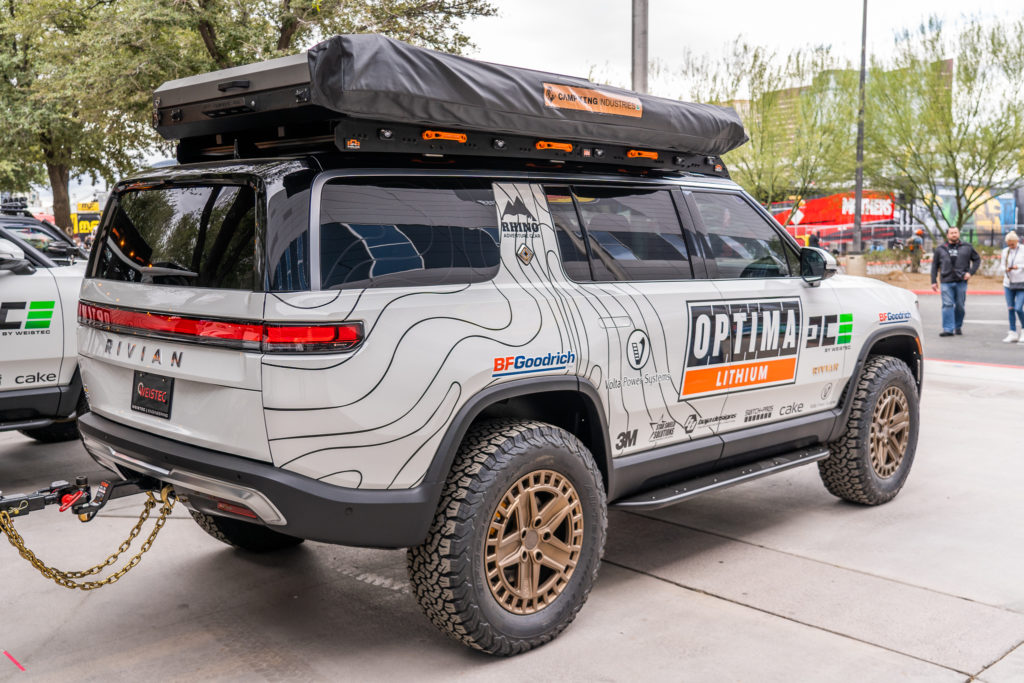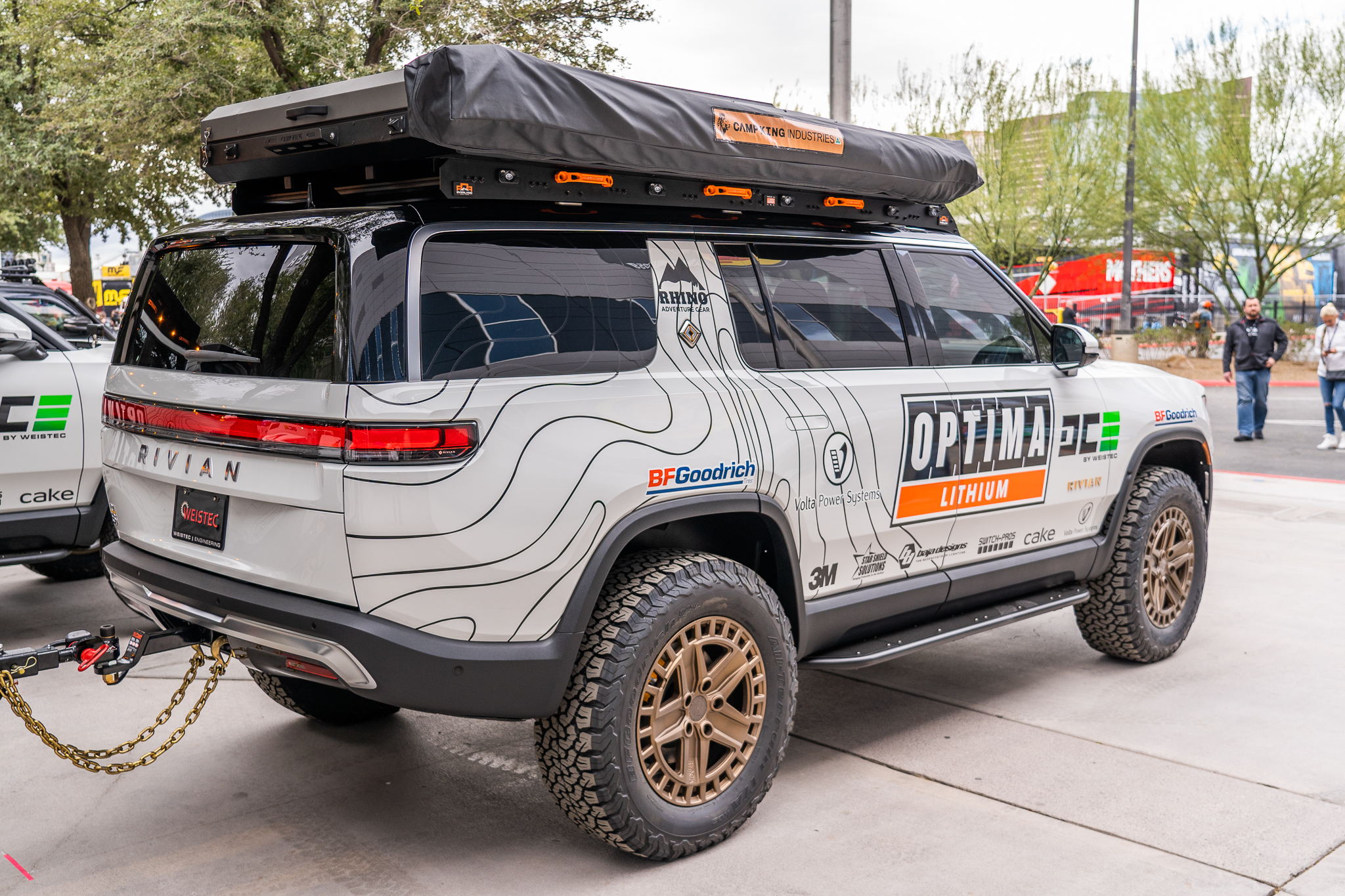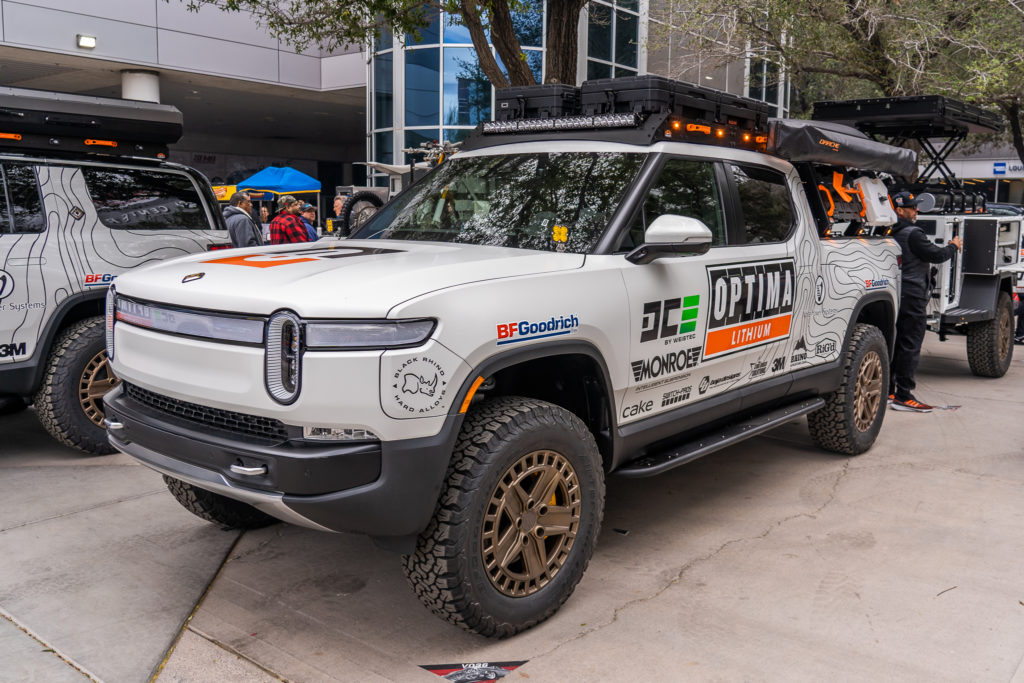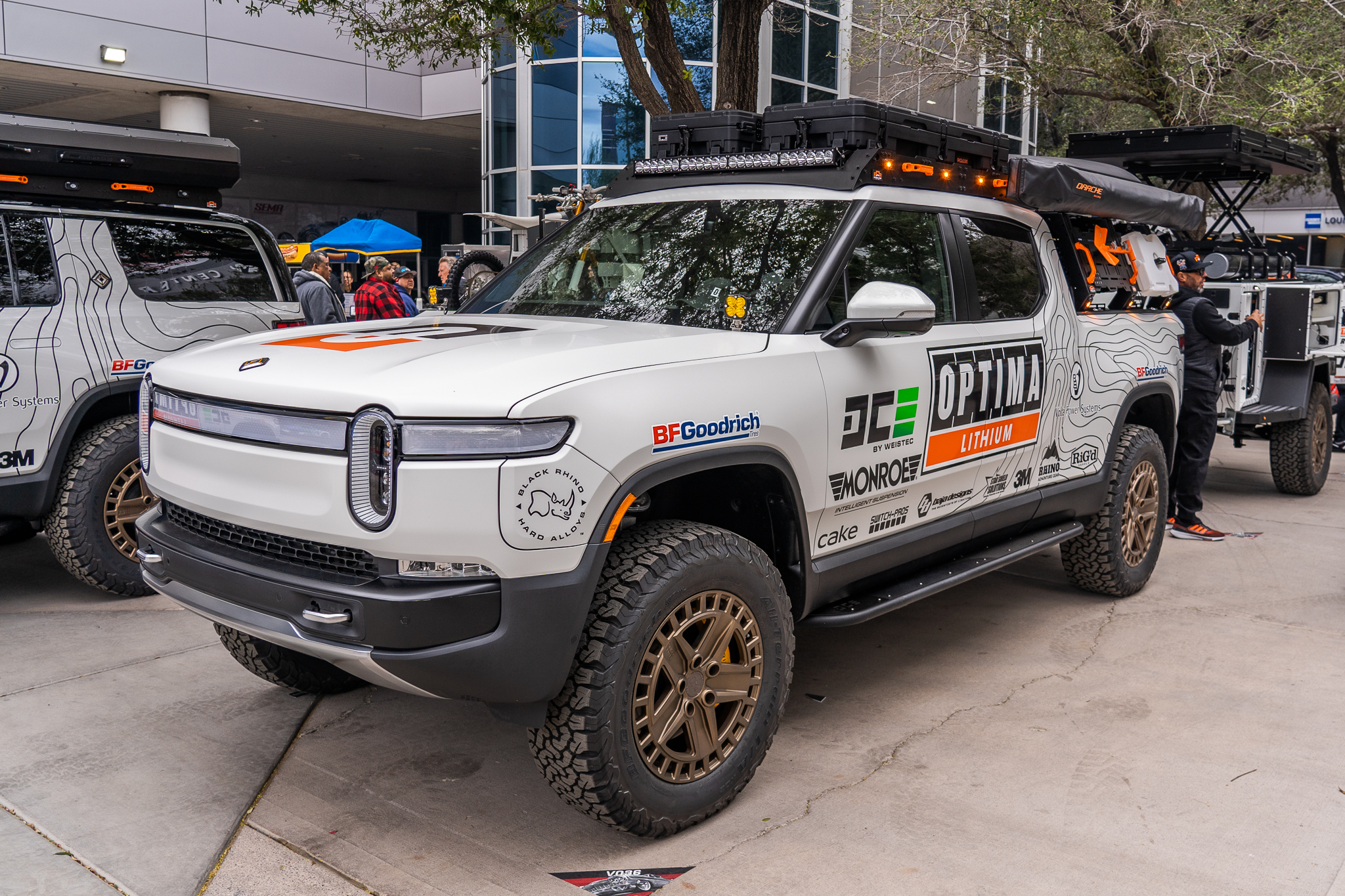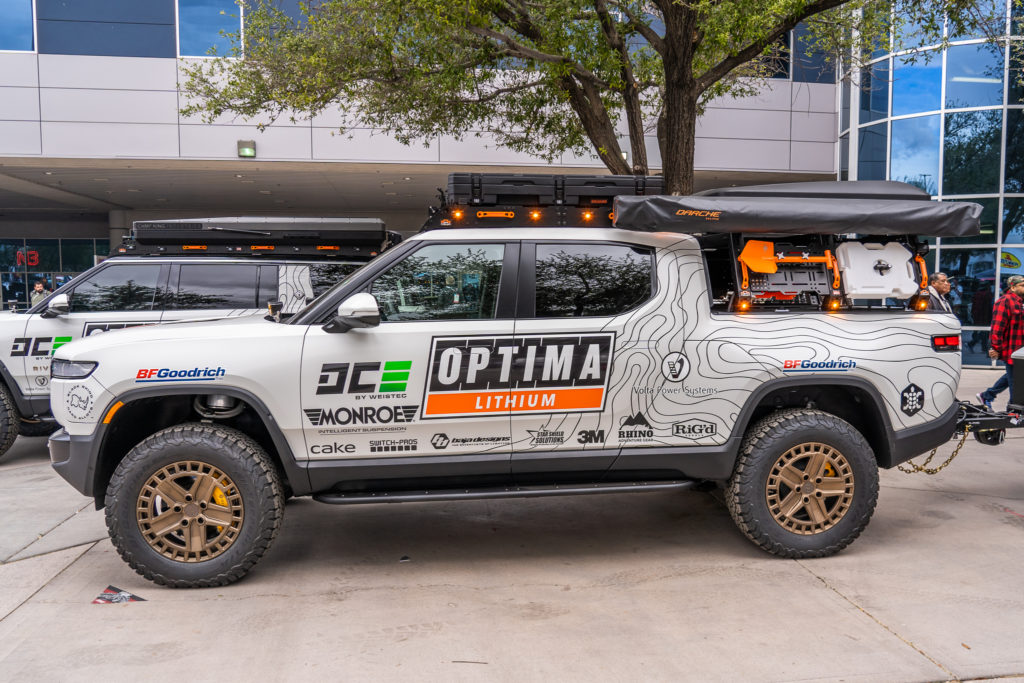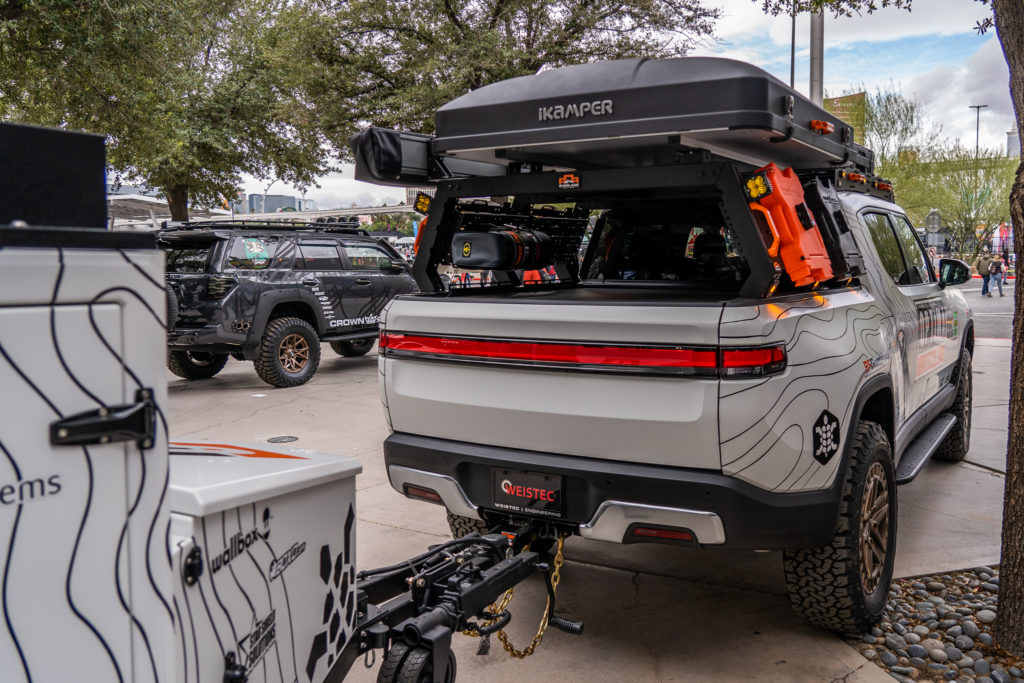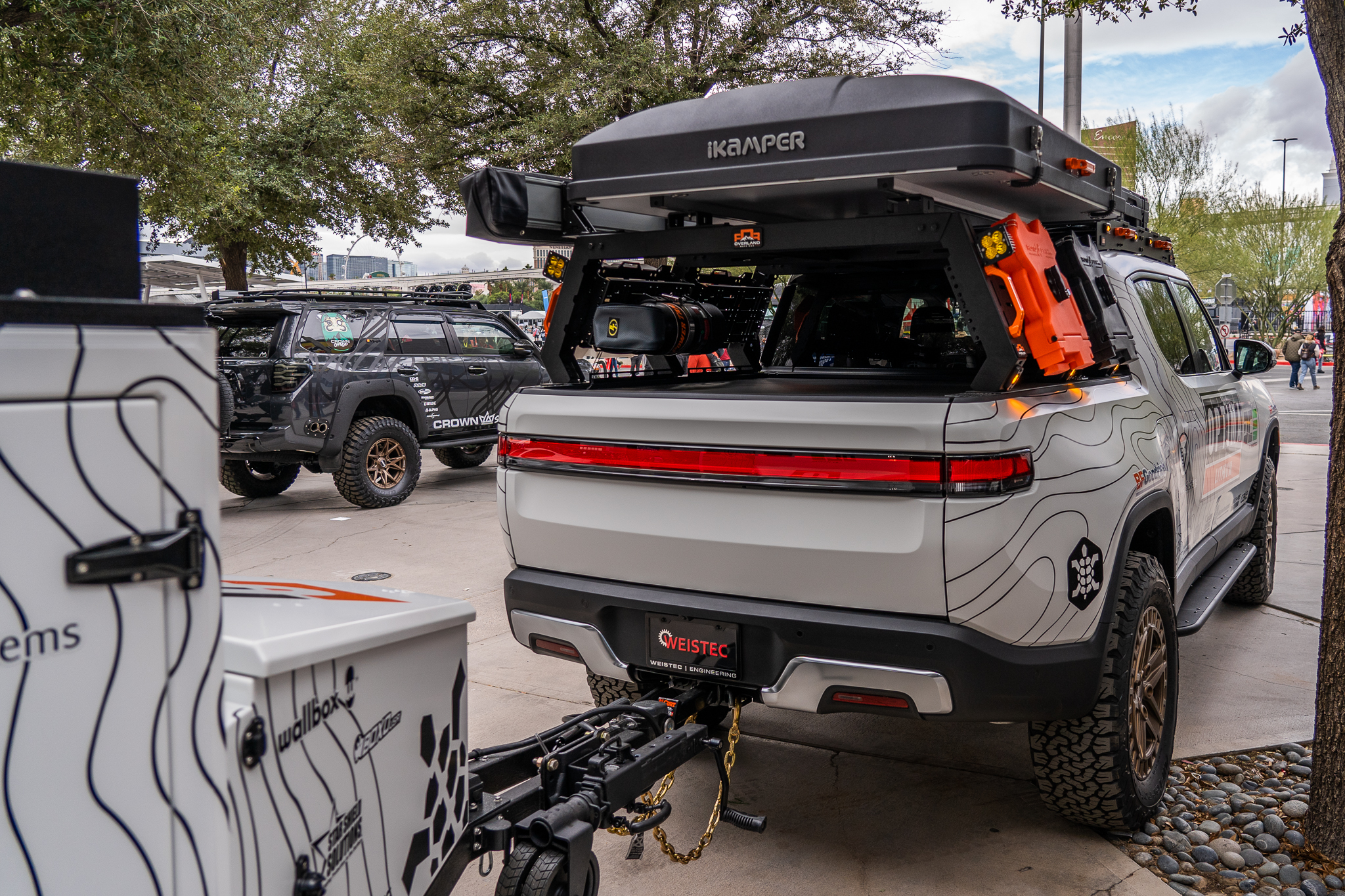 These gorgeous Rivian R1T and R1S were the most brilliantly modified Rivians I have seen yet. Both were pulling Turtleback trailers. And the R1S has some E-bikes on it, too, underscoring the dedication to all-electric mobility. With rock sliders, rooftop tents, and awnings, there doesn't seem to be anywhere these pure-electric twins couldn't go. Just rad.
Chevrolet Silverado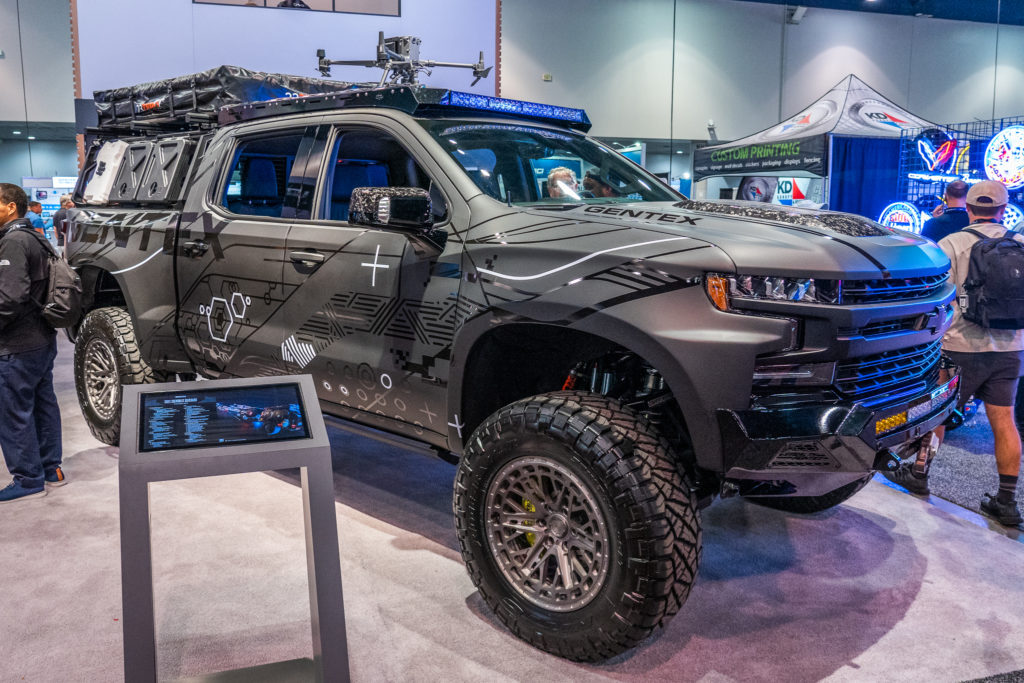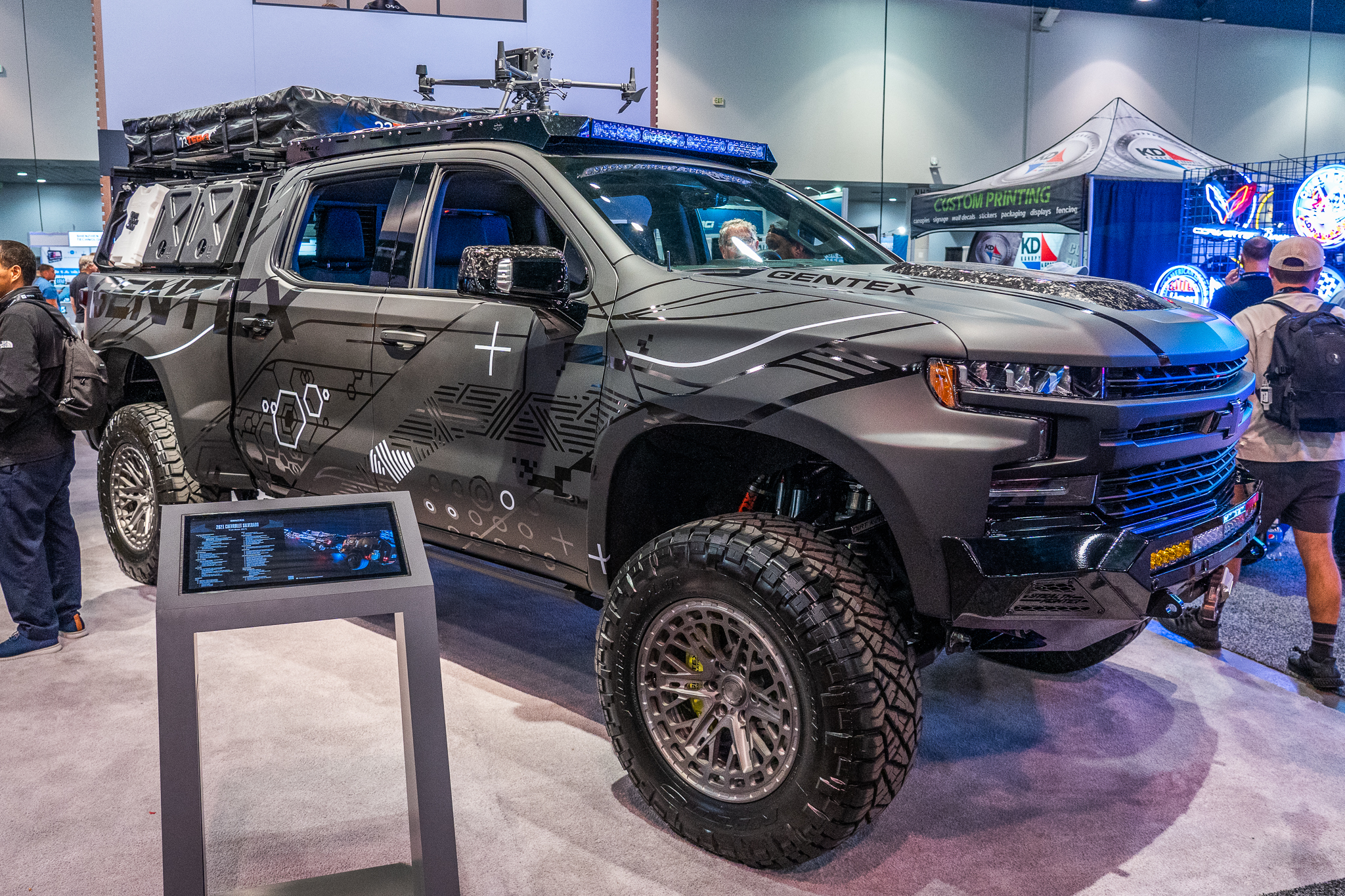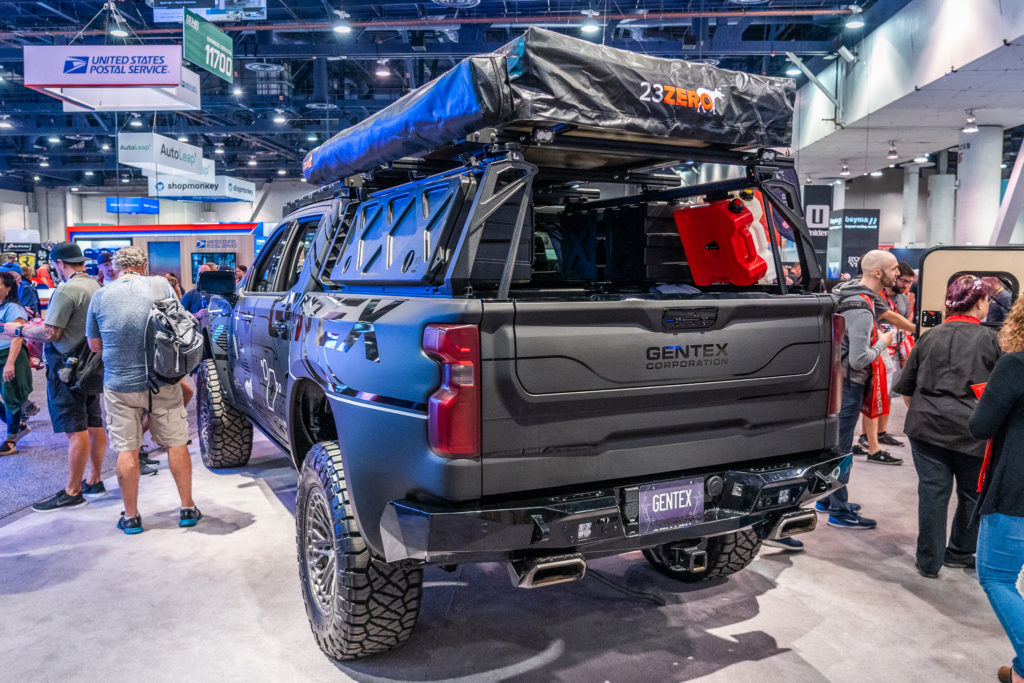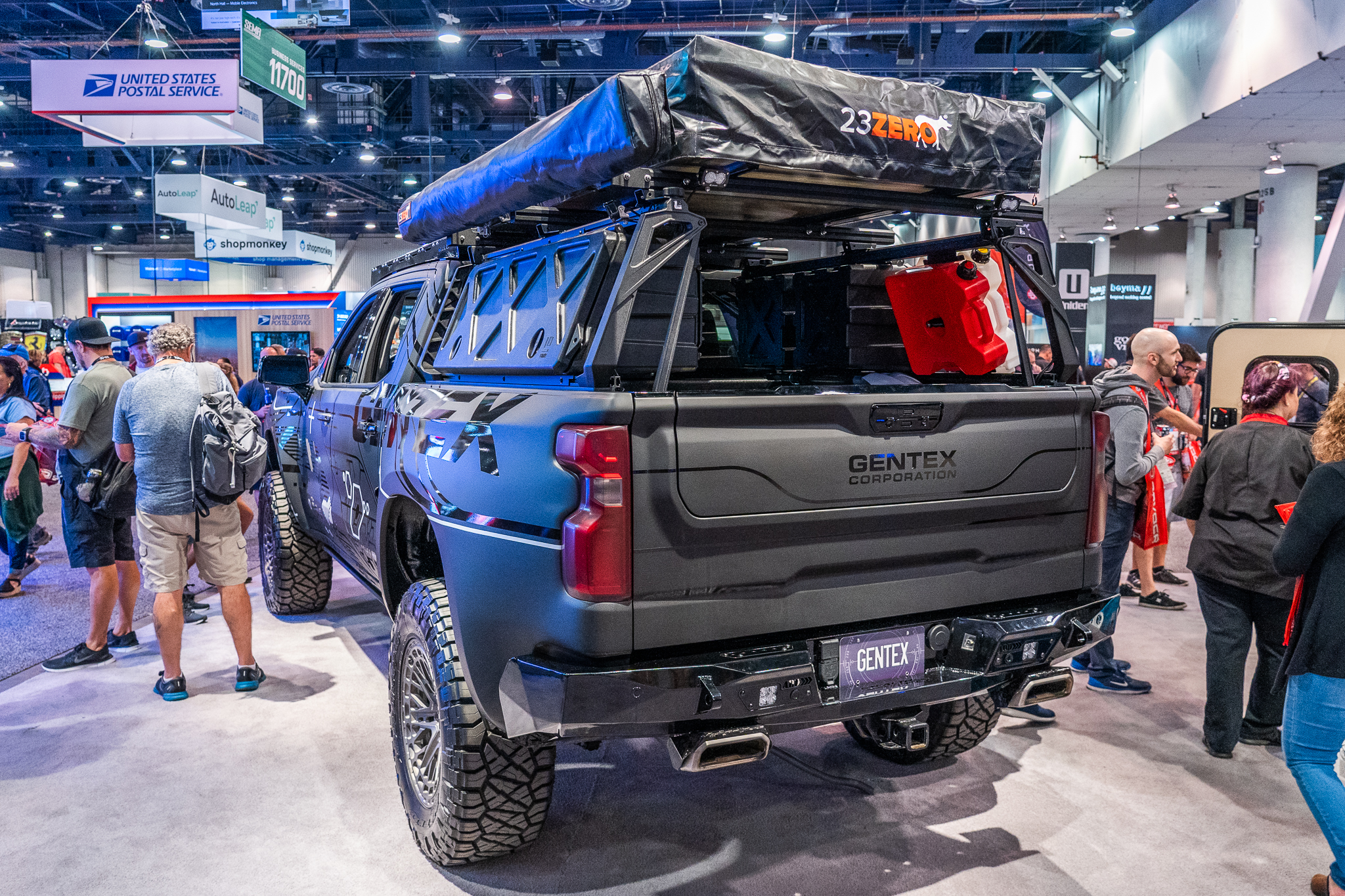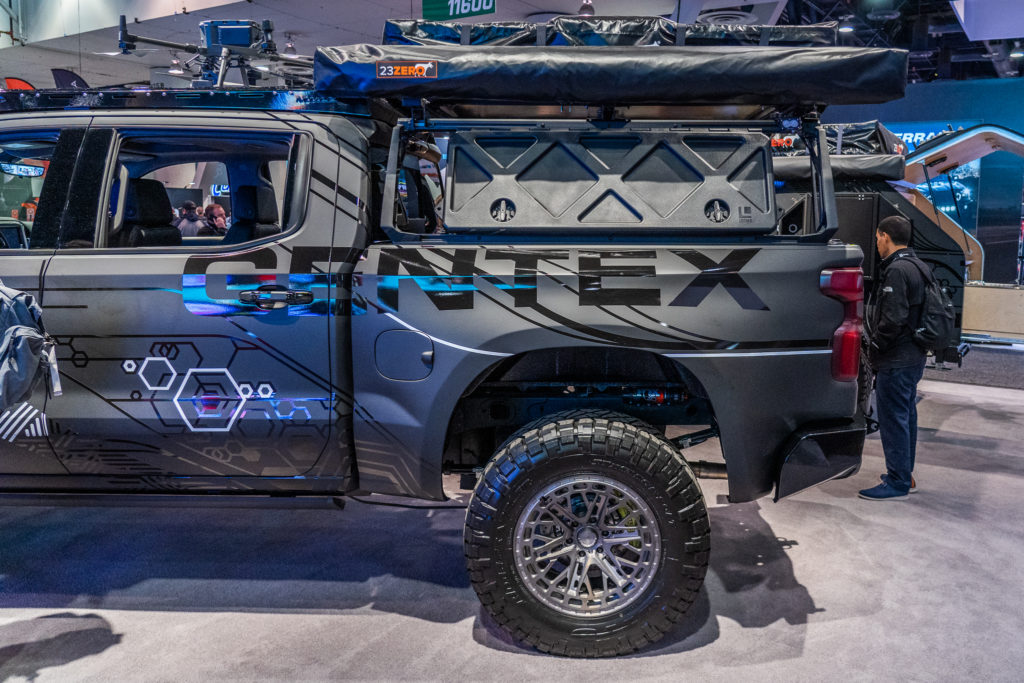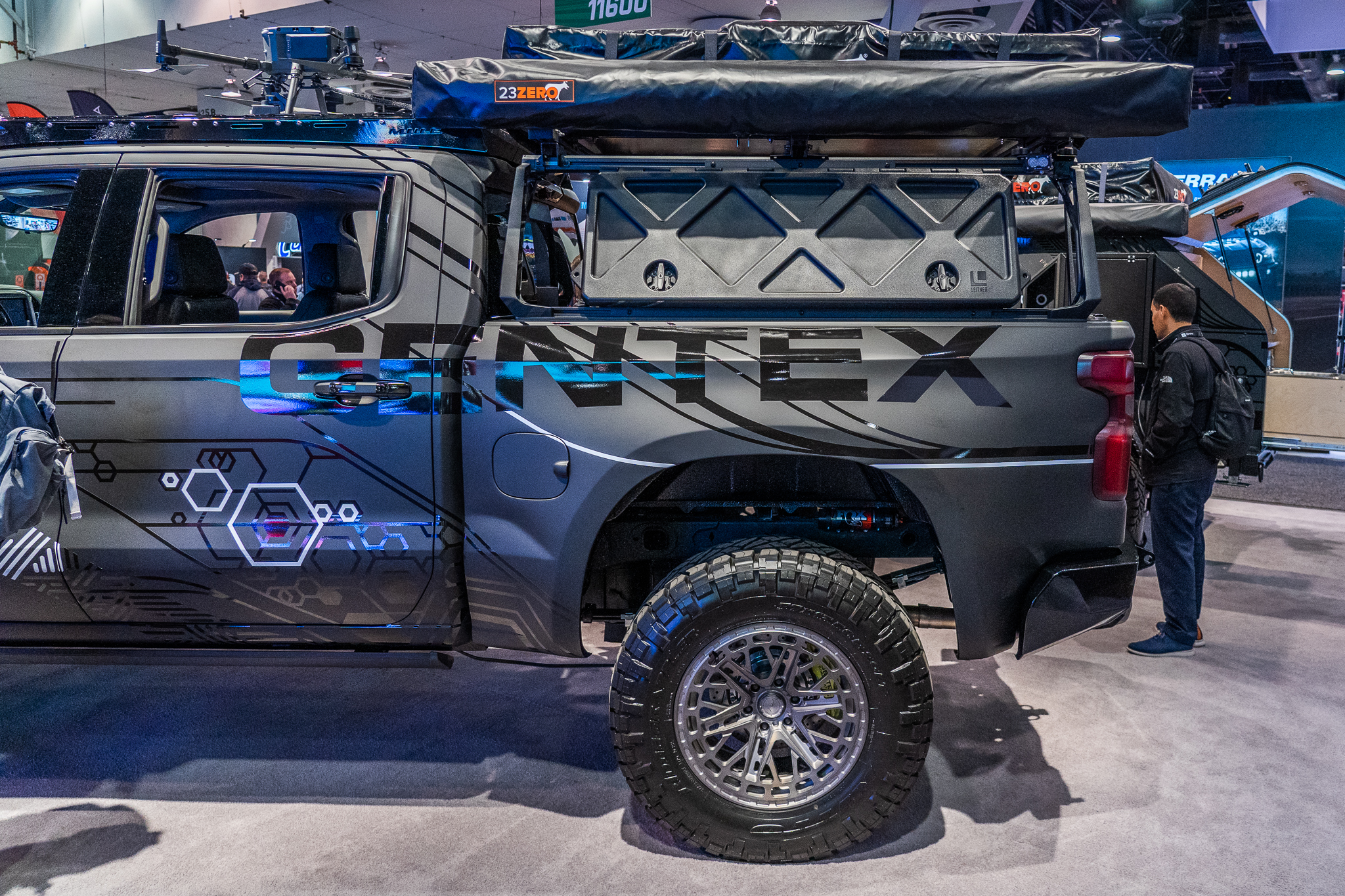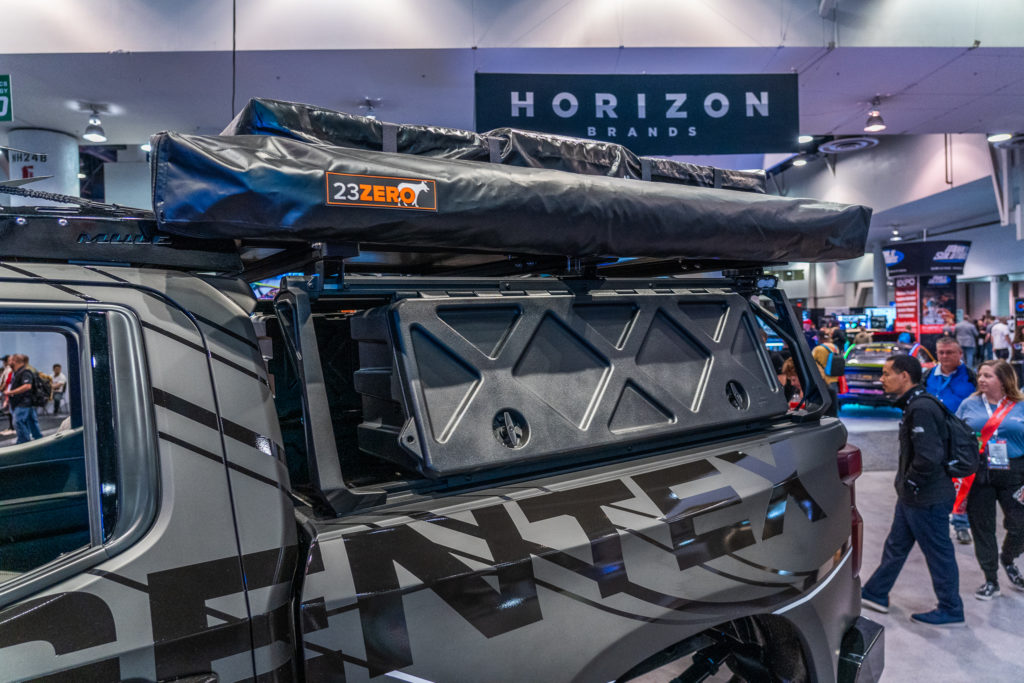 This build was a bit agro for my tastes. But it was the most modified Silverado I could see at the show, and the only truck I spotted with a drone on its roof. Save the shouty wrap, I really liked the stance.
I was most smitten with the truck's use of Overland Expo exhibitors' gear, Leitner Designs and its ACS Forged rack and 23 ZERO's rooftop tent. Yeah, this thing is a bit post-apocalyptic for my tastes. Still, it was the standout Silverado from the show. So, it deserved to hit this list.
2022 Toyota Tundra TRD Pro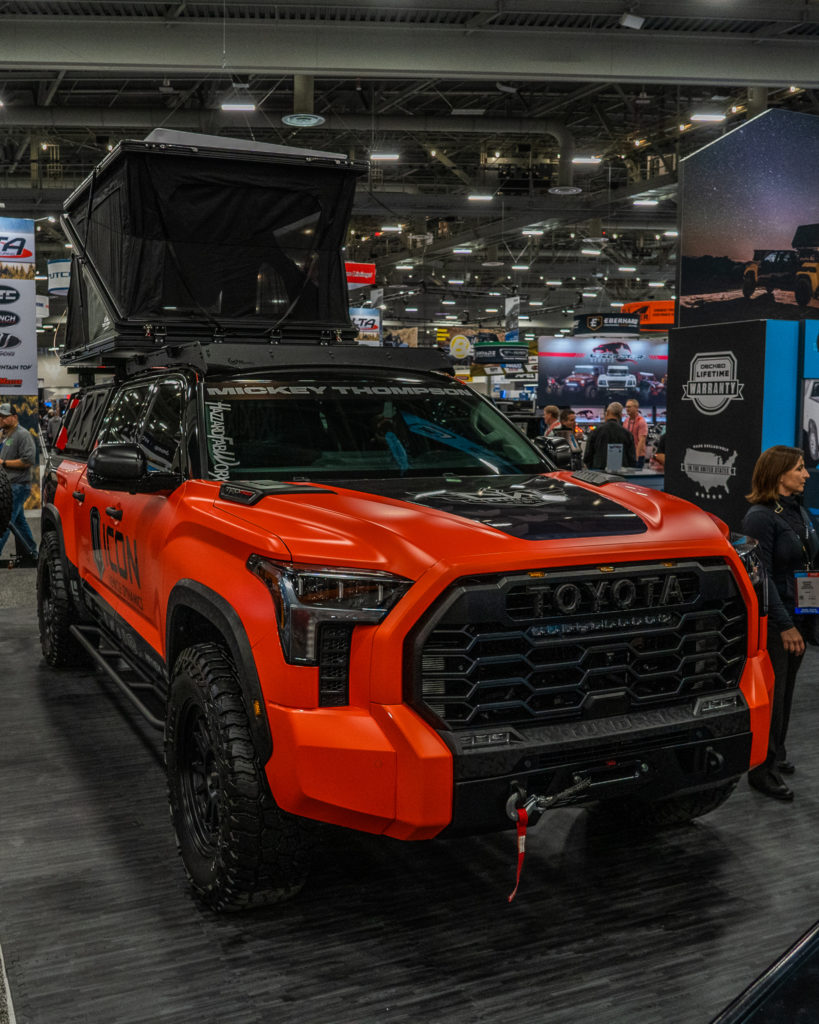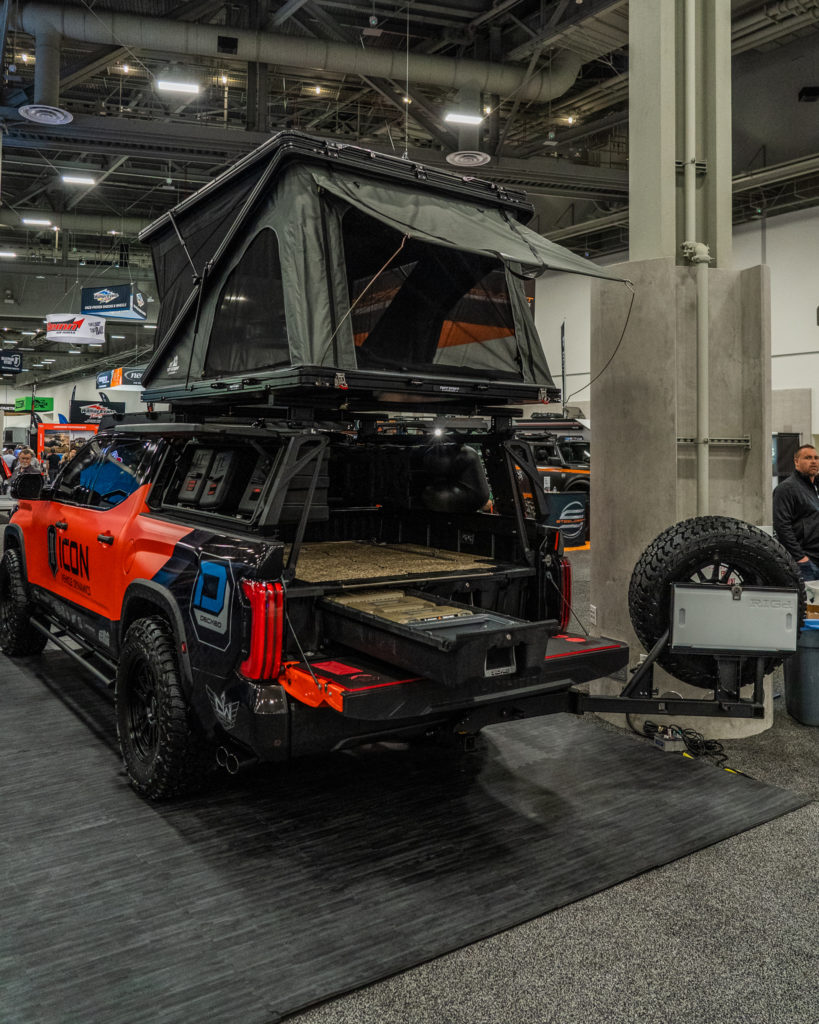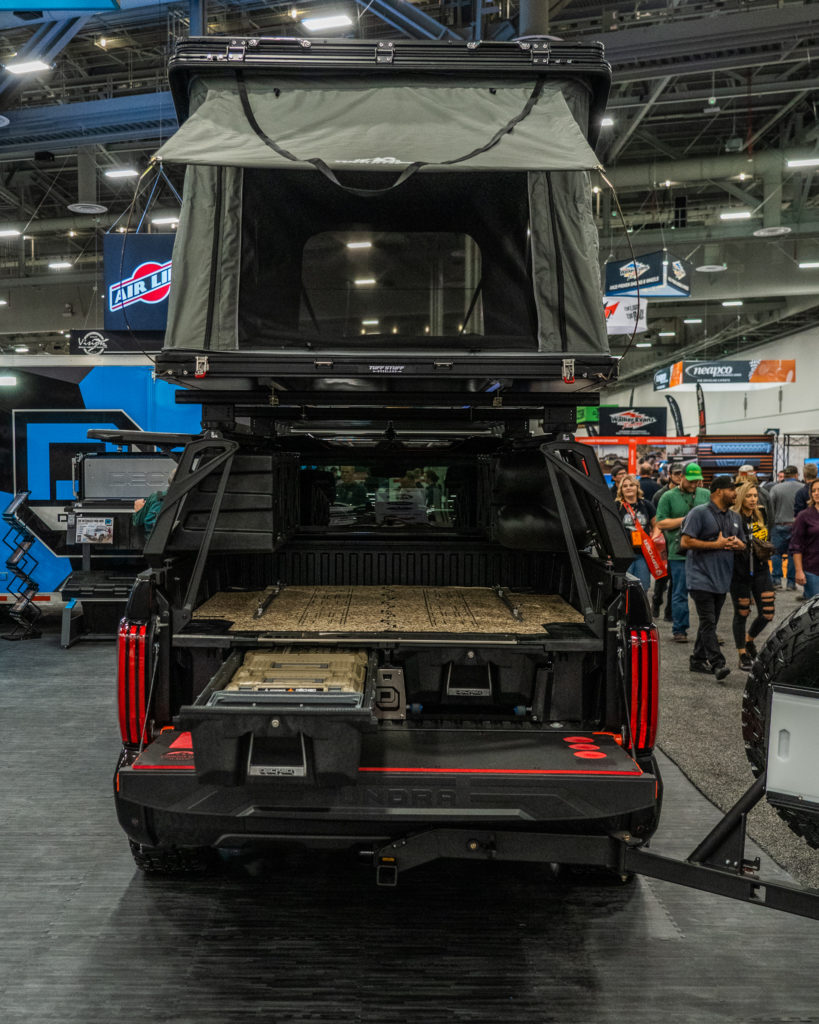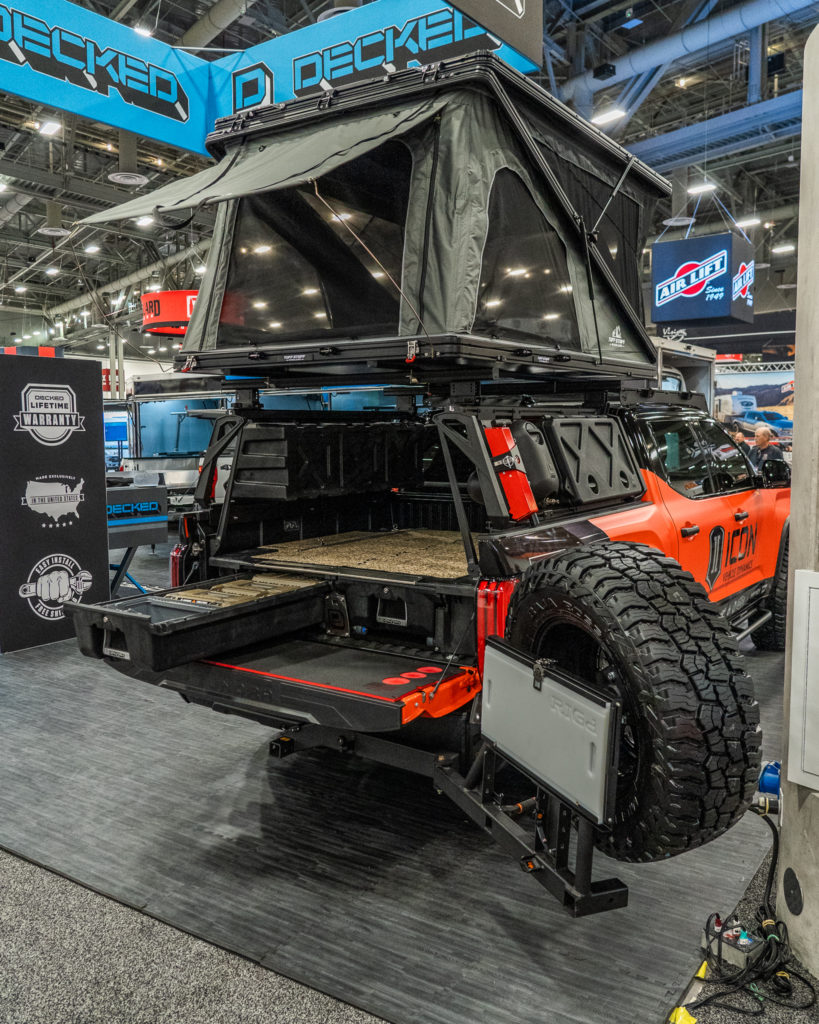 This lovely beast was parked in the DECKED booth. It's about as keenly outfitted third-gen Tundra TRD Pro as I've seen. Up front, the owner, Tim, added a sleek winch bumper and some sliders along the side. In the back is the rear pièce de résistance is what he's done to the back. To get to the bed, you must swing away the RiG'd Supply Ultraswing. Drop the tailgate and you'll find a Mountain Hatch Tablegate Table. In the bed is a DECKED Drawers System — no surprise there. It's topped with DECKED's new Seadek mat. Above the bed is a Leitner ACS Forged rack, which is topped with a rooftop tent. I really dug this truck,.
Jeep Wrangler JLU with Rubber Track System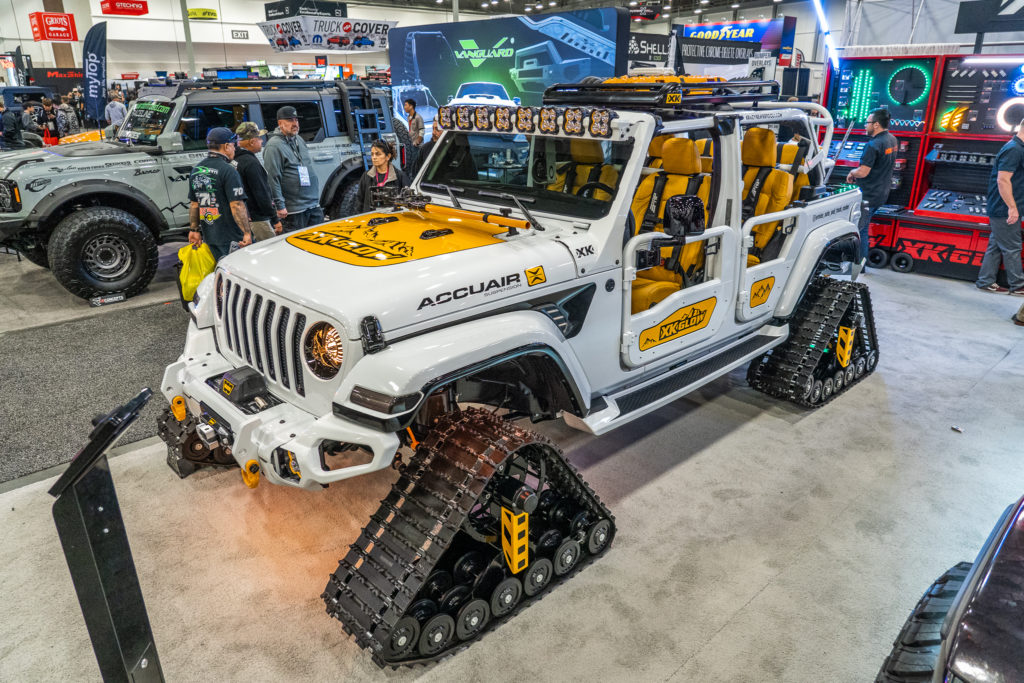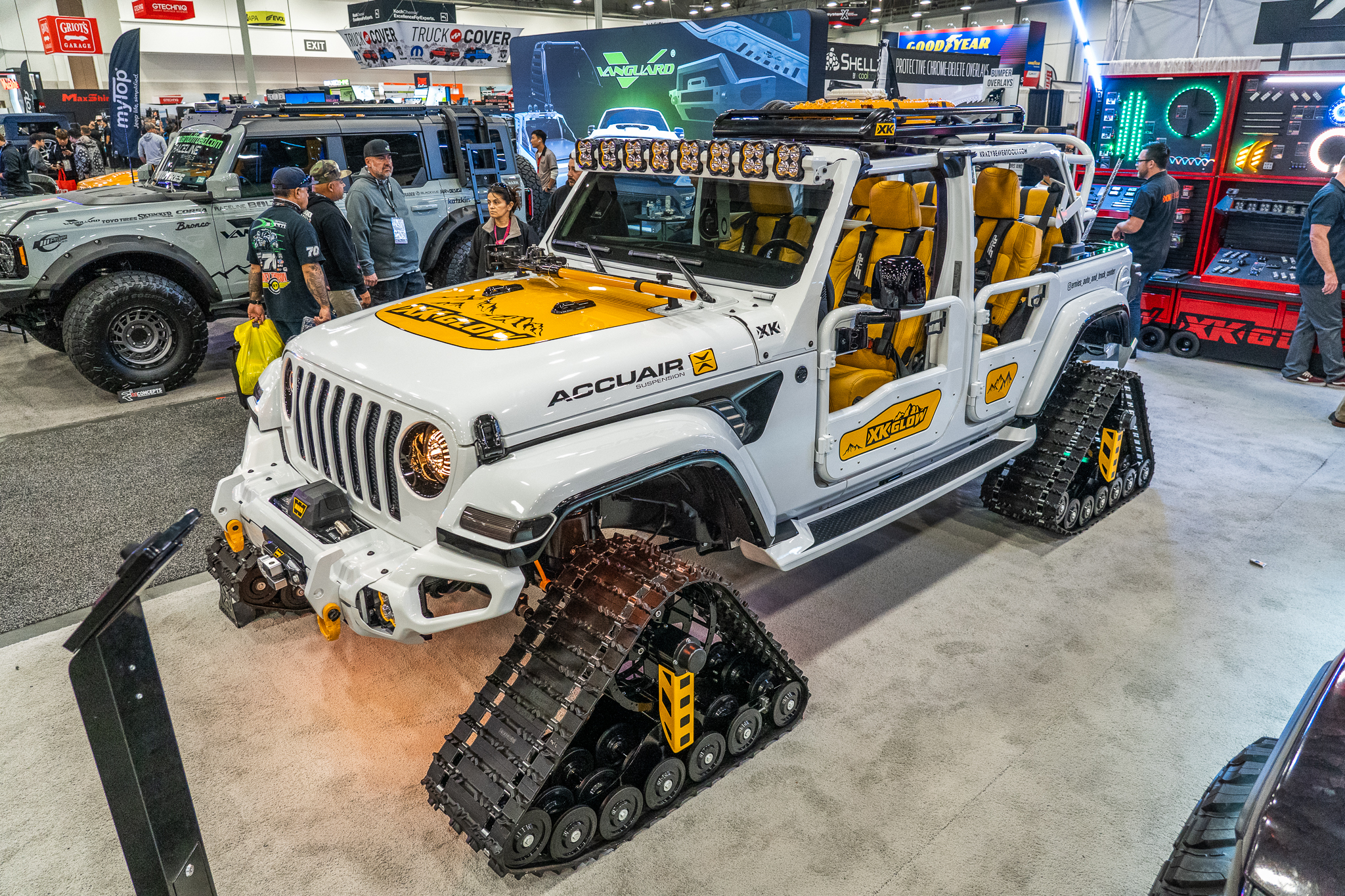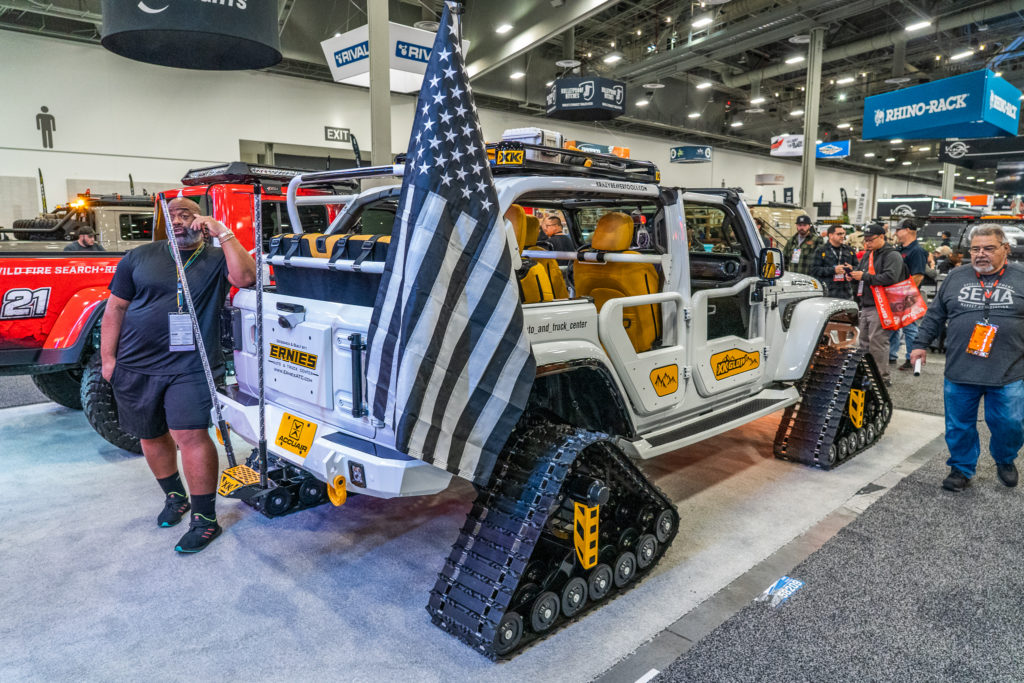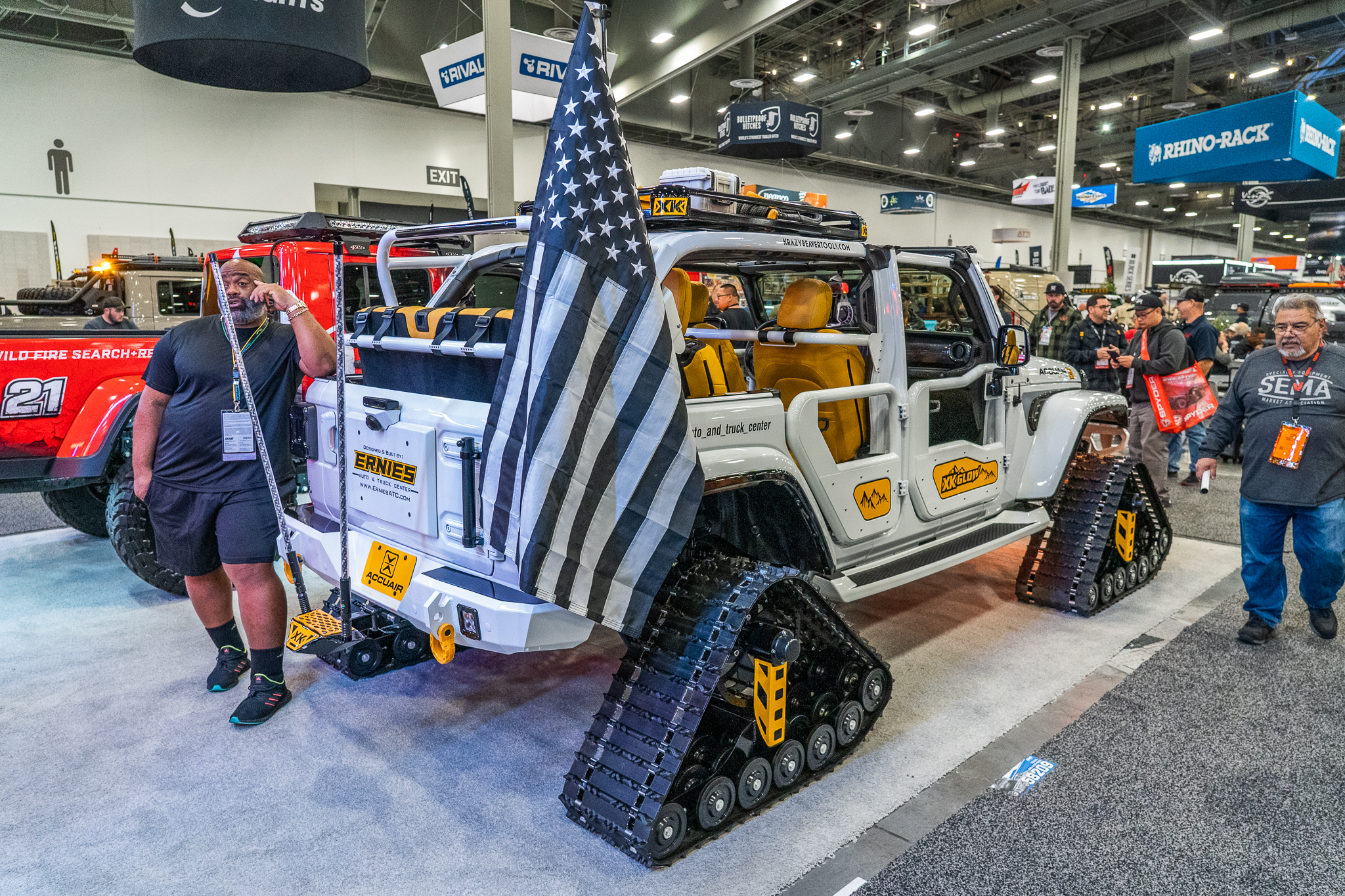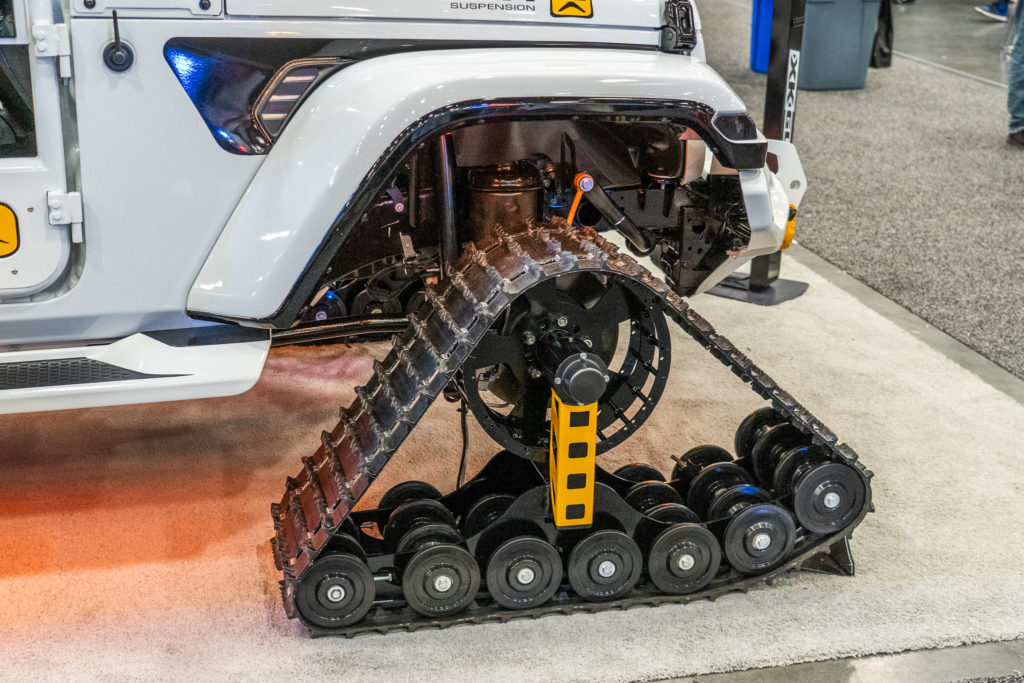 Would I ever take this overlanding? Nah. Is it hilariously neat? Yes. This thing is just about as SEMA as it gets, with a rubber track system replacing the stock wheels and tires.
And they topped off the ridiculousness with XK Glow lights, tube doors, and a black and white American flag. It's totally useless and totally fabulous all at the same time.
2022 Ford Bronco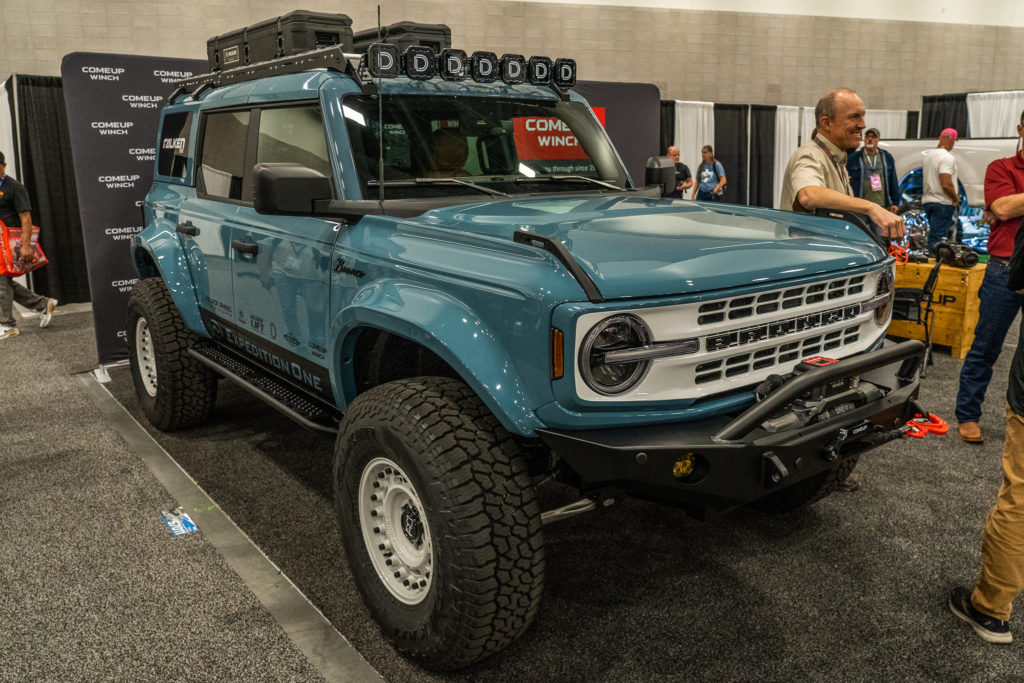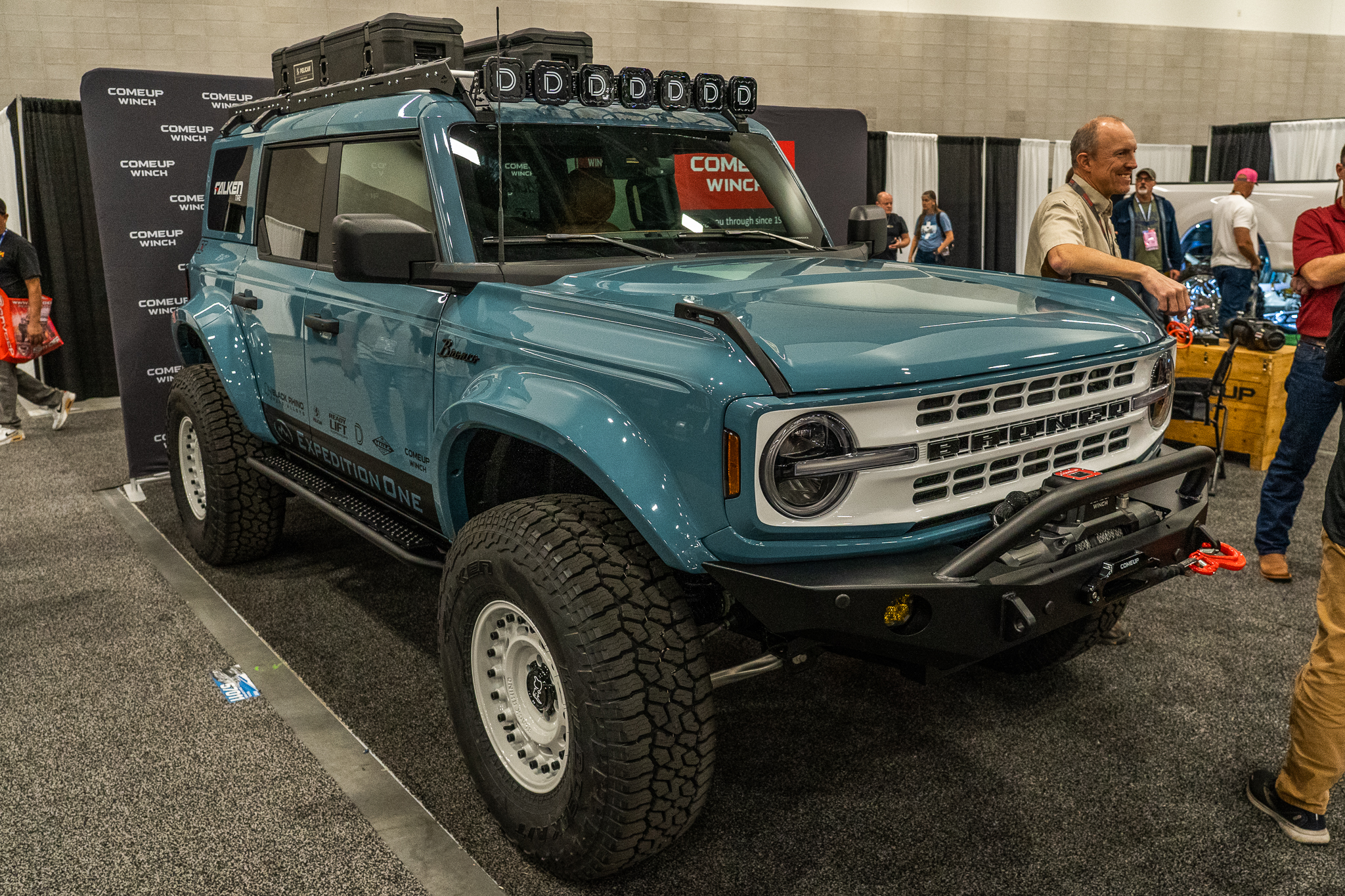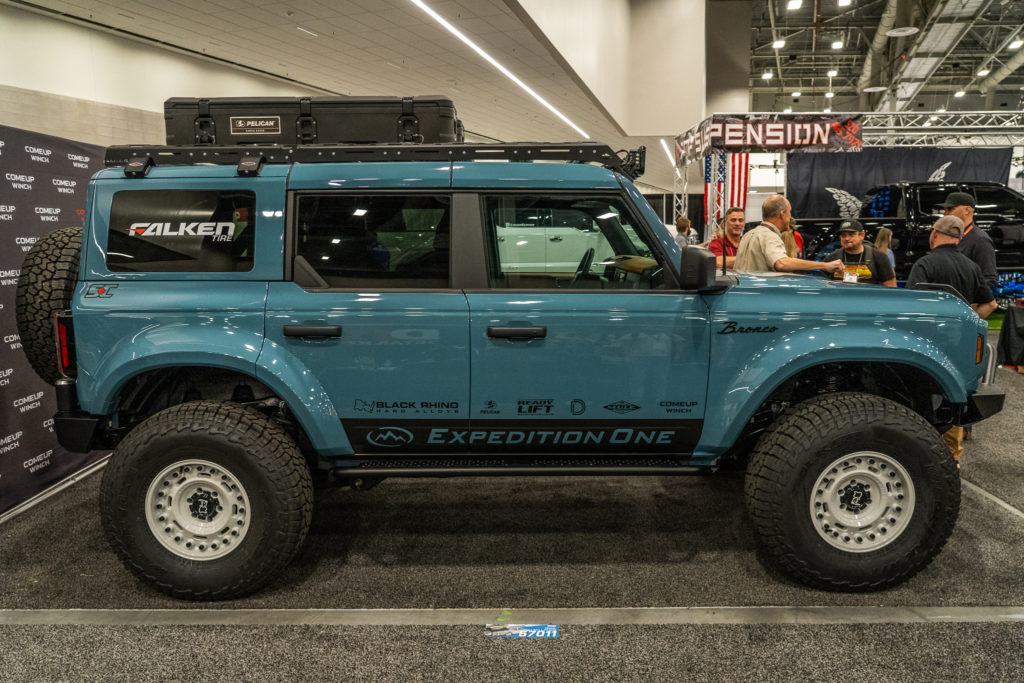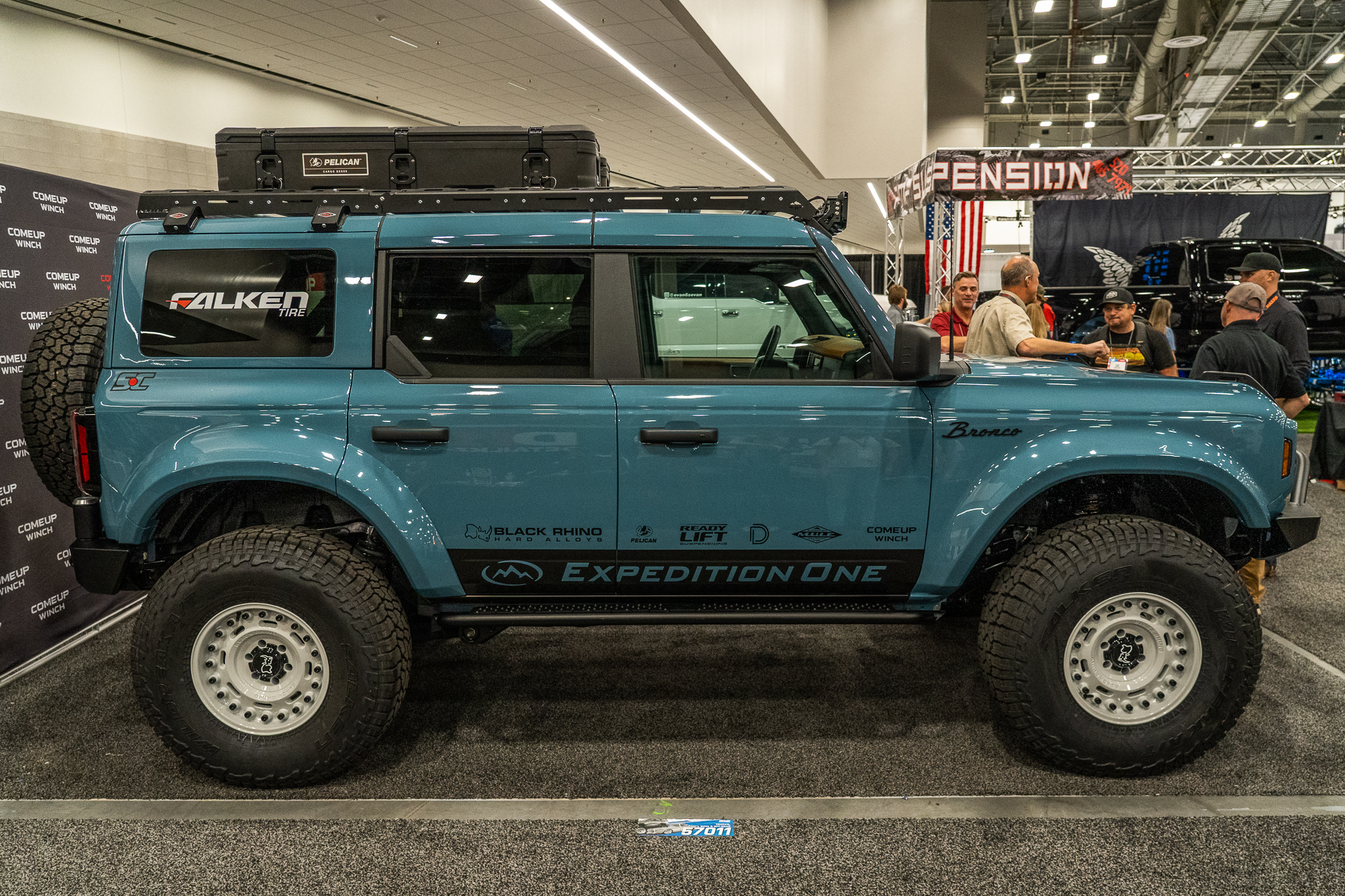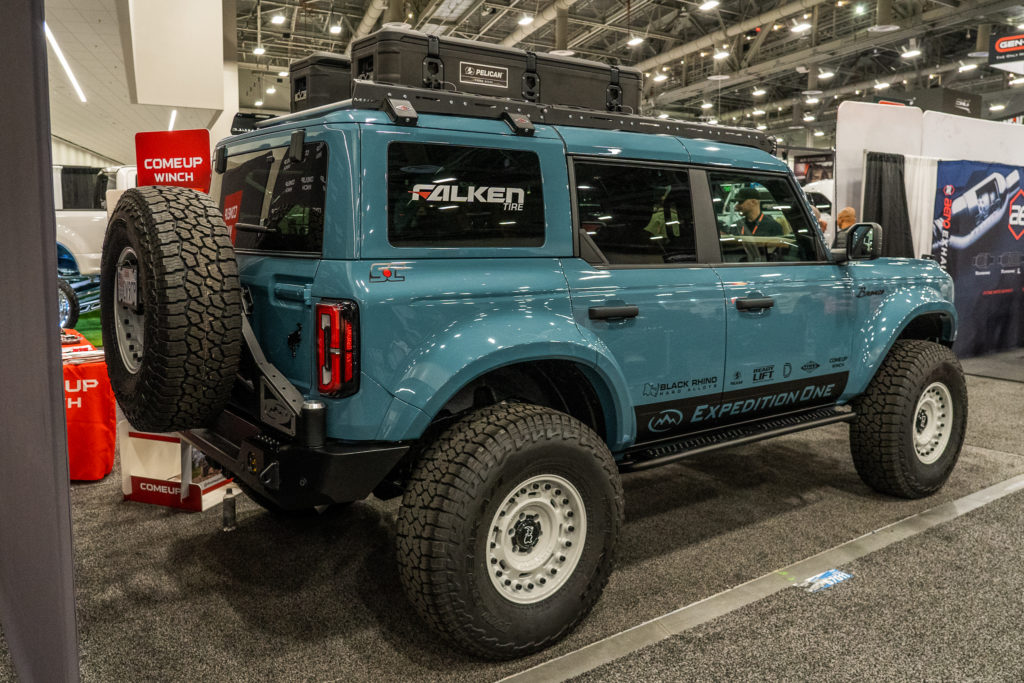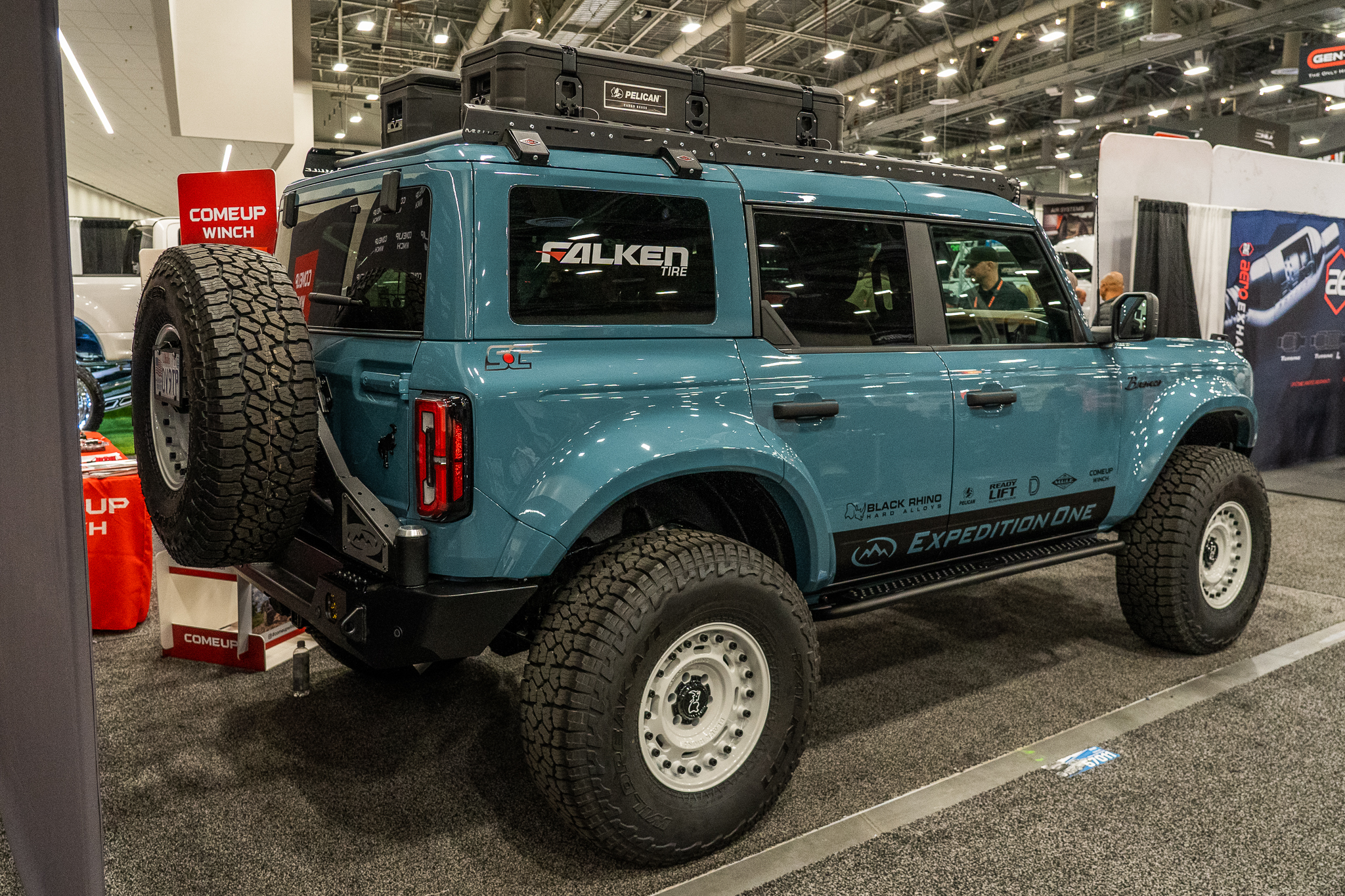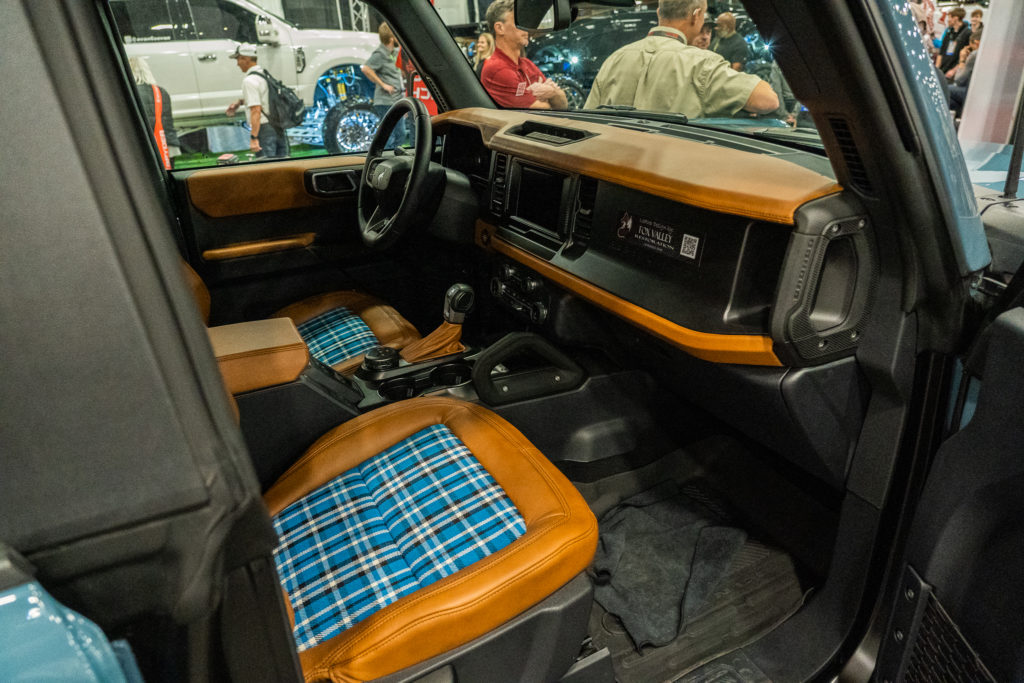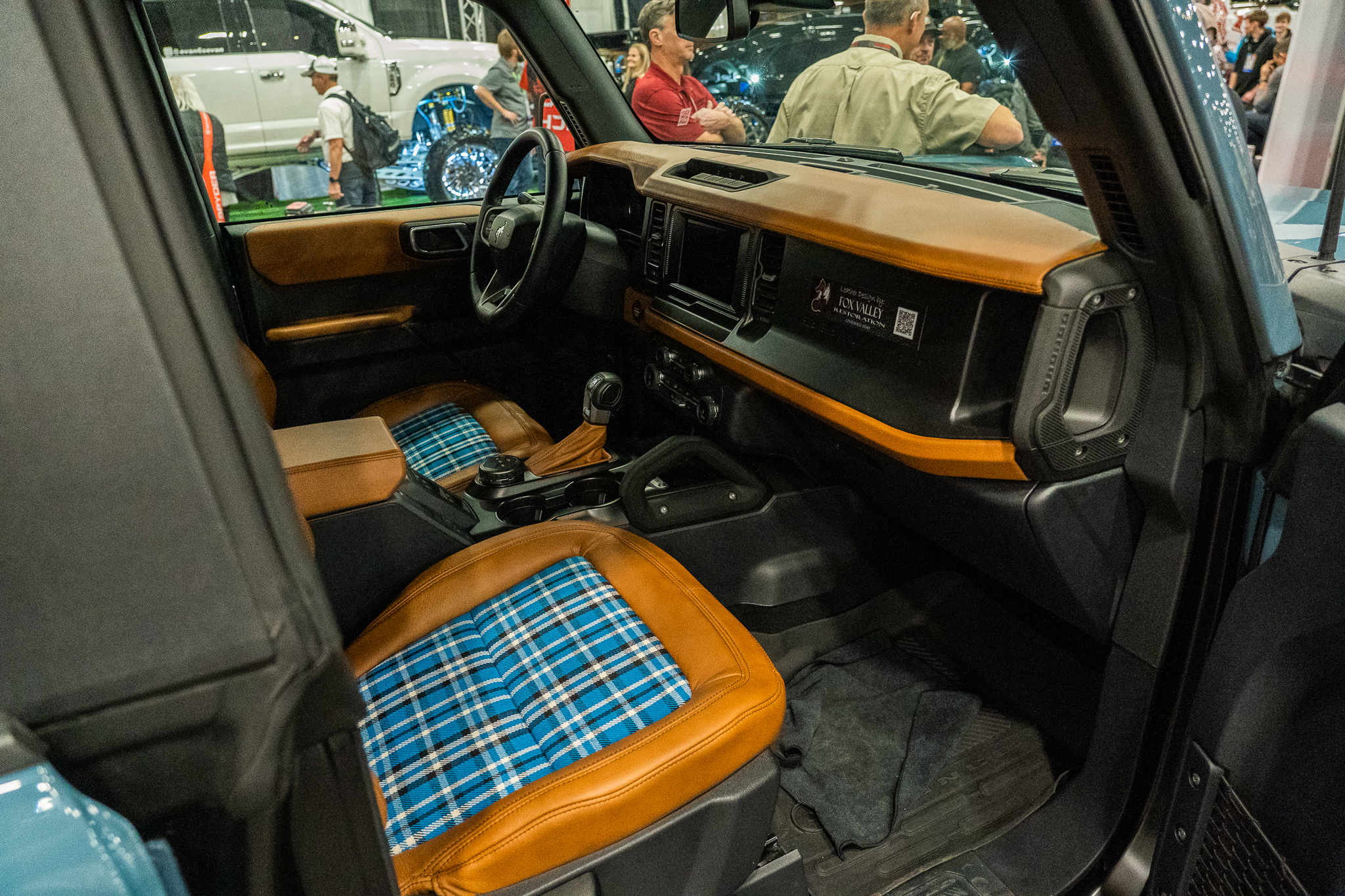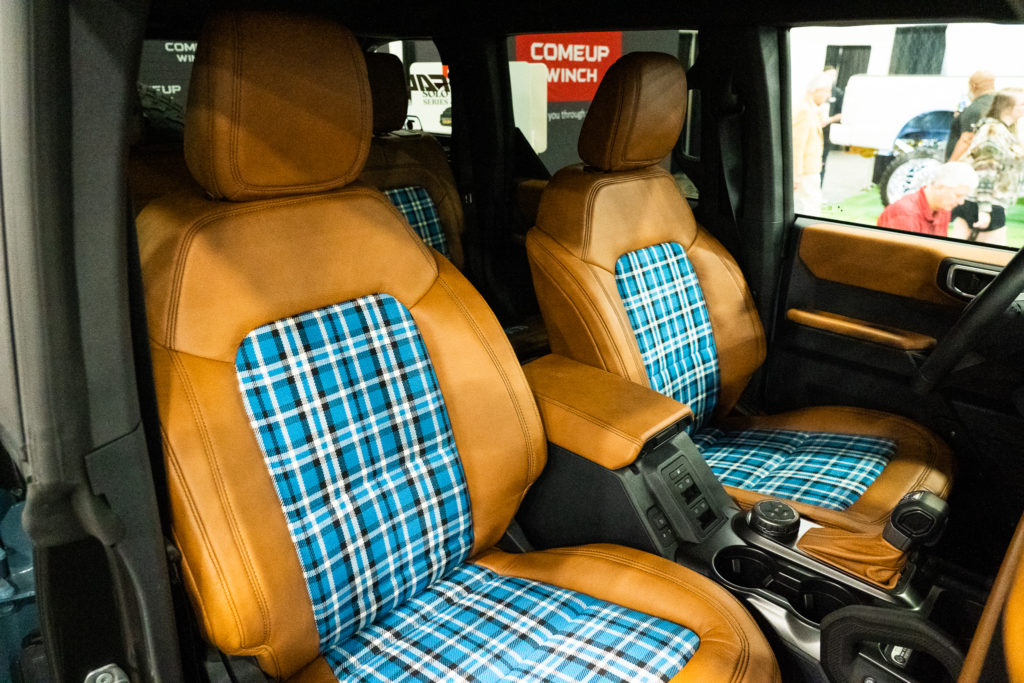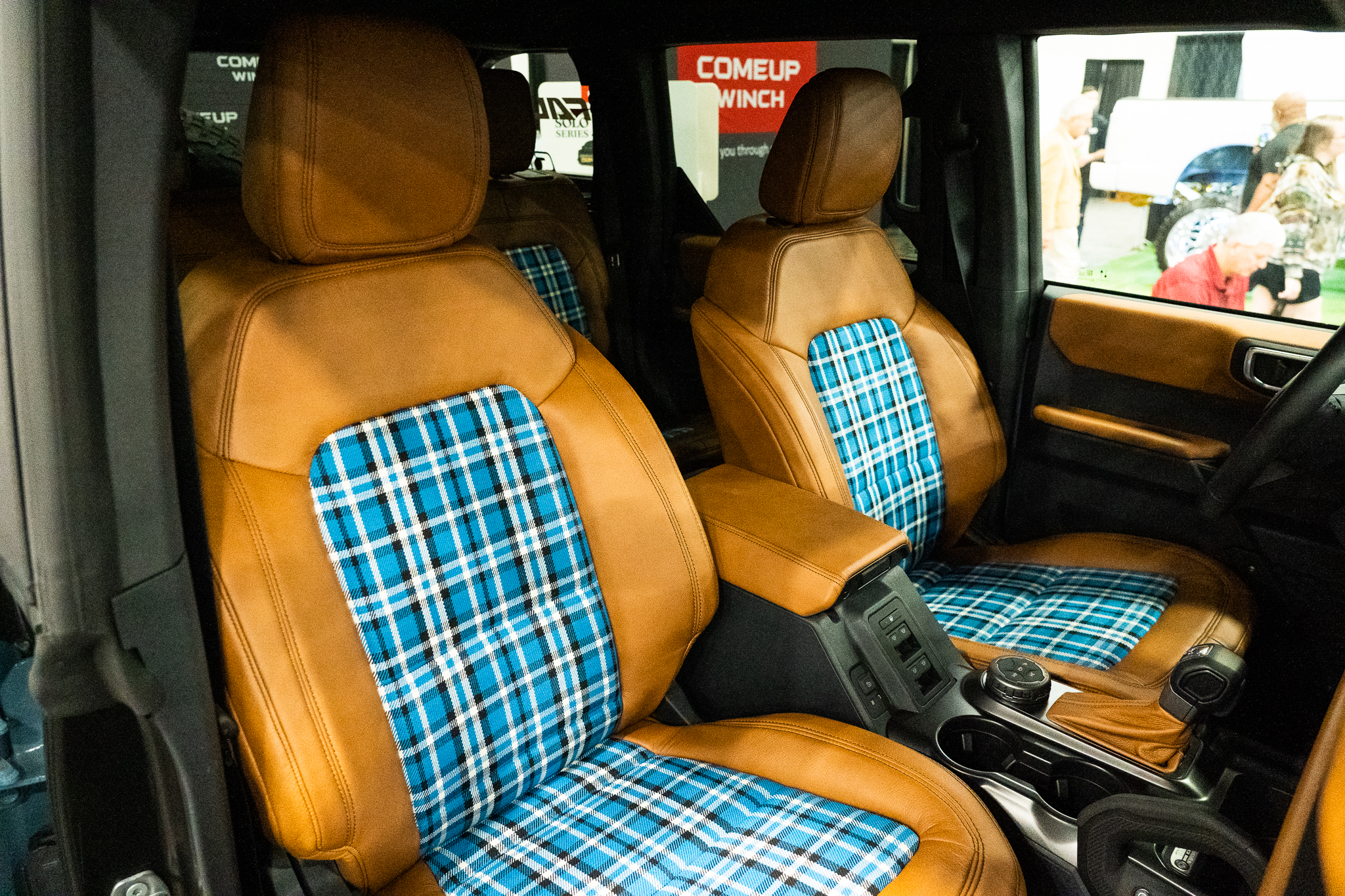 I spied this bad boy over at the Comeup Winch booth. There were just shy of a billion built Broncos at SEMA 2022. But this one was my favorite. I liked the useful, subtle modifications. I really love the color and body-color-matched roof. The interior is what stole my heart. Someone replaced the stock vinyl with real leather (ohh, the smell was dreamy) with plaid inserts. What a beautiful, capable rig.
Project X's First-Gen Bronco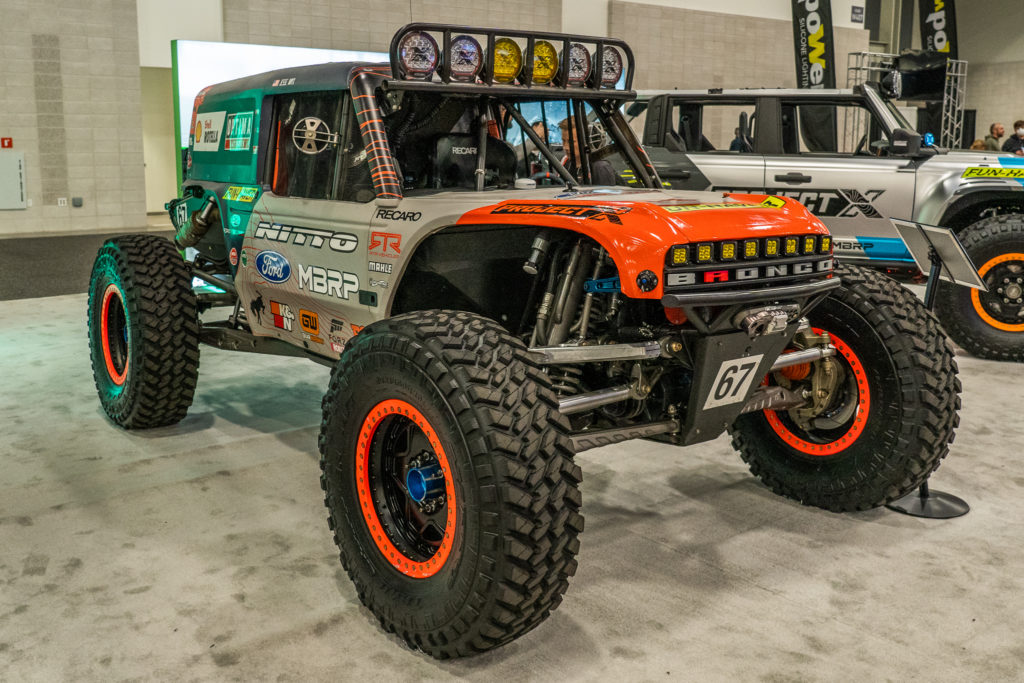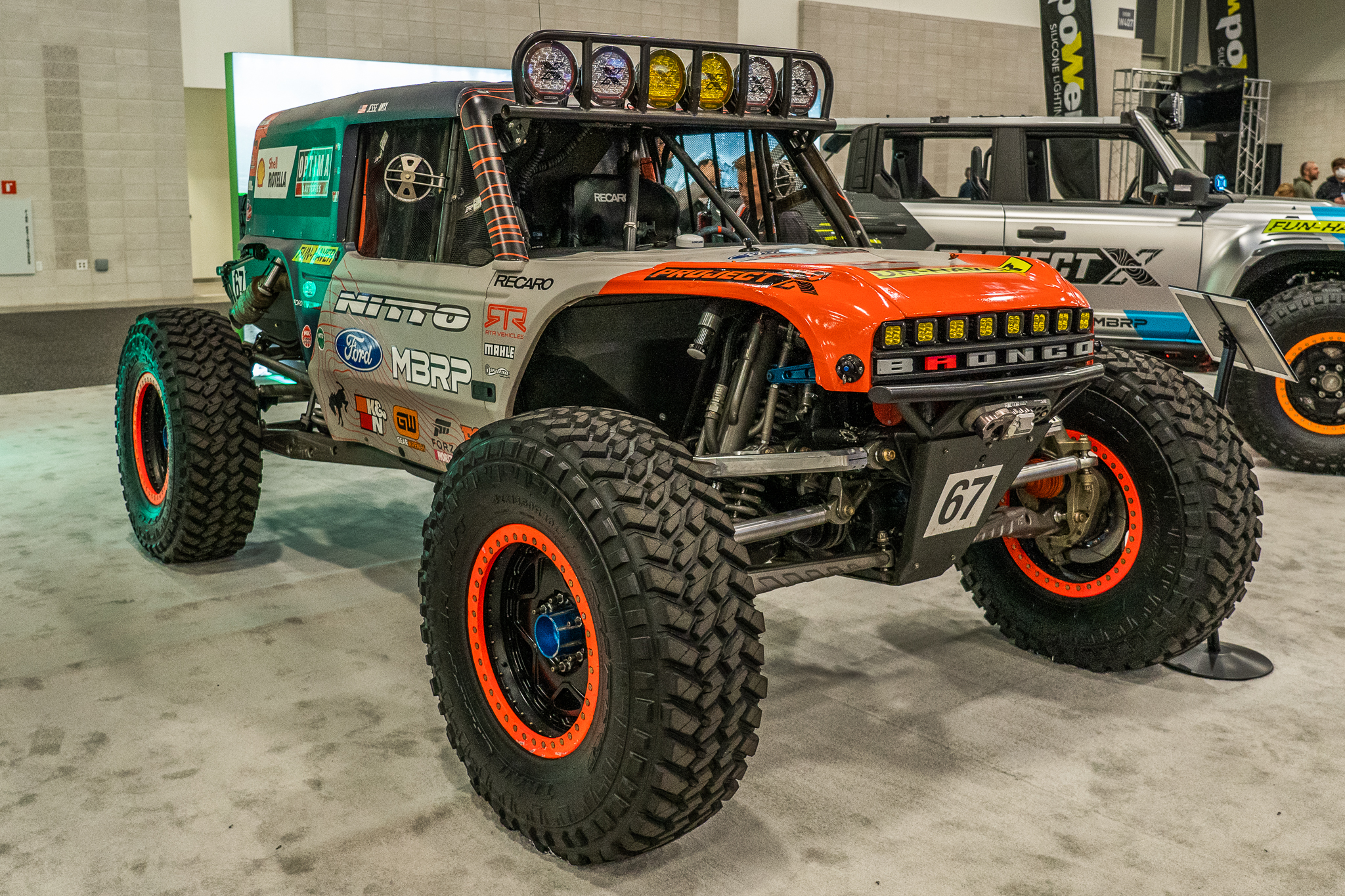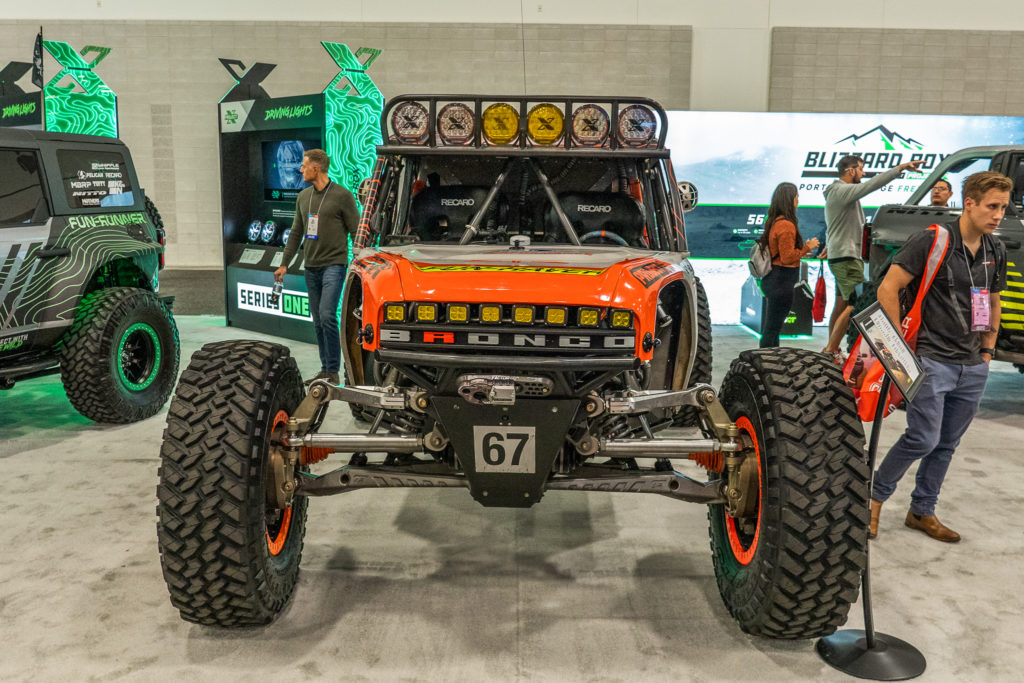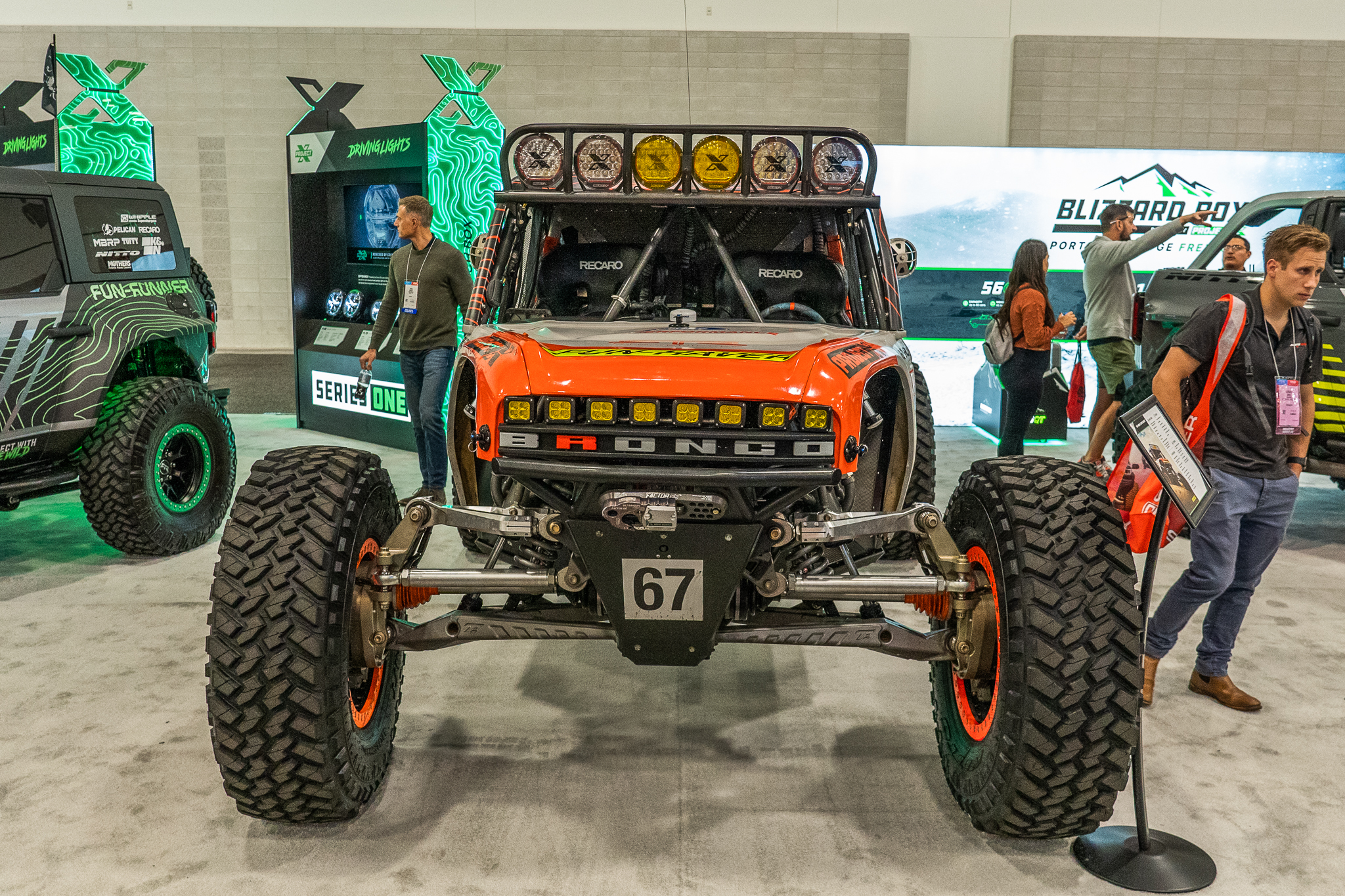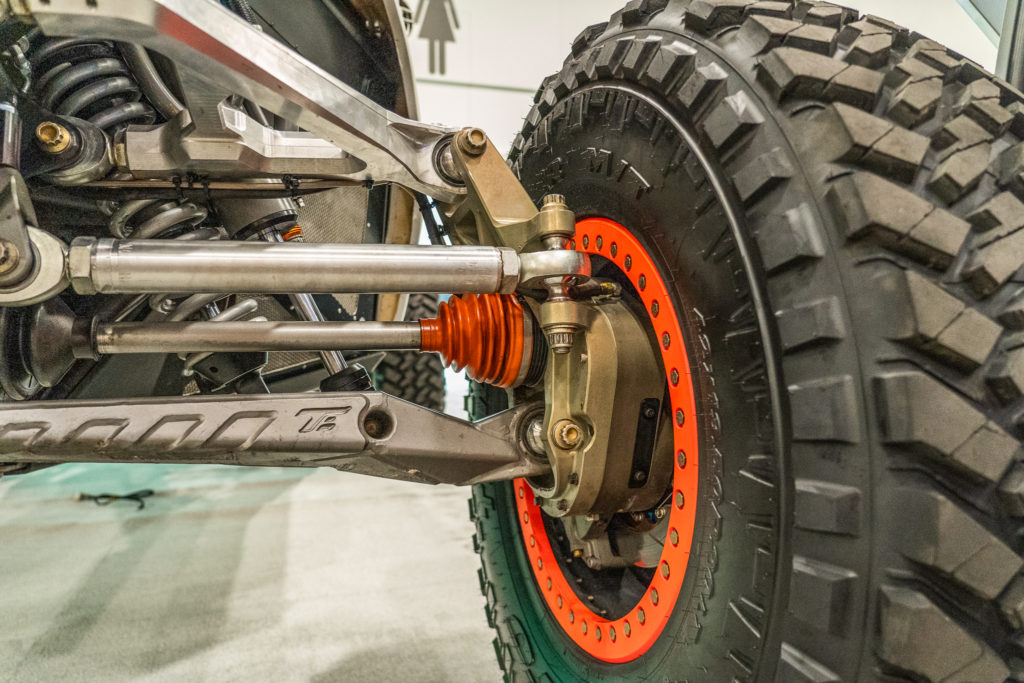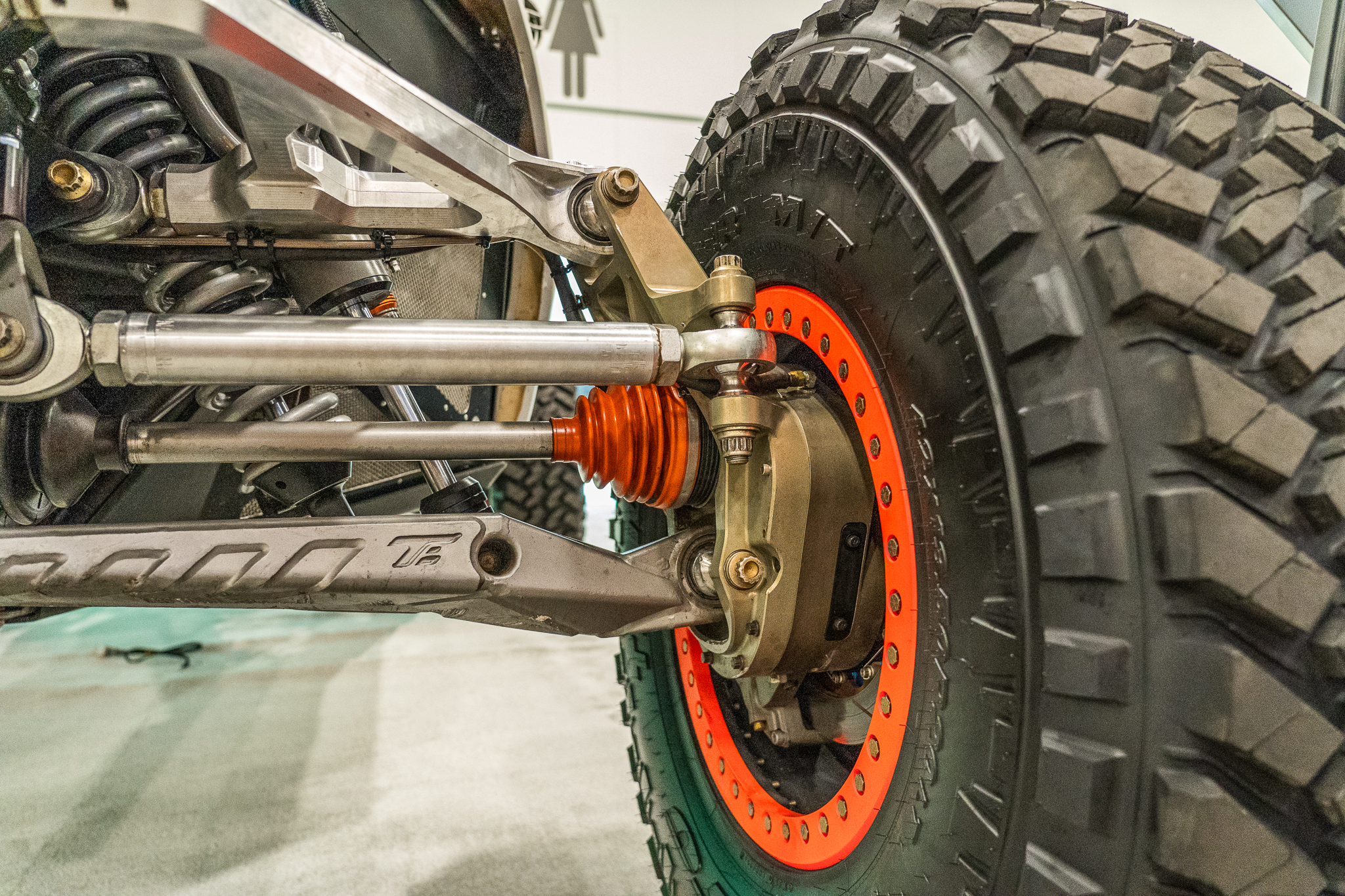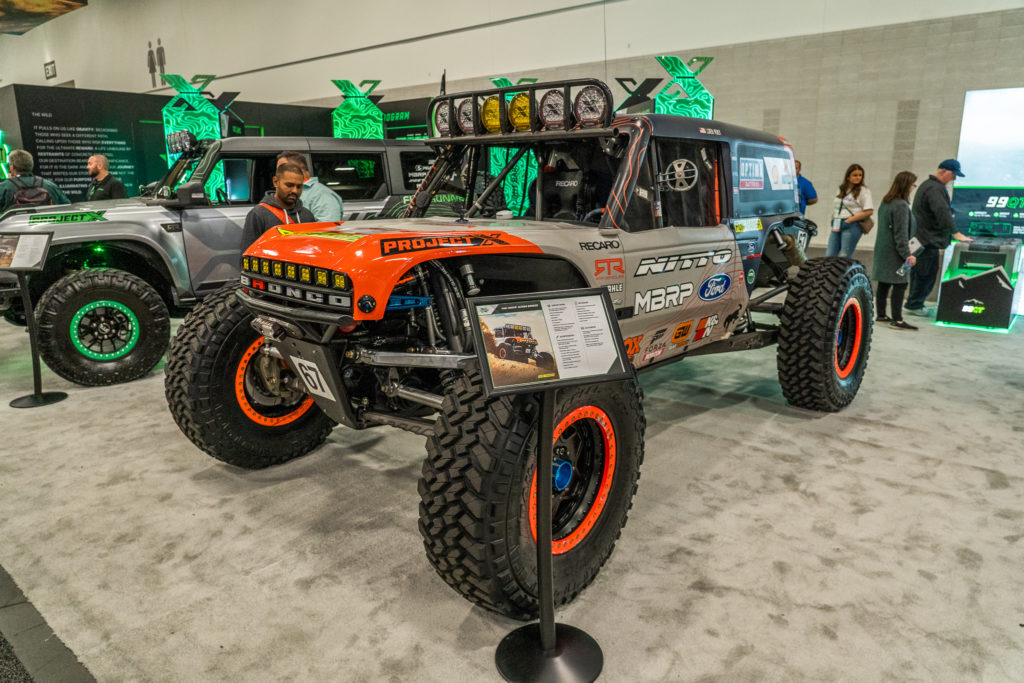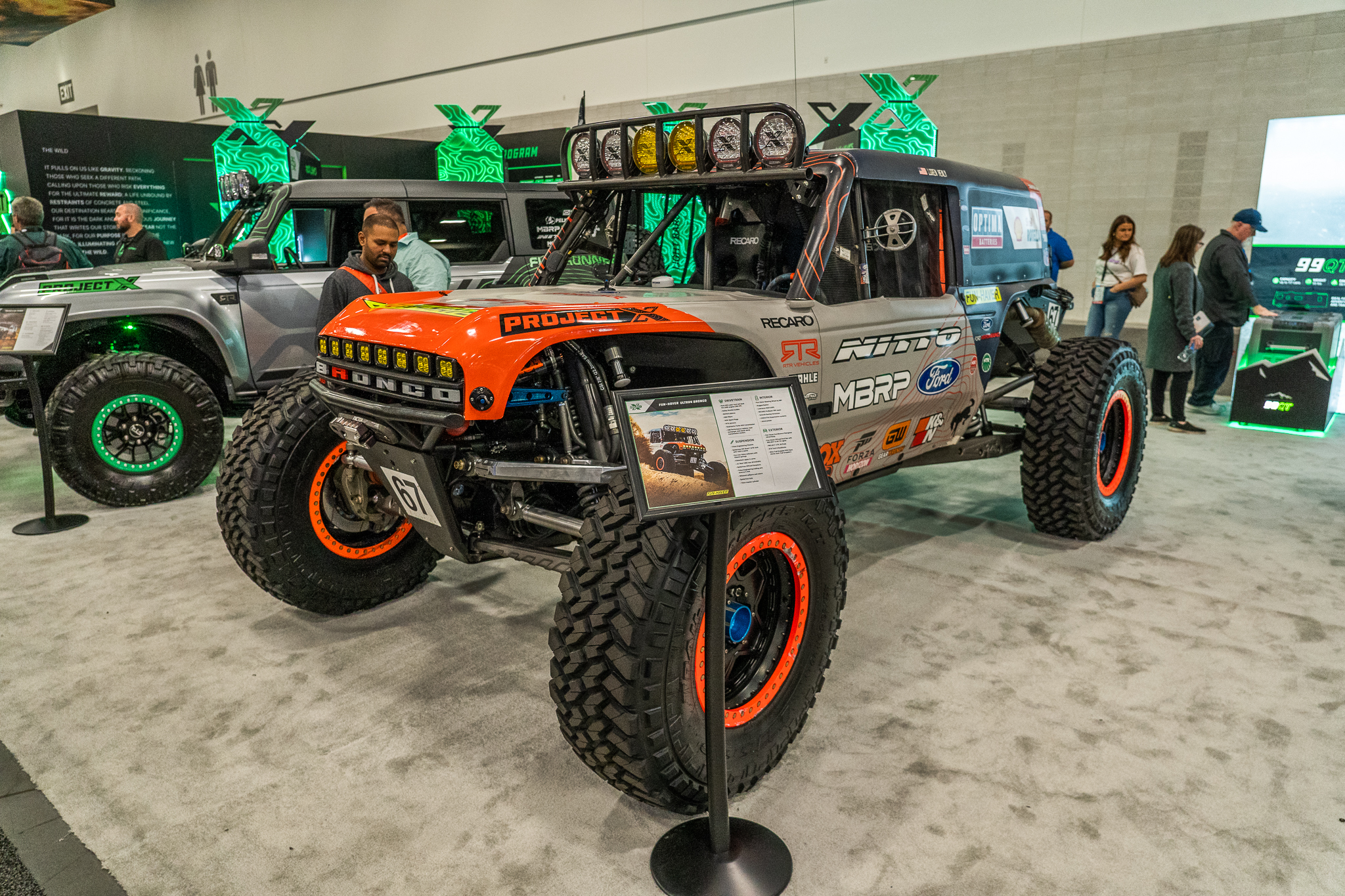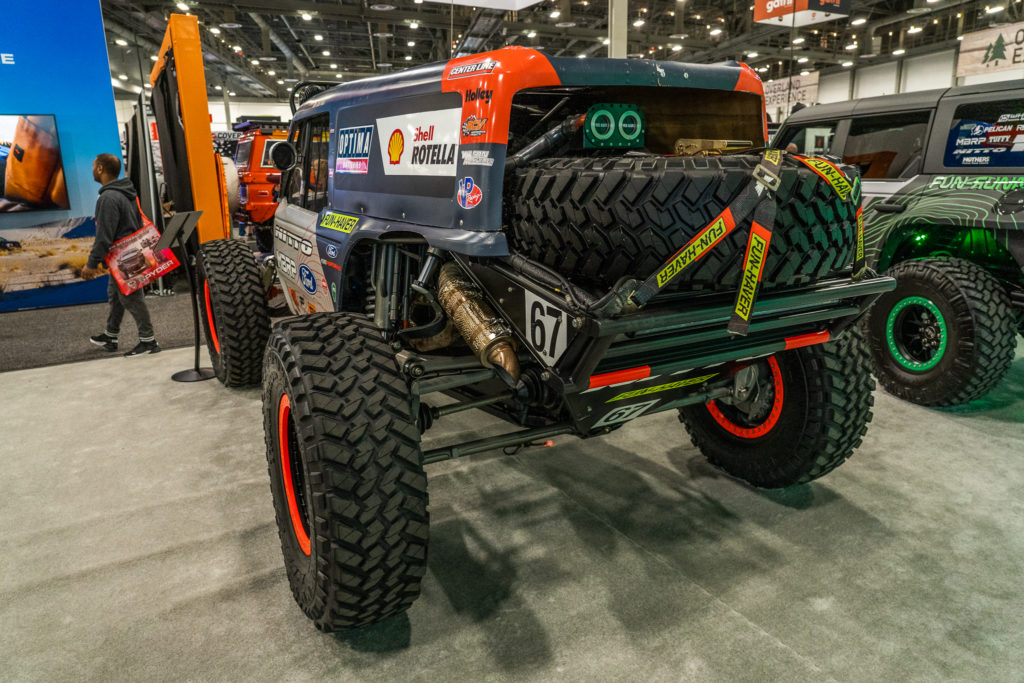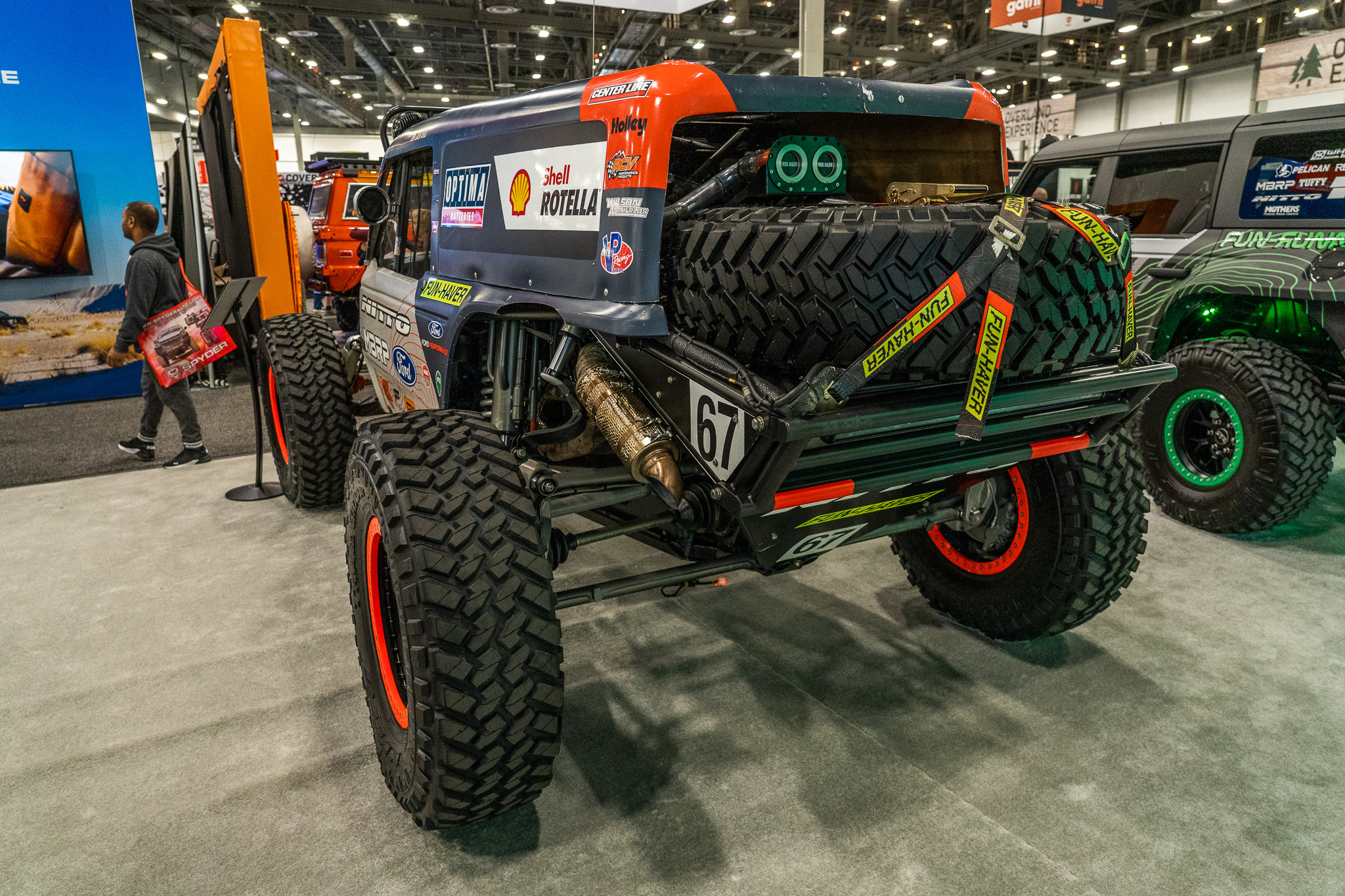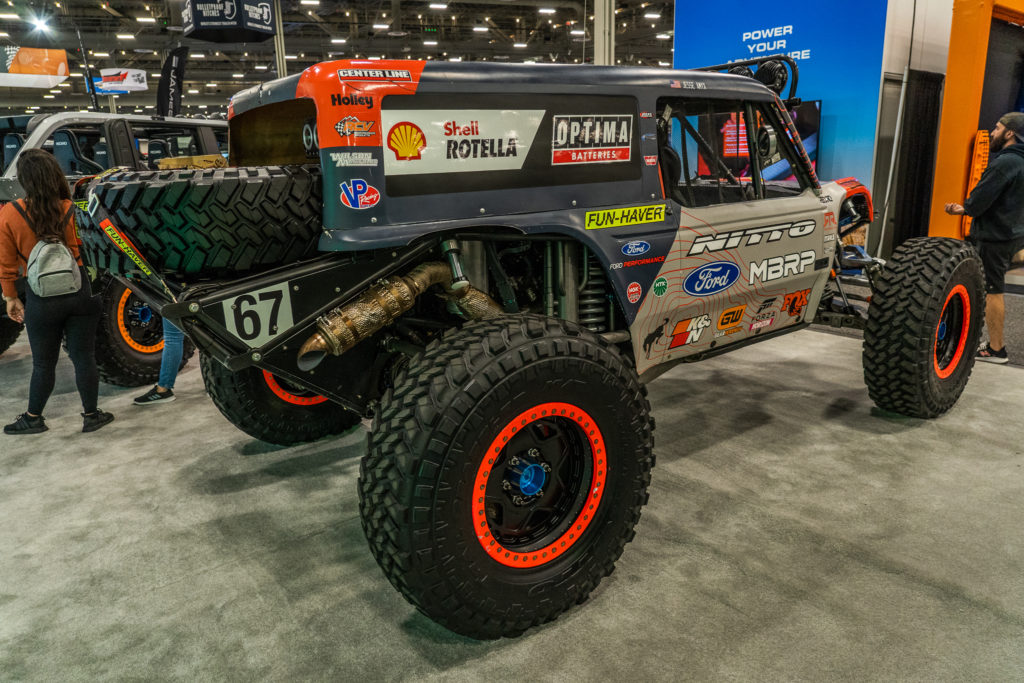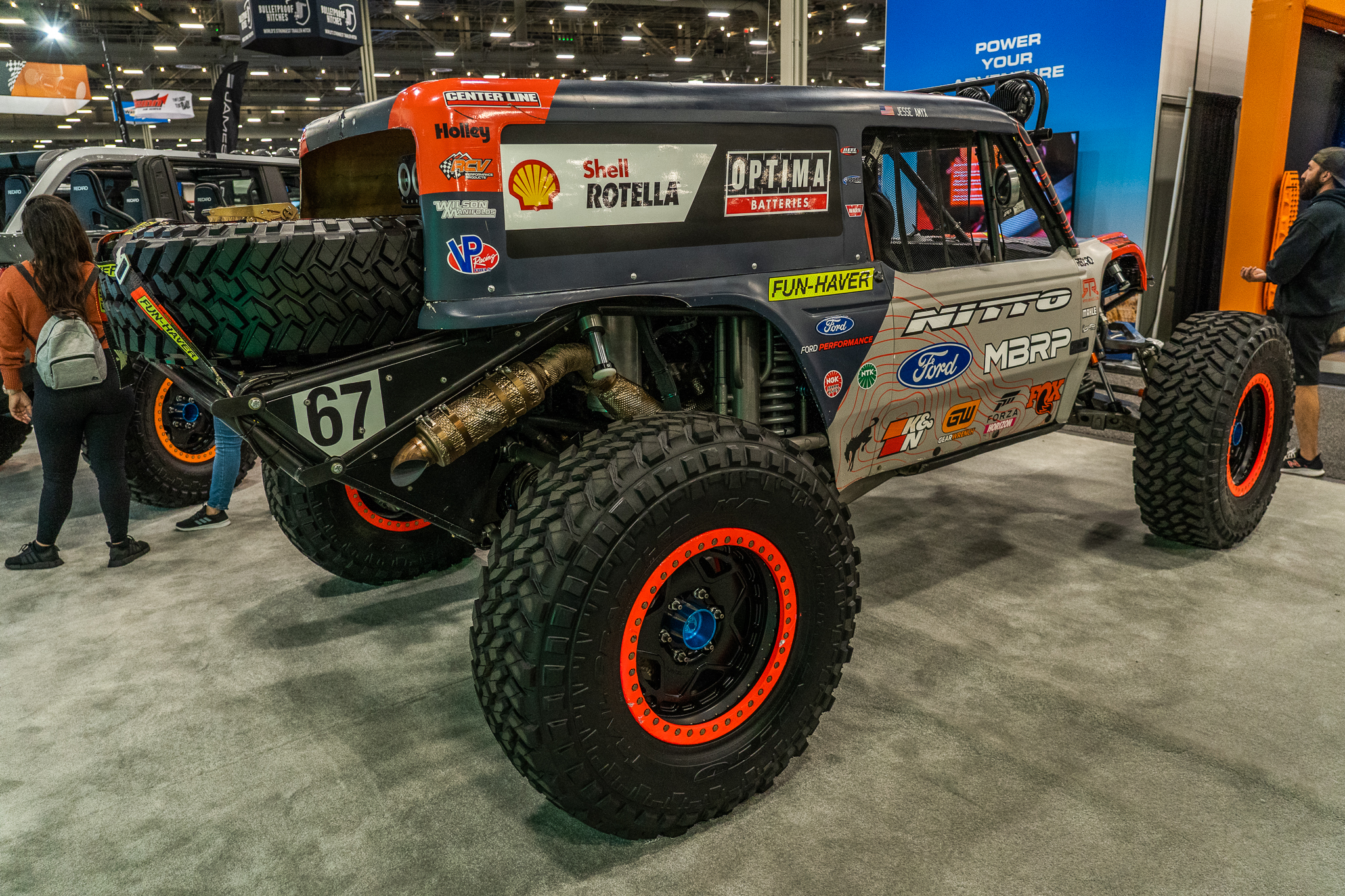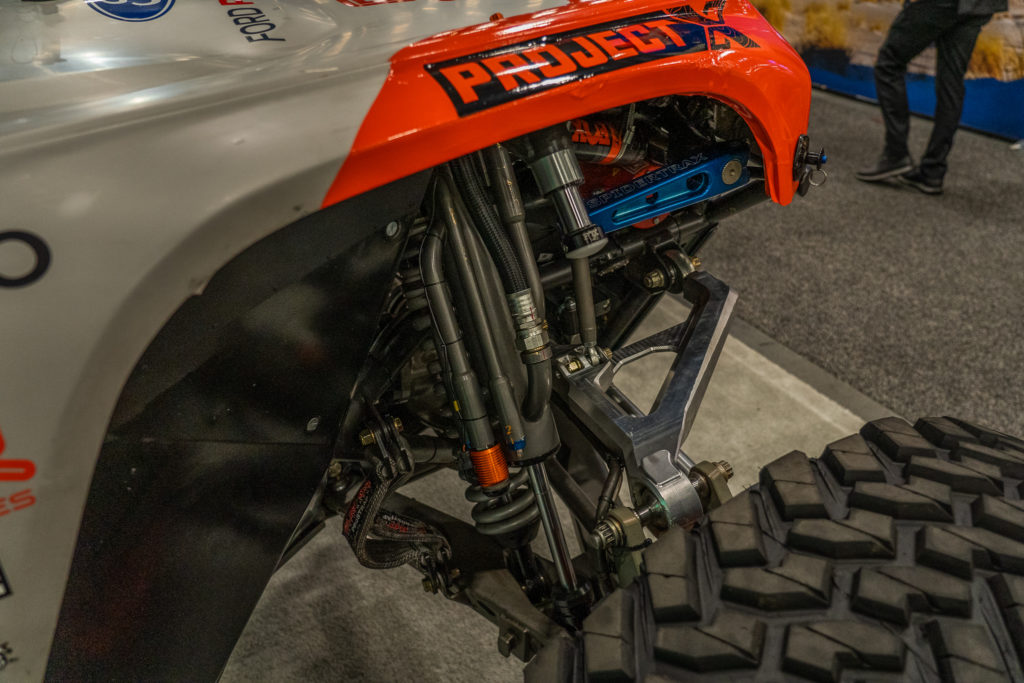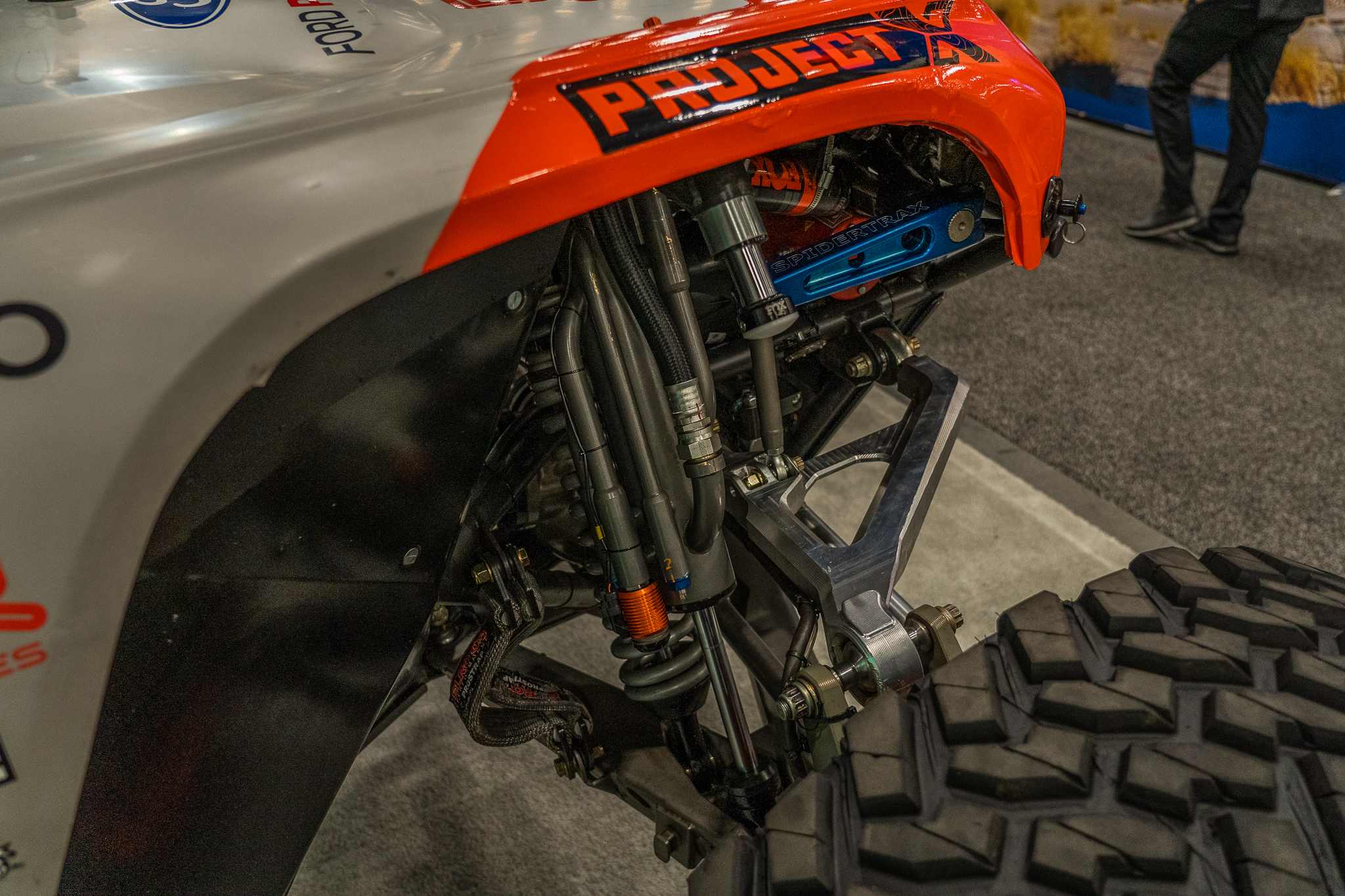 In stark contrast to the very original, very swampy first-gen Bronco I led this post with, Project X's built Bronco barely shares anything with how it began life. The suspension set up on this thing, never mind the rest of it, is worthy of many awards. Yeah, I know this ain't no overlandin' rig. But, still, man, you gotta appreciate the amounts of work and cash that went into creating this thing.
Fourth-Gen Toyota Corolla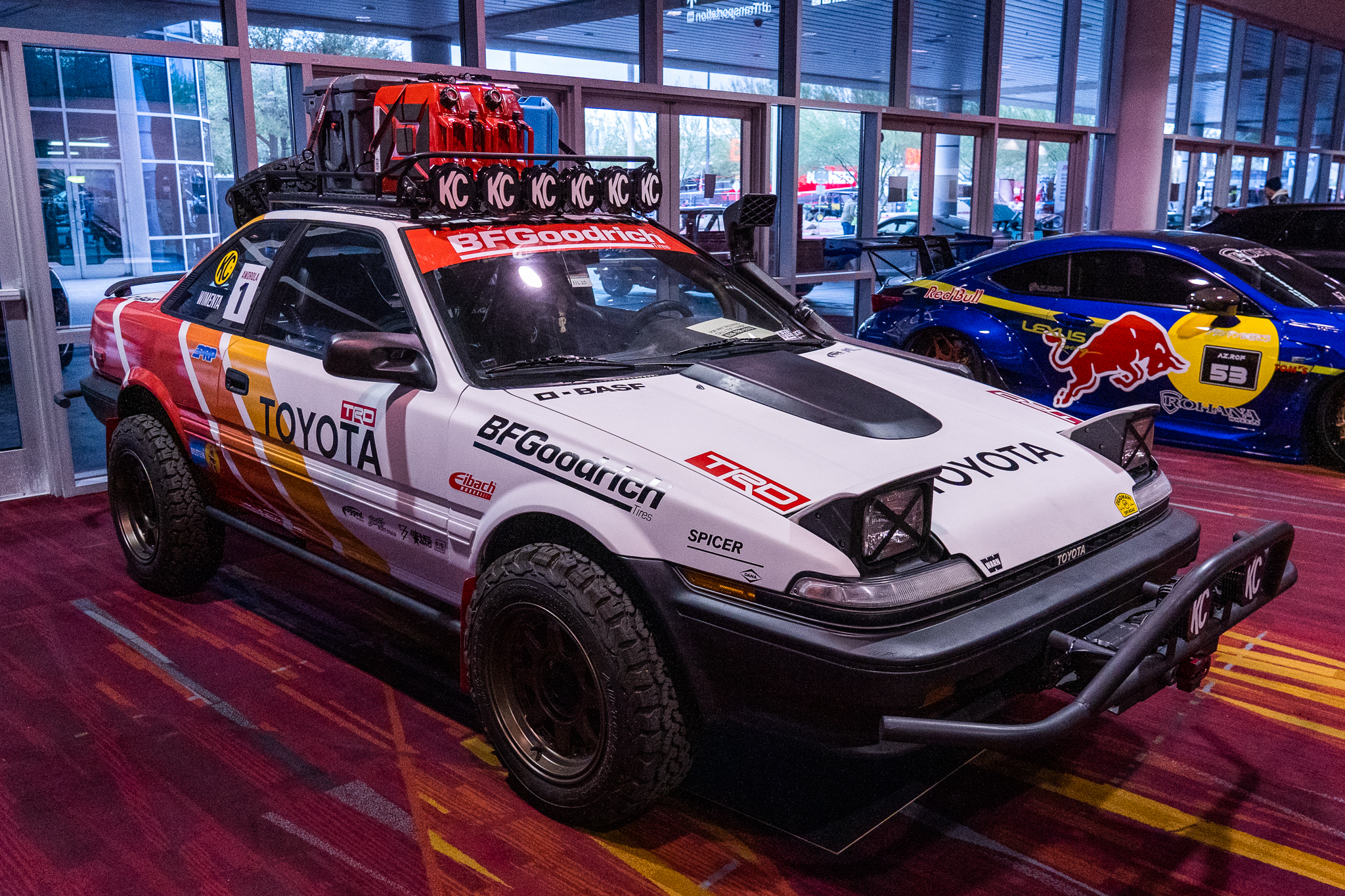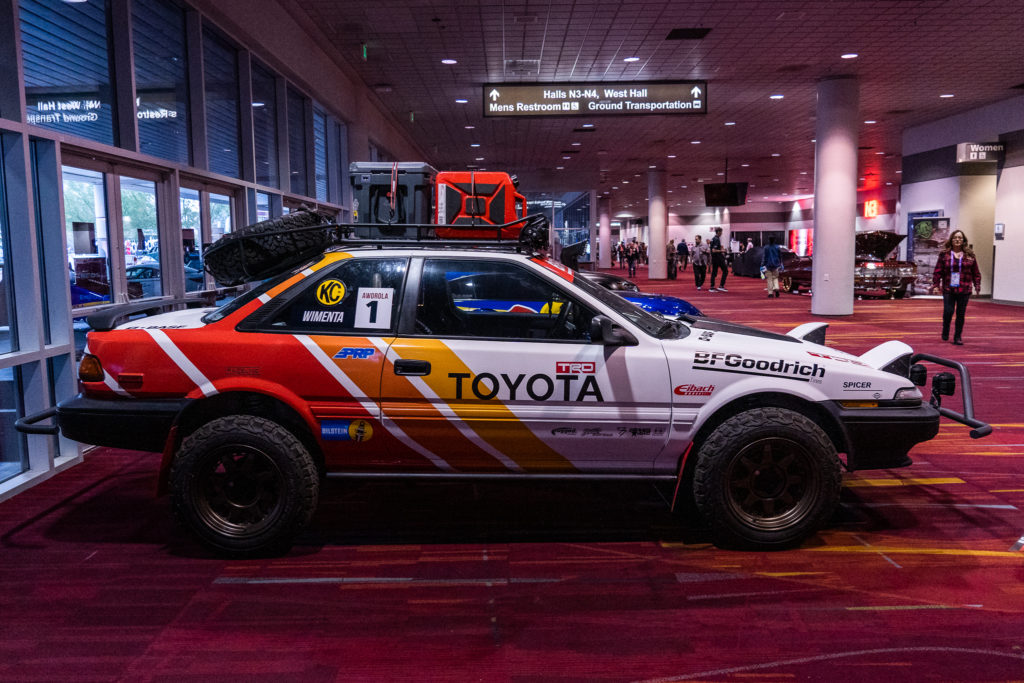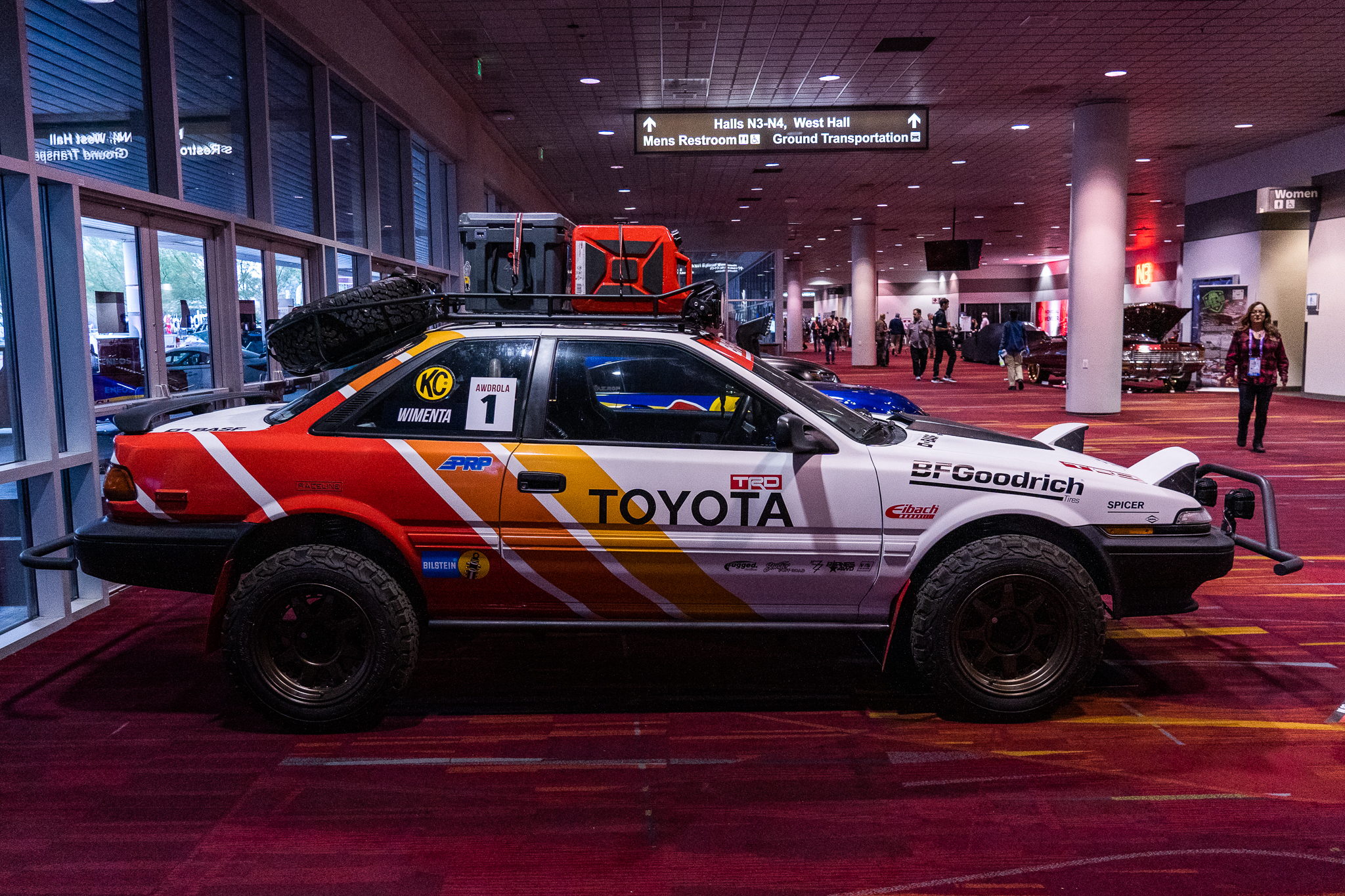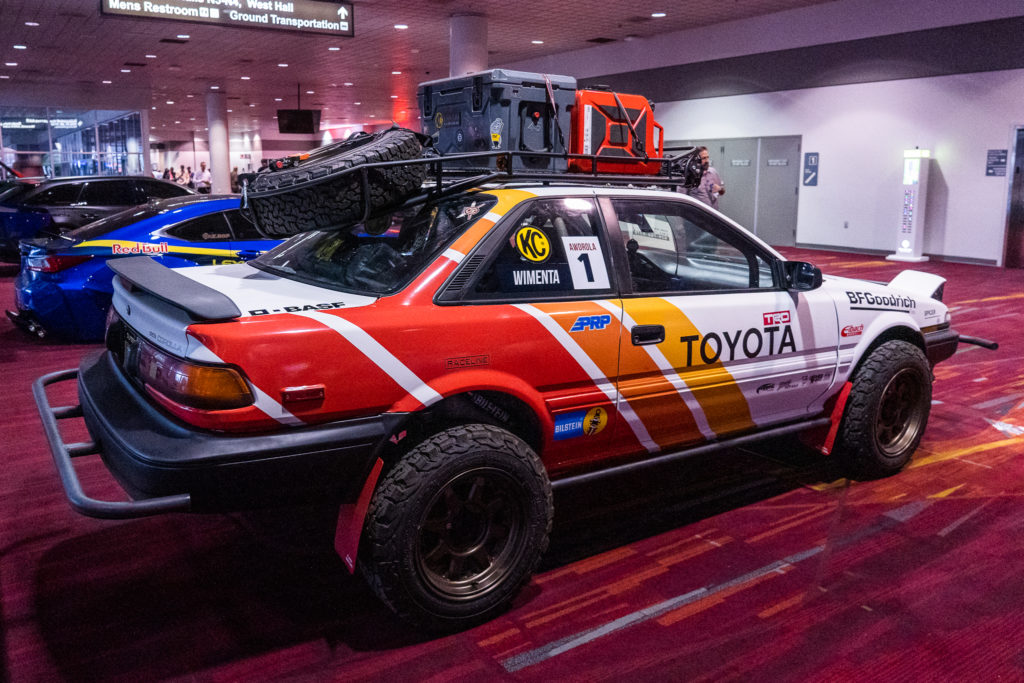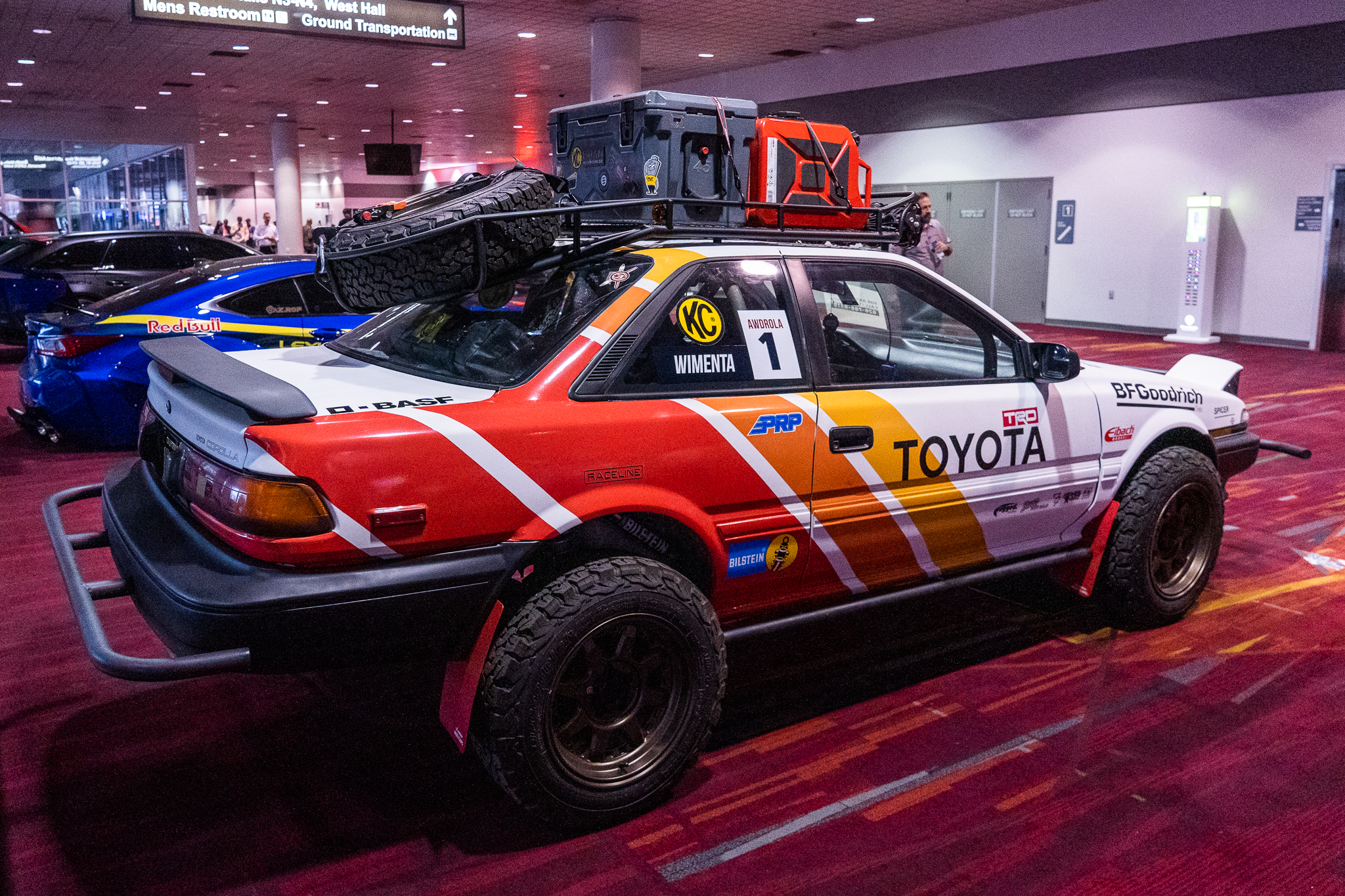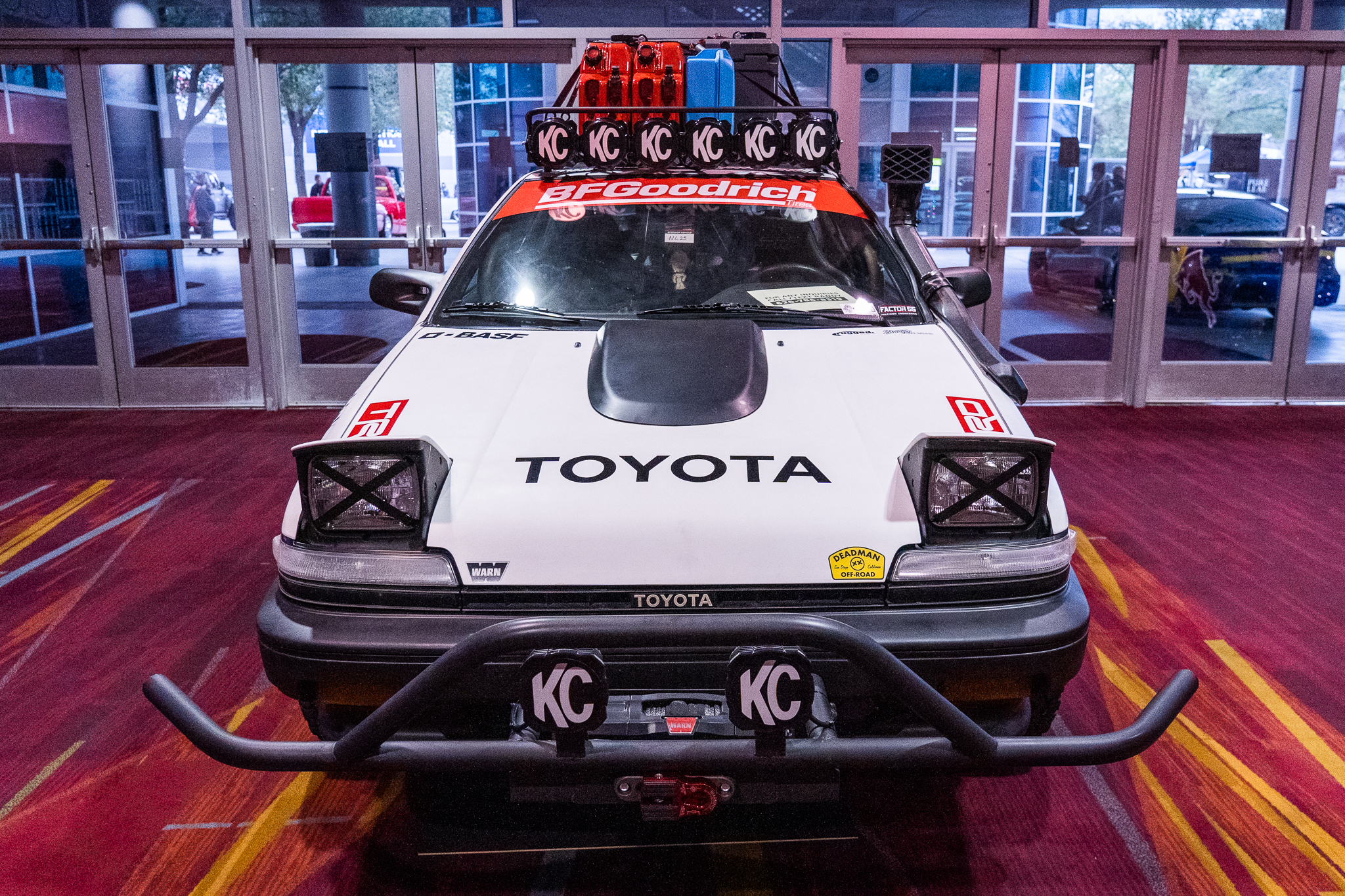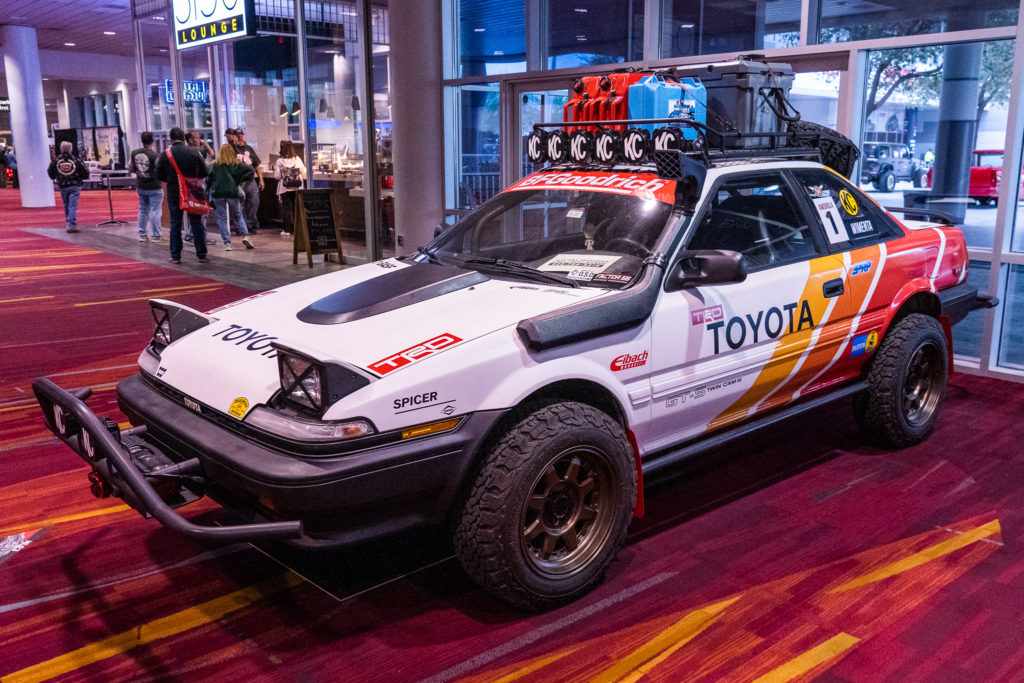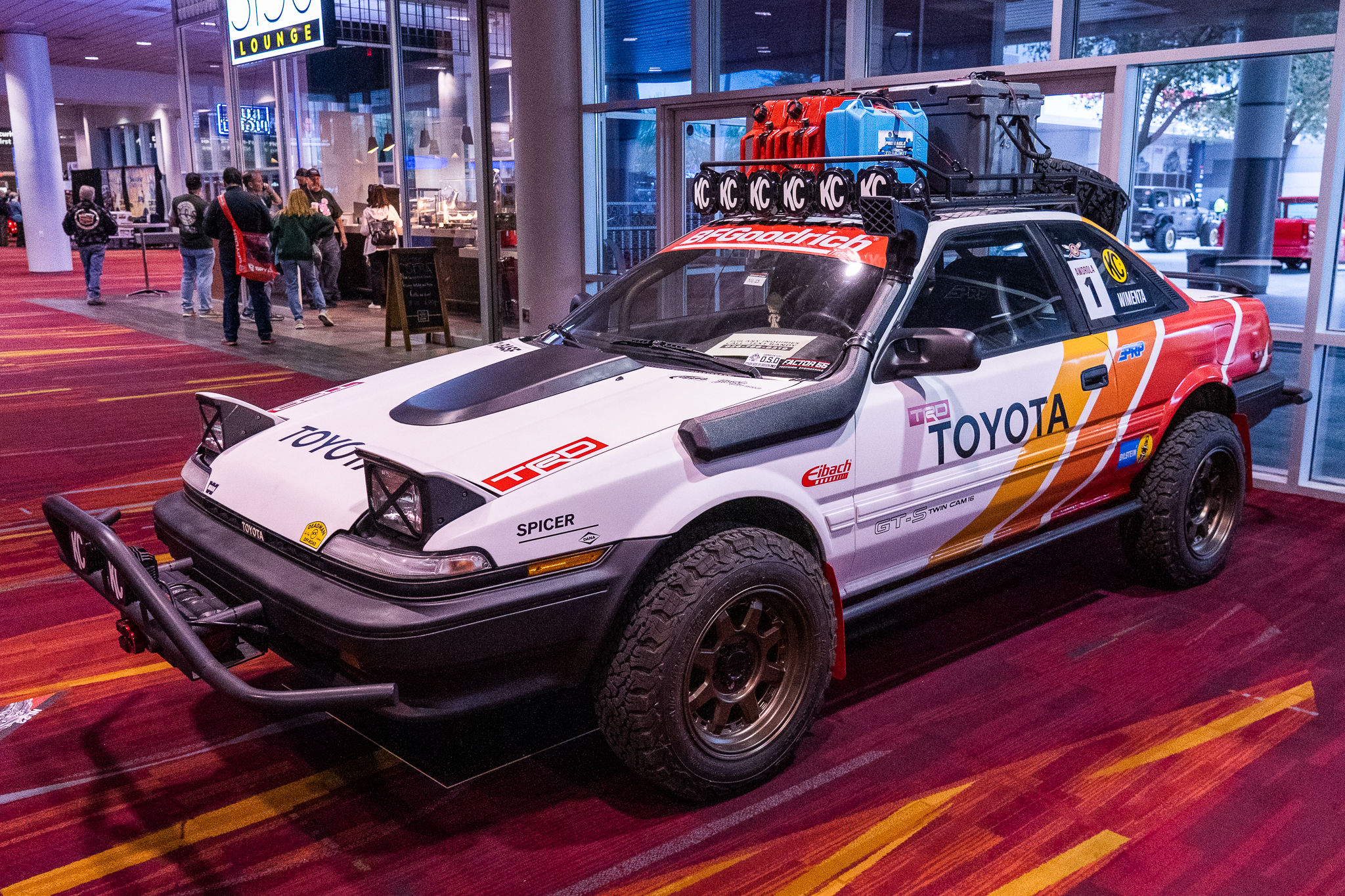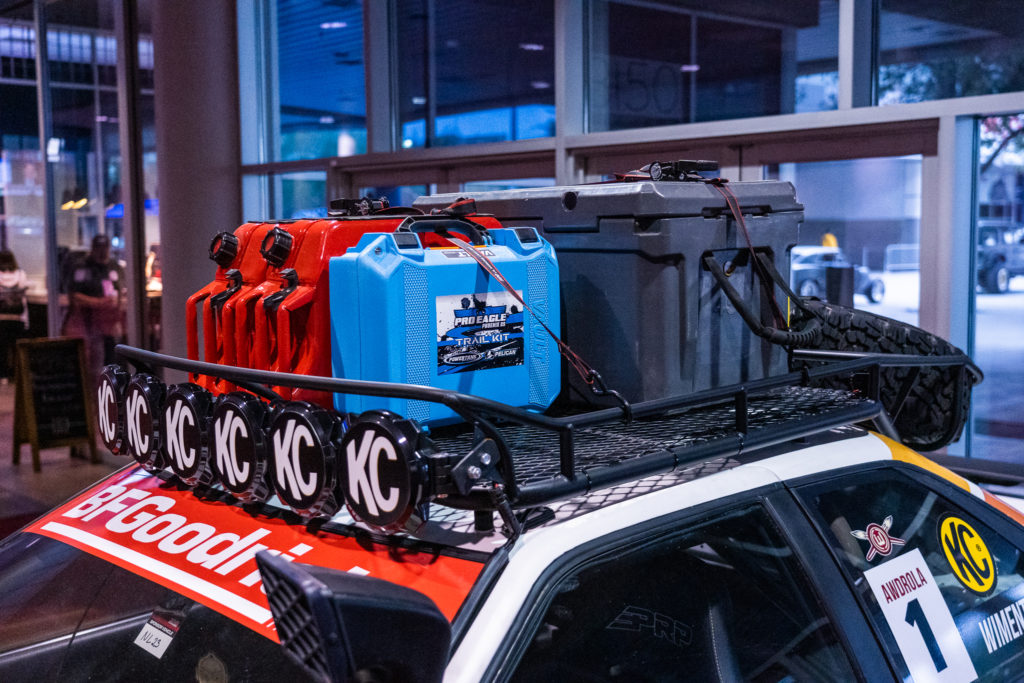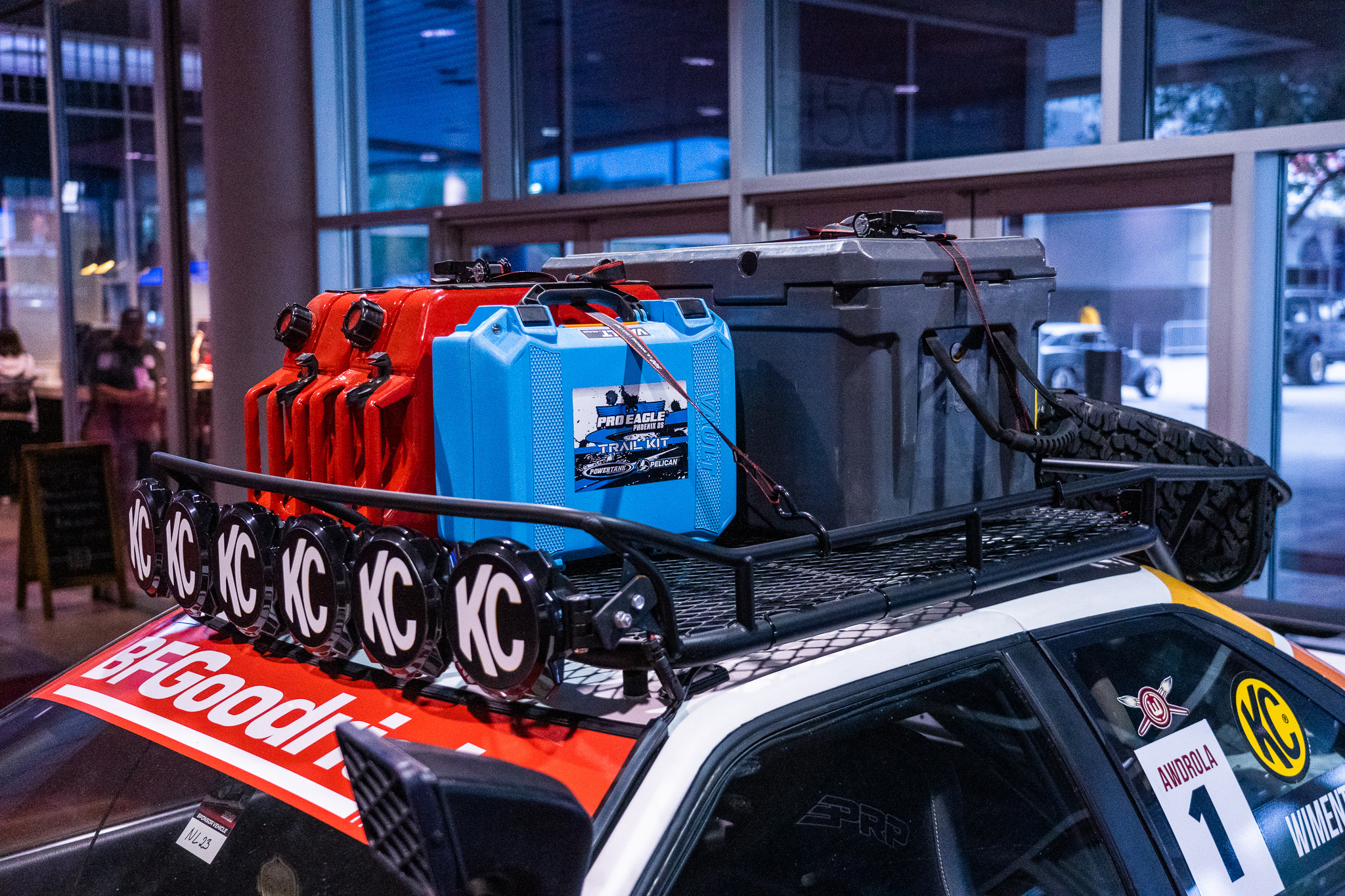 There was a sign in the windshield with a number I could have called to get more info on this car. But I spotted it as I was leaving the show, so I didn't bother. I saw enough to know it was special. It's obviously been lifted to fit the oversize tires. It has a snorkel to help keep dust intake down. And it has pre-runner-style bars front and rear — complimented in the middle with some sliders. Then they topped it off, literally, with a nice li'l roof rack, holding some essentials like KC HiLITES, fuel, water and storage. Love it.
Ram 1500 Backcountry X Concept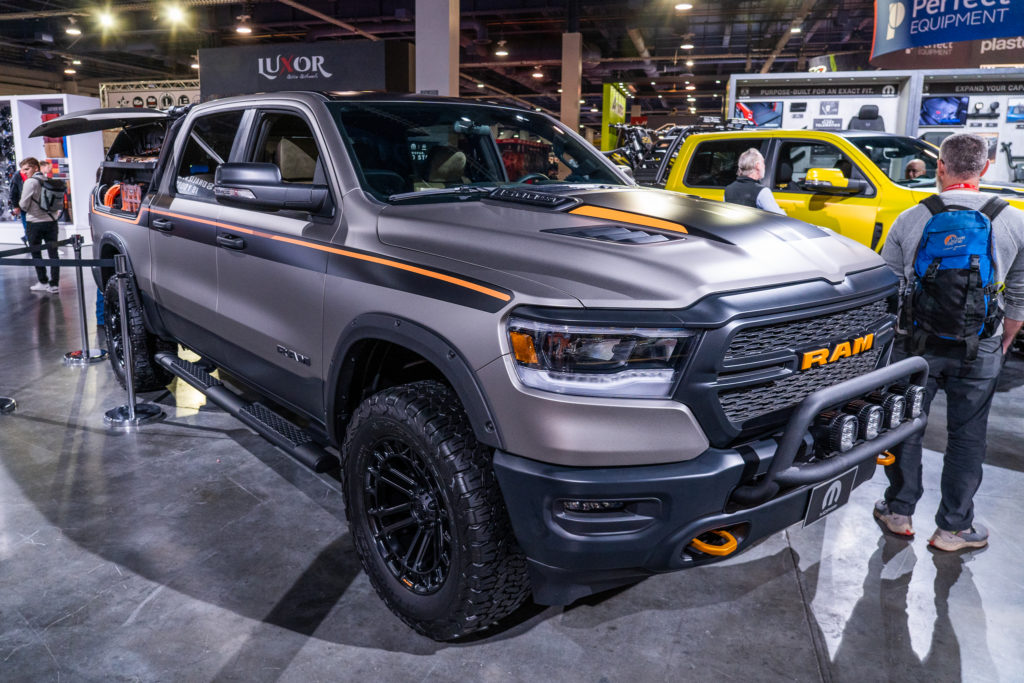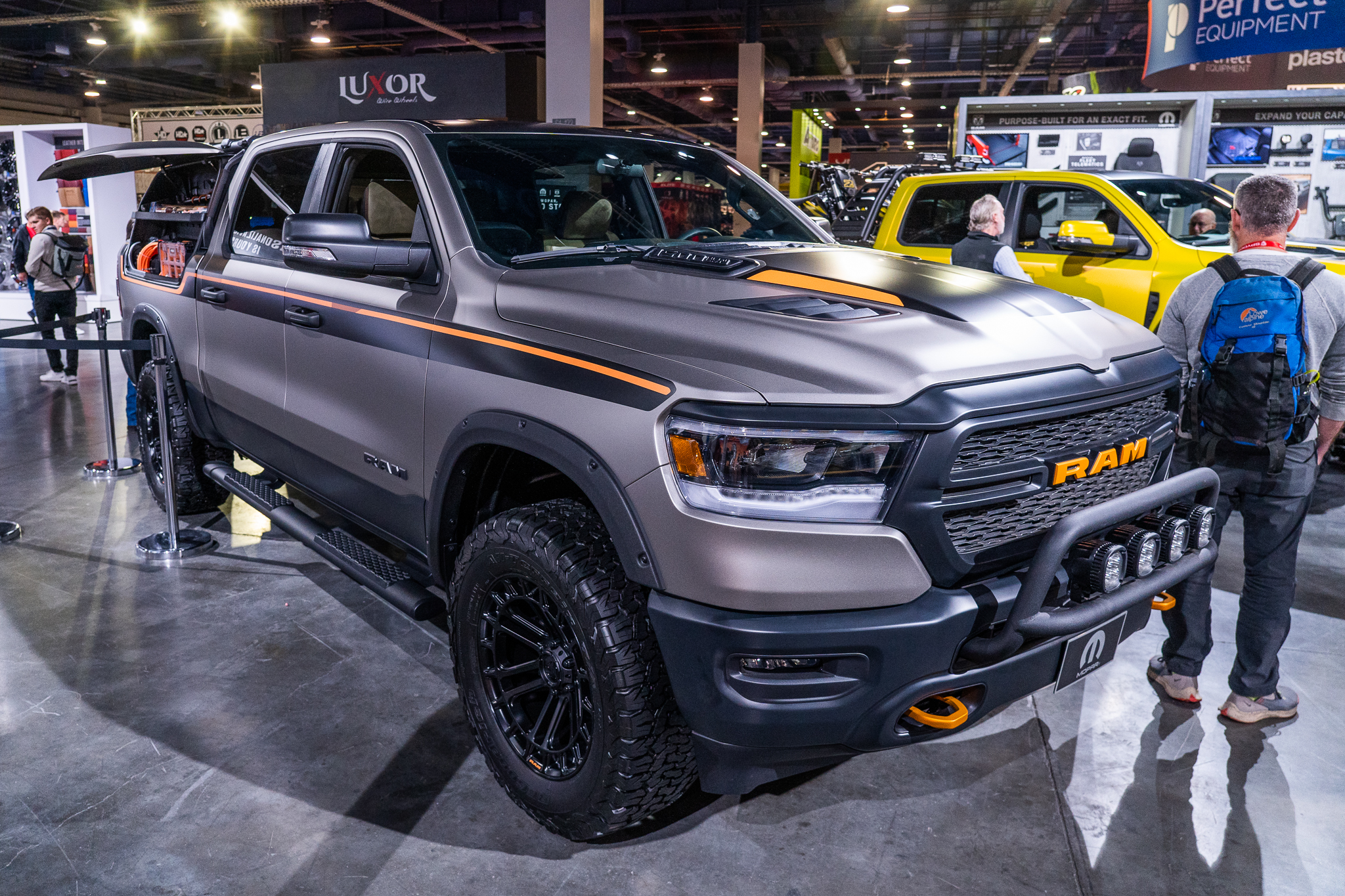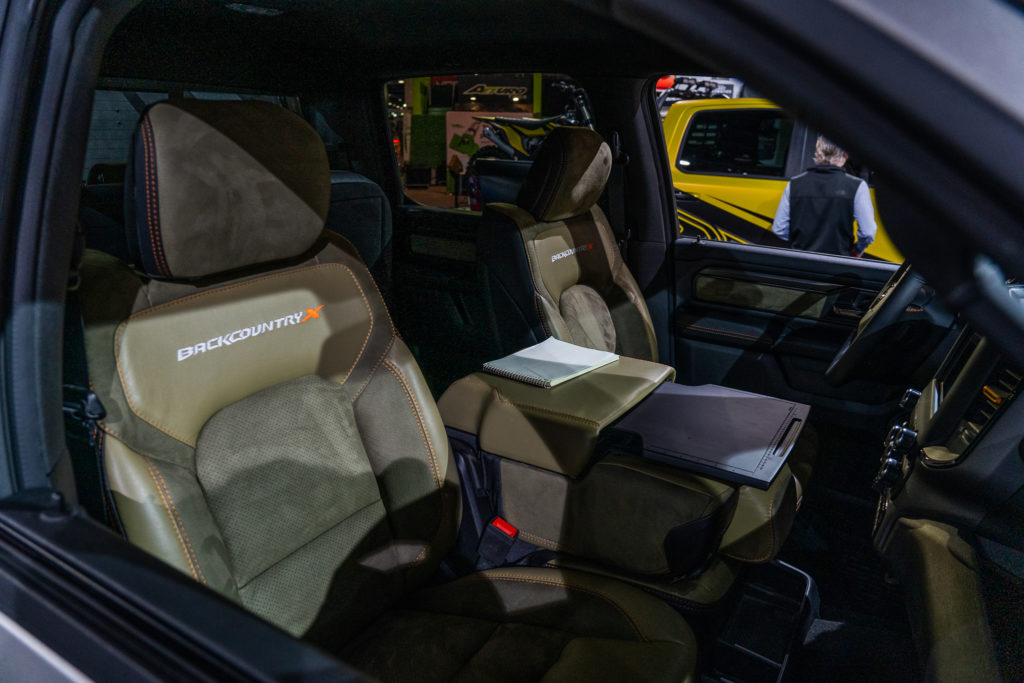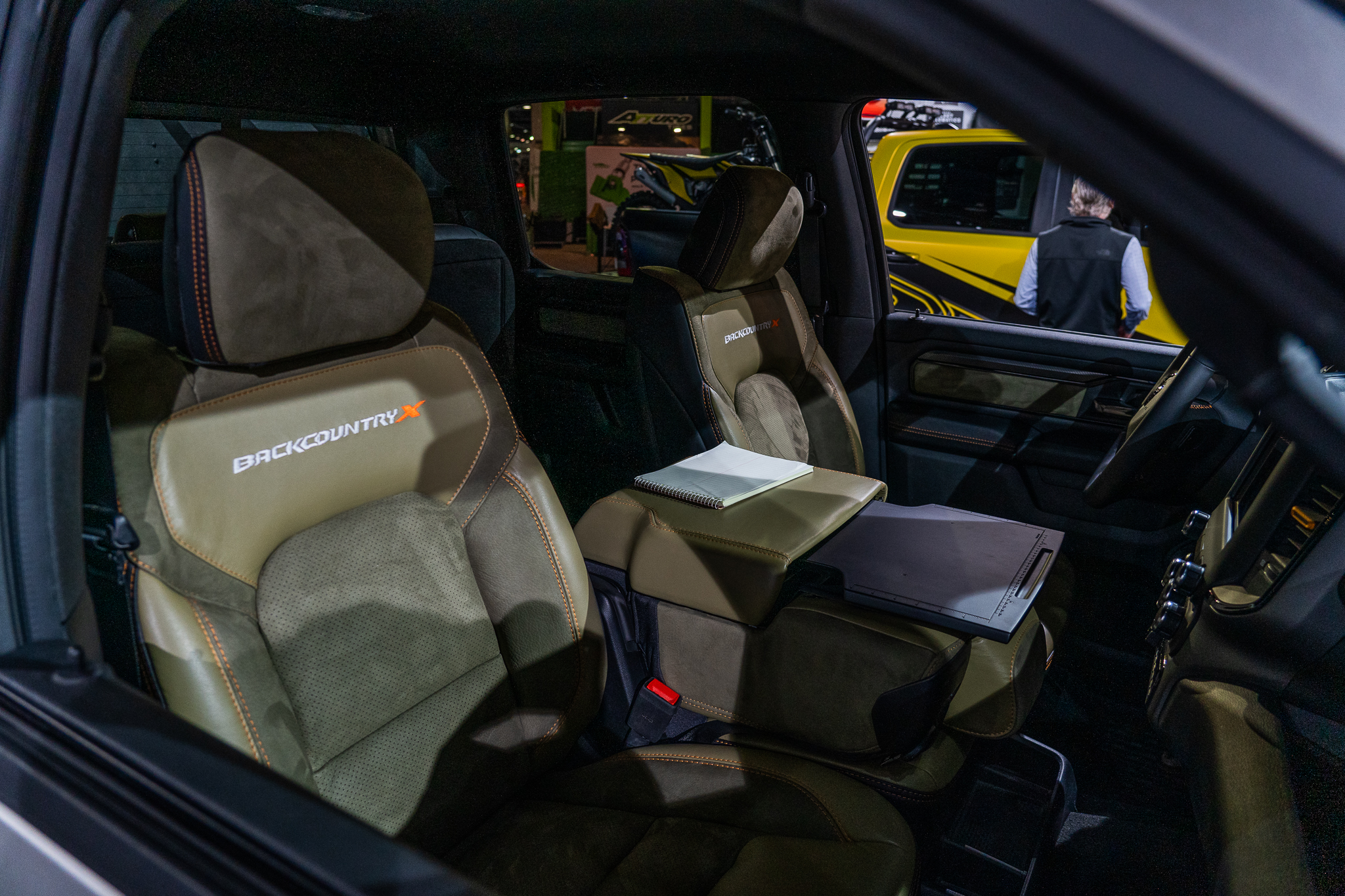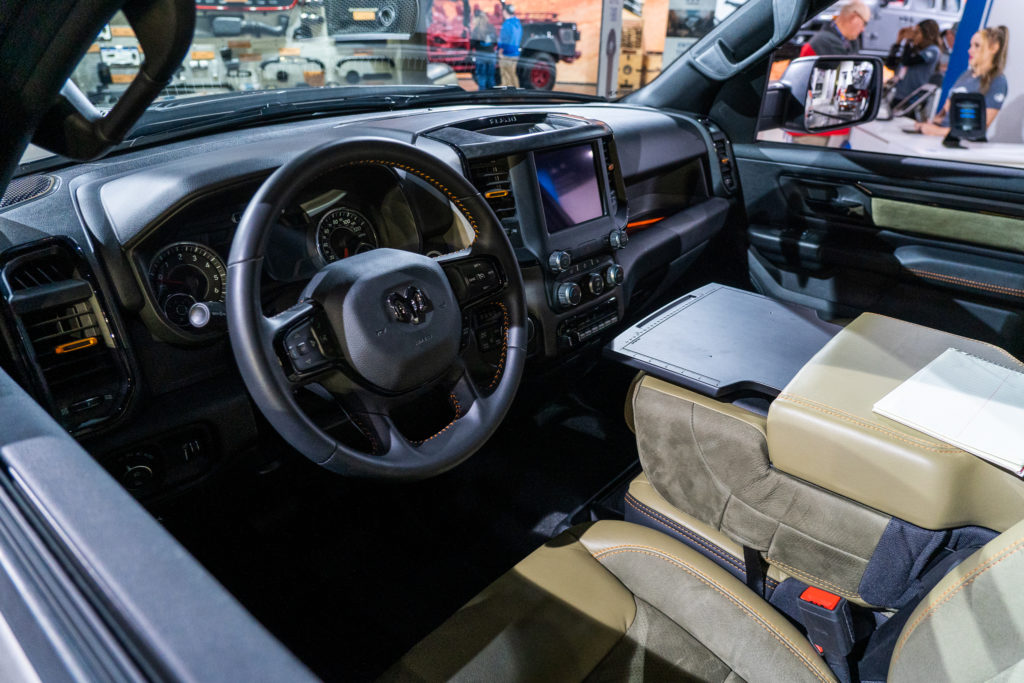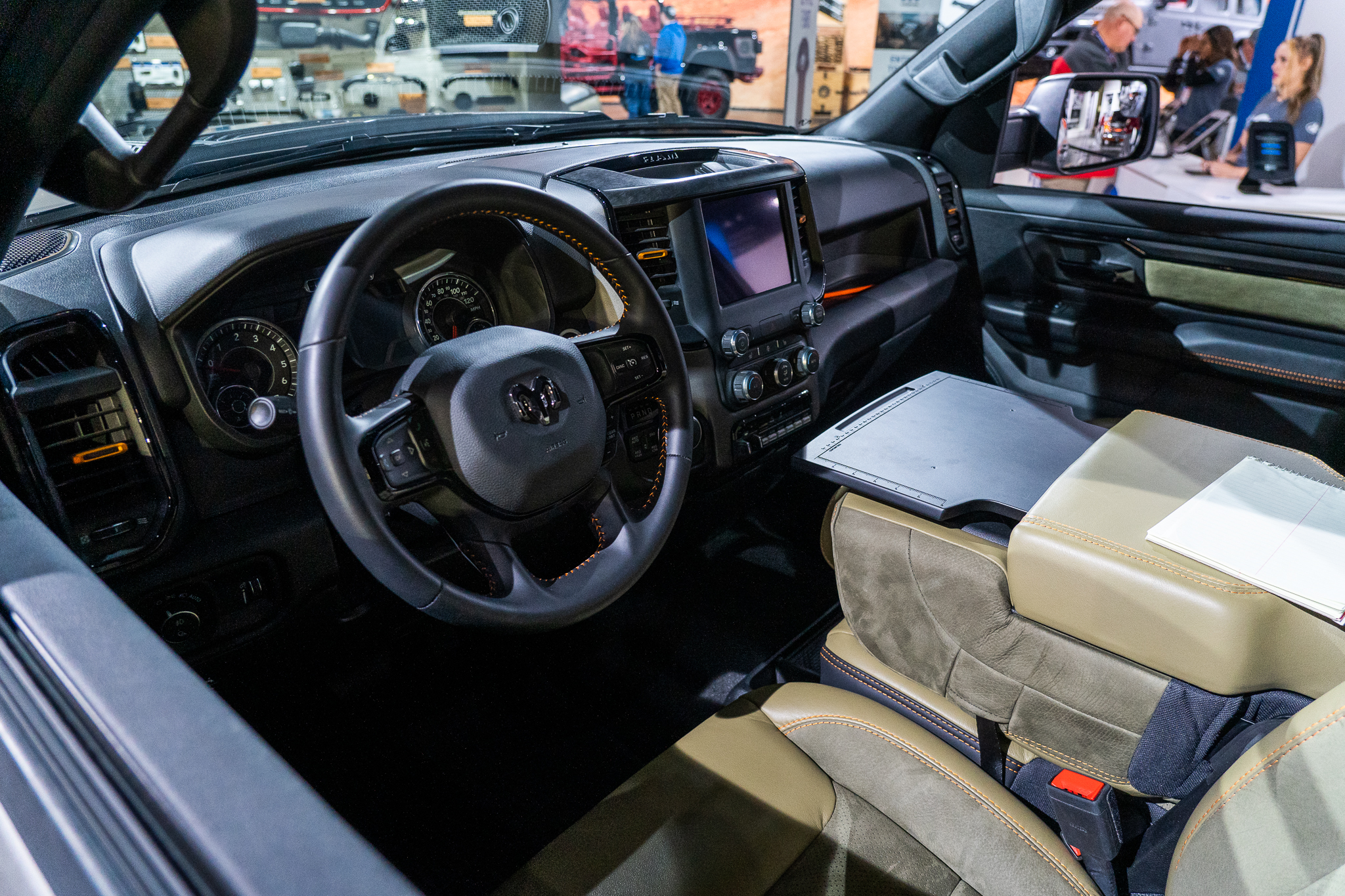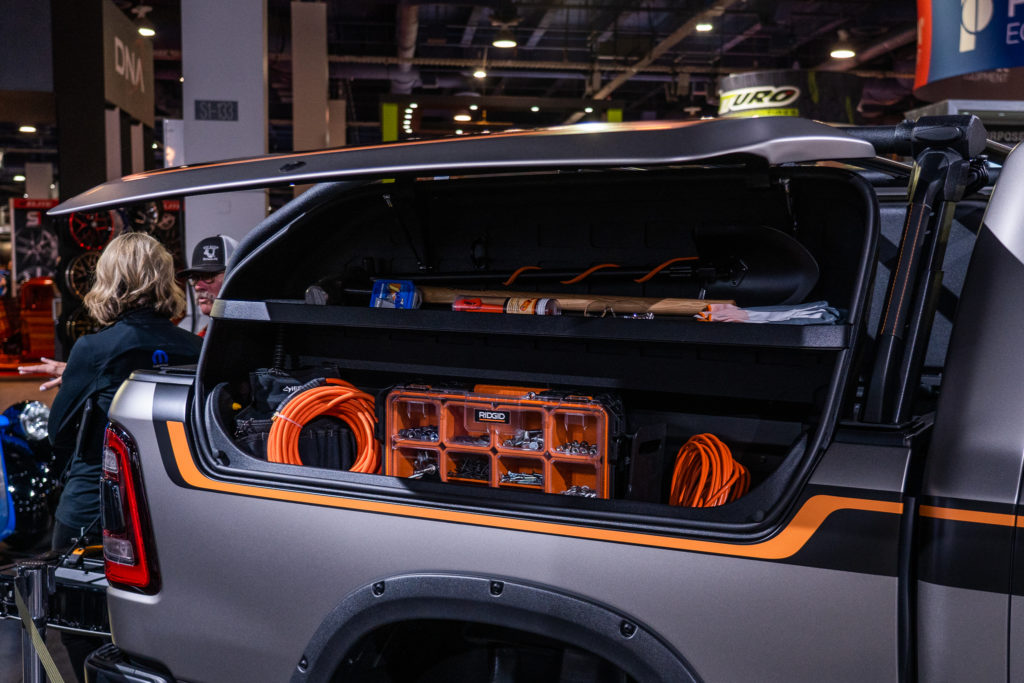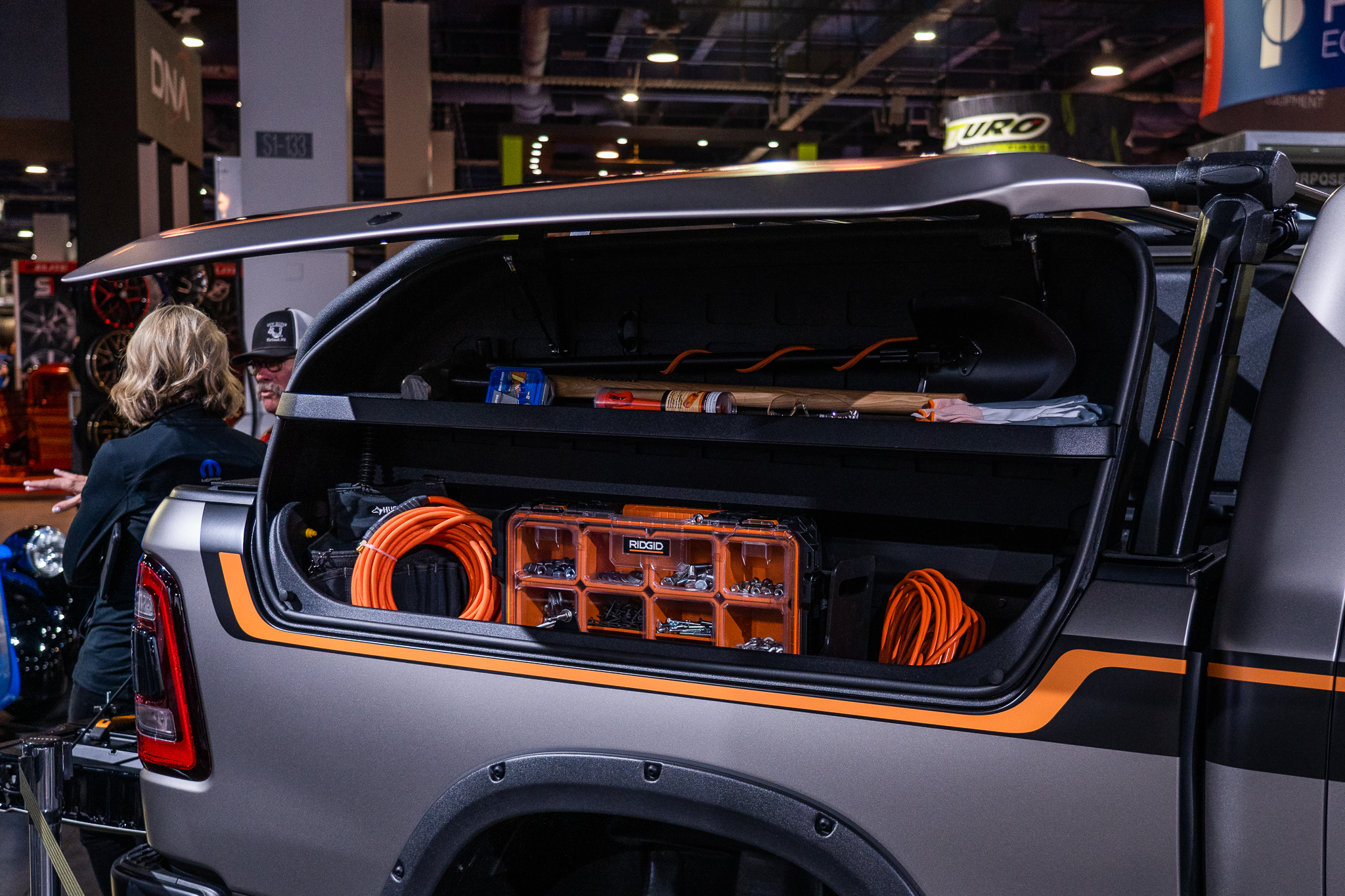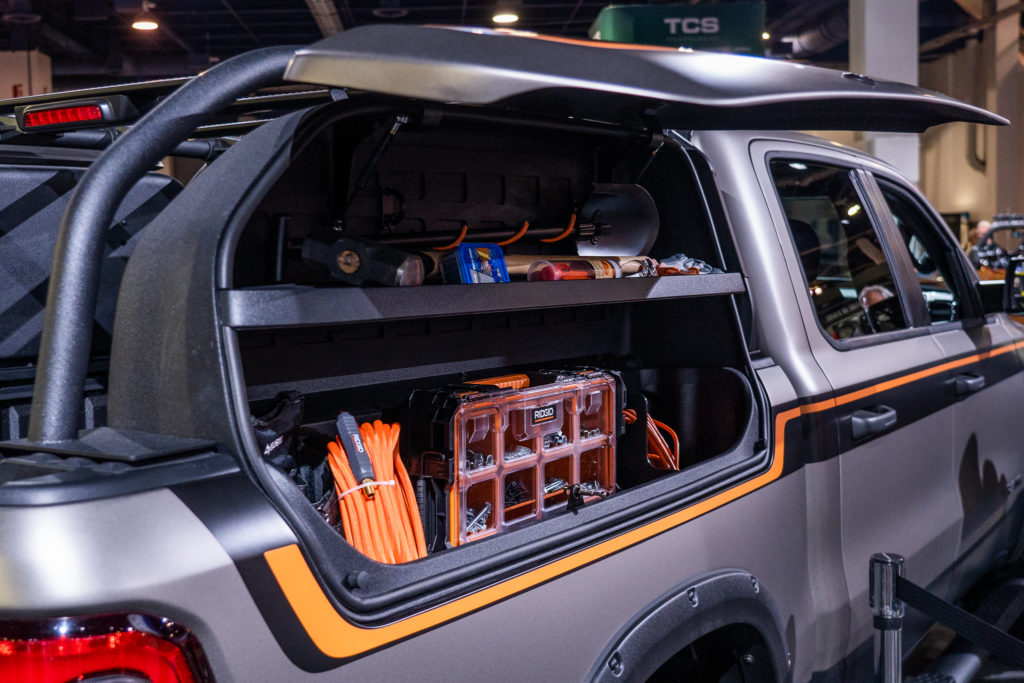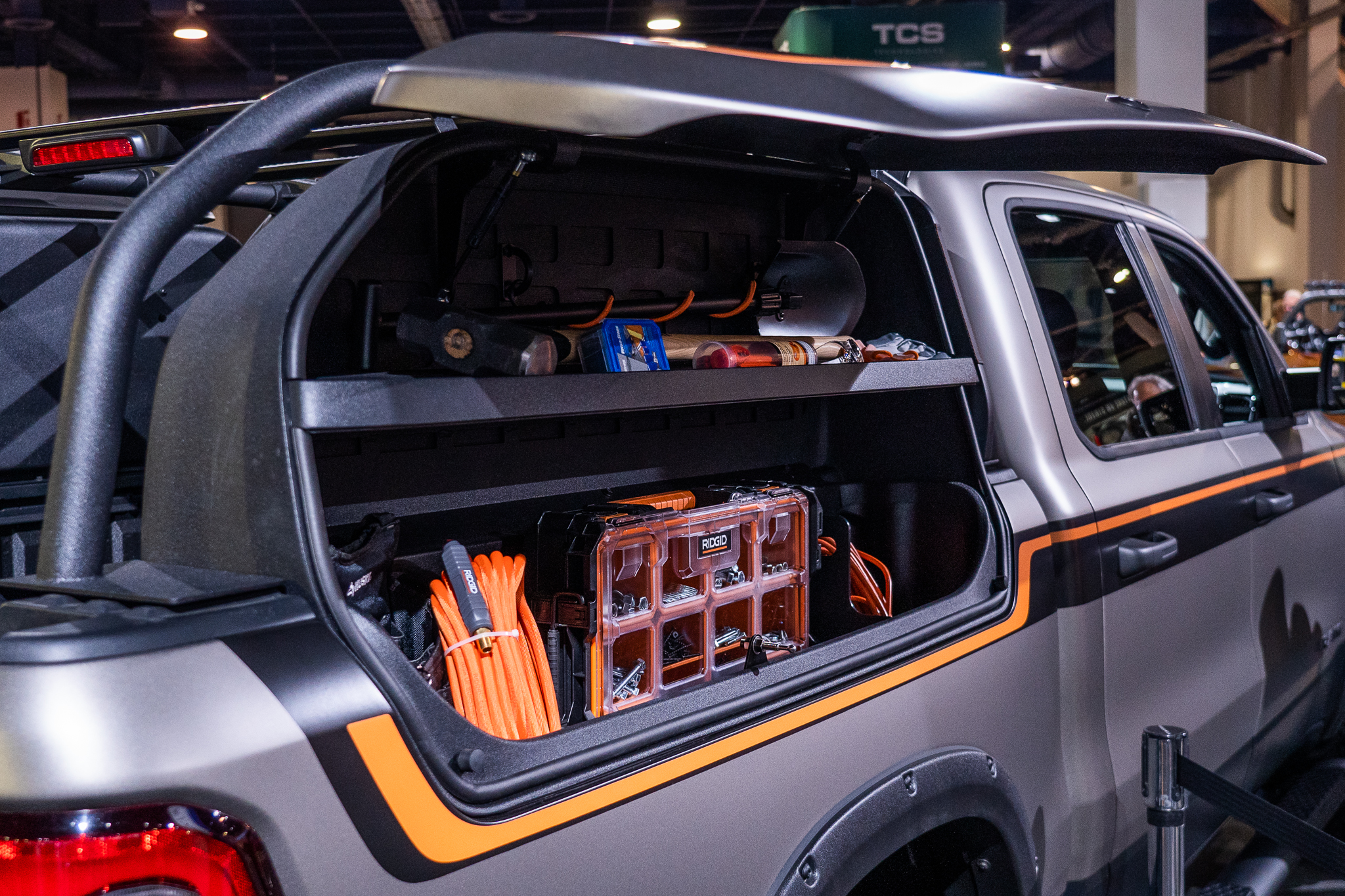 I popped down to the South Hall just to see this beast in the flesh. It did not disappoint. If you want to read more about it, you can read my full post here.
Porsche 996 911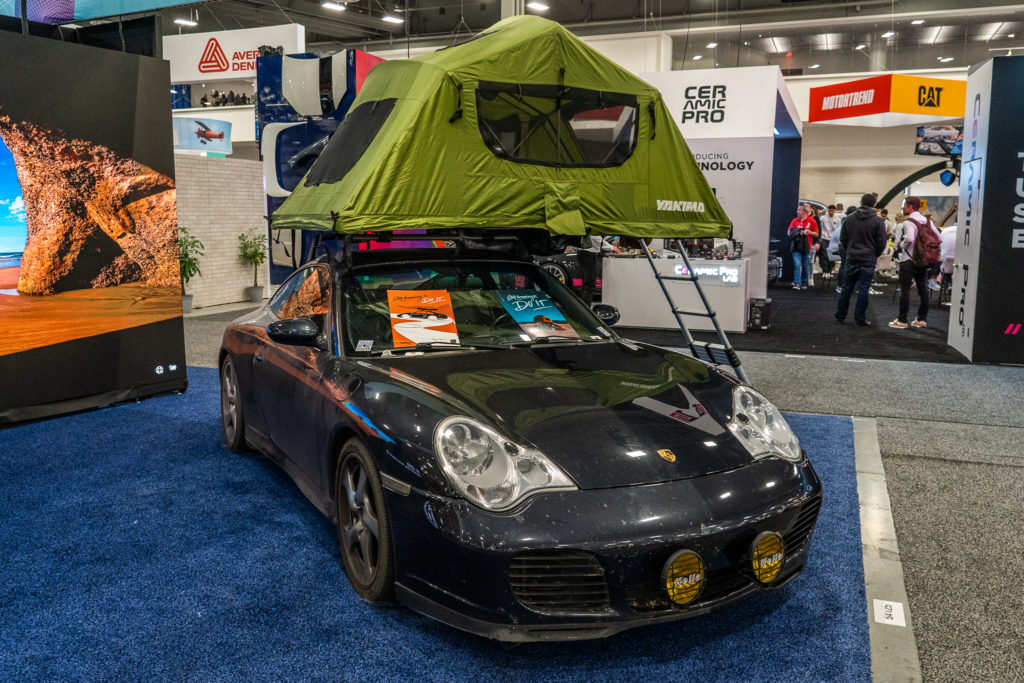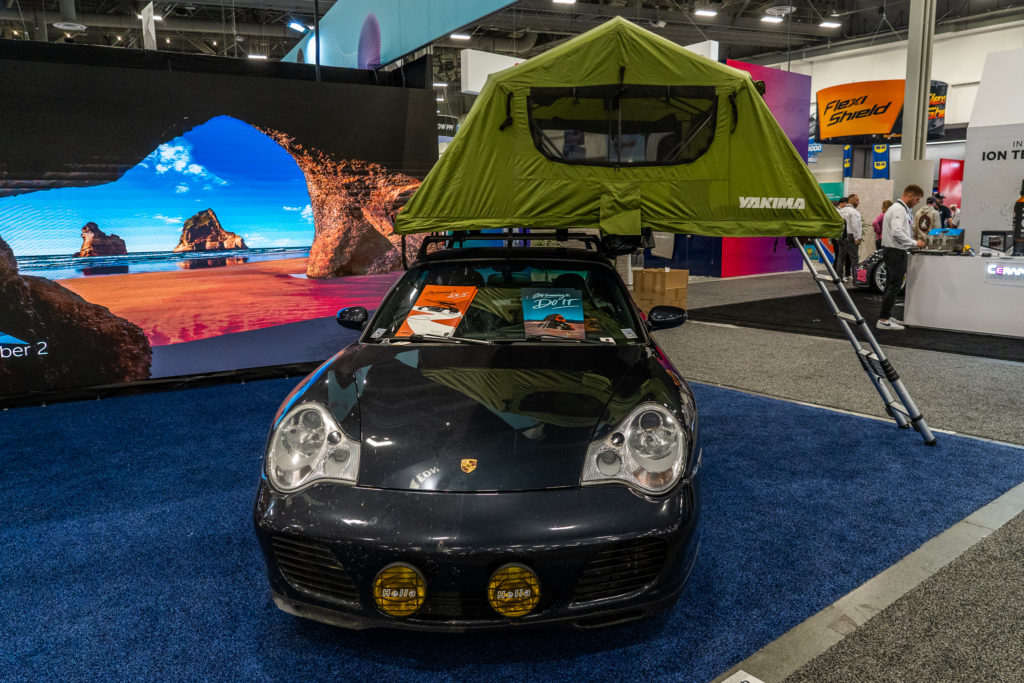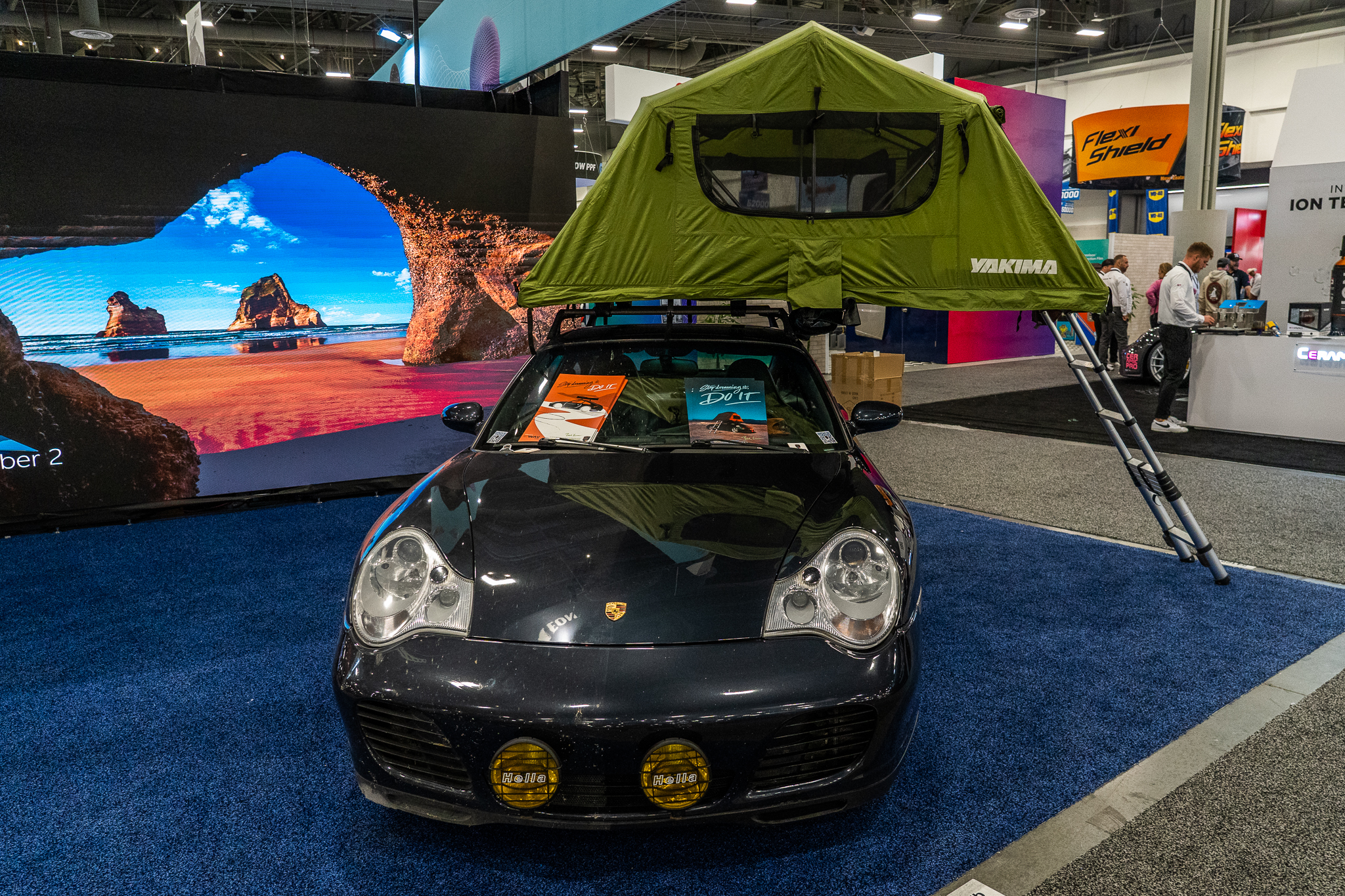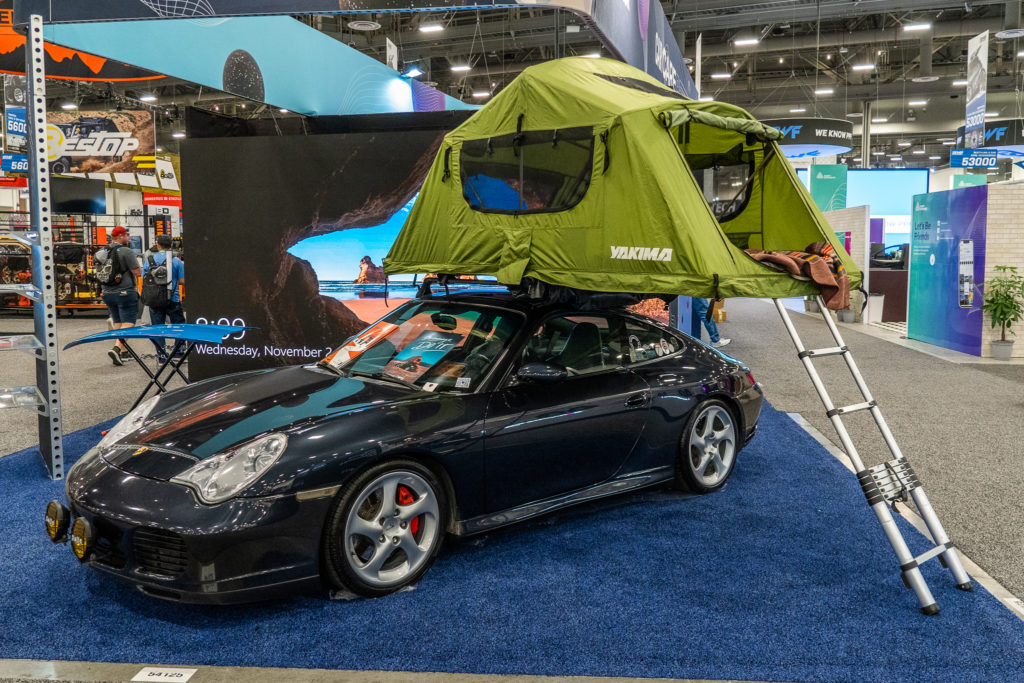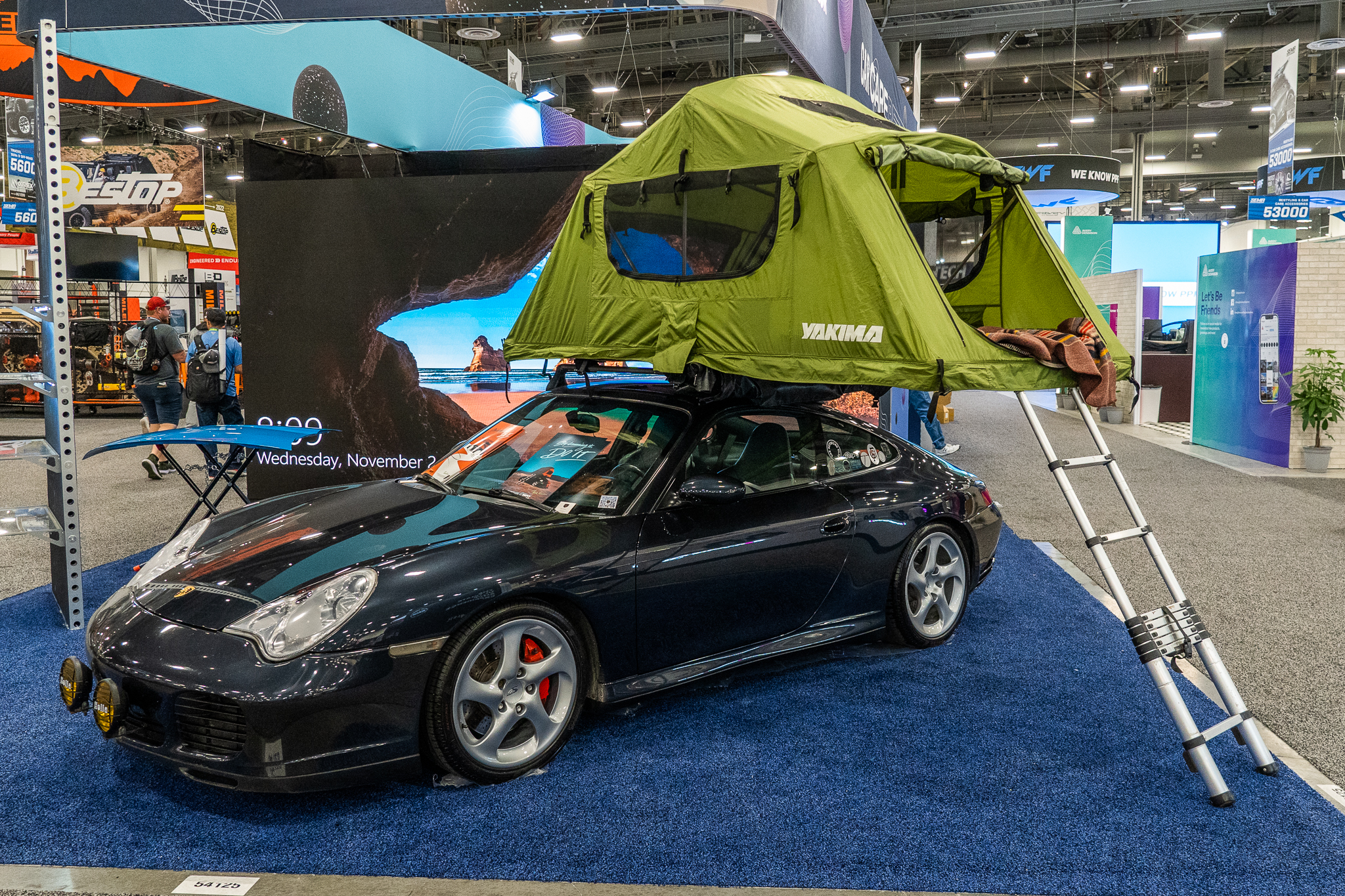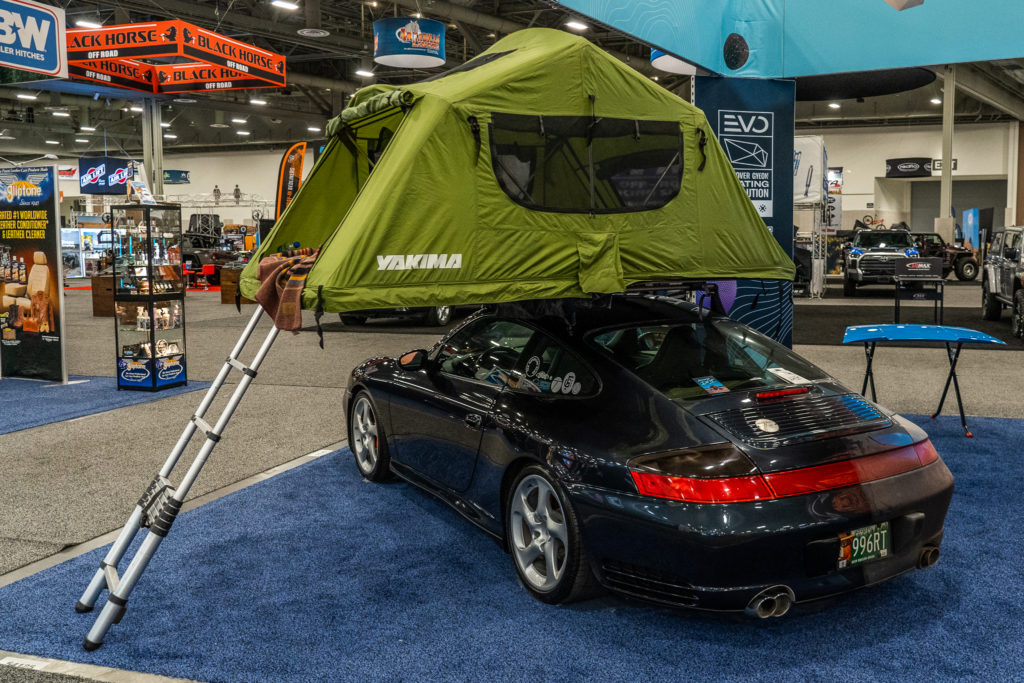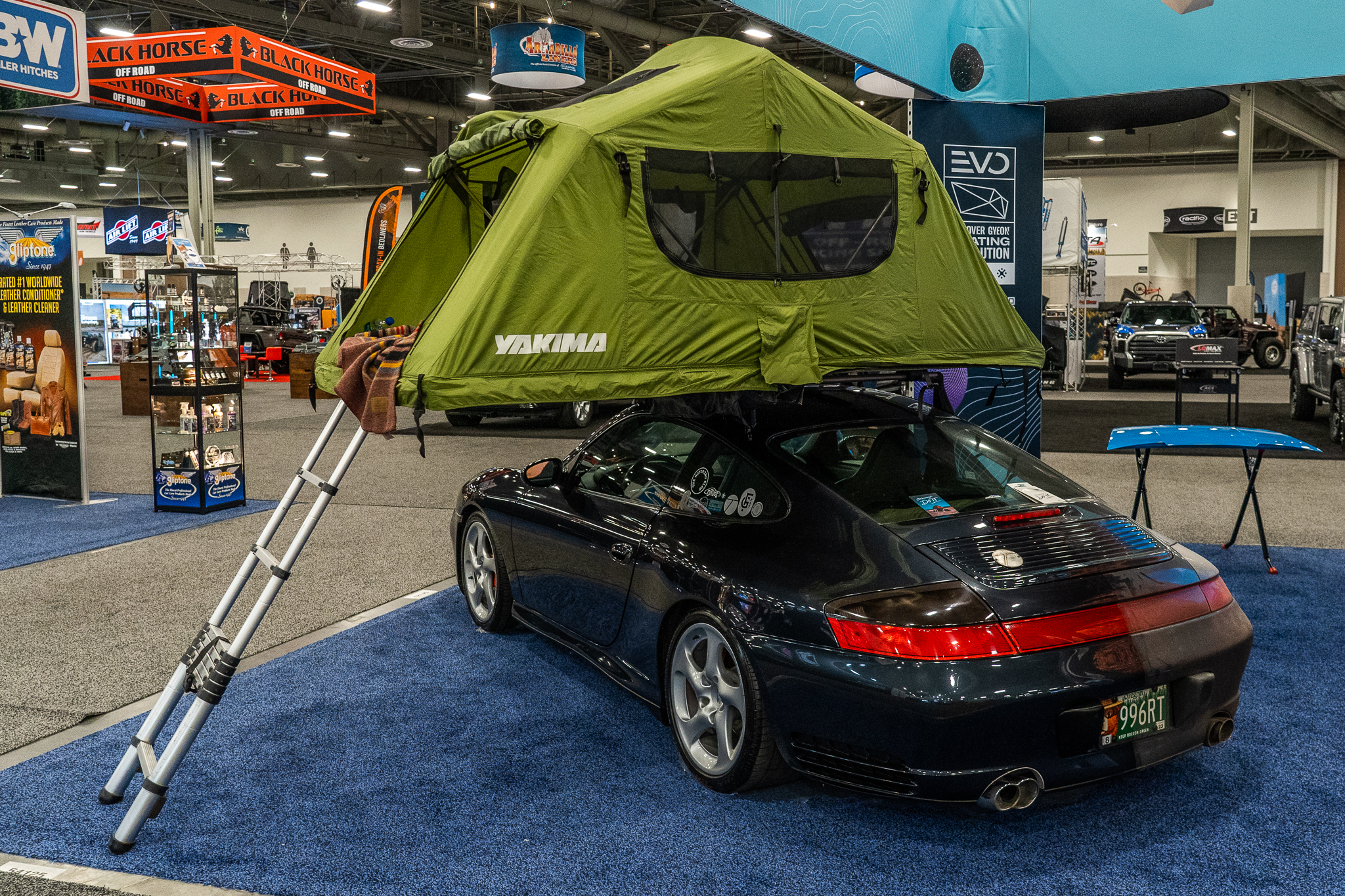 I spotted this 996 911 just as I was leaving. Since it's clearly been well-used, and hails from my home state of Oregon, I had to tack it on to the bottom of the list. Yeah, I don't recommend overlanding in it. Nevertheless, it looks like someone has used it on many a dirt road. I wish I were rich — and brave — enough to drive the snot out of a 996 911. Sadly, however, I am not. Cheers to this guy, though.