It's mid-adventure season, and we have some great gear options for you this month, from electronics and trail armor to cargo boxes and portable air conditioners. You read that right, portable air conditioning. Read on to find our picks for the best new gear on the overland market.
BoxoUSA Off-Road – Tool Bag With Tool Roll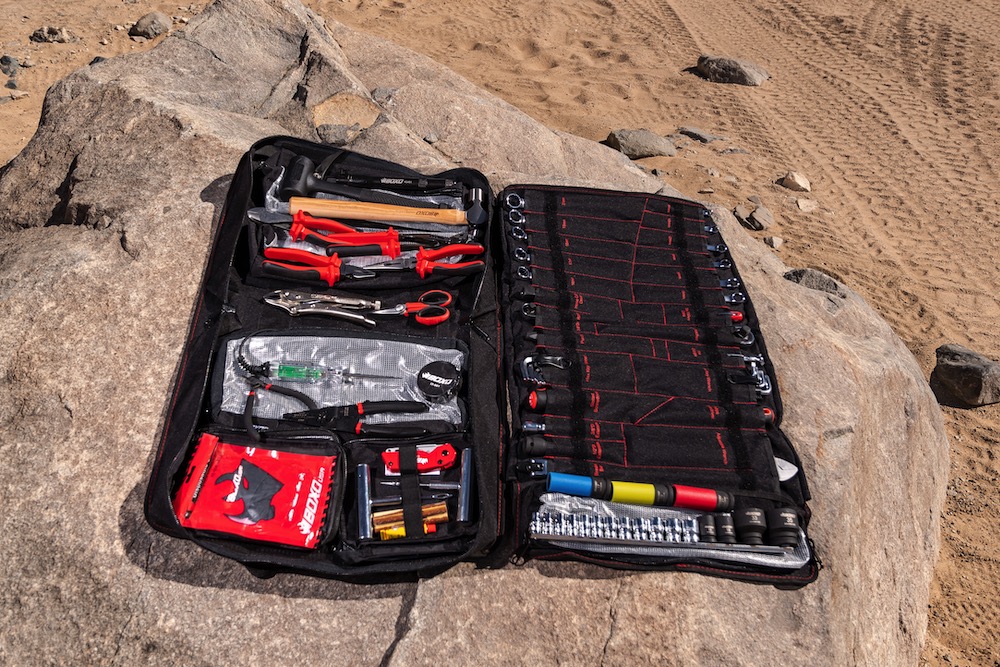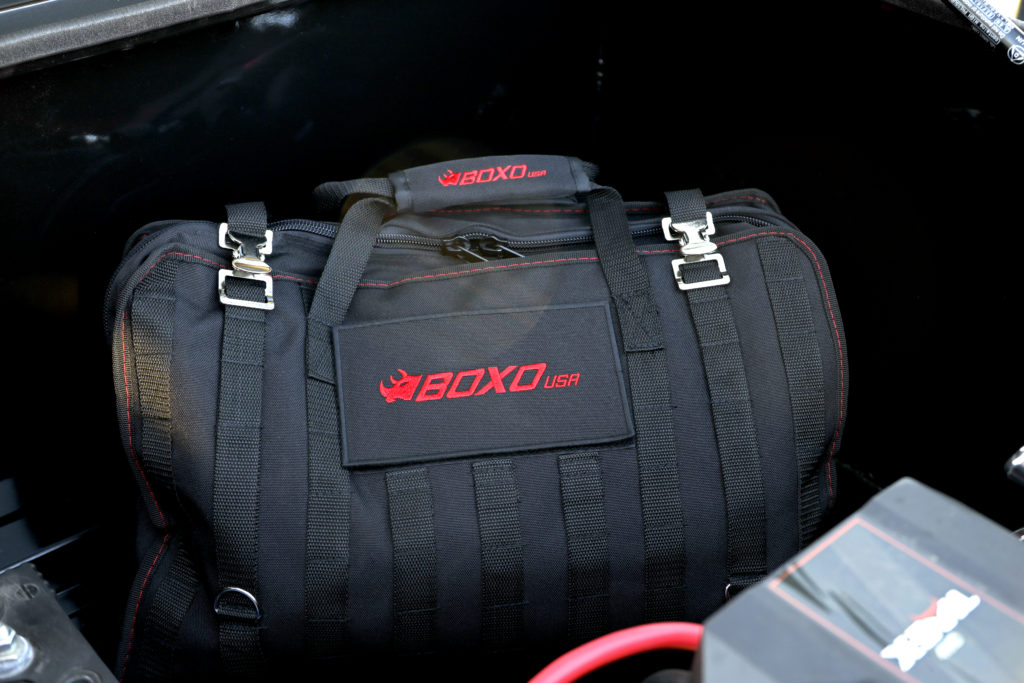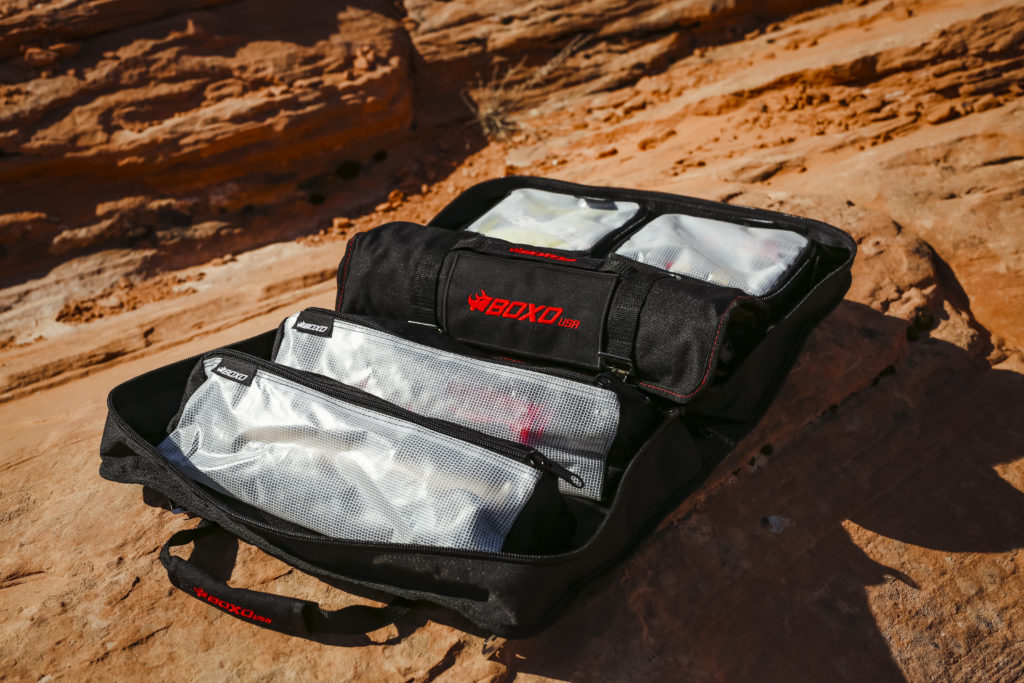 Equip your overland vehicle with a full set of high-quality tools. It is when you are stranded beside the trail, far from assistance, that you will fully appreciate the investment in quality. The BoxoUSA Off-Road Tool Bag is designed for your outdoor travels, containing 80 metric professional-grade tools with the most useful tools for most applications. The tool bag includes a 61-piece tool roll plus five removable tool bags containing pliers, hammers, a pry bar, tire repair kit, electrical test and repair items, and a universal removable bag for your other favorite items and tools.
The bag and tool roll are stitched from high-quality Cordura nylon for durability to ensure your tools stay organized and rattle-free on your adventures. For ease of use, there are heavy-duty zippers on the outer tool bag featuring an outside Molle webbing system. It's ideal for securing additional items to the exterior of the bag. The outer bag contains 19 individual tools and utilizes heavy-duty zippers for security and ease of use, while the inner tool roll contains 61 individual tools secured in labeled pockets that display each tool. The five inner removable tool pouches are secured via hook and loop mounting.
The tool set includes; twelve-point combination wrenches, ⅜-inch 12-point standard sockets, ½-inch drive six-point standard and wheel impact sockets, and ⅜-inch and ½-inch ratchets made from chrome vanadium steel with a mirror chrome finish to protect against corrosion. Included is a ½-inch breaker bar, ball peen hammer, dead blow hammer, five-piece plier set, diagonal side cutter, wire cutter, Philips #2, flat screwdriver 100mm, ¼-inch driver spinner handle with ¼-inch drive 5/16-inch socket, adjustable wrench, 8mm pin punch, and extensions.
The BoxoUSA Off-Road Tool bag's dimensions are 19.68 x 13.58 x 6.77 inches, and it weighs a mere 31 pounds making it a perfect compact tool solution for storing when you have limited space. For your peace of mind, the tools are backed by a limited lifetime warranty and a hassle-free return policy.
Take 10% off your purchase by using promo code OVERLAND10 at checkout.
MSRP: $550.00
CBI Offroad Fab – Toyota Tacoma Dakar Hybrid Bumper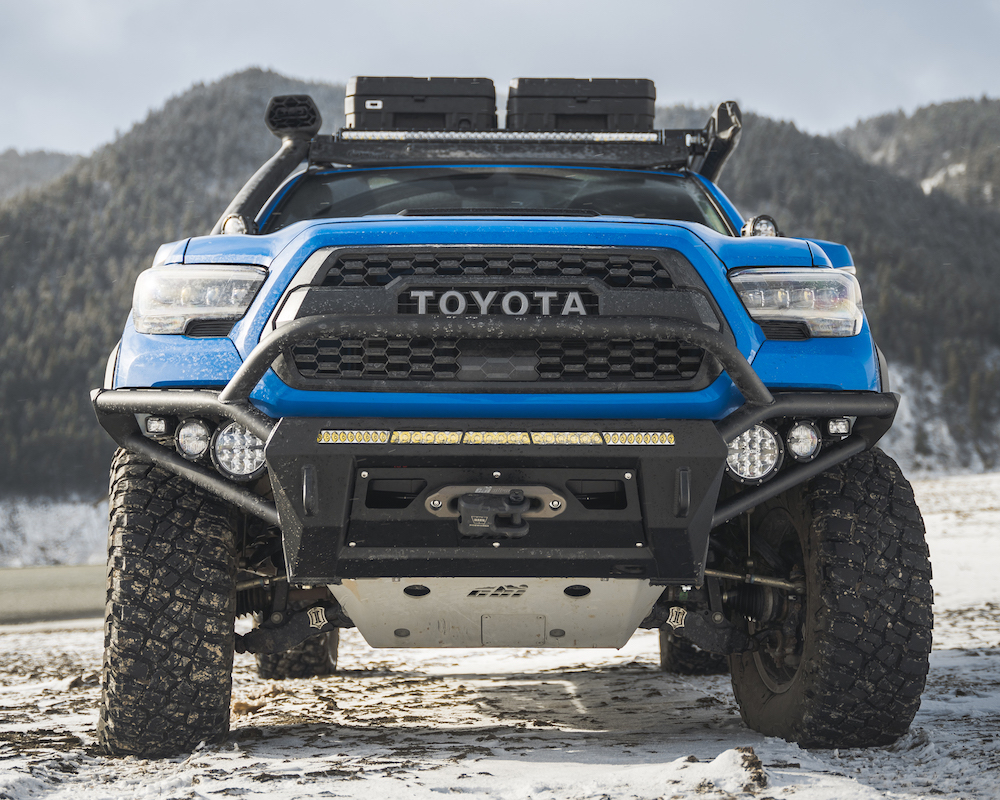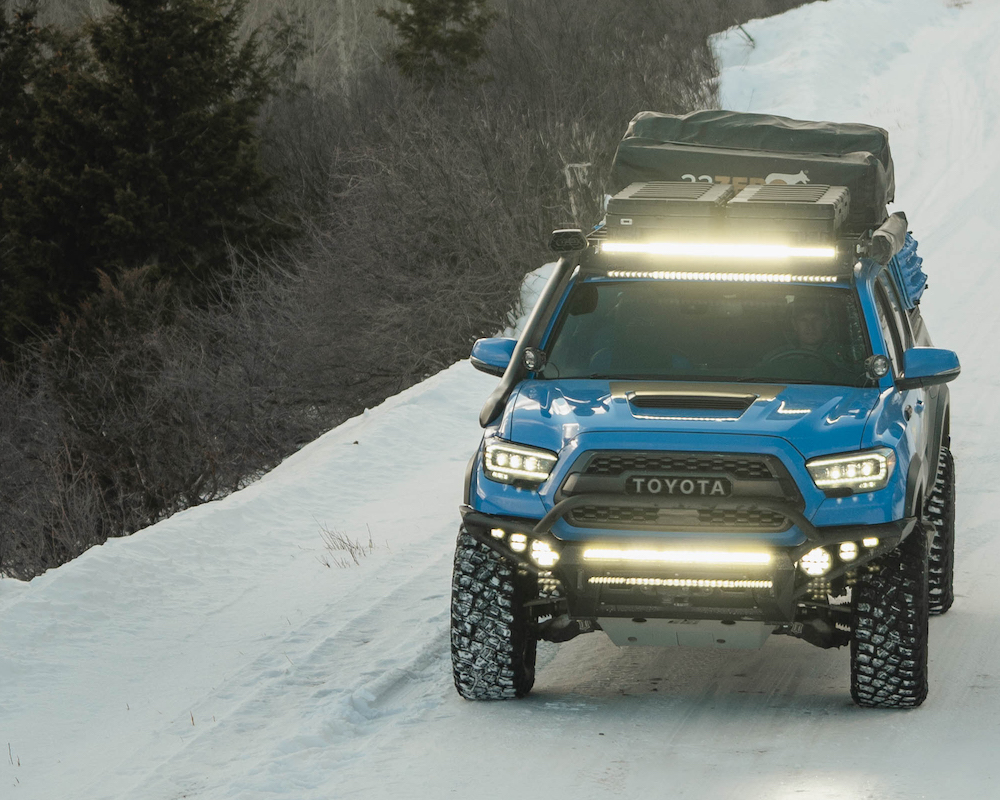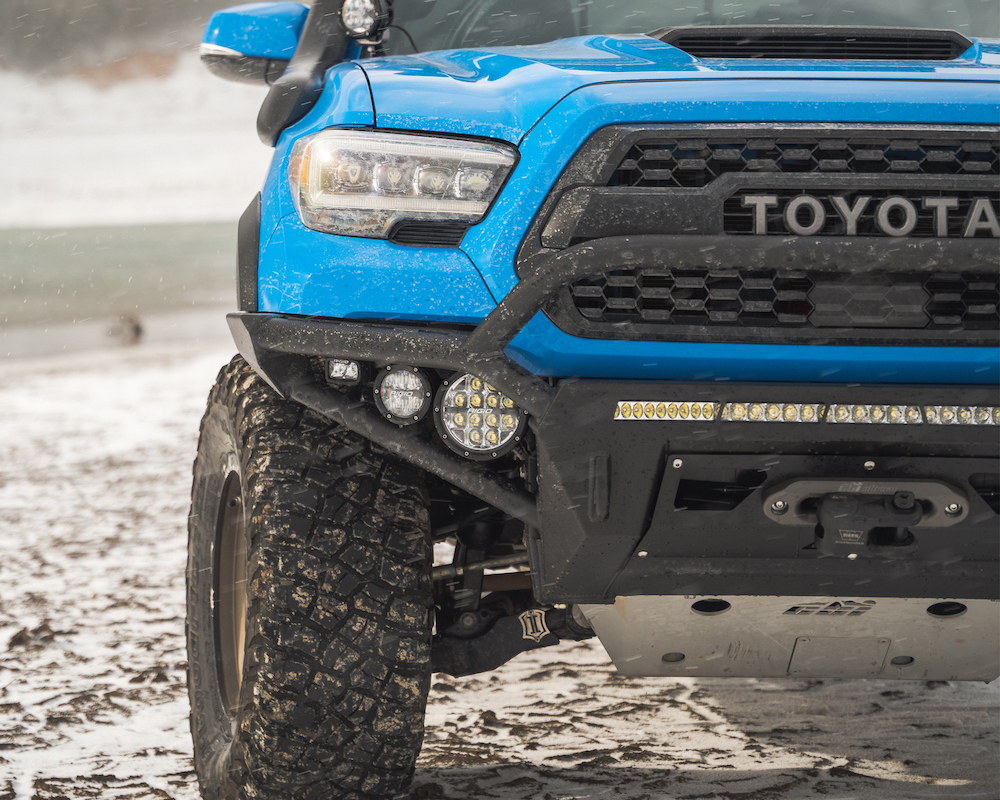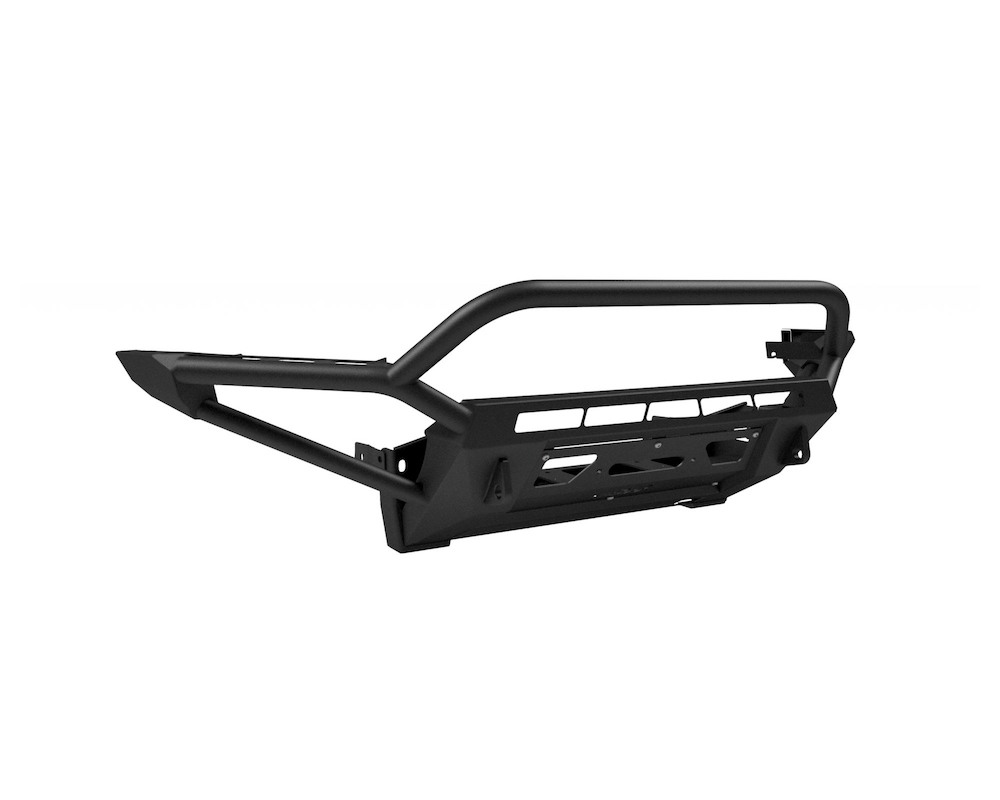 CBI Offroad Fab has been manufacturing high-quality offroading and overlanding equipment for more than ten years, with a focus on superior quality and performance. Each part is designed, engineered, and built by an expert team in a state-of-the-art facility in Idaho Falls, Idaho, USA.
The Toyota Tacoma Dakar Hybrid Bumper is an exceptional example of the reliable innovation available from CBI Offroad Fab. From conception to production, every detail has been considered to make this bumper extremely functional and high-performing in the toughest environments. Each design is tested extensively and used daily by a team of dedicated engineers and industry experts.
Specifically fitted for the third generation Toyota Tacoma (2016-2022), the Dakar Hybrid Bumper combines the strength of plate steel with the lightweight durability of DOM tubing. This creates a rugged appearance that looks tough and performs even better. By adding DOM tubing, the design retains strength and enhances protection for your lights and grill while reducing overall weight by 33% compared to full steel plate bumpers. This means better fuel efficiency and more distance with even greater confidence. With gas prices today, that makes a big difference on any adventure.
The design dramatically improves your rig's approach angle, meaning much less skidding and scuffing with greater flexibility in taking on tough climbs. It also includes a recessed and hidden winch mounting point that is secure, along with very capable d-rings for recovery and rescue. Additionally, each bumper is equipped with mounting points for up to six light pods, along with an integrated mount for up to a 30-inch lightbar. You'll be seeing everything in your path and driving with more capabilities, which adds to the comfort of any off-road trip.
This model gets its name from the Dakar Rally – one of the toughest rally races in the world – so you know it's designed to take a beating instead of your truck. And you can choose from optional black powder coating to add protection or stick with bare metal to match your taste. While there is some cutting required on the factory body to install the bumper, installation is actually quick and simple with the right tools. Once installed, the bumper will not interfere with your vehicle's factory cruise control sensor. The added strength, performance, and versatility in all terrains are well worth the time and investment in adding this awesome setup to your Tacoma.
So, what are you waiting for? Order yours today from CBI Offroad Fab. You'll be just in time to beat the crowds as everyone tries to hit the trails this spring and summer.
MSRP: $1,620.00-$1,820
Garmin – PowerSwitch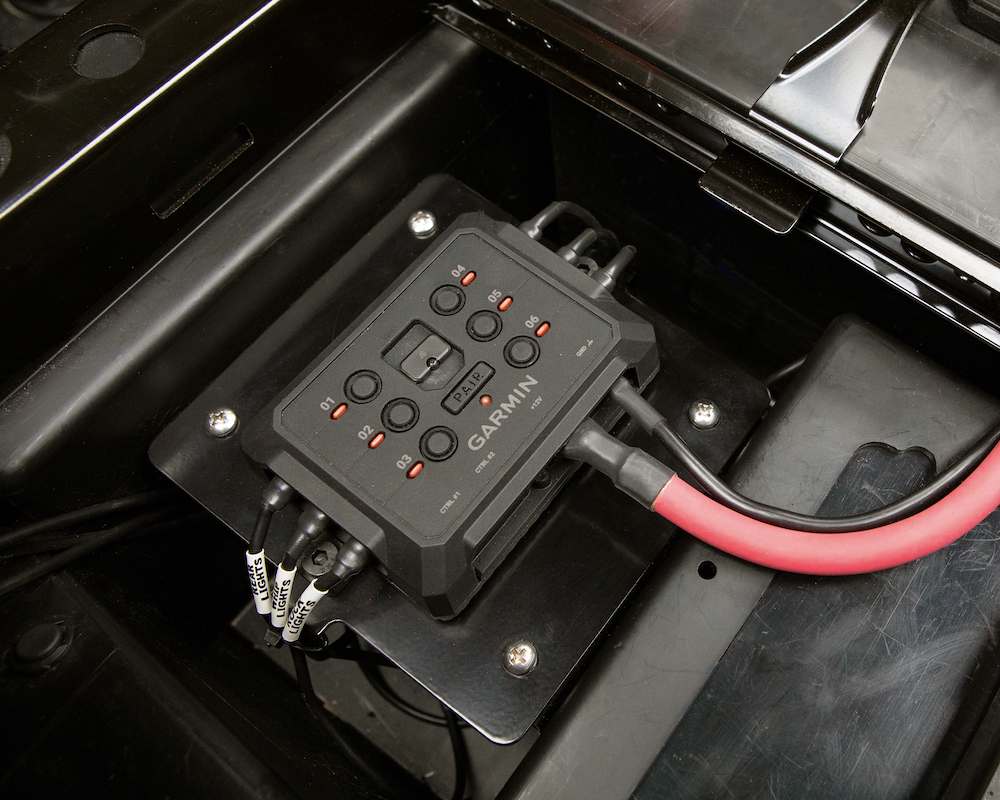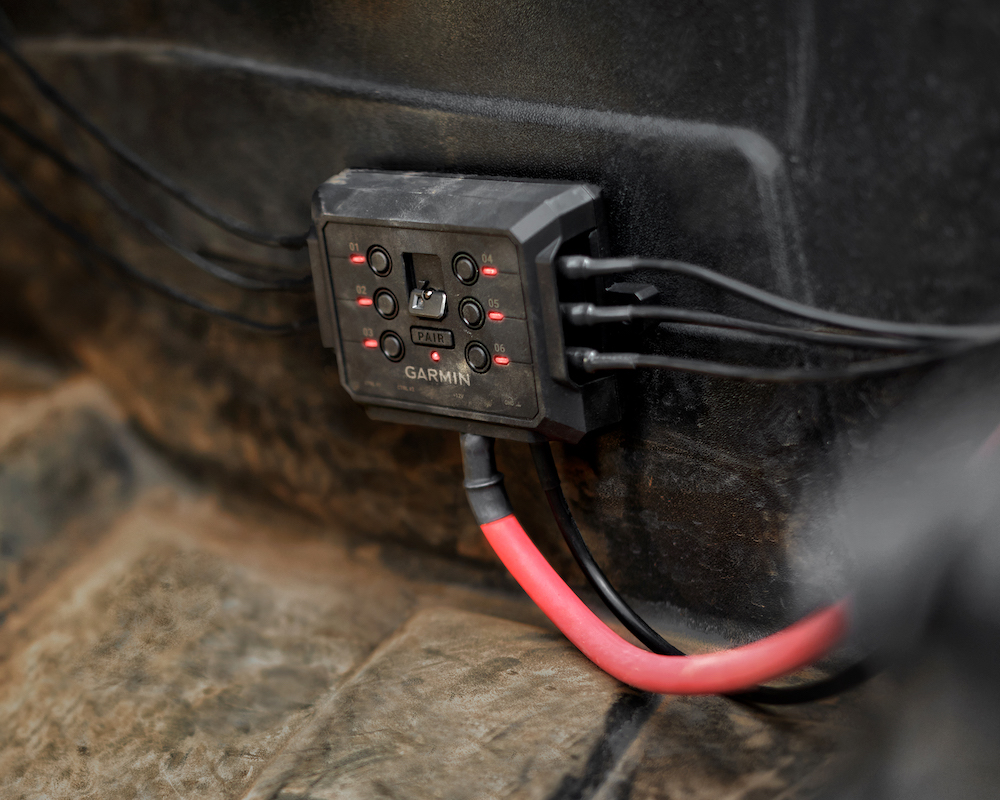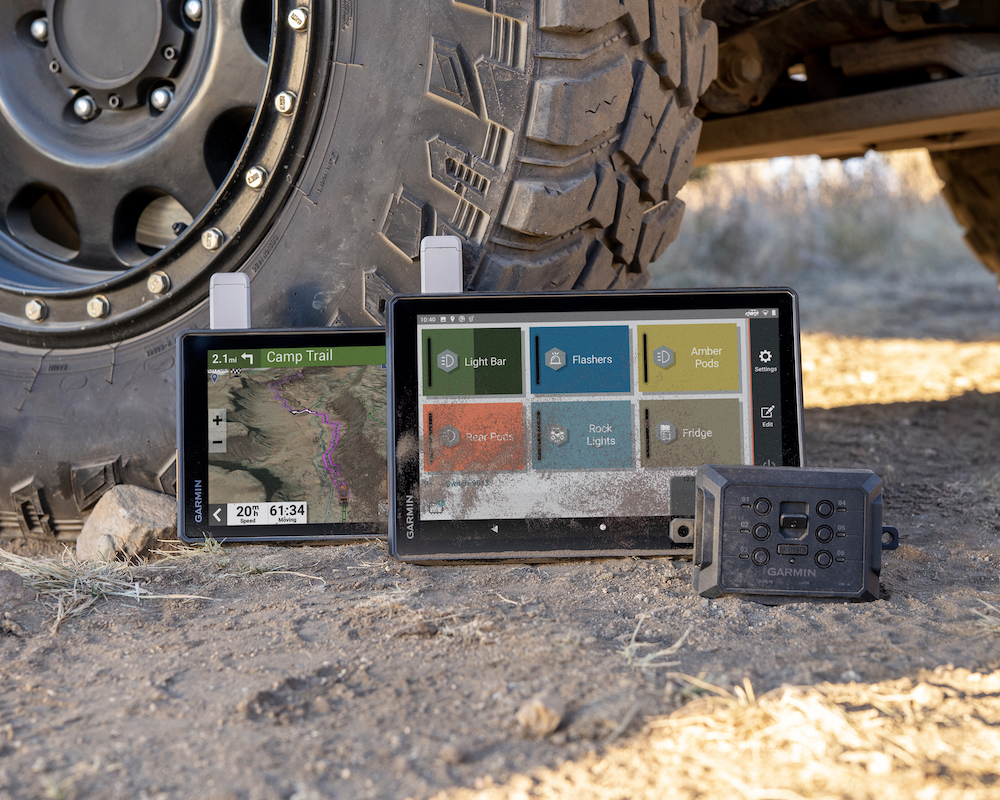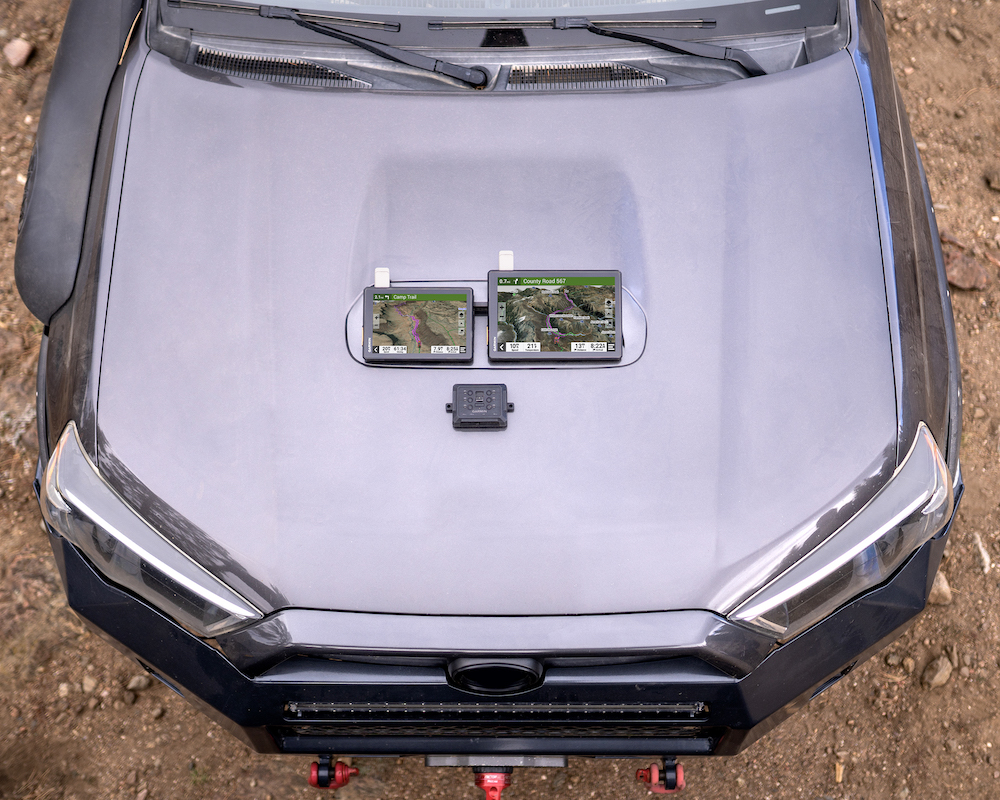 Garmin PowerSwitch™ brings wireless control to overlanding vehicle accessories. If you love taking your driving adventures into unpaved territory, you'll love the experience even more with the Garmin PowerSwitch™ digital switch box.
It lets you wirelessly control your vehicle's 12-volt accessories, such as light bars, horns, air compressors, differential locks, and more — right from the touchscreen of your Tread device or another compatible Garmin navigator or smartphone. Installation is a breeze. You can connect up to six outputs of 30 amps each without cutting into your dash or worrying about interference with other vehicle electronics. Discover the freedom of touchscreen switching with Garmin PowerSwitch.
MSRP: $499
Nomadica Outfitters – All-In-One Medium Grill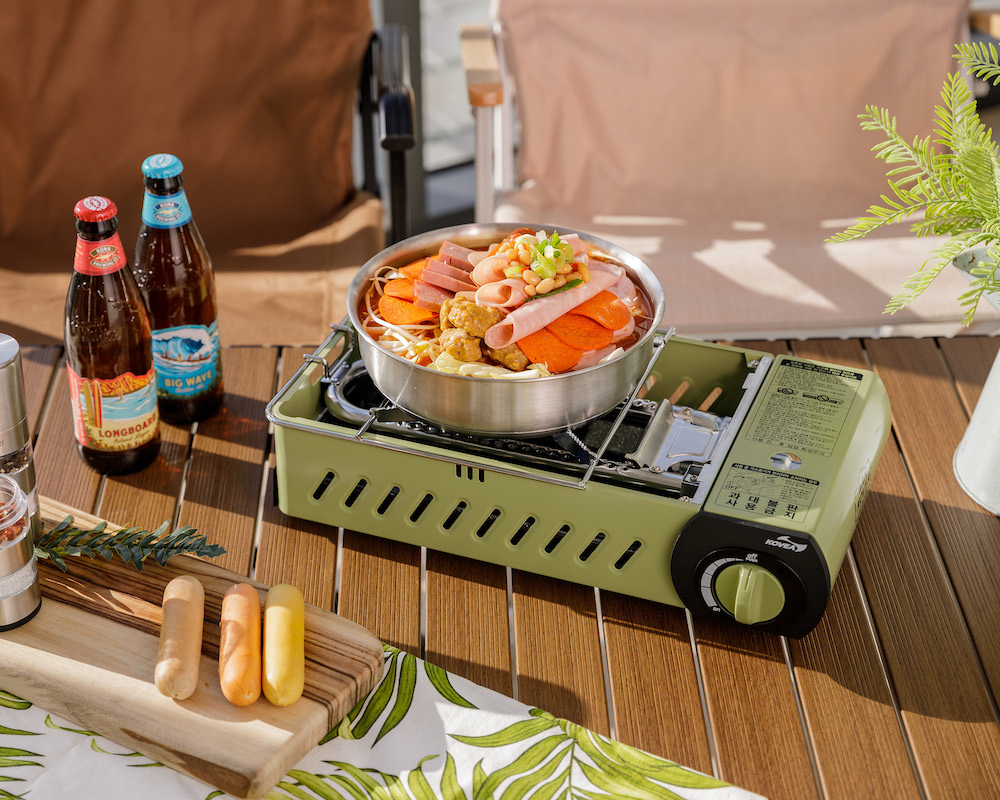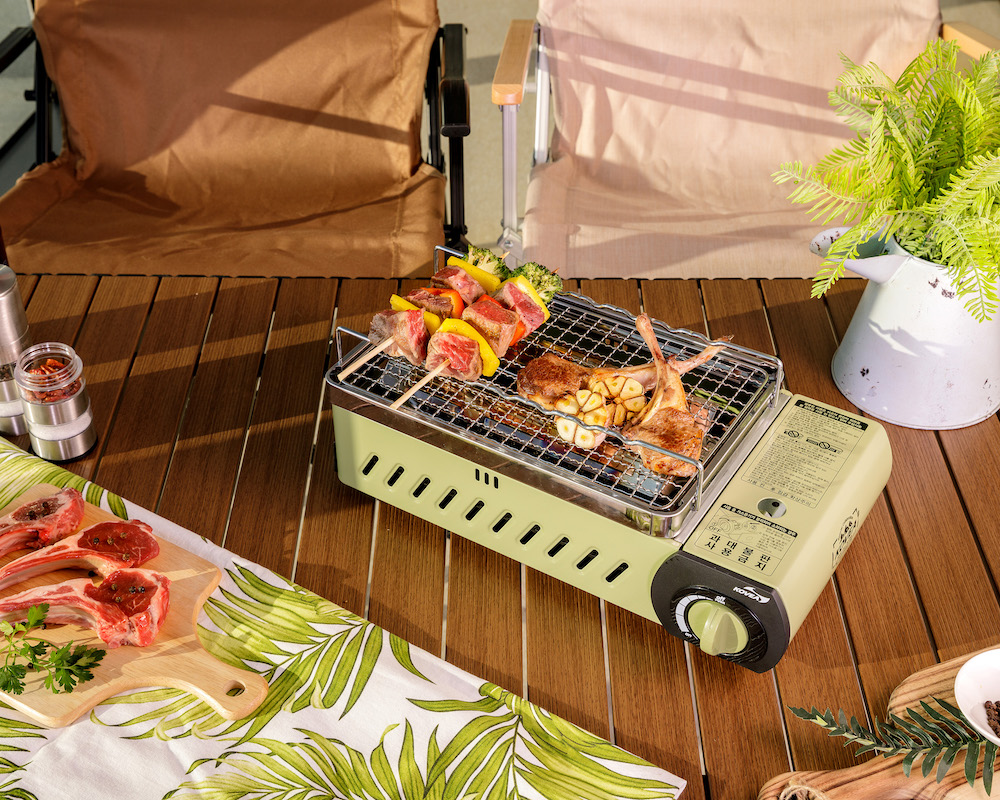 The Kovea All-In-One grills are the most versatile self-contained cook systems available. Their latest release, the All-In-One Medium – at just 8.5 lbs and 17 x 9.5 x 8.5-inches is quite possibly the ideal size for vehicle-based adventures.
The All-In-One Gas BBQ Grill is the perfect companion for indoor or outdoor cooking. The unique U-shaped flame head evenly distributes heat across the cooking surface. Equipped with three different types of cooking trays – large pot support for traditional stovetop cooking, a BBQ grill with deployable skewer supports, and a cast aluminum pan with a lid – this all-in-one cooking stove does everything, grilling, cooking stews, shabu shabu, ramen, or kabobs. It even has a removable grease tray for easy cleaning. And it's completely self-contained, making it easy to deploy on any table. With this portable stove, you can cook anything, anywhere.
Colloquially this style of the stove is still affectionately referred to as a Gui-bada in Korea, the original name loosely translates to Ocean Grill. The name is not only a direct reference to its use – one's ability to grill seafood directly from the ocean, but also a symbolic reference to the variety of its uses as endless as the sea is wide.
This style of stove is very popular and common in Korea. The Medium has been adapted to appeal to Overland consumers by coming with a metal lid instead of glass and a matching carry bag included. One of the best features is the aluminum pan. It's ultra-versatile and means most of the time, you don't even need to bring pots or pans with you, further saving space in your rig and money in your pocket.
Offered in a gorgeous olive green, the All-In-One has never looked so good!
MSRP: $259.00
Oliver Travel Trailers – Legacy Elite II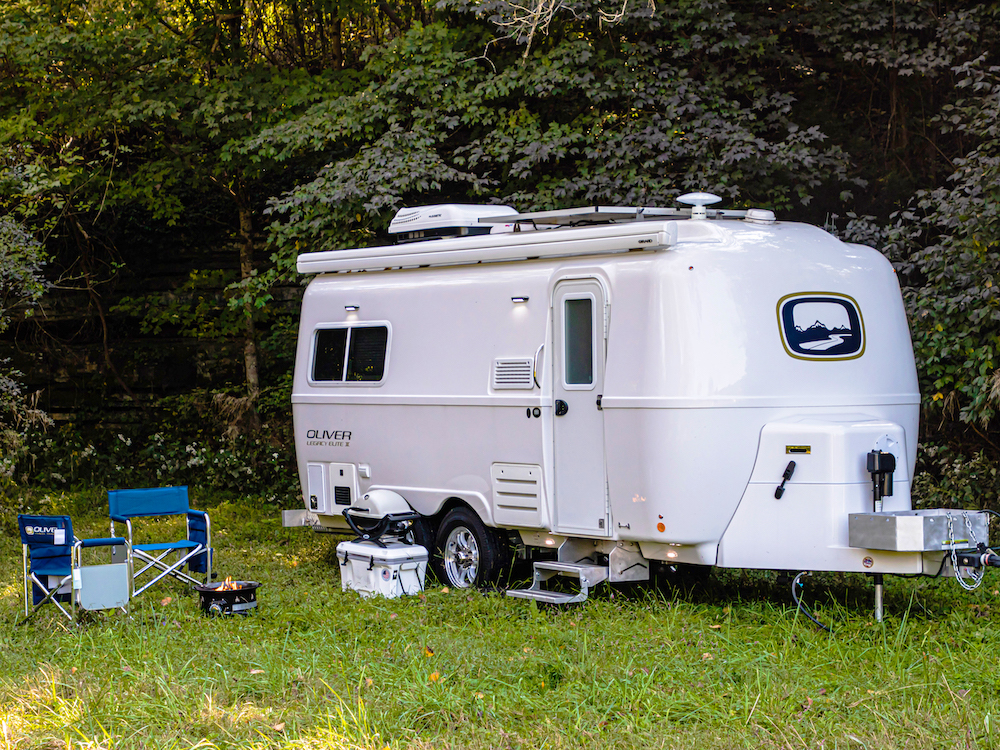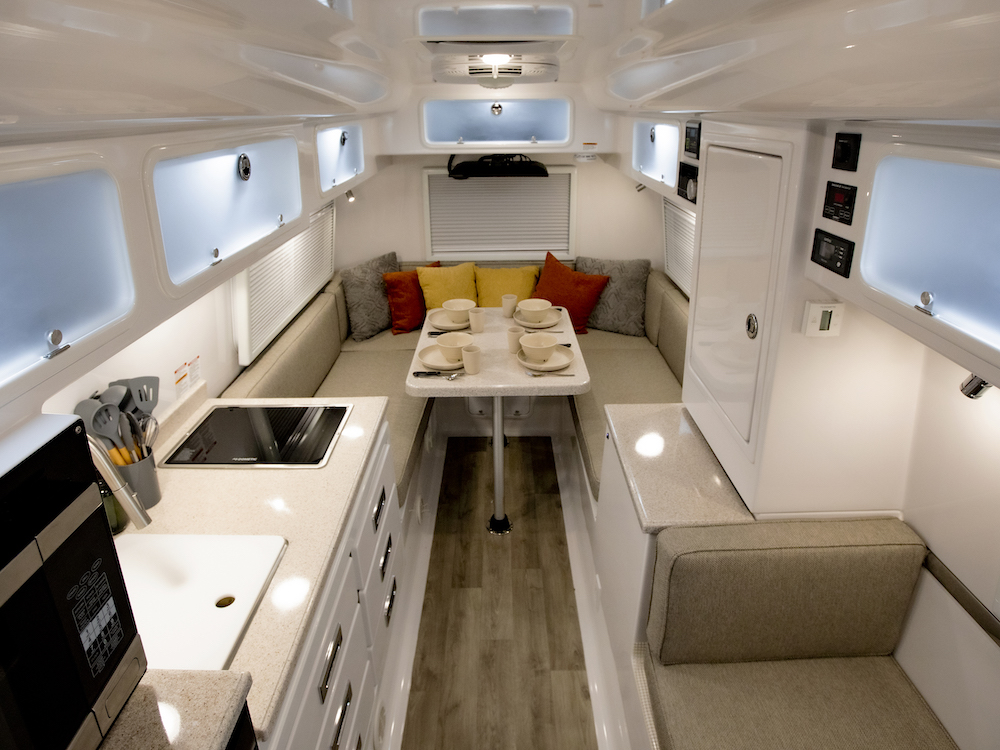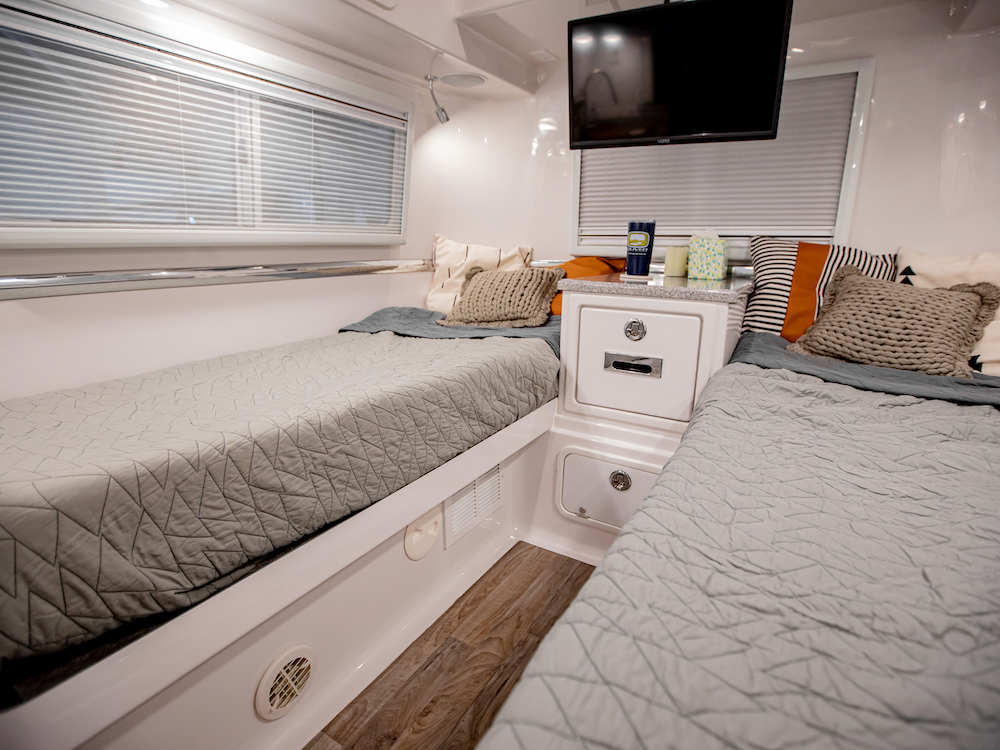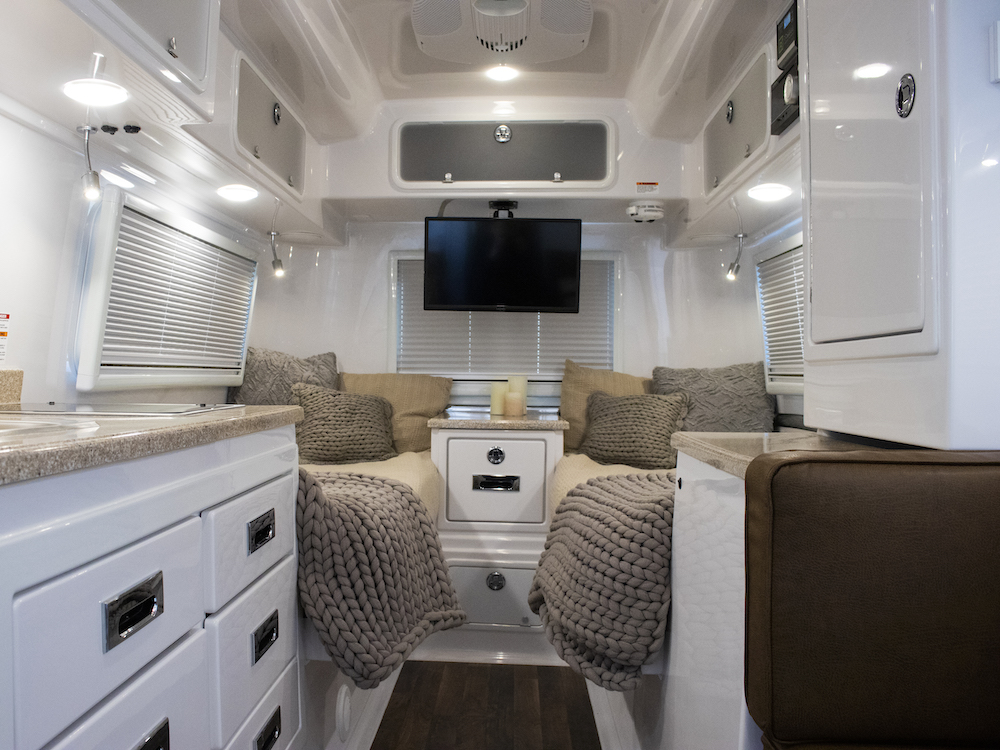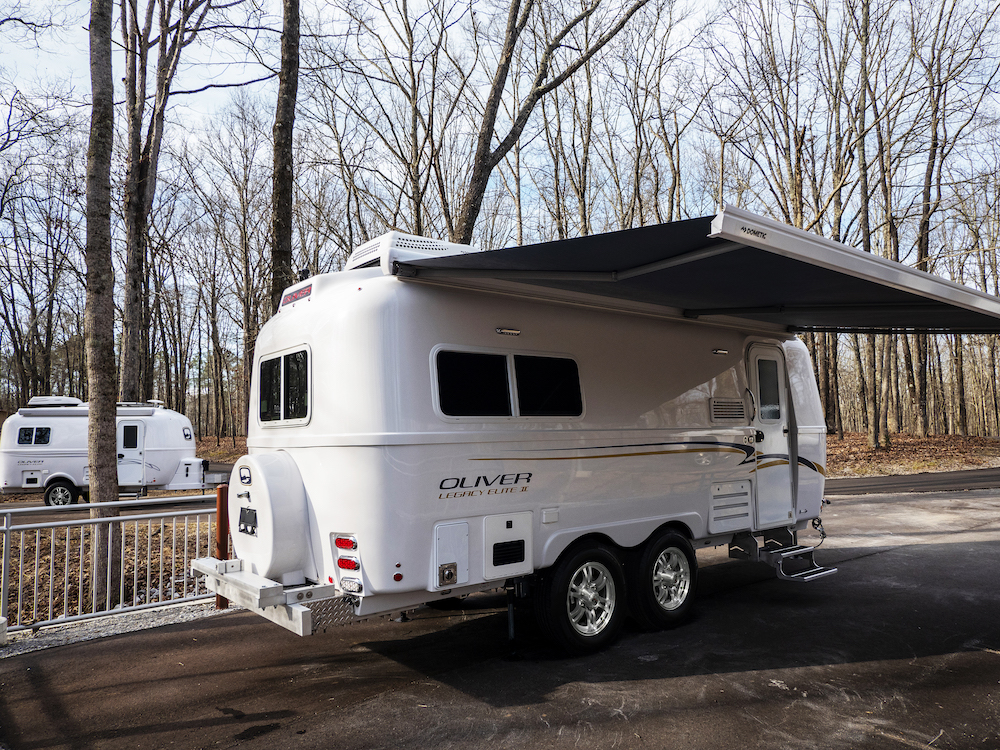 Oliver Travel Trailers is a family-owned RV company located in Hohenwald, Tennessee, and was founded in 2007. Over the past decade, Oliver has developed a reputation for being the highest-class fiberglass travel trailers in the industry. Oliver customers appreciate the experience of purchasing factory direct, having the ability to personalize the trailer to their camping preferences and rave about the first-class customer service they receive both during and after the purchasing process.
Oliver sells two trailer models, the Legacy Elite, a single-axle 18-foot, 5-inch trailer with a 5,000 lb. GVWR, and the more popular Legacy Elite II, a tandem-axle 23-feet 6-inch trailer with a 7,000 lb. GVWR. The Legacy Elite is 78-inch wide, and the Legacy Elite II is 84-inch wide. Both models tuck in nicely behind standard-size tow vehicles, and are well balanced and aerodynamic, providing an exceptional towing experience.
The unique design of these beautiful trailers makes them a true four-season capable travel trailer. The double-hulled fiberglass design eliminates the use of wood in the floor, walls, roof, or ceiling and encapsulates the tanks, plumbing, ducting, and mechanical systems between the inner and outer gel-coated fiberglass shells. The air space between the inner and outer shells helps prevent condensation, energy loss, and keeps the tanks and water lines heated when running the furnace in cold camping conditions. The Oliver frame is constructed from 6061 aluminum that is assembled to a galvanized steel chassis equipped with Nev-R-Lube axles, gas shocks, electric brakes, and 16″ aluminum wheels with 10-ply truck tires. The interior galley drawers are high-quality wood, dovetailed together, with soft close drawer slides and retaining latches that prevent drawers from opening when towing. Other interior and exterior compartments are equipped with high-quality stainless-steel marine-grade latches.
Popular options available for off-grid and boondocking enthusiasts include up to 630 amp-hours of lithium batteries, 400-watt roof-mounted solar panels, 3000-watt inverter capable of running the AC, composting toilet, tankless on-demand water heater, and Cradlepoint wireless WAN with LTE to stay connected. These are just a few of the options you can choose from when ordering and personalizing an Oliver to your camping style, an advantage you won't see on other travel trailers anywhere near this price point.
Oliver Travel Trailer warranty is five years on the fiberglass and aluminum frame, two years on parts manufactured and installed by Oliver, and one year hitch to bumper coverage.
Pricing for the Legacy Elite starts at $65,500, while the Legacy Elite II starts at $73,500.
If you would like to view Oliver's Legacy Elite II Twin Bed travel trailer, Oliver will be exhibiting at site A223 during the Overland Expo Mountain West event on August 26-28, 2022.
MSRP: Starting at $65,500.00
Overland Vehicle Systems – Mamba 3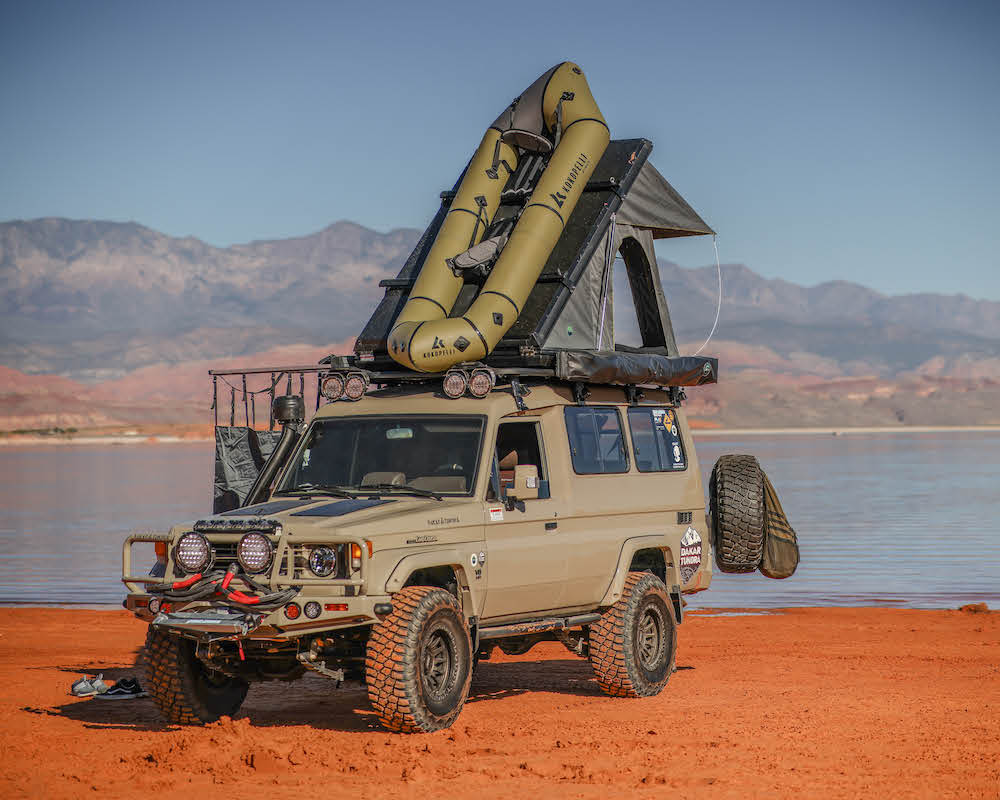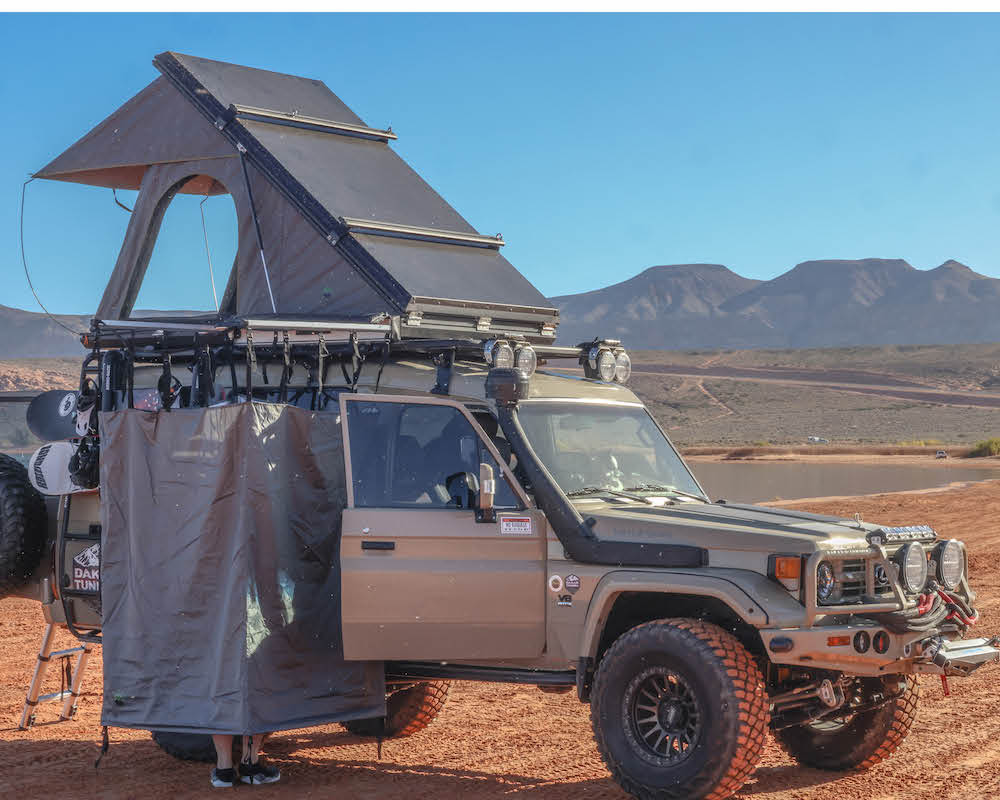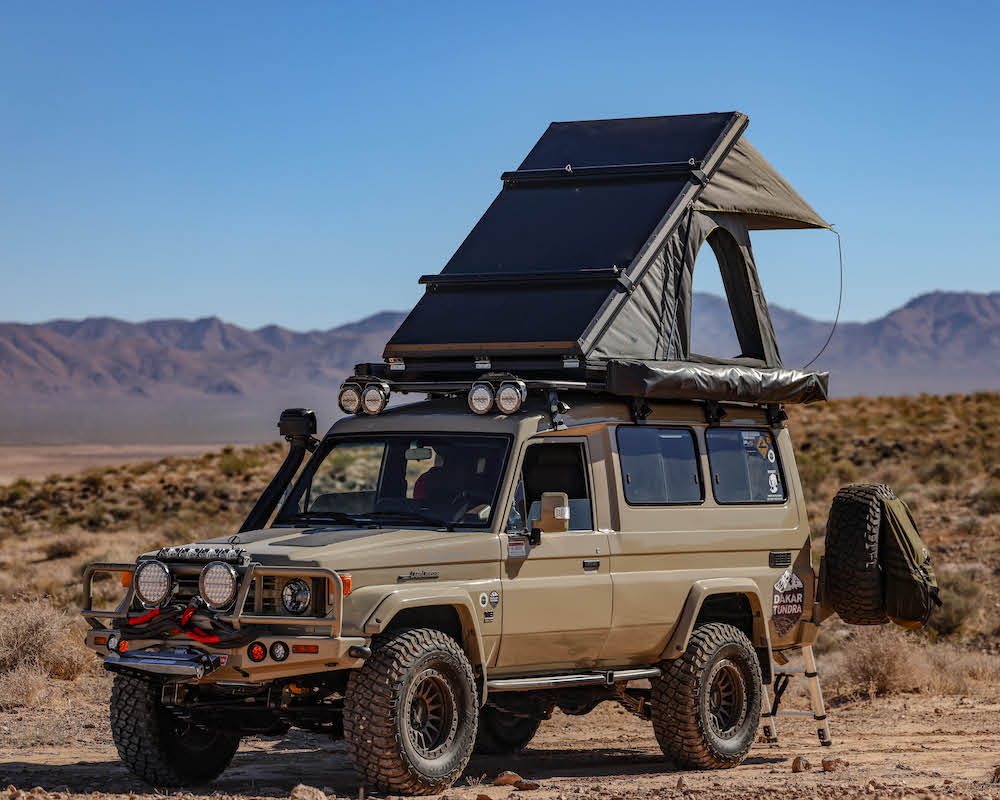 Wherever you go, you should always have shelter. Overland Vehicle Systems makes it possible with premium rooftop tents that give occupants security, comfort, and long-lasting durability. What's more, OVS makes annex tents, awnings, and more to revolutionize your Overlanding experience completely.
The Mamba III is the best in a class all Aluminum-Bodied Hard Side Roof Top Tent with more standard included options. The Mamba III has a Set Up and Put Away time of less than a minute. For Set Up: Unlock two latches, pull down your ladder, and insert two window rods. Reverse the process for Put Away. The Overland Vehicle Systems Mamba III comes standard with an Anti-Condensation Mat under the thick 2″ Mattress, Standard Functional and Removable Cross Bars for additional exterior storage, an insulated honeycomb base, and enough interior space to store bedding when closed. The Mamba III Roof Top Tent also comes with 1 Adjustable Interior Pop-Up Strut for additional support when weight has been added to the cross bars. The Mamba III Roof Top Tent has a clean, rugged, durable, sleek, and aerodynamic design compared to traditional Roof Top Tents.
The Overland Vehicle Systems Mamba III Roof Top Tent has t-slot accessory channels to help mount recovery gear and many other smaller lightweight accessories. The Mamba III Roof Top Tent comes with two standard cross bars to help carry extra gear for your adventure. Cross bars are fully compatible with Thule and Yakima accessories. The cross bars are not expandable, but they have the ability to be removed if need be.
The Overland Systems Mamba III hard-sided rooftop tent is manufactured with a premium 600D rip-stop waterproof tent body; window screens are 120G environmental fadeless breathable gaze, two nitrogen gas charged struts that are 35.5 long X 1-inch, one adjustable interior pop-up strut, ballistic nylon pull strap, aluminum aircraft grade handle, marine grade 304 stainless steel hardware, universal, adjustable aluminum channel, military spec weatherproof seal, and the base is 1-inch aluminum honeycomb insulated.
Overland Vehicle Systems' top-tier design will take you where ever you need to go, and the Mamba 3 is no exception.
MSRP: $3,399.99
Pelican Cargo Cases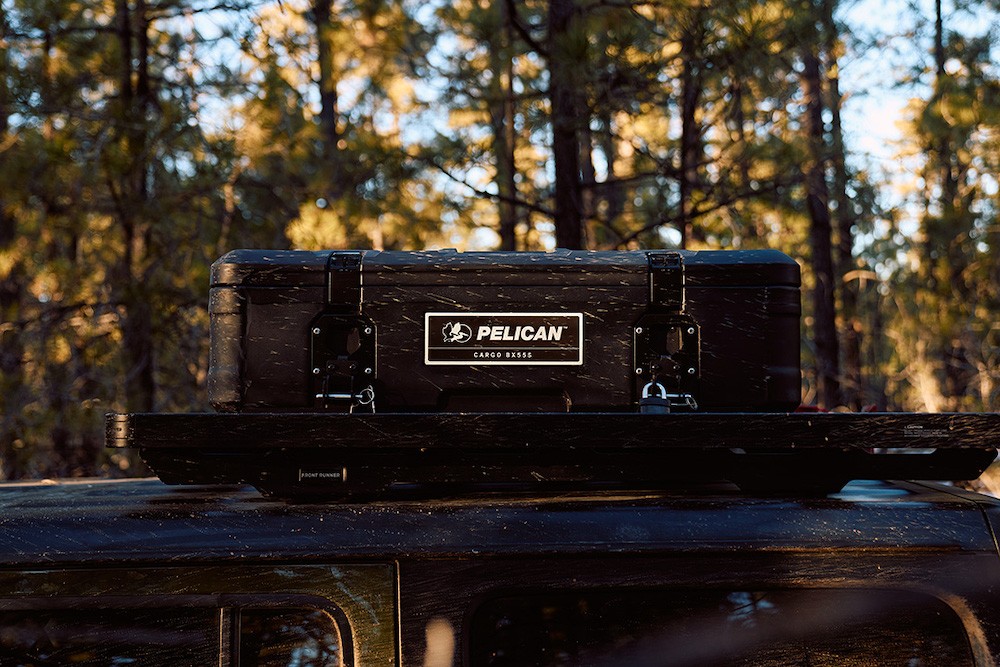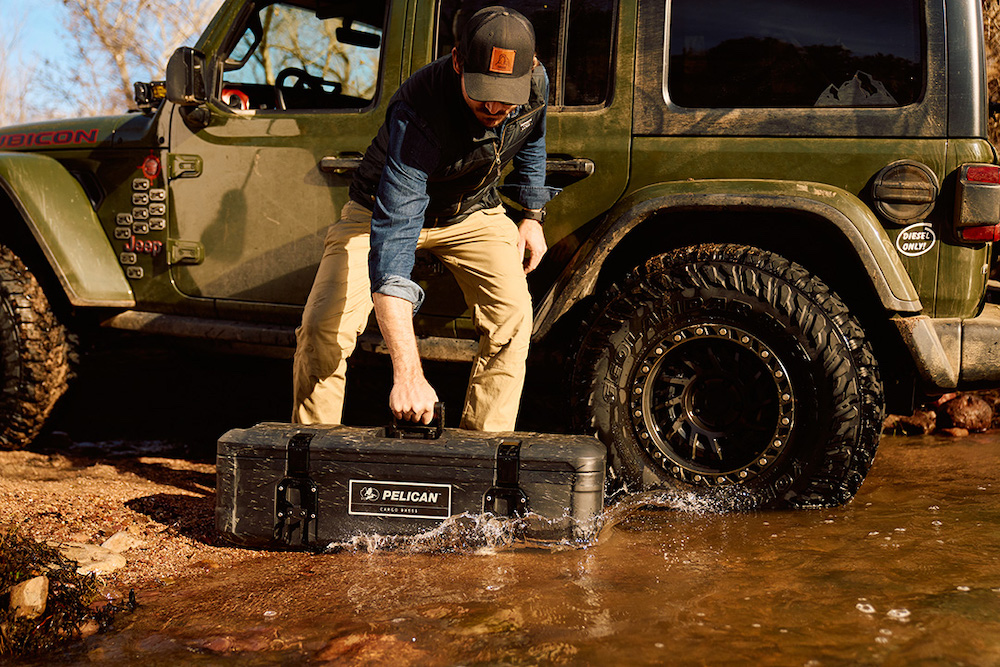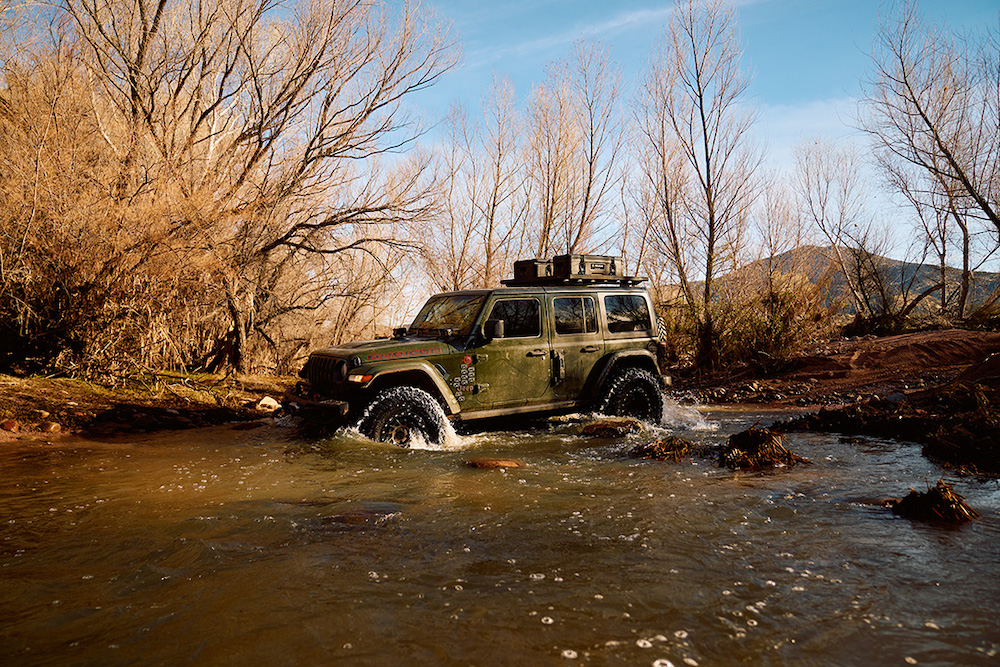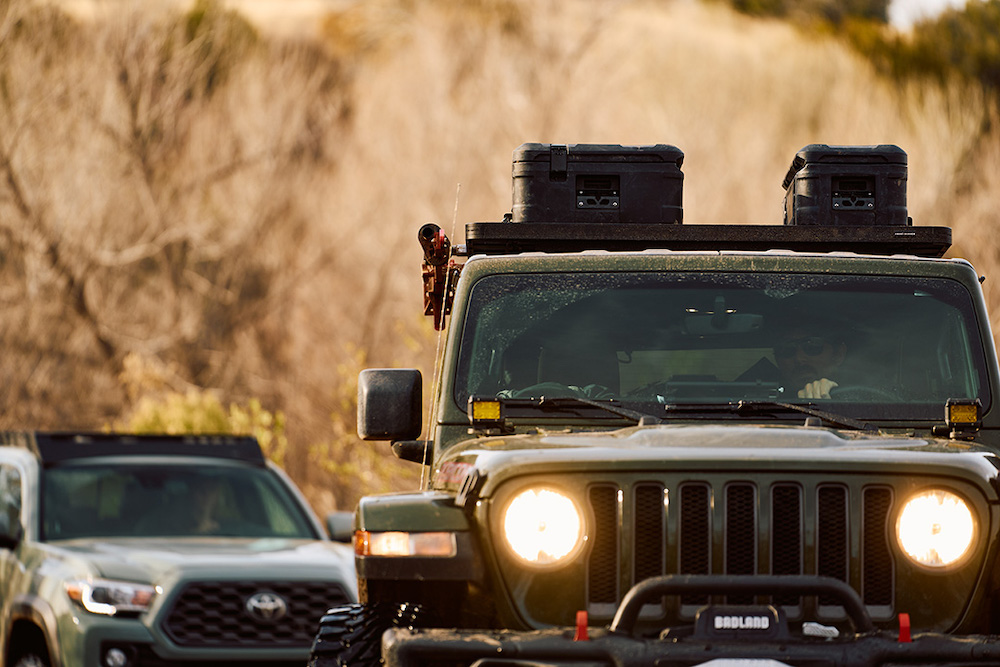 Pelican Cargo Cases are designed to securely mount and quickly release from vehicles. They provide the highest level of protection for your gear. Built with the same legendary performance and quality Pelican is known for, Pelican Cargo cases are extremely durable, and weather tested.
The cargo cases are engineered to optimize storage for overlanding and outdoor adventure travel. Pelican Cargo cases are the ideal solution to keep your valuable gear, clothing, tools, and even dry food organized, secured, and protected. The Pelican Cargo cases are available in eight sizes and various form factors to fit in truck beds, in the back of SUVs, and on select vehicle roof rack systems.
Key features for Pelican Cargo Cases include:
Weather resistant and dustproof: Tested to Mil-Spec 810G to protect against 70 mph wind-blown rain and dust.
Roto-molded construction: Designed to withstand serious impact in the most extreme conditions.
Corrosion-resistant hardware: Stainless steel rivets, lockable latches, and integrated tie-down plates for easy mounting.
Heavy-duty lay-flat handles: Oversized lay-flat handles stay out of the way, lock at 90˚ and offer a comfortable, full grip for easy carry and transport.
Proprietary mounting systems: For truck beds and roof racks (sold separately).
The mounting systems utilize simple, quick-and-easy, no-drilling installation. The vehicle mounting kits (sold separately) provide a hands-free open lid design for quick access and goes from locked to loose in 14 seconds. Pelican has conducted extensive research, testing, and development to ensure compatibility with the major truck and SUV brands, including Ram, Chevrolet, Ford, Jeep, Toyota, and other vehicles, across a wide range of configurations from extra-short to long beds. Mounts are made with 11- or 13-gauge steel finished with black, corrosion-resistant powder coating. The Cargo case can be secured to the mount with a padlock.
Ready to mount and protect, Pelican Cargo cases provide consistent and completely customizable mounting configurations, ensuring your gear is easily accessible.
The cases feature a limited lifetime guarantee, while the mounts feature a three-year guarantee.
MSRP: $269.95 – $479.95
sPOD – Source & Bantam Switch Controllers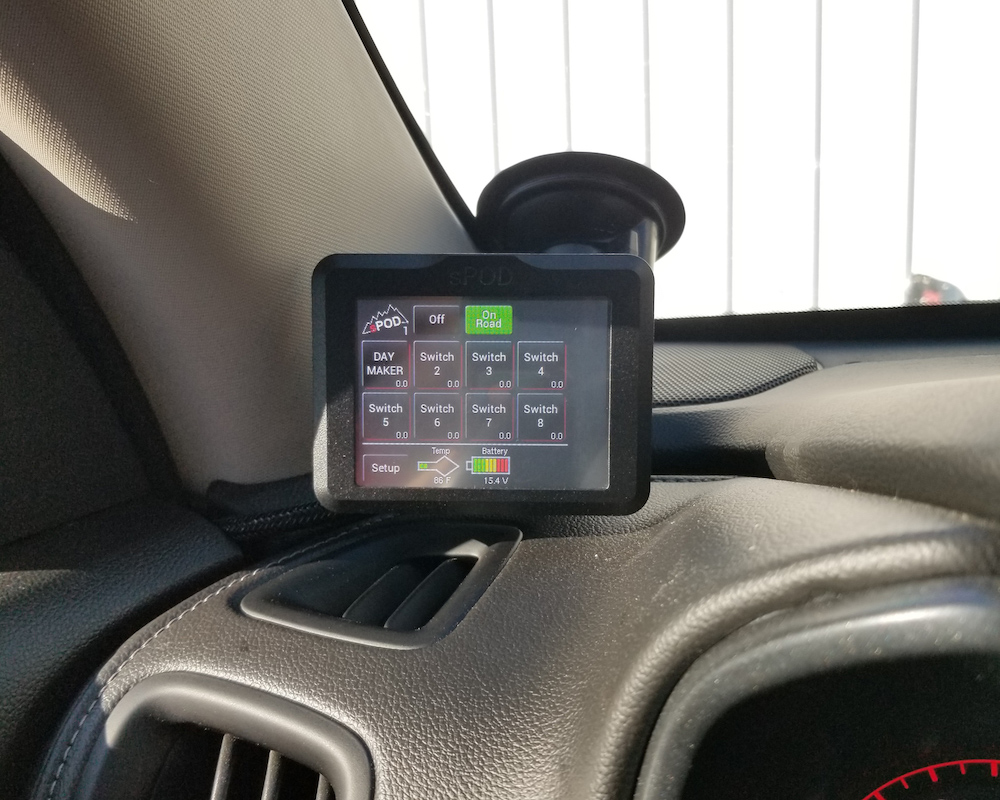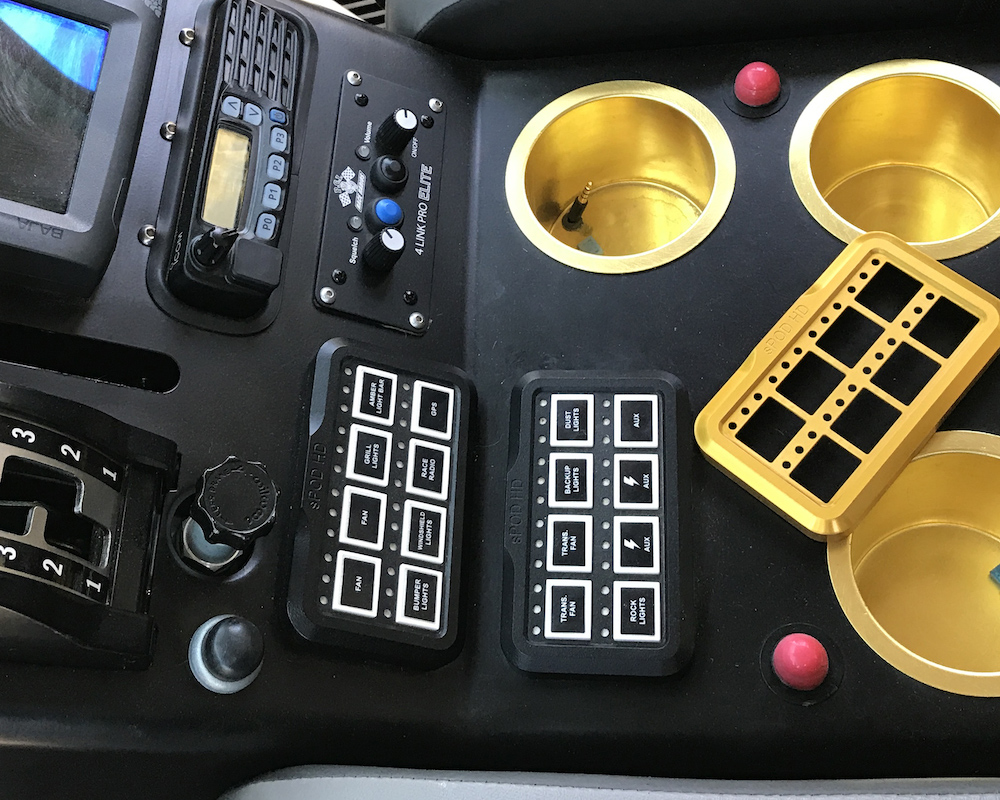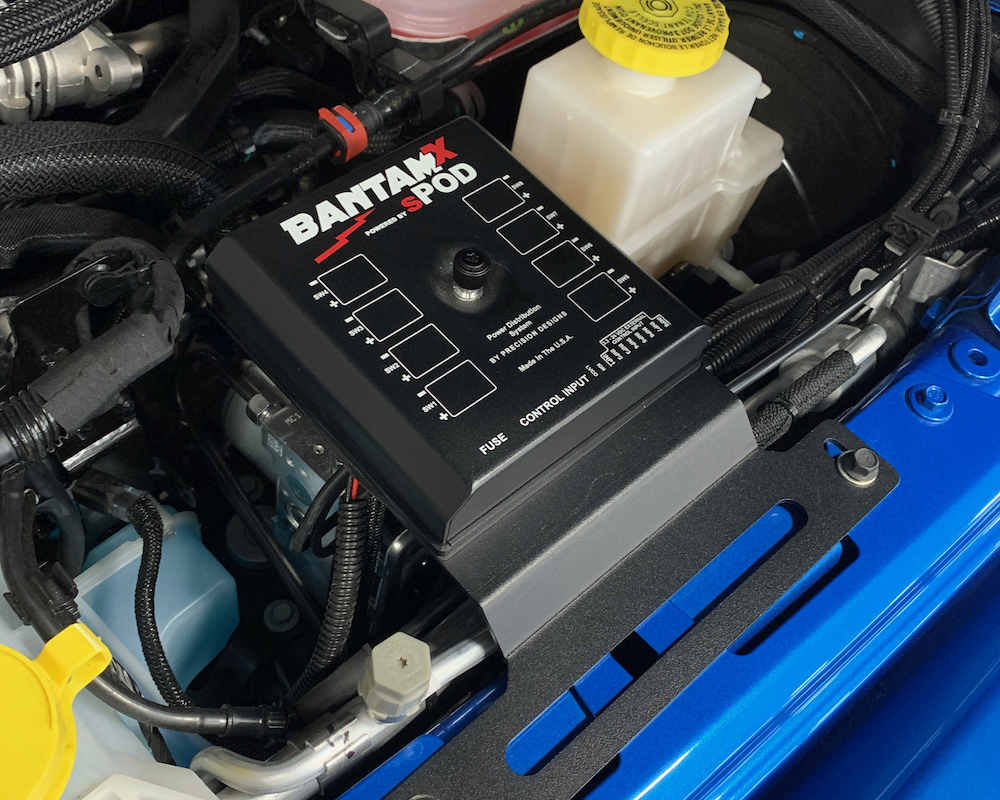 When it comes to automotive electrical wiring, sPOD's motto is always "simple is better." A complex rat's nest of wiring crisscrossing under your hood, poking out of the firewall and into your cab at random places is messy, difficult to maintain, and nearly impossible to replace if something were to go wrong. Oh, and not to mention a fire hazard. sPOD provides switch and touchscreen panels with Bluetooth connectivity that will act as a junction box between your accessories and the vehicle's power supply. Thus, giving you peace of mind, knowing the accessory is protected from power surges and faulty wires, all while ensuring a simplified installation process.
As the innovator and the first power distribution system engineered/designed for off-road vehicles in 2005, sPOD offers unparallel quality when it comes to an expandable control system.
sPOD offers multiple solutions to fit users' needs with the SourceLT 6-switch controller and BantamX HD 8-switch controller, along with the digital touchscreen controller. Up to 30 amps per circuit of current capacity and a 12-16-position terminal block (depending on model) for easy connection of your accessories. The system features integrated low-voltage cutoff battery protection and self-protection against overheating, over-current, short-circuits, reverse polarity, and field collapse. There are optional ignition control and safety lock-out features for switches one and two, and up to four BantamX units can be daisy-chained together and controlled by one touchscreen or HD panel. The system updates on demand and wirelessly. This all adds up to a system that is abundant in features and will not jeopardize your vehicle's current electrical system.
A notable feature of sPOD's BantamX and SourceLT is the Bluetooth connectivity that pairs the system with your smartphone, giving you full control of your rig's accessories even if you are not behind the wheel. Additionally, button customization, color changes, and switches can be programmed to flash, strobe, or dim.
The touchscreen option replaces the switches with a small-footprint controller that functions similarly to the Bantam phone app, providing ultimate control with a lighted and intuitive unit, showing clear and easy-to-read buttons for all your connected and programmed accessories. The touchscreen can be programmed to your needs via the touchscreen or the Bantam app, and it even offers dimming, strobe function, flash, and momentary switching. The system self-monitors and will automatically turn itself off and all accessories if the vehicle's battery dips below 11.4 volts.
Having a compact unit that effortlessly controls your rig's accessories and provides you with a single point of activation is invaluable. sPOD controllers are easy to install and work with any 12 or 24-volt electrical accessory, providing a safe solution for all your aftermarket electrical needs.
MSRP: $580.00
ZERO BREEZE – Mark 2 Portable Air Conditioner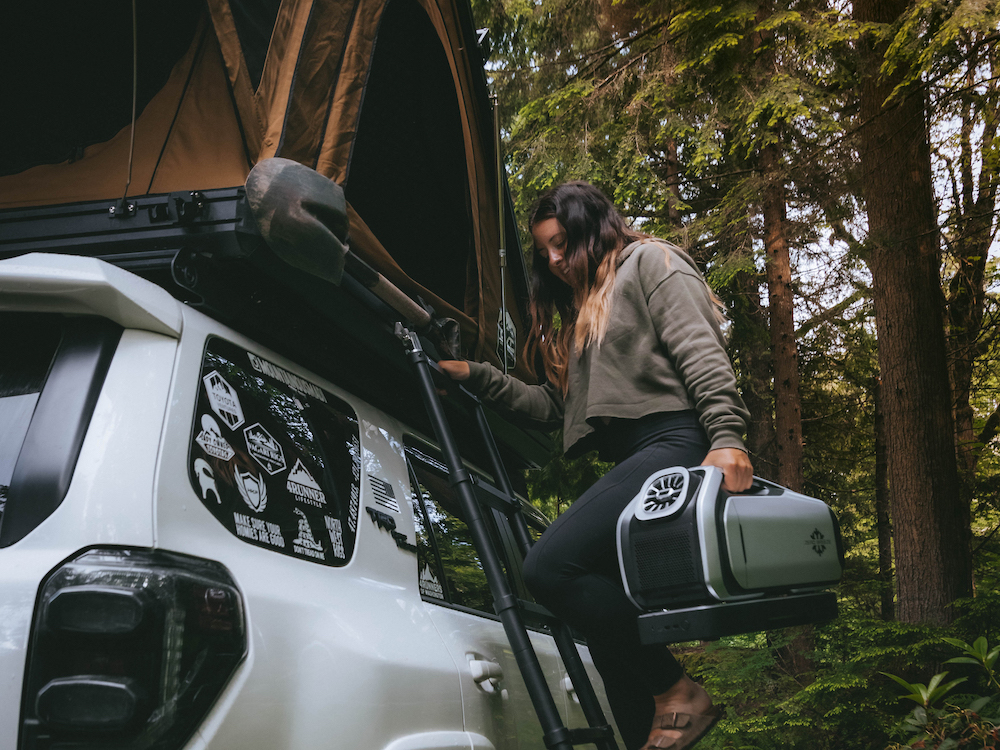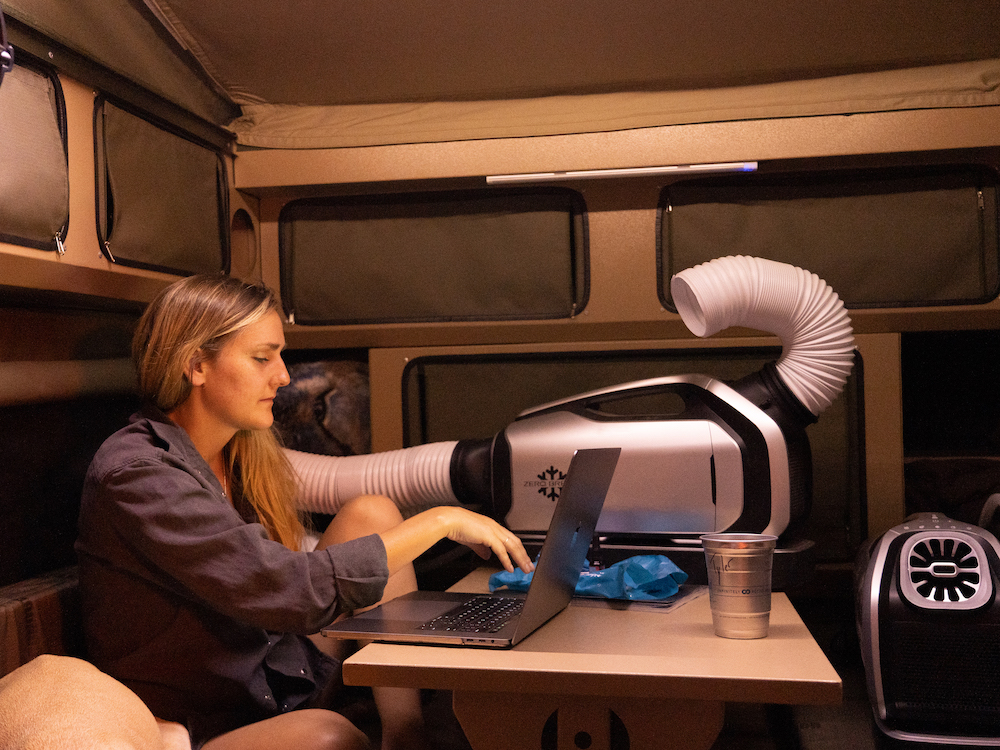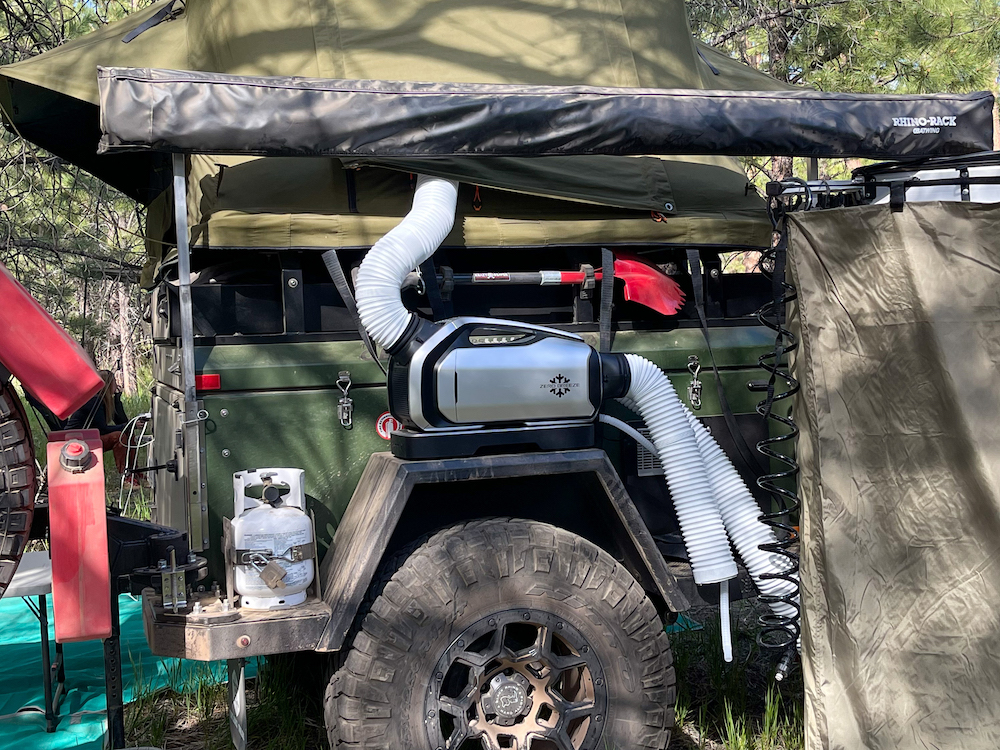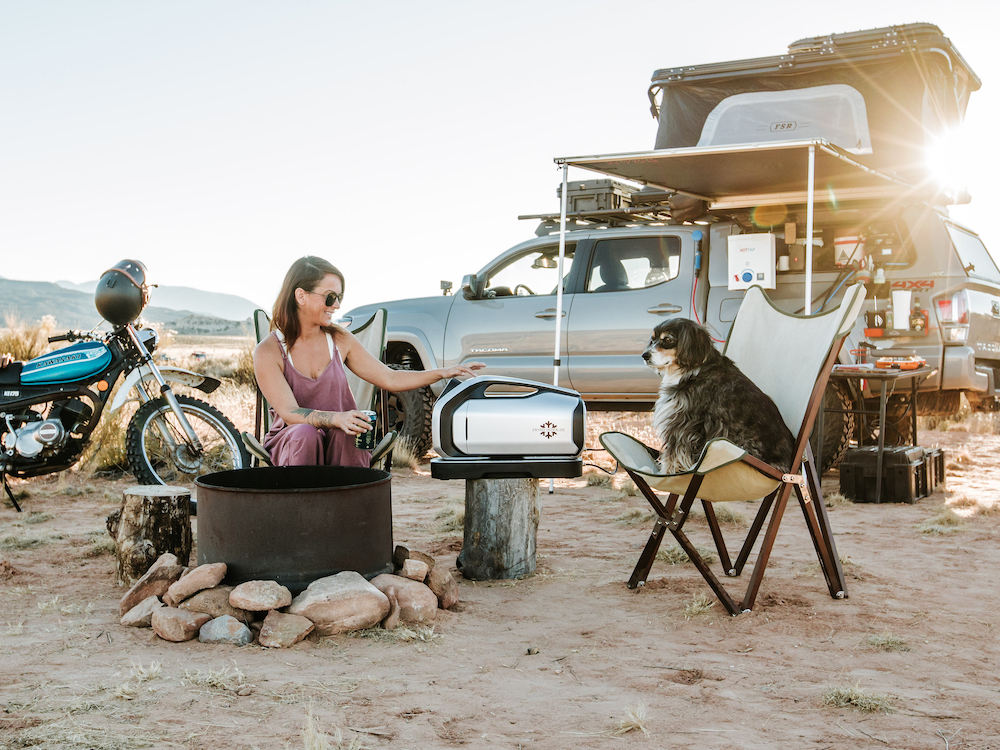 ZERO BREEZE is a tech-driven outdoor living brand founded in 2016 by a group of passionate outdoor lovers. They are dedicated to creating innovative and easy-to-use products for campers, RVers, boat owners, and anyone in need. With a footprint in over 40 countries and regions, the ZERO BREEZE Mark 2 is a leading trend.
The most important feature of the ZERO BREEZE Mark 2 is its real portable design. Mark 2 is a real AC that weighs 16.5 pounds and is 1/3rd the size of a traditional air conditioner. It features a compact horizontal design, measuring 20″ L x 10″ W x 11″ H.
To balance weight and performance, the AC uses a micro twin-cylinder compressor that is the size of a cola can. ZERO BREEZE also brings a unique self-designed duct system and air outlet assembly to the small-sized unit.
Notably, the AC is powered by a 24V battery that can last up to 5-6 hours of normal use. Users can get solar panels or in-car plugs to extend battery life under off-grid conditions.
Featuring a "spot cooling" concept. ZERO BREEZE Mark 2 cools the temperature of the surrounding users and a small room area. It provides a comfortable environment for a limited area with less power consumption. It lowers the temperature by 30°F in 10 minutes (2,300BTU). This ensures that you will always feel cooler, even on the hottest days of summer.
MSRP: Starting at $999.00