By Bill Dragoo
For this How-to, Bill and Susan Dragoo took Overland Expo's Ultimate Overland Motorcycle 2022, Yamaha's Ténéré 700, through a portion of the Arizona Backcountry Discovery Route. The Ténéré 700 will be a part of other storytelling throughout the year. Follow the Ténéré 700's adventures on its official landing page.
I'll have a Yamaha T-7. Tall, on the rocks, please.

Bill Dragoo
Yamaha's middleweight, middle-tech Ténéré 700 (aka T-7) has gained a lot of traction in the adventure motorcycle community. Harkening back to simpler times, the T-7 has earned a reputation as a reliable platform for both short- and long-range riders who prefer a spunky, no-frills bike with just enough modern amenities to take the fuss out of getting there and back again.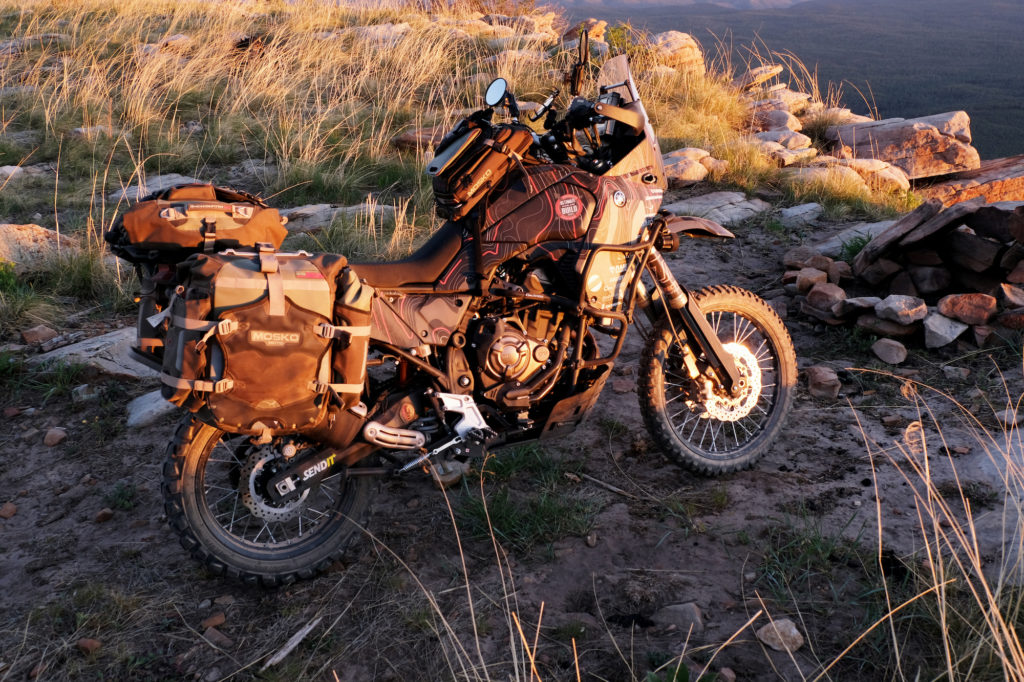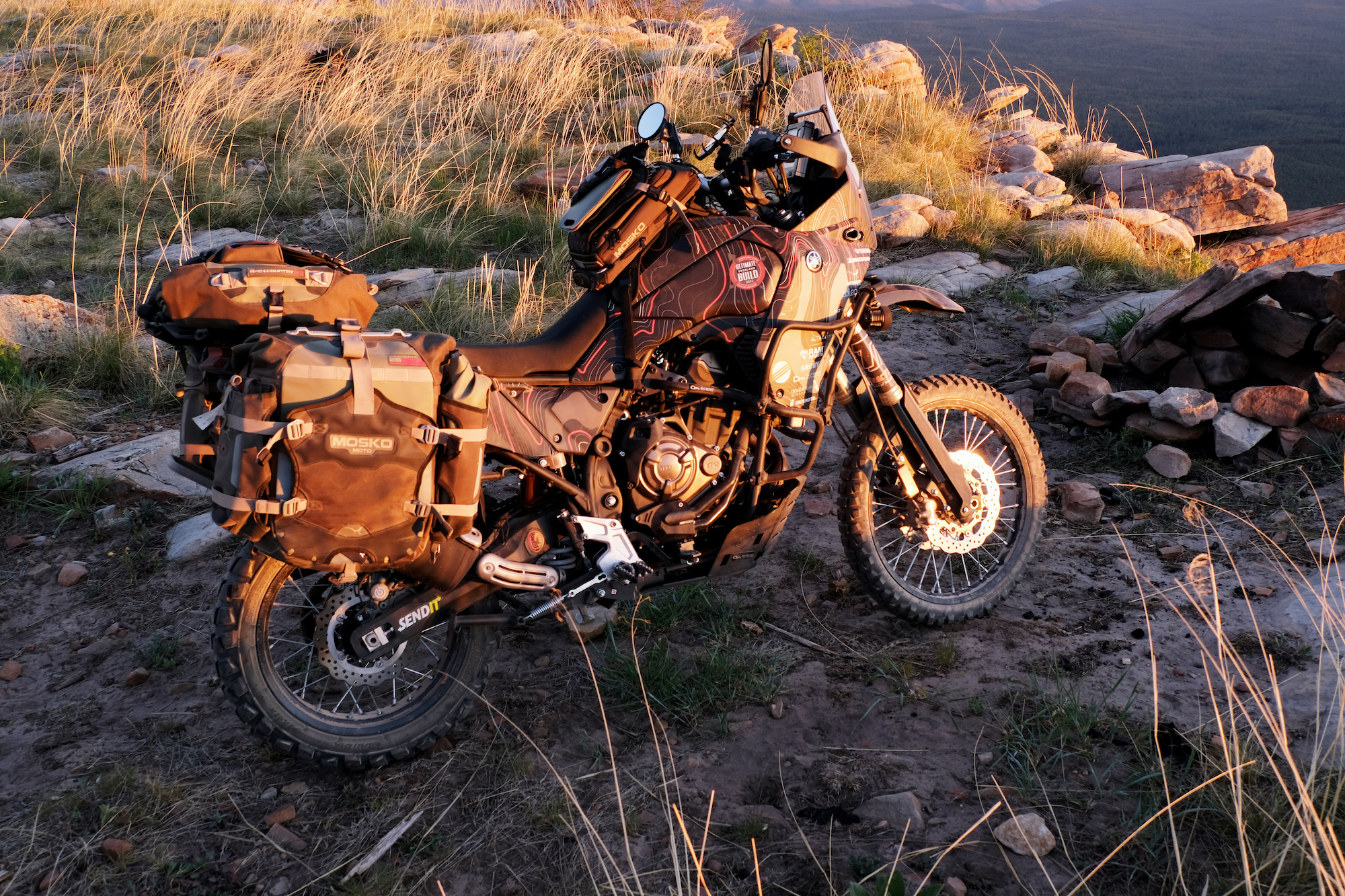 There is no need to choke a carburetor or to play "guess what I'm thinking" with a bevy of fleeting ride modes adjusting every moving part, like it or not. The bike simply works, ticking smoothly along the trail with little fanfare. ABS offers a nod to the litigious, but can be defeated with a four-second touch of a button, leaving the rider with the sole responsibility for traction management when braking. It's refreshing, to say the least.
Overland Expo took its 2022 T7 Ultimate Overland Build to new heights with TracTive Suspension's +25mm package and Outback Motortek's skid plate and crash bars, arming and armoring it for serious adventure travel and adding a world-class soft luggage package from Mosko Moto.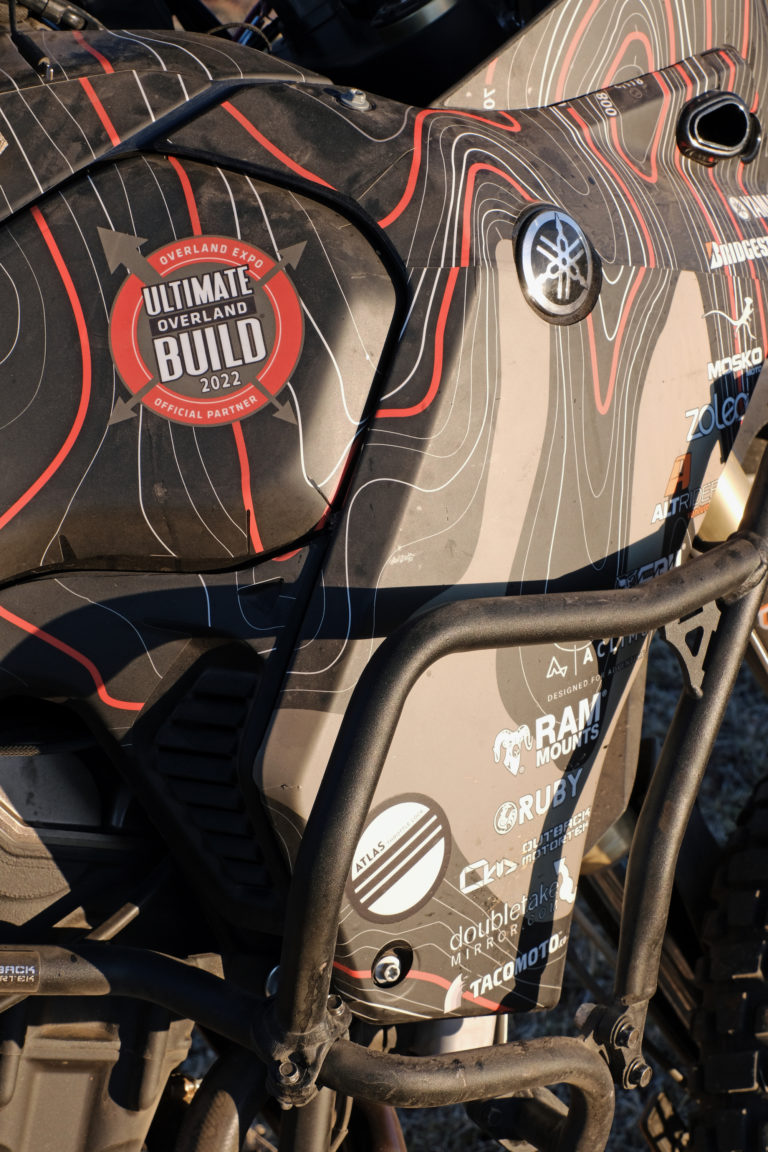 Details of the complete build will be told elsewhere. But I was fortunate enough to test this bruiser on some of the rockier trails of Arizona. With my 32-inch inseam, the extra-tall Ultimate Overland T-7 presented more than ample opportunity to walk the walk we teach through D.A.R.T. (Dragoo Adventure Rider Training): "Dispelling the myth that the bike is too tall."
I felt much sympathy for shorter riders who insist on placing two feet on the ground at every stop. The "tripod" theory was definitely of significant value here. Only one — well-chosen — foot at a time should be placed on the ground for stability and to prevent tipping to the low side on uneven surfaces.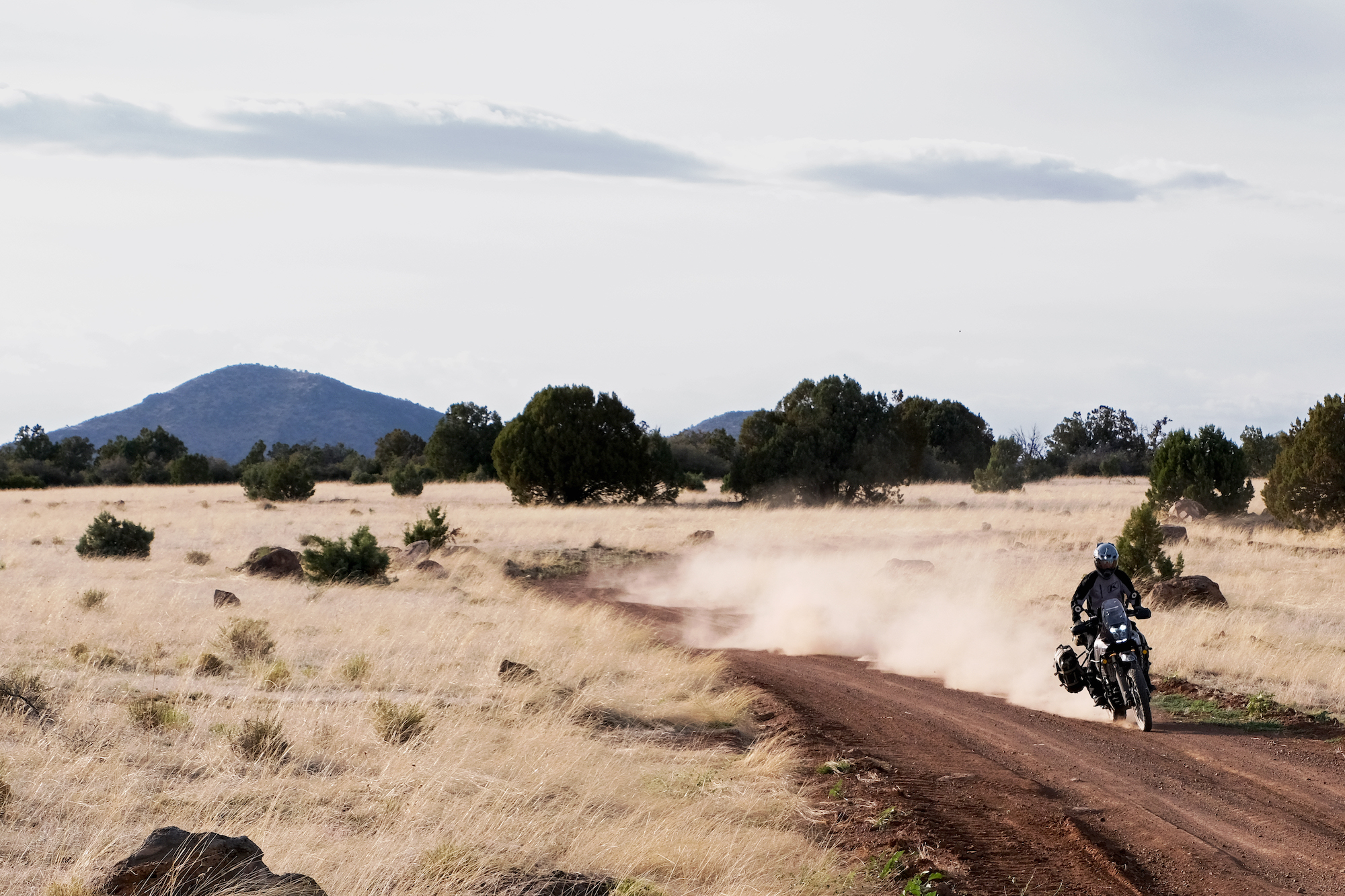 The first rule of thumb for negotiating rocks on an adventure bike of any height is momentum. Keep it moving forward, but bigger rocks require a slower pace.
Gravel
I found the taller bike a tad sketchier on fast, loose turns than the standard height T-7, but not enough to be problematic. On gravel, let the bike squirm. Unless ruts or a severe off-camber surface exist to displace the tires, it will return to center with each lateral oscillation.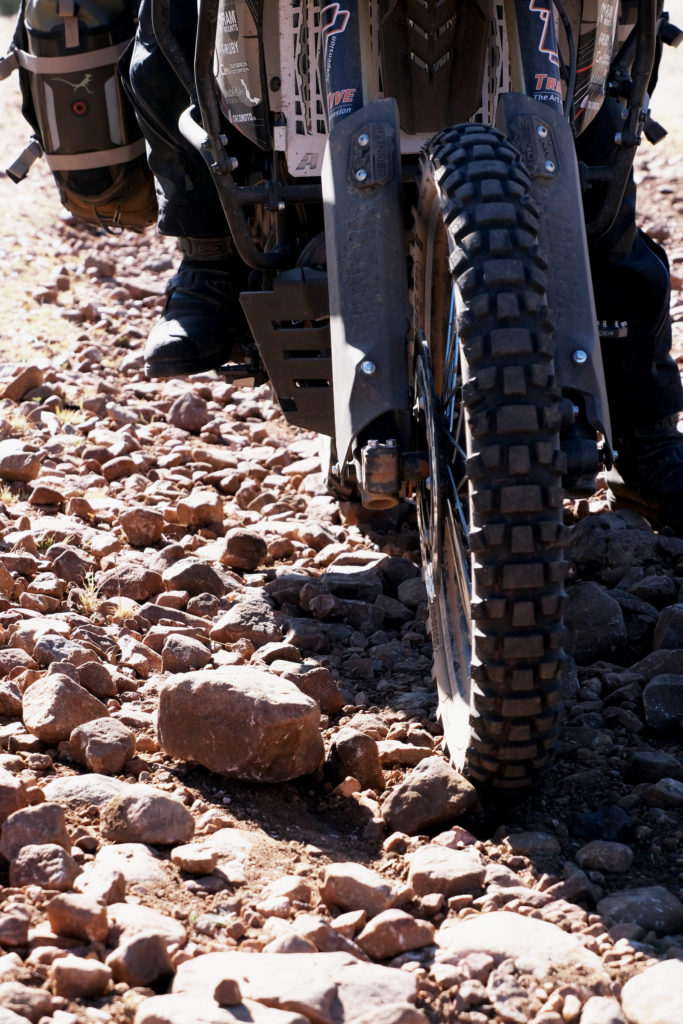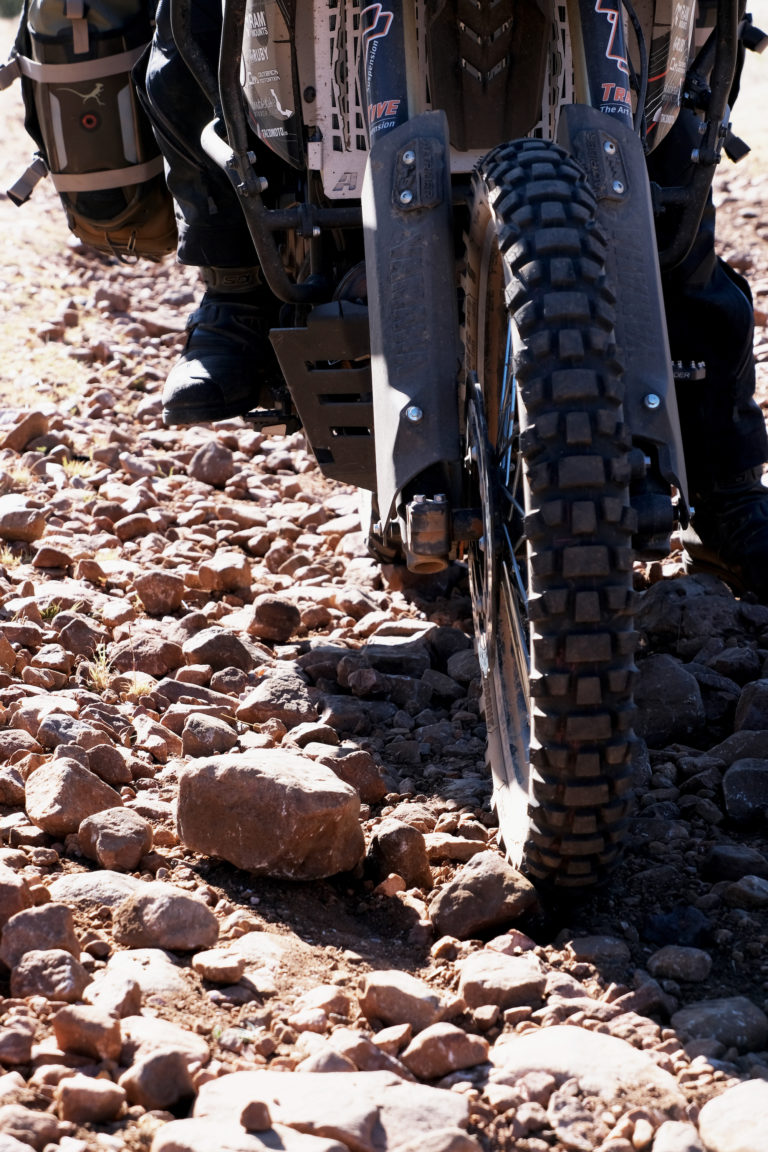 A little speed helps stabilize the bike. Plan turns early and practice braking on gravel so you can scrub speed when necessary. Steer with your feet, pressing the inside footpeg first to initiate a turn, then shifting pressure and body position to the outside to help control sideslip.
You can test traction by over-applying the rear brake until you develop a feel for the road surface. Keep your weight neutral and body upright relative to bike lean, letting the back end slew around as much as it wants.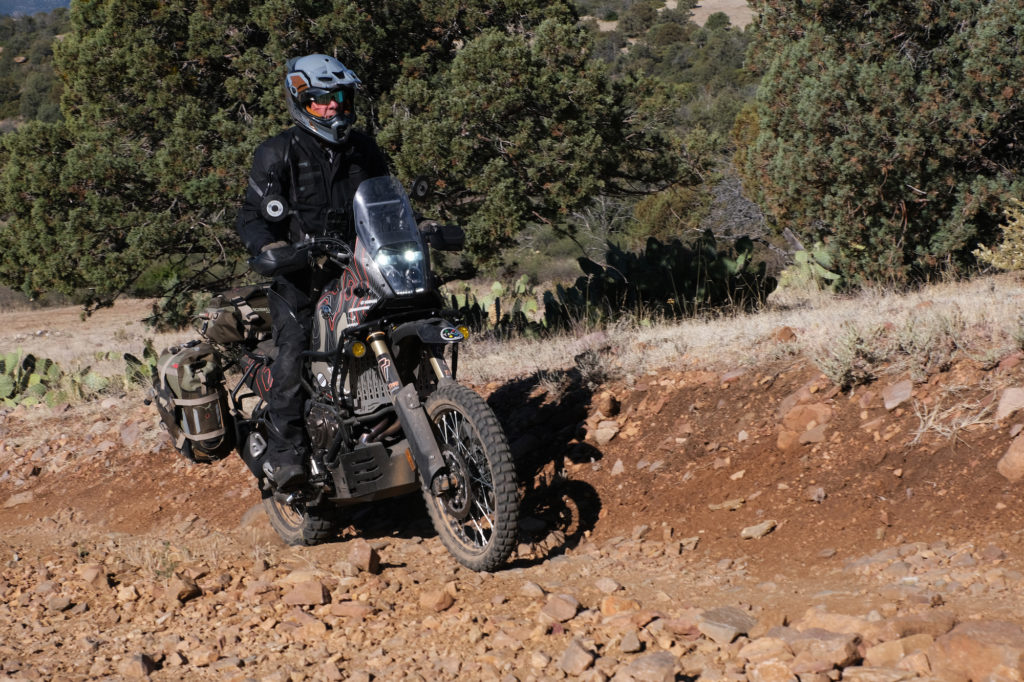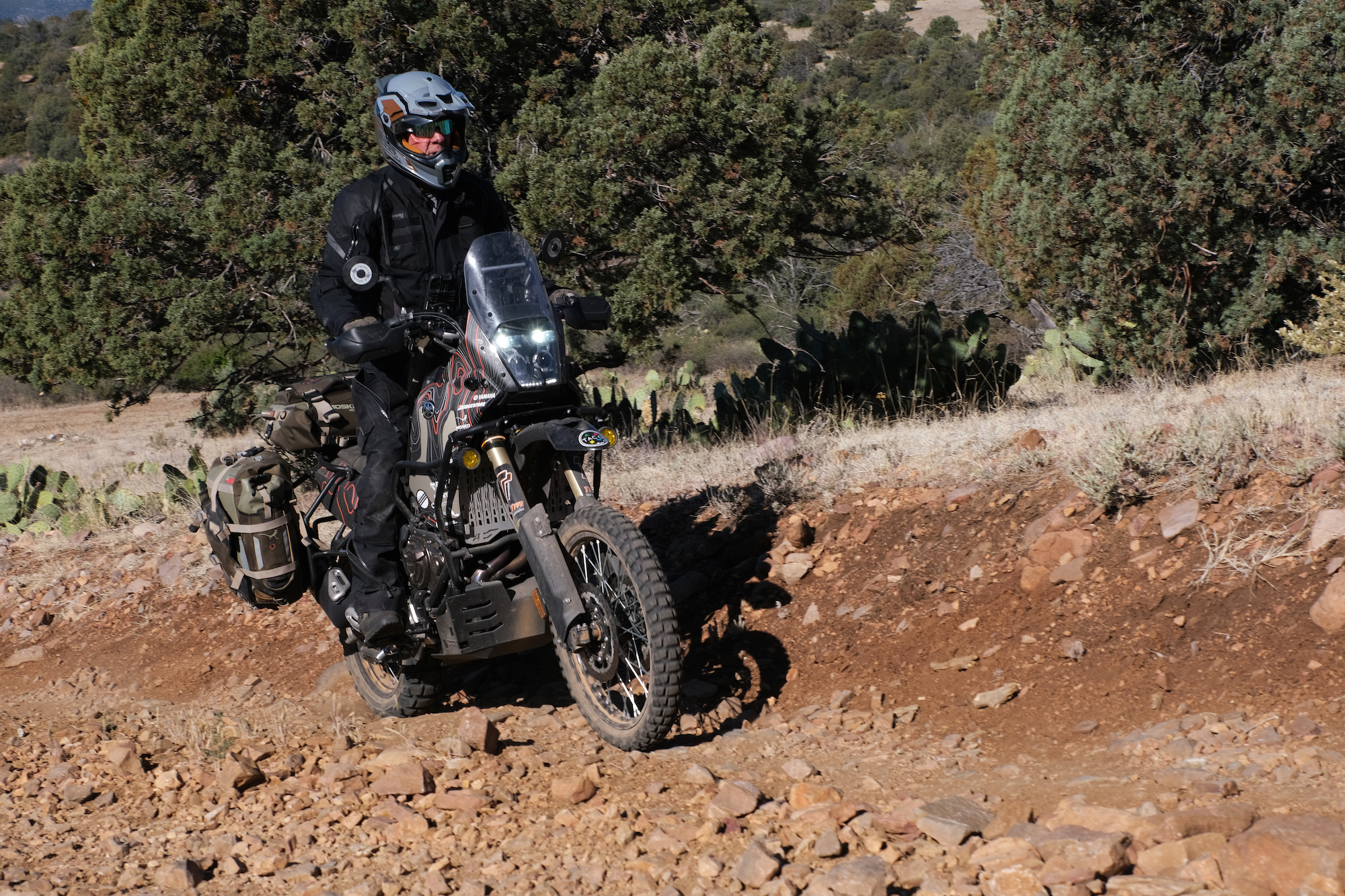 When turning, squeeze your knees into the fuel tank/seat juncture to further stabilize the bike/rider assembly, pressing the bike into the turn with your outside knee. Keep lean angles conservative at first until you get a feel for traction. Outside footpeg pressure and a little power often help to keep the front wheel tracking.
Baby Heads and Watermelons
Larger, embedded rocks are more difficult. Slow down. Proper suspension setup is helpful in managing "baby heads" up to watermelon-sized rocks. Hit loose rocks as squarely as possible or try to miss them altogether. Be mindful of your rear wheel's path of travel and be ready for the bike to bump sideways if you strike a loose rock off center.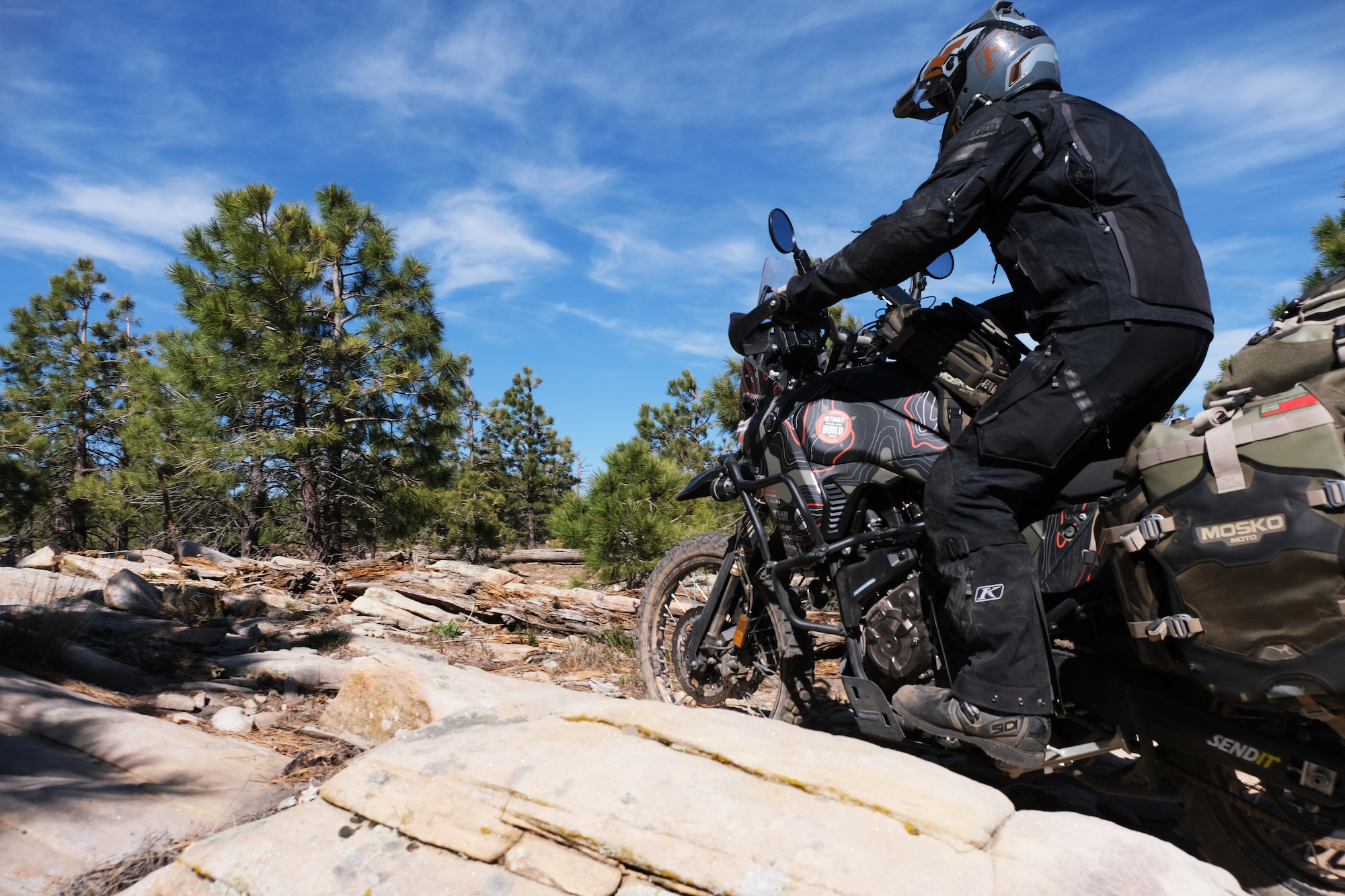 The upgraded suspension on the OX bike absorbed hard hits well but a softer set of springs or a reduction in compression damping for my 170 pounds plus gear would have allowed full use of the extra travel and perhaps helped regain some of the confidence lost by the tall saddle height at low speeds. I lamented not having the time to tune this obviously high quality setup for my size and riding style.
Suspension, Soft and Pliable
A good rule of thumb for suspension is, "As soft as you can make it and as hard as it needs to be." The "soft as you can make it" part is to allow flexibility in the suspension. It is better for the unsprung weight of the wheel assembly and lower suspension components to absorb as much movement as possible before the bike and rider are deflected upward.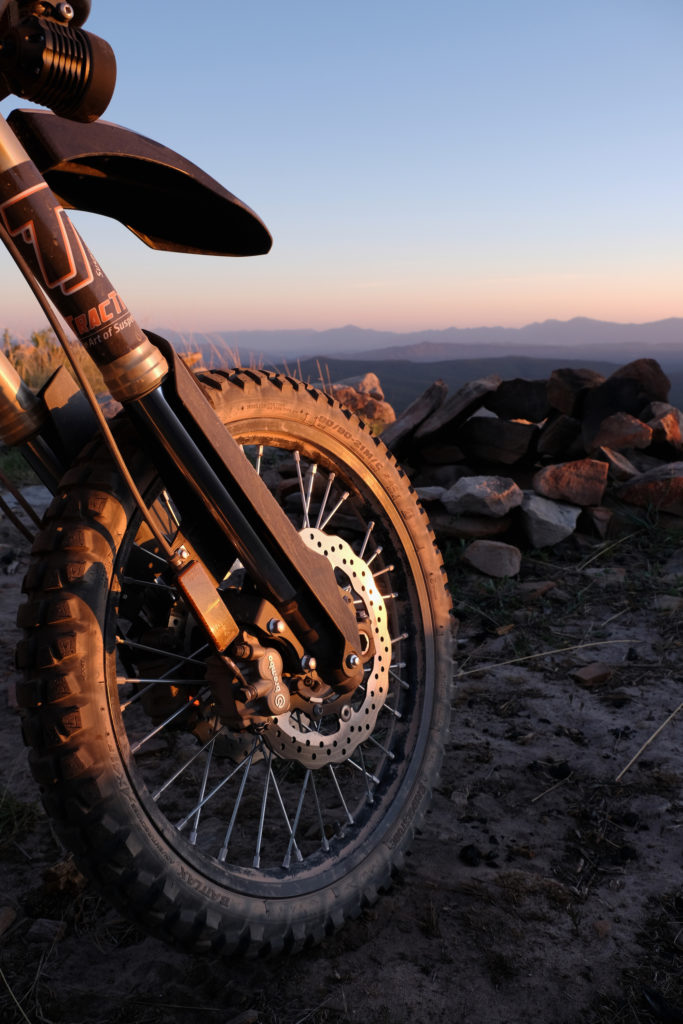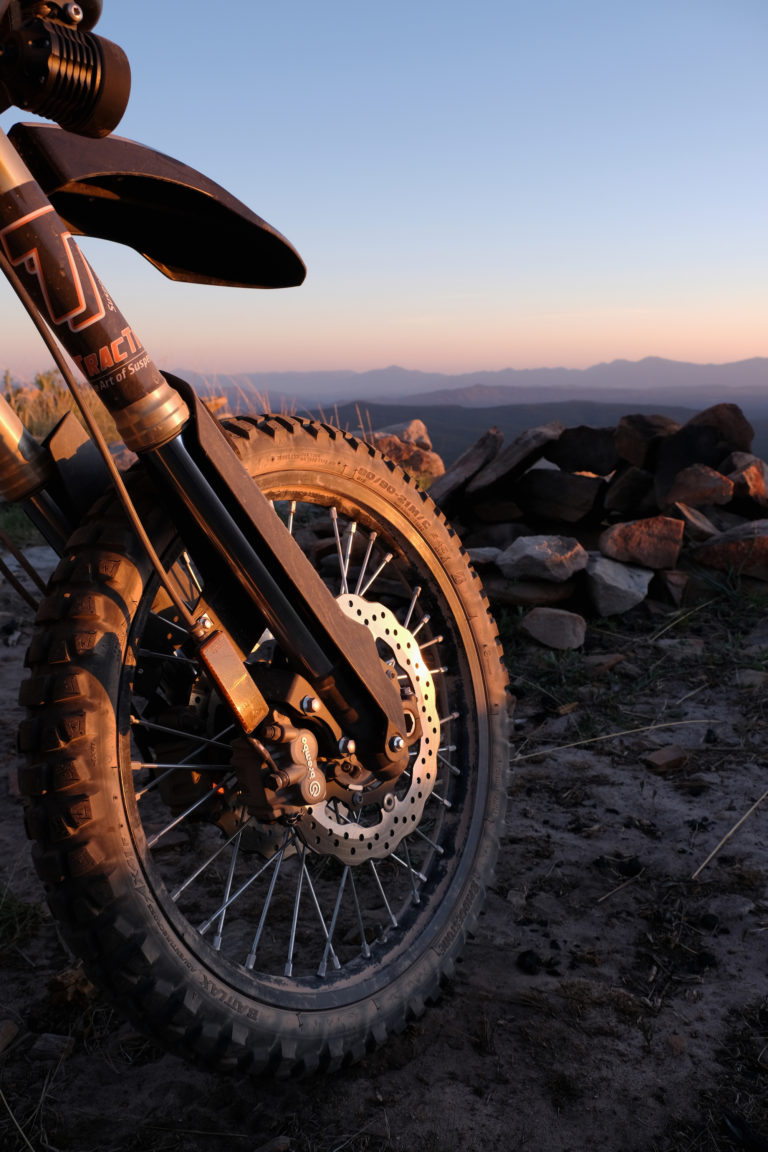 A zip tie around a fork tube or shock shaft can help measure exactly how far your suspension compresses on the terrain you would like to set up for. Most of the travel should be used but it should not be so soft that it bottoms too easily. Adjust preload, compression and rebound damping accordingly to keep the suspension from being too stiff or rebounding too quickly, making the bike feel unsettled.
Tires are Part of Your Suspension
The Bridgestone Battlax Adventurecross AX 41 50/50 tires on the build held up well to the rocks, and traction was good. Unless you are riding at race pace, the rule of thumb for tire pressure on rocks is the same as for suspension. Imagine rolling a basketball down the rocky trail.
A fully inflated ball will bounce high. A partially inflated ball (or tire) will absorb much of the impact, muting the rebound effect and easing the work assigned to the suspension. Run a bit more pressure in the front than the rear. On big adventure bikes, 28-32 psi is usually a good compromise for mixed trail and pavement work. Two to four psi less allows the rear tire to grip for braking and climbing. The larger carcass size offers more rim protection than the narrower front, hence the lower pressure on the back.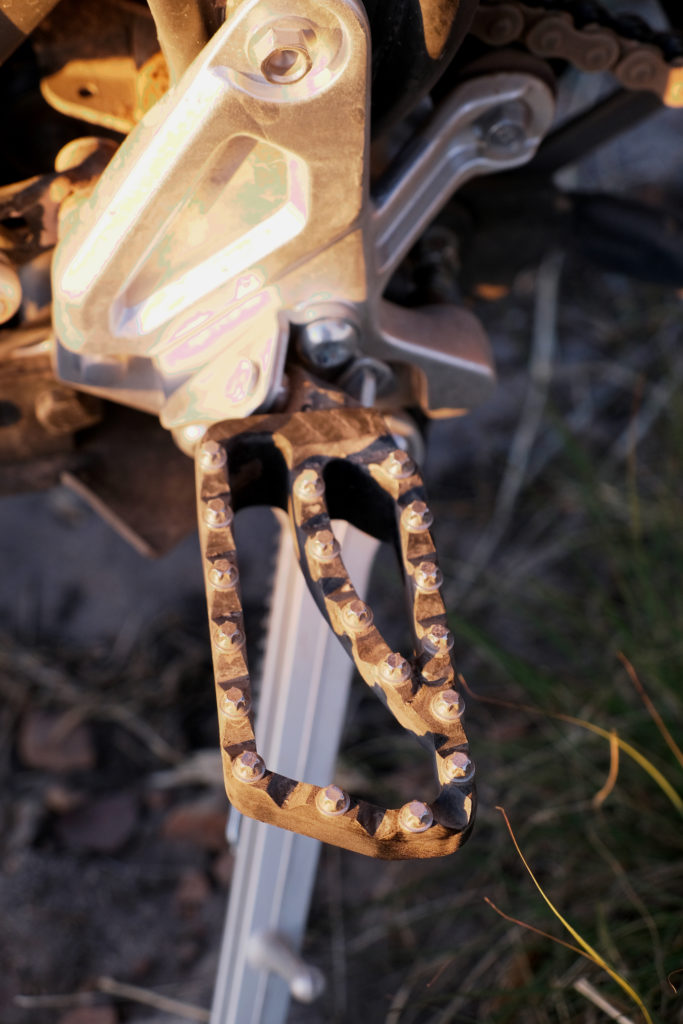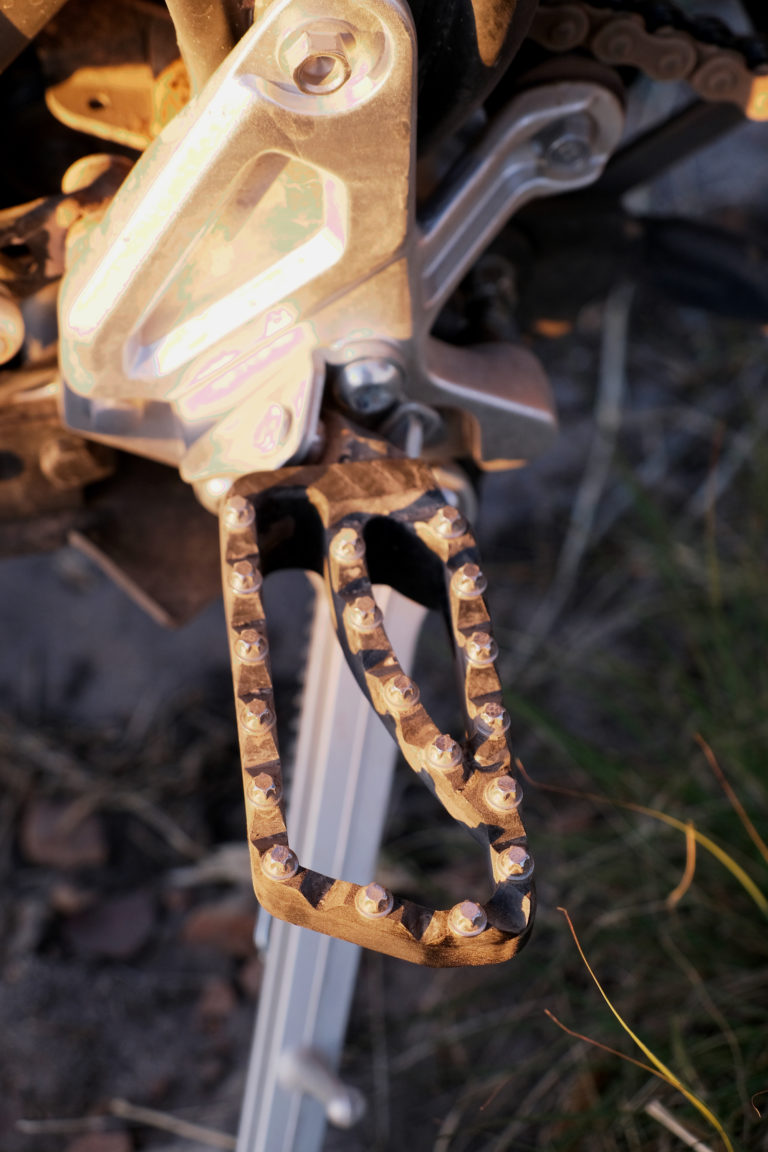 Steering, Suspension, and Sight
Ride standing up if possible. The T7's AltRider Adventure II footpegs provide good grip and their larger size delivers excellent control for initiating turns and counterbalancing. Just beware as you make the long reach to the ground. It's easy to catch a pant leg and tip over. Your legs act as suspension for your body weight and can help keep you and your bike in balance as you ride. You can also see further ahead.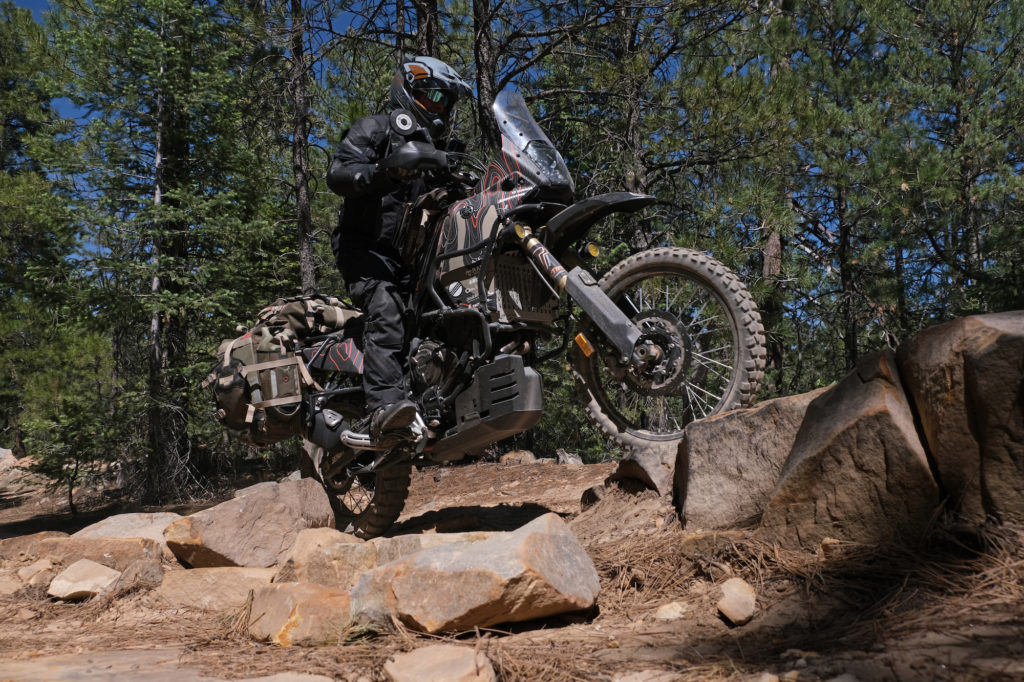 Maintain forward movement with some authority while slipping the clutch to prevent stalling the engine. This is a good time to practice using just an index and middle finger on the clutch. The ring finger and pinky should be reserved for independent control of the handlebar. Stay loose and let the bike move beneath you.
The "Strategic Dab," a method of deliberately placing a foot on the ground while pushing the bike towards its center of balance, was invaluable on the tall Ténéré, as I found myself needing that extra "something" sometimes to correct a slip or regain balance. It was a reach to the ground but I managed never to test the hand guards in a fall.
Lofting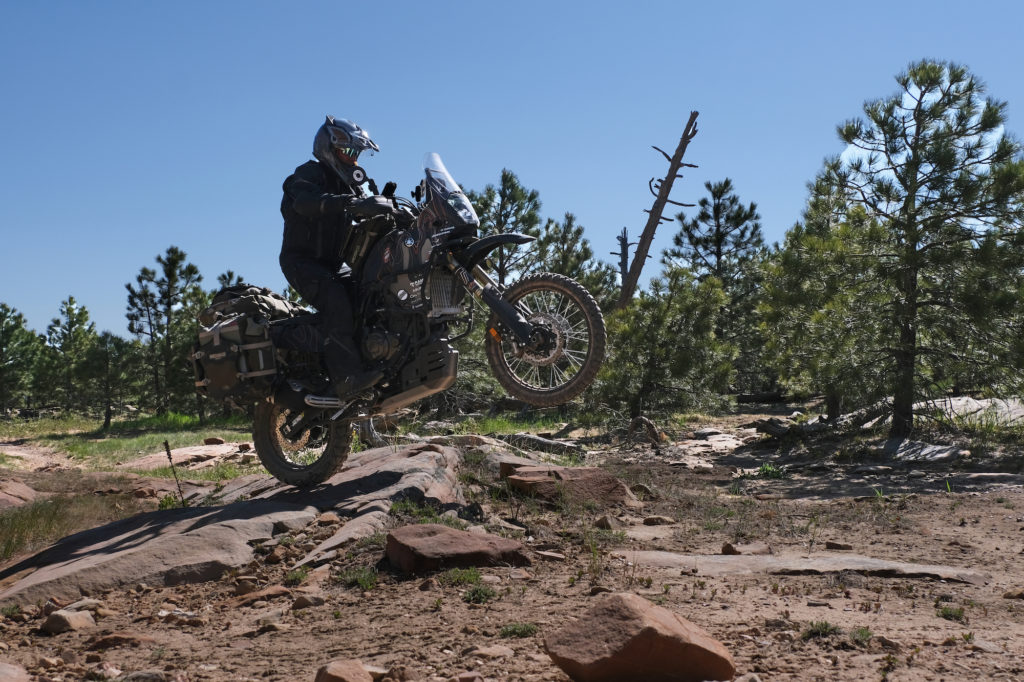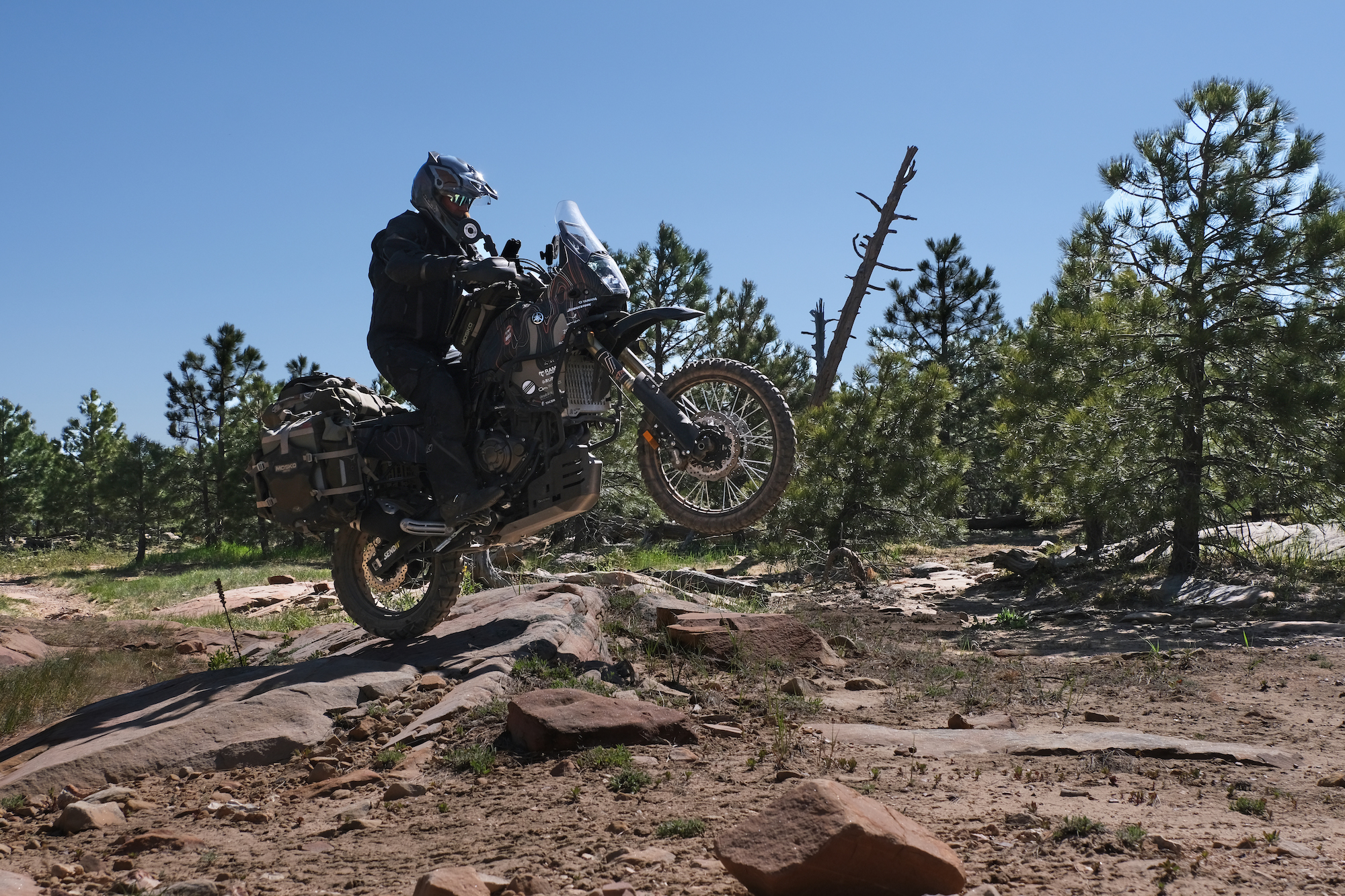 A noticeable advantage of the T-7's extra height was ground clearance. I was able to simply roll over several obstacles that would have required more work on a shorter model. If you cannot avoid a rock taller than your skid plate, it's time to apply lofting skills.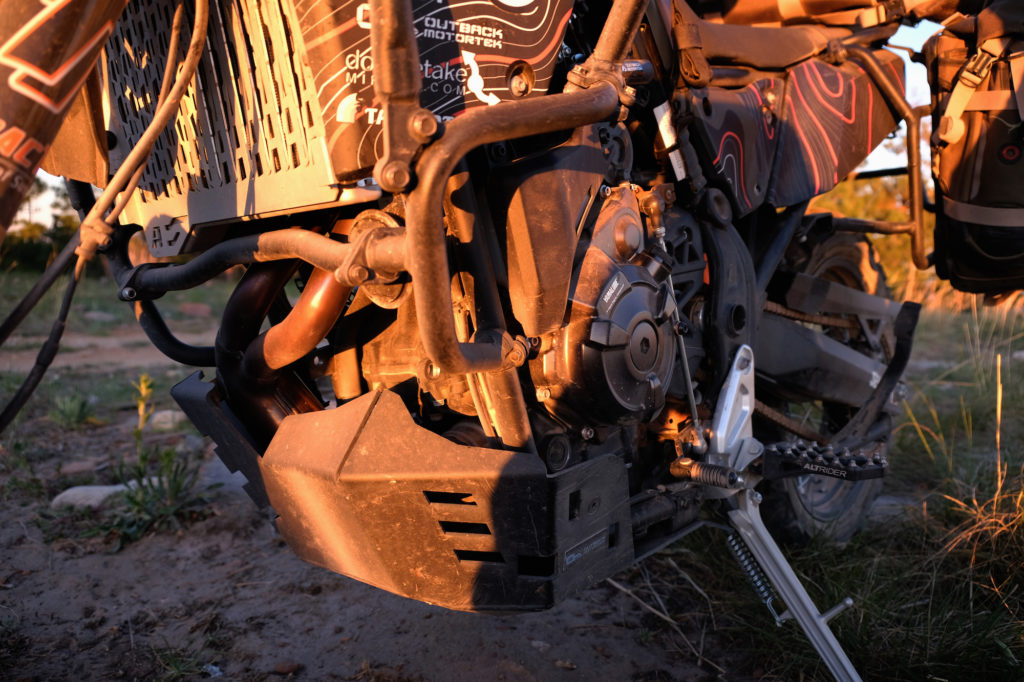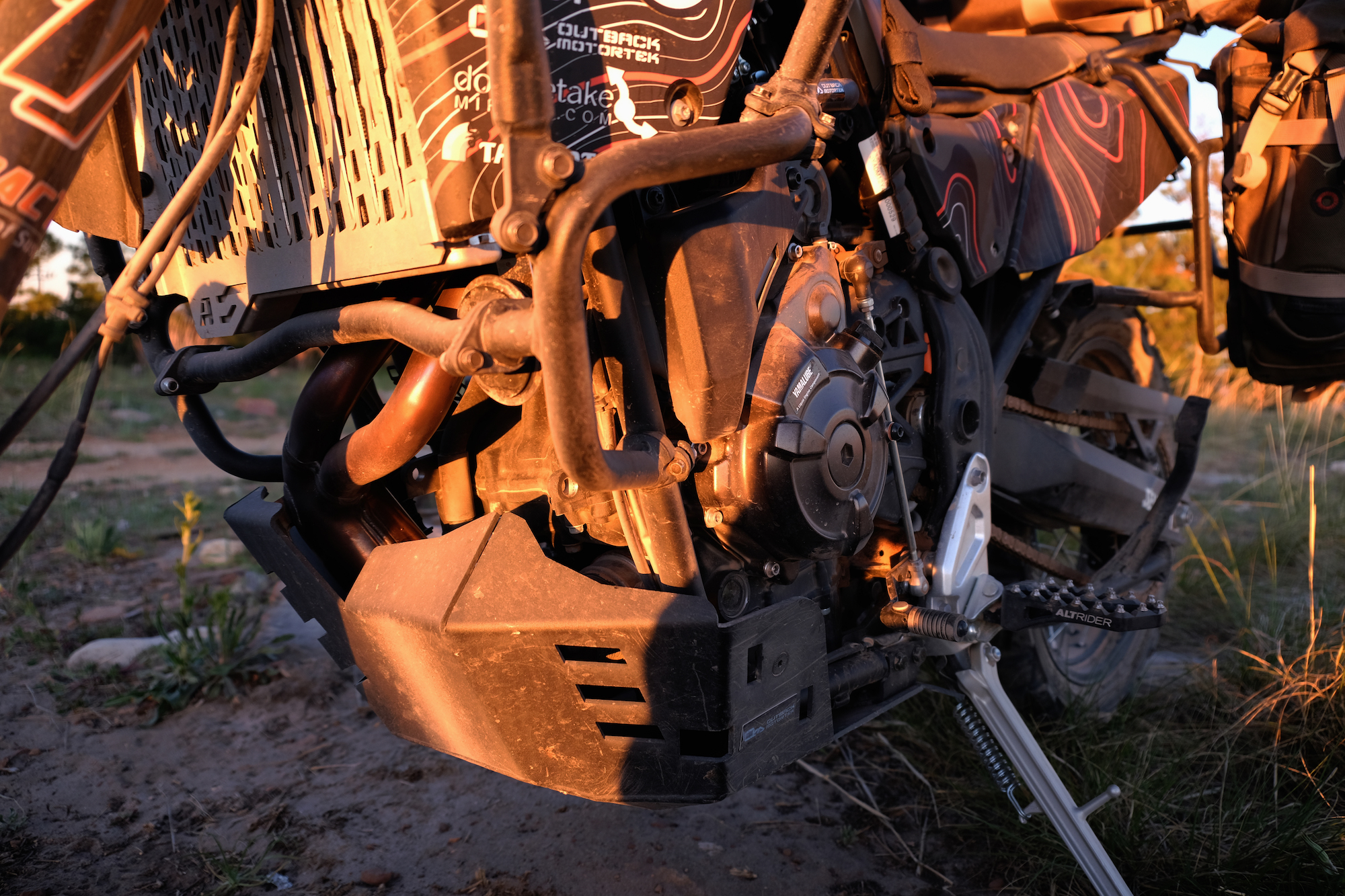 Lofting is essentially a small wheelie aided by bumping the front tire on the obstacle at exactly the same time the clutch is released. A blip of the throttle timed with the clutch release will help lift the front wheel over the obstacle. Just prior to the blip and bump, bend your knees and jounce (a contraction of jump and bounce) down on the suspension. As the springs rebound, blip the throttle and release the clutch.
Timing is everything. Start with small obstacles and a mild application of throttle until you become accustomed to the method. Pull the clutch back in as soon as the rear tire crosses the obstacle. My mount danced over virtually everything in its path and lofting was a pleasure when necessary.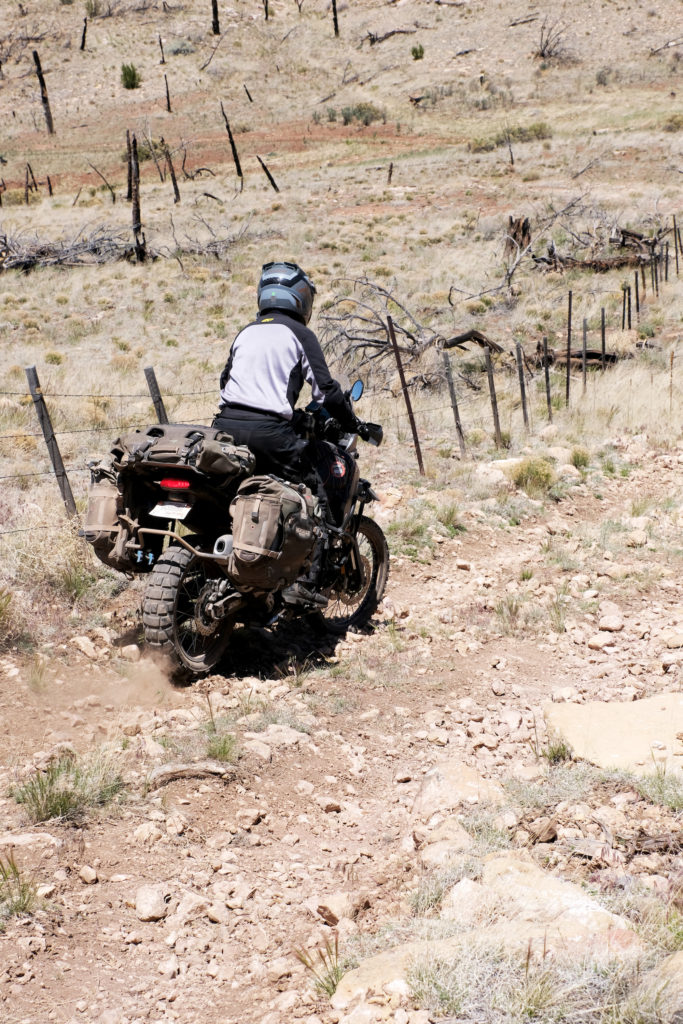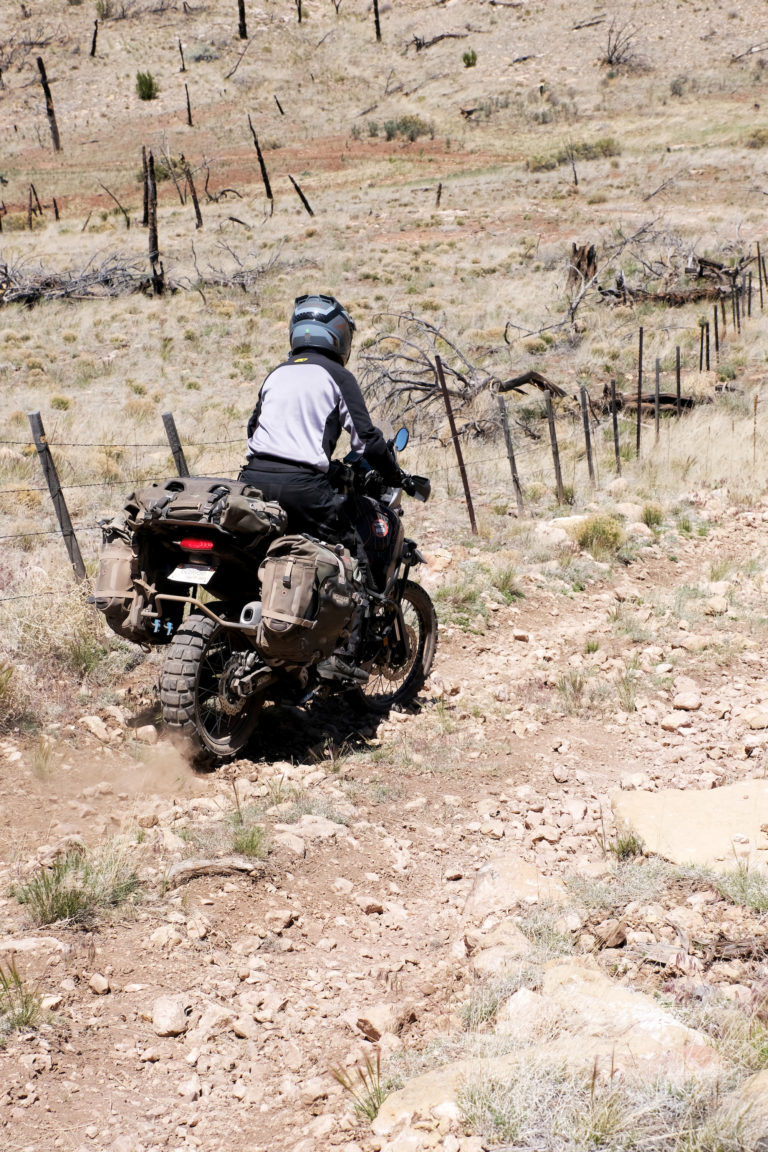 Each of these methods should be practiced close to home before heading out into the wilds. There is a unique thrill in riding a well prepared machine in places sometimes considered off limits to larger bikes. The Ultimate Overland Build for 2022 was a joy to experience, even tall and even … on the rocks.
Bill Dragoo is a BMW Motorrad Certified Off-Road Instructor and owns and operates D.A.R.T. (Dragoo Adventure Rider Training) in Norman, Oklahoma. All brands are welcome. Billdragoo.com