Overland Expo is honored to announce that legendary round the world overlanders, Gary and Monika Wescott of The Turtle Expedition, Unltd., will join us at our Pacific Northwest event in July 2022.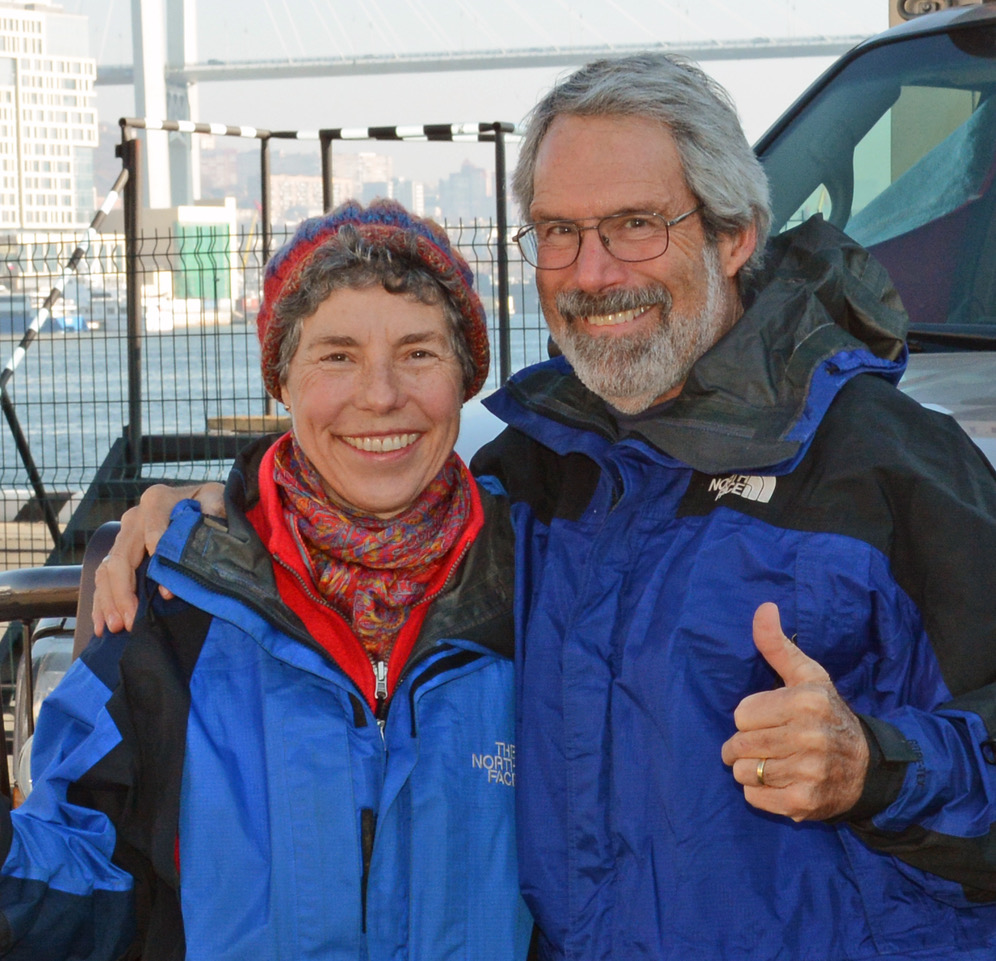 Gary and Monika have spent the last 50 years globetrotting around the world, from the arid deserts of Turkmenistan, following the Silk Road, to the jungles of the Amazon and across Siberia in the dead of winter. They have circumnavigated the globe twice, not counting a 50,000-mile adventure around South America and the many years they spent exploring Mexico. The couples' travel articles & photography have been published in 10 countries and eight languages. The Westcott's in-depth knowledge of the problems and joys of overland travel in remote areas is incomparable.
Gary and Monika's meticulously prepared travel research trucks, from their original Land Rover to the current Ford F550, The Turtle V, have been an inspiration for many. Their experience encompasses what the Overland Expo is all about. From the beginning, Gary and Monika say their mottos have been: "Don't take the trip. Let the trip take you," and "The essence of adventure is not knowing how it's going to come out."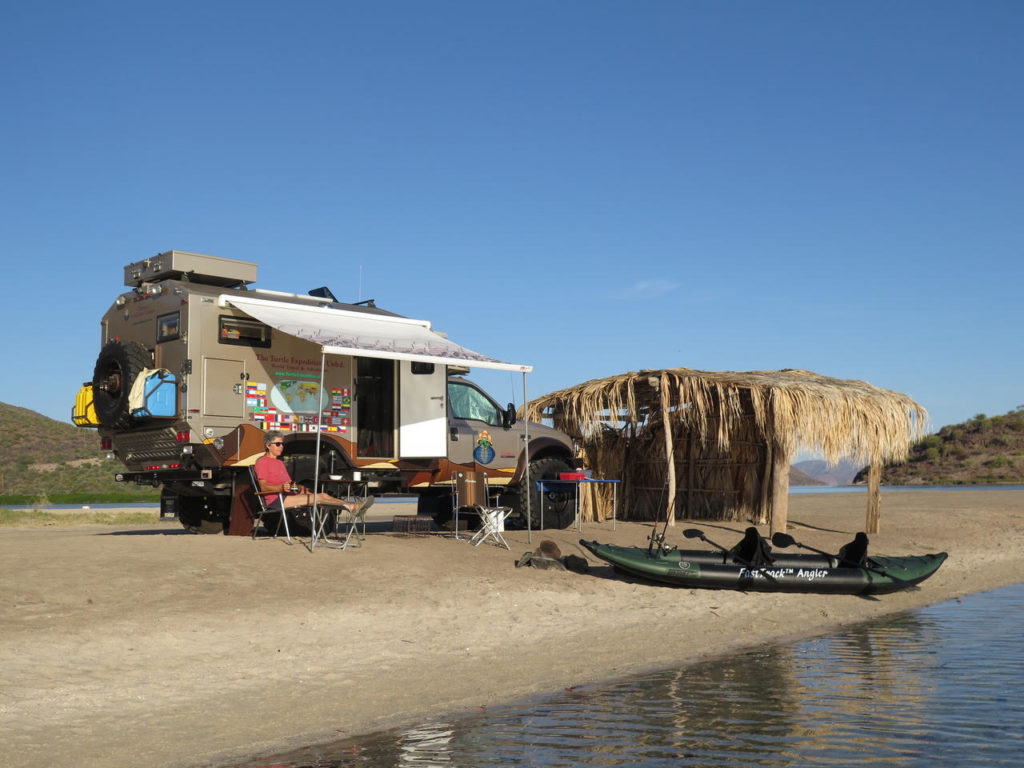 The Wescotts will sit for a live podcast interview with Overland Journal in the Around the World Pavilion on Friday, July 8 at 1:00 pm, followed by a "tour" of the Turtle V in the Showcase & DIY area. They will be teaching classes and participating in various roundtable discussions throughout the weekend. To learn more about Gary and Monika, continue reading below.
Tell us about your rigs:
That's a very long question to answer. Back in 1970, I bought a gently used Land Rover 109 and outfitted it for a trip to South America. It had to sleep two people of the opposite sex comfortably, there had to be a way to cook healthy meals, and there had to be some way to stay clean and go to the bathroom. These have always been the basics. Properly outfitted, in 1972, my then-girlfriend and I headed south to Mexico. The Land Rover was very slow, like a turtle, and it had its house on the back, and we didn't have to come back—– ever!!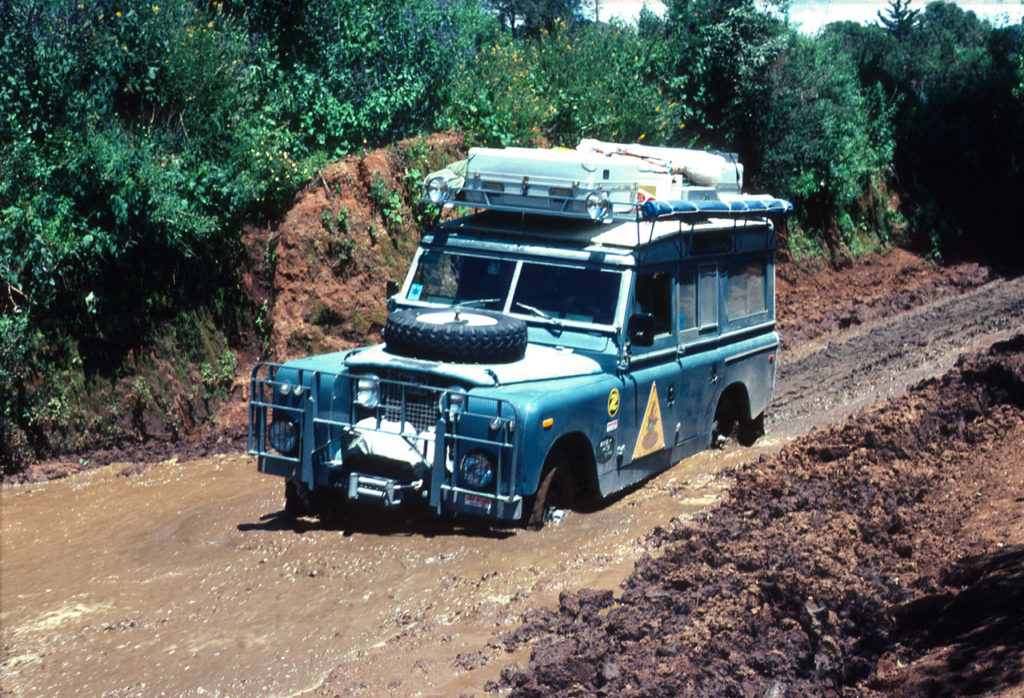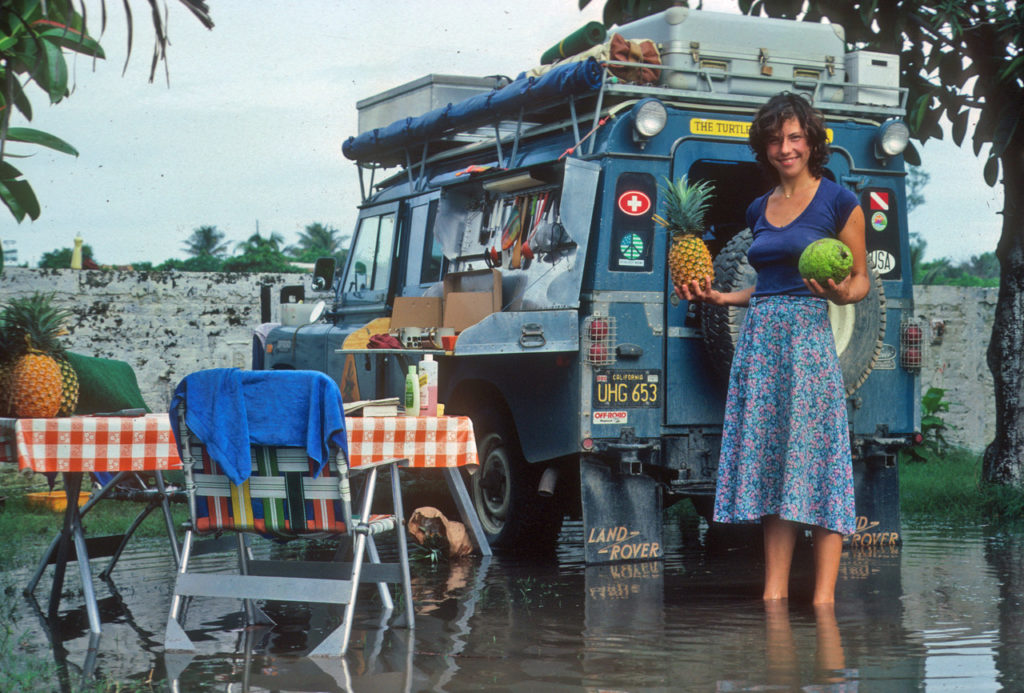 That's when I began writing for Off Road Magazine under the series title of The Turtle Expedition, Unltd. Along the way, during one of the necessary returns to the United States for tourist papers, I pulled out the Rover Salon six-cylinder engine that refused to run on anything but premium fuel and dropped in a Chevy 250-six, which ultimately proved far more reliable and travel happy. I was beginning to learn that, despite its renowned image of adventure with the tire on the hood, every time I replaced a Land Rover part with an American truck part, the vehicle got more reliable and easier to maintain.
After nine years of traveling around Mexico and parts of Central America, we upgraded to a Chevrolet pickup. Scrapping the 350, we had Louie Unser build a custom big-block 454 V8, bored to 460, balanced, and blue printed. Keeping the compression low, we took the power from the big cylinders in an unsuccessful effort to run on low-quality fuel, but still never getting much better than 12-mpg.
The Turtle II was outfitted with a custom Callen Camper designed by us. The ongoing problem with both the Land Rover and the Chevrolet was that they didn't like Mexican fuel. A temporary solution was to stop at airports and fill a couple of tanks with 139-octane avgas and a can of Marvel Mystery Oil. I felt like a bartender. The obvious choice was to go diesel.
In 1987 Ford became a sponsor, and The Turtle III was born, an F350 with a 6.9 L diesel. We added a Banks Turbo, knowing that some of the passes we would drive over in South America were over 16,000 feet. It was outfitted with a custom Four-Wheel pop-up camper. That truck finally took us to South America, 14 months and 50,000 miles.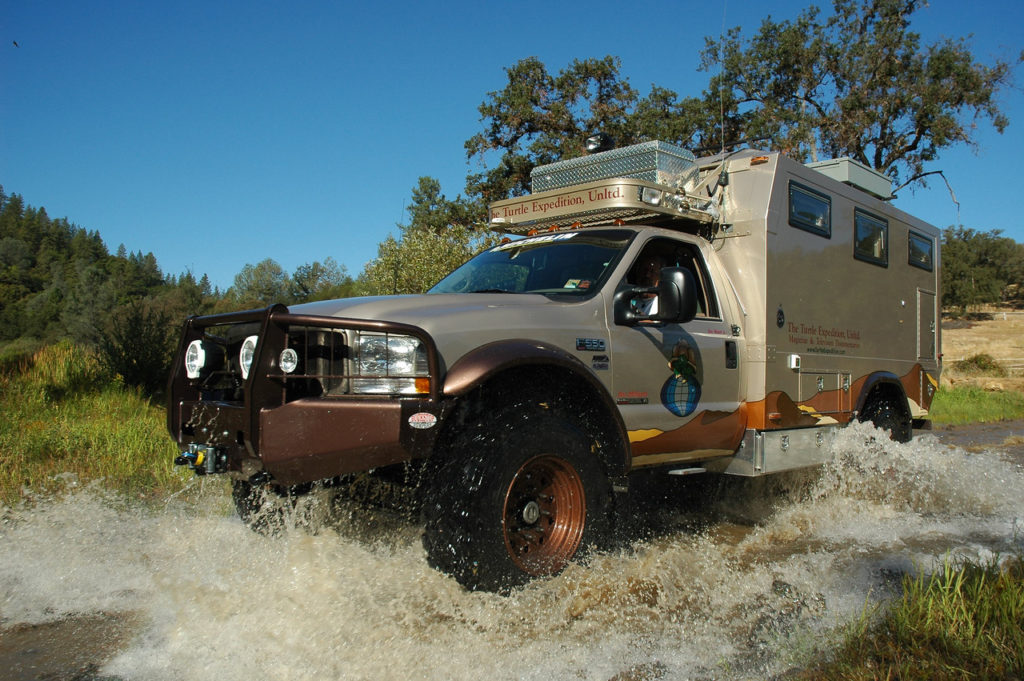 Looking for more adventures, Ford continued as a sponsor, and we moved into The Turtle IV with a 7.3-L diesel. We upgraded to an ATS Turbo. After many modifications installing things like ARB locking differentials, and a support trailer, which carried our Powermate 5,000-watt diesel generator, spare tires, a 100-gallon fuel tank, LP tanks, oil, filters, and other equipment for an extended adventure through third-world countries.
We knew that temperatures in Siberia could easily drop below -70°F. Metal crystallizes around -63°, and propane freezes at -34°. A good supply of Amsoil Cold-Flow and Amsoil Diesel Injector Cleaner for the fuel tanks kept us going even when we had to leave the engine running 24 hours a day. The Turtle III was driven around the world, including crossing Siberia in wintertime, ocean to ocean, wheels on the ground!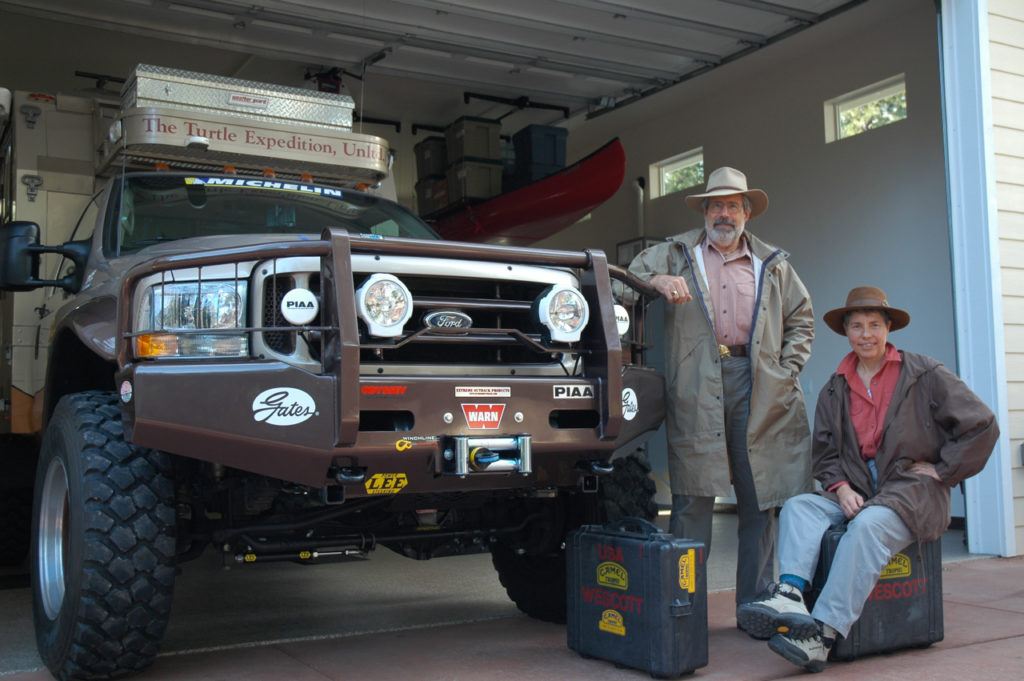 During our adventures with the Land Rover (The Turtle I, aka La Tortuga Azul), and The Turtle III, both were encumbered by the need to pull a small support trailer. When Ford introduced the F550 in 1999, it gave us the option to build a European-style camper. We used our experience from many years of travel and that which was gleaned by visiting companies in Europe that specialized in designing and building expedition vehicles; we incorporated our own needs and features offered by companies Iike AluStar, Unicat, and Langer & Block, and we designed a new camper from scratch. It should be noted that an "expedition vehicle" is not a motorhome with four-wheel-drive. There is much more involved.
After many changes and modifications, and after fully testing it on several trips in Mexico, we drove The Turtle V around the world again, following the Silk Road from Portugal to China into Mongolia and Siberia. Then we traveled to South Korea and back to California, two years/40,000 miles, (ocean to ocean, wheels on the ground!) If we were to build The Turtle VI, very little would be changed.
Clearly, the American pickup truck has its advantages. There are millions of them on the road, which means that there are thousands of companies who make products just a little bit stronger or better than Detroit can or wants to use. Plus, the range of aftermarket products available for building a true expedition vehicle has greatly expanded since the days of our Land Rover which didn't even come with locking hubs.
The Turtle V is now packed and ready to ship back to South America.
All-time favorite campsite?
People are always asking us, "What was your favorite country?" All-time favorite campsite? So much of the answer to that question depends on the weather and the people along the road. Oh yeah, and your attitude. Certainly, our favorite beach in Baja, California, is high on the list. And then there was the beautiful camp at Tenacatita on the Pacific Coast of Mexico, where we stayed for over a month. Of course, we can't forget camps in Mongolia, Kyrgyzstan, Guatemala, Chile, and even in the beautiful mountains of Tajikistan, where we met "The Magical Girl of the Pamirs" whom we are now sponsoring.
What's your go-to overlanding meal?
Really, we cook the same way we cook at home, though the ingredients may vary. A pressure cooker and Weber Go-Anywhere propane barbecue are primary tools in our kitchen. Fresh fish, lobster, clams, mussels, and oysters are always a favorite when we are near the coast. Some favorite meals from memory include: Dining on a Pata Negra pork roast BBQed on our travel grill next to a field of famous Muir Ranch fighting bulls in Andalucia, Spain. Of course, there's always the bowl of homemade turkey barley soup with a freshly baked slice of bread on a cold winter night in a snowstorm in Alaska.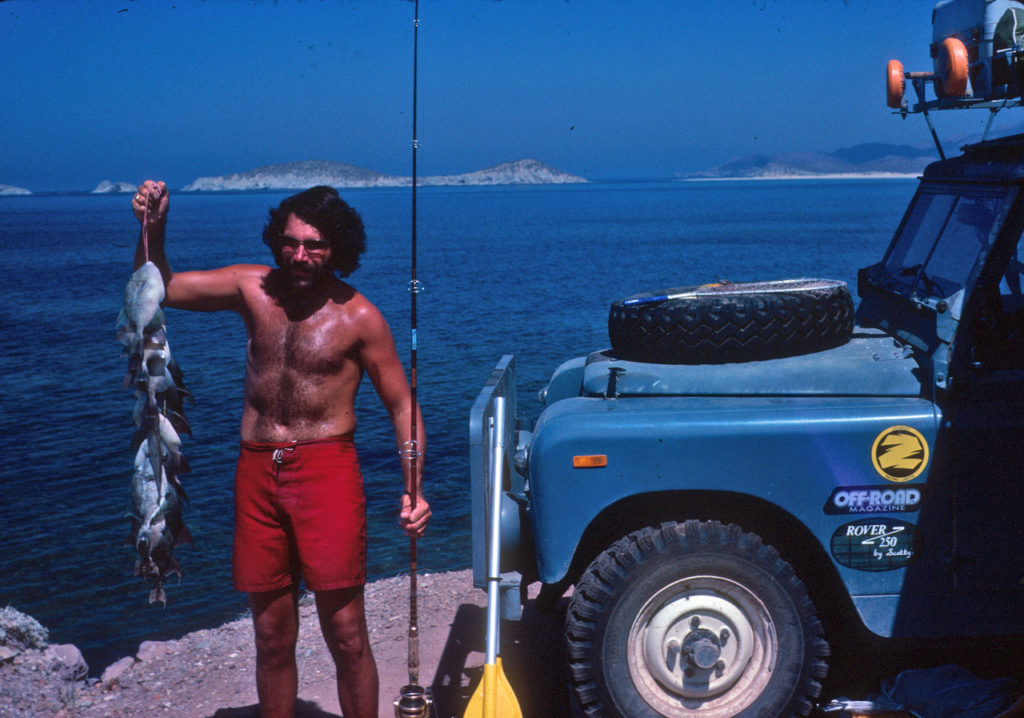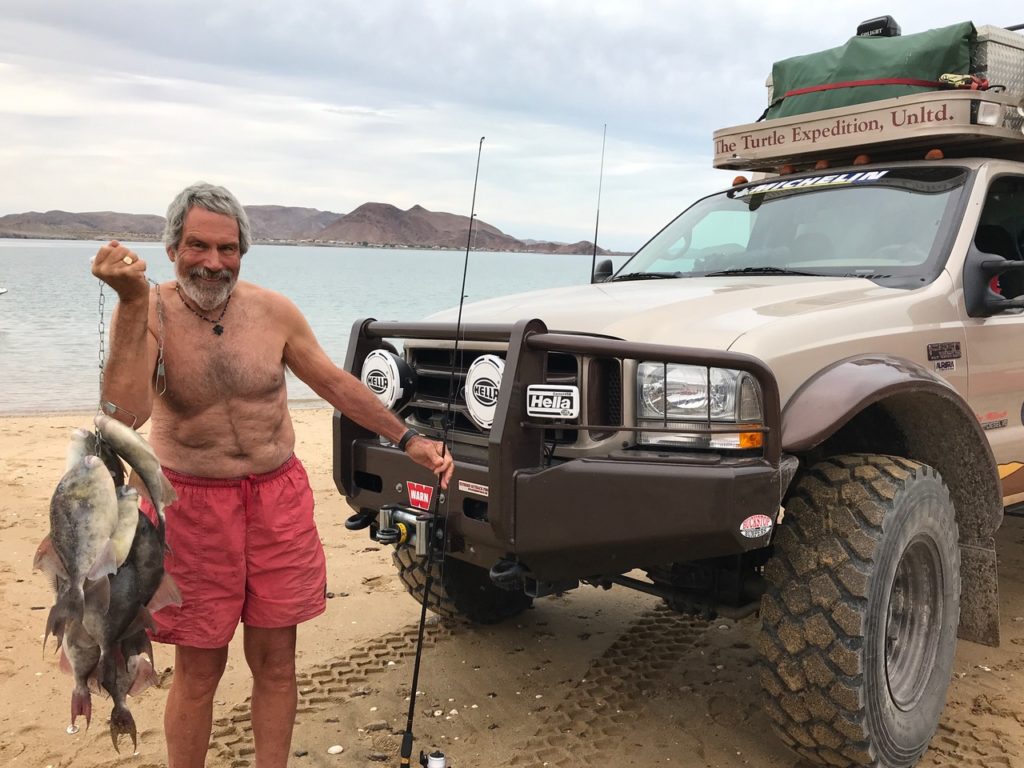 Best silver-lining story?
Surprisingly, neither Monika nor I can remember something that really went wrong, like a breakdown that ended up in something good. I suppose very careful proper preparation and careful driving in third-world countries where you are thousands of miles from home, even on a different continent with no phone or internet, you are a little more careful about how you drive and where you step. Maybe that sounds boring, but a flat tire or a broken axle, or worse, a serious injury, just doesn't fit the definition of a breakdown that resulted in something good, other than just getting it fixed to continue traveling.
What is an area of overland travel that you think you have nailed?
I can think of one example. Crossing borders, we have crossed many and gone through a lot of military checks, police checks, etc. What we've learned is that if I am driving and we're being stopped, I stay in the vehicle, maybe with the engine running or not, but Monika gets out and deals with the men. It changes the whole dynamic.
She could be their sister, their girlfriend, or their mother. Their attitude is suddenly different. She chats with them and tells them with a smile, "Please no cigarettes inside," or "Please leave your rifle outside. You might poke a hole in the camper roof." You don't have to speak the language. Gestures are well understood. Positioning herself at the entrance door, she only lets in one person at a time, claiming there is not enough room unless the big boss shows up. Most of them are just curious and inquire about the pictures, where we are from, etc.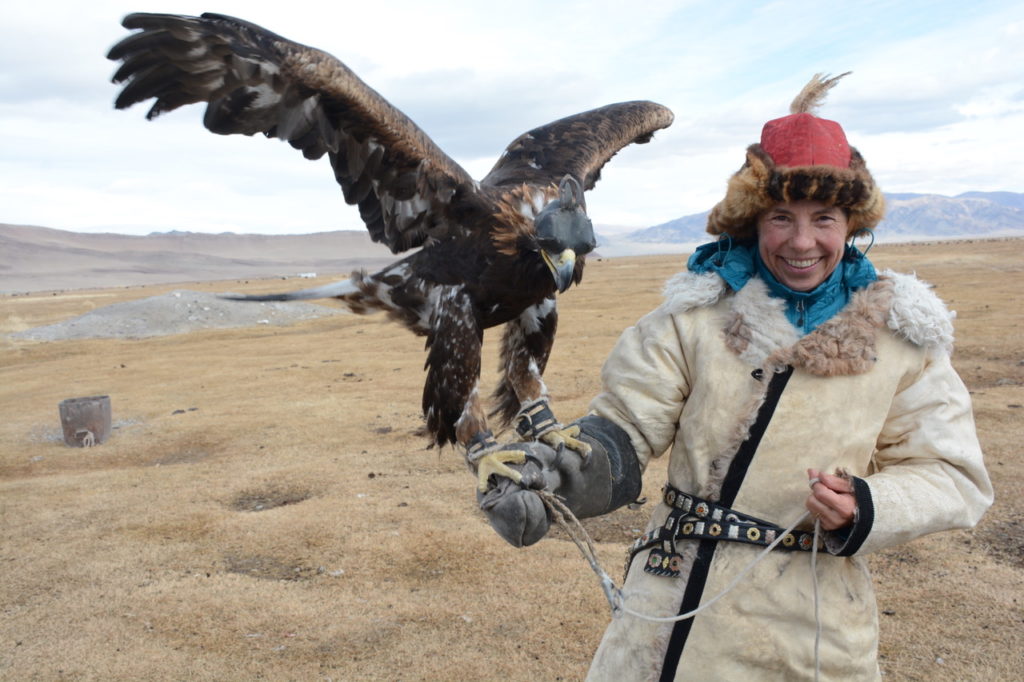 The other things we have learned in crossing borders is never volunteer anything. Once I was crossing the border from Mexico into San Diego in my Land Rover, alone. The inspection officer in secondary had looked in all my boxes and had not found anything illegal. I did have a large storage box on top of the Land Rover, which held my canoe, downhill skis, fishing equipment, and a bunch of other things. I was surprised that he had not asked about it. So I said, knowing I had nothing illegal, "Aren't you going to look up there?" That was really a dumb thing to say. "Oh yeah," he said, so that meant another half hour of unloading the canoe and opening the box that the canoe was sitting on top of.
And what is an area of overland travel that you feel you could use some improvement in?
I would have to say that the biggest problem we grapple with on the road is staying in shape. Sitting in the truck all day long, concentrating on the road and any unseen obstacles, can be very tiring, but it doesn't give you any exercise for your health. You never really appreciate your health until you lose it! We are working on it!
What does your "division" of labor look like while traveling?
Traveling is certainly a team effort. We both cook, wash dishes and keep the truck as clean as possible. I usually make the bed in the morning and wash the windshield, check the oil and the tires, put any outdoor camp equipment away while Monika tidies up the inside, checks all the drawers to make sure they're closed, and fills our coffee cups for the road.
We both do all the outside checks to see the doors are locked and the awning is in, and nothing is left hanging. Sometimes we check stop, tail lights & turn signals to make sure they're working. We are market junkies, so we usually shop together. Then there is internet communications, blogs to write, emails, and WhatsApp to answer. I do most of the downloading and sorting of photographs of the day. Monika keeps busy with taking care of business, banking, etc., and she keeps a better log of that than I do.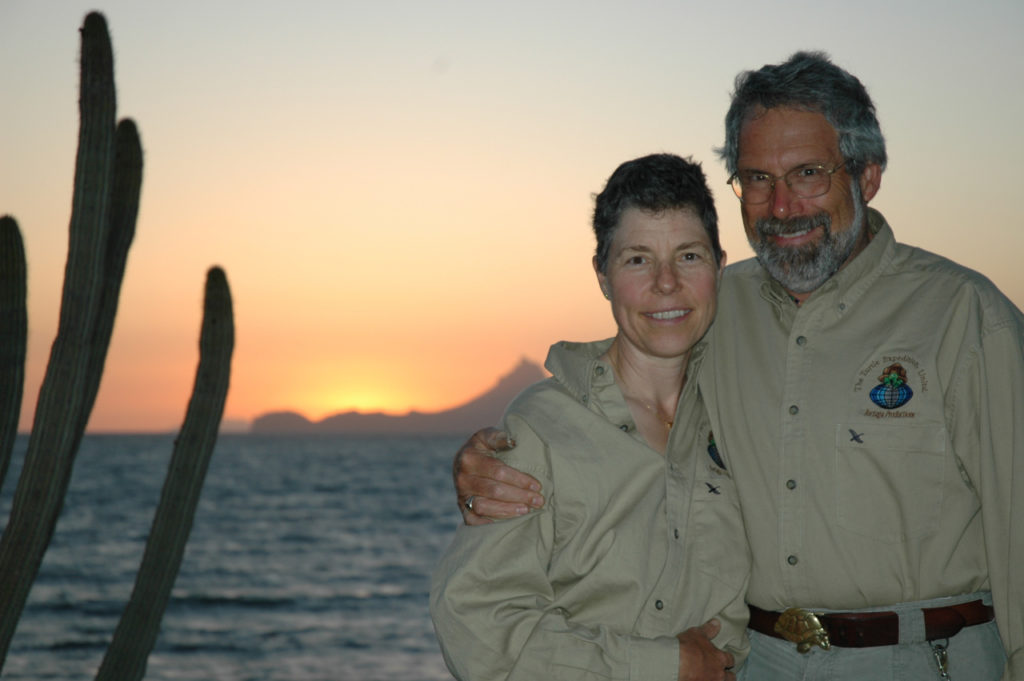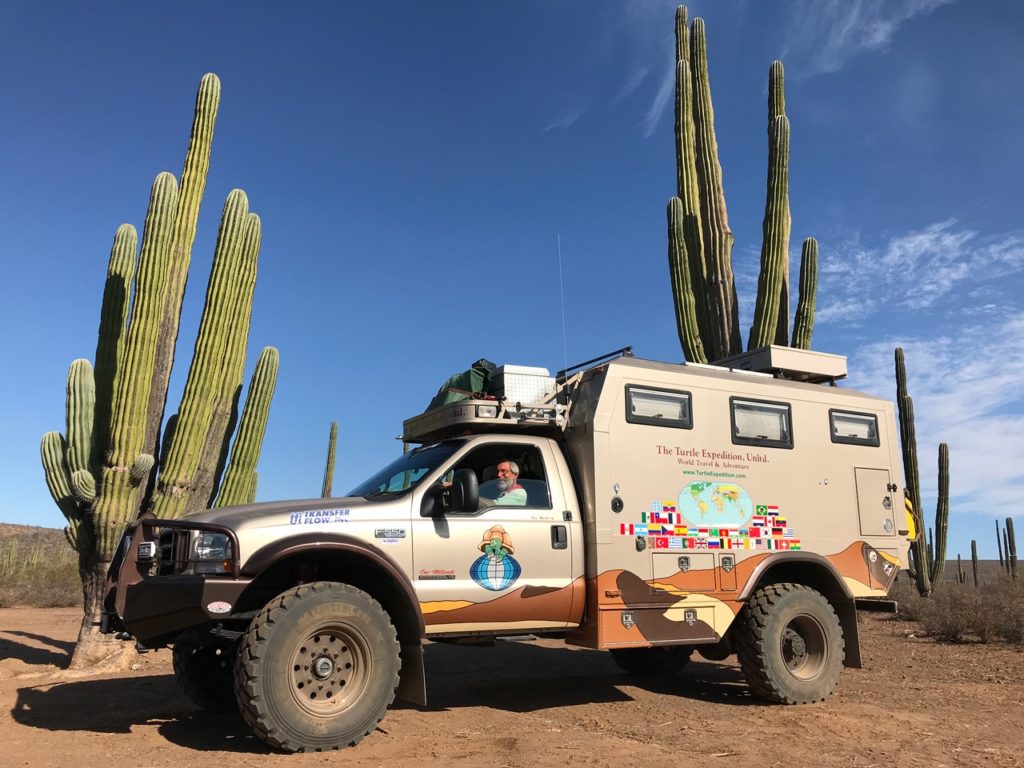 I pay more attention to the mechanical parts of the truck, checking for loose screws or bolts or leaks or squeaks. Since we are traveling in our own self-contained vehicle, we are always home, so there's no need to search for hotels. If we do have internet and need to find something, like an RV park or a specific store or address, Monika has become a master of that task.
One thing that has certainly added to the pleasure and safety of driving on what some people consider moderately dangerous roads is communication. Our diesel truck with the big tires is noisy. No, we don't need hearing aids. Since we have started to use Rugged Radio headsets in the cab, we can carry on a conversation in a normal voice and understand the other person when he or she says something like, "See that horse!!!!? Or "Watch the car coming up from the side!!!" the first time, without having to ask to repeat it. Basic communication is important, and our headphones have certainly made travel more enjoyable and possibly safer.