Yoga Slackers Sam Salwei and Raquel Hernández are lovers of movement. Limitations are a foreign concept to this teaching duo, as they spend their time traveling the world and fulfilling their dreams of being true modern-day nomads. Whether it's driving coast-to-coast or hopping on an airplane to travel overseas, the motivation is usually the same: bringing their passion for traveling and slacklining to students all over the world.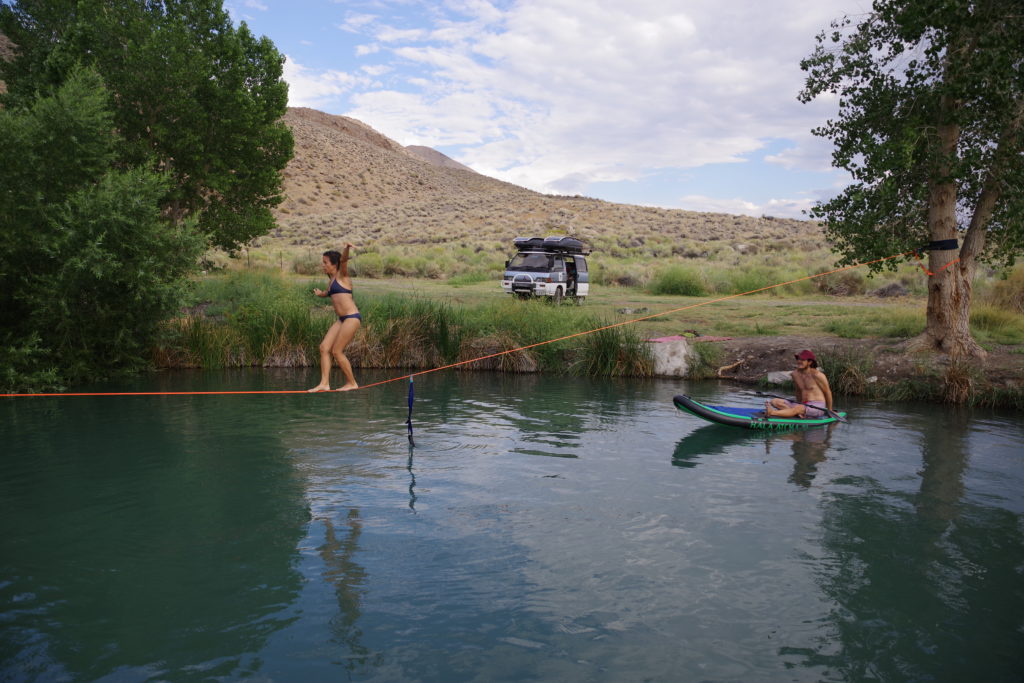 What they lack in square footage for living space, they make up for with the wealth of expertise and knowledge they bring with them. Sam Salwei co-founded the YogaSlackers in 2005, and his passion for slacklining has only grown since then. He typically can be found awing crowds with his spectacles at every opportunity. Raquel perfectly complements Sam with her extensive training in Yoga, AcroYoga, Slacklining, and Healing Arts.
Raquel and Sam will join us at Overland Expo WEST, Pacific Northwest, and Mountain West, where they will teach a variety of yoga and slacklining classes. They will also give presentations on their journey through 49 States in 8 months, traveling South America for four months on $500, and "enduring love and van life (where they will share how they navigate and maintain having a close relationship in VERY close quarters). One thing we love about Raquel and Sam is their out-of-the-box thinking, so we're especially looking forward to their class on "How to Turn a Rental Vehicle into an Ultimate Overland Rig." It's perfect for these times when shipping a vehicle to another continent is particularly costly and more likely to be delayed.
To learn a little more about Raquel and Sam, read on:
Tell us about your rig(s):
We have a 1988 Mitsubishi Delica. It was meant to be a transition vehicle between our 1988 Ford Festiva (aka Peace Love Car) and a DIY electric diesel truck. The transition is taking way longer than we expected, and now we think that we will have a 2nd transitional vehicle before we are able to put enough time, energy, and money into building the electric-diesel.
After living for five years together in the PLC (nine for Sam), we had a long list of wants and needs for our future build. The SlackerVan has been built in stages – not necessarily in the correct order! – in different areas of the USA. Living in a van while building the van has been the most challenging thing we have done so far. And we have our fair share of adventurous build ideas.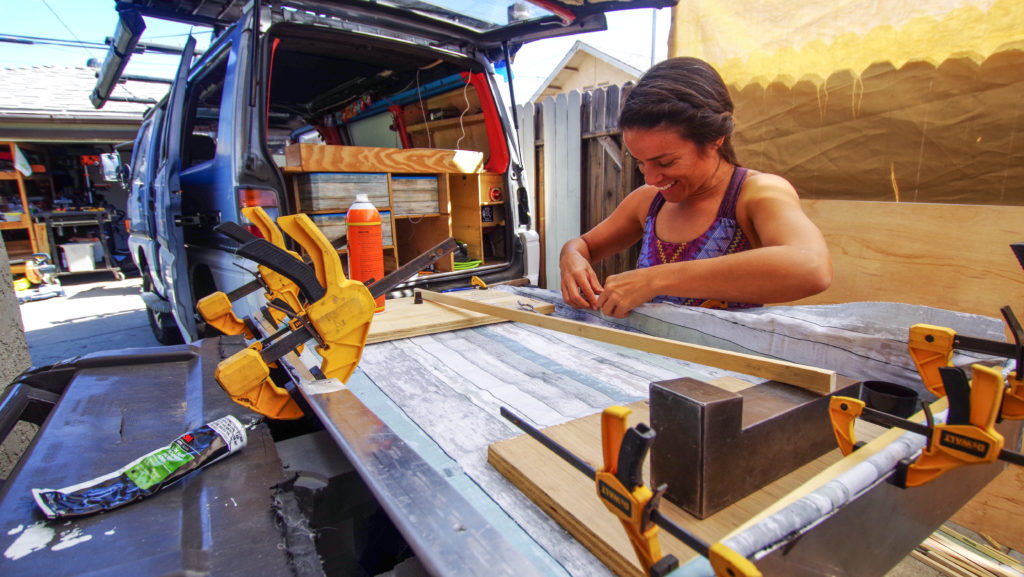 Luckily – joking – the pandemic forced us to be put in one place, and that allowed us to focus on tackling the list of wants and needs. Pretty much in that order! Now we are almost at the end of the list, although our list grows longer and longer every day. Therefore we have been termed quite possibly the most impressive van life build ever by the Gear Junkie since our van has hundreds of custom features and modifications, almost too many to number or keep track of.
More info: https://yogaslackers.com/nomadlife/
All-time favorite campsite?
We don't really have one! I am not sure we have returned to more than three campsites. And that's mainly because we were passing through the same route and remembered a cool site.
We use three different apps for finding a campsite: iOverlander, FreeCampsites.net, and OnX Offroad. When traveling really fast, we may stay at a rest stop for a night.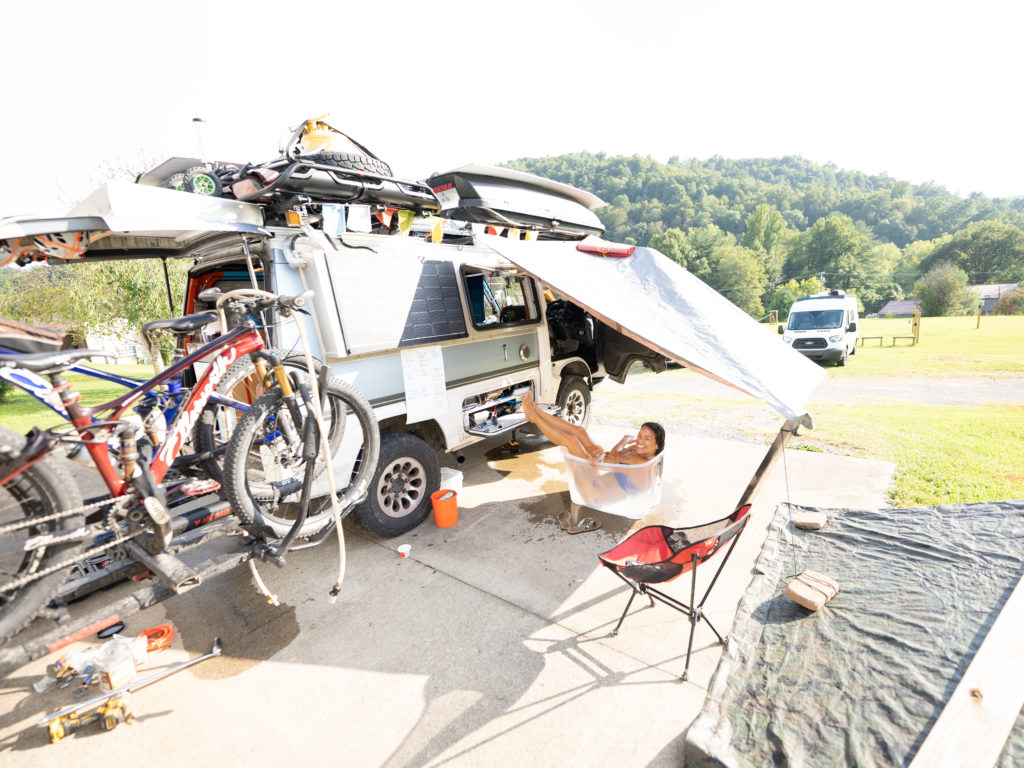 It does seem like our favorite locations are always next to a body of water. We remember with lots of love a lake in Market Michigan, a lake in Minnesota, and a roadside location next to a river in Southern Idaho. Oh yeah, and an awesome viewpoint near Mammoth Lakes.
We like places that are not super out there. We do like them to be just hidden from plain sight since we like waking up to a huge and beautiful location that is quiet and desolate. You know you are in a good location when a production crew shows up to film a commercial, which happened to us once. But, we would rather it didn't happen again. Therefore, we are not giving you exact locations!
What's your go-to overlanding meal?
We make a potato hash with Brussel sprouts and spicy veggie sausage that we eat almost every day. It starts as filling for a burrito and can transition into tacos and pasta. We can even add it to rice and add some curry to it to turn it into a new meal. Pairs perfectly with arugula or spinach, which helps us make sure we eat a good portion of greens daily. It is our go-to because it is very versatile and once prepared, it is super quick and easy to warm up. Keeps us away from restaurants and fast food.
Best silver-lining story?
We have had so many breakdowns! All our vehicles have been 1988 or older. The Peace Car was a salvage title. We bought our Delica with a faulty alternator. We have changed transmissions (more than once) in a parking lot.
We have way too many breakdown stories to tell or to remember. But there are many things in common with them all: we learned a lot in the process, met some amazing people, and connected as a couple (even after a yelling match or two, that does happen). It is a bit of type two fun. We do our best to stay calm and centered, use our logic skills and have fun in the process. A few months after each breakdown, we recall them as a fun time. Particularly that one time we almost sank the Peace Love Car.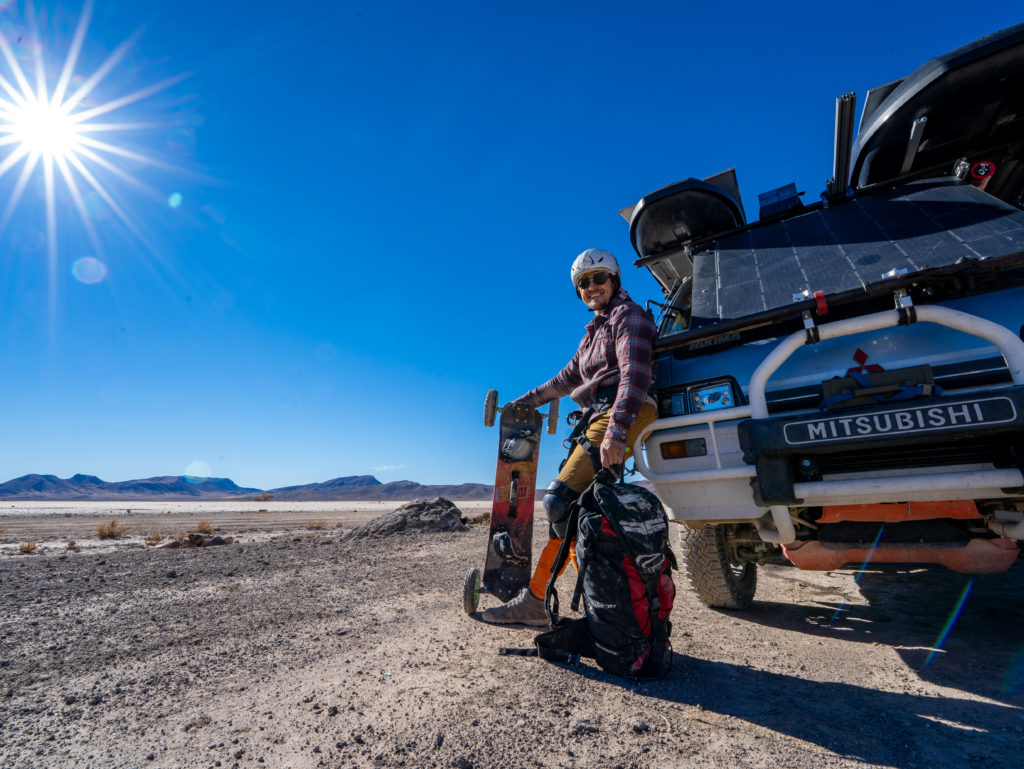 What is an area of overland travel that you think you have nailed? And what is an area of overland travel that you feel you could use some improvement in?
We think we are average at most things, which we think is important as an overlander. Know a little bit of everything and know how to google everything else. We do not have much international traveling experience as an overlander – moving our vehicle across borders. But we are average mechanics, average chefs, average adventurers, average public speakers, and a lot more average things.
There are many things we do want to improve. Communication, community building, being a better community leader, you know, things that make you a better human. Those skills are more important to us than learning to fix an alternator. Because if you are a good human, other good humans will reach out and help fill the gaps of knowledge you may have. That is the beautiful part of being part of several communities. We don't all need to be good at everything.
At first, finding community while traveling can be challenging. But now, with the internet, it is much easier to connect with people with similar interests and with different skills. Traveling has connected us with amazing people, and we strive to learn from them as we go.
We do think being average is pretty awesome and should be celebrated more often. People seem to always be striving to be the best. But it is pretty darn hard and almost impossible to be the best at everything you do. Be average, know enough and make up the rest in the process.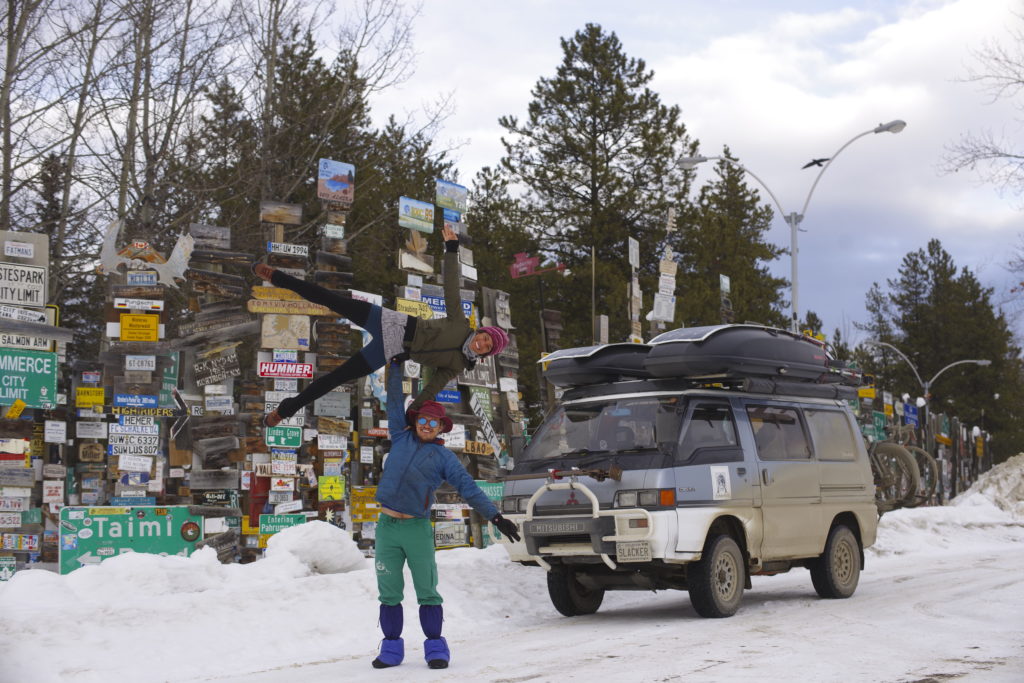 What does your "division" of labor look like while traveling?
It depends on which one of us you ask! Each of us may say we do the most.
Sam does most of the driving. He puts diesel in and does a lot of the mechanical work. Raquel does help with mechanical work, often getting equally dirty. She is pretty good at planning, organizing, and keeping track of tasks.
We have a company that sells slacklines and teaches slackline yoga. While Sam drives, Raquel is often answering emails, writing blogs, and doing other online tasks.
In terms of cooking, doing the dishes, clean-up, and laundry, we tend to work together. The van is so small that if you are not working together, you are in the way! We strive to work together as much as possible and avoid traditional gender roles. While we are pretty good about it while traveling in our van and living alone, we do seem to fall into traditional roles while living with other people. Seems like swimming against the current is easier when alone!