Leitner Designs is debuting their all-new Active Cargo System ROOF and GearPOD ROOF storage boxes today at Overland Expo Mountain West in Loveland, Colorado. These are the first-ever integrated rooftop storage system composing a platform rack and dedicated rooftop cargo box from a single brand.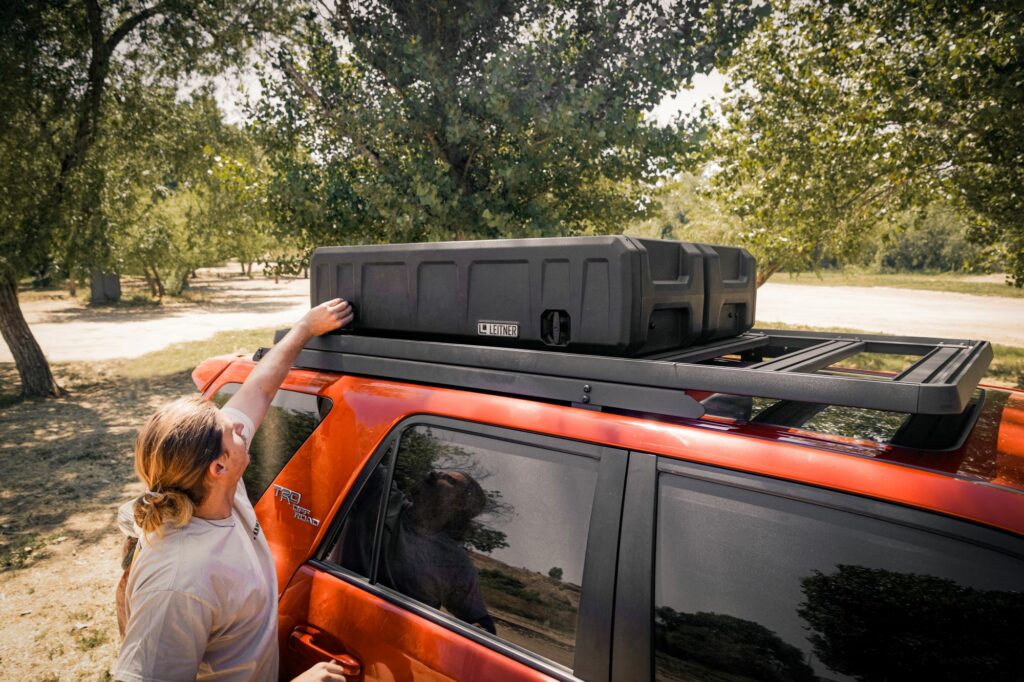 Both components in the system are impressively engineered to offer an incredible amount of utility to match the use case at hand. The Active Cargo System ROOF, the brand's first platform rack, and GearPOD ROOF, the world's first side-opening rooftop storage box. The pair extend Leitner Designs' leading cargo-carrying design engineering beyond the truck bed to any vehicle with a roof, enabling anyone to securely carry their most valuable gear no matter what kind of vehicle they own. The ACS ROOF and GearPOD ROOF together represent the first-ever integrated rooftop storage system composed of a platform rack and dedicated rooftop cargo box from a single brand.
"We reinvented and perfected the truck bed rack with the Active Cargo System (ACS). But no matter how good it was, ACS only served a portion of the vehicle market: trucks. We wanted to extend our design leadership and know-how beyond the truck bed to every other vehicle," said Leitner Designs Founder and Chief Designer Bernhard Leitner. "Just like we did for pickups with ACS, we reenvisioned the roof rack with ACS ROOF. We removed major issues and pain points; then we topped it off with the first-ever side-opening roof box, the GearPOD ROOF."
ACS ROOF & ACS Platform
Leitner Designs Active Cargo System (ACS) ROOF is unique in the segment because of its infinitely adjustable load bars. Unlike traditional platform racks, Leitner's design gets its structural rigidity from its exterior frame, not the longitudinal load bars. This enables users to move, add, and subtract load bars even when ACS ROOF is installed on their vehicle.
In addition to being fully adjustable along the length of the rack, ACS ROOF load bars are twice as wide and twice as strong as the competition; each ACS ROOF load bar is 4.0 inches wide and 1.2 inches tall and features two T-slots (most platform racks feature just one t-slot). The load bars are formed from 1.5mm to 3.0mm multi-wall thickness aluminum — more than twice as thick as other platform racks on the market.\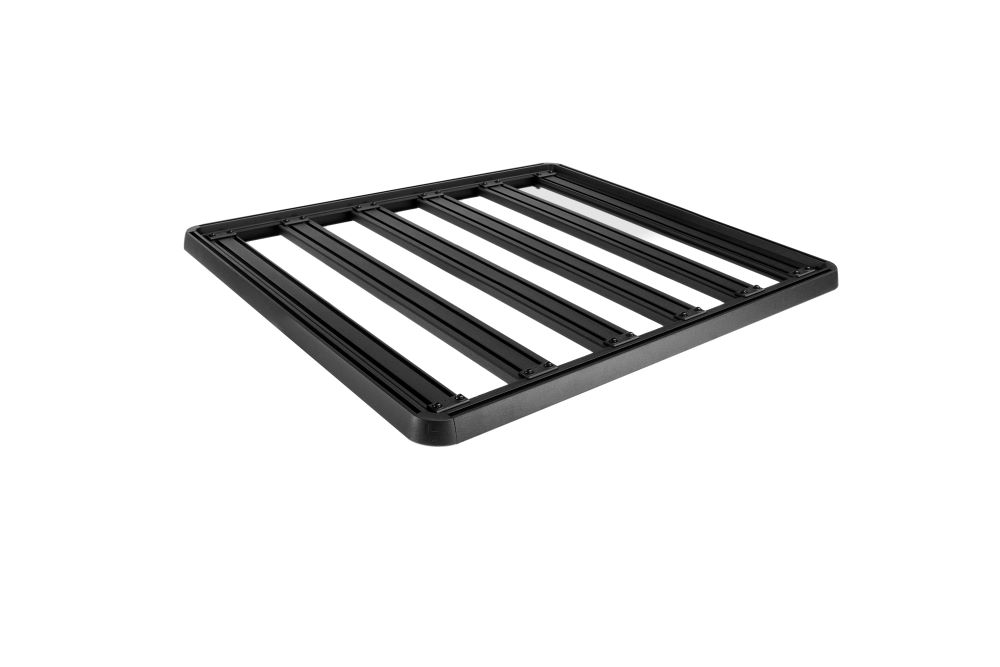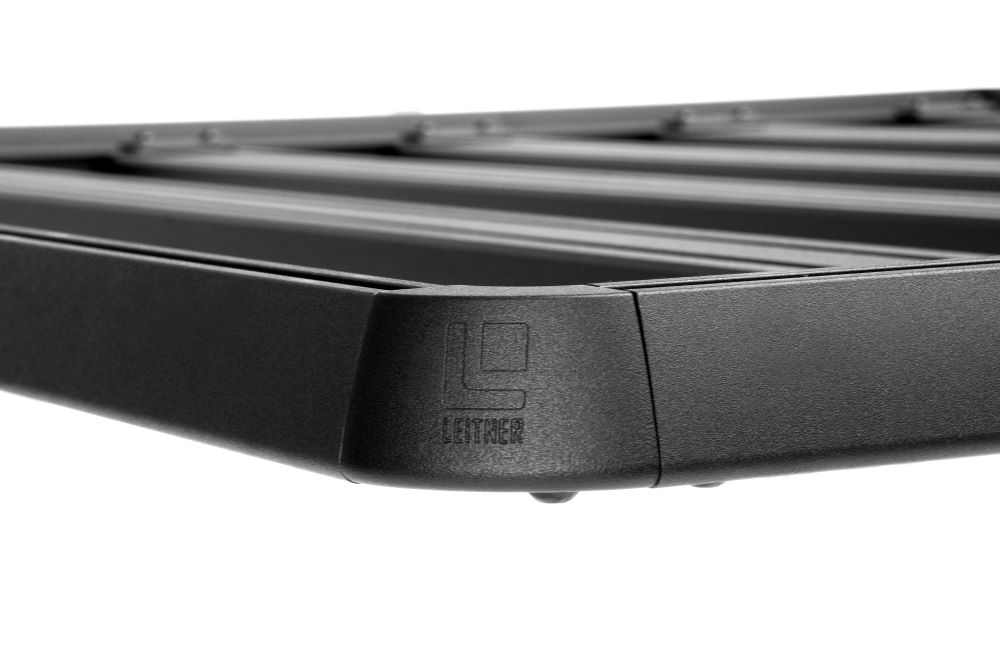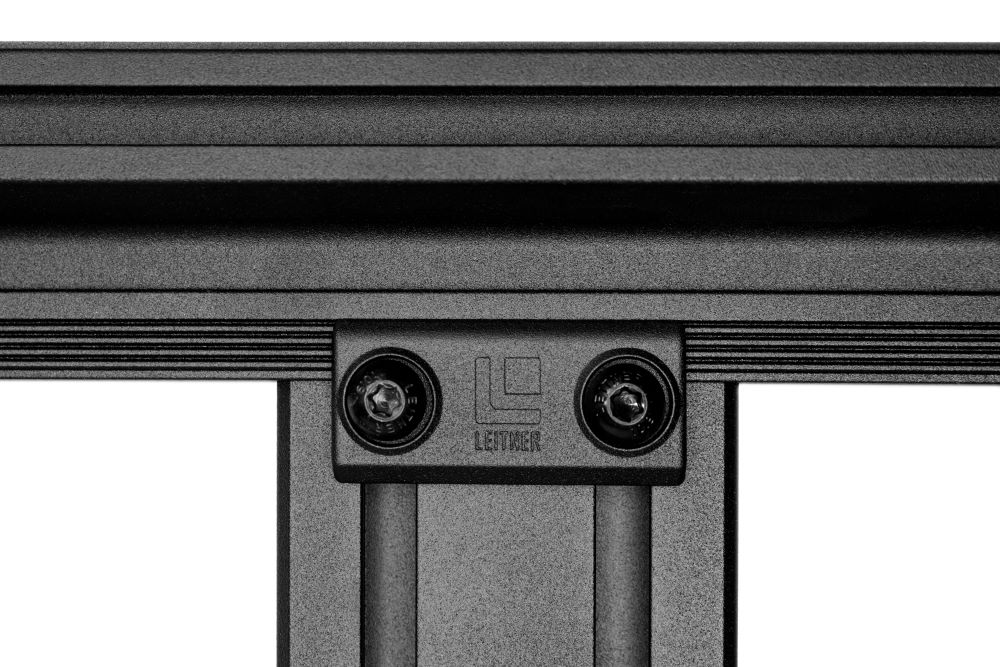 Mounting and wiring rooftop accessories, like auxiliary lighting, has never been easier. The ACS ROOF corner caps feature passthrough holes that allow wires to run along the inside of the exterior extrusion rails. This provides protection for wiring, and it avoids unsightly zip ties.
Leitner also created a version of the platform rack compatible with the brand's ACS Forged bed racks, called ACS Platform. It's compatible with all of Leitner Designs' ACS Forged bed racks and replaces the standard top rails. ACS Platform both lowers the overall height of the ACS Forged (compared to running an auxiliary rack atop the load bars) and increases overall structural rigidity — something racks from other manufacturers can't.
GearPOD ROOF
Leitner's GearPOD ROOF provides accessible and secure storage that's compatible with any modern platform rack. Of course, it works seamlessly with the all-new ACS ROOF rack. These side-opening boxes improve accessibility and create additional storage space since things can be mounted to the top of the box. The GearPOD ROOF can hold up to 100 pounds of gear on its top. This makes it perfect for mounting accessories such as MAXTRAX and RotopaX. In fact, the top of GearPOD ROOF is pre-marked for MAXTRAX and RotopaX mounting hardware attachment locations. Owners simply drill the top of the GearPOD ROOF in the marked locations and install MAXTRAX or RotopaX mounting hardware. A water-tight seal is created between the nut, bolt, and GearPOD ROOF material. Accessibility is further enhanced by Leitner's Lid Lifter struts that open 115 degrees.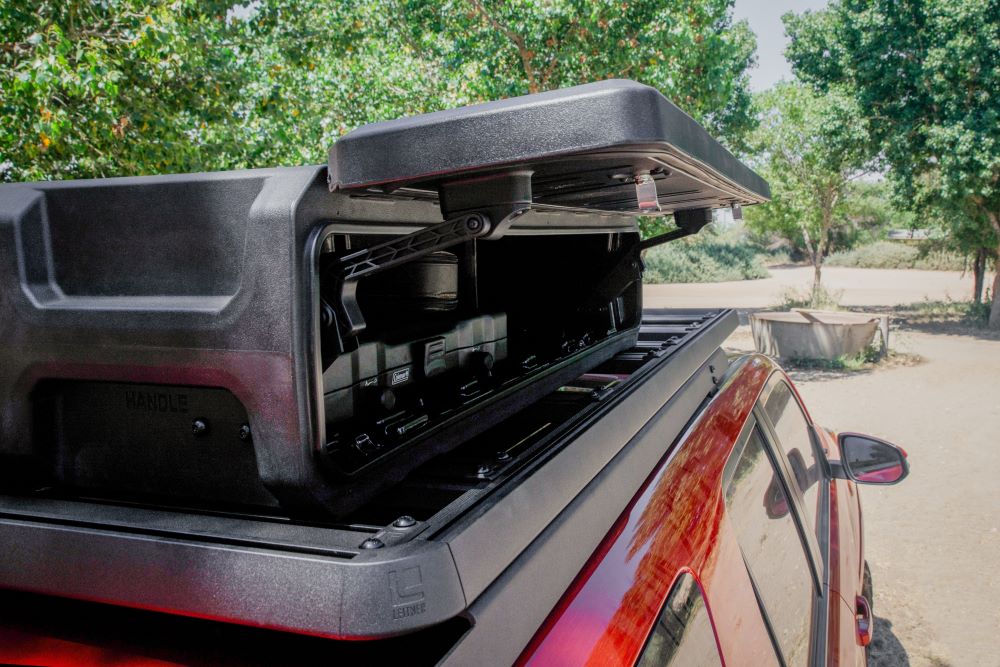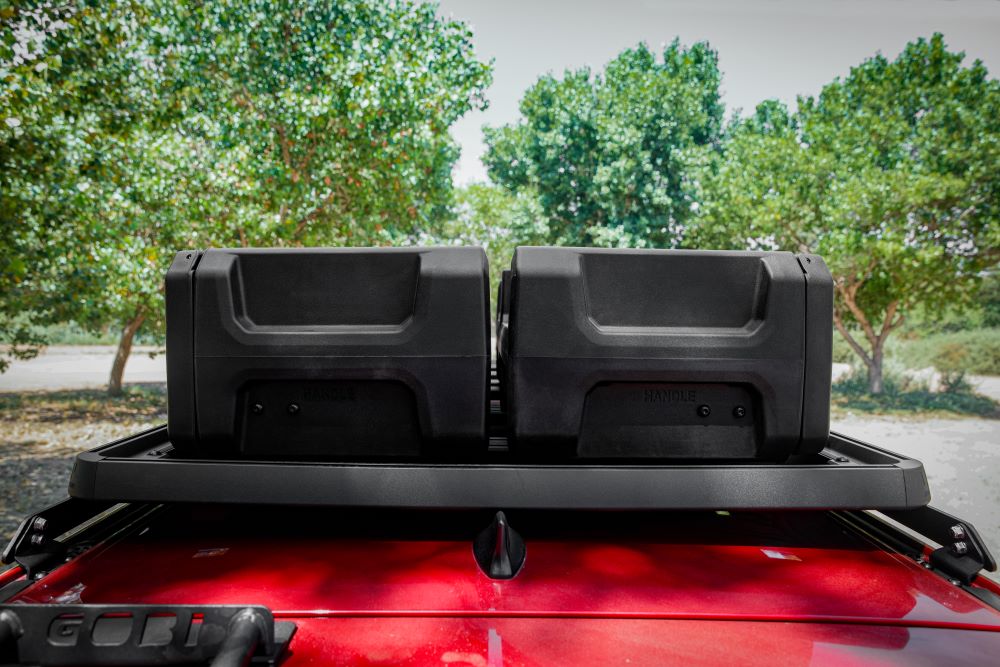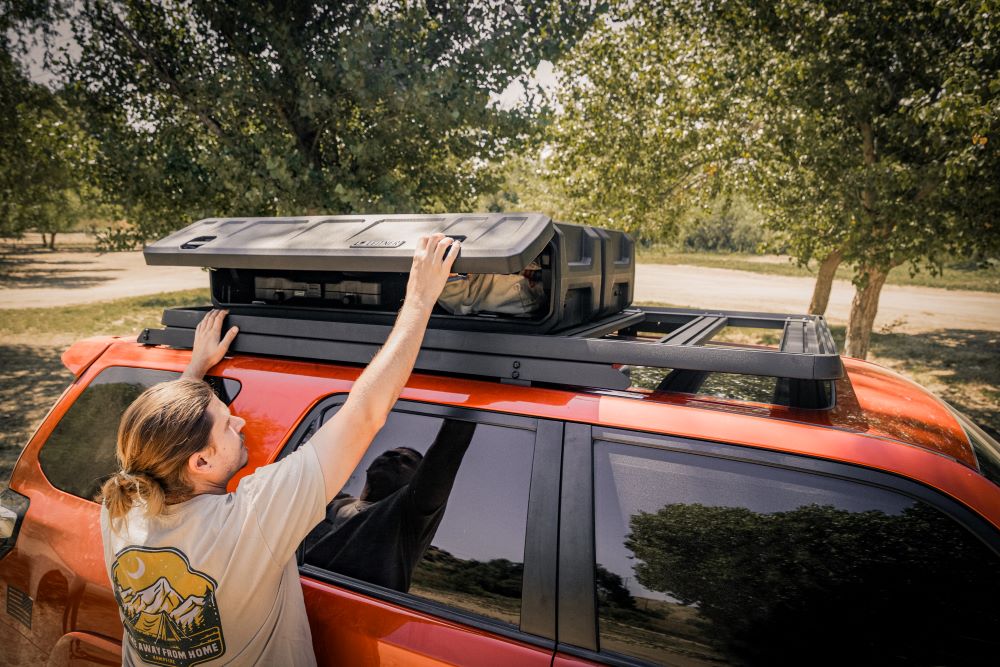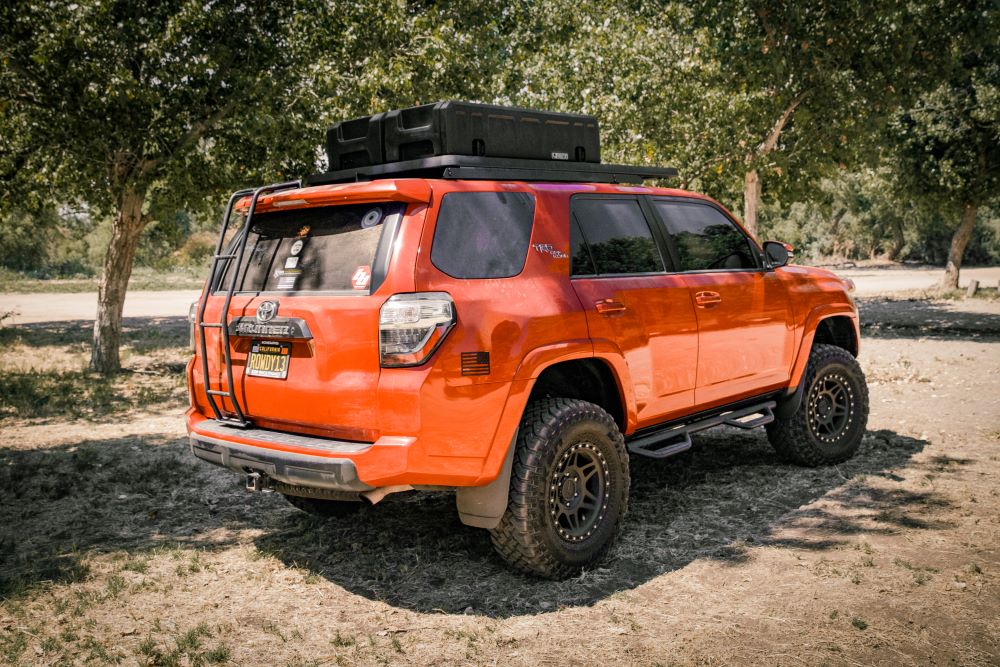 Unlike rooftop boxes that require cumbersome ancillary exterior-mounted straps, brackets, and padlocks, GearPOD ROOF mounts to virtually platform rack with Leitner Designs' specially designed internally mounted lock mechanisms. These locks are protected inside the box from the elements (dust, snow, ice, etc.) as well as thieves.
The GearPOD ROOF's door latches also feature locks for additional security. The key that locks the exterior door is the same one that unlocks the GearPOD ROOF from the rack, so there's no need to carry a jumble of additional keys. What's more, this means the GearPOD ROOF can be unlocked, unlatched, and removed from a rack in less than 30 seconds.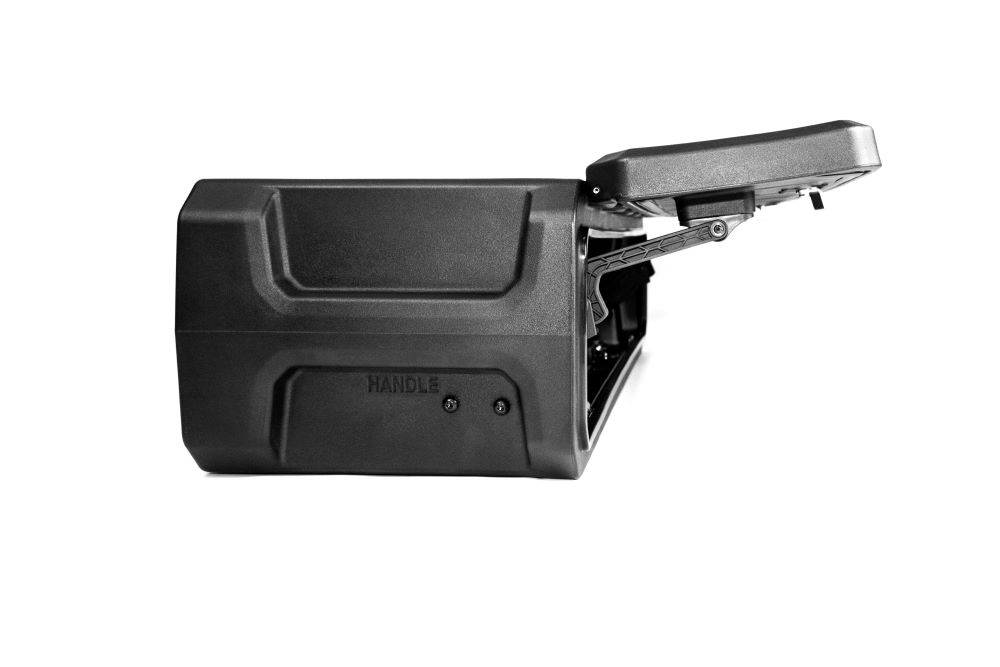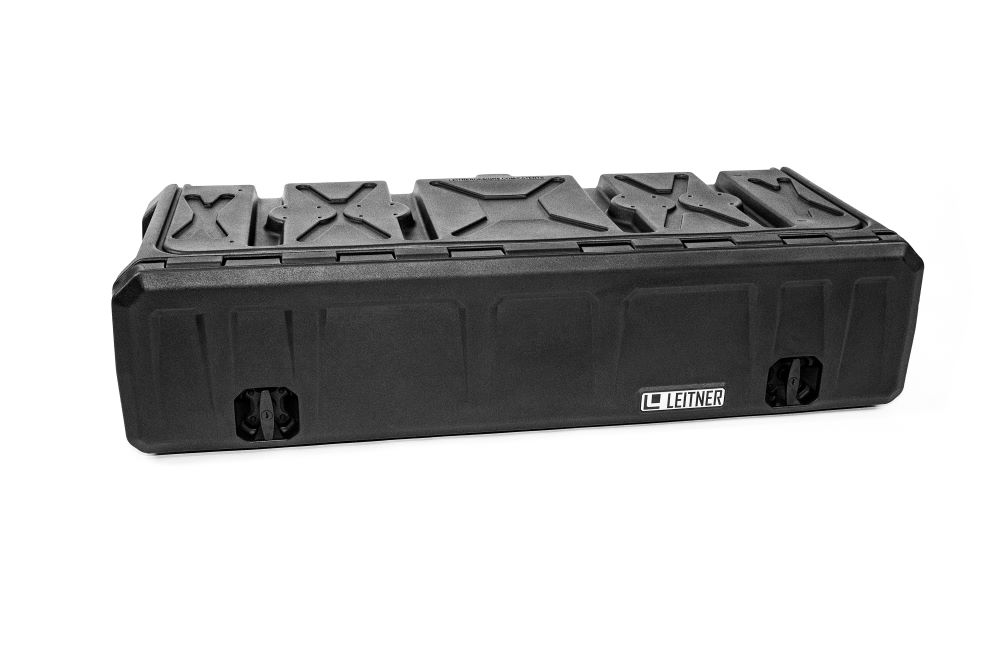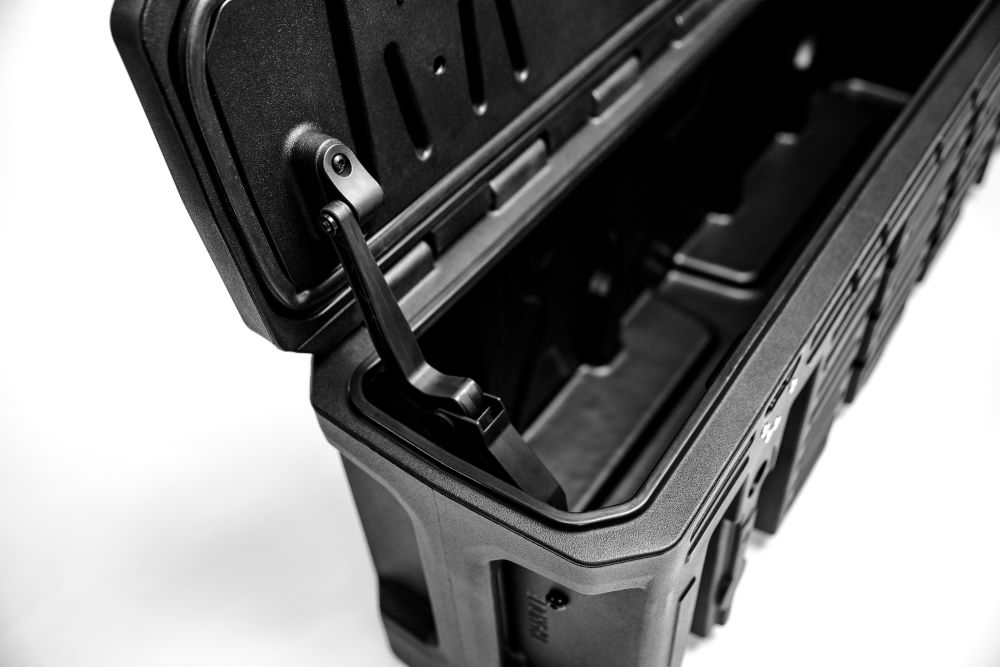 Leitner Designs also created twin accessory storage bags that nest side by side neatly inside the GearPOD ROOF. Measuring 7.4 inches tall, 13 inches deep, and 20.5 inches wide, these storage bags make storing and retrieving gear even cleaner and more secure. The two top-opening bags, which will be available after the initial GearPOD ROOF launch, are made from EVA foam and feature carrying handles as well as provision for velcro identifier patches.
GearPOD ROOF is priced at $699. ACS Platform is $850. And ACS ROOF is $1,300.