This story originally appeared in the Overland Expo Sourcebook 2022.
Somewhere in the Bighorn National Forest in northern Wyoming, I pulled my F-150 to the side of the trail and I sobbed. I don't mean I got misty-eyed, teared up, and wept. No, I heaved and drooled and my nose ran; I sobbed.
I was four weeks into an open-ended solo overlanding trip — my very first — and I hit the emotional wall. I sat on the gray cloth bench seat and cried until my cheeks burned.
Eventually, I cried myself out. Still whimpering, I lifted my chin off my chest. I wiped the tears from my bloodshot eyes, and looked out the windshield at the land in front of me and wondered out loud, "Where am I going?"
Backstory
It was the fall of 2006. I had taken a term off of school and bought a 1998 F-150 — a burgundy super cab with a standard 6.5-foot bed 4×4 model. It had the 5.4-liter Triton V8 under the hood backed by a five-speed manual transmission. Aside from the bed capper that the original owner had installed, it was totally stock.
With little more than a stove and cooler in the back seat and a mattress in the bed, I hit the road for an indeterminate amount of time.
The idea was that I'd encounter life-changing adventures, thereby finding myself on the trip. At 21 years old, I wasn't sure what I wanted to do with my life. I was feeling rudderless.
Without a better idea and having read a handful of road-trip books (John Steinbecks' Travels with Charley and William Least Heat-Moon's Blue Highways to name a few), I figured I'd try to find my inspiration alone, on the road, and in nature.
The fact that I took an overlanding trip, though I didn't know to call it that at the time, still surprises me to this day.
I grew up in Oregon, but my family wasn't particularly outdoorsy. We had only hiked or camped a handful of times while I was a child. We certainly didn't do any off-roading — my parents were yuppies to their core.
Looking back now, 16 years later, I am taken aback by my brazenness. Adventuring alone into the backcountry was incredibly risky, given how little I knew.
I guess I wasn't completely clueless; I had watched some off-roading shows on cable as a teen. In theory, I knew how winches worked. Though, after much deliberation, I opted not to get one for my F-150. I also knew a bit about the traction benefits mud tires offered when traveling off road (I skipped those, too). But that was it. I knew nothing about self-recovery, safe off-road driving techniques, or the basics of remote survival.
Nevertheless, I loaded my truck with everything I thought I'd need for a multi-month backcountry excursion. This included multiple paper maps and atlases of the western U.S., a propane stove, cheap cooler, and the biggest Maglite I could find (my only form of personal protection). And I was off.
Most northerly
Starting in early September from my mother's house in Portland, Oregon, where I had dumped most of my belongings, I headed northeast into Idaho. I blazed right through central and eastern Oregon, the regions that would later dominate my overlanding experiences, en route for the Gem State.
My first stop outside Oregon was at the Trolley House restaurant in Boise. With my maps, now dotted with maple syrup spots, spread across my table, I hatched a plan over breakfast. With colder temperatures on the horizon, I decided I'd continue north. I figured I'd get the most from Montana's northwest that I could before colder temperatures descended on the region. Then I'd head south, hopefully outrunning the cold.
My most northerly destination was Glacier National Park. From there, I'd weave my way south.
Over the next several weeks, I just drove. I'd pick a direction, pick a road on the map (or as I was driving), and I'd just go. My days were made up of listening to local radio stations, driving, and writing.
A high school teacher/mentor had recommended that we, his students, listen to local radio wherever we traveled. That way, we'd get the best sense of the region's culture. It's a habit I practice to this day. Though, as the media landscape becomes increasingly homogenized, I am not sure it's as useful a tool as it was a couple of decades ago.
When I got tired, I found a place to pull over — be it in the middle of the forest or in a remote gas station parking lot. The fact that I slept in gas station parking lots still freaks me out to this day. After dark, I'd cook up a modest meal on my little stove and crawl into the back of my truck. Lying in my sleeping bag, I'd write for a few hours before falling asleep.
It was incredibly freeing to live in the moment — every moment — like that.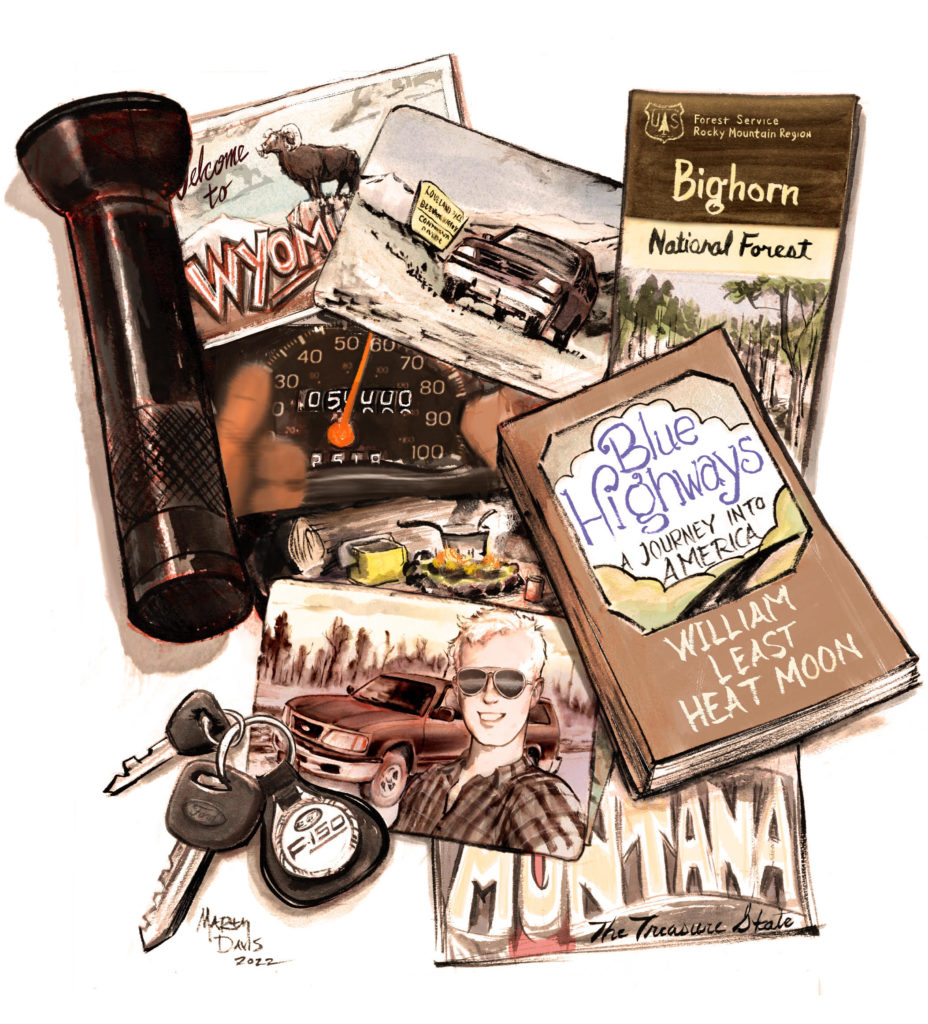 I was in the moment, but I was also very much not. Having fired up the creating-writing part of my brain, and without any real entertainment to speak of, I daydreamed a lot. Building on Steinbeck and Least Heat-Moon's stories, I imagined my own. I began to creatively conjure the adventures I might have on the road. It was incredibly entertaining to weave these fantastical yarns in my mind's eye.
One night in remote Montana, miles from the nearest human, while dozing in the back of my truck, I heard a large animal approach my campsite and begin sniffing around my rig. I grabbed my Maglight, held it against my chest, frozen in terror. I lay there, heart nearly leaping out of my chest, eyes wide open, motionless, as I listened to the seemingly gargantuan creature poke around my pickup.
To my relief, the thing eventually wandered off. But the images of it smashing in my bed capper and mauling me replayed in my mind the rest of the night. I didn't sleep a wink.
Beyond that blood-pressure-raising event, Montana was surprisingly uneventful. I chatted up locals in towns when I got the chance and dined in greasy-spoon diners when the mood struck. I played the role of chatty but aloof outdoorsman and solo traveler — the furthest thing from my actual persona.
Wyoming
I rolled into Wyoming by late October. By then, most of the novelty of being alone had worn off. Despite the brave face I put on for the Montanans I met, I was not a chipper DIYer. I was, in fact, a liberal urbanite without a North Star. I thrived being around people, relying on people. And, day in and day out, there was no one but me.
Eventually, that realization washed over and overwhelmed me. And I broke down.
I've thought hard about this scene for the last 16 years, playing it over and over in my mind. I can see my jeans, the dashboard, and the view through the windshield that afternoon in the Bighorn National Forest. I remember the burning feeling in my chest as I bawled. But I don't remember the catalyst. I don't know what sparked my mini-breakdown.
After I dried my eyes, I steeled my nerves. I had a conversation with myself, out loud, alone, in the cab of my truck.
I talked about being alone, scared, and running from my reality. I determined I wasn't going to find many more answers alone on the trail. My daydreams weren't helping either. I opened my maps and found my way to Boulder, Colorado, to the home of my godparents — and my mother's best friends — Nelson and Dee.
A light in the dark
I arrived at their ranch home outside Boulder well after dark. The lights from Nelson and Dee's living room just barely shone enough light across the dirt road to illuminate the way to their front door. They didn't know I was coming when I sheepishly knocked on their door. But they readily opened their hearts and home to me.
After a quick and stumbling introduction, I was greeted by a couple I barely knew — at least not as an adult. Nevertheless, they literally embraced me with the warmth of a close family member.
Over the next three days, I lounged in Nelson and Dee's home. I sat on their porch with their golden retriever by my side and wrote, journaling my travels and charting my emotions. Nelson and Dee gave me both love and space but also an emotional foundation on which to begin rebuilding myself — at least enough to get back on the road without feeling completely shattered.
It was there, overlooking the high-altitude prairie stretching out in front of me that I realized I wanted to more seriously invest in my writing. I decided there to apply for journalism school at the University of Oregon when I returned home.
It was in the energetic calm of that loving home that I set out on the path that has led me to where I am today.
Getting back
After a few days, I was back on the road. Nelson woke up at 4 a.m. to make sure he could cook me breakfast before I left — a gesture that meant so much to me that it has stuck with me to this day.
I didn't beeline straight back to Portland. I was keen to explore more, so I dipped down into southern Utah and Nevada before heading north again. Along the way, I spent the many silent hours behind the wheel of my F-150 thinking.
Before my respite in Boulder, I spent time in a proverbial fantasy land in my head. I conjured visions of wild adventures I might have on my trip, the strange but inspiring people I might meet.
Now I pictured myself back on the campus of the University of Oregon as a journalism student. It was the most grounded I'd felt in a long time. I was no longer burning daylight hours living in an unlikely, albeit happier, future. Instead, I was now plotting a real, achievable path. It felt good.
When I got home, I put the Ford up for sale. I took a bath on it. I replaced it with a Volvo 240 wagon, which got me through the remainder of college. Although that truck and that trip are just far-off memories, the impact that trip had on me has been long-lasting.
This should come as no surprise, but overlanding remained a chief hobby of mine. And writing, too, has dominated my life since.
It's funny to think that in the fall of 2006 I set off on an overlanding trip, hoping to find bigger-than-life adventures. I found my own life instead.