Quick take: The Eezi-Awn Swift is a simple, robust, lightweight, and easy-to-use awning that warrants strong consideration if you are looking for a rectangular awning.
There is an aphorism in the off-road and overland community that "bad roads bring good people." In roughly two decades of off-road travel, I've found that statement to be pretty accurate. Lately, I've started to think that a second line may be needed: "Campfires and shade keep them together."
On a recent trip across the Mojave Road, I noticed something I hadn't before. Whenever we would stop along the trail, our group of about ten would mill about, checking out the other vehicles, wandering off to heed the call of nature, talking in small groups, or something of the sort. In other words, we'd disperse as we got out of our vehicles.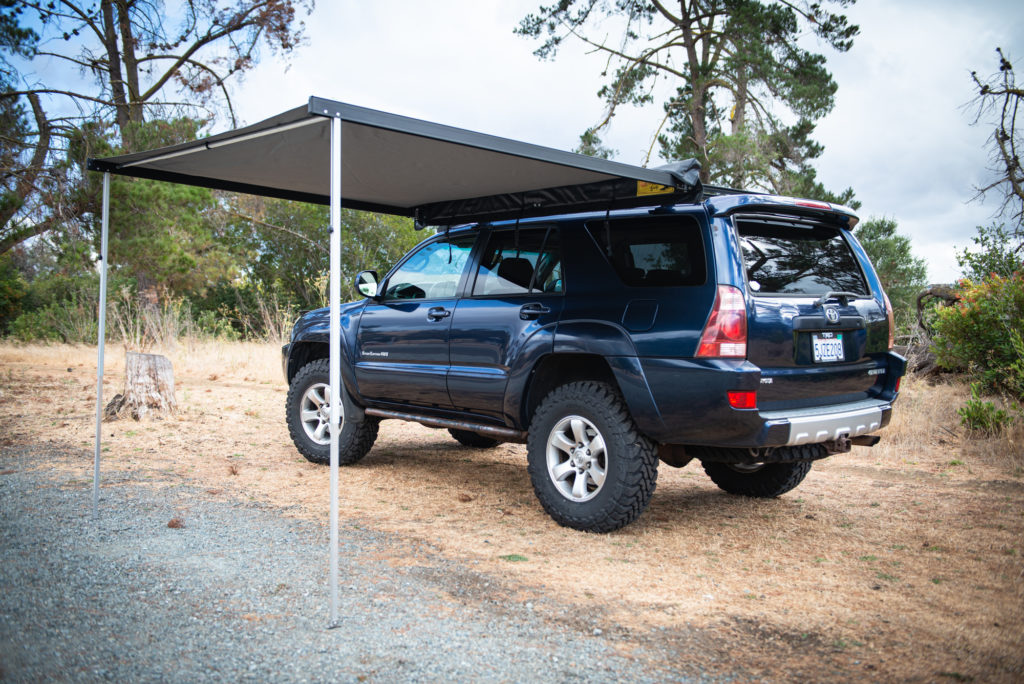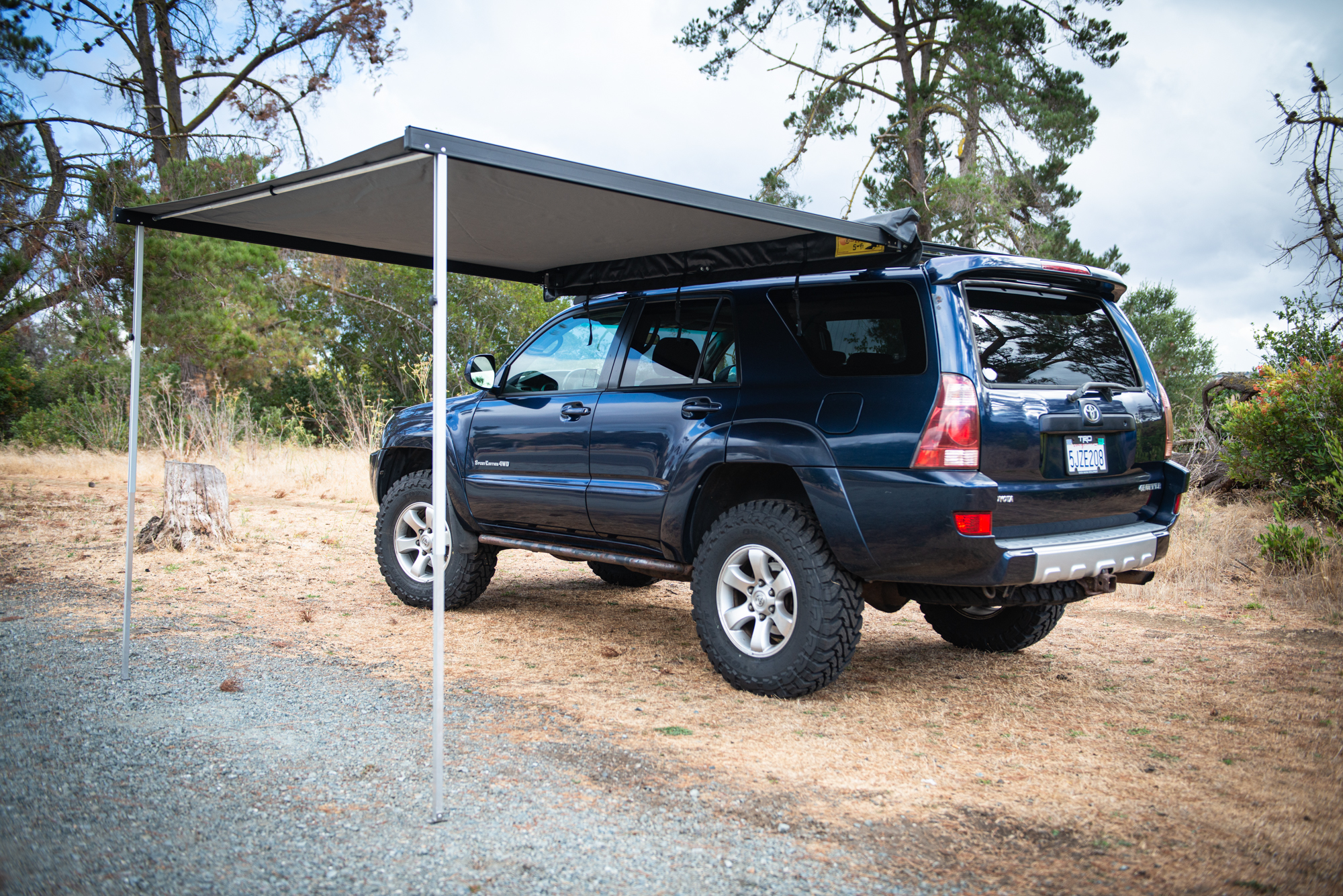 If there happened to be some shade nearby or if someone put out their awning, most of the group would gravitate to that shade instead of spreading out. Shade elicited a social gathering, the same way people are drawn to a campfire in the evening. I've always thought of awnings as being primarily about personal comfort. This particular trip had me reframing my thoughts and beginning to think of it as a social element.
Ease of Use
Irrespective of what you think its main purpose may be, an awning is only a worthwhile expense if it gets used. I have a friend with an expensive (and massive) 270-degree awning. It's awesome when it's out. The only problem is that it's a bit of a pain to get set up and a nightmare to put away. As such, it almost never gets used. Functionally it's just an enormous, expensive weight hanging from the side of his roof rack.
The Eezi-Awn Swift awning is the exact opposite of this. It has a lot going for it, but the single best thing about the awning is how easy it is to deploy. Stunningly easy, like 60 seconds easy. The most time-consuming part of the setup is unzipping the bag — seriously. Once it's unzipped, you simply undo the three hook and loop sections, unfold the fabric, swing the two arms out, put the tension bar in place, tighten it, and drop and adjust the two legs. Voila, near-instant shade.
If there is no wind, you can leave the legs folded up in the swing arms and save yourself a couple of additional seconds of setup. With it being such a low-effort affair, I never have any hesitancy about putting it out — it gets used all the time.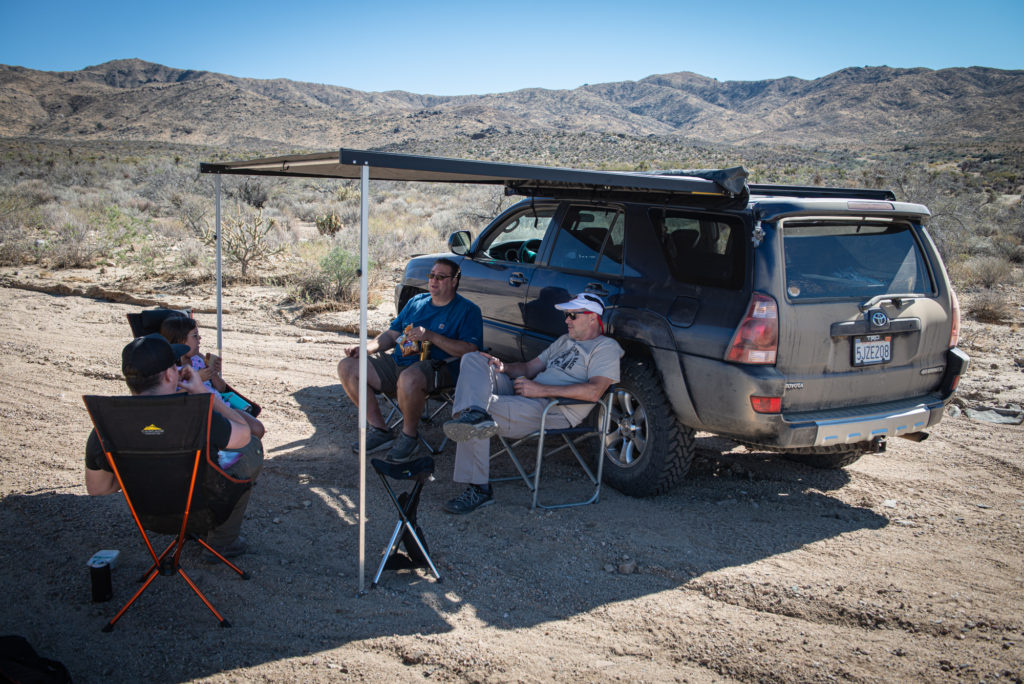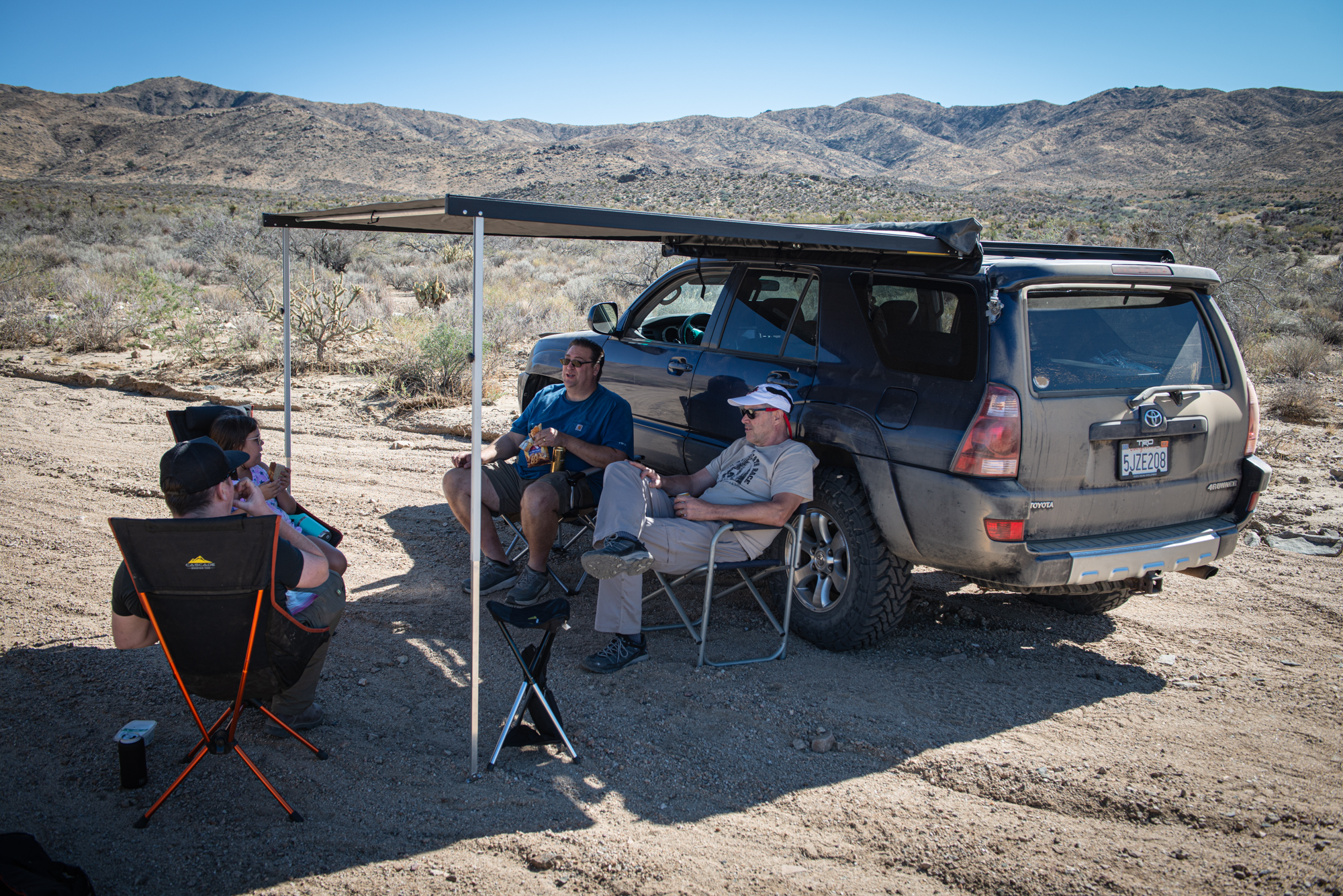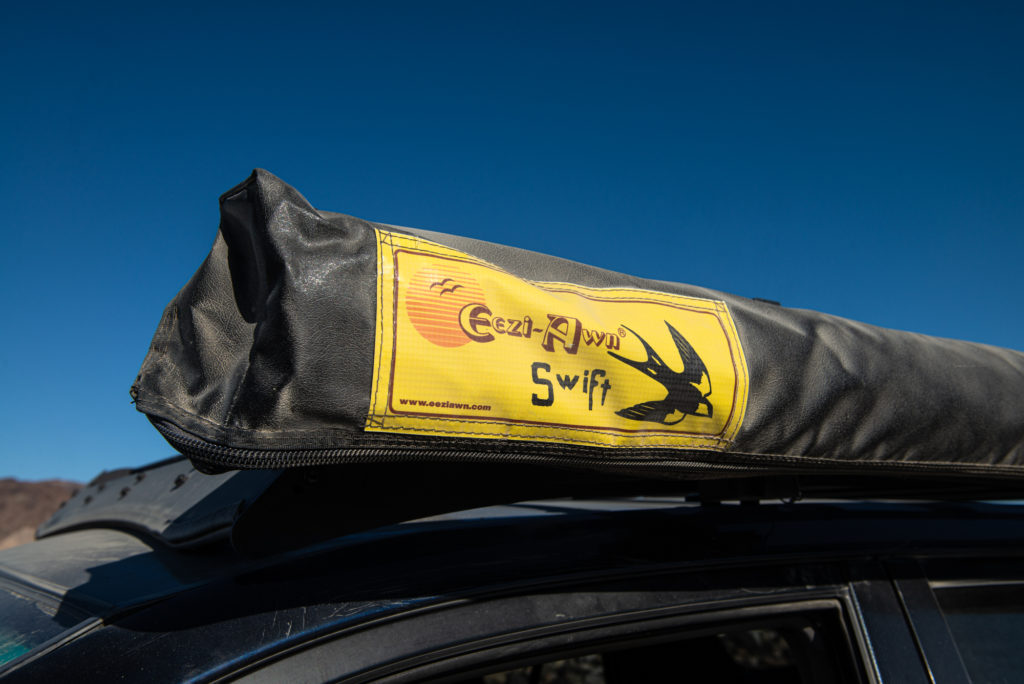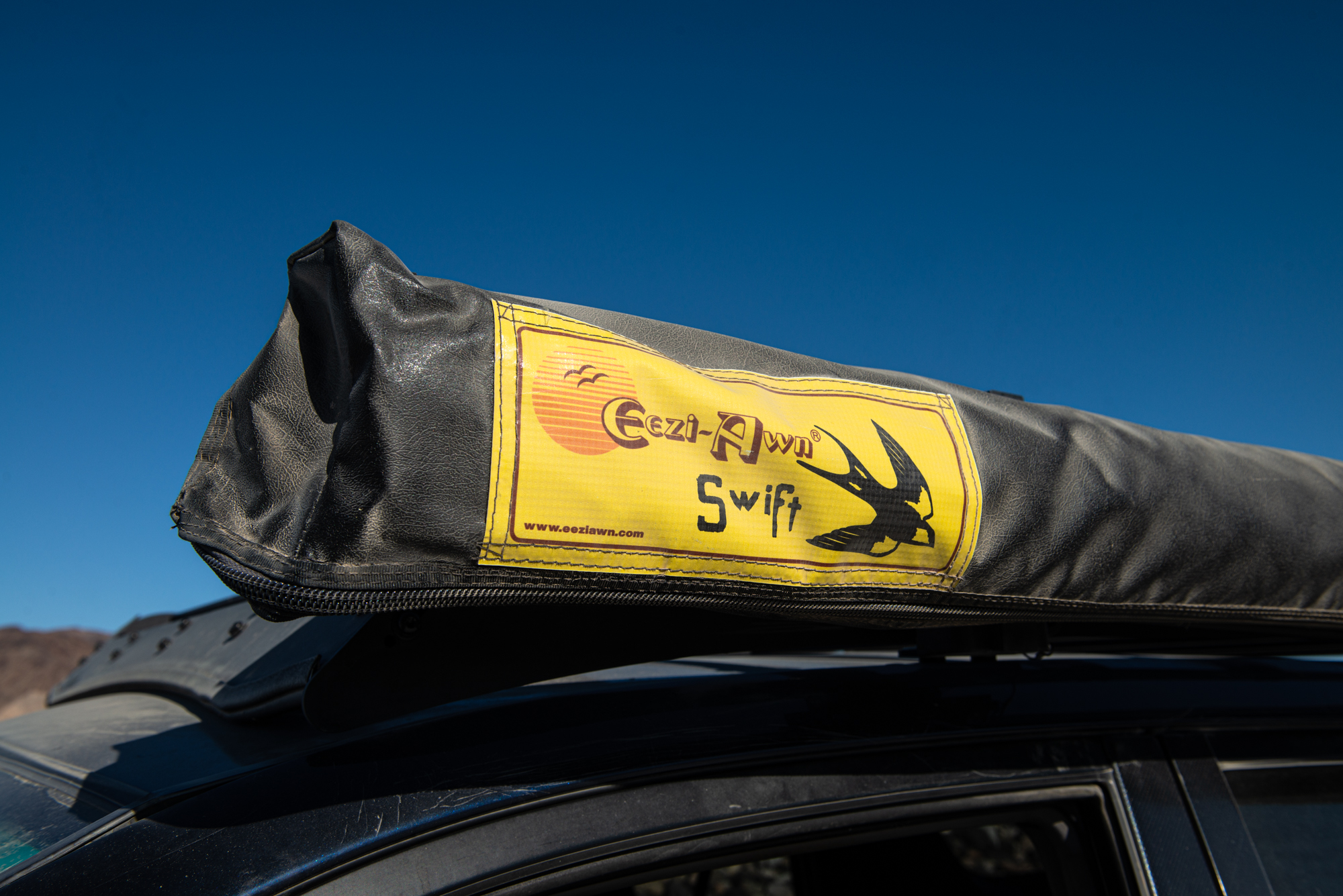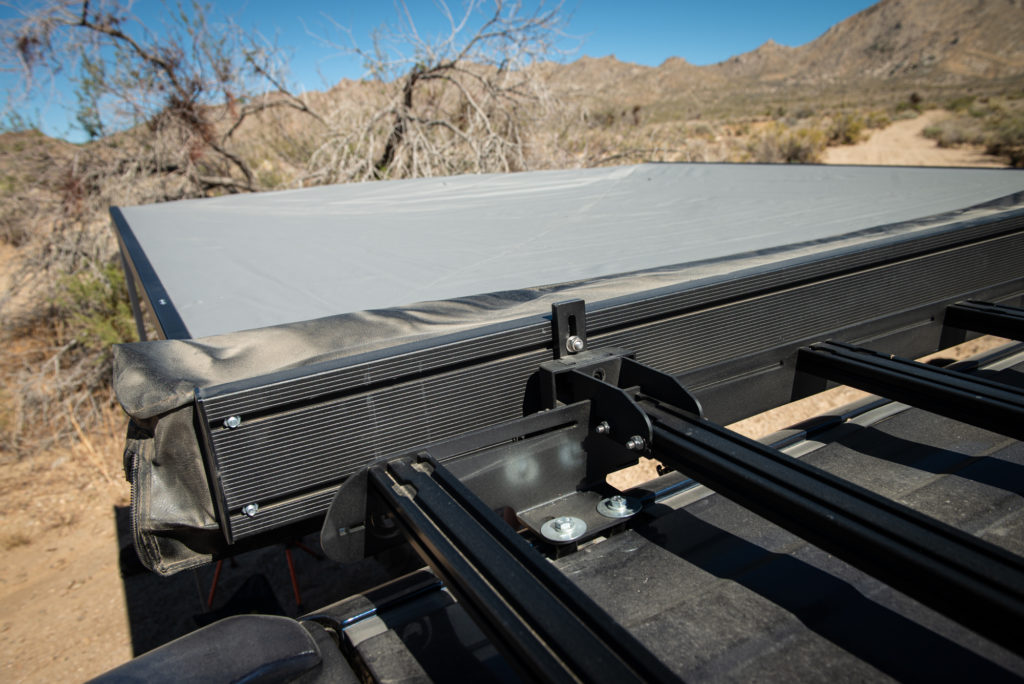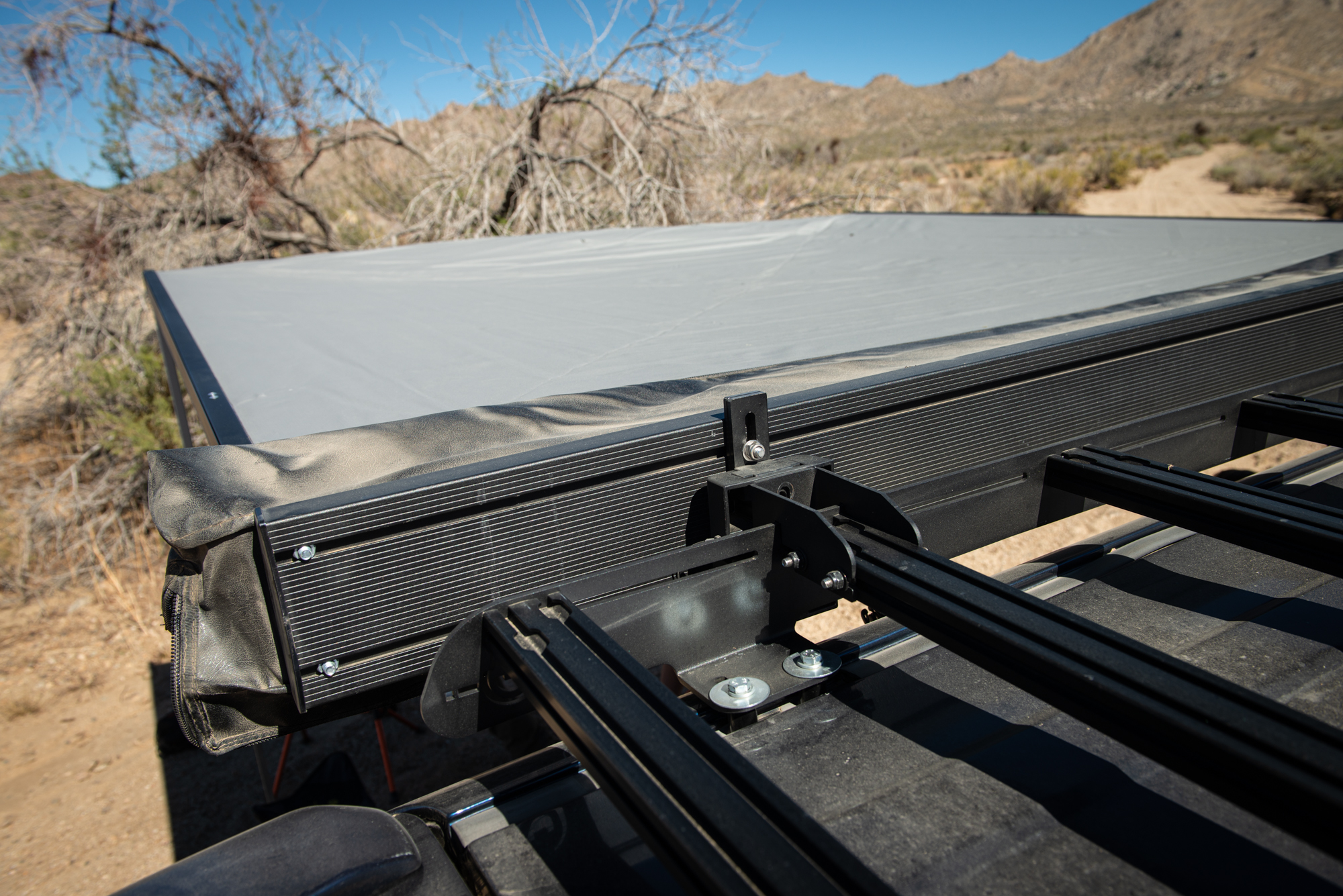 Putting it away is only marginally more difficult. The only challenge, if you can even call it that, is folding up the fabric, so it fits easily back into the zippered enclosure. There is a right way and a wrong way to do it. The wrong way will lead to misery as you try to get the zipper past an incongruous mass of awning fabric. The right way will have the awning put back in less than two minutes, leaving you wondering how long it'll be before your next opportunity to get it back out again.
Rather than attempting to describe the way to easily fold the fabric back up, I'll point you to a video Paul May from Equipt put together. How long is the video? You guessed it – just under two minutes. Video: Packing the Swift Awning
Construction
At first, I didn't know what to make of the design. Certain components, like the extruded aluminum backplate and the swing arm pivots almost seem over-designed with a heft normally reserved for much larger awnings. In contrast, certain components, like the awning arms themselves, seemed surprisingly lightweight – almost insubstantial. Over the course of several months of using the awning and a fair bit of time puzzling over the design, I became increasingly impressed with what the engineers had done.
The entire awning assembly weighs in at only 34 pounds — less than a full 20-liter jerry can. Were it not nearly 8 feet long, you could easily lift it with one hand, yet it seems to have the rigidity of a much heavier assembly. Much of the weight savings come from the material choice — most of the awning is made of aluminum. The real magic though is in the shape of the materials.
Take the awning arms as an example. At first, I was disappointed by their design. They are an inverted U-channel with a relatively thin wall thickness. As I mentioned, they feel almost insubstantial. There isn't that much material there, yet despite my initial misgivings, they turn out to be surprisingly rigid.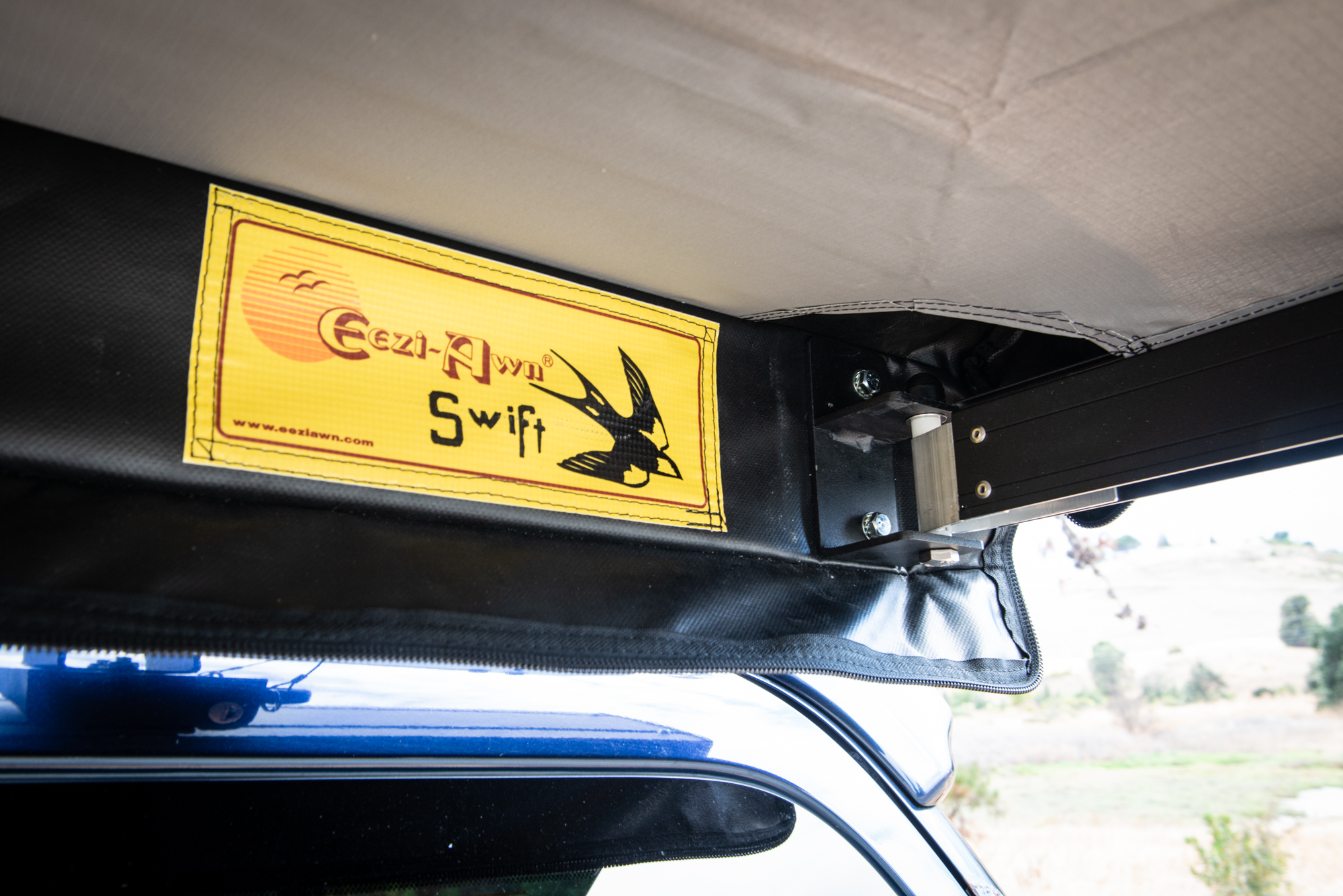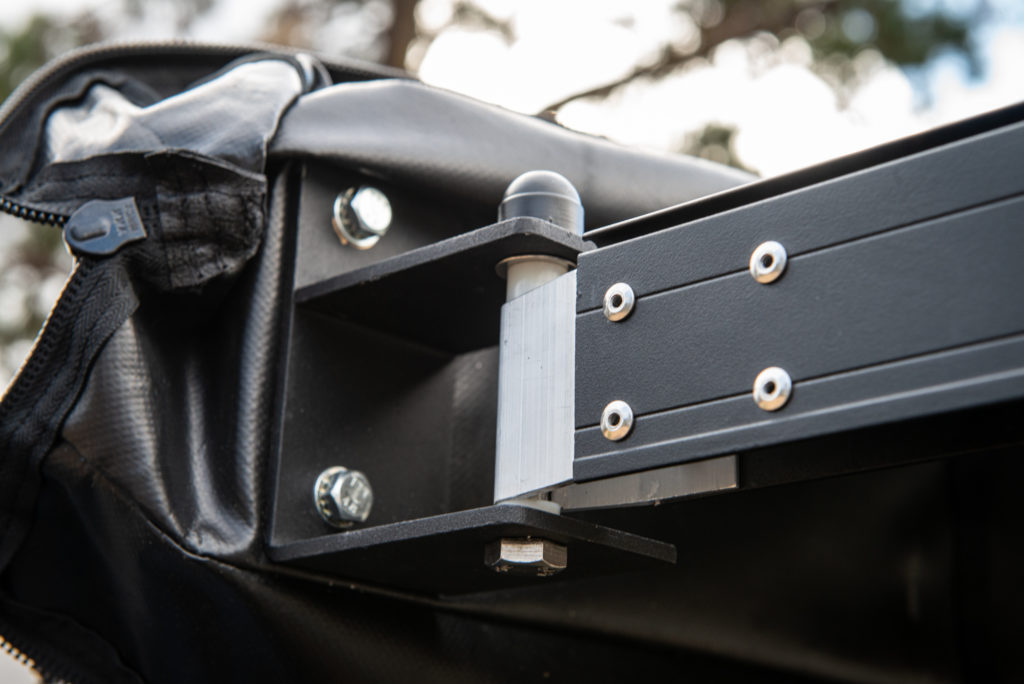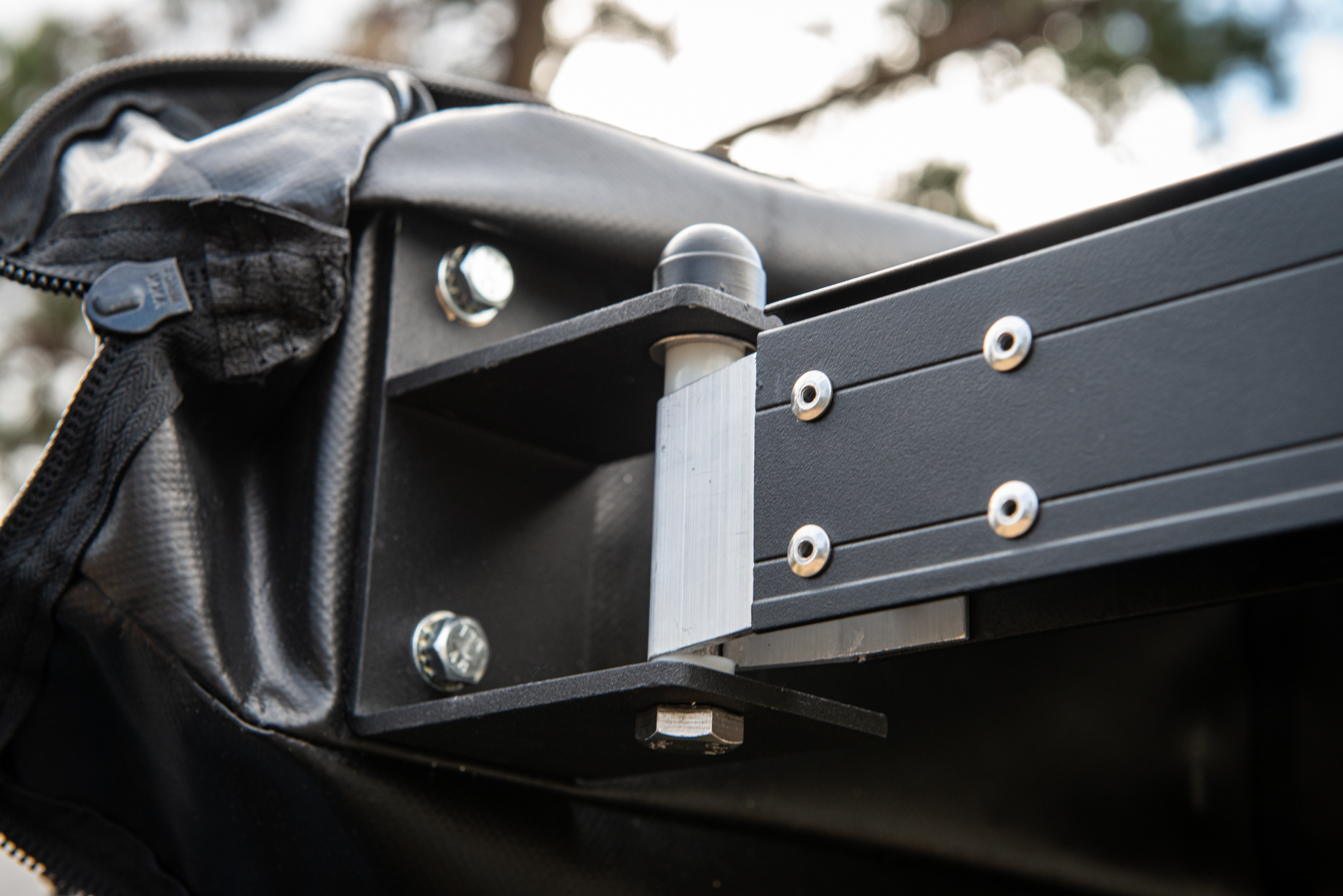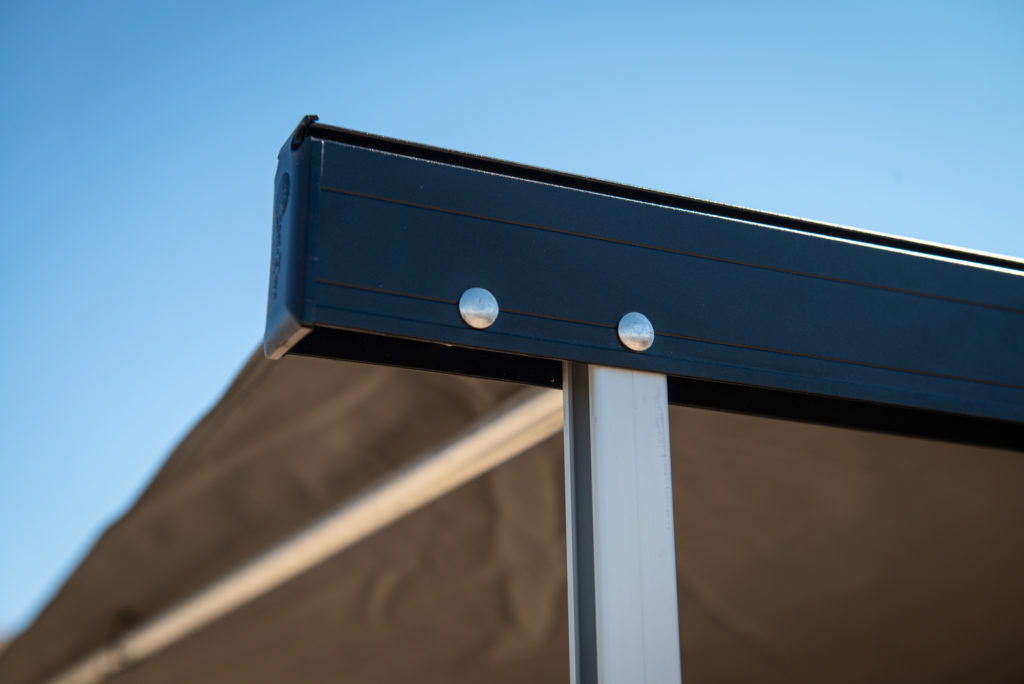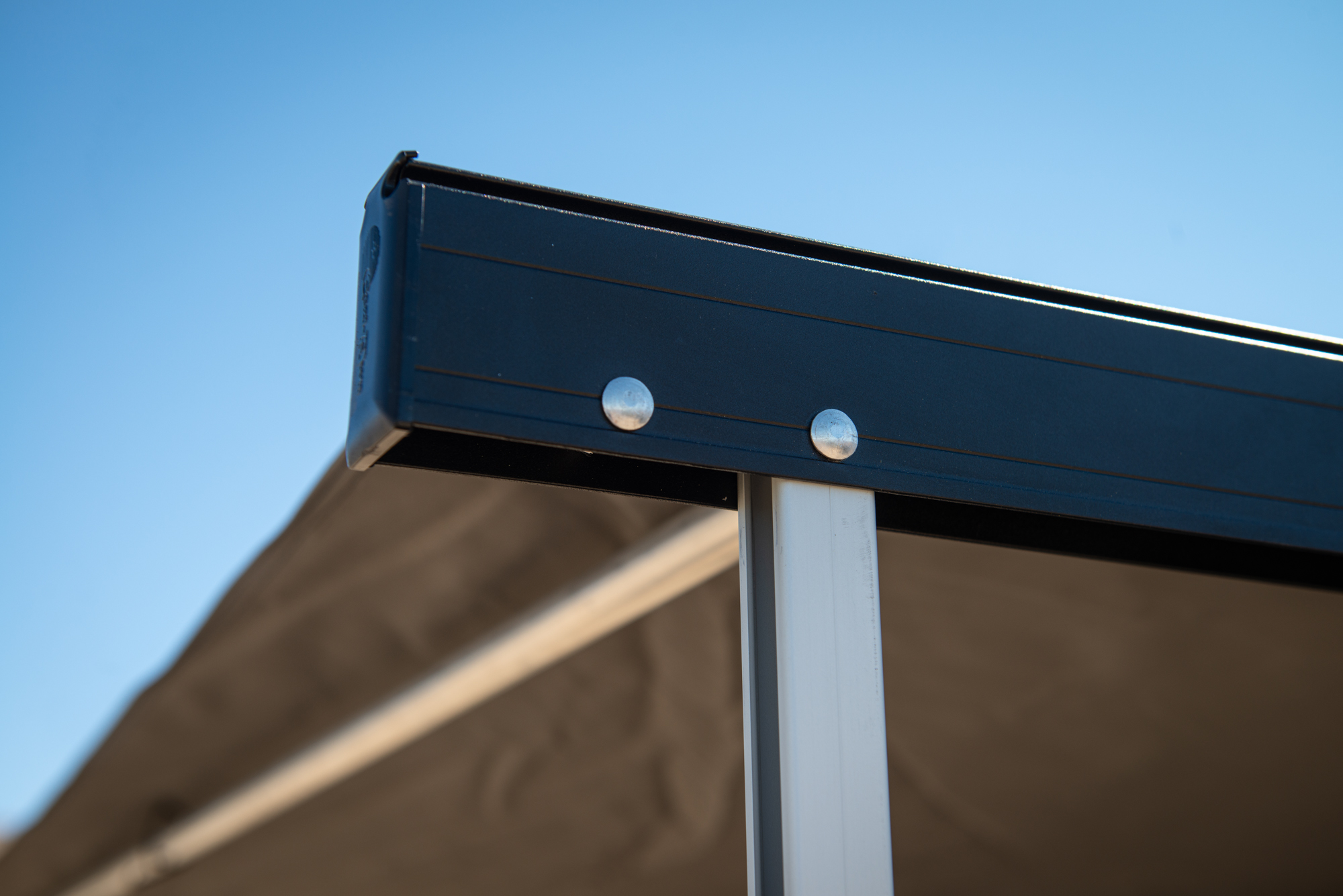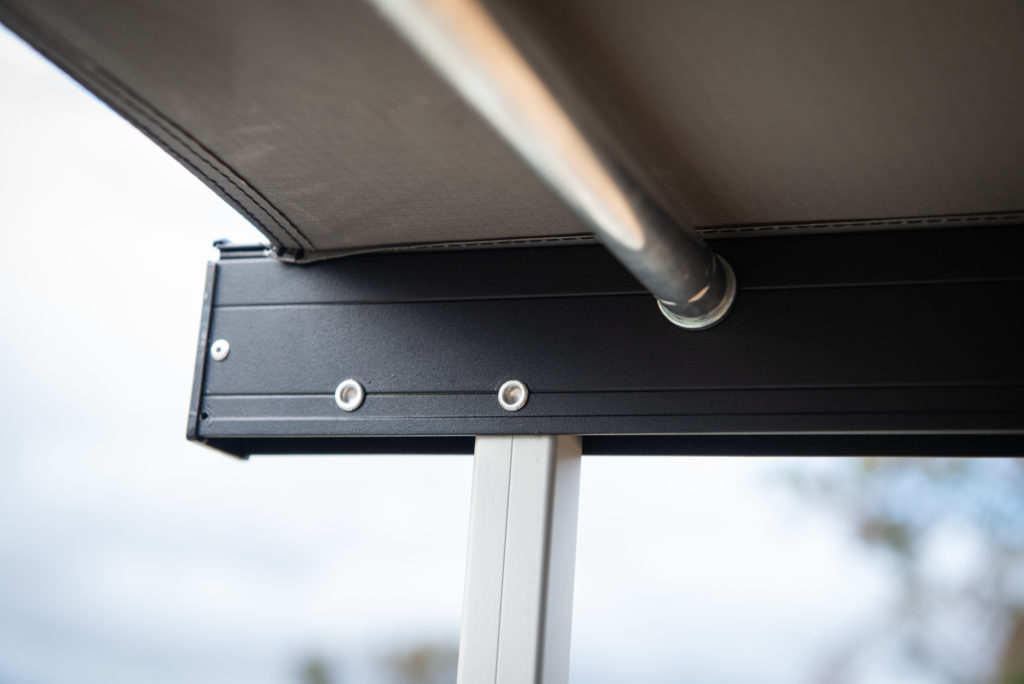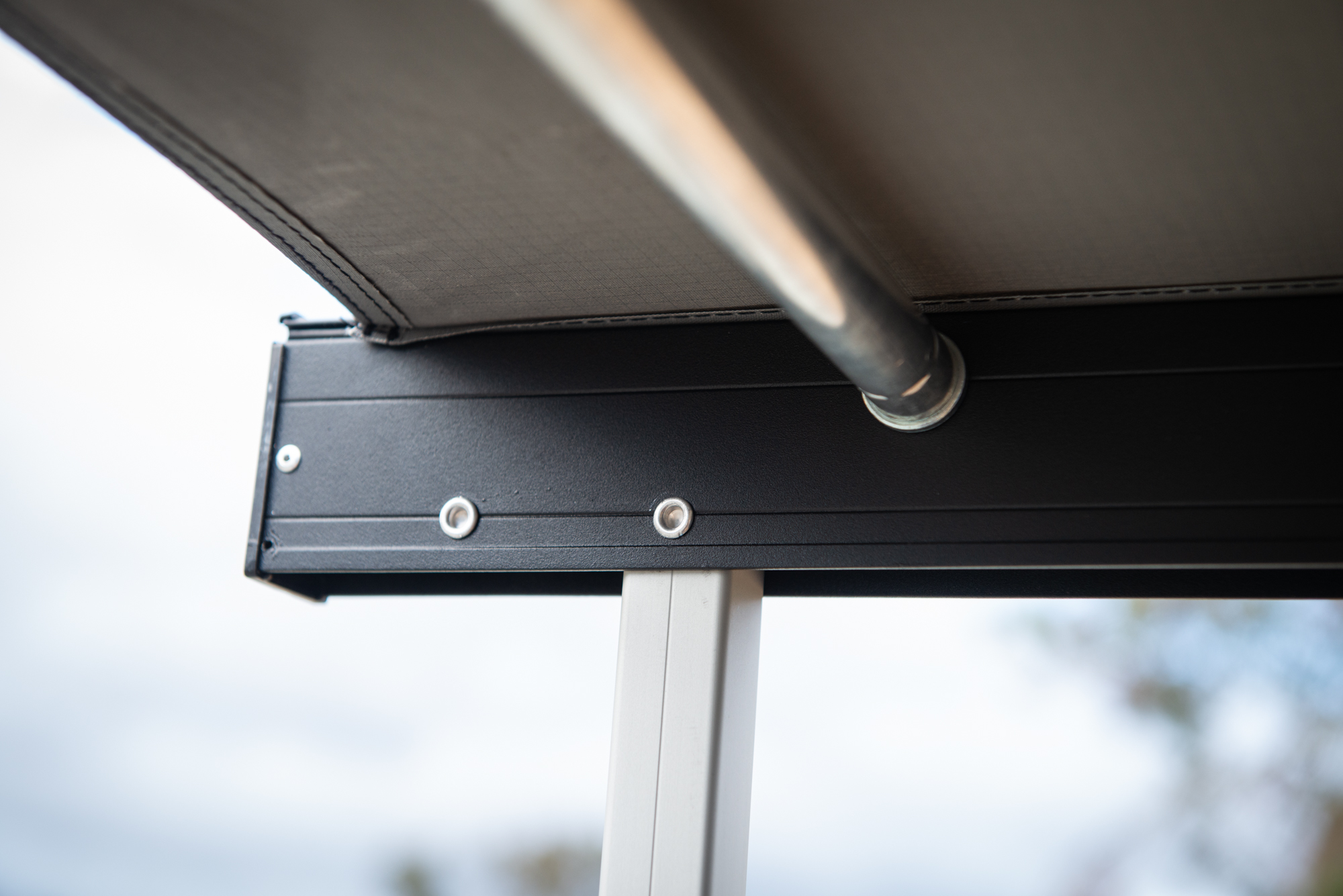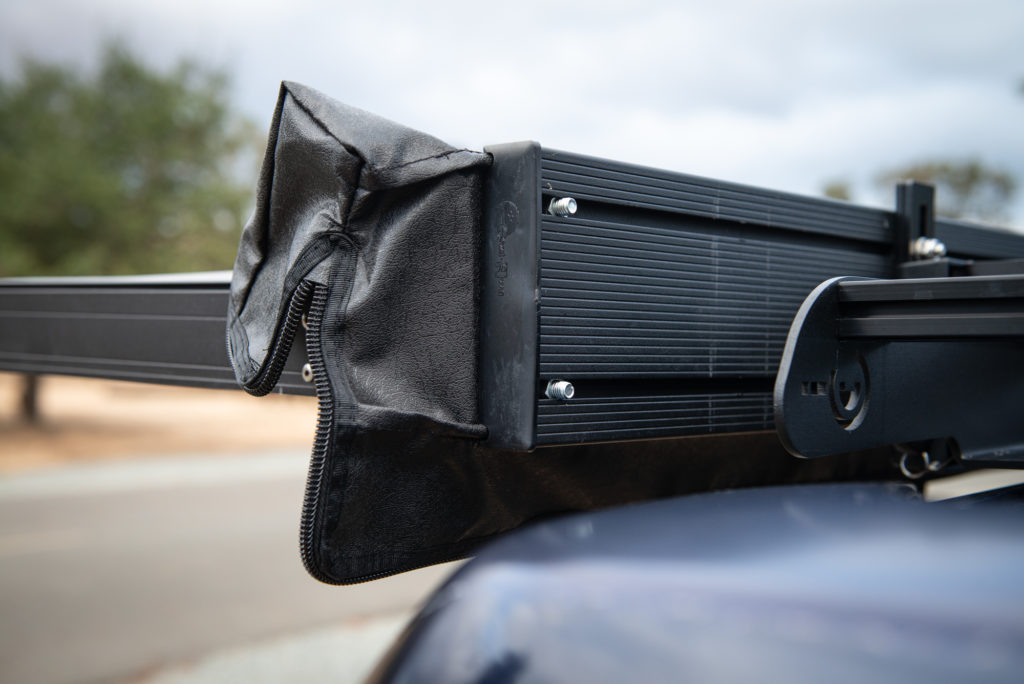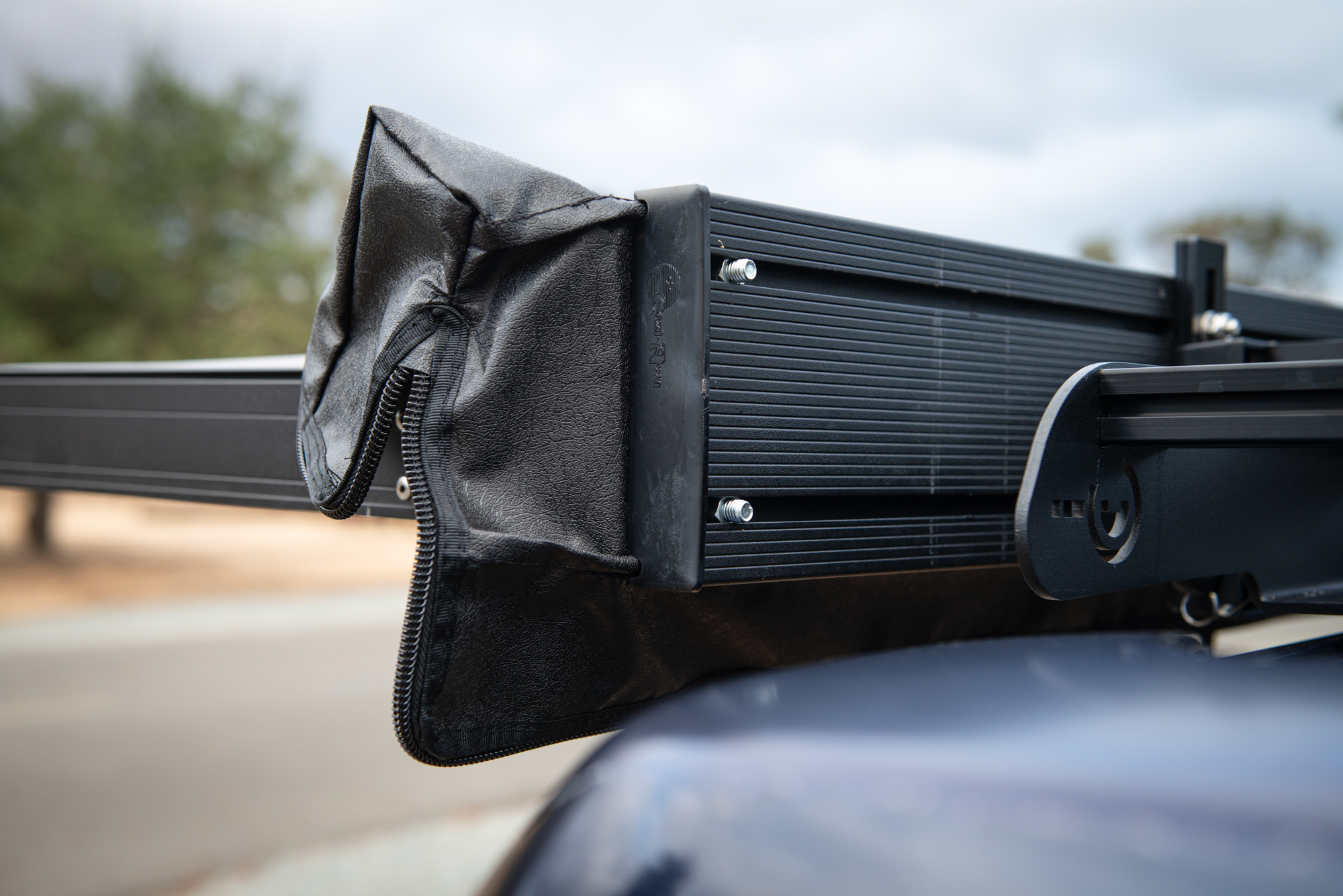 Even in windy conditions when the legs should have been staked down, the awning arms never batted an eye. As it turns out, the U-shape of the arm section is what made it possible to be both extremely lightweight and rigid. In the same way that an I-beam works, or in this case, something like a pair of I-beams would work, there is material where it is needed and none where it would have added little to the structural integrity. Details like the two ribs running the length of the awning arms further increase their rigidity.
This same design approach can be seen in the remainder of the structural components. Nearly all of those parts are made of aluminum, are surprisingly lightweight, and seem to have gotten the same thoughtful engineering as the awning arms. For the few components like the swing arm pivots where this approach wouldn't work, either because of the shape of the part or an operational limitation, Eezi-Awn simply built those parts like a tank. As a whole, the engineers seem to have found the sweet spot between weight (or lack thereof) and structural robustness.
While the structure of the awning captured most of my attention, the shade material itself is similarly impressive. The awning fabric is made of a 260-gram waterproof ripstop canvas which is a variation of what Eezi-Awn uses for many of their rooftop tents. It's a higher-end fabric that compares favorably to what's being used in any of the other top-tier awnings I'm familiar with. It's everything it needs to be. It's durable, waterproof, and very easy to work with when you fold it back into the zippered awning cover. The cover itself is made of a thick, UV-resistant PVC-coated material. It's thick but pliable and seems like it will hold up well to the rigors of overland travel and trail usage.
Installation
I installed the Eezi-Awn Swift to my Prinsu roof rack using two different mounting methods, first with the included hardware and then using the RacksBrax system. The included hardware was robust, easy to install, and low profile. Had I not fallen prey to the siren song of a quick-release system, I would have been more than satisfied with the "OEM" mount. Part of the installation does momentarily require two people to position in place, but it is otherwise a simple one-person affair. All in all, it took less than 30 minutes to install the awning.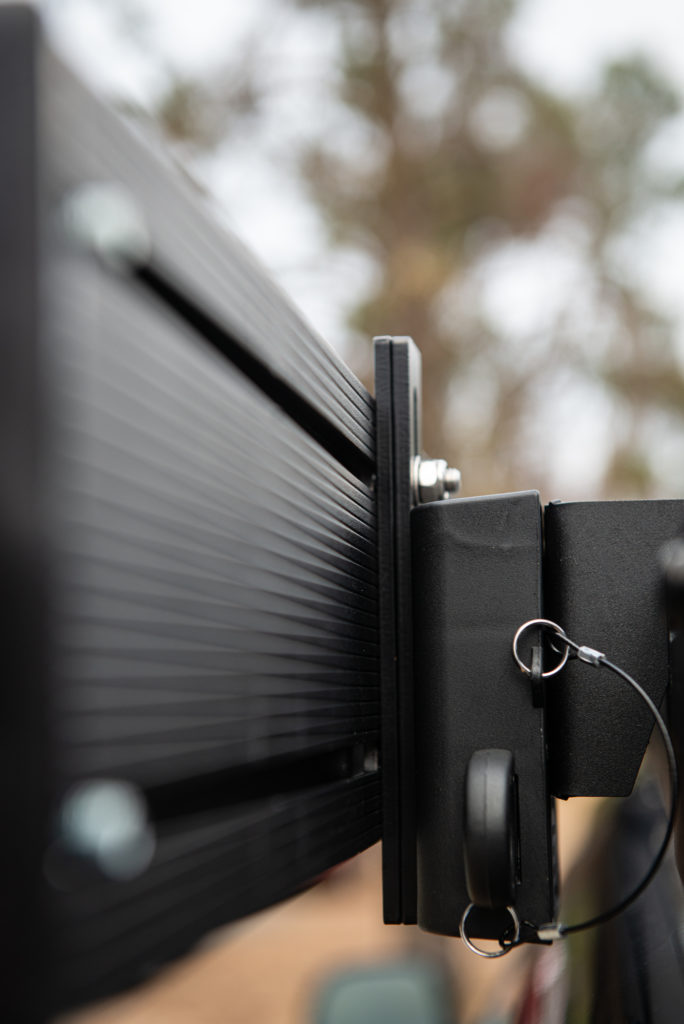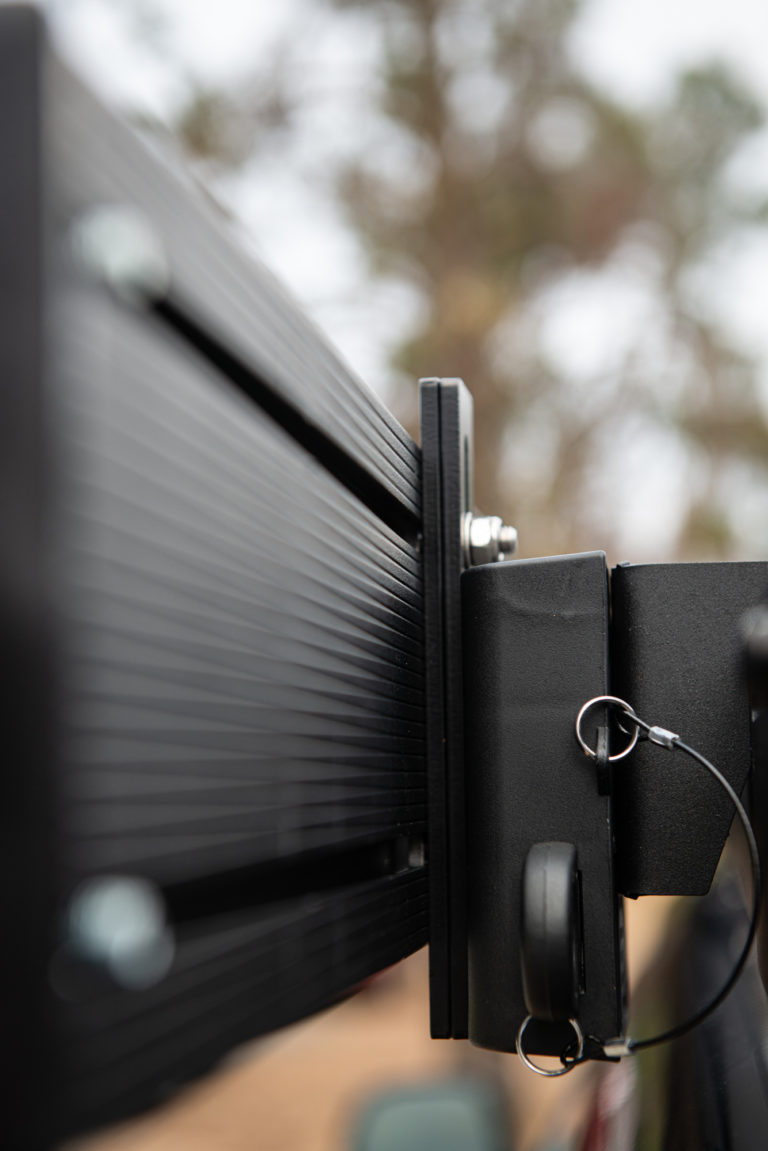 At Overland Expo West, I came across the aforementioned RackBrax system, a design that promises to make setting and removing an awning an easy, one-person affair. As someone that occasionally commutes with my rig to one of our offices in a high-theft/vandalism area, I liked the idea of being able to easily remove the awning. The RackBrax system lives up to that promise and also offers the ability to lock the mounts. Initial installation was more involved and complicated by the fact that a pricey adaptor bar set was needed due to the upsized aluminum extrusion on the awning, but since then it's been a great addition to the awning.
Takeaways
The Eezi-Awn Swift is a lightweight, durable, and easy-to-use awning. It's well-engineered and priced well for its top-tier quality. Because of its ease of use, this is a piece of kit you will find yourself using over and over again. If you are looking for an awning, put this one on your shortlist. If you are looking for something larger, check out its big brother, the Manta. If you often travel with a group of people, expect to find your awning the social gathering point for the adventure.
---
What to know:
Dimensions (open): 84″ x 89″
Dimensions (closed): 95″ x 5″ x 5.25″
Awning Area: 51.9 sq. ft.
Leg Height Fully Extended: 92″ inches
Weight: 34 lbs.
Material (awning): 260-gram Waterproof Resistant Canvas
Material (cover): UV-Resistant PVC
Colors:

Awning: Available in gray or beige
Cover: black

MSRP: $645.00
---