Getting out into the backcountry with your overland vehicle for a few days or a few weeks is the perfect way to recharge your internal batteries and give you a new outlook on life. But the question we often get is, "How do you recharge your physical batteries while you're in the wilderness?"
Today's overlander has tons of gadgets and devices to make backcountry travel both safer and easier. From GPS devices, tablets, and phones for navigation, to 12v refrigerators for provisions, cameras, and drones for trip documentation, computers, and Starlink internet for work, and camp lighting for ambiance, the one thing you're almost always in need of while in the backcountry is power for your gear.
To generate that power, you can do one (or more) of a few things; you can idle your engine to recharge your house batteries off the alternator – though that decreases your range and fills your campsite with exhaust. You can carry a gasoline-powered generator (and the necessary fuel), but that is heavy and smelly, and the sound of a generator in the backcountry is one of the worst sounds I've ever heard. One can also pre-charge a battery bank at home for use while they're off the grid. If generators and battery banks are more your speed, I'd highly recommend our Editor's Choice article on the best Overland Generators, which I've linked below.
How To Solar Power Your Overland Journey
For those looking for a longer-term solution to generate, manage, and store electricity while on your overland journeys, you've probably already contemplated designing a solar power system for your rig so the sun can power your adventures. Admittedly, getting educated about solar products is a long and arduous process, but I'm hoping to make it a bit easier for you, so let's dive in.
Solar System Components
All solar power systems can be broken down into three components; photovoltaic solar panels – which capture the sun's rays, a charge controller – which converts and directs electrical current to make it useful, and batteries – which stores excess current for later use. All of these pieces are connected via a wiring system. Let's take a look at each of these components.
Solar panels are rated by power output and efficiency. Output is rated in watts – with most falling in the range of 60 watts to 200 watts. You'll want to know a couple of things before choosing the wattage necessary for your energy needs; How much energy (measured in amps) do you use on average each day? Factor in everything that draws power on your rig – from your phone to your fridge. How many hours of sunlight can you expect daily? If you're traveling in the winter or in shaded forests, your efficiency is severely limited. Lastly, you'll need to know how much battery storage you will have.
For example, phone chargers (on average) consume 5 watts per charge, and 12V fridges consume about 40 watts per hour. Look up everything you plan to power and check for wattage needs. If the power needs are listed in amps, you can easily figure out wattage by using the following equation; Watts = Amps x Volts. Say you plan to charge your phone twice per day (10 Watts), your laptop (100 Watts), your fridge (40 Watts x 12 hours at camp = 480 Watts), and 60 Watt camp lights x 5 hours = 300 Watts for a total of around 900 Watts. You would need around 500 Watts of storage and a 200W solar panel to generate enough current to charge those devices.
Solar Panels
Solar Panels can come in a couple of configurations, either a soft panel that is flexible and can be folded or a rigid panel that doesn't bend. Rigid solar panels take up more space in your overland vehicle and are prone to breakage; alternatively, they can be affixed to hard surfaces (like your rooftop tent or roof rack) to stay out of the way. Soft panels, on the other hand, can be folded and stored in drawer systems or even affixed to hard surfaces like your hard shell rooftop tent.
Let's take a look at a couple of panels that we think would be a great starting point for your needs:
REDARC 200W Monocrystalline Solar Panel
This rigid, fixed installation 200W solar panel from REDARC features a tempered glass coating and sturdy aluminum frame to withstand harsh offroad tracks and extreme weather conditions. This REDARC solar panel includes MC4-style connectors and can be used with any REDARC charge controller or other existing solar regulator and solar accessory products.
MSRP: $587.00
EcoFlow 160W Portable Solar Panel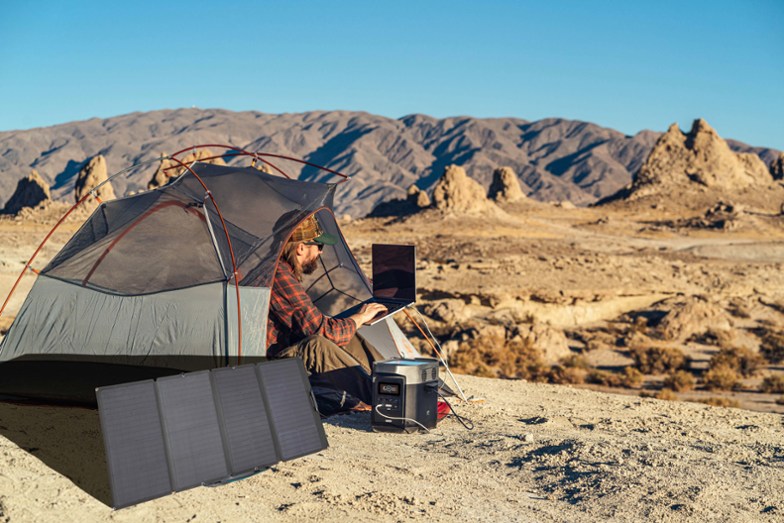 The EcoFlow 160W Solar Panel is foldable and includes a carry case (which also doubles as a kickstand to position your panel in the sunlight.) The panel is IP67-rated for water and dust resistance for longevity in the field. This portable, foldable, compact solar panel weighs just 15.4 pounds and stows easily in your rig.
MSRP: $449.00
Solar Charge Controllers
The next step in your solar journey is choosing a charge controller. The charge controller manages where the electrical current goes and is situated as a hub between your solar panel and storage or battery. Newer charge controllers have a DC to DC option, which acts as the hub between your panel and battery, but also between your alternator and battery while you have your engine running. For our uses as overlanders, I can't imagine recommending any charge controller that isn't also DC to DC.
Charge controllers vary in size based on the amount of energy they manage. The more energy, the larger the charge controller will be physically. They often have fans and heat dissipation fins to offload the excess energy.
There are many charge controllers on the market, but the one we've used in the last two Overland Expo Ultimate Overland Vehicle Builds is the REDARC Manager30.
REDARC Manager30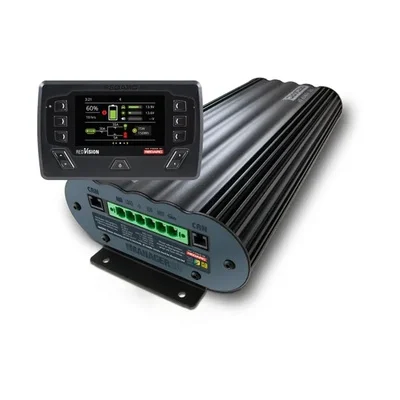 The REDARC Manager30 is a battery management system featuring a color display and mobile phone connectivity for complete battery management for charging auxiliary batteries used in overland vehicles. The dual battery system incorporates AC, DC and solar inputs to achieve the best charge for an auxiliary battery. This 30amp charger is the complete battery management system that gives you the best of both worlds. Whether you're free camping or on a powered site, it knows how to take charge and keep auxiliary batteries fully charged.
MSRP: $1752.00
Zamp Solar 20 Amp Solar Charge Controller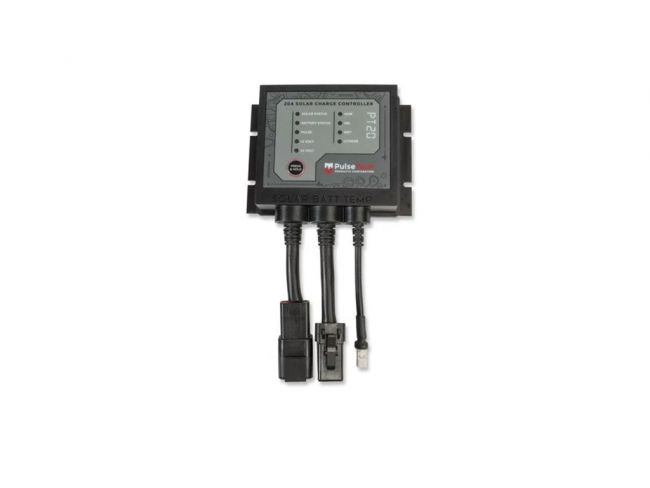 Zamp Solar's PT20 Solar Charge Controller automatically controls solar charging power to protect AGM, Gel, Wet, and Lithium batteries. The ultra-rugged 'all-weather' unit comes with a temperature sensor, a pre-terminated weather-resistant ATP battery connection, and a pre-terminated weather-resistant ATP solar input adapter.
MSRP: $199.99
Solar Batteries
There are a few options for a battery bank to collect and store the energy you harness from the sun. The first is the traditional lead-based AGM battery. Due to weight, lead acid batteries are falling out of favor in most builds, with lithium-ion batteries taking their place. A lithium-ion battery is about 50-pounds lighter than a traditional lead-based AGM. Less weight is a key factor in overland builds, so I'd recommend a lithium-ion (L-ion) battery for energy storage like the new OPTIMA Lithium Batteries shown below.

Another option for energy storage is a portable Lithium-ion battery that you can remove from your rig and move around your campsite. Products like Dometic's PLB-40 or EcoFlow's DELTA mini Portable Power Station or DELTA Max Portable are solid bets for your needs.
Dometic PLB40 Portable Lithium Battery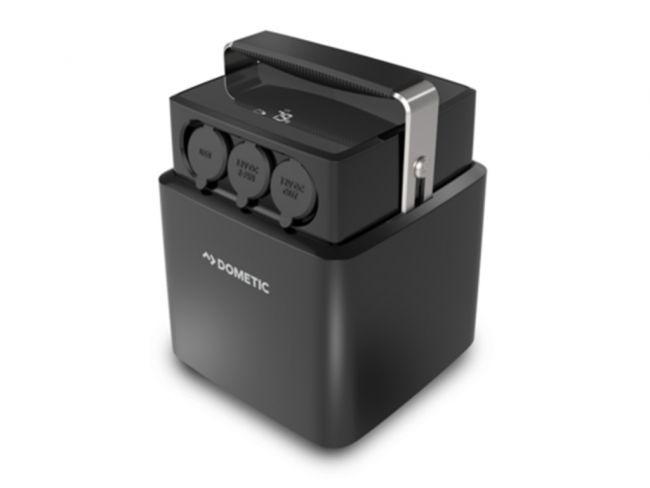 Have power on the go with this Dometic PLB40 Portable Lithium Battery. This portable power pack, with three-way charge, is designed to power coolers and other 12V appliances off the grid.
MSRP: $849.99
EcoFlow DELTA Max Portable Power Station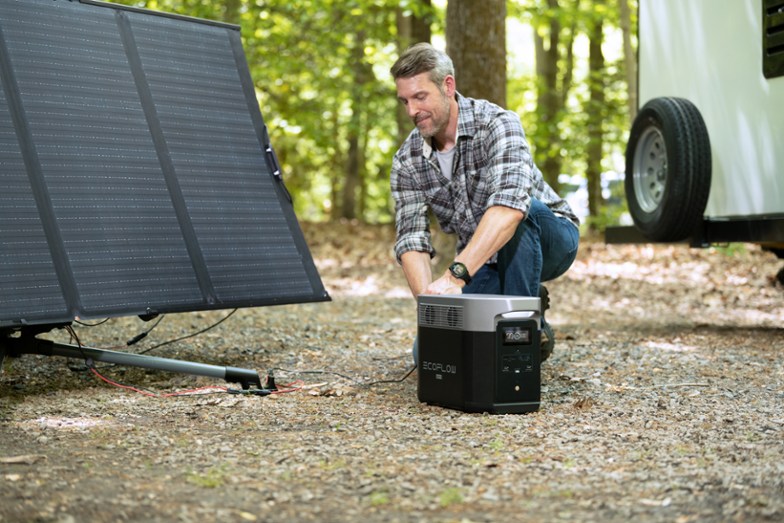 With super fast recharging capabilities (3.2-6.3 hours via solar panels, and 1.8-hours connected to shore power, the EcoFlow DELTA Max Portable Power Station connects to up to two, 400W EcoFlow Solar Panels. In this setup, the DELTA Max acts as a charge controller AND battery, so you can omit the charge controller option shown above.
MSRP: $1899.00
Learn More About Solar Power with Sean Michael
Are you curious about how to harness the sun's power to charge your devices and power your basecamp on an overlanding trip? In the video below from Virtual Overland Expo Summer in 2020, "The Gear Doctor" Sean Michael provides an overview of key considerations when creating a solar power system that's appropriate for your individual travel needs and get you started on choosing an effective system so the sun can power your adventures.