I think I got too accustomed to warm-weather camping this year. That or my brain broke.
When packing for our drive into Overland Expo Mountain West along the Alpine Loop in Colorado, organized by Kelly Varney of Adventure Built, I seemed to forget — as if I'd never encountered inclement weather — what 48 degrees and rain was like. Rather than many warm layers and rain gear, I packed t-shirts, shorts, and a light denim jacket. This from a man who is a Pacific Northwest native.
It's August; how cold could it be?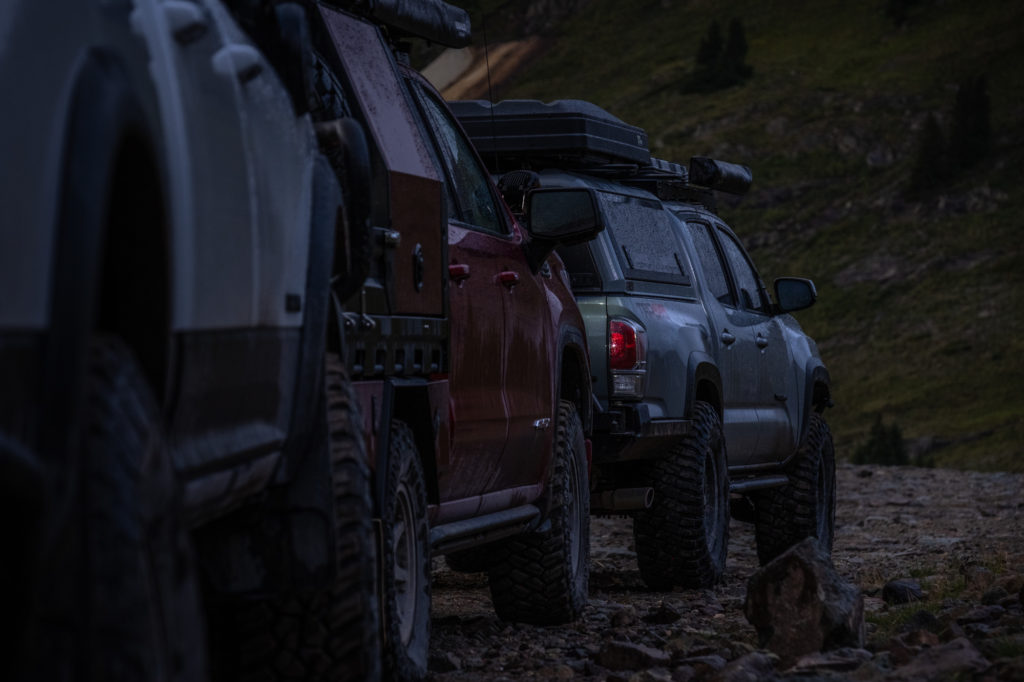 Fast forward to our first night evening on the Loop. We're well above 10,000 feet. The sky was dark gray, a fine mist was blowing sideways, and I was shivering in my shorts and t-shirt, desperately gripping the GMC's heated steering wheel.
I am from Oregon and I camp year-round. How I forgot that — even in late August — weather at 13,000 feet is very different than at 100 feet above sea level is beyond me. What a dunce.
Chilliness wasn't the only discomfort to befall me while summiting some of Colorado's highest peaks. Roughly around the 11,000-foot mark, I began to get loopy, as if someone had spiked my diet Coke. At first, it was humorous — I had a real chuckle at my lightheadedness.
My mild altitude sickness became much less charming, though, as I piloted the AT4X down a large rock step beneath Imogene Pass; one bad tire placement and the truck, with me along with it, could tumble down a mountain face for a couple of miles.
We're not there yet, though. Let's step back a moment.
Telluride
I was the last one to join the group that cold Tuesday morning. I was tardy because I'd booked a hotel room in the next town over, Ouray, Colorado. From a quick glance at Google Maps, it appeared Ouray was just minutes away from our rendezvous point in Telluride.
I only discovered that, when firing the GMC that morning, Telluride was more than an hour away. Yes, the towns are close as the crow flies. But by road, it's a much more circuitous route.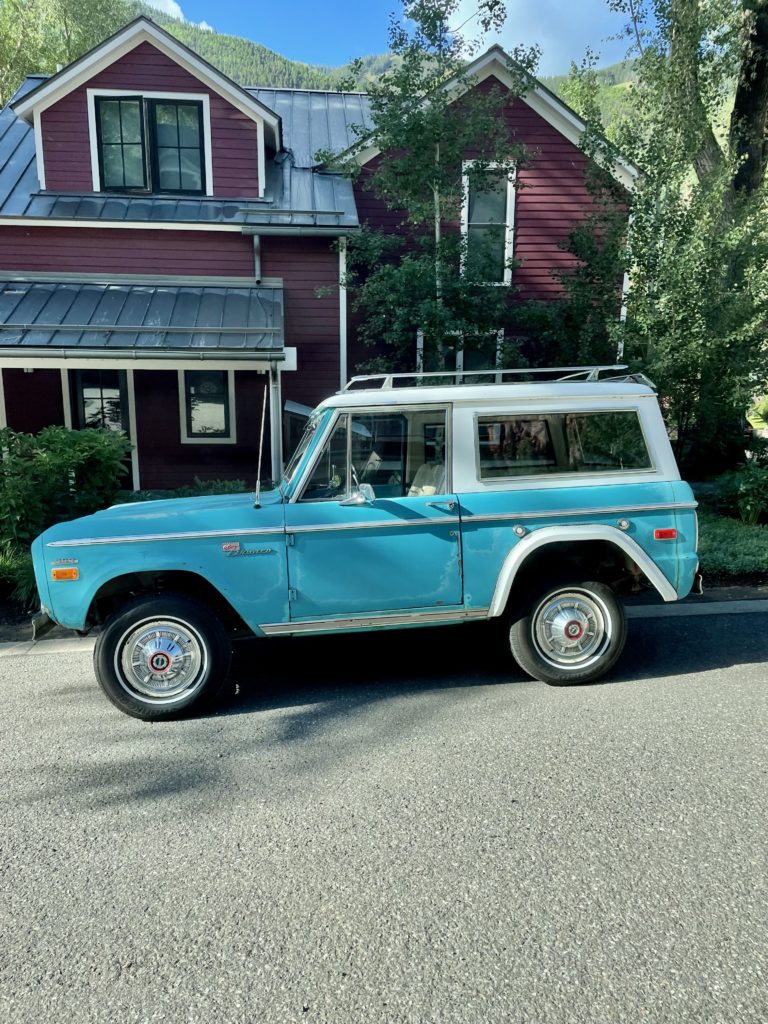 Rolling into the congregation point, I found all of the group's attendees milling around, kicking the gravel, awaiting my arrival. Their breath lingered in front of them in the still but nearly freezing air.
The Alpine Loop gang was composed of a motley crew of overlanders — mostly influencers and brand ambassadors: team leader Kelly Varney @adventurebuilt and his brother Trevor Varney @overlandingnorthamerica, Matt Hardinge of DECKED @matthardinge, Jason Maynard @oxfoot, Randy and Millin Ream @openroad4two, Shelby Hall @shelbyhalloffroad, Shawn Ski Scivally @tredcred, and Ryan Thurston from REDARC @redarc_usa.
From our meeting point, we backtracked through downtown Telluride to get to the start of the trail. Telluride is a gorgeous town. I realized as we idled through town, that I knew virtually nothing about it. Aside from the KIA SUV that shares its name, I didn't have any idea what Telluride was about.
I found it to be a charming and achingly gorgeous piece of earth. However, it was much smaller than I imagined it to be. I've been to Aspen, and I expected Telluride to be on that scale. By comparison, Telluride seemed like a speck. That said, I didn't stop in town very long.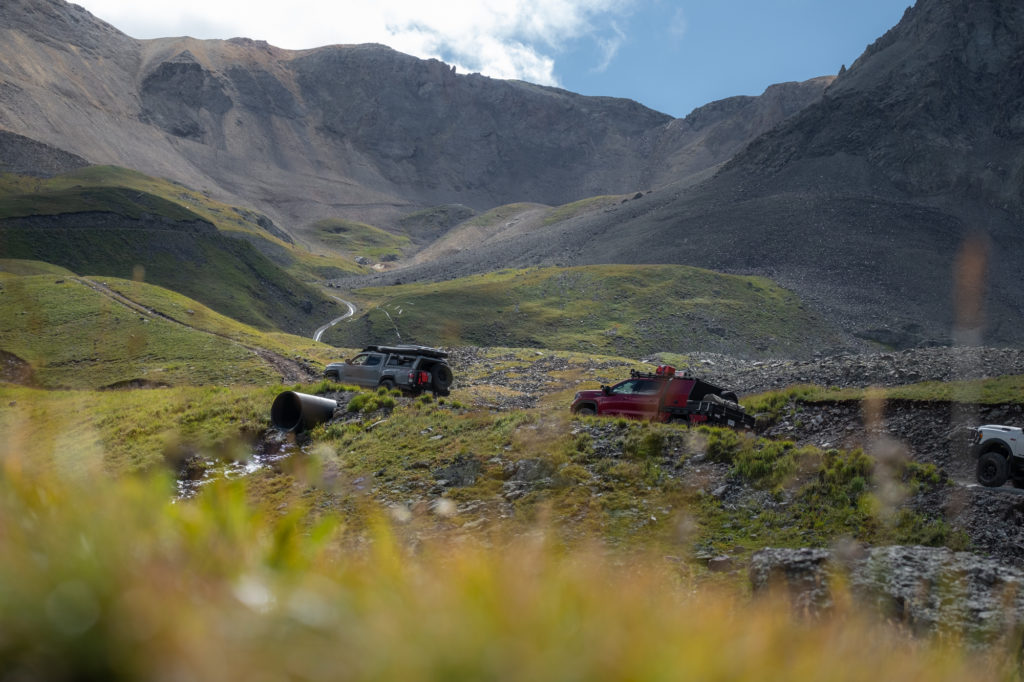 The longest I lingered was when I held up the entire convoy to snap a picture of a pristine first-gen Bronco street parked in front of a delightful little cottage. The scene looked like something out of a movie.
Just up the road from the Bronco spotting, the trail started. Not miles from town, not inside a national park — the Alpine Loops just starts at the end of a neighborhood street. Go figure.
Top of the Continent
Like I mentioned in the intro, I'm from Oregon, and I explore, hike, and camp regularly in the mountains. So, I didn't expect Imogene Pass to have an emotional effect on me. But it did.
I sat in the AT4X at the lip of Imogene Pass and stared off into the distance. Everything below had a blue hue to it. I guess this was because we were effectively standing inside the sky. We were so high up that the view from Imogene almost seemed fake; it's the kind of view you get from an airplane seat, not a driver's seat.
Although I was awestruck by the view, I was becoming increasingly woozy from altitude sickness. Wanting to be tough, I had declined an offer for some altitude sickness patches.
I'll be fine.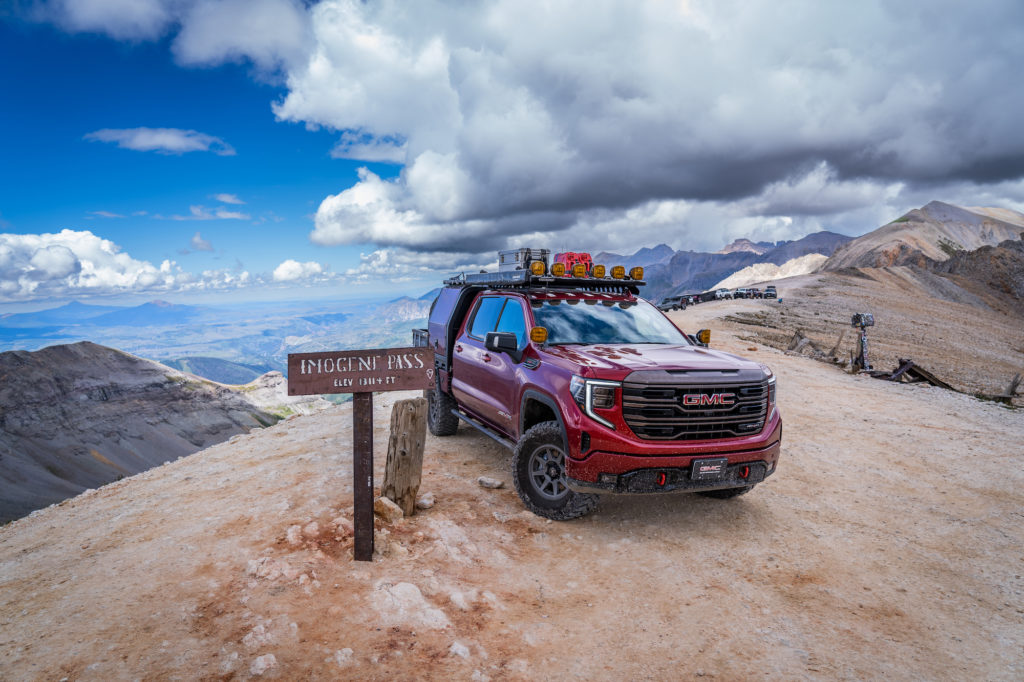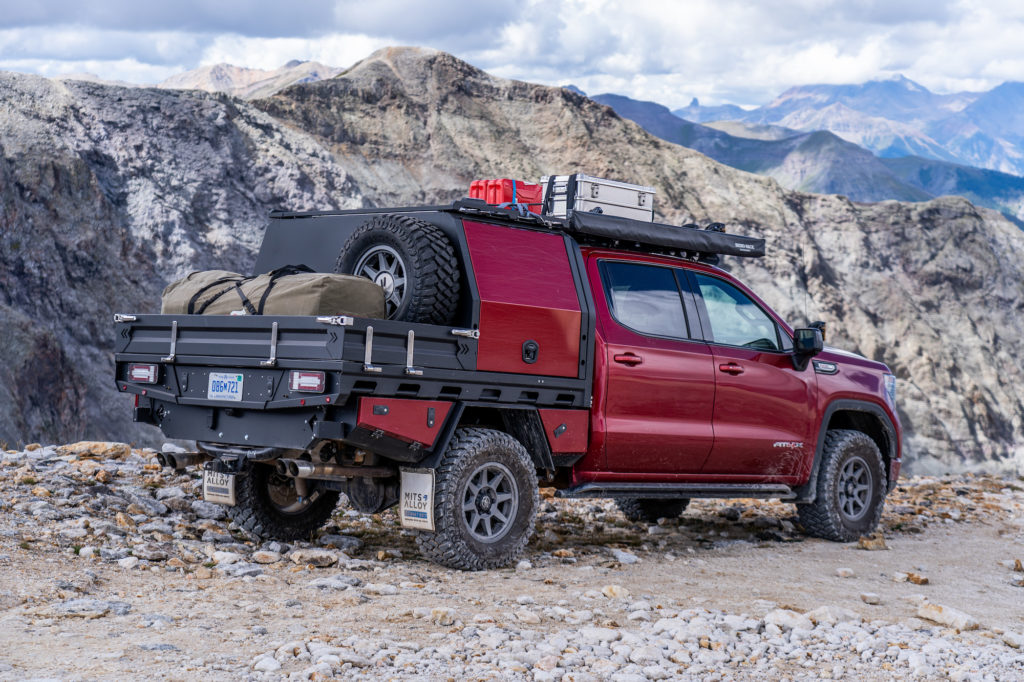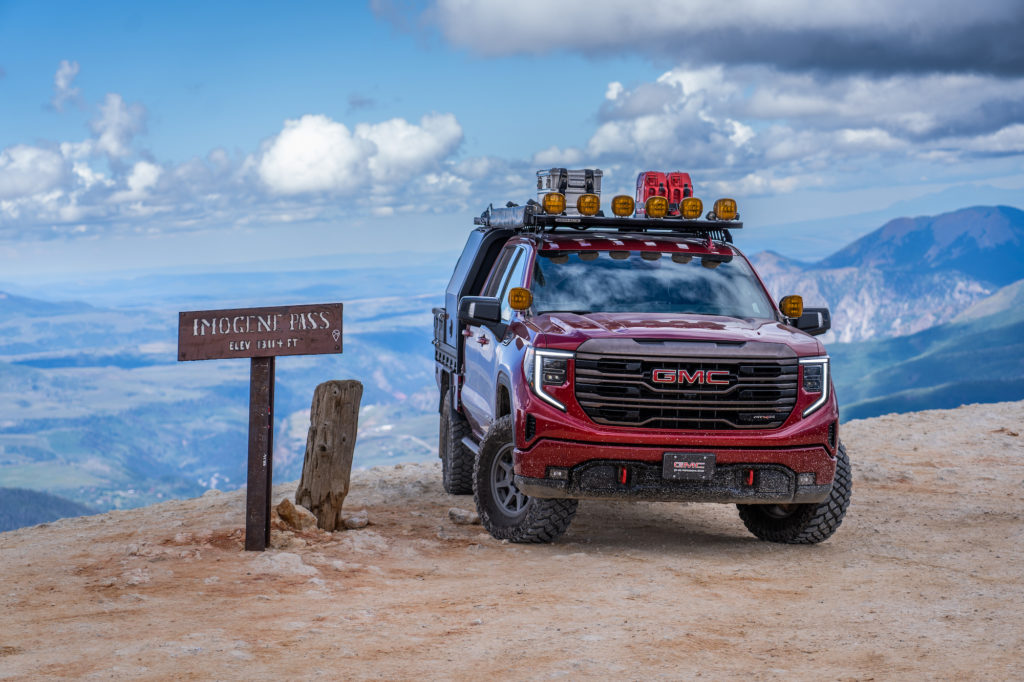 Minutes later, when I put a rear tire in the air while descending from Imogene Pass, a truly hair-raising experience, I relented. I slapped the patch to my neck behind my right ear and felt nearly instantaneous relief.
Later, I learned that our leader, Kelly, had suffered acute altitude sickness while scouting this route a few weeks prior. At camp his first night, Kelly recounted, well above 11,000 feet, he was so sick that he was projectile vomiting from his tent. His nausea worsened as he lay there. Eventually, he determined he had to escape. Kelly packed up camp in the middle of the night and descended the mountain in the dark, eyes blurry, watering, and bloodshot from hours of illness.
I wish Kelly had warned me of such extreme effects before I declined the patches. Oh well.
I am more accustomed to overlanding with old friends. On this trip, however, I was surrounded by Overland Expo ambassadors and exhibitors — virtually all strangers to me. It took a bit of getting used to their driving styles and, more importantly, their penchant for radio chatter before I eased into the group.
At camp the first night is when the group really gelled. We had to Austin Powers all the trucks into the mud-soaked campsite in order to ensure every rig could fit — and not park in a huge puddle. This took some doing. But once we were set, we all busted out our respective camp kitchens, cracked some cold brews, and visited with one another, as we were in various stages of dinner cooking and consumption.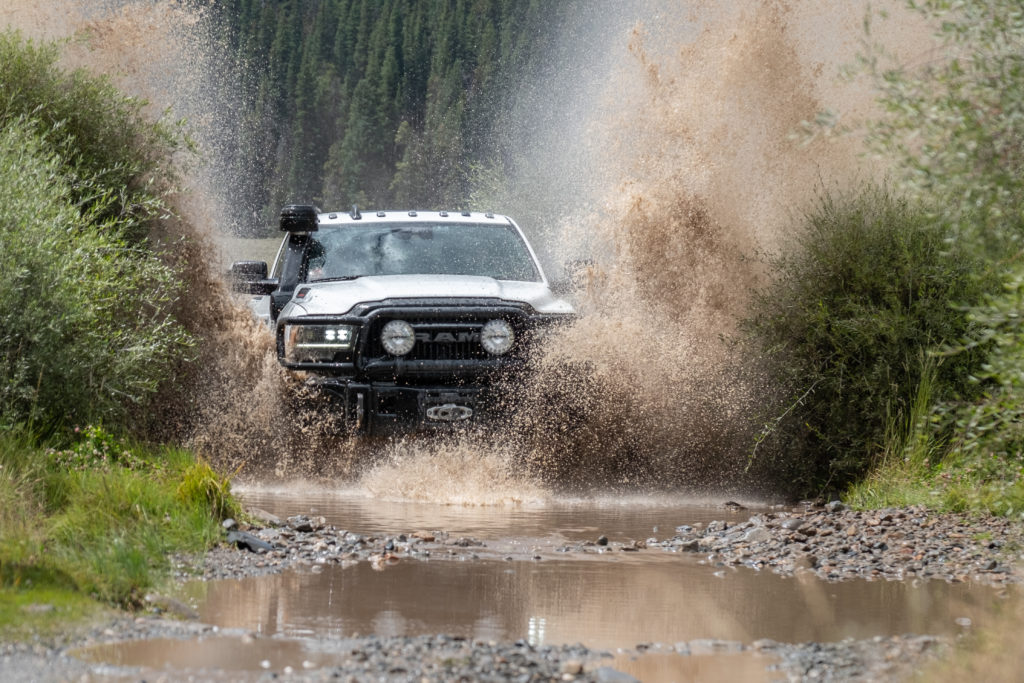 Since I was one of two that didn't have a rooftop tent to sleep in, I was given priority parking. I wedged the GMC next to a tree, which created the only dry spot at camp. There I set up the 23 ZERO Outbreak 1550 Swag in the dry patch. Then I set up the Rhino Rack Sunseeker 2.0M awning over it, just in case the rain returned during the night.
Though I had under-packed for the trip, I did have the foresight to bring my 20-degree sleeping bag, which I wedged inside the 23 Zero bag, which comes with the Swag. Inside there, despite the chilly temperatures, I was quite warm.
Leaving early
Kelly planned a three-day route for the crew en route to Overland Expo Mountain West. However, a few of the brand representatives and I had to duck out early in order to get to the show for setup. So by the second half of day two, after scarfing a gas-station burger, I bid everyone ado and beelined it for Loveland.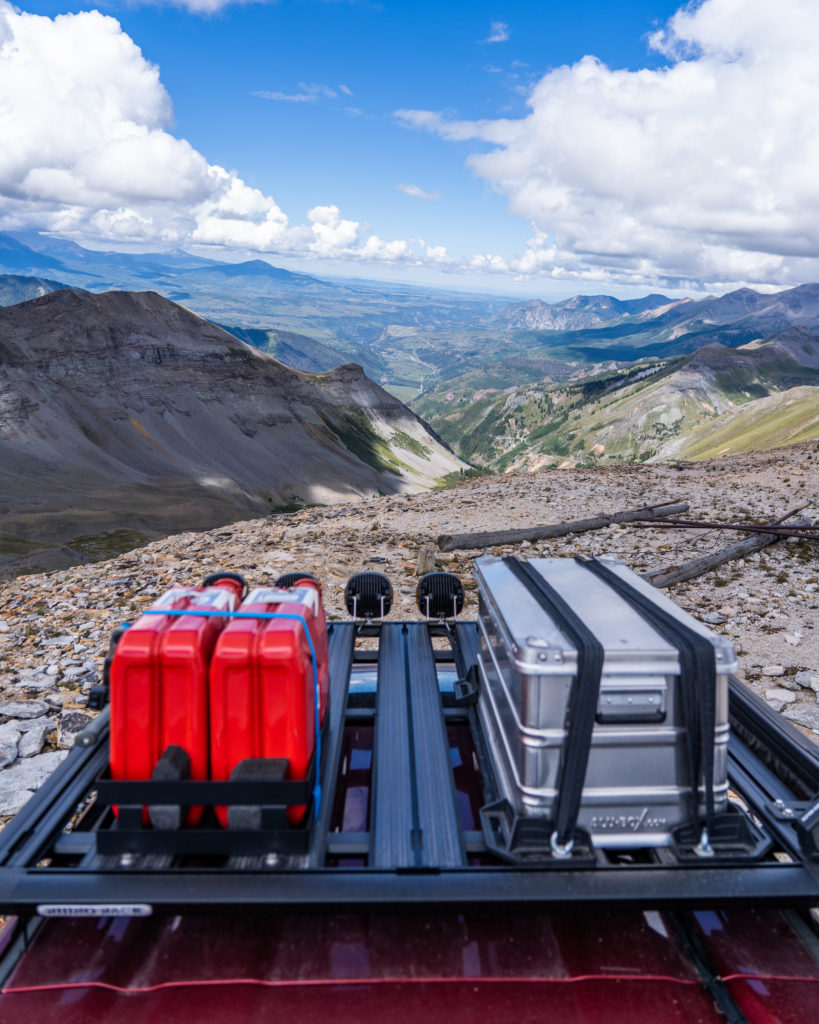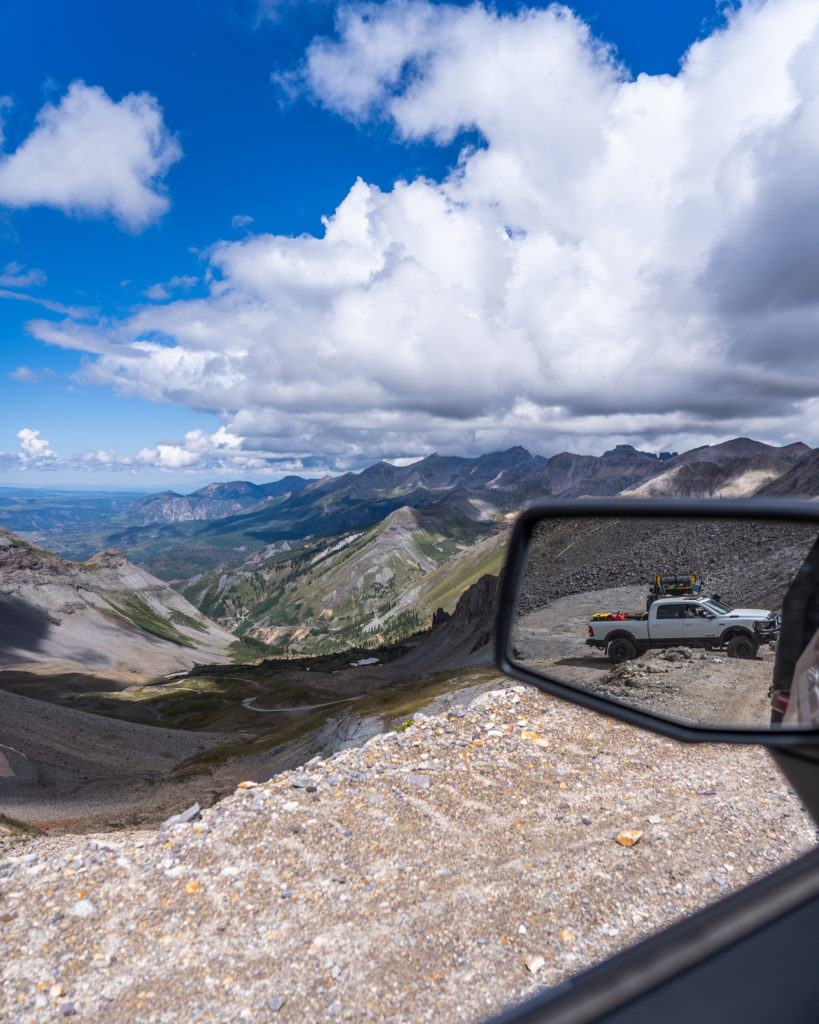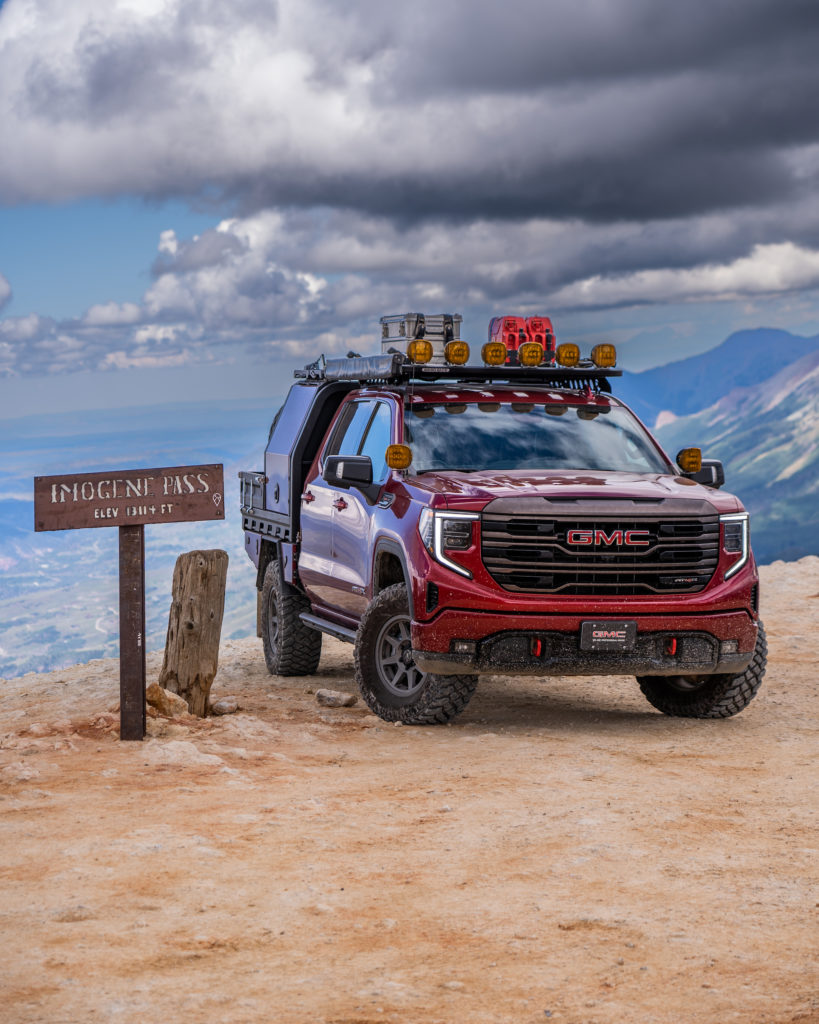 With more than four hours on the highway, I had time to reflect on the trip.
The scenery was incredible. And I was overjoyed to explore the Rockies — an area I'd not explored in many years. While the trails were otherworldly, it was the camaraderie, and the community that made the experience that much more special.
It was such a treat and an honor to spend trail time with some of Overland Expo's social media ambassadors and a few exhibitors, too. It was equally enjoyable to get up close to their rigs and witness their driving styles. You can watch Instagram and YouTube videos of people's rigs and adventures all day long. But nothing compares to traveling with them on the same trail — if only for two days.
I send out a heartfelt thanks to the whole crew, and a special thank you to Kelly Varney from Adventure Built for organizing and leading the trip.