The old rule is you don't mess with success. That may work for some whiskey distillers and sandal makers, but when it comes to cars and trucks, resting on your laurels can result in getting run over by the competition.
That was the scenario Toyota recently found itself in with the Tacoma, which hadn't seen a refresh and rethink since the third (N300) generation of the popular hauler in 2015 – an eternity in vehicle model years. And so Toyota started looking at what worked – and what didn't – with the popular Tacoma, and earlier this summer, Generation Four debuted. Will it continue Tacoma's popularity among overlanders? Did overlanding needs figure into the redesign? With hopes of answering some of these questions, we talked to Sheldon Brown, Chief Engineer at Toyota Motor North America, about the changes we'll see when the trucks begin rolling off the assembly lines in the next few months.
This interview has been edited for clarity and brevity.
Overland Expo: What are the key differences between the third and the new fourth-generation Tacomas?
Sheldon Brown: Everything is new on this truck. Basically, it's new from the ground up. It's a brand new platform [known as TNGA-F] that is the basis for the next generation of trucks, including the Tundra, Sequoia, and the global Land Cruiser, as well as the Land Cruiser coming to the United States. It's a completely new upper body and power train with our L-Four Turbo I-Force powertrain as the core power plant. There will be the 8-speed automatic and a six-speed manual available for some models for those driving enthusiasts who love rowing the gearbox. That's really what the manual option is there for. But it does have some cool features, including anti-stall and rev-matching.
In our halo models and in our TRD models and Limited models, we will have our i-Force Max hybrid powertrain. It's the granddaddy of them all, making 317 horsepower and 465 pound-feet of torque. It makes all that torque at just 1,700 rpm, so it's great for creeping and crawling. You've got gobs and gobs of torque down low, so it really helps in getting out of those tight spots.
The system uses a 1.87kWh battery, and it's not designed for electric-only driving. It will get the truck rolling in start/stop mode, but otherwise, it doesn't have any electric-only range. It's designed to work with the turbo gas engine to offset any turbo lag, increase power at low RPM, and improve fuel efficiency.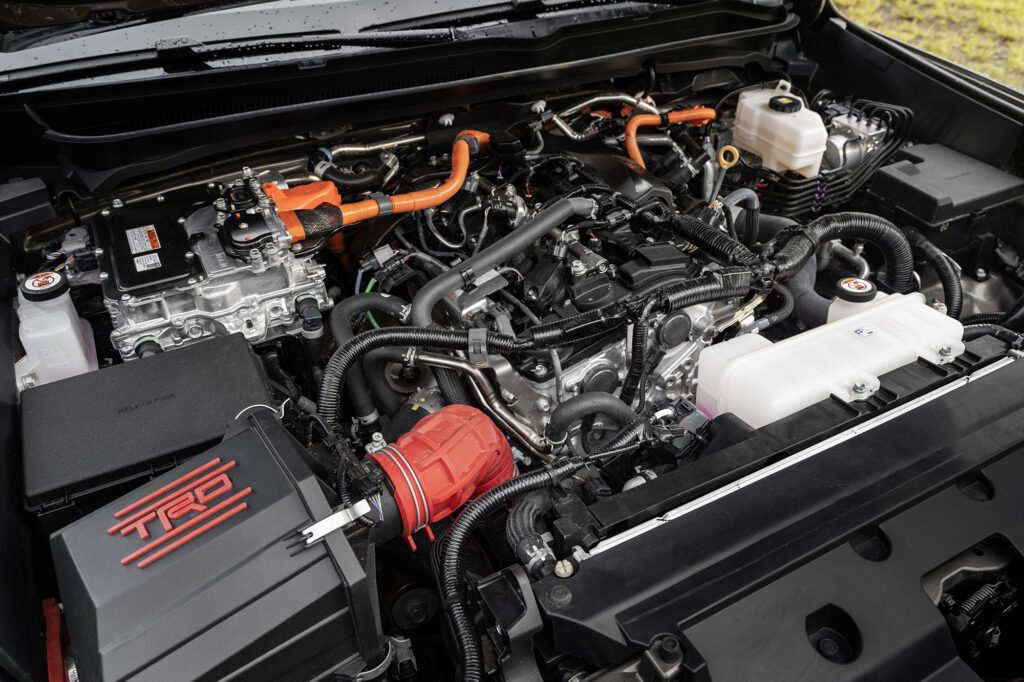 There will be two cab configurations, including our four-door Double Cab and an Extra Cab version with two doors and lots of usable, lockable storage behind the seats. Extra Cab models will have a six-foot deck, while Double Cab models will have a five-foot deck with the six-foot deck as an option. In all, there will be eight different grades of the Tacoma, starting with the entry SR Extra Cab configuration. There will also be an all-new PreRunner variation with the Extra Cab, two-wheel drive, a rear differential lock, and a six-foot deck. The SR5 tier will come with the Double Cab. From there, we will offer TRD versions of the Tacoma, including the Sport and the ORP, which will be a great off-road option since it comes with Bilstein shocks with reservoirs and a new multi-link coil suspension. All double cabs will have the multi-link, while some Extra Cab models will have leaf springs to keep costs down. The Limited models get into the i-Force MAX [hybrid] powertrains and all-wheel drive. Above that are the two halo trucks, including the "original gangster" Baja-inspired go-fast TRD Pro with the new iso-dynamic seat option for stabilizing the driver during high-speed off-road driving.
And then there's the new Trailhunter. We are really excited about it, and it was truly inspired by all you folks in the overlanding community.
Overland Expo: We first learned the Trailhunter name at SEMA last year with the Tundra concept. Now, we see it in a fully realized factory form on the Tacoma. Where did the idea come from?
Brown: We are really excited about the Trailhunter, and it was truly inspired by all of you folks in the overlanding community. It really grew out of our research at Overland Expo West in 2017 and 2018. We saw a lot of overlanding rigs based on the Tacoma, and I thought, "How could we provide this customer with a better overlanding product?" That's really how it got started, with the idea that Toyota would take on the initial "heavy lifting" for those looking to get into overlanding. We decided that we would build the Trailhunter from the ground up and then let owners customize it from the top down. But we also thought about how the owner would go about making those modifications and customizations, and we wanted to design in aspects to help make those changes as easy as possible. So we brought established aftermarket outfitters like ARB, Old Man Emu, and others in-house to really integrate the Trailhunter package and make it easy to modify and upgrade.
Overland Expo: What distinguished the TRD Pro from the Trailhunter?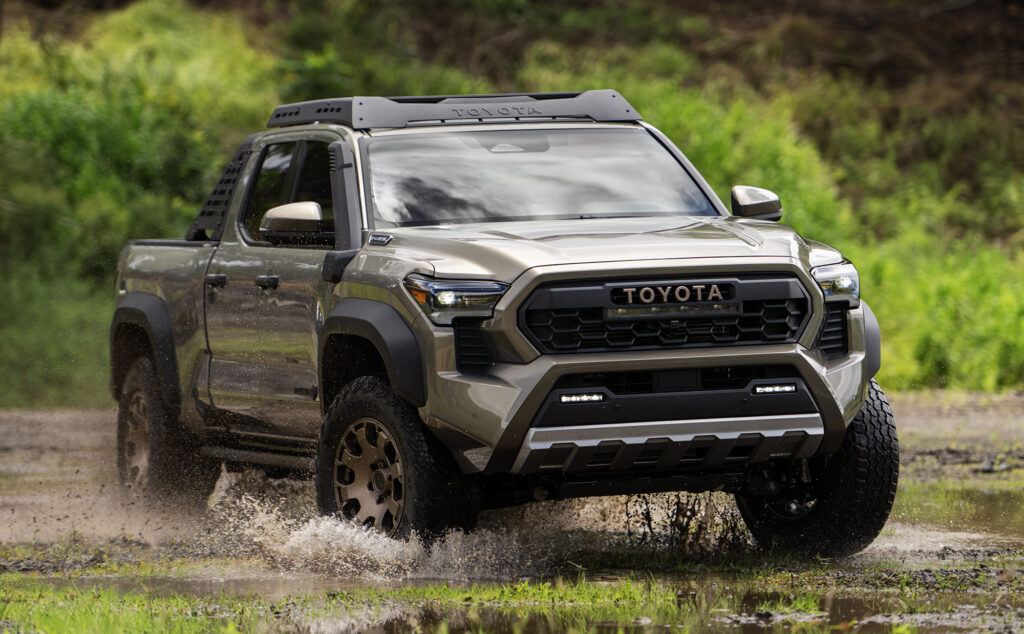 Brown: The differences between the two are really due to the needs of performance motorsport, especially suspension articulation at speed. We saw that the TRD Pro was being used in various ways, from desert racing to overlanding. It's difficult to be great at both of those things. So we looked at the TRD Pro and decided to make it light, make it nimble, make it about high speed and performance, thus the isodynamic seats. For Trailhunter, which comes in five or six-foot decks, we focused more on making it better when heavily loaded and moving at low speed, which is central to overlanding. We also wanted to make it comfortable for long journeys. But we saw how people were equipping their Tacomas for overlanding, and we wanted to make that easier. We saw drivers adding rock rails, bash plates, and so on. Much of the accessories for the Trailhunter will also work on the TRD Pro, but for instance, the Trailhunter uses a steel bash plate while the TRD Pro has an aluminum option to keep weight down. But really, it's the ease of customization on the Trailhunter. For example, we made the front stabilizer bars easy to disconnect on the Trailhunter for better articulation, but we also now offer that on the TRD Pro and the ORP. Accessory switches for PTO are pre-wired in the cab, front, and back of the truck, so owners don't have to drill holes in the firewall or rockers. There's an integrated air compressor because we know overlanders air down. There's a 2,400-watt inverter for powering larger items like a refrigerator while camping. Again, we wanted to make it easier for the customer. We brought ARB in and worked with them to design steel bumpers that will work with the stock sonar sensors, blind spot monitors, and trailer assist systems. Now, that will all still work with the ARB steel bumpers. Nobody can integrate those things better than the OEM, so that's why we worked closely with the aftermarket.
Overland Expo: How difficult was it to get the Trailhunter into the lineup? Obviously, people up the chain of command have to green-light ideas like this. Was there pushback? Or did you just make it happen?
Nothing is a one-person job at Toyota. We [the product development team] worked closely with our marketing and sales teams from the concept stage. We pitched our early version of the Trailhunter concept in 2019 to the head of sales, who called it a "bad-ass overlander, go anywhere, go everywhere." They wanted to know if it was going to be just a concept, an options package, or a new grade of truck. There were varying degrees of engagement with the concept, but people started to come around. We pitched it as "[TRD] Pro is 'go fast,' Trailhunter is 'go far.'" It's about the journey, and we had a lot of support West of the Mississippi with all the overlanding on public lands. Then the pandemic hit, and overlanding just exploded, and I didn't think we'd get to production fast enough. But our customers see themselves as active outdoor adventurers, particularly in Tacomas and 4Runners. They tell us that their vehicle is off-road 40% of the time, and we wanted to provide them with a product to realize that lifestyle, whether it's a weekend tent camping or a three-month off-road excursion. We wanted to be part of that experience.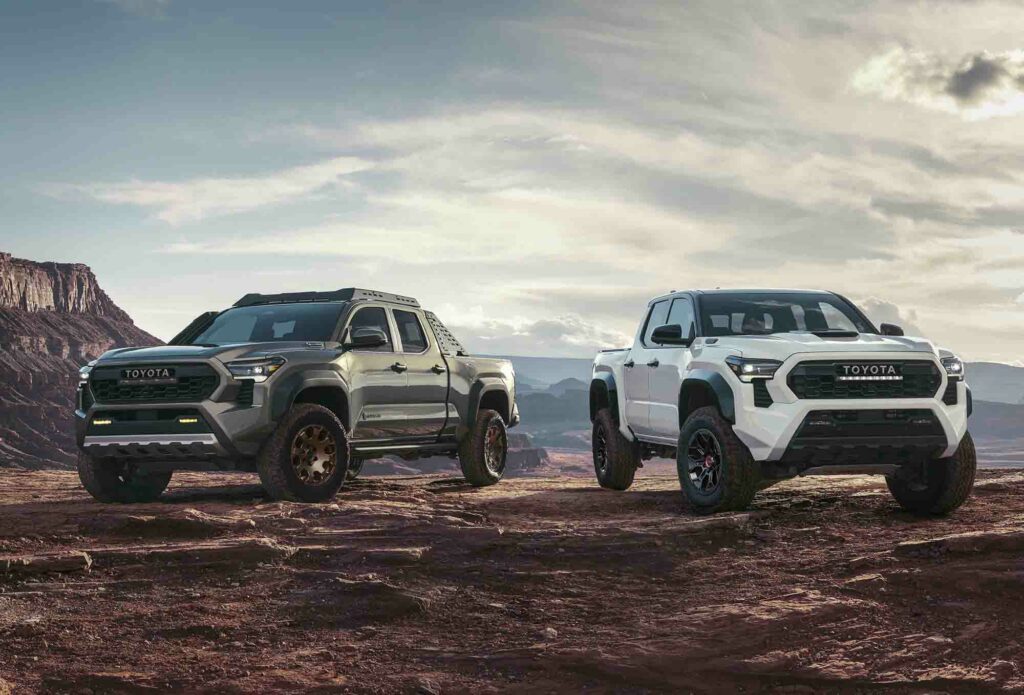 Overland Expo: Most overlanders would choose the Trailhunter as their rig. However, it's likely — for any number of reasons — people will choose lower trim levels on which to build their overland rigs. What other trims and packages make for ideal overland rig platforms?
Brown: The great thing about the new platform is that almost everything is able to flow down to other models. Maybe not in terms of the hybrid powertrain, but if a customer sees an accessory or option on one model, chances are it will work on the Tacoma model they are considering. But really, the i-Force ORP is a hell of a truck. Even at the SR level, the foundation is there, and the ability to build on it is there. You can start with rock rails or a lifted suspension kit. You can build on these options as you continue to develop your rig. And it won't void your warranty, and in some cases, we can roll them into your payments and make them a bit more accessible.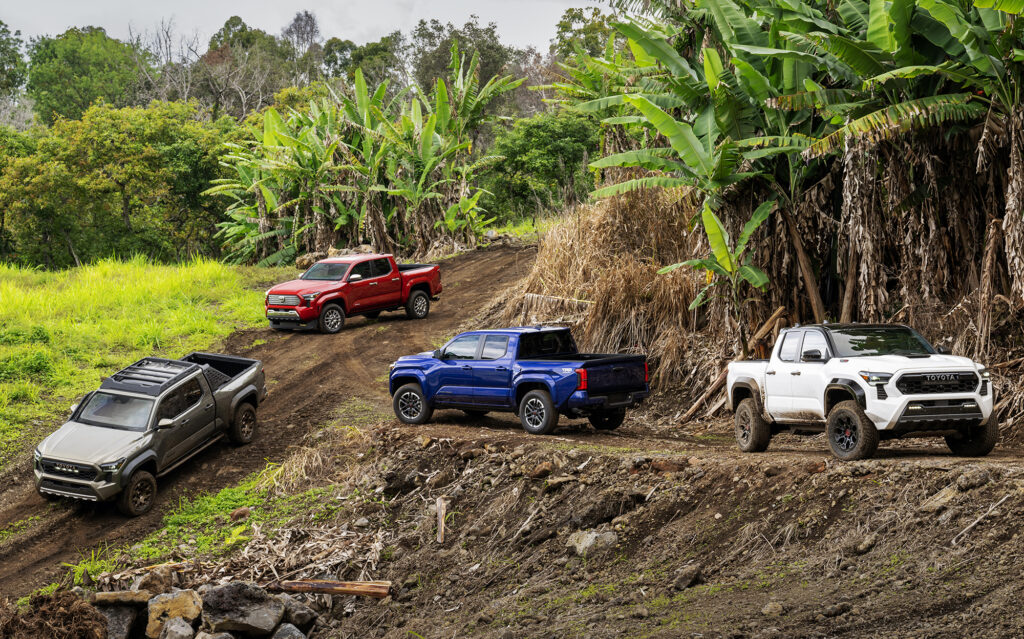 Overland Expo: What were some of the technical obstacles in designing the fourth-gen Tacoma?
Brown: Meeting new federal regulations was a challenge. We had to expand the wheelbase, which helps with approach and departure, but it's not so great for breakover. We also wanted to package everything inside the frame rails, but we also had to meet crash standards, which wasn't easy. Those were huge challenges. Also, once the truck gets longer than 18 feet, it won't fit in some garages, especially in some classic California homes built to the 1964 code. But we ended up about three inches short of that with the five-foot deck. But we wanted to meet that standard so the truck would fit into garages. We also rethought the hip position in the seats, but at the same time, we didn't want to make the truck too tall. That also affected seat adjustment design and how the steering wheel telescopes – not easy things to change. We also addressed some engine performance aspects, such as torque output across the rev range. We wanted to make sure we had the new engine and transmission to avoid gear hunting while maintaining fuel economy. And for those that live at higher elevations, the hybrid one motor makes a huge difference in terms of torque and driveability. Really, if you drove the old Tacoma and then drove the new one, you'll be amazed at the difference. Those are the big things we looked at.
Overland Expo: Thanks for taking the time to walk us through the new Tacoma and everything it has to offer. We can't wait to see how Overland Expo attendees kit out their Tacomas.
You can learn more about the new Tacoma, and other Toyota models during the Fireside Chat at Overland Expo East, October 6-8, in Arrington, VA.