What is the best Toyota for overlanding? That all depends.
Much like our Best Vehicle for Overlanding story or Best Jeep for Overlanding posts, this story doesn't have a definitive answer. That's because making such a decision would be impossible. No one Toyota is good enough in and of itself to be the sole best example from the marque to be the best Toyota for overlanding. Sorry not sorry.
Instead of picking one Toyota, I am going to highlight the five that I think make for the best overlanding platforms. Not surprisingly, each has its own benefits and drawbacks. But let these be a guiding light for you in your quest for your own vision of the best Toyota for overlanding.
In no particular order, here they are.
Tacoma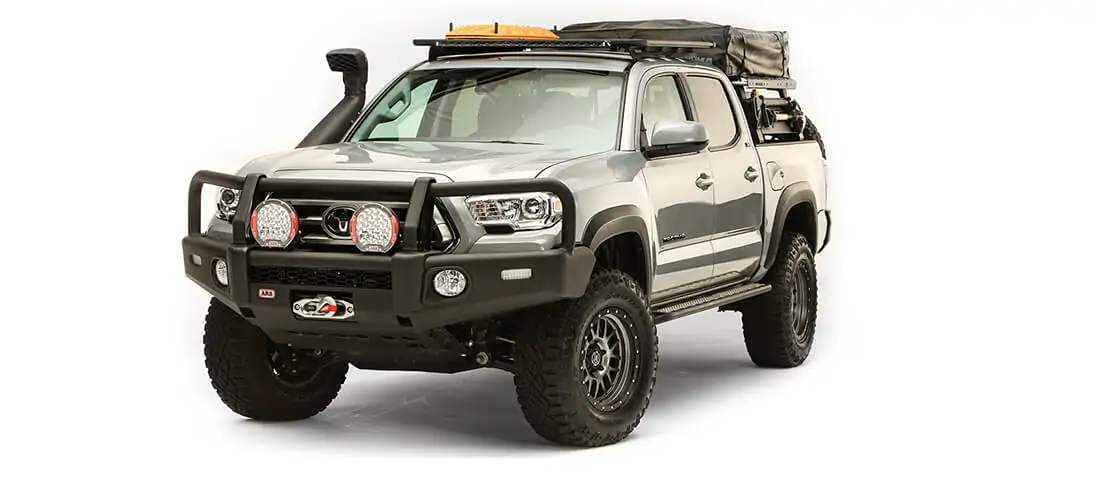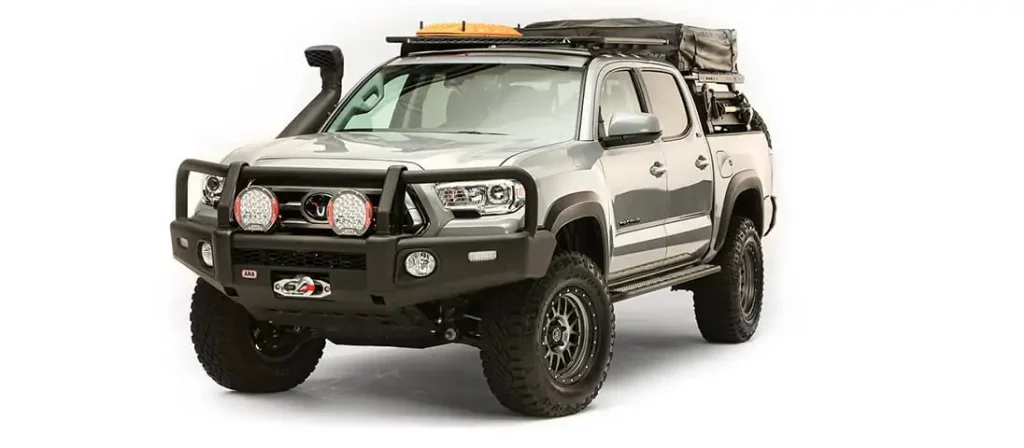 I have to start with the Tacoma because it arguably owns overlanding in the United States. There may be better mid-size trucks for overlanding — heck, there are even better Toyotas — but the venerable Taco is the cream that's risen to the top of the overlanding list.
There are good reasons for this. There are some misnomers, too. And I'll cover those, but let's start with the positives, shall we?
Size
First off, the Tacoma is a great size. Mid-size trucks are slim enough to weave their way through tight trails but long enough to support plenty of passengers and gear. Offered in a Crewmax cab and long bed configuration, there isn't much the Tacoma can't carry.
Parts availability
Tacoma is probably tied with the Jeep Wrangler for most aftermarket accessories. The accessory market for the Tacoma is insane. From sleek and modern to cheap and garish, you can find just about anything for the Tacoma.
Solid-axle swap kits, long-range fuel tanks, bed canopies and racks, front and rear bumpers, roof racks, skid plates, and about a billion wheel options, there may not be any piece of overlanding that isn't sold for the Tacoma.
Buy a new Taco tonight and you can double or triple the purchase price in aftermarket accessories before you even get it home. That's how popular this thing is.
Ditto factory components. Tacoma has sold over 200,000 units per year for generations. So that means there is a huge supply of factory repair components available around the world. Even in the most remote reaches of Alaska, if your Tacoma breaks, you're likely not more than a few hours (by plane) from the nearest spare part.
Capability
Tacoma is pretty capable. With an available electronically locking rear differential and Crawl Control, there are not many terrains the Tacoma can't handle. Does it have the best approach, breakover, and departure angles? Not a chance. Does that matter for most overlanders? Equally, no.
The TRD Off-Road trim has 9.4 inches of ground clearance from the factory, which is more than enough to get you going and over some sizable obstacles. With the aforementioned plethora of aftermarket accessories, including every conceivable size of lift kit, you can get it much higher off the dirt in no time.
Similarly, skid plates and other readily available protection will enhance your Taco's off-road prowess.
Drawbacks
Gird your loins, Tacoma enthusiasts. I am about to drop some truth bombs on you here.
For all the reasons the Tacoma is great, it has an equal number — if not more — reasons that it's, well, not. If you consider power, technology, drivability, and other factors, the Tacoma comes in last behind just about everything else in the mid-size truck segment.
For example, the Tacoma's highest payload rating is just 85 pounds higher than the the Ford Ranger's lowest payload rating — and 220 pounds below the Ranger's top payload.
The comparisons continue. The Taco burns more fuel and produces less power than most every other truck in the market. Its infotainment is dismal. I mean it even still has rear drum brakes. In some ways, it's as if the Tacoma were designed and built in the 1960s.
I hate to say it, but if you're sold on a Toyota for your overlanding rig, consider the other, newer options before you settle on the Tacoma. Just saying.
4Runner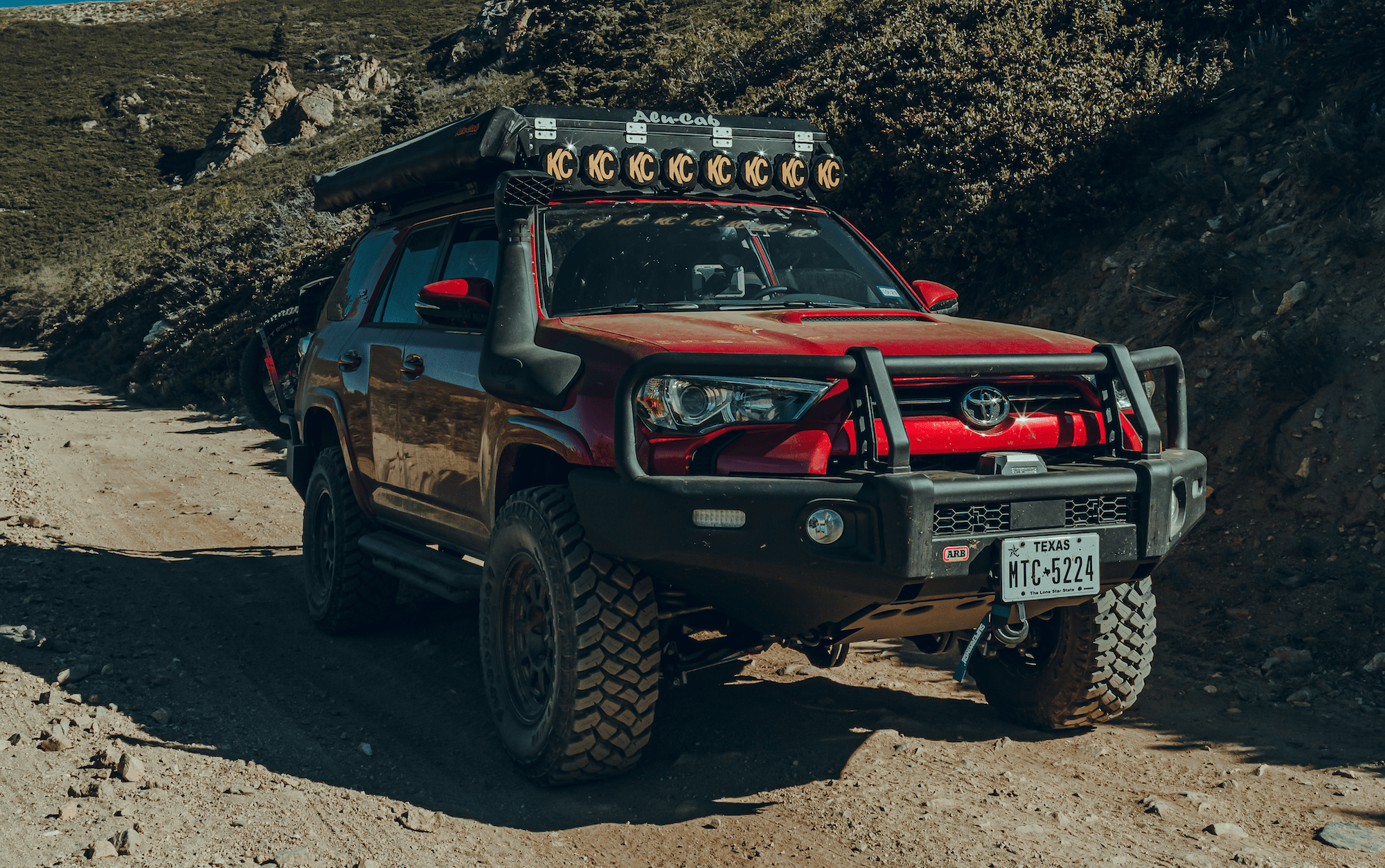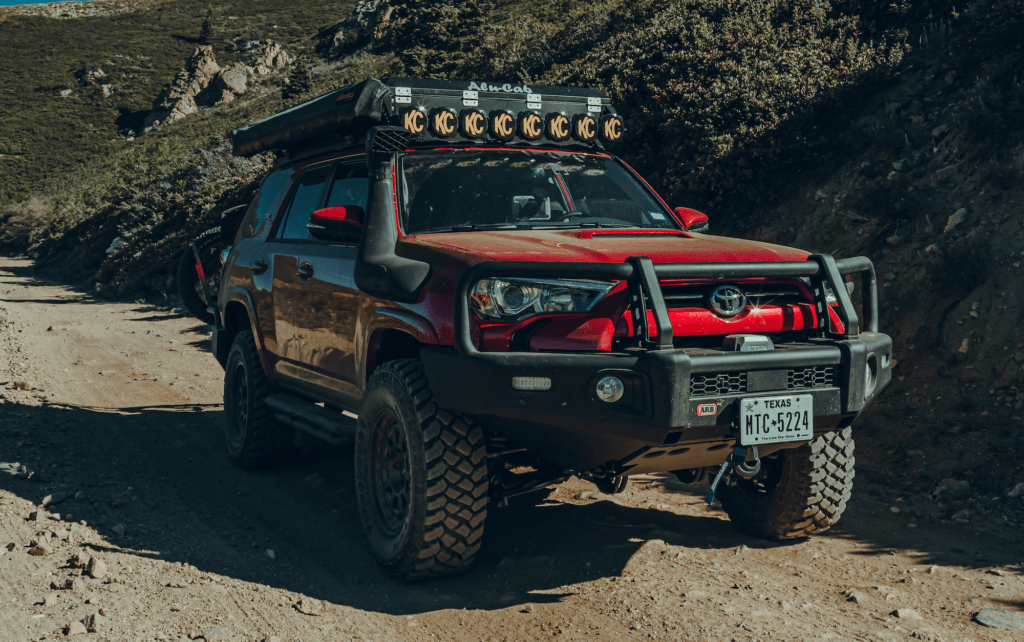 Believe it or not, the fifth generation of 4Runner has been around for 12 model years, or 13 calendar years, having debuted in 2009. By automotive standards, that makes it ancient. That doesn't mean it's not compelling, though. I mean we picked it as our Ultimate Overland Vehicle in 2021.
Size
The 4Runner kind of splits the difference between mid- and full-size SUV. It's not as big as a Chevrolet Tahoe, but it's not small either. For reference, in terms of exterior dimensions, it's nearly identical to the FJ80 and FZJ80 Land Cruisers (4Runner is actually two inches wider than FJ80) and in the 1990s the Land Cruiser was considered a full-size SUV. That just goes to show you how large vehicles have grown since the 1990s.
The FJ80 is considered by some to be the greatest of all time (GOAT), but we will get to that later. The 4Runner sharing dimensions with the GOAT is a real bonus. That's because it's small enough to fit down trails, much like the Tacoma, but big enough to fit a lot of stuff inside. You don't have to look any further than our Ultimate Overland Vehicle 2021 for example of just how much you can get in and on the 4Runner.
Parts availability
That leads us to parts availability. If you think the Tacoma has a lot of gear available for it, the 4Runner might take the cake. You can get bumpers, suspension, roof racks, cargo drawers — you name it. Similarly, since the truck is mostly unchanged in 13 years, it has a ton of repair parts available for it — both in the dealership and junkyard.
Capability
Capability is good for 4Runner. With an independent front suspension, solid rear axle, and coil springs at all four corners, it rides well and blends on-road and off-road driving prowess nicely. If you get a 4Runner with Kinetic Dynamic Suspension System (KDSS) like we did with our Ultimate Overland Build 2021, you get even more suspension articulation off-road, which is always a plus.
Much like the Tacoma, 4Runner can be optioned with an electronically locking rear differential. So, traction should never be a huge issue, especially if you upgrade the tires. Just take a look at how our 4Runner tackled the infamous Red Cone trail in Colorado. This video underscores just how capable a built 4Runner can be in the right hands.
Tundra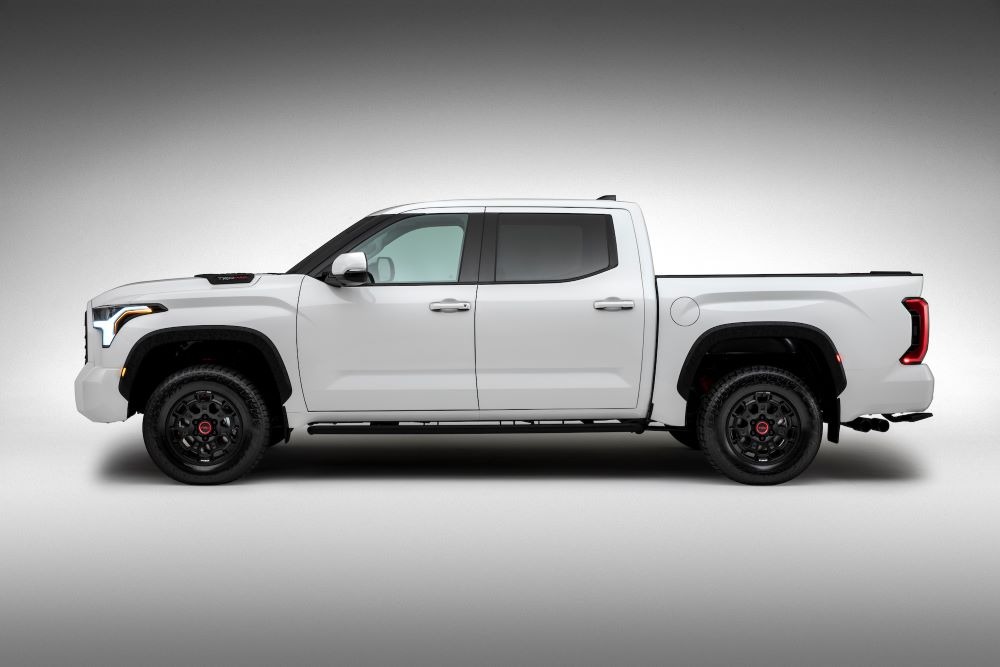 Unlike the now-ancient 4Runner and aging Tacoma, the Tundra is all-new for 2022. Though, the second-generation unit can still be had second hand, as it was sold up until the last few months of 2021. For this blurb, though, I am going to focus on the all-new Tundra. Because, well, that's the one you can buy at your local store today.
Size
As a full-size truck, the Tundra isn't for everyone. That said, many overlanders — myself included — are turning from mid-size trucks and embracing full-size. Yes, I just gave up my Jeep Gladiator in favor of the all-new Tundra. It's taken a bit of getting used to a full-size, but I am already loving the 6.5-foot bed and wide cabin. My dog likes the extra backseat space, too.
However, that extra space comes at a cost — well, OK, many costs. That's because the wheelbase and overall width becomes a bit of a hindrance on tighter trails. Drive slowly and with care — and a heap of pre-planning and good spotting — and most trails should be fine for full-size. That is, if you're OK with pinstriping.
Parts availability
Parts availability for the all-new Tundra isn't great … yet. The truck is slowly rolling out. Few aftermarket brands and upfitters have gotten their hands on any examples yet. And then there's the supply-chain slowdowns to consider. Eventually, however, there will be plenty for these trucks. You just have to be patient.
Capability
The Tundra's capability varies from trim to trim and package to package. The penultimate TRD Pro trim will be the most capable out of the box because of its one-inch suspension lift, more aggressive tires, and electronically locking rear differential. However, other trims fitted with the TRD Off-Road Package, which includes off-road tuned suspension and an electronically locking rear differential will give the TRD Pro a run for its money at a much lower price.
As we touched on above in the 'size' section, the Tundra's size will inhibit its capability. The Tundra's approach and departure angles aren't as good as purpose-built trail trucks, like Wrangler, Defender, or Bronco. So, like I said, drive carefully.
Land Cruiser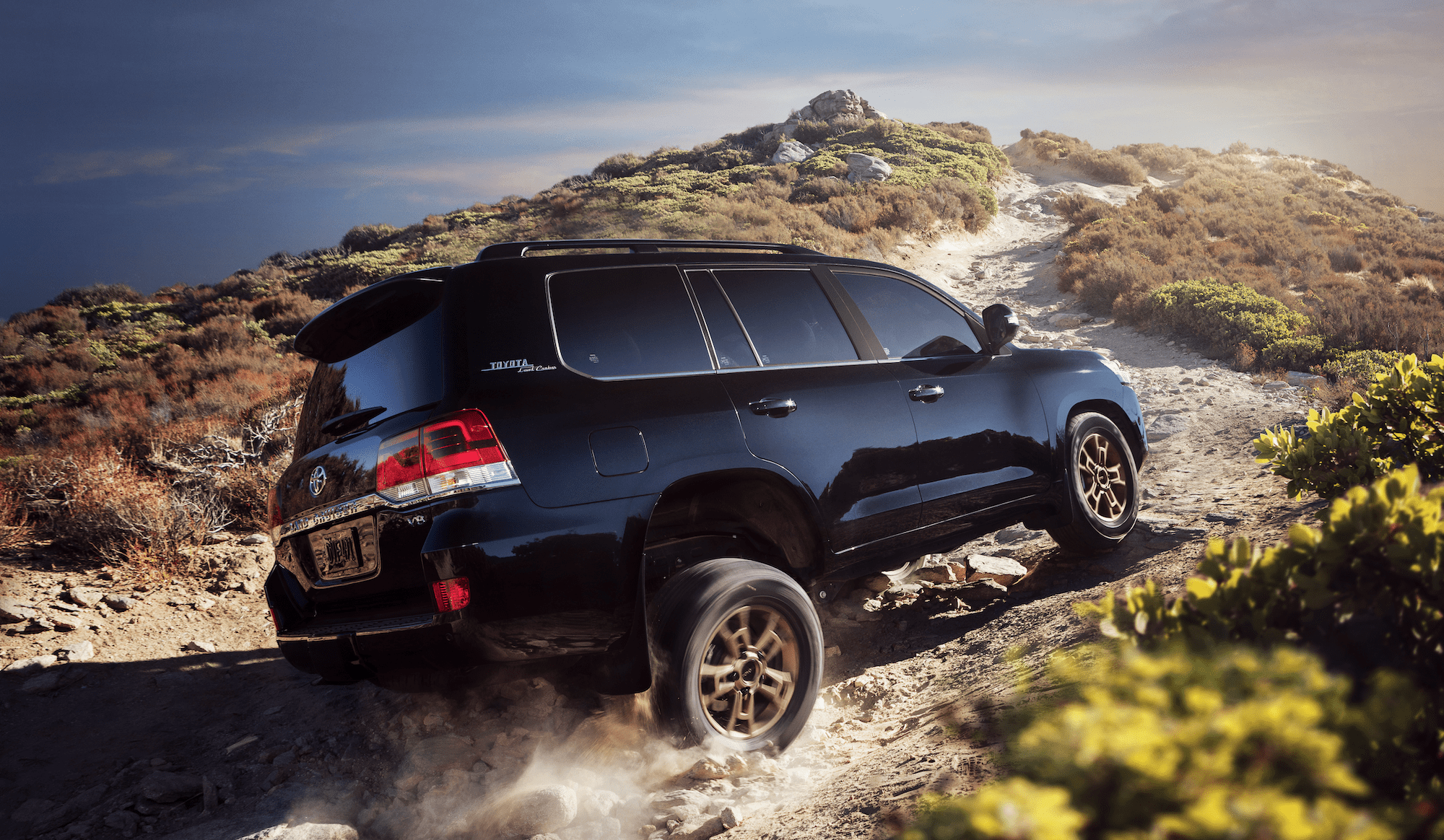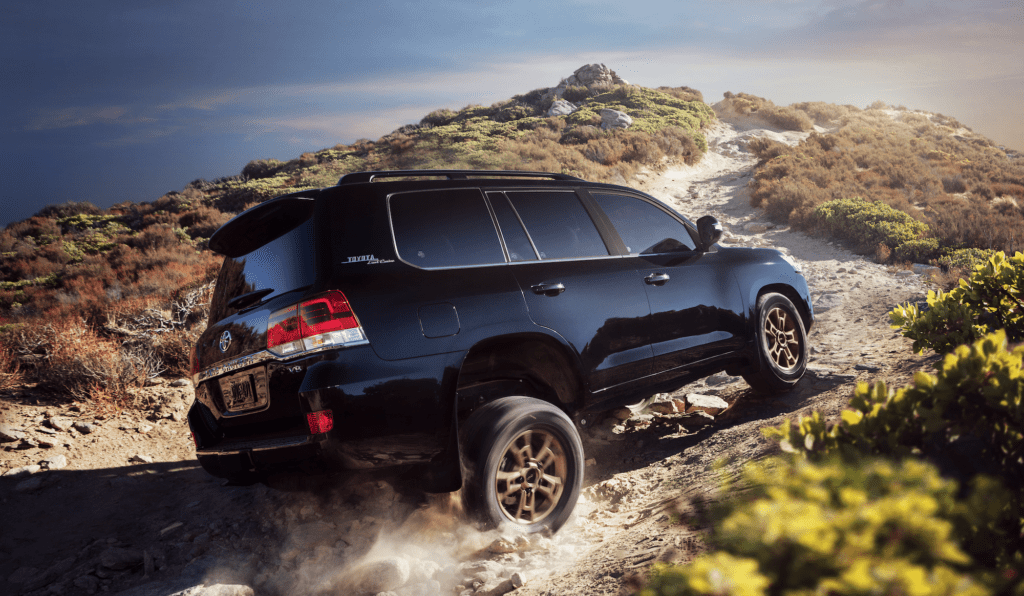 I know I said I'd focus on Toyotas that are on sale now at your nearby Toyota store. And, well, the Land Cruiser isn't anymore. That said, I am going to cover it here. That's because I own a 1992 FJ80 Land Cruiser and, let's be honest, the Land Cruiser is just about synonymous with overlanding as anything else in the world. I'll wager dollars to doughnuts that the Land Cruiser is the most popular overlanding rig around the world. That means it's still relevant to this list.
Yes, you can get FJ60, FJ62, FJ80, FZJ80, and UZJ100 Land Cruisers used. But we don't like to recommend vehicles more than 15 years old. So, I won't be dissecting them here.
Size
The outgoing 200 Series Land Cruiser was pretty big. It nearly had the dimensions of a full-size pickup truck. As we've established in other sections of this post, that extra size brings with it some interior benefits. Namely, you can get a lot of stuff inside it.
Parts availability
Since the 200 Series Land Cruiser existed from 2007 to 2021, it was the beneficiary to perhaps even more aftermarket support than the Tacoma or 4Runner. There were just fewer 200s in the U.S., so you just don't see the supply of parts on the American market that you do in other countries, like Australia.
No doubt, you can outfit a 200 Series to the gills. That is, if you can afford to get your hands on one. The 200 was only brought to the U.S. in its highest trim level. In the last few years of its run, it retailed between $83,000 and $89,000 — hardly in reach of most overlanders. Then there's the supply to contend with. Toyota didn't import many. So, if you want to buy one today, you'll be looking at spending upward of $40,000 to $110,000 for a 200 Series.
So, yes, the parts are available. But are the trucks? Kinda.
Capability
Even in its ultimate year, 2021, automotive reviewers were still praising the 200 for its ride and interior quality and off-road capabilities. What it lacks in approach and departure angles it makes up for with mechanical and electronic components that make it one of the most capable rigs you could buy at the time.
Sequoia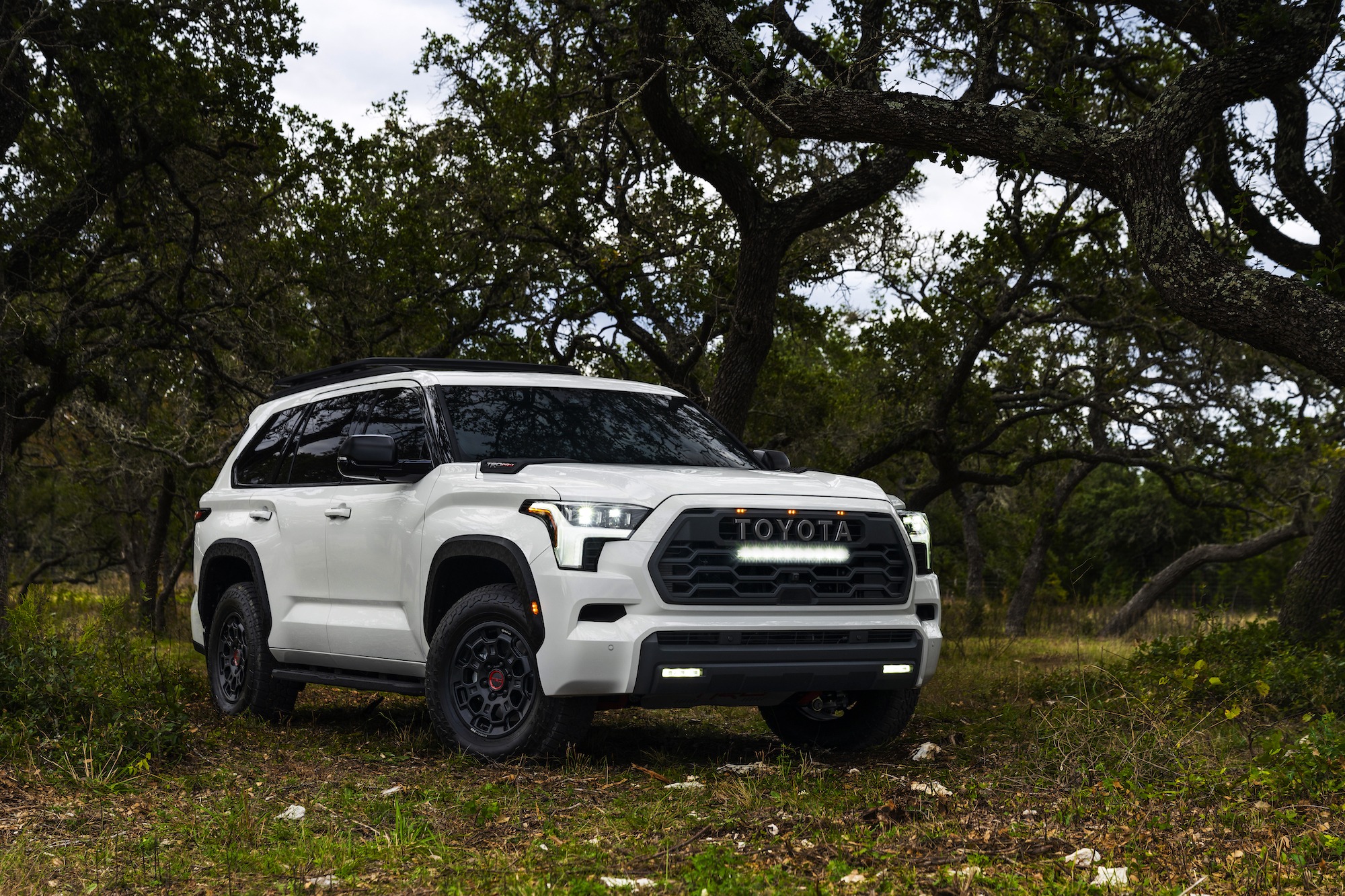 Lastly, we come to Sequoia. I wouldn't have included it on this list until just a few weeks ago. That's because Toyota just revealed the third-gen Sequoia. It's the SUV version of the Tundra and effectively the replacement of the Land Cruiser here in the U.S. That's because all three (Land Cruiser 300 Series, Tundra, and Sequoia) now run on the same platform, Toyota's global F platform for ladder-frame trucks. Because of its underpinnings, its won a place here on this list, albeit at the end.
Size
Sequoia is a full-size, three-row SUV. That means it's long. In stock form, it sits kind of low, too. It'll suffer some of the clearance issues (in terms of width) that the Tundra will. Of course, these are not deal breakers by any stretch of the imagination. They just need to be considered.
If we thought that the Land Cruiser 200 had a lot of interior space for overlanding gear, wait until you get a load of the new Sequoia. I'd give you the cargo specs here, but they're not available at the time of this writing. From where I sit, though, it looks like a great platform for overlanding, in terms of size.
Parts availability
Like the Tundra, aftermarket support — like lift kits and other accouterments — will take time to hit the market. Heck, the Sequoia won't even hit showrooms until this summer. In a year's time, though, you'll find a ton of great parts availability for this thing.
Capability
Its approach, breakover, and departure angles aren't as good as the Land Cruiser the Sequoia effectively replaces. That said, these are things that the lift kits that will eventually be available for it will solve. I mean, if Toyota has designed a 2.5-inch lift kit for the Tundra, it stands to reason that it has done the same for Sequoia, too. And, bam, then you'll be able to bolt up some 35s to your Sequoia no problemo.