In the 2022 version of this story, I declared that there is no one best vehicle for overlanding. And I still stand by that, kind of.
Honestly, it is impossible to name just one overlanding rig. It really comes down to personal taste, budget, and intended use.
I'll explain more below what factors I think make for a great overlanding rig. Things like payload, fuel economy and power output, size and footprint, drivability, capability and reliability, and affordability are all factors that one should consider when selecting a vehicle for overlanding.
For the first time ever, though, I am going to name some vehicles in a few different categories that I think are the best, the standouts. Without further ado, here they are.
Mid-Size Pickup Truck
1. Fifth-Gen Ford Ranger (2019-Present)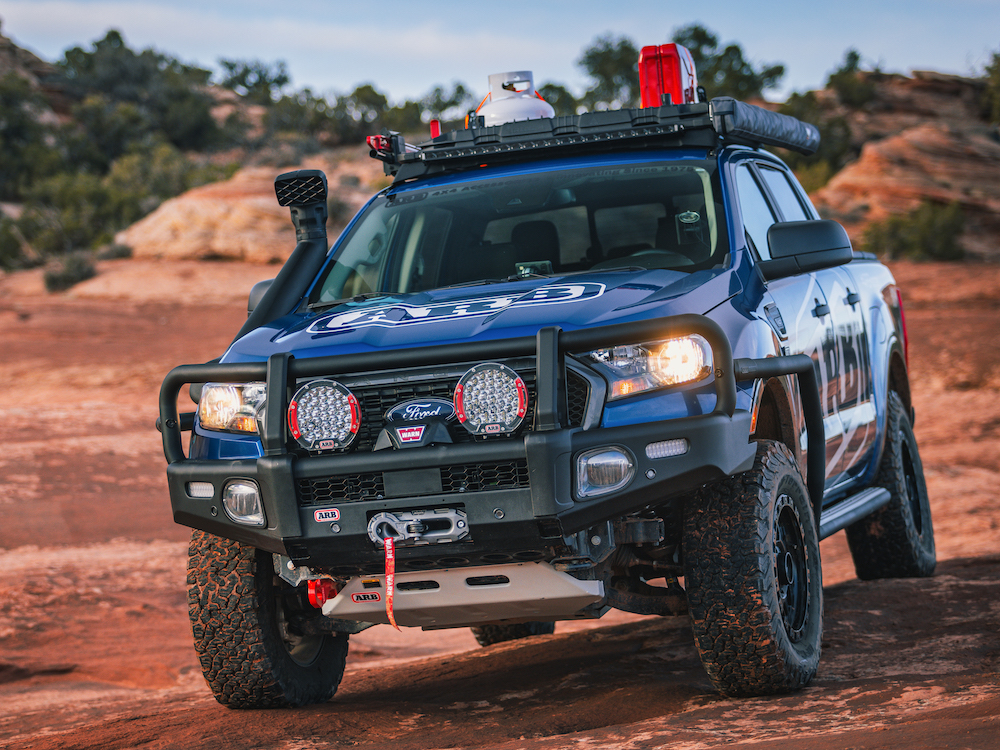 I am about to disappoint a lot of Tacoma fans, but my pick for the top spot for a mid-size pickup truck for overlanding is the fifth-gen Ford Ranger. You can read my review of it here. But the Ranger wins out for several reasons.
Ranger offers payloads between 1,609 to 1,905 pounds. Here's how that stacks up in the segment:
Third-gen Tacoma is between 1,050 to 1,685 lbs. (TRD Pro is 1,135 lbs.)
Second-gen Chevrolet Colorado is 1,270 to 1,560 lbs.
Nissan Frontier is 1,296 to 1,708 lbs.
Jeep Gladiator is 1,080 to 1,200 lbs.
Honda Ridgeline's payload is 1,509 to 1,583 lbs.
See why I threw Ridgeline in there? It has a higher payload than the Tacoma TRD Pro. Bet you didn't know that. Yep, you might say the Ridgeline is more of a truck than Tacoma is.
Ranger also wins out for its available electronically locking rear differential (on FX4 package), its huge, fully boxed frame (Tacoma's is not boxed), and its compact size. It's actually one of the most compact mid-size trucks in the American market, which makes it easier to maneuver on tight trails.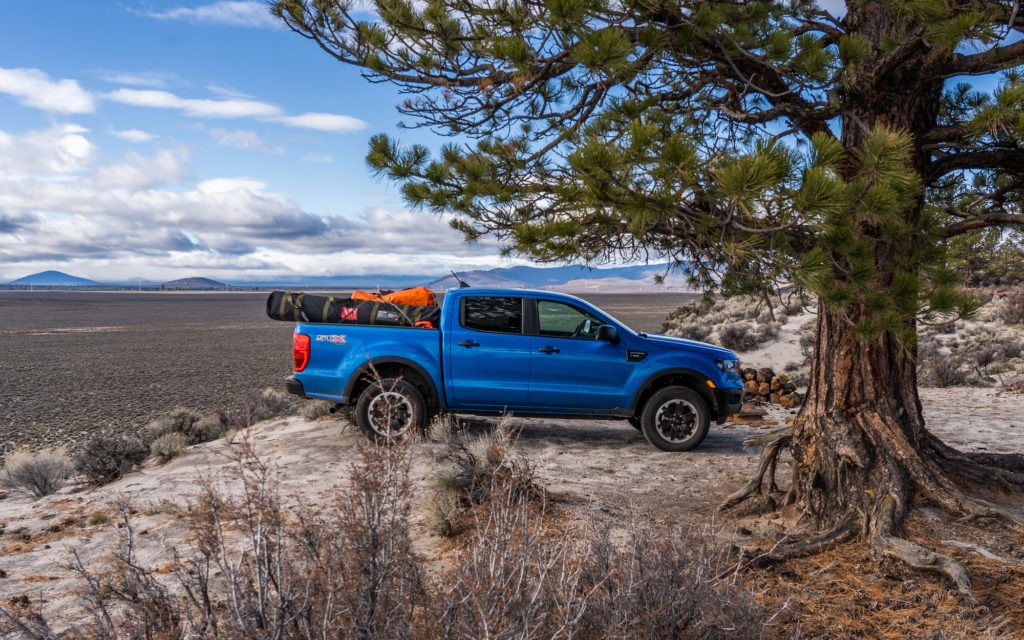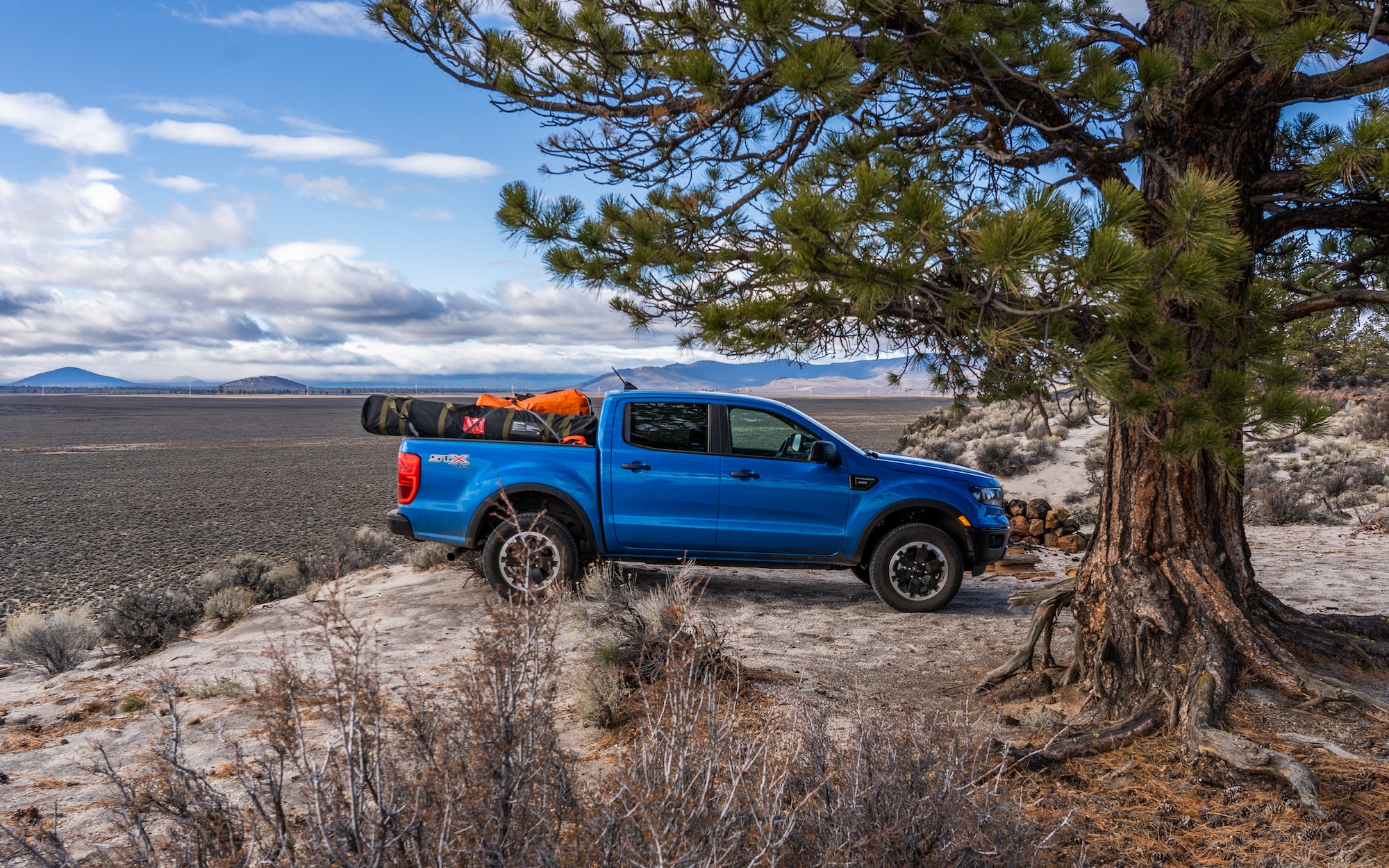 Its EcoBoost 2.3-liter turbocharged four-cylinder absolutely kicks butt. It puts out 270 horsepower and 310 lb-ft of torque. Tacoma's 3.5-liter V6, for comparison, churns out 278 hp and a paltry 265 torques. The Ranger is standard with a 10-speed automatic transmission. Tacoma has a six-speed.
While Tacoma has more aftermarket support for overlanding gear, the Ranger enjoys a lot of international support, since it's been around since 2011 globally. ARB, for example, has a ton of great stuff for Ranger.
The Ranger is far and away the best mid-size pickup truck in the U.S. right now. Before you go buy a Tacoma, go drive a Ranger first. You'll be glad you did. I recently bought and built a Ranger, and I love it more each time I drive it.
2. Second-Gen Chevrolet Colorado (2014-2022)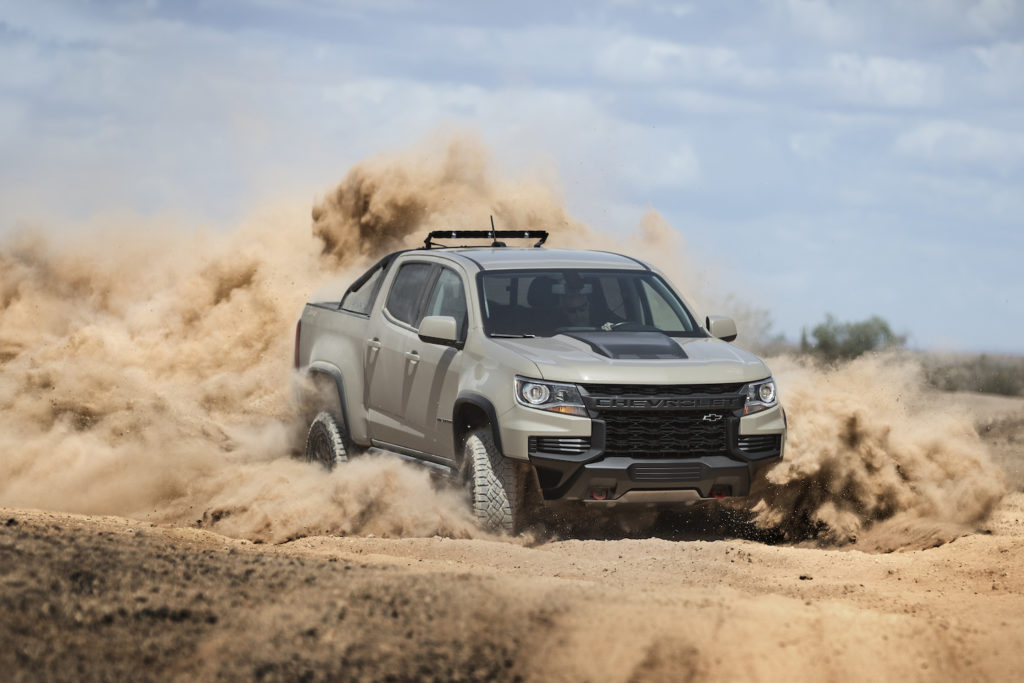 Coming in second place is second-gen Chevrolet Colorado. The third-gen has been revealed and will be hitting dealer showrooms soon. So, we'll see how that one does. We'll be driving it soon and will update this page with that link when we do.
But what I love about the second-gen is its powertrain and cab and bed-length configurations. I am particularly fond of the four-door, long-bed variant. That's because it has a huge interior and a six-foot bed to back it up. You get a lot of the storage benefits of a full-size with a narrower body, which always helps on the trail.
The four-door, long-bed Colorado doesn't come with any sort of locking differentials. You have to step up to ZR2 trim to get those — front and rear. And ZR2 is only offered in four-door five-foot bed or extra cab six-foot bed.
As for powertrain, I like that Chevy offers a diesel engine. I liked the idea of it so much that I owned one for two years. I wouldn't get one again, though. They don't pay off. Torque is higher, yes, but towing capacity is virtually the same.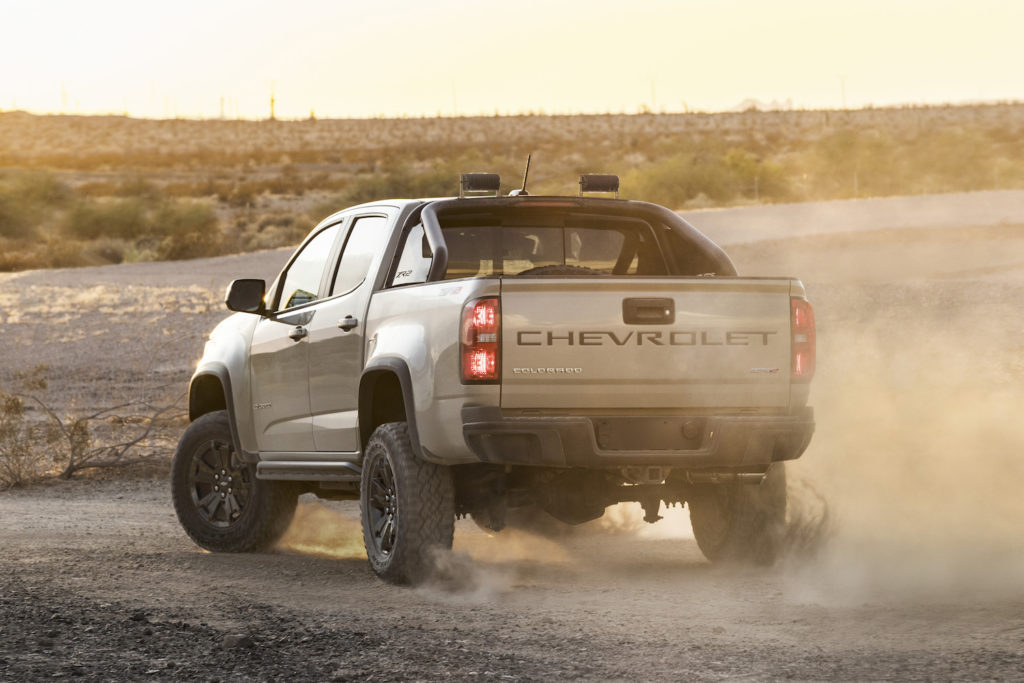 The diesel Colorados are thousands of dollars more expensive than the gas versions. And they don't return enough fuel-economy benefits to make the cost difference at the dealership pen out. And this is before the more frequent and expensive maintenance that diesels require. Oh, and the more expensive fuel costs, too.
Diesel in mid-size is a lose-lose. Skip it. I say go for Chevy's 3.6-liter V6, which produces 308 horsepower and 275 torques, which are routed through an eight-speed automatic transmission. It's a tried and true motor and won't let you down.
Again, not everybody makes stuff for Colorado like they do Tacoma. But CBI has some killer armor for Colorado. So, there are still some great options for building an excellent Colorado for overlanding.
3. Second-Gen Jeep Gladiator JT (2018-Present)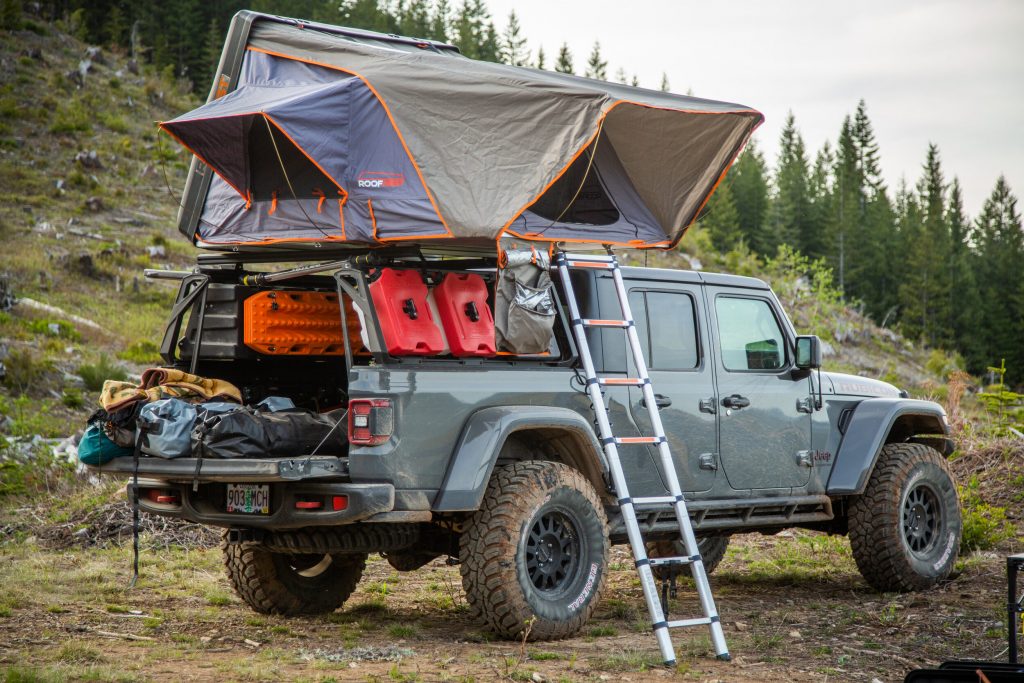 Gladiator has to make this list because it's the most capable mid-size, nevermind it has a small interior and disappointing on-road manners. And if you want to talk about aftermarket parts availability, look no further than JT, which shares a lot of its components with Wrangler JL.
If I were buying another (yes, I had one of these, too). I'd stick with the Pentastar V6 mated to the eight-speed automatic transmission. The Pentastar puts out 285 horsepower and 260 torques, which is adequate.
Gladiator distinguishes itself in this segment with its solid front axle, disconnectable anti-sway bar, and soft- or removable hard-top. The Gladiator is silly, reliable, capable, and fun. Aside from technical off-roading, it's not really the best at anything in this segment. But it has a real sense of humor. For that, and many other reasons, it deserves a spot rounding out this list.
Full-Size Half-Ton Pickup Truck
1. Third-Gen Toyota Tundra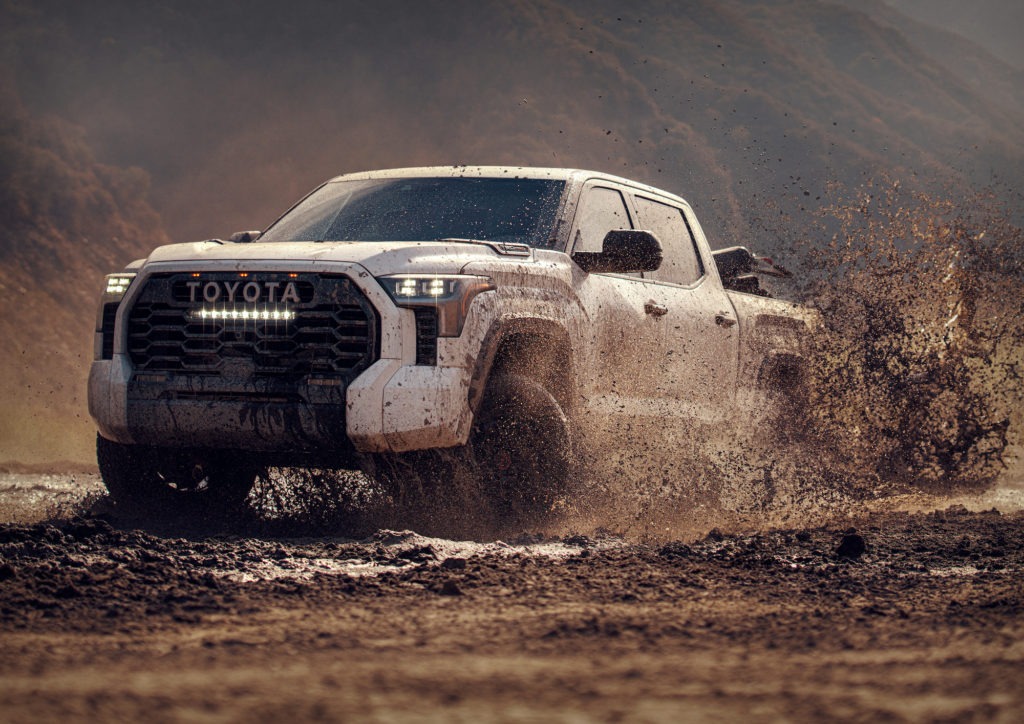 Starting for model year 2022, the third-gen Tundra now shares its platform — called F Platform — with the next generation of every global Toyota ladder-frame vehicle. From Land Cruiser 300 to Sequoia to Tacoma to Hilux — you name it, they'll be riding on a shared architecture for the first time ever. This means that the new Tundra is essentially a Land Cruiser 300 with a truck bed.
I am not being hyperbolic. You can install ARB's rear coil springs for Land Cruiser 300 underneath the Tundra with no problem. In fact, those are the rear springs my third-gen Tundra is riding on. This shared DNA with arguably the most successful overland nameplate of all time, Land Cruiser, is part of what makes the Tundra tops.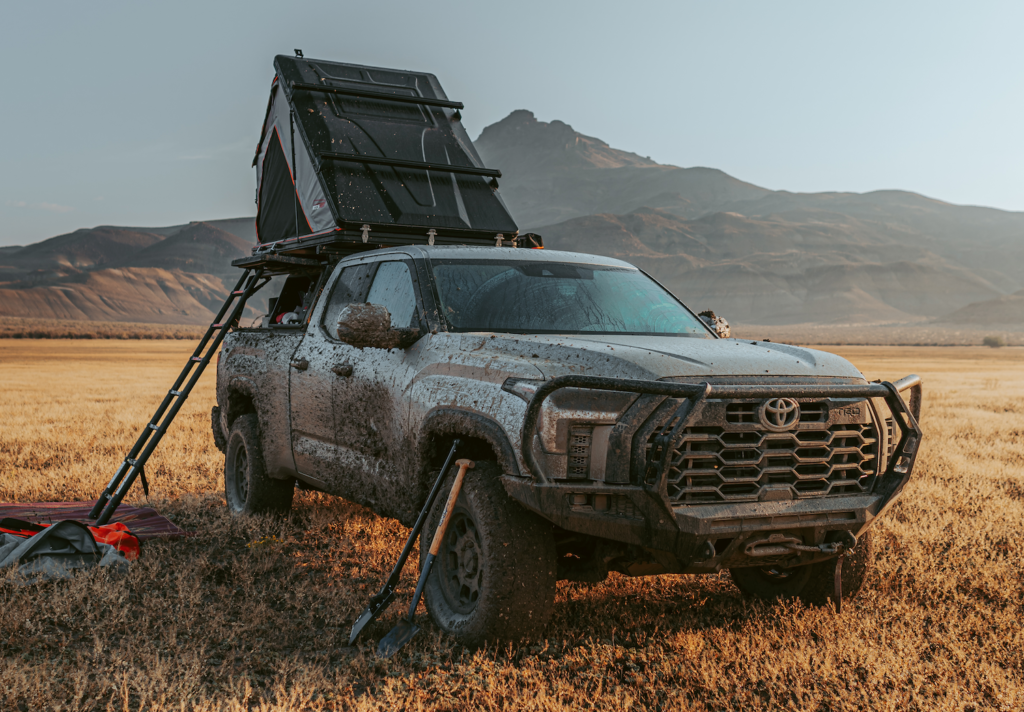 Toyota more than solved a lot of the problems of the second-gen Tundra. Namely, it replaced its ancient V8 power plant and five-speed automatic transmission. These were fine and reliable components but ancient by comparison to the rest of the field. Adding a 3.5-liter twin-turbo V6, 389 horsepower and 479 torques, backed by a 10-speed automatic transmission as standard was a big efficiency improvement for Tundra. Then adding a Hybrid to the mix made it even more powerful. The Tundra i-FORCE Max Hybrid churns out 437 horsepower and 583 torques. Those are diesel levels of power and torque without all the drawbacks of diesel.
The main reason that Tundra is top of the list here, though, is because of the great number of aftermarket accessories. Honestly, I think the F-150 is a better truck. But there aren't nearly as many overland-centric accessories for F-150 as there are for Tundra. Overland Expo exhibitors CBI and C4, to name a few, immediately turned out winch bumpers and bull bars for third-gen Tundra. They've yet to give that same treatment to the F-150.
2. 14th-Gen Ford F-150 (2021-Present)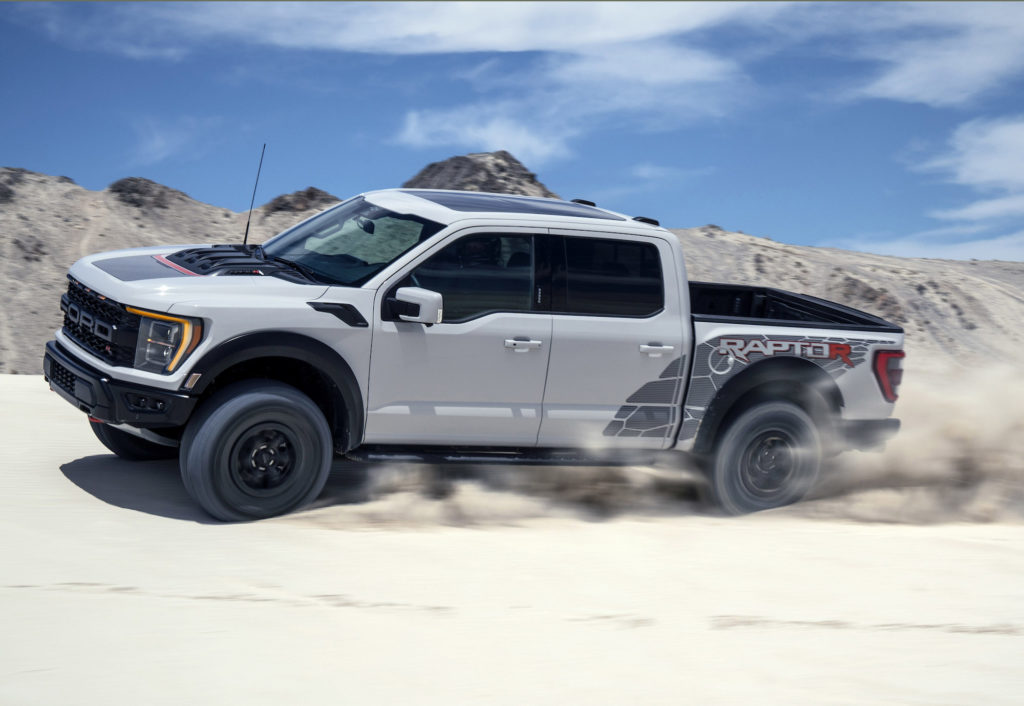 The current F-150 should really take the top spot on this list for its wide array of power plants, cab and bed configurations, well laid out and feature-rich interior, impressive payload and towing capacities, and available rear locker at every trim level.
It doesn't make the top spot, though, because most of the heavy hitters in the overlanding armor and suspension market have overlooked the F-150. It's the best-selling vehicle on the market. Why ARB, for example, doesn't make bull bars for F-150 boggles my mind.
I'd get an F-150 if there were as many offerings for it as there are Tundra. But for some irrational reason, Tundra has become the nameplate for full-size off-road trucks.
3. Fifth-Gen Ram 1500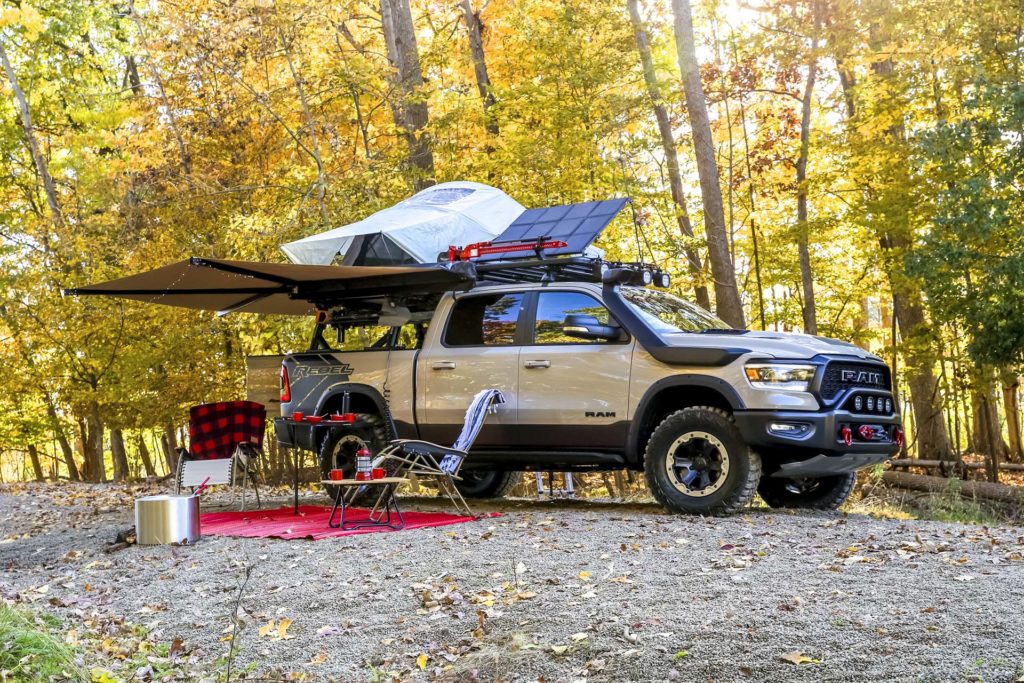 The Ram 1500 has a lot going for it, including available HEMI V8, rear coil springs like the Tundra (ride-quality and weight-savings benefits), and an available rear locker even in the bottom-end trim level, if you specify the Off-Road package.
While it has more aftermarket overlanding support than F-150, I can't give it top marks because it doesn't do all the other things as good as either the Tundra or the F-150. The Ram is excellent, if not a compromise, in most measurements.
Full-Size Three-Quarter-Ton Pickup Truck
1. 2023 Ram 2500 Rebel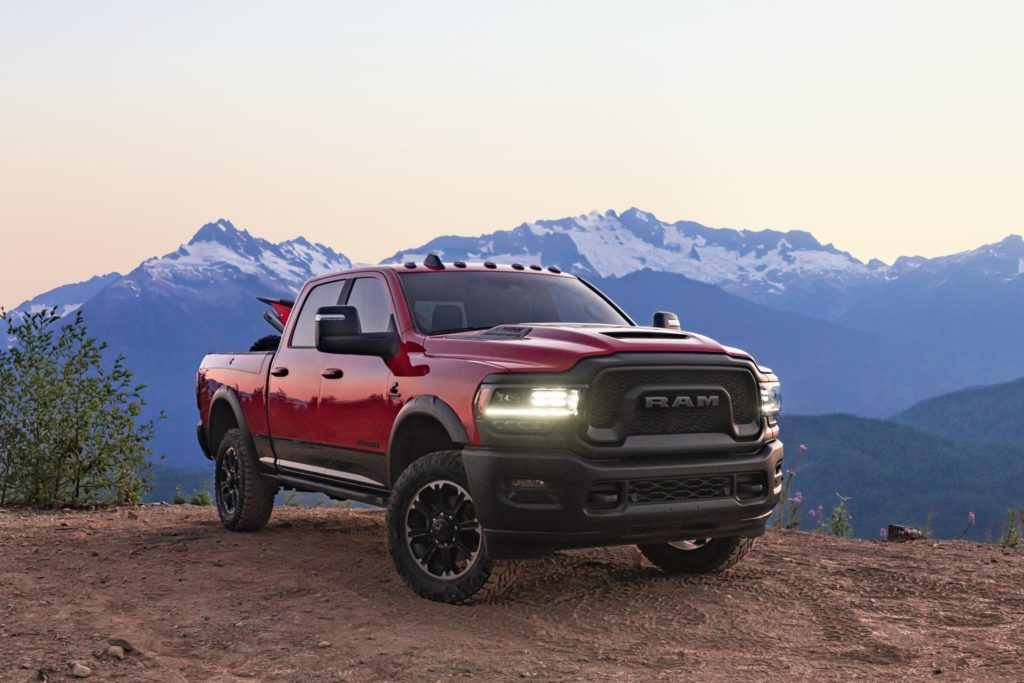 This is the first truck on this list that I haven't driven yet. I've driven the current-gen Power Wagon, however, as well as the 1500 Rebel. So, I can deduce how the 2500 Heavy-Duty Rebel will perform.
Why does 2500 Rebel take top billing for the quarter-ton truck section? It's nearly a Power Wagon but with a way higher payload. Like the Power Wagon, 2500 Rebel offers front and rear solid axles. Where the Power Wagon has a front electronically locking differential, the Rebel does not. But as the Power Wagon is only offered in a 6.4-liter gasoline-burning HEMI V8, the Rebel can be optioned with that or an I-6 Cummins diesel engine. I'd still pick the HEMI version for a bunch of reasons.
Where the Rebel really excels is in its payload and towing ratings. Ram 2500 Heavy-Duty Rebel boasts a towing capacity of 16,870 pounds and a maximum payload of 3,140 pounds, while the Ram Power Wagon can only tow 10,590 pounds with a max payload of 1,560 pounds. I'd trade a front locker for more than double the payload any day of the week, I'll tell you that.
Once I've tested the Ram 2500 Rebel in the field, I'll report back with more. But for now, it's the standout winner in my book.
2. 2023 Ford F-250 Super Duty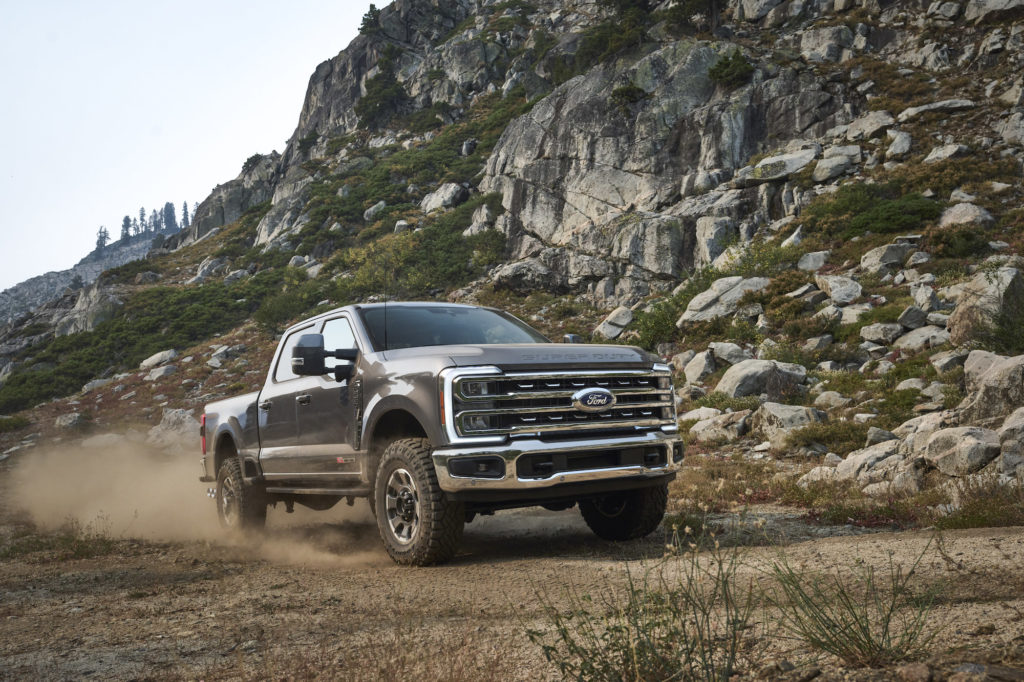 Ford still hasn't put out a lot of info on the new Super Duties. Its media site only has "preliminary" specs, and payload isn't one of them. Neither is towing, oddly. I can safely assume, however, that the Super Duty will have class-leading figures here. And I hope the off-road-y Tremor trim will retain most of those capabilities.
Like a few other trucks on this list, I haven't driven one yet. But given the incredible offerings Ford has been creating lately, I have no doubt that the new Super Duty will be a great choice of overlanding platform. Ford offers Super Duties in virtually every cab- and bed-length configuration you could dream of. It has a slew of great engines. Its interiors are top-notch. And as more people turn toward HD trucks for overlanding, the amount of aftermarket support for them goes up every month.
I imagine an F-250 being a great platform for an Aussie-style tray and canopy conversion, like the one we did for our Ultimate Overland Vehicle 2022.
I'll update this section when I can drive the new Super Duty. Without having driven one, though, I already know it'll be tops.
3. Fifth-Gen GMC Sierra 2500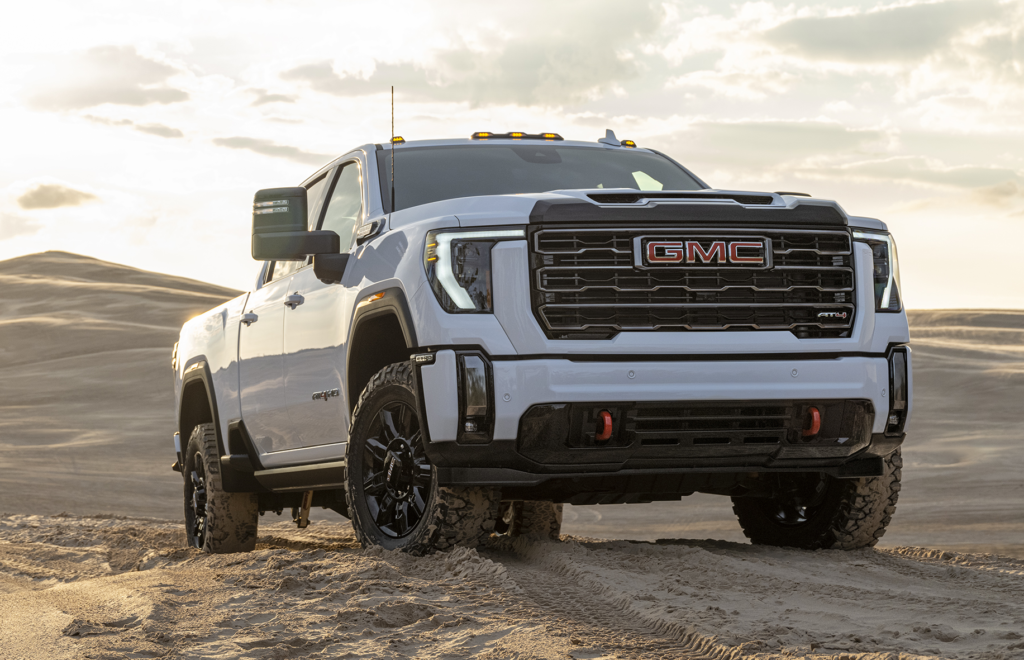 GMC has pushed hard into the overlanding market in the last few years. The brand is luxurious and rugged, which makes its ideal for overlanding. The Sierra 2500 is an impressive offering with 3,407-pound payload for the crew cab and 16,000-pound towing with the 6.6-liter gas V8 engine. With an available off-road-y AT4 trim, the Sierra 2500 is a compelling competitor in this list.
That said, sort of like the Super Duty, there isn't a ton of overland-centric aftermarket offerings for Sierra 2500 or its brother the Silverado 2500. This is why Sierra 2500 finds itself in the third-place spot. That and its limited powertrain and cab/bed configurations.
The Sierra 2500 is a fine, handsome truck. And its 6.6-liter V8 packs a reliable wallop. If you don't need all the overland accouterments on your truck, it's worth a look.
Body-on-Frame SUV
1. Sixth-Gen Ford Bronco (2021-Present)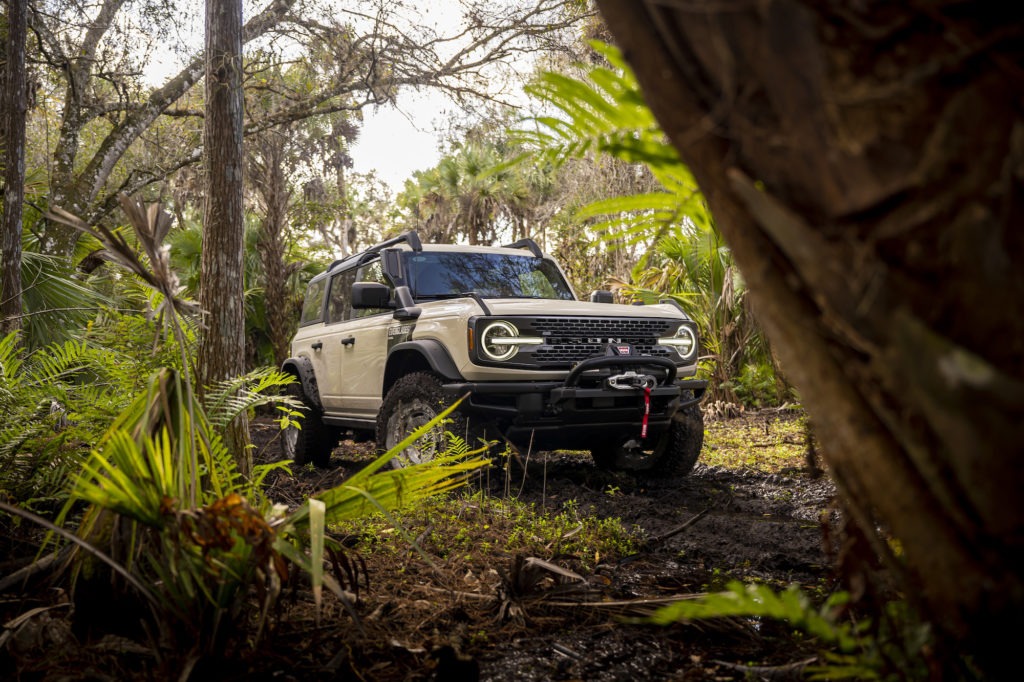 Bronco takes the top spot here because it's simply the best all-round off-road SUV on the market. It has a lot of great things going for it, like its turbocharged power plants, tech-y but delightfully utilitarian interior, retro styling, and a heap of trim levels that run the gamut from Base to Raptor. Plus, there's a growing list of aftermarket components for Bronco, which only makes it an even more compelling overland rig.
Bronco's standout features are its independent front suspension (IFS) and its size. Wrangler JL, second on this list, is a similar size, but it lacks IFS. Third-place Sequoia has IFS but is very, very big, which could prove a liability on tight, tree-lined trails.
When I tested the Bronco 4-Door Black Diamond (without Sasquatch package), I found it too low-slung; it bumped and dinged off the trail floor way more than I had anticipated. On the flip side, the Bronco Raptor I reviewed proved to be the finest factory 4×4 I'd ever driven. That said, the Bronco product manager will tell you straight that the Bronco Raptor is not for overlanding. And with a body wider than a Ram 2500 Rebel, I found out what he meant.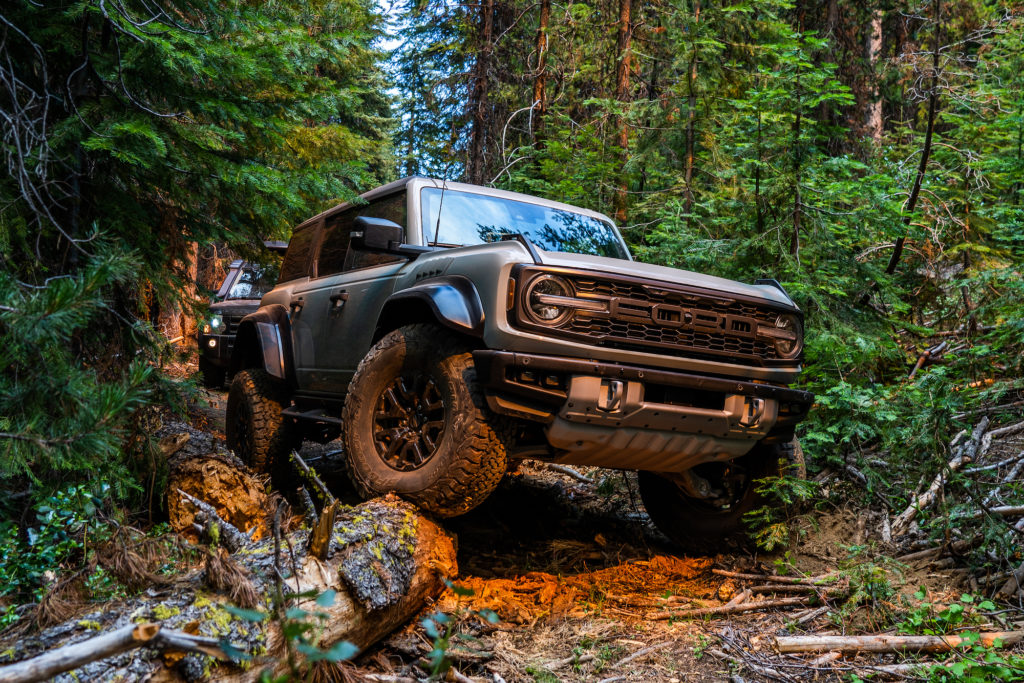 To put a finer point on it, Bronco comes with from 275 to 315 hp. Wrangler has 260 to 470 hp. Bronco payload is 863 to 1,493 lbs. Wrangler is 1,052 to 1,351 lbs. Bronco towing is 3,340 to 3,500 lbs. Wrangler is 2,000 to 3,500 lbs. And I think the Bronco drives better, has better tech, is more comfortable, and is better looking.
To me, the perfect Bronco for overlanding is a 4-Door Black Diamond with the 2.3-liter four-cylinder EcoBoost, 10-speed automatic transmission, and a hard top — no Sasquatch package. Why? Because if you're actually going to use Bronco for overlanding, you're going to want to add gear (i.e. weight). And that means you'll need to add constant-load springs and more heavily valved shocks. So, why get Sasquatch? You don't need a front locker (really). So have $6,000+ and get a non-Sasquatch Black Diamond (with rear locker as standard) and get an aftermarket lift.
2. Jeep Wrangler JL (2017-Present)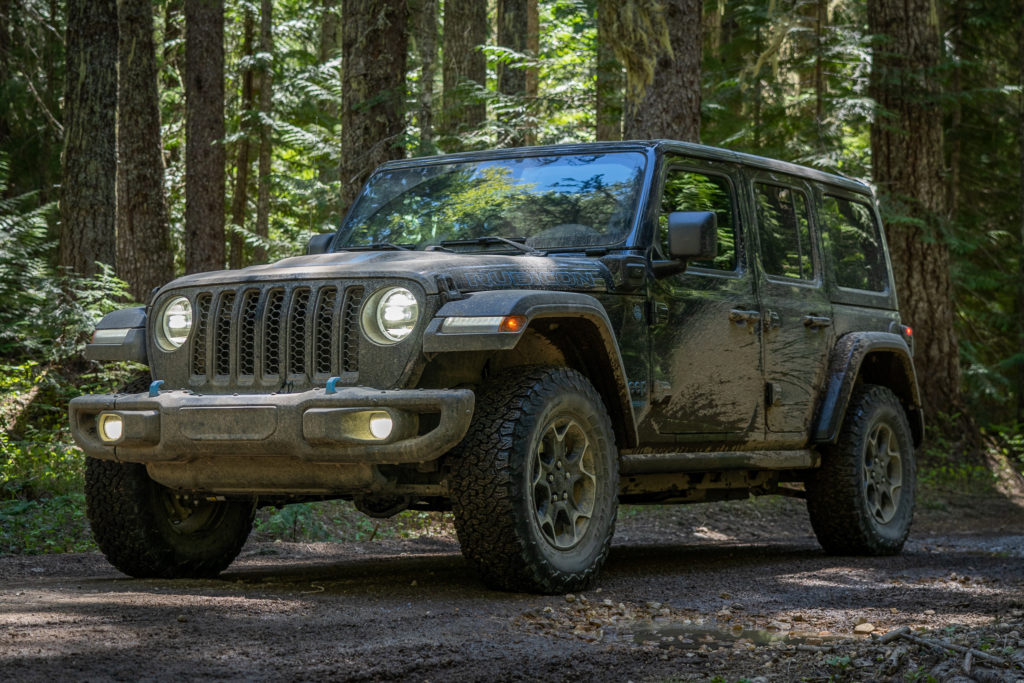 It's hard not to love the Wrangler. It is one of the most popular rigs in overlanding. It's a great size, and it has the most aftermarket support of virtually any 4×4 on the planet. It has a wide range of available power plants, from turbo-four to plug-in hybrid to diesel to HEMI V8. And it's rugged and reliable.
It doesn't take the top spot here, though, because of its cramped interior and poor highway manners. Solid axles might offer robustness and great articulation, but they lead to highway wander, which, I can tell you from personal experience, can become maddening on long drives.
Wrangler JLU has a payload of 997 to 1,351 pounds, depending on the power plant, which is lower than the Bronco. Its towing capacity is also lower at 2,000 to 3,500 pounds. Bronco is 3,340 to 4,500 lbs.
I really enjoyed driving the Wrangler Unlimited Rubicon 4xe. Its plug-in hybrid powertrain isn't perfect, but it's that unique midpoint between pure internal combustion and pure electric.
I will say that Wrangler has more of a sense of humor than the Bronco. What do I mean by that? It's sillier — in a good way. It feels like Ford engineers were told to best the Wrangler. And I think they did. But they lost some of the frivolity that makes Wrangler so charming along the way. Is that a deal breaker? Probably not for most folks. Some, however, do want that soupçon of silliness in their rig. And I get that.
3. Second-Gen Toyota Sequoia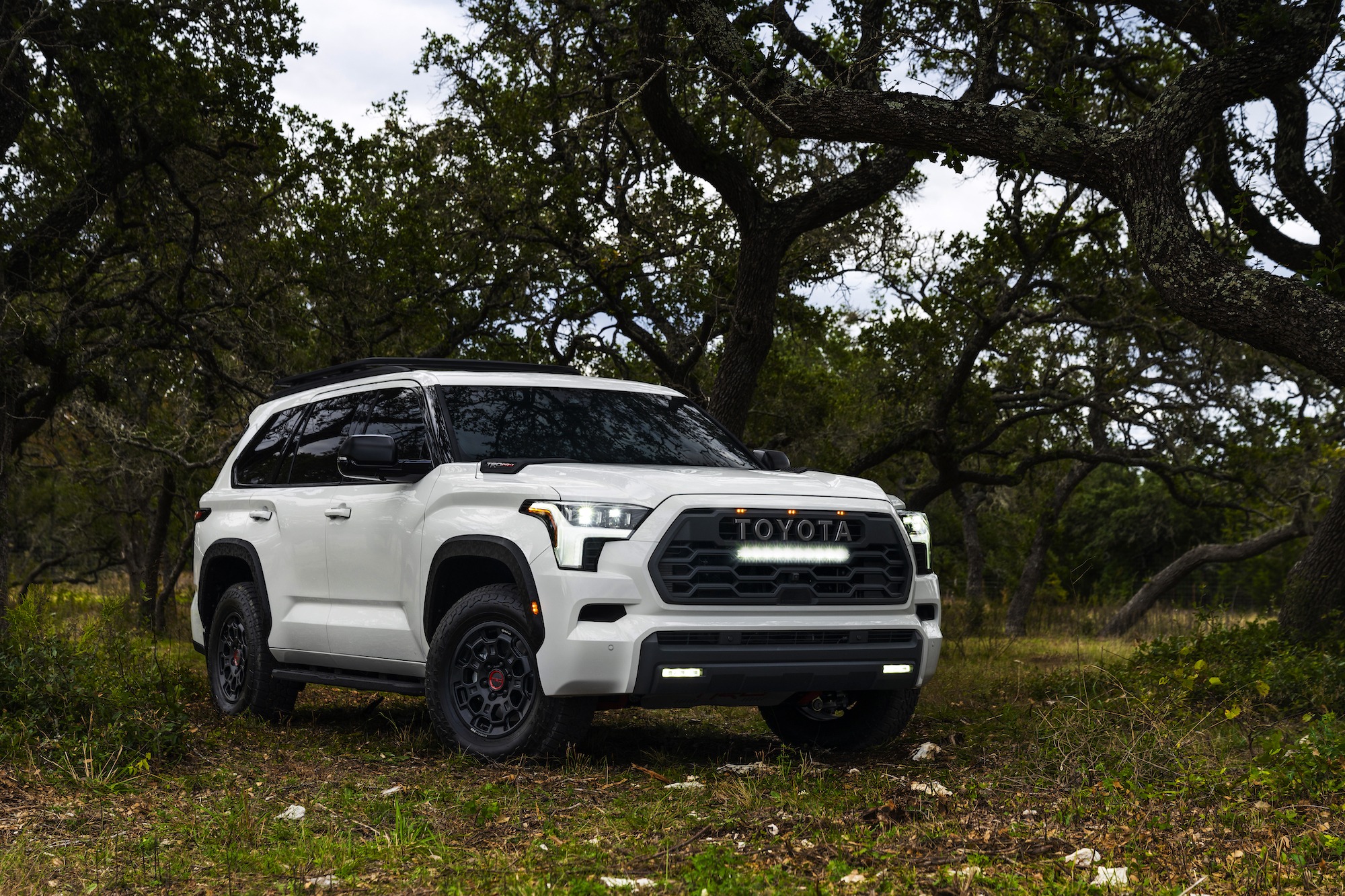 Here's another shocker for you folks: I haven't driven the new Sequoia either. But I do own the new Tundra, which is the Sequoia's SUV brother. So I have a pretty good sense of how it performs. That said, the Sequoia comes exclusively with Toyota's new i-FORCE Max hybrid powertrain and puts out 437 hp and 583 torques. That makes it a quick full-size SUV.
Add to the fact that Sequoia can be optioned for the first time with a rear locker with the TRD Off-Road package and is also offered in the TRD Pro trim makes it a very compelling overlanding platform indeed.
Although Sequoia shares its underpinnings with the Land Cruiser 300 Series and the Lexus LX 600, it's longer than both of those vehicles. That's because it has a third row. Having a longer body and a greater wheelbase can cause clearance issues off road. Thankfully, Toyota offers a lift kit from its dealers now, which lifts the rig by at least 2.5 inches. This should allow owners to fit 35-inch tires, adding a nice bit of additional ground clearance beneath the truck.
With a huge roof, Sequoia has room for a shorter rooftop tent and leaves space for additional gear. And with the third-row down or removed, there should be ample space for additional storage or something like a Goose Gear Ultimate Kitchen back there.
I am excited to see what you overlanders do with the new Sequoia.
What Makes a Good Overlanding Rig
In addition to those picks, let me further explain what criteria make for a good overlanding rig.
I realized the other day that the vehicle shopping advice I give to most people (commuters, etc.) is nearly the opposite of what I recommend for overlanders.
Tom and Ray Magliozzi of NPR's "Car Talk" used to recommend people buy a vehicle to suit their daily needs, not their annual ski trip. They smartly posited that you don't need a 4×4 to drive to the store every day. For the three days a year that you need a 4×4, you can go rent one. The rest of the time, you might as well drive a small, comfortable, and fuel-efficient car.
They were right, and I crib this wisdom when leading friends and family toward their next vehicle purchase. However, I throw that right out the window when it comes to overlanding rigs. That's because overland rigs need to be everything all the time. Not least of which because you can't wisely rent a vehicle and use it for an overland journey. Sure, you can, but I don't recommend it for a whole host of reasons.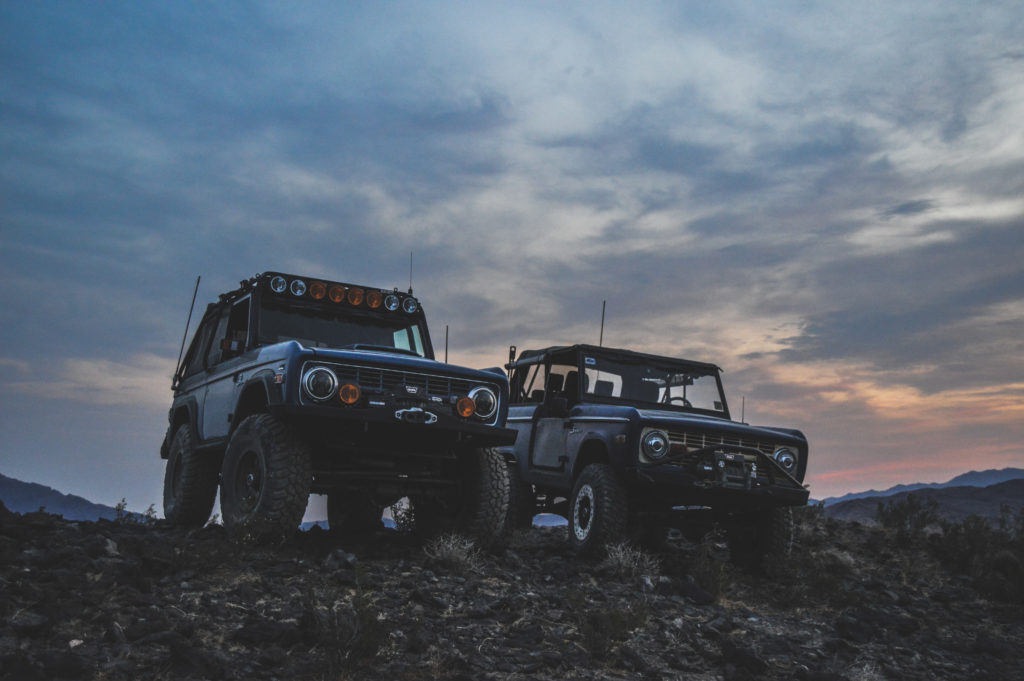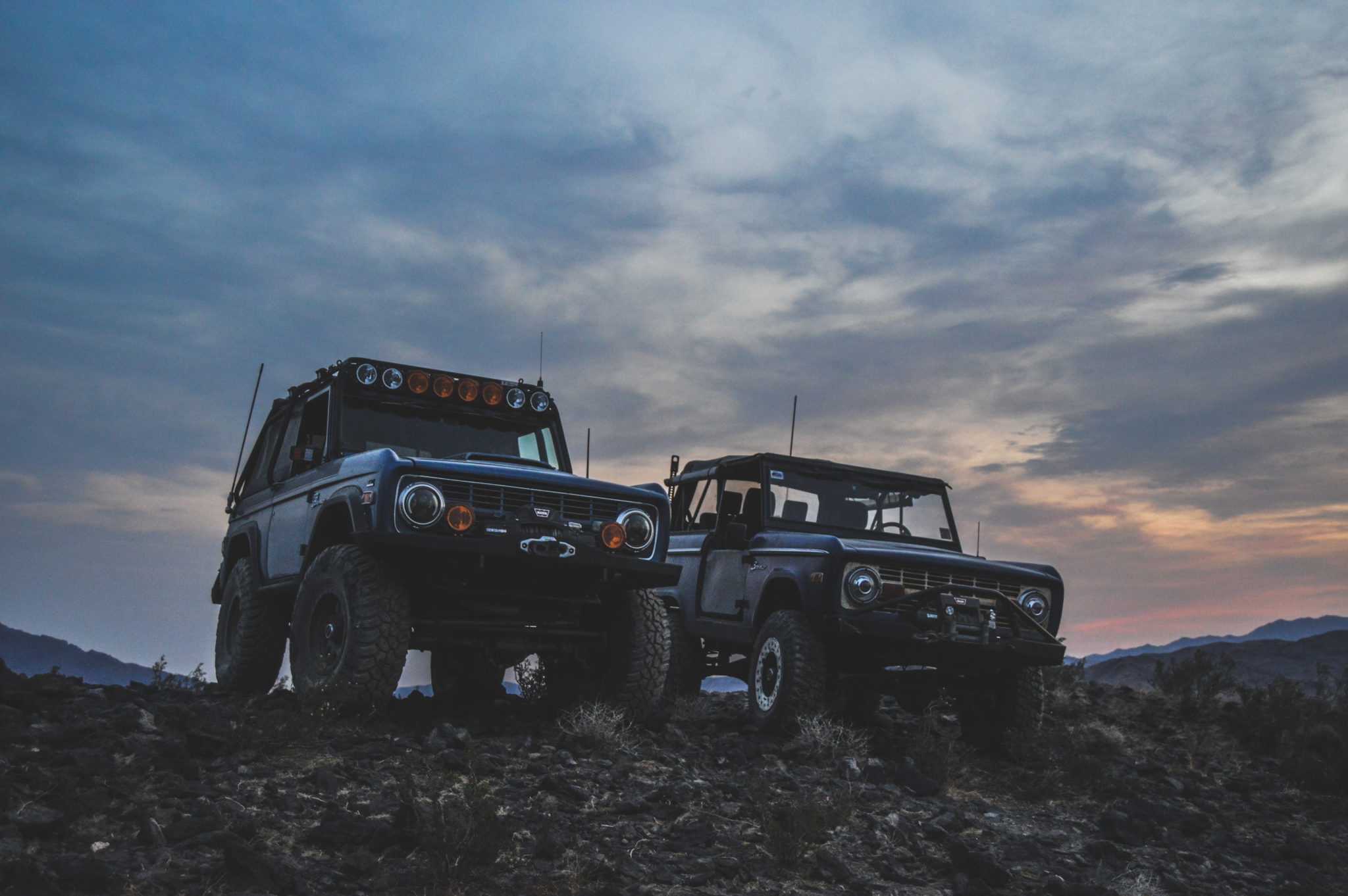 You need your overland rig, which will likely also be your daily driver, to be great on the highway for your commute as well as for your overland journeys (you won't be off-road 100% of the time, sorry) as well as capable on the trail.
I lay all of this out because I don't want anyone to conflate overland rig must-haves with any other vehicle shopping. It simply doesn't apply. That said, let's go nuts.
Payload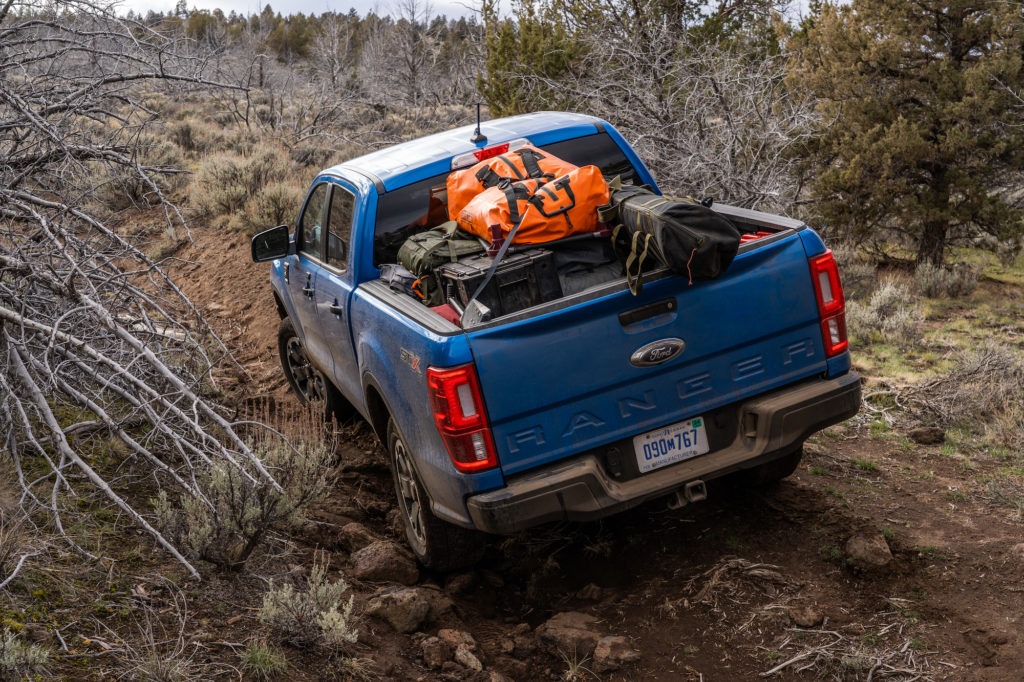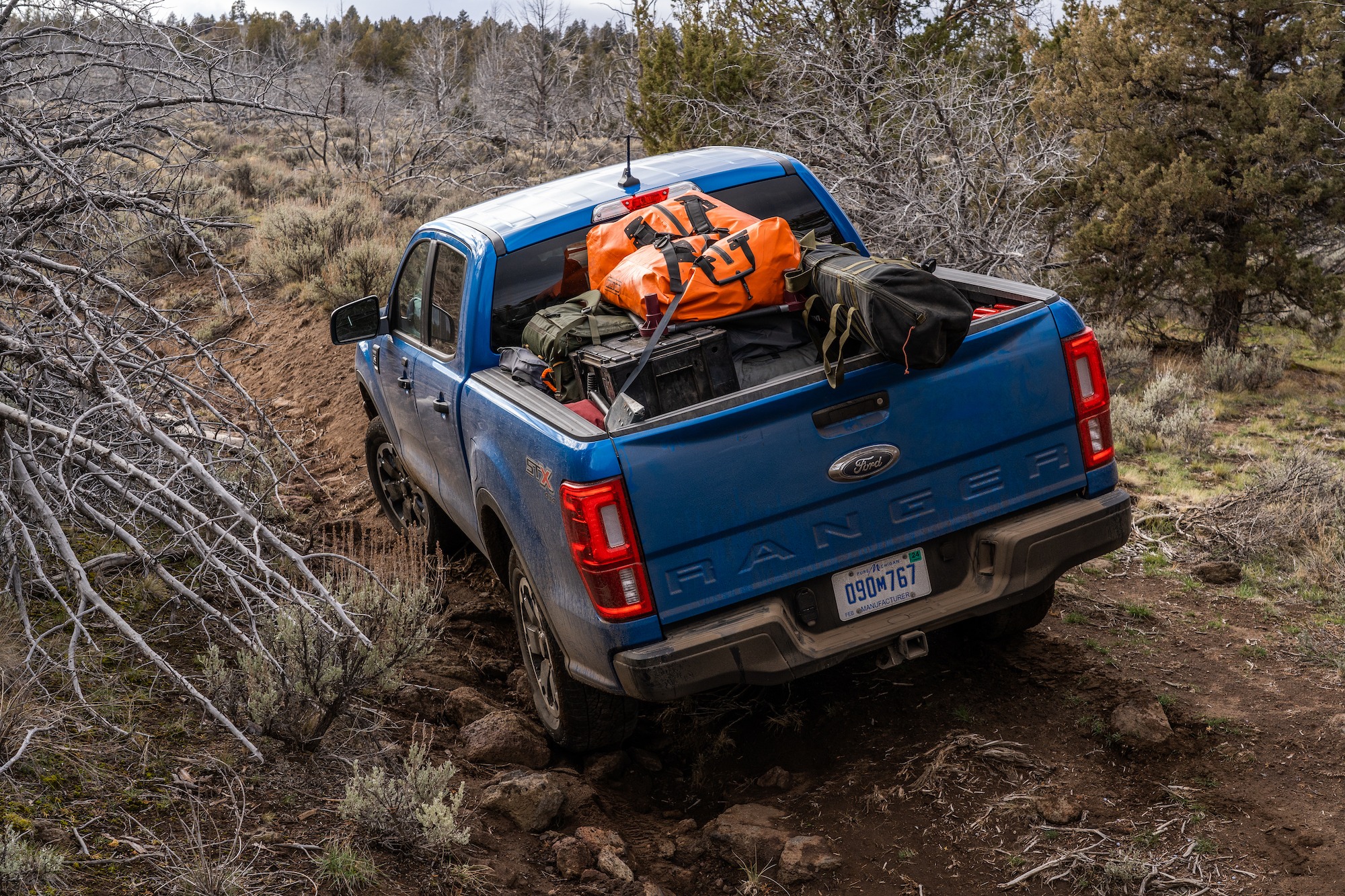 Payload capacity, for my money, is the preeminent spec you need to consider when shopping for an overlanding rig. You might not always need a ton of payload, but there will be times that you will. And in those instances you'll be glad you have as much as you can get.
It might surprise you, but payload capacity can vary widely in a vehicle class, size, and even model range. For example, the mid-size 2021 Ford Ranger has a payload capacity range from 1,609 to 1,905 pounds. A full-size 2021 Nissan Titan's payload capacity is mere 1,333 to 1,699 lbs. However, the 2021 Land Rover Defender 110 mid-size SUV, with unibody construction, has a payload capacity of 1,670 to 1,942 lbs.
I compare these to remind you that just because a vehicle is big or a ladder-frame pickup doesn't mean it's naturally brawnier than something smaller or more luxurious. Don't take for granted vehicle payload. Do your research and make sure what you're getting suits your purposes.
Fuel economy & power output
Historically, in order to have efficiency or power, you need to sacrifice the other. There are exceptions to this rule, however. Take my 1992 Toyota Land Cruiser FJ80 — it's neither powerful nor efficient. Nevertheless, it still might be one of the G.O.A.T. overland rigs.
On the flip side, there's the 2021 Ford Ranger. It's quick and fuel efficient. The Ranger returned 21 miles per gallon for me on a recent overlanding test trip. And it has an enviable payload capacity, too.
I point this out because, if you're truly going on long-term and remote overland adventures, being able to go as far as you can on the fuel you have on board is essential. I don't mean it's just essential for your fun; it's also essential for your safety. You never know what you'll encounter, and you'll want fuel reserves — at least enough to get you back to safety.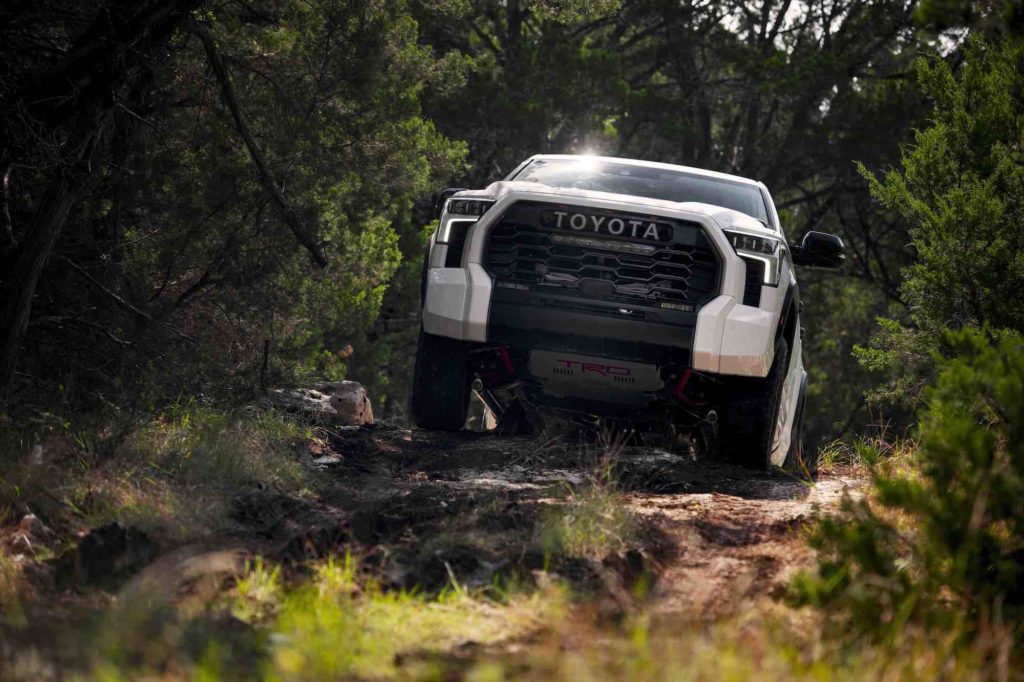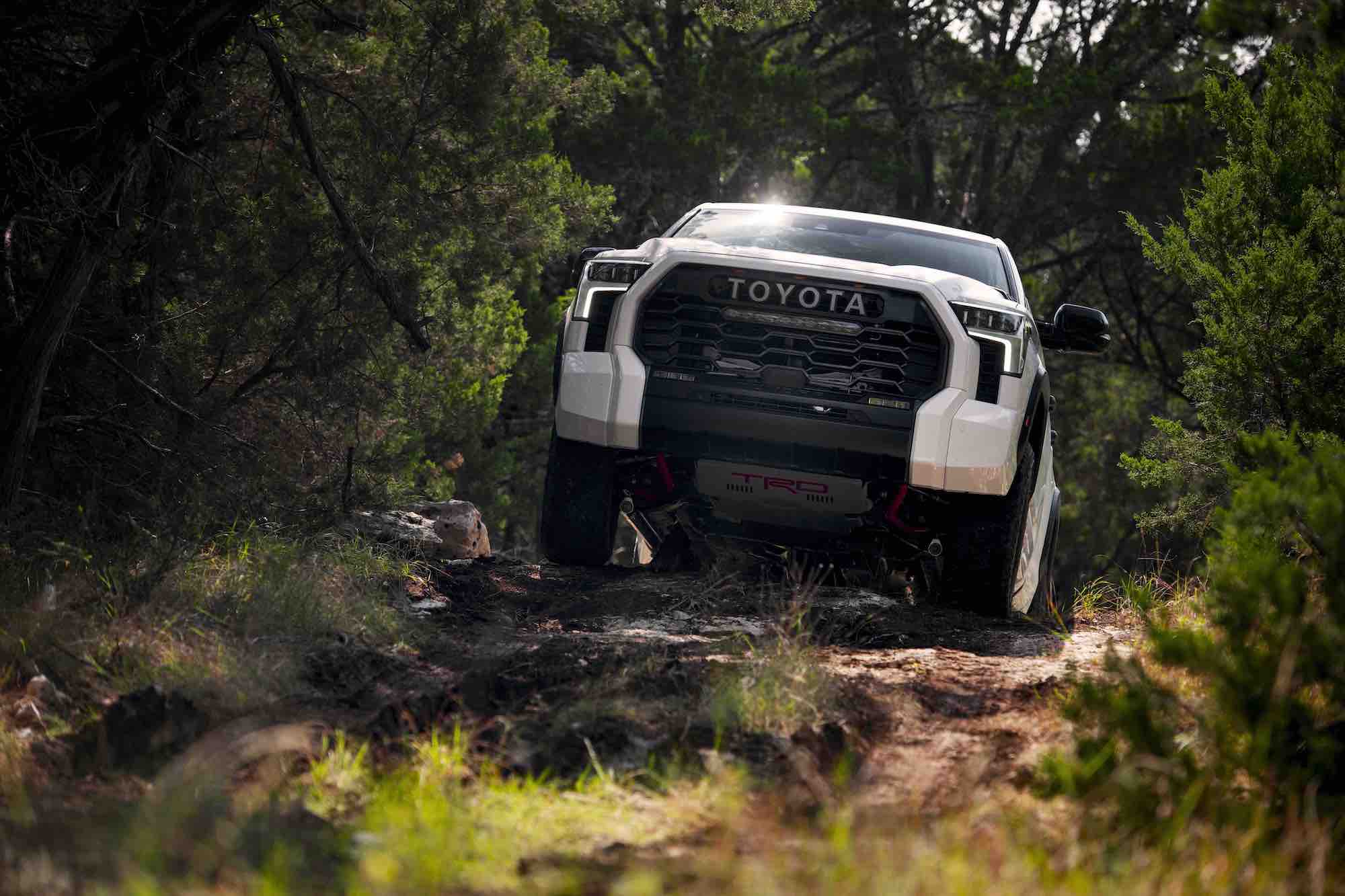 Even if the rig you're getting isn't miserly with fuel, consider its range on a single tank. The new 2022 Toyota Tundra has an average fuel economy rating of 20 MPG and can be equipped with a 33-gallon fuel tank. It might not be the most efficient, but it'll certainly go pretty far on a single tank — maybe even far enough to allow its owners to leave the jerry cans in their garage.
To that end, let's say you pick something with a smaller tank and lower fuel economy. Are there ways to bring along extra fuel? Can you strap some to the roof rack, rear bumper, or in the bed? Consider all options that will enable you to extend your fuel range.
Size and footprint
Some people are overly obsessed with vehicle width — at least from where I sit.
Most of my buddies here in the Pacific Northwest are convinced — convinced — a full-size truck couldn't handle most of the narrow tracks we traverse. I plainly disagree.
My 2020 Jeep Gladiator with aftermarket wheels with a wider offset had a track width of 82 inches. Even the full-size half-ton RAM 2500 has a 79.5-inch body width and a 68.7-inch track width. If my Gladiator could fit, the RAM would fit.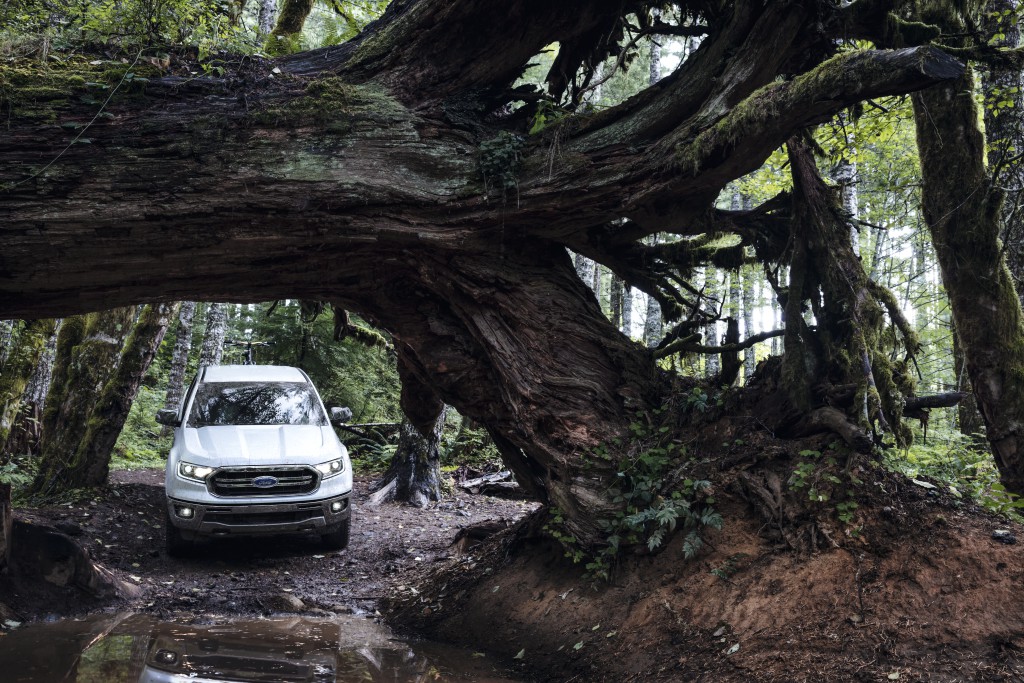 At the same time, my Jeep was wide, but the body wasn't. That meant my passengers and I were crammed into a smaller space. Meanwhile, I had to thread the needle with my rig due to its wide fenders and tires.
All of this is to encourage you not to be too afraid of size. A lot of overlanders are transitioning from mid- to full-size trucks. There are tons of reasons why. But take their lead as an example that, if you drive smart, you don't need to feel hamstrung by your rig's overall size.
Of course, drive to your ability. Know your rig, etc. I am just saying that you shouldn't be afraid to get the rig you want, even if it's a big boy.
Driveability
Like I touched on in the preamble, an overland rig has to be nice to drive more than just on the trail. It's got to be a joy to drive on the pavement, too. Sometimes you're going to log 12 hours on tarmac between trails. So, you better not want to pull your hair out when you're on the freeway.
As a good rule of thumb, vehicles with independent front suspension (IFS) will be more compliant on the highway than a vehicle with a live (or solid) front axle. On the flip side, the live solid front axle may be more stout and offer better articulation on the trail. But take the axle and suspension style into consideration when you're shopping for an overlanding rig.
The same goes for mud-terrain (M/T) tires versus all-terrain (A/T). All-terrain will drive more smoothly and be less noisy on the highway. In some cases, A/Ts may be better in snow than M/Ts, too. I once had a friend say, "I've never had M/Ts and wish I had A/Ts. But I've had A/Ts and wished I had M/Ts."
I sure have, though — on the highway. Especially if you step up to 35s and above, M/Ts will wander and howl at 70 MPH so much that you might regret getting into overlanding at all.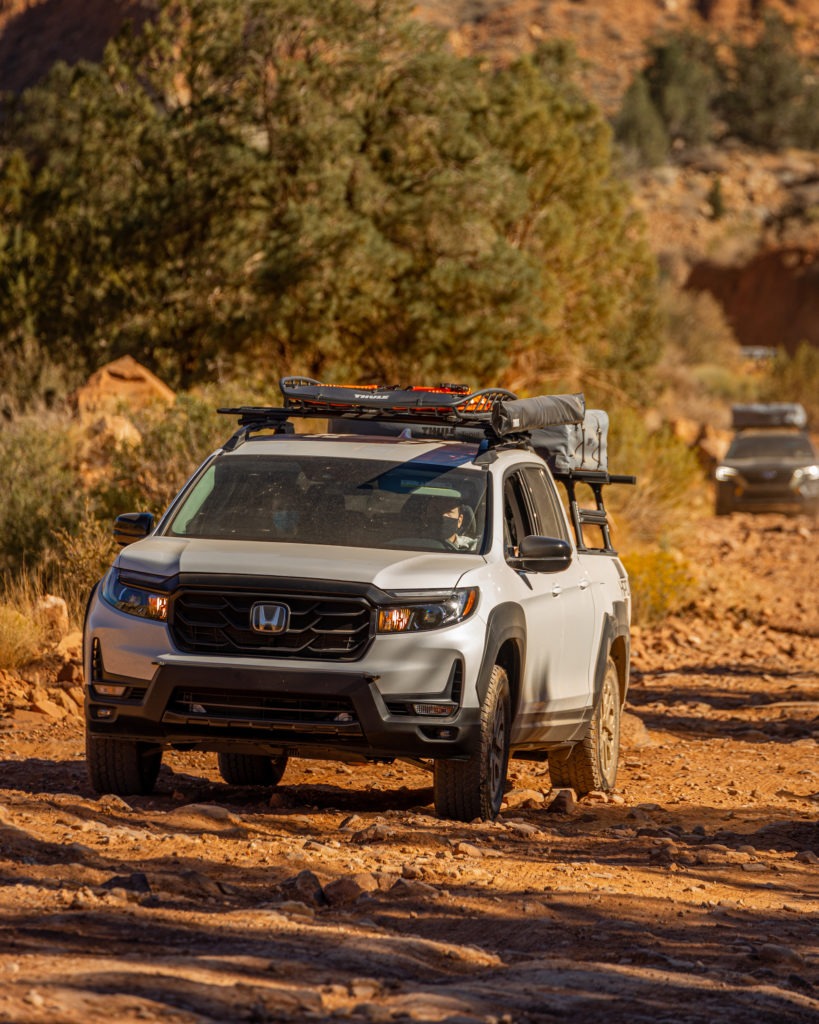 Don't get caught up in buying something like tires simply for their ultimate capability. Let the actual, realistic capability you need be the driving factor in your purchase decision. Base vehicle, planned mods, the terrain you're most likely going to encounter, and your personal resilience for non-compliant road manners and noise, vibration, and harshness (NVH) play into your shopping considerations first and foremost.
Capability
Did I intentionally put driveability ahead of capability? You bet. You can modify a vehicle into and out of both categories while trying to achieve the other. Moreover, some of the items I touched on in drivability lead into capability.
That's because you may well sacrifice some capability for driveability (I recommend it). However, you can make up for it in other ways.
A brand-new IFS mid-size pickup will likely never be as capable as a built Land Cruiser 80 Series. But 99% of the time, that modern pickup will be way nicer to live with.
Does that ultimately matter? Maybe not. Get a winch, some traction boards, know how to use your rig's traction control system, drive slow and smart, and you will likely be fine.
Most of the time, precision driving will overcome mechanical capabilities. For prime example, watch Graham Jackson pilot Overland Expo's 2021 Ultimate Overland Build up Colorado's Red Cone trail. He makes it look easy.
Yes, the rig is highly modified and capable from the factory. But I've seen tougher, fancier rigs absolutely fail on that Red Cone. Meanwhile, Graham's calm demeanor and expert driving lines make the infamous trail look easy.
Graham's Red Cone performance should underscore for you that driving skill outweighs vehicle capabilities. Rather than throw tens of thousands of dollars modifying the hell out of your vehicle in the aims of improving its capabilities, spend some time and money at an Overland Expo learning overlanding skills — heck, maybe even from Graham himself.
Reliability
Not for nothing, but reliability is important. So too is parts accessibility.
Sure, Japanese Domestic Market (JDM) vans are sweet to look at. But even before the pandemic supply chain constraints, replacement parts (that you don't have on hand) are two or more weeks away. And that's if you're near a city. In the backcountry, you better hope you know how to whittle a water pump for a 1992 diesel Mitsubishi.
Follow my drift? Just because something is ostensibly reliable, like a Mitsubishi, means that it's a dependable vehicle in the real world.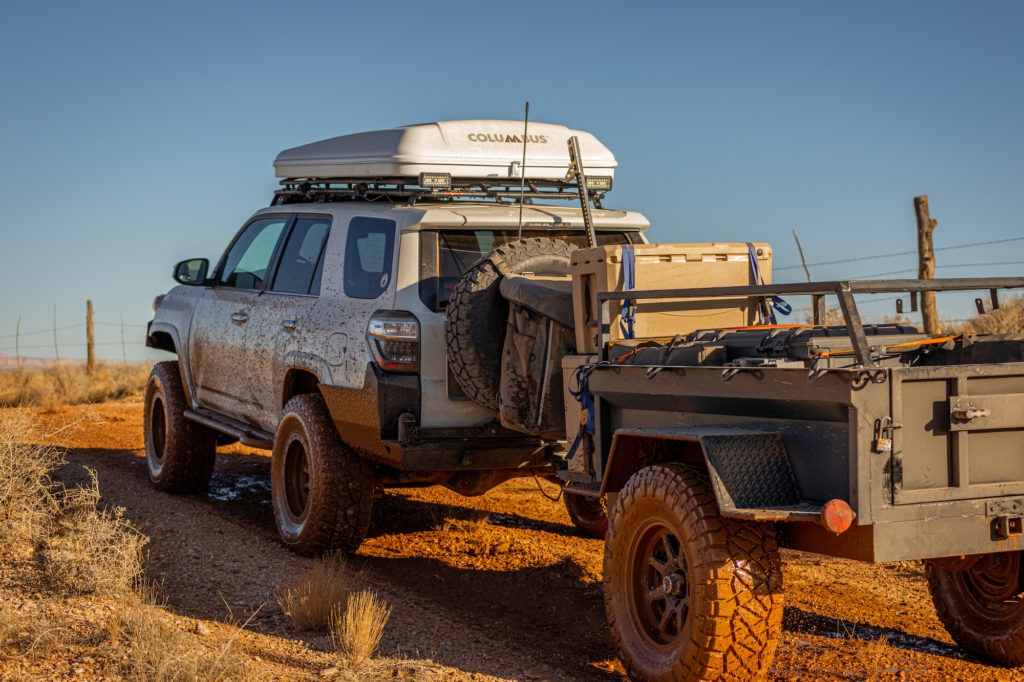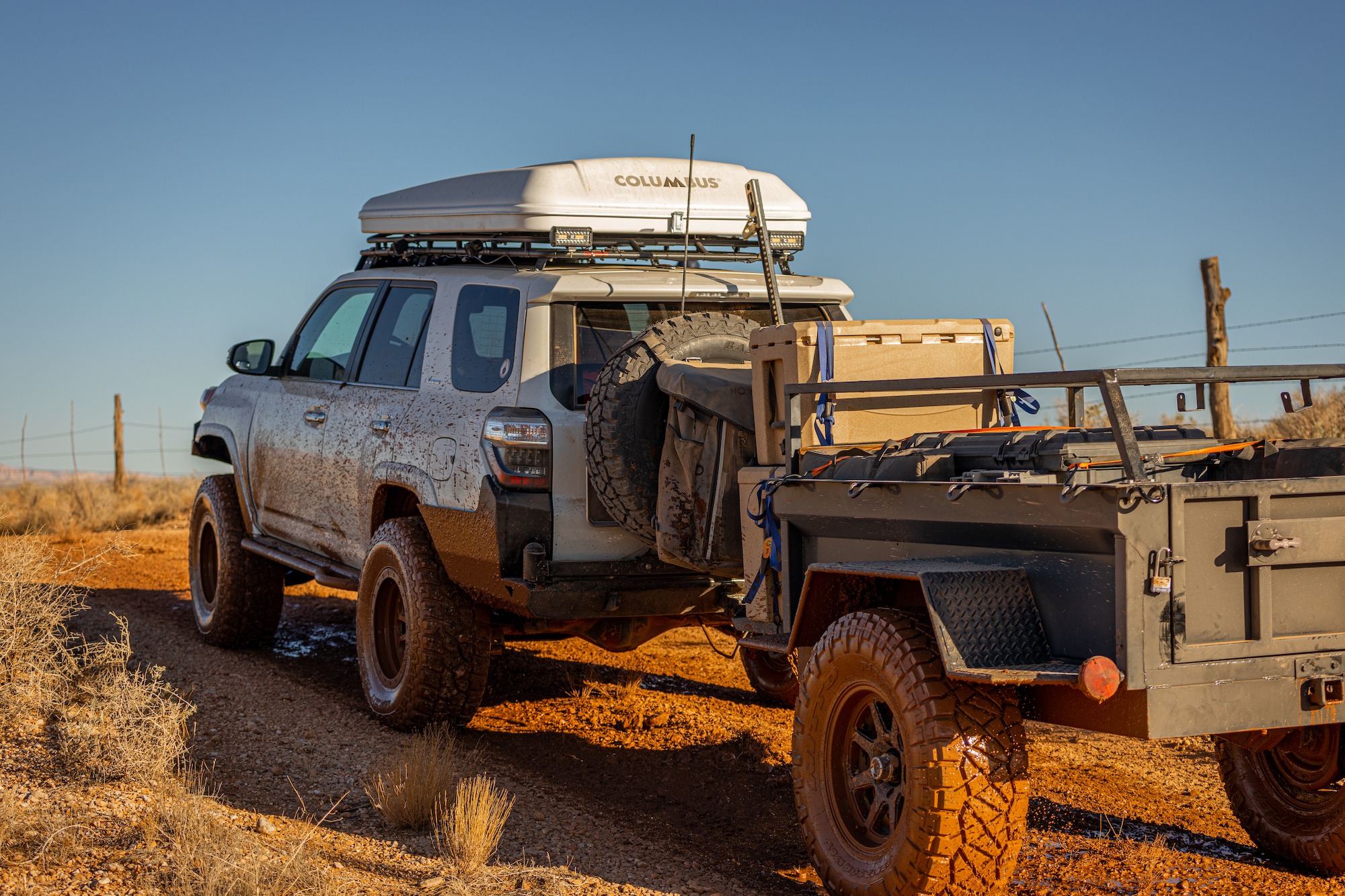 Generally, American trucks will have abundant and inexpensive parts available virtually throughout North America. Parts for American-assembled Japanese vehicles will have good parts availability, too, but they'll be more expensive. Land Rover parts are hit or miss. First-generation Defender parts are quickly and inexpensively flown in from England. However, Discovery 1 parts are hard to come by.
Just because you're getting a Tacoma doesn't mean it's reliable. The most failure-prone vehicle I've seen on my overlanding trips were on my friends' Tacomas. Maybe those were due to driver errors and not design failures. I can't say for sure.
Like with every category on this list, don't rely on assumptions. Anecdotal evidence — even the one I just shared here about break-y Tacos — shouldn't sway you. Look at historical and empirical data, like that from Consumer Reports, for your informed buying decisions.
No matter what you buy, you should know how to turn a wrench. That's because even the most reliable and durable vehicles will require some trailside repairs now and again.
Affordability
Last but not least, we have your budgetary concerns. Hopefully, the amount you can afford to spend will shape this entire process — before and during — your shopping process. But I had to throw it in there just in case.
Make sure you can afford not just the rig's purchase price but the necessary modifications you'll make before you begin overlanding as well as the repair costs (there will be some, no matter what you get) and the fuel.
You can overland in a wide variety of rigs and vehicle types and generations. For novice overlanders, we won't recommend anything older than 15 years. Safety technology, build quality, and parts availability has changed a lot since 2006. So, you're well served to aim for rigs 2006 and newer.
Beyond that, let the sky be the limit. That is, so long as you know what you're getting into.