In America, few vehicle brands are as quite as synonymous with overlanding as Jeep. And there's good reason for that. Jeeps (well, most) are Trail Rated from the factory with solid axles (on Wrangler and Gladiator) and available electronic-locking differentials. Plus, Jeep sells tons of vehicles, making parts readily available and relatively inexpensive. These facts, paired with their powerful and reliable powertrains, make Jeeps great platforms for overlanding. They're tough, ubiquitous, and accessible.
Deciding you want to try overlanding with a Jeep is the easy part, though. Now the hard part starts: Deciding which Jeep is best for overlanding.
We hate to break it to you, but no single Jeep is best for overlanding. That's because the right answer depends on you, your budget, the part of the country you live in, how often you'll overland and for how long. That said, we have some recommendations that might help you steer toward the best Jeep for overlanding for you.
Best Jeep Models
Jeep has a long history of making 4×4 vehicles that could make for great overland vehicles, from the 1940s Willys Jeep to the 1980s Grand Wagoneers. However, we don't feel comfortable recommending a Jeep more than 15 years old as an overland rig. That's for a whole host of reasons, including reliability, safey, parts availability, and aftermarket parts support.
Within the 2007 to 2022 range, there are plenty of great Jeeps to pick from, including two generations of Wrangler, JK and the newer JL, two generations of Grand Cherokee, WK and WK2, and the all-new JT Gladiator. Wrangler, Gladiator, and Grand Cherokee would all make for great overland Jeeps.
Let's quickly look at what about each makes them a great overlanding vehicle platform.
Wrangler JK
Running from 2007 to 2018, the JK platform Wrangler is perhaps the most common Jeep overlanding vehicle. That's because JKs incredibly capable off the showroom floor and enjoy tons of aftermarket support.
Wranglers are first and foremost built for off-roading. That means you don't need to modify them much for long off-the-grid excursions; they can handle trails out of the box.
Like all Wranglers before it, the JK features solid axles in the front and rear. Uprated Rubicon models include locking differentials from the factory, which aid their capability. And you can find them with automatic or manual transmissions.
The early JKs were powered by an anemic 3.8-liter V6 backed by a six-speed manual or a four-speed automatic transmission. The 2012 model year brought with it the 3.6-liter Pentastar V6 engine that powers Wranglers to this day. From 2012 to 2017, the Pentastar was backed by either a six-speed manual or five-speed auto. If you can afford it, we recommend the 2012 and on JK expressly because of the Pentastar V6.
No matter whether you pick the two-door JK model or the four-door JKU, you'll have plenty of options for outfitting your Jeep for overlanding.
Here are some of our favorite add-ons for a JK overland rig.
WARN ZEON 8-S Winch
Overlanding is all about self-sufficiency. Nothing makes you more self-sufficient than a winch for personal recovery. We like the WARN ZEON 8-S winch for its 8,000-pound rating and synthetic rope.
ARB DELUXE COMBINATION FRONT BULL BAR BUMPER
You have to protect the front of your Jeep. Might as well get a bumper that will protect the grille and give the opportunity to mount a winch and auxiliary driving lights like with the ARB Deluxe Front Bull Bar Bumper. If you don't know, the ARB brand is proven and respected Australian brand known for build quality and durability.
TeraFlex 3″ Sport S/T3 Suspension System with 3.3 Falcon Shocks
Ground clearance is king when you're on primitive roads. Plus, when you lift your vehicle, you can fit bigger tires underneath it, further elevating it off the trail. It's a win-win. But you don't want to sacrifice ride quality with your lift. That's why we like the TeraFlex 3″ Sport S/T3 Suspension System with 3.3 Falcon Shocks. It has a good ride quality with room for lots of articulation.
Wrangler JL
For the 2018 model year, Jeep introduced the new Wrangler JL. This is the current generation of Wrangler. Like the JK before it, JL comes standard with the 285-horsepower Pentastar V6 engine. However, buyers can now choose a turbocharged 2.0-liter four-cylinder, 3.0-liter EcoDiesel V6 engine, and a new plug-in hybrid version called the Wrangler 4xe.
JL was a big step up for Wrangler. It includes more luxurious interior options, more technology (both in terms of safety and infotainment), as well as improved performance thanks to the new eight-speed automatic transmission and upgraded off-road systems. For example, the new Rubicon includes a Off-Road+ function.
Wrangler JL is outnumbered by the JK, but four-door JLU has replaced JK as the go-to overlanding Jeep of choice expressly because it's simply nicer to live with day to day but at the same time enjoys a huge aftermarket support system. That means you can have a nicer, newer, and more capable Wrangler with just as much gear to pick from.
Here are some of our favorite add-ons for a JL overland rig.
Fishbone Step Sliders
Whether you're rock crawling or needing to reach stuff up on your Wrangler's roof, you'll want some sliders. We really like the Fishbone Step Sliders because they're easy to install, beefy, and powder coated. That means they'll look good, be easy to step on, protect your rig, and built to last.
Black Rhino Armory Wheel
Let's be honest, your stock wheels could use an upgrade. When upgrading, you want lighter and stronger wheels. Look no further than the Black Rhino Armory Wheel. They're made of aluminum, so they're lightweight. But they're super strong. And let's not forget how awesome they are to look at. And you can add bead locking to ensure your tire comes off, too.
LOD JL Destroyer Full-Width Rear Bumper
You'll want to upgrade to a stronger rear bumper, if you're hitting any serious trails. We like the LOD JL Destroyer Full-Width Rear Bumper. Sure, your Wrangler includes a rear full-size spare on the rear tailgate. But putting it on a bumper-mounted swing-arm gets it off the rear door. Plus, the swing-out will allow you to add other goodies, like a stove table or cutting board. So, it's a win-win.
Gladiator JT
Splitting off from the Wrangler line, for the first time ever, is the new Gladiator with the chassis code JT. It's based upon the JL but adds a long-desired pickup truck bed to the back as well as an improved base towing capacity. The JL, for example, can only tow up to 3,500 pounds. The JT, by comparison, can tow up to 7,500 pounds.
Since many overlanders load their rigs with gear and then also tow adventure trailers, the truck bed and the more-than-doubled tow rating really adds a lot of benefits to the already compelling JL platform. Like the JL, the JT is offered in Pentastar V6 or the EcoDiesel V6, which produces a whopping 442 foot-pounds of torque.
The wheelbase of the Gladiator is longer than the Wrangler, giving it a less desirable breakover angle, which makes it a bit trickier to use off-road. However, if you're not an extreme off-roader, the Gladiator should be plenty capable despite its geometrical setbacks.
Since the Gladiator JT is both a Wrangler (kind of) and a pickup truck, it has a whole host of cool overland gear options. Here are a few of our favorites.
ARB Bondi Deluxe Front Bumper
Australia is the home of overlanding. So why not rock a look straight out of the outback? The ARB Bondi Deluxe Front Bumper gives your Gladiator a distinctively Aussie look and toughness to match. One thing we like about this bumper is that it utilizes the JT's stock LED fog lights in addition to giving you space for auxiliary driving lights.
Fab Fours Overland Rack
You're overlanding your Gladiator, right? So go with the bed rack that has overland in its name: the Fab Fours Overland Rack. It's built with space for lights and other essential gear plus a meaty platform for even the heftiest rooftop tents.
Road Armor Stealth Rear Winch Bumper
You never plan to need a rear-mounted winch. But, when you need one, you're incredibly glad you have one. Protect yourself from any event with the Road Armor Stealth Rear Winch Bumper that enables you to stylishly add a winch to your rear bumper.
Grand Cherokee WK
The Grand Cherokee WK ran from 2005 to 2010. This generation of Grand Cherokee jettisoned the solid axle suspension of previous generations in exchange for an independent front suspension. This greatly improved ride quality. It did this because it is based upon a previous generation of Mercedes-Benz ML-Class SUV.
Never mind its Teutonic origins, this Grand Cherokee is all Jeep. By that we mean, it's capable off-road. But, since it's a Grand Cherokee, it's comfortable, too. The Grand Cherokee is so overland ready that Jeep even named a trim level "Overland" — so, there's no question whether the WK can handle overlanding.
Offered with a whole host of different engines, from V6s to V8s, there is a WK for most overlanders. Just watch out for those pesky rear-wheel drive models. Unless you're really daring and think you can manage the trail with two-wheel drive, you'll want to make sure to pick up one of the venerable 4×4 models.
Here is some of our favorite Grand Cherokee WK overland gear:
ARB Front Deluxe Bull Bar Bumper with Winch Mount
You pretty much have to run a winch on one of these Grand Cherokee WKs. So, if you are going to, might as well mount it in one of the best-looking front bumpers for it ARB Front Deluxe Bull Bar Bumper with Winch Mount. It gives the front of your Grand Cherokee full protection with full-width bull bars and room for fog lights. It comes in black, but you can paint it to match your rig, if you want.
Rough Country 2.5″ Jeep Coil Spring Lift Kit
Get enough lift on your WK to stuff 32.5-inch tires underneath it with this Rough Country 2.5-inch lift kit. Unlike most other WK lifts, this one from Rough Country isn't a spring spacer kit. It actually features front and rear coils with shocks designed for off-road or overland travel. There are lots of caveats for this kit, though; it won't fit V8 models, for example. However, if you have V6-powered WK, this is a great option.
Warn ZEON Platinum 10-S
Now that you're sold on a front bumper that accepts a winch, get one that can actually pull your truck out of the mud. The WARN ZEON Platinum 10-S winch with 10,000 pounds of yanking capacity should do the trick. Plus, this is the Platinum model. So it comes with a wireless remote, giving you even more mobility on the trail.
Grand Cherokee WK2
Jeep knew it had a good thing on its hands with the WK. So, the brand simply improved upon the package with refinements to the interior, powertrain, technology, and capabilities and created the WK2. As this is written, the WK2 is the current generation of Grand Cherokee, running from 2011 to 2021.
Like the Wrangler JL, the WK2 is offered with a whole host of great engines, including the Pentastar V6, EcoDiesel V6, the Hemi V8, and even the Hellcat V8. Though, we don't recommend the 707-horsepower Hellcat-powered Grand Cherokee TrackHawk for your overland vehicle.
If you do get a Grand Cherokee for an overlanding rig, we recommend you get one with the Quadra-Drive II 4×4 System with Rear Electronic Limited-Slip Differential. This is the most capable version of Jeep's four-wheel drive systems for the Grand Cherokee and therefore your best bet when tackling remote trails and regions.
Be forewarned that the Grand Cherokee — while capable for a mid-size SUV — is not as capable as a Wrangler. You're definitely trading on-road drivability for off-road prowess. However, if you're more of a casual overlander, the WK or WK2 might be a great option.
Here is some of our favorite Grand Cherokee WK overland gear:
ARB Front Deluxe Bull Bar Bumper with Winch Mount
Are you seeing a pattern here? We really like ARB bumpers — especially on Jeeps. The ARB Front Deluxe Bull Bar Winch Mount Bumper for WK2 is a great option. It's tough. It's good looking. And it offers accessorization. Plus, like the other ARB bumpers, they can be easily painted to match your rig. That is, unless you like the look of a big black slab of steel hanging off the front of your nice Jeep Grand Cherokee.
ICON Vehicle Dynamics Stage 1 Suspension Systems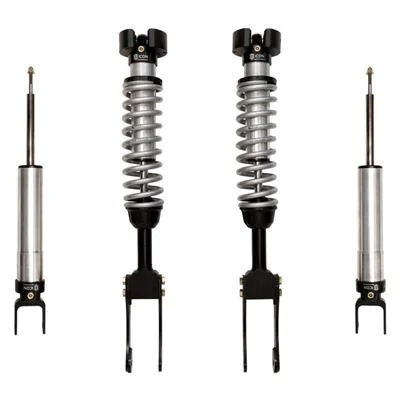 ICON Vehicle Dynamics is one of the leading names in the off-road suspension industry. With this lift kit designed expressly for your WK2 Grand Cherokee, you will ride with the confidence — and ride quality — knowing this lift was designed for your vehicle and your needs. This is a great improvement over the spacer-based lift kits available. Yes, those are a fraction of the price. However, lifts like this one from ICON was designed to both lift your rig and then handle tougher terrain.
Rhino-Rack Pioneer Platform Rack
Honestly, we recommend a roof rack for every overlander. But we didn't pick one to recommend until we got to the WK2 because they look pretty darn sweet with a rack — and it seems few people add them. We like the Rhino-Rack Pioneer Platform Rack for the WK2. It'll cover the whole roof. It's strong as the day is long. And you can add a bunch of useful accessories to it.
How Will You Use It, for How Long, and Where?
Like we discussed in the Grand Cherokee WK2 portion above, being realistic and honest about your overlanding aspirations at the outset is key. You really don't need a Wrangler or Gladiator if you're going to stick to dirt roads and more established tracks when overlanding.
To that end, if you're just going to get a new rig every year or two, does it make sense to splurge for a brand-new vehicle? Perhaps not.
Budget
Wranglers hold their value incredibly well. You could save a couple grand buying used. But are you the kind of person who values having a fresh, brand-new vehicle? If so, paying a bit more at the dealer for a new Jeep might be your best option compared to buying used from a private party (where you'll get the best price).
Usage
Usage also comes into consideration when weighing gear – a big factor in overlanding. Will you need a winch? Will you need to tow? Will you want to lift the rig? How big of tires do you want/need to run? How many people do you need to bring along on your overland journeys? These are also questions you need to ask yourself before picking a Jeep for overlanding.
For example, you can lift a Wrangler or Gladiator (and then fit larger tires underneath) much easier than you can a Grand Cherokee.
Is it more of just an adventure rig or will it be primarily a daily driver? Let's not kid ourselves, a Wrangler won't drive as nicely on the road as a Grand Cherokee will. Do you really want to sacrifice year-round drivability for a rig you only use on the trail twice a year?
Conversely, if you're overlanding more than 10 times per year, do you really want to buy a rig that might leave you wishing you'd upgraded? We don't just mean Grand Cherokee versus Wrangler. We also mean Wrangler Sport trim versus Wrangler Rubicon trim.
There are no general right and wrong considerations here. We would rather you take all factors into consideration before deciding on one Jeep over another. We all know overlanders who bought a rig, outfitted it, and wound up hating it within a year and swapped it for something else — losing thousands of dollars in the meantime. We'd hate to see you fall into that same trap.
Other Considerations
Diesel vs. Gasoline
The EcoDiesel options of the Wrangler, Gladiator, and Grand Cherokee seem like perfect overlanding choices. The 3.0-liter EcoDiesel V6 engine offers tons of torque and improved fuel efficiency over its gasoline stablemates. But if you really step back, think about it critically, and pencil it out, diesel might not make the most sense for folks.
Add the EcoDiesel to the Wrangler, for example. That engine costs an additional $4,000 over the base Pentastar V6. The Wrangler Unlimited with Pentastar has a combined fuel economy rating of 20 miles per gallon. The Wrangler Unlimited with EcoDiesel has a combined fuel economy rating of 25 mpg.
As this is written, the average price of regular gasoline is $2.18 per gallon. Meanwhile, average diesel fuel costs $2.38 per gallon. That means you'd have to drive 289,855 miles on your EcoDiesel-powered Wrangler Unlimited before the $4,000 upgrade diesel paid for itself in fuel savings. That's not adding in the costs of more — and more costly — maintenance diesel power plants require or the diesel exhaust fluid (DEF) you have to add every several thousand miles to keep the rig running.
Honestly, how many of you are really going to put 290k miles on a Wrangler? Not many, we wager.
Granted, Pentastar returns a 430-mile range on a single tank while EcoDiesel steps up to 538 miles of range per tank. So, that's a benefit to overlanding. So, too, is the 442 foot-pounds of torque the EcoDiesel puts out.
That said, low-sulfur diesel, which the EcoDiesel system requires, is virtually unattainable outside the U.S., so forget international travel (Baja trips are nixed). Even inside the U.S., diesel isn't as easy to come by as regular 87 octane gasoline.
Unless you really, really love diesel and its torque-y nature, you may be better off with a gas variant of either the Wrangler, Gladiator, or Grand Cherokees.
Jeep-Based Overlanders
With some of the basic considerations out of the way, we thought we'd reach out to some notable overlanders running Jeeps as their platforms to get their insight into why they picked a Jeep as their overland adventure rig.
Dan Grec, The Road Chose Me
Rig: 2011 Jeep Wrangler Unlimited Rubicon (JKU)
I drove my first Jeep Wrangler — a 2000 model-year two-door — 40,000 miles from the top of Alaska to the bottom of Argentina. Over two years, I explored the remote corners of 17 different countries, and the little Wrangler never had a single mechanical problem. It was the perfect vehicle for the task.
With that record, I knew a Wrangler was a great choice for an expedition platform, though I wanted more space. With that in mind I bought a 2011 Wrangler Unlimited — the four-door variant — in Rubicon trim.
After adding some creature comforts, I set out on my second major expedition and I drove that Jeep 54,000 miles right around the entire continent of Africa. Over three years I visited 35 separate African nations including Nigeria, The Congo, Sudan, Angola, Mali and many, many more. Again my Wrangler never suffered a major mechanical issue. And I continue to drive it every day.
In fact I just completed a 6,000 mile adventure into the Arctic Circle and the Jeep continues to take me on enormous adventures.
With those experiences behind me, it will be difficult not to choose another Jeep for my upcoming expeditions!
You can follow Dan's travels and adventures on Instagram at @theroadchoseme
Nick Jaynes, Overland Expo's Director of Communication
Rig: 2020 Jeep Gladiator Rubicon (JT)
The Gladiator is my first Jeep — I'd been a Toyota Land Cruiser guy for about a decade. When it came time to get a new rig this year, I ended up going with the Gladiator expressly for its pickup bed and solid front and rear axles. I was also drawn to Jeep because I knew parts would be readily available no matter where I was.
I stepped up to the Rubicon trim because I wanted the nicer leather, sound system, and triple locking differentials.
I was also enticed by the huge aftermarket support system for Wrangler and also Gladiator, which share a front end. Although it was a first model-year vehicle, 2020, I could find tons of stuff to bolt onto it right away.
I've lifted it, bolted up 37s, added a snorkel, front bumper, and winch. I added a rack over the bed on which I've put fuel and water storage, a rooftop tent, and a couple cargo boxes. In the bed, I installed a CargoGlide, too, so I can get to my stuff more easily in the bed.
12,000 miles into my Gladiator ownership, I couldn't be happier with the thing. It's comfortable, tough as hell, and even more capable.
Do I wish it drove a little better on the highway? Sure. Does its styling still embarrass me a bit? You bet. Is there another vehicle out there I would rather have than the Gladiator. Not a single on.
You can follow Nick's travels and adventures on Instagram at @nickjaynes
Phillip Trotter, Waypoint Overland
Rig: 2016 Jeep Wrangler Unlimited (JKU)
My top reasons for buying a Jeep Wrangler for overlanding came down to four categories: 1.) Small footprint. 2.) On-road capability. 3.) Serviceability. 4.) Off-road capability.
For both my off- and on-road pursuits, I wanted a vehicle that had a footprint which allowed a decent turning radius, height, and width. The Jeep's footprint allows me to park in some pretty remote places to set up camp. Off-road, I can go places that something taller, or with a longer wheelbase couldn't go, including tight switchbacks, overhanging trees, narrow mountain trails, etc. The Wrangler also encourages visiting towns and experiencing culture. That's because I can park anywhere a car can fit. I'm not prohibited from certain streets, events or venues due to size restrictions.
The on-road capability of my Wrangler allows me to drive hundreds or thousands of miles on paved roads safely and comfortably. It's a relatively safe vehicle with good driving characteristics on the highway. I wanted a vehicle that I had confidence in driving on the highway during bad weather. The four-wheel drive system works well in snowy situations, too.
Eventually, something is going to go wrong. So, it was very important to me that Jeep parts are available pretty much anywhere. I didn't want a vehicle that could possibly have me waiting days for parts on a very simple repair. That could totally ruin a trip.
Another plus for Jeep serviceability is the vast network of knowledgeable amateur and professional mechanics. You can always find someone to advise you — or tinker — on your rig. Also, due to the variety of aftermarket Jeep vendors that cater to the Jeep brand, I can customize my vehicle to the exact specification for my journey. I'm able to transform my rig for mountains, beach, or desert lifestyles.
Last but not least, the number-one reason for choosing a Jeep Wrangler as my overlanding platform was that I wanted a vehicle that could handle most off-road situations in stock form. And, with a few upgrades, it could become a highly capable rig with few, if any, changes the suspension's geometry.
The bottom line: I wanted a rig that could take me everywhere. The Jeep Wrangler does that for me.
You can follow Phillip's travels and adventures on Instagram at @waypoint_overland