It's a good time to get into adventure motorcycle riding, as the market is flush with great gear, including helmets designed specifically for riders who wander off the pavement. Known as ADV, Enduro, dual-sport or hybrid helmets, they are a close cousin to the motocross helmet and typically include a top visor for blocking out the sun (truly useful). Many also allow the use of goggles for riding in dusty conditions.
They usually also include some additional comfort items not typically found with MX or dirt biking helmets, including a face shield for riding in the rain and wind and an integrated drop-down sun visor. Some even have built-in Bluetooth systems for music and phone operation while riding. Most models can be outfitted with add-on Bluetooth systems from Sena, Cardo, and others. Some may include "MIPS" (or "Mips") technology which helps reduce the chance of neck injury if the helmet rotates during a crash. Comfort and safety are key while riding on the road – and off of it.
Pro Tip
If a helmet becomes uncomfortable during an initial ride, return it immediately in the original packaging so it can be resold. For the best chance of a good fit, especially when ordering online, measure your head above your eyebrows and ears to the back of your skull for a more exact size. While helmets can range from XS (Extra Small) to XXXL (really big!), one company's Medium may be another company's Large. With more people buying online, more helmet makers are now listing more exact measured size ranges. Knowing the size of your head can better narrow down the correct size to order and avoid return hassles.
No matter which helmet you choose, all of the helmets on our list meet U.S. Department of Transportation and European Union (ECE) safety standards.
Our Favorite(s)
Bell — MX-9 Adventure Mips Dash Helmet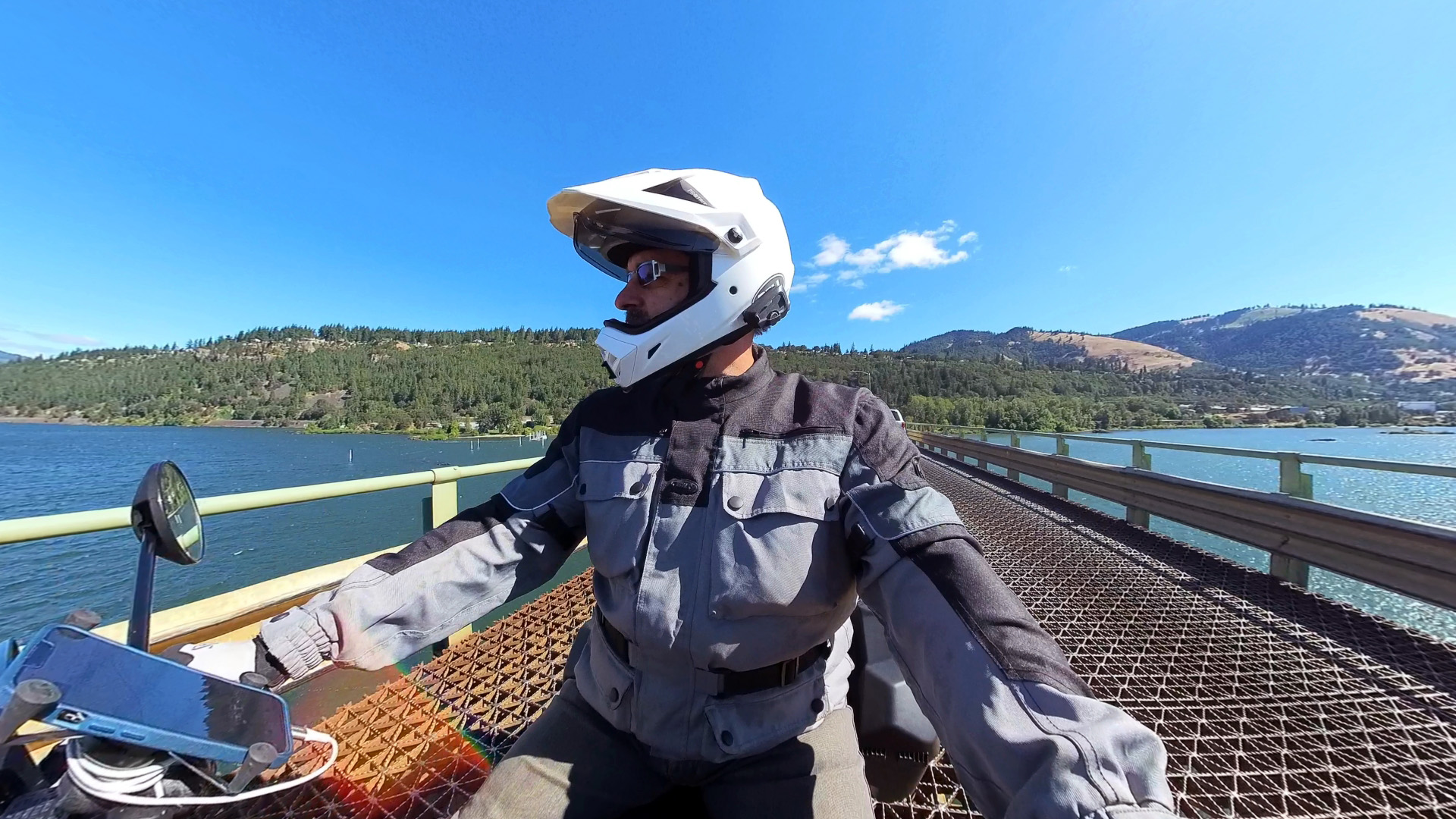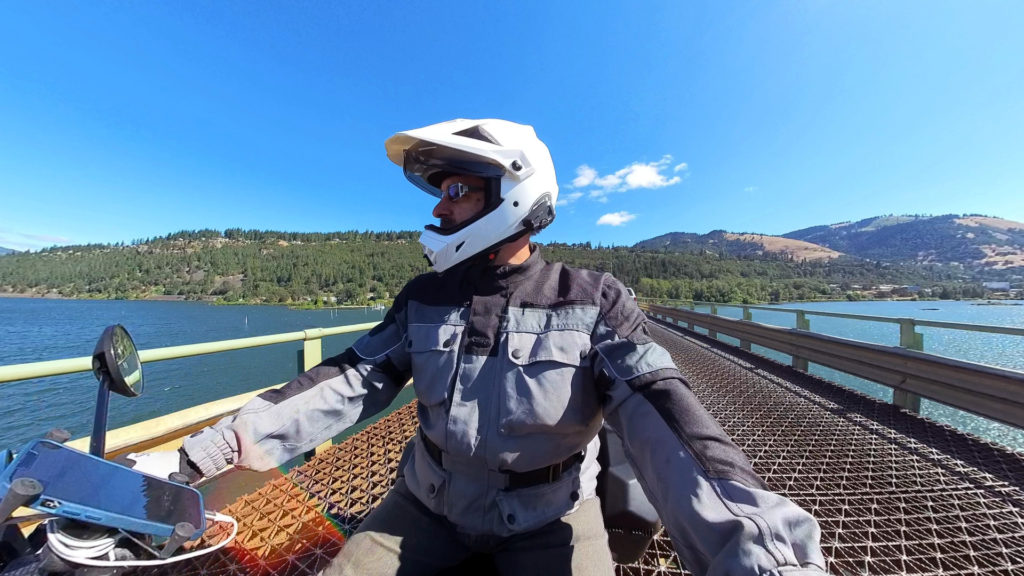 This is the latest version of Bell's very popular, very affordable, and highly-rated MX-9 Adventure helmet, a perennial rider favorite. For 2023, Bell has added the Mips safety technology layer. The helmet won't feel any different to you, but in a crash, the Mips tech can literally save your neck. Plus, it has a built-in drop-down sun visor, removable, washable padding, and space for a comms system. You can even use goggles with it. The huge price increase for the Mips protection? Yeah, it's $10 more. Worth it. Read our full review here.
MSRP: $229.00
---
Honorable Mentions
AGV — AX-9 Carbon Helmet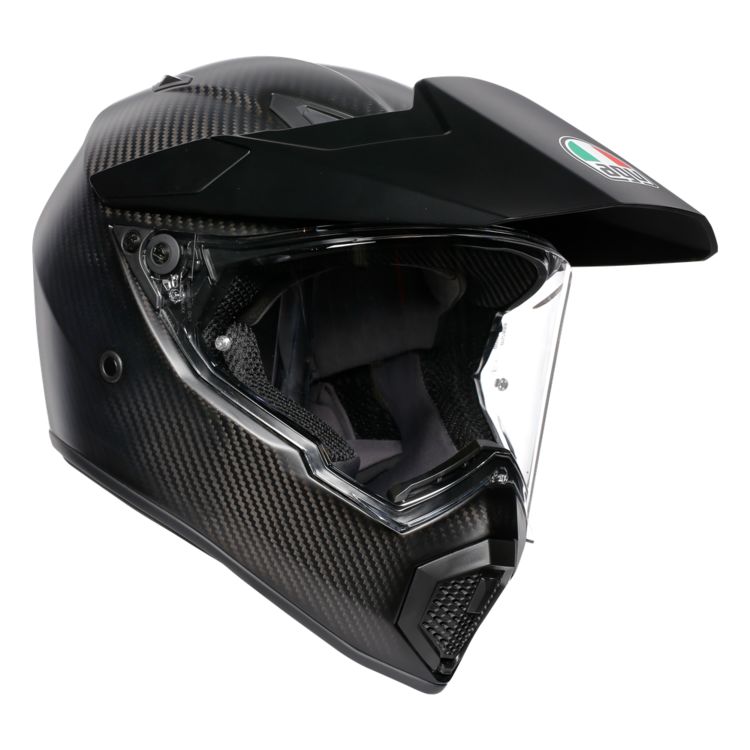 AGV is known for their great fit when it comes to helmets, and after a decade of selling the popular AX-8, the AX-9 debuted in 2018. Featuring a carbon-aramid-fiberglass composite shell, it combines toughness with low weight. The face shield is Pinlock compatible, and the adjustable top visor features better flow-through for freeway speed riding. It looks tough in carbon weave and comes in matte or glossy options.
MSRP: $714.95
Arai — XD-4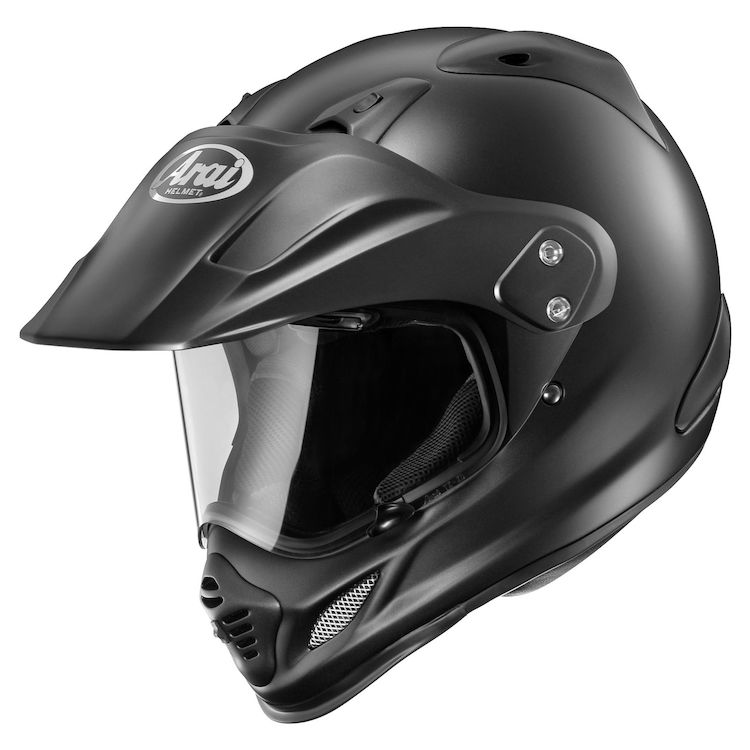 Arai invented the "dual sport helmet" years ago, and the best-selling Arai XD-4 is a best seller for a reason: Riders find the fit and finish among the best out there, and it features a Snell 2020 safety rating, something not many helmets achieve. It's been tweaked a bit with more top vents and larger front vents for even better ventilation, and it comes in a variety of colors – as long as you like variations on black and white.
Arai also updated the face shield with "brow vents" that help quickly de-fog the face shield while riding without needing to open the visor, which also features a locking tab for secure closure against the rain and elements. It also works well with goggles.
MSRP: $639.00
Icon — Variant Pro Bug Chucker Helmet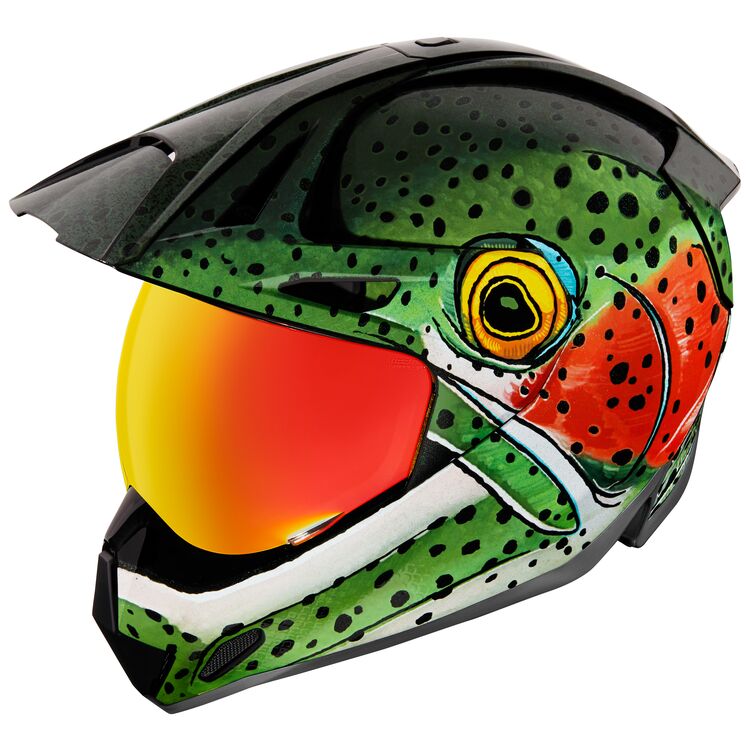 Icon always does things a bit differently, and while we love the sporty Variant Pro helmet, we had to include this colorful variation called the Bug Chucker. If you've always got your fly rod tucked into your gear, here's your helmet. Look past the fishy graphics, and you'll find a sturdy Dyneema-reinforced shell, removable HydraDry liner, and two face shields – including the hi-viz red mirrored shield – are in the box. Be prepared for comments at every fishing hole.
MSRP: $350.00
Klim — Krios Pro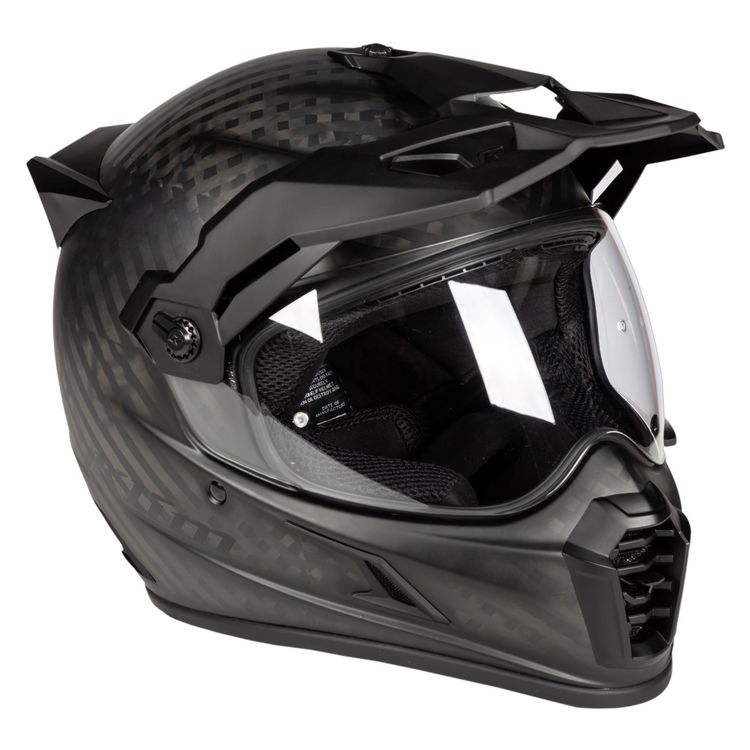 Klim needs no introduction when it comes to adventure riding gear, and the Krios Pro helmet is designed squarely with off-road use in mind. It's lightweight due to the full carbon fiber shell, and Koroyd materials inside the shell are designed to crush and decelerate impact energy more effectively in a crash. Plus, it comes standard with a tint-changing photochromic face shield, an expensive option from most helmet makers. The Klimatek liner wicks away sweat, and the face shield works with Pinlock options. Got some highway miles ahead of you? The top visor comes off quickly to give you a better highway riding experience.
MSRP: $749.00
Nolan — N40 'Full' Convertible ADV Helmet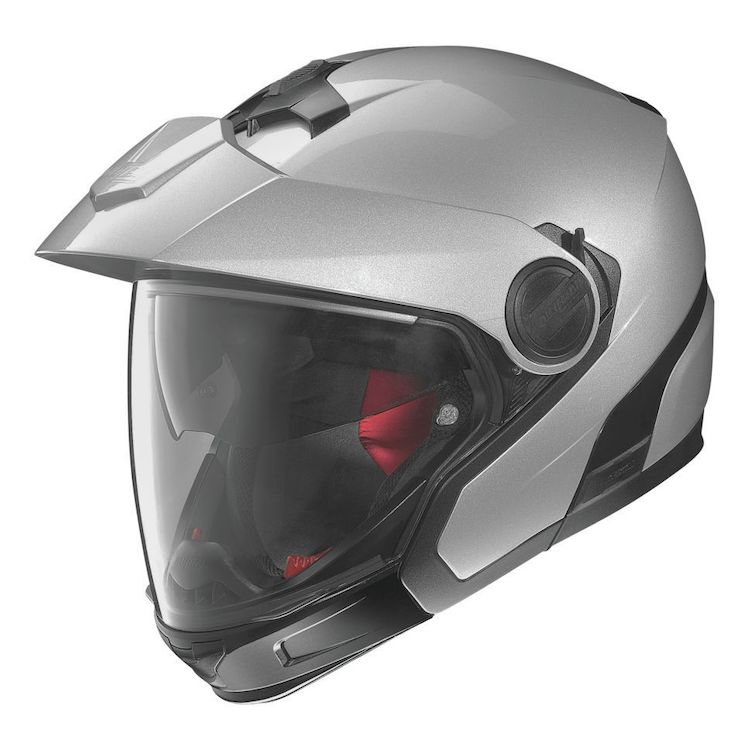 On a budget? Need one helmet for several kinds of riding? Nolan has you covered with the "Full" version of their popular N40 open-face helmet. What's it full of? Features and versatility. Both the chin section and top visor remove, as does the face shield, if you want an open-face helmet experience. Or, with the top sun visor peak removed, it's a great open-road touring helmet.
With everything attached, it's a solid ADV hat. Get chatty with Nolan's N-Com communication system or add in another system. It's also Pinlock ready for tinted shields and so forth.
MSRP: $199.99
Schuberth — E1 Helmet
Who's been making helmets for 90 years? Only Schuberth. That means you get a wealth of tech and design experience in the E1, and despite Schuberth's "more expensive" reputation, the price is refreshing. Schuberth says the helmet has zero aerodynamic lift at highway speeds, and it even looks more aero-tidy than most ADV hats. The chin strap uses a ratchet strap for quick connection and release, and there are integrated antennas for their optional pre-fitted SRC-System comms as well. An integrated sun shield is also included.
MSRP: $599.99
Sedici — Viaggio Parlare with Sena Bluetooth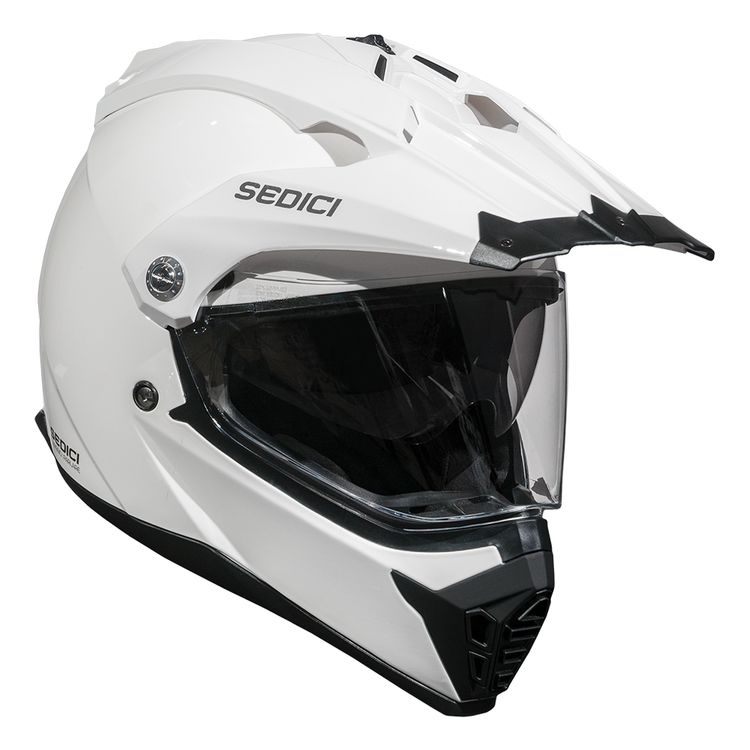 On a budget but want a high-tech helmet? Don't take a chance on some brand X helmet when you can get a solid hat from the pros at Sedici. Not only does it look great, but it includes a built-in Sena Bluetooth communications system and an interior sun visor, just like much more expensive options. Talk with other Sena-equipped riders while riding, enjoy music, or get GPS prompts. The face shield is quick-release for easy swaps, and the inside padding removes for washing away that certain smell after a hot day in the saddle.
MSRP: $289.00
Shoei — X2 Hornet Sovereign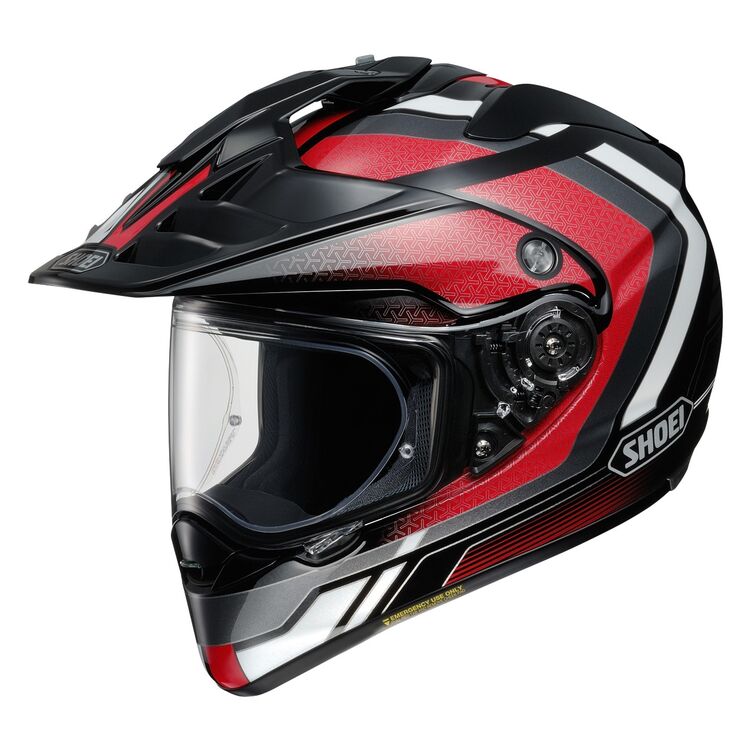 If you plan on doing a fair bit of road riding along with some off-pavement adventures, the Shoei X2 Hornet Sovereign is a good way to go. The advanced materials make it smaller, lighter, more compact, and very aerodynamic for riding at higher speeds on long stretches of highway. The upgraded Max-Dry System II liner material soaks up sweat on a hot ride, and the internal foam density varies for more comfort and protection. It has a lot of ventilation openings, and it's also Snell approved for ultimate protection.
MSRP: $759.00