Fall is prime adventure season for lots of overlanders and outdoor enthusiasts. Temps are dropping, so a nice fire is a welcome addition to the evening activities. However, it's still warm enough during the day to head out into the wilderness without dressing like you're on an Artic expedition. This month's showcase is based around some great gear to outfit your adventure rig and gear that will help you get outside and enjoy one of our favorite shoulder seasons.
Atlantic British — Clearview Easy Slide, Portable Refrigerator Lowering Slide System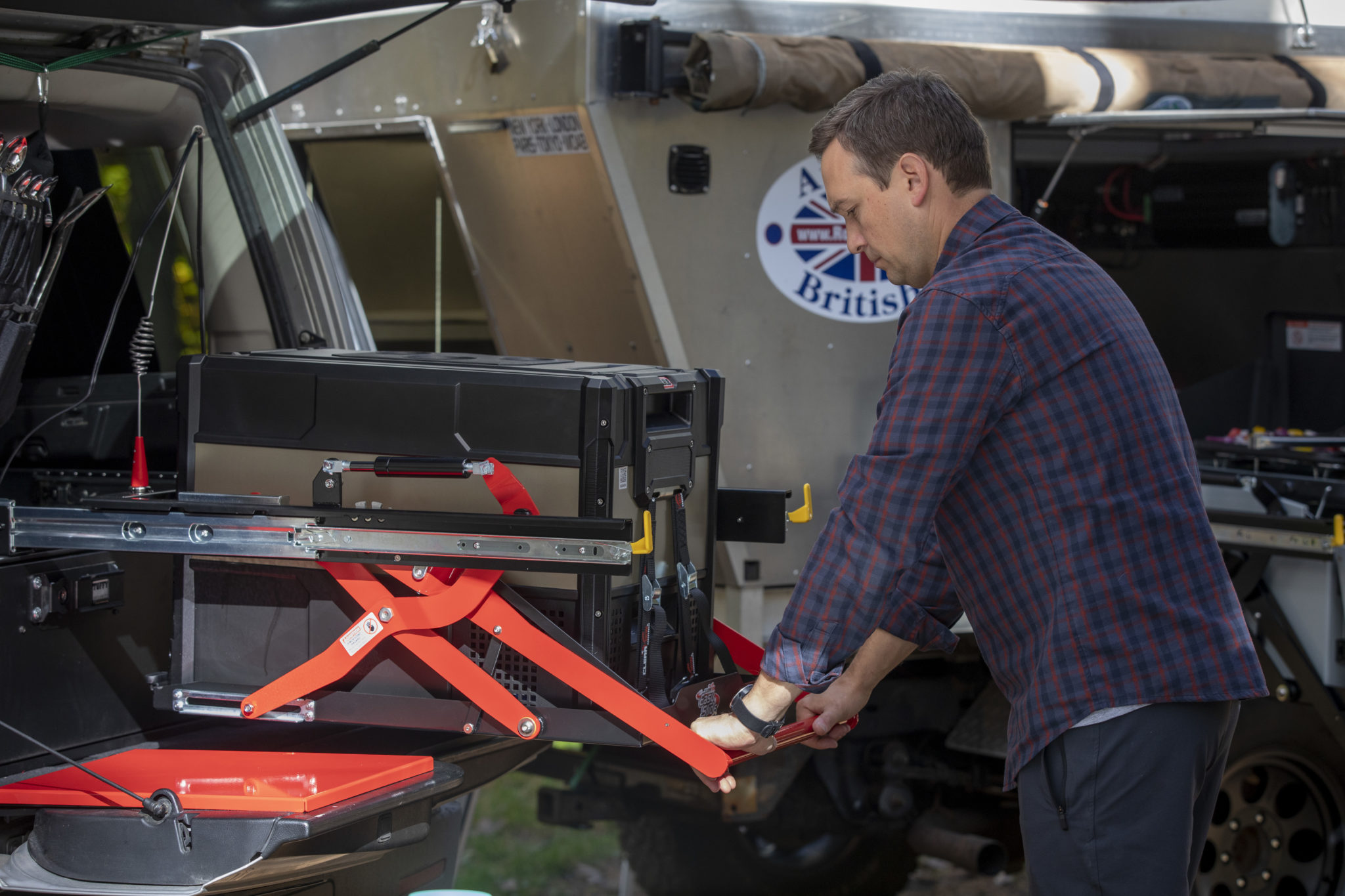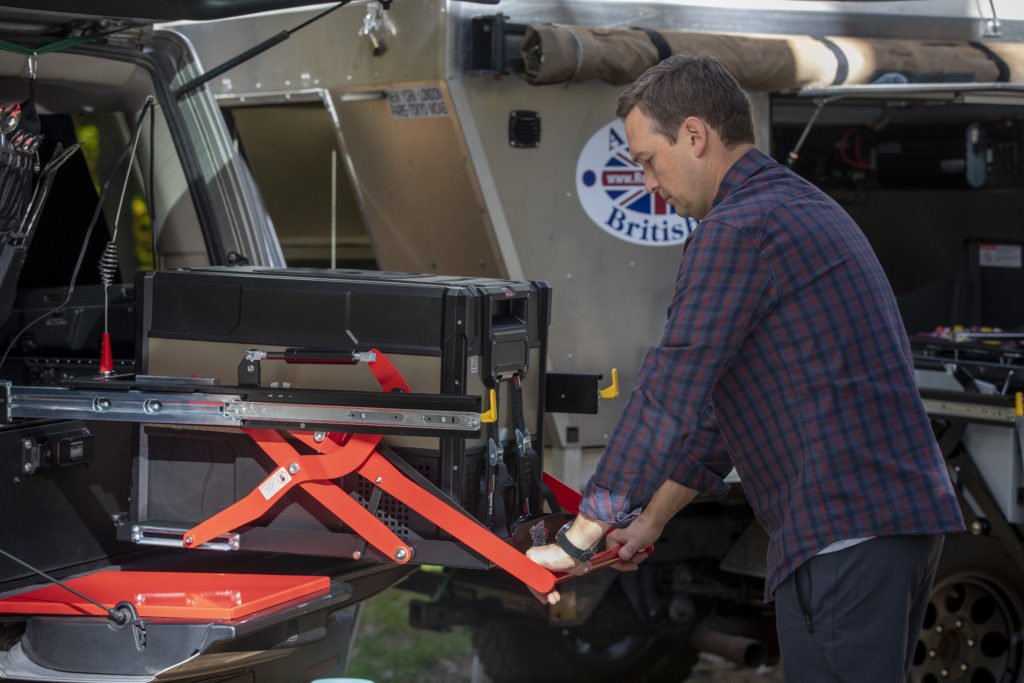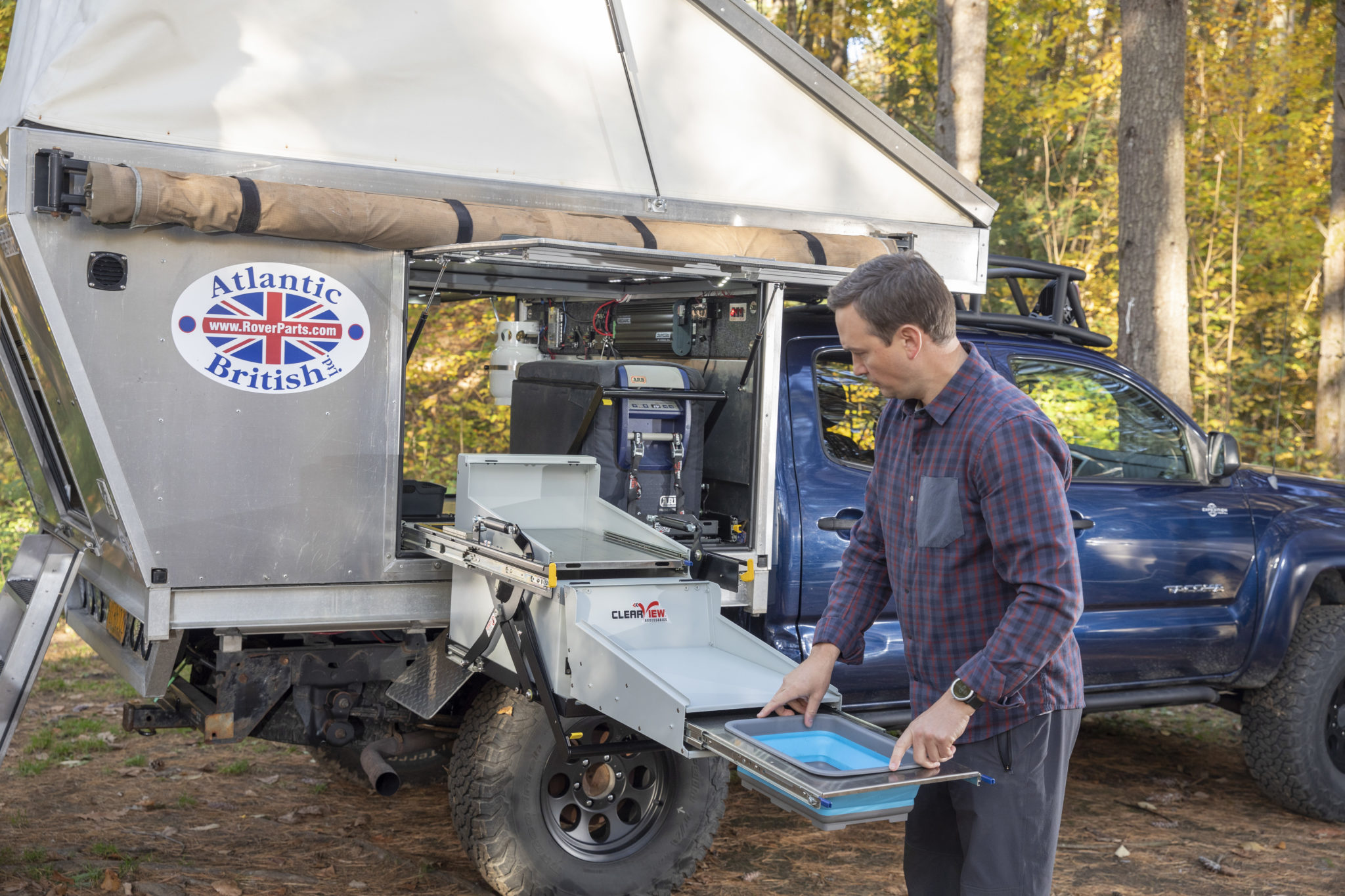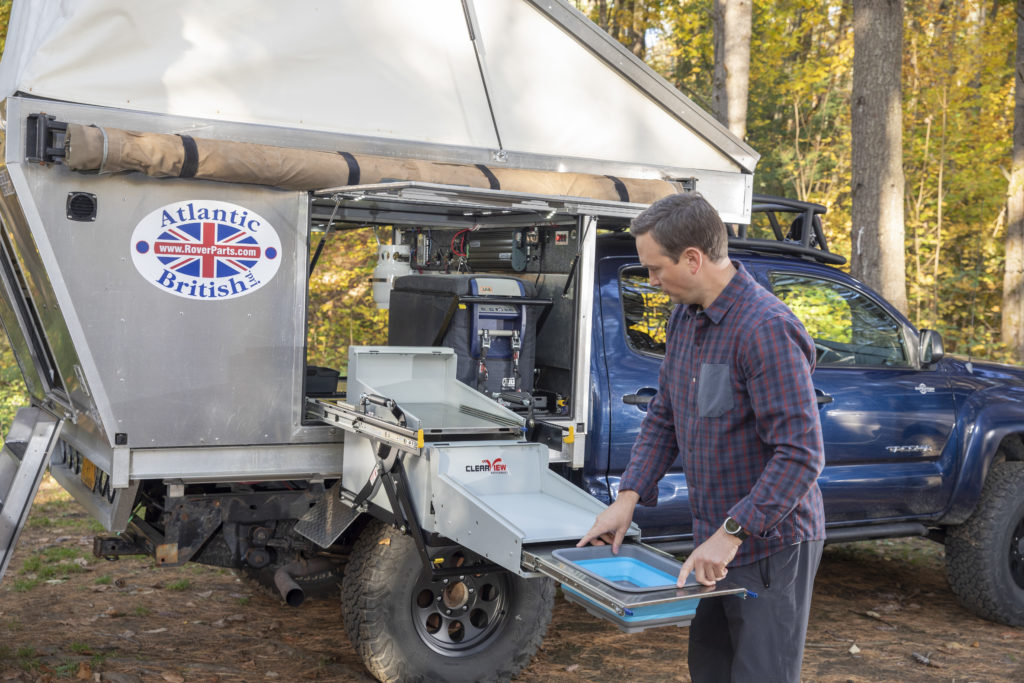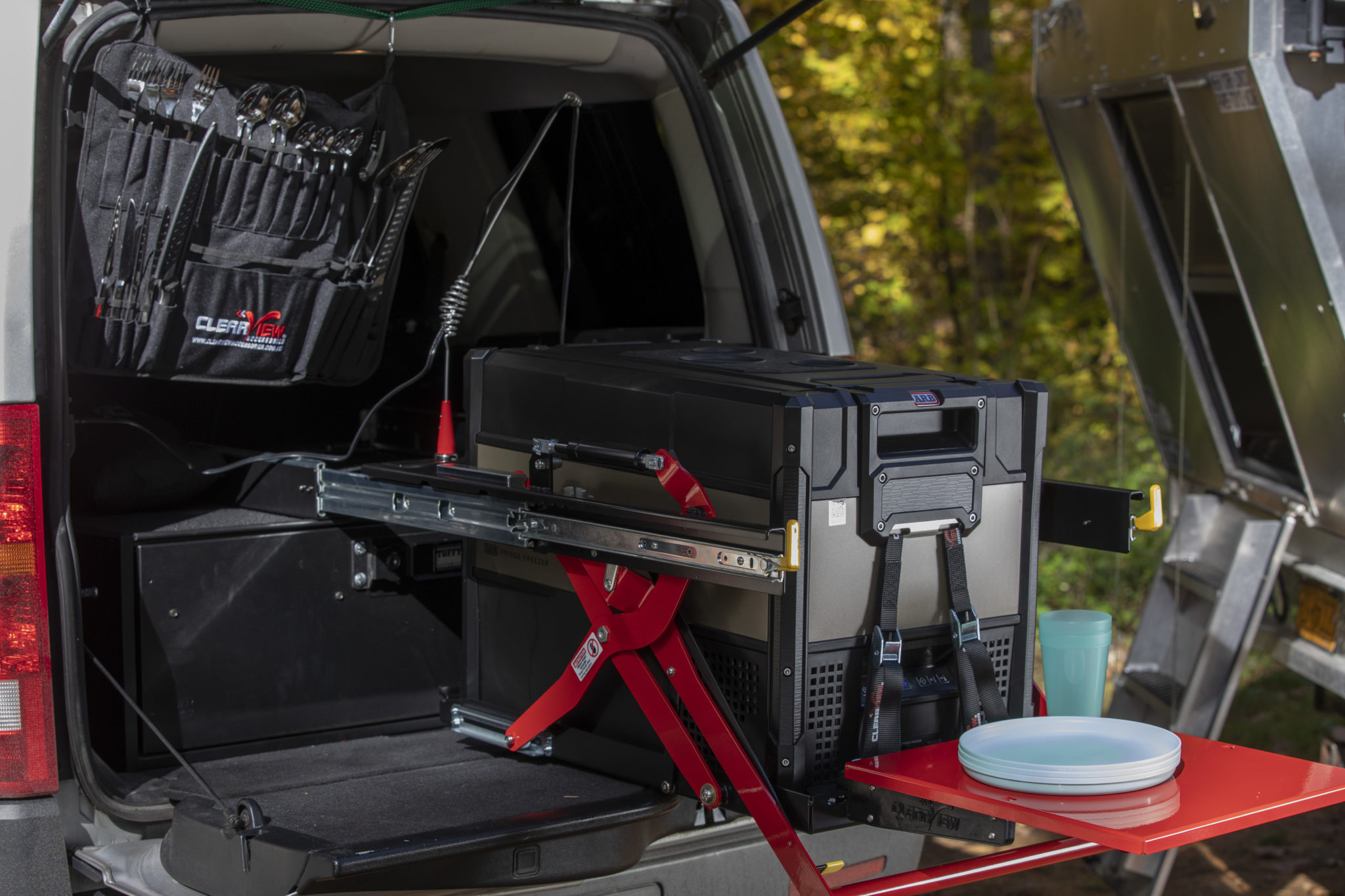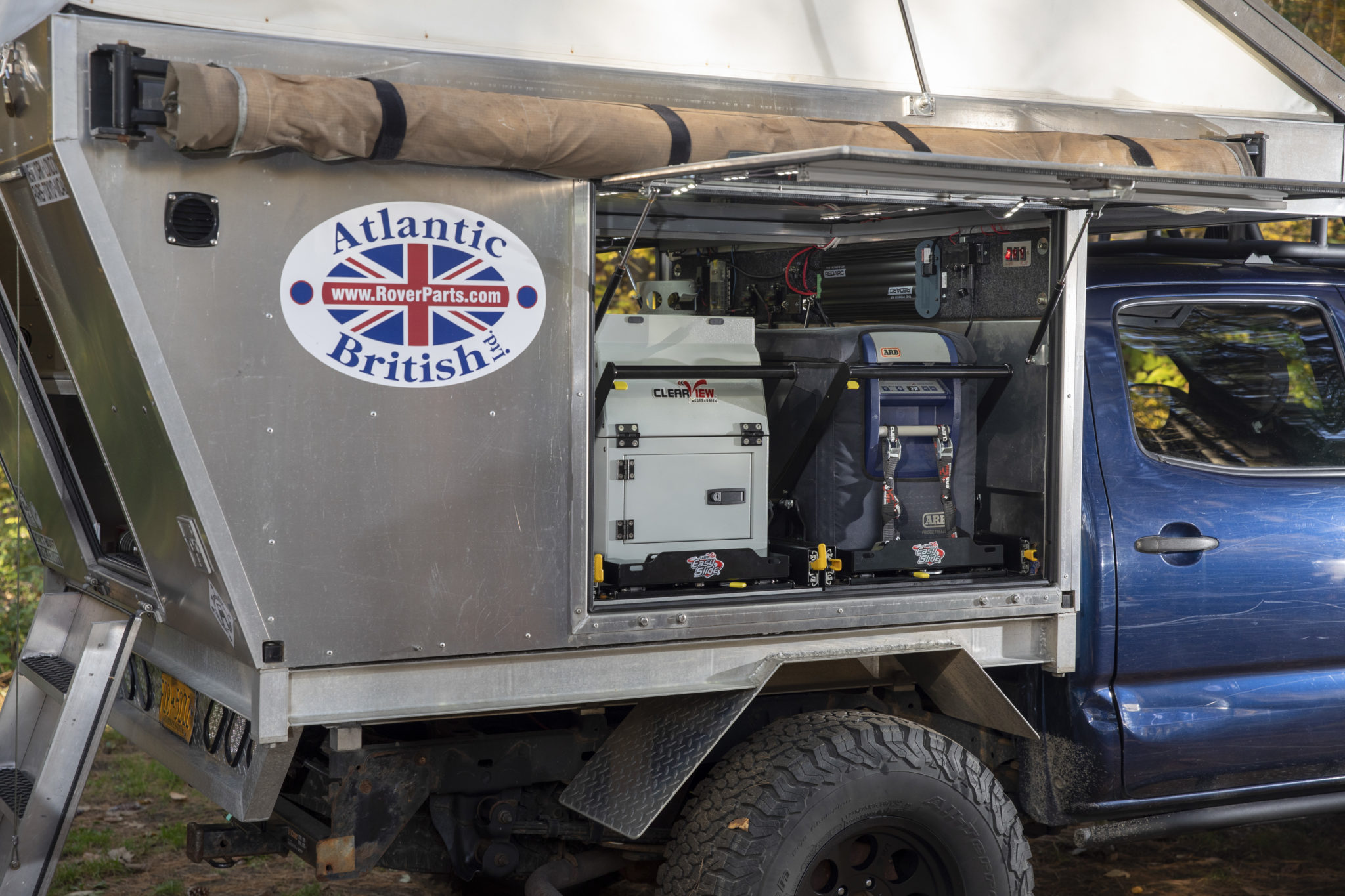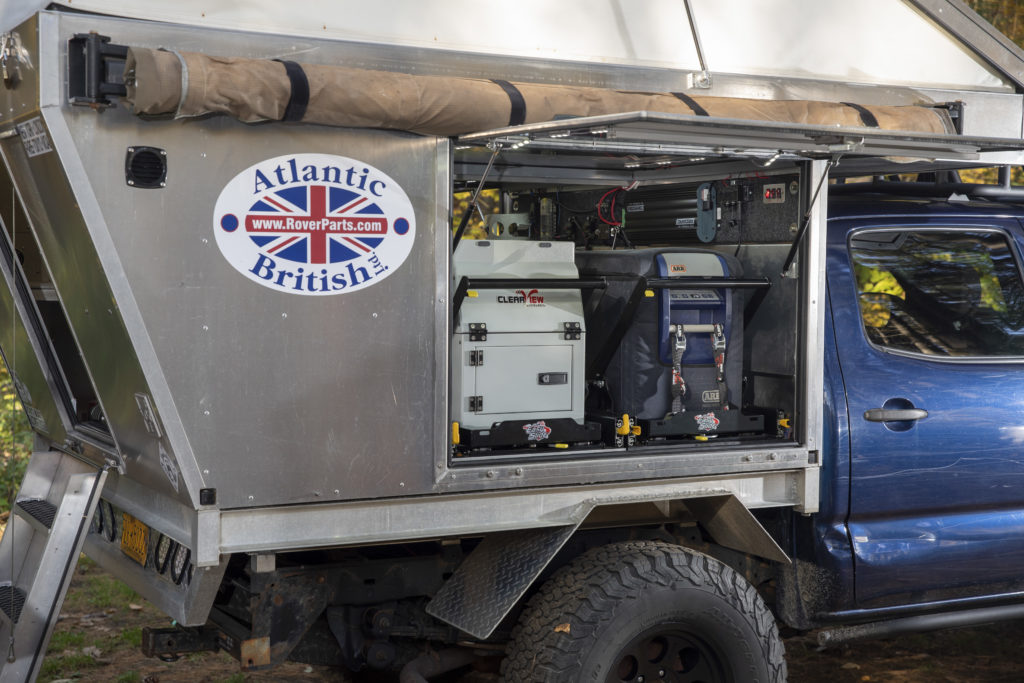 There are many advantages of traveling with a portable fridge, especially on longer treks through the wilderness. However, gaining access to your fridge on the trail can be difficult, especially if you've installed storage drawers or other modifications to your vehicle's storage space.
Worry no more! With EasySlide from Clearview, it's easy to access your fridge whether on the road or off it. Quality of materials, accessibility, safety features, and durability, tested in the Australian Outback, makes this slide an easy choice. Additionally, the EasySlide lowers your travel fridge an impressive 11.5 inches, making it easy to get to and store when you're finished with it. Available in 3 sizes, EasySlides can fit virtually any brand of portable refrigerator. Plus, with helpful accessories like the Clip-On Tray Attachment, Electronic Cable Saver, and the EasySlide Pantry Kitchen Kit, you have all the extras to make food storage, preparation, and cleanup a cinch.
Perfected in the Australian Outback, EasySlides have quickly become a favorite of overlanding pros and recreational travel enthusiasts alike– this fridge slide can handle any challenges the trails might throw at you!
Most see a vehicle as a means to get from one place to another, but we see it differently. A vehicle represents freedom to explore further, climb higher, experience more, and live for the adventure. Since 1970, Atlantic British has been America's oldest and largest independent supplier of premium parts and accessories for Land Rovers, Range Rovers, and overlanding enthusiasts. Our wide array of genuine OEM and replacement parts and accessories make us the go-to choice for Rover and overland-vehicle owners all over North America.
With our east and west coast warehouses, we ship and deliver quickly, getting you the parts and accessories you need, faster than ever. Serving adventure-seeking vehicle owners, overlanders, and off-roaders for over fifty years, delivering innovative products and solutions, Atlantic British continues to help you maintain, explore, and enjoy.
Atlantic British, Ltd. Is the exclusive North American distributor for Clearview Accessories based in Australia.
MSRP: Starting at $599.95
Cape Fear Customs —  Cape Fear Trailers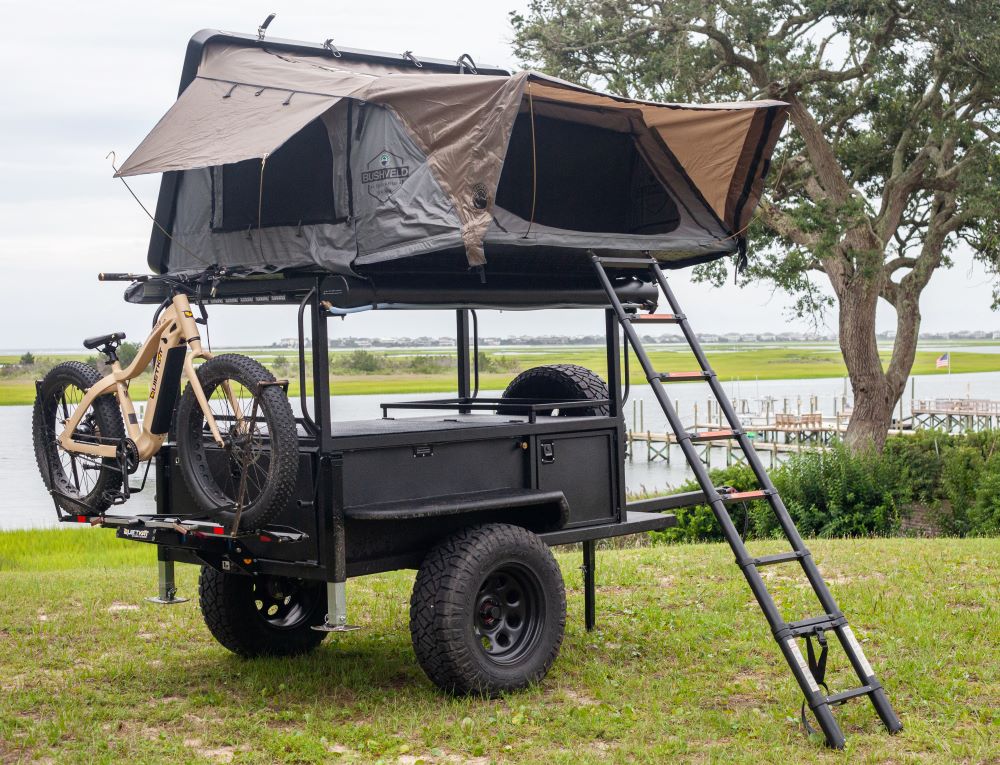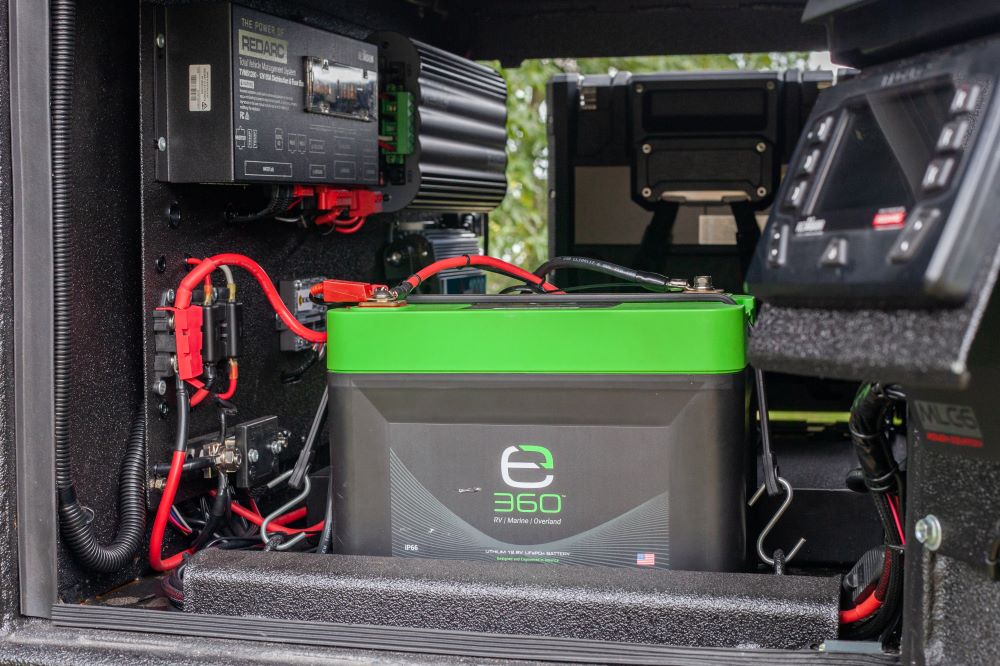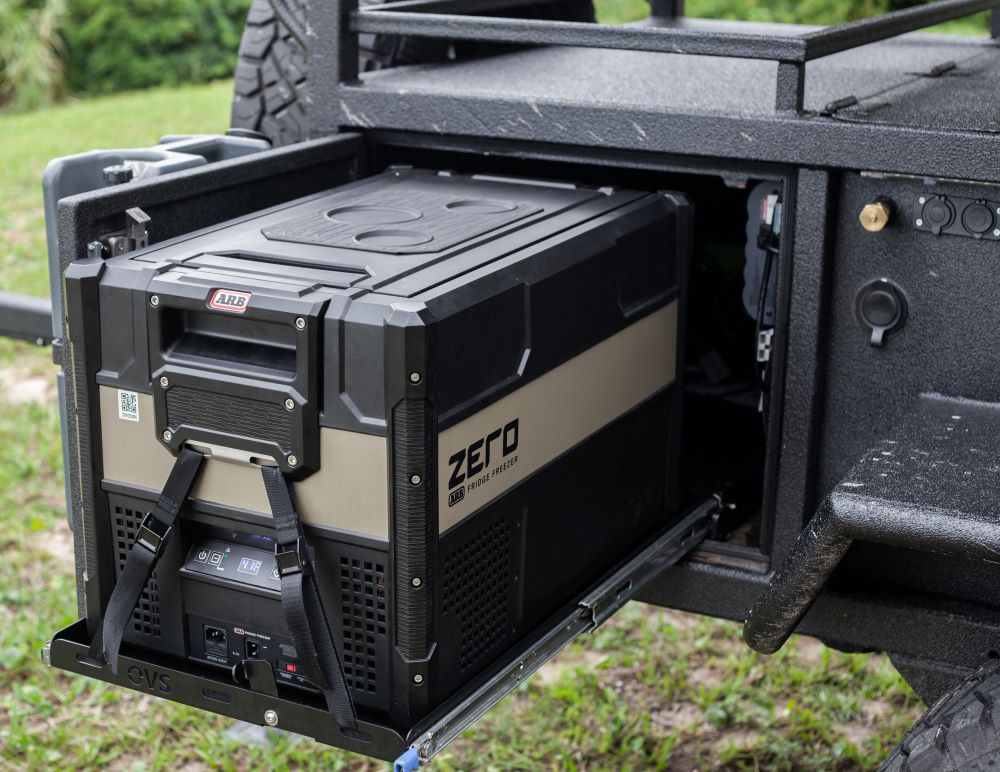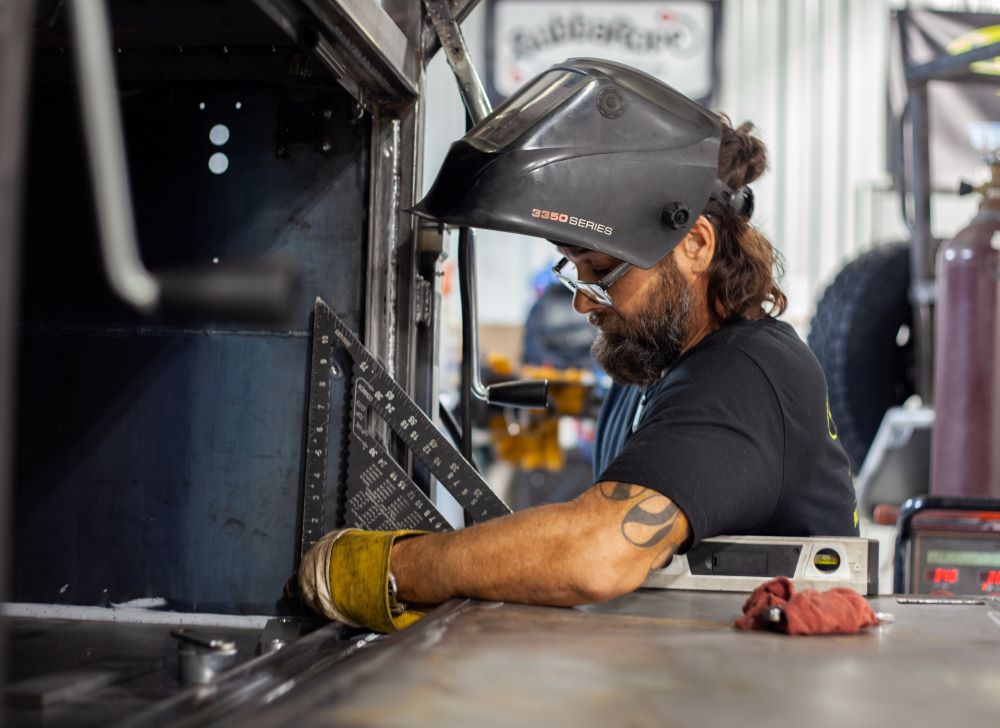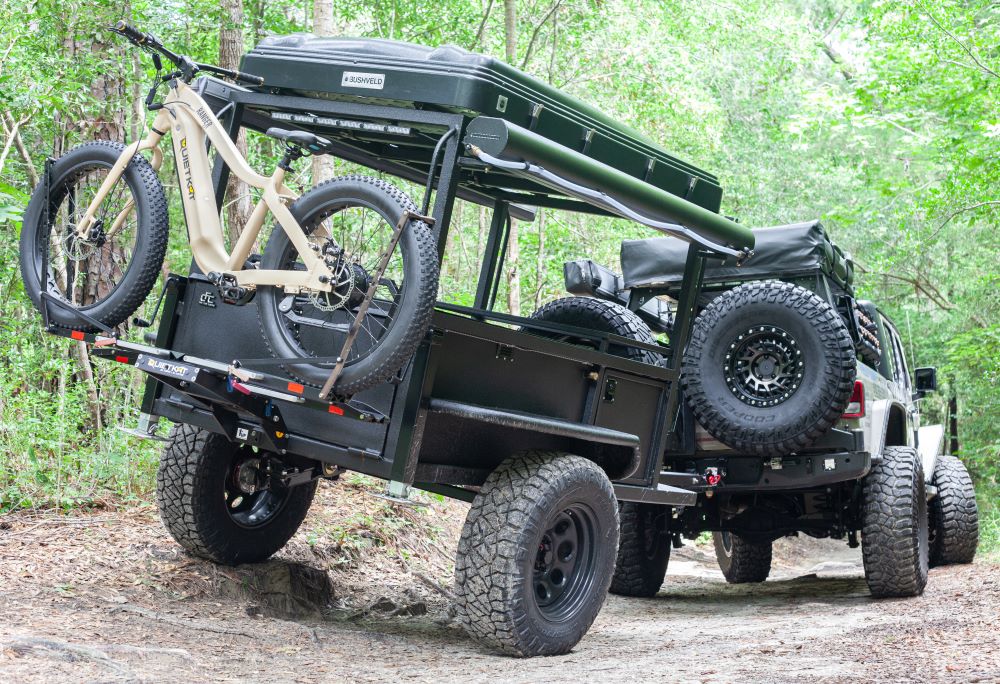 Cape Fear Customs is proud to present its new line of Mission-ready overlanding trailers – Cape Fear Trailers!
Available in two different platforms, Mission One & Two series, these trailers are ready for adventures where the pavement stops. Built by hand at Cape Fear Customs, these trailers represent the highest quality of durability and versatility in an easy-to-use package, sure to make the outdoors feel more like home for the whole family! Using steel construction, and a tough Line-X protective exterior and interior coating, Cape Fear Trailers have been engineered to take whatever beating you can throw at them.
As a minority-owned business, Cape Fear Trailers is dedicated to bringing its customers the flexibility to outfit their trailer in whatever way best suits their needs, whether it be for rugged off-road adventures or relaxed family beach camping trips.
Customers can outfit their trailers with a variety of accessories to make their adventures more enjoyable. RedArc or EcoFlow battery management systems make off-grid feel more like home by offering power for a wide variety of accessories via shore power, solar power, or vehicle power! Propane connections, fresh water supply, and fridge/freezers, make these trailers full mobile kitchens with provisions like wide flat fenders for food prep!
Cape Fear Trailers offer two types of full-travel suspensions, either standard leaf spring suspension, or the optional military-grade Timbren Suspension for serious off-road use!
Trailers are capable of being equipped with awnings, rooftop tents, showers, lighting, as well as a myriad of individualized custom options. Customers can even go so far as to choose the color of the Line-X coating, allowing for color-coordinated styling for the discerning client!
The Mission One Trailer has 56 cubic feet of storage, which includes the addition of the Forward Command Cabinet, where electrical components can be separated from the rest of the main storage area.
No longer will customers be chained to their campsite by their vehicle-mounted roof-top tent, these trailers allow customers to have a solid base camp to set up & the ability to leave camp behind to enjoy the outdoors.
What kind of trailer can Cape Fear Trailers build for you?
MSRP: Starting at $12,500
CBI — Nissan Frontier Covert Front Bumper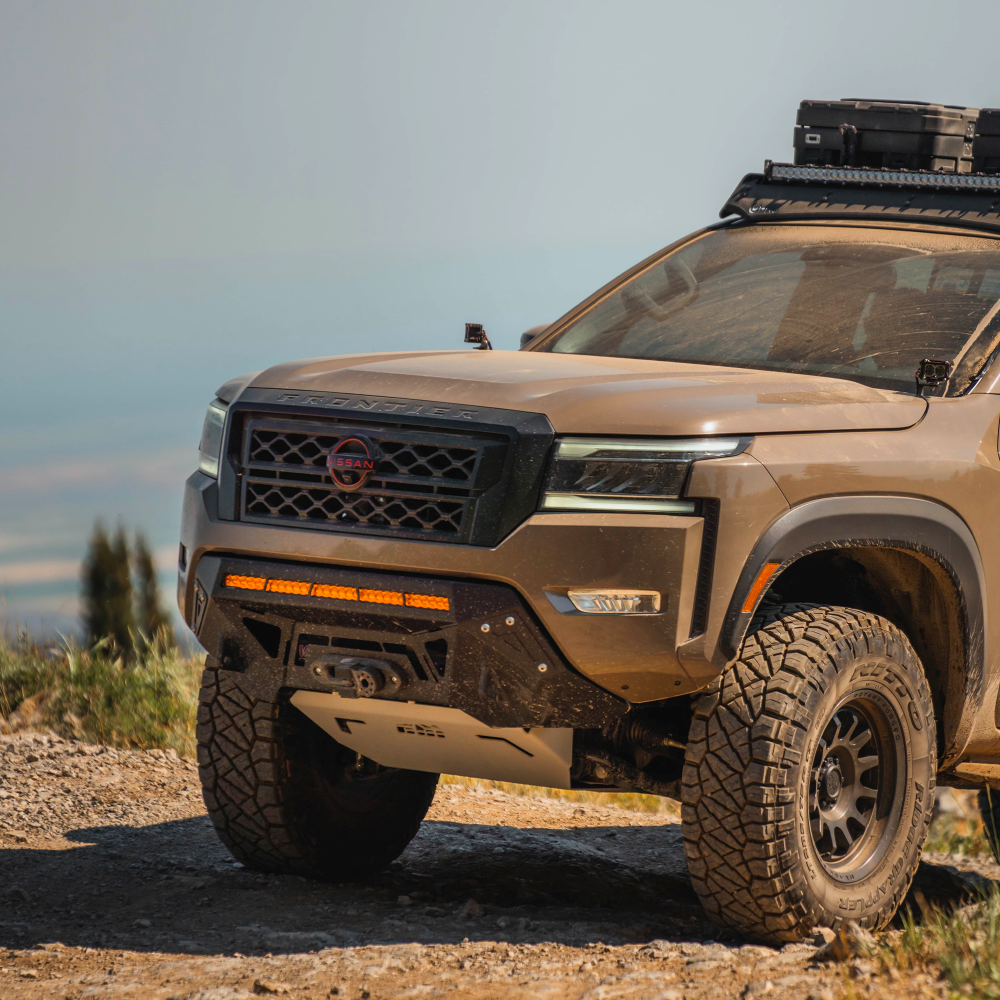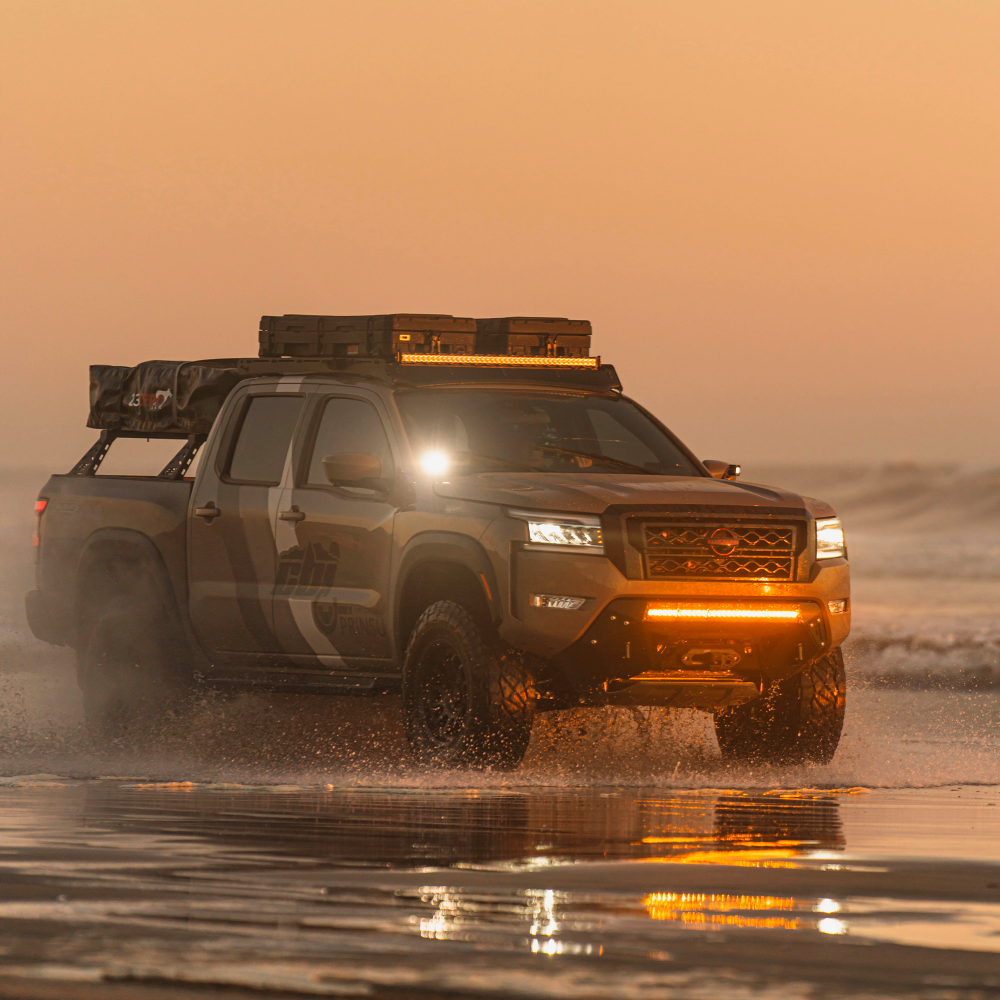 Explore a brand new Frontier with this just-released CBI covert bumper. The 2022 Nissan Frontier featured an exceptional redesign that makes it a true competitor in the mid-size truck market. It was designed to be an offroad-worthy truck and CBI has developed a bumper to match. Designed and engineered to follow the factory body lines, this bumper looks good and performs even better.
Made with 7-gauge steel and fabricated here in the USA, this bumper will follow you on the most challenging trails. Besides the added protection of a steel bumper, this armor was designed with practicality in mind. It features integrated recovery points as well as mounting options for a 30-inch single-row light bar and can also accommodate up to a 12,000 lb winch. All of these are housed in a bumper that weighs only 75lbs. The covert bumper also comes with the option to add a bull bar which offers even more protection for your grill. It also is a fairly straightforward install and you can be in and out of the garage within the same day (winches and lighting can impact install times).
With the added confidence a winch-compatible bumper gives, you can conquer whatever trails and terrain you face. The only thing that will slow you down is when you have to pull your friends out of the mud or snow when they lag behind you.
MSRP: $920.00 – $1,080.00
Daylodge Gear — AH30 Awning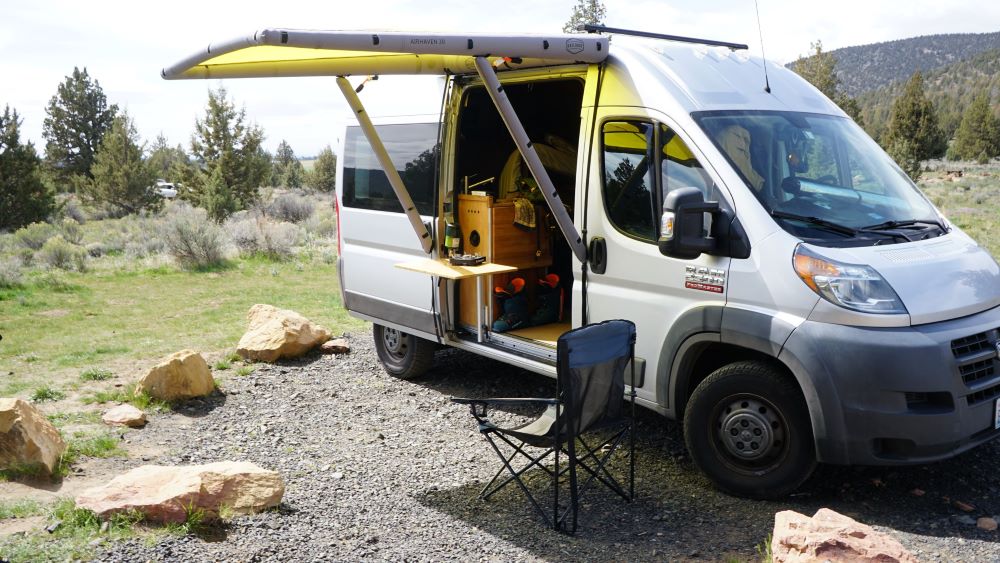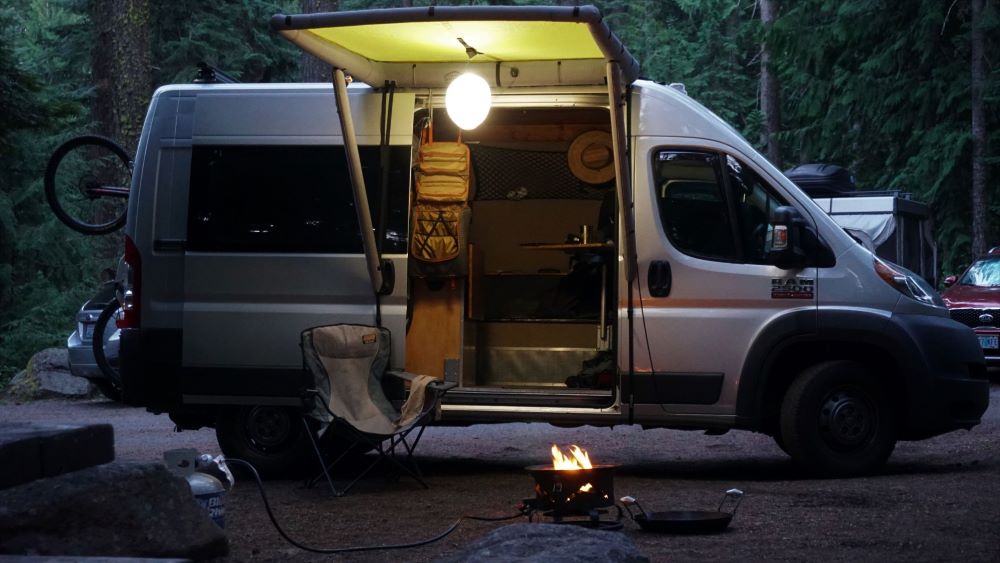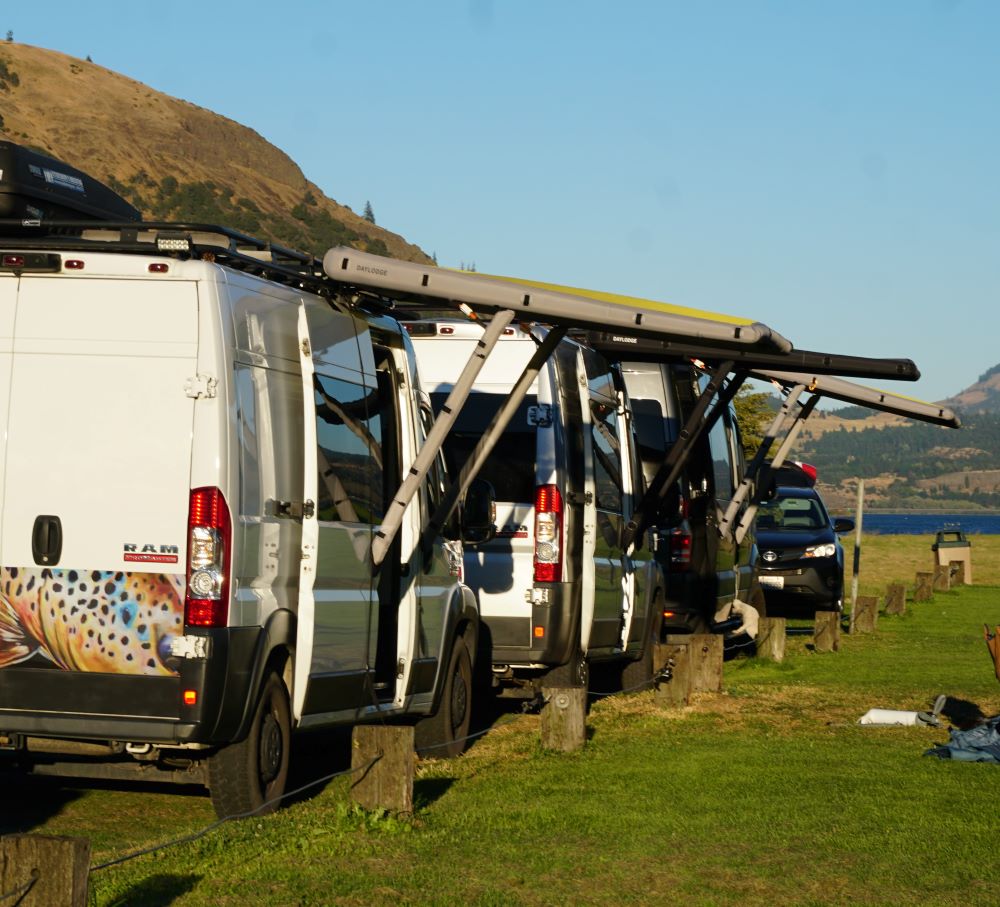 Daylodge Gear based in White Salmon, WA, designs and manufactures innovative products for your next Overland adventure. Founded during the pandemic when we all treated our vehicles like a day lodge, Daylodge™ gear recently introduced an industry-first inflatable vehicle awning. The AirHaven 30 quickly inflates and sets up, then deflates and stows in a bag.
First concept-ed for creating shelter while skiing, their flagship product went through many prototypes starting in 2018. Tested in adverse and inclement PNW weather, the awning sheds snow and survives windy conditions without incident. Their innovative mounting system and awning design are both patent pending.
Designed by kiteboarding industry veterans, the awning is constructed with proven materials and manufacturing and tested in the toughest conditions. It inflates with a high-volume pump like those used for SUP boarding. Self-supported entirely with air, it has no poles, rods, hardware, or ground support needed to set up on a vehicle. Proven in the wind, the awning is resilient and has nothing to break or damage.
Packed down, the AH30 is just about the size of a 12-pack of cans and weighs 6lbs. When set up, it provides 38 sqft of shade and shelter. Since their release this year, Daylodge awnings have been proven on campers, truck bed canopies, SUV and CUV factory racks, adventure vans, and adventure rigs. Setups have included several popular Overland makes and models using similarly popular roof racks.
The awning is versatile, with attachment accessories that connect to roof racks, overland racks, slider doors, other door tops, roof rails, roof mounts, and more. Once anchored to the vehicle, two flat hooks are used to secure the bottom of the vehicle. They recently announced additional accessories, including VHB D-Rings mounts.
Designed as a platform for attaching accessories, a privacy wall, and table + bag will be made available soon. Stay tuned to these guys for new and innovative products.
MSRP: $699.00
Garmin — Tread XL Overland Edition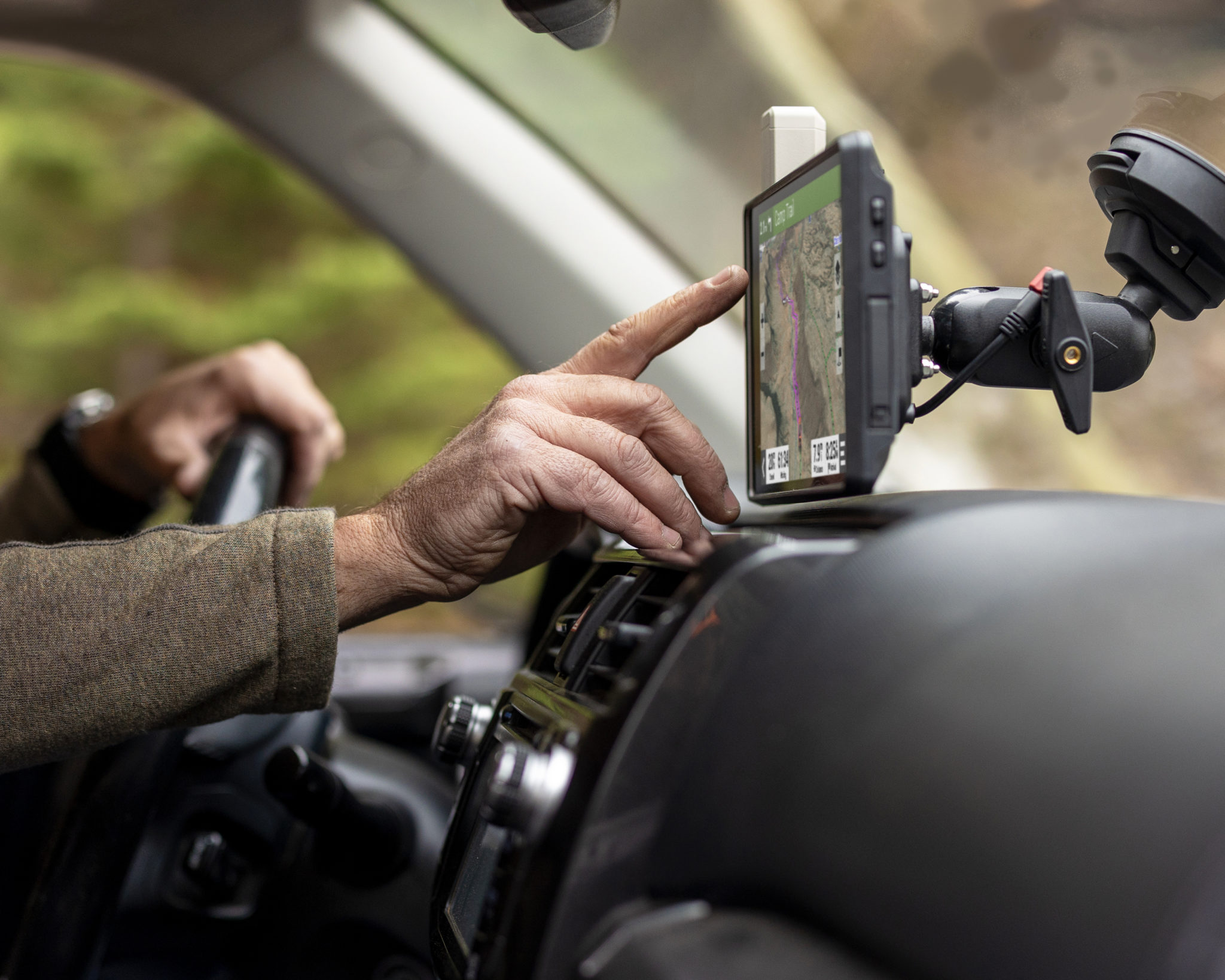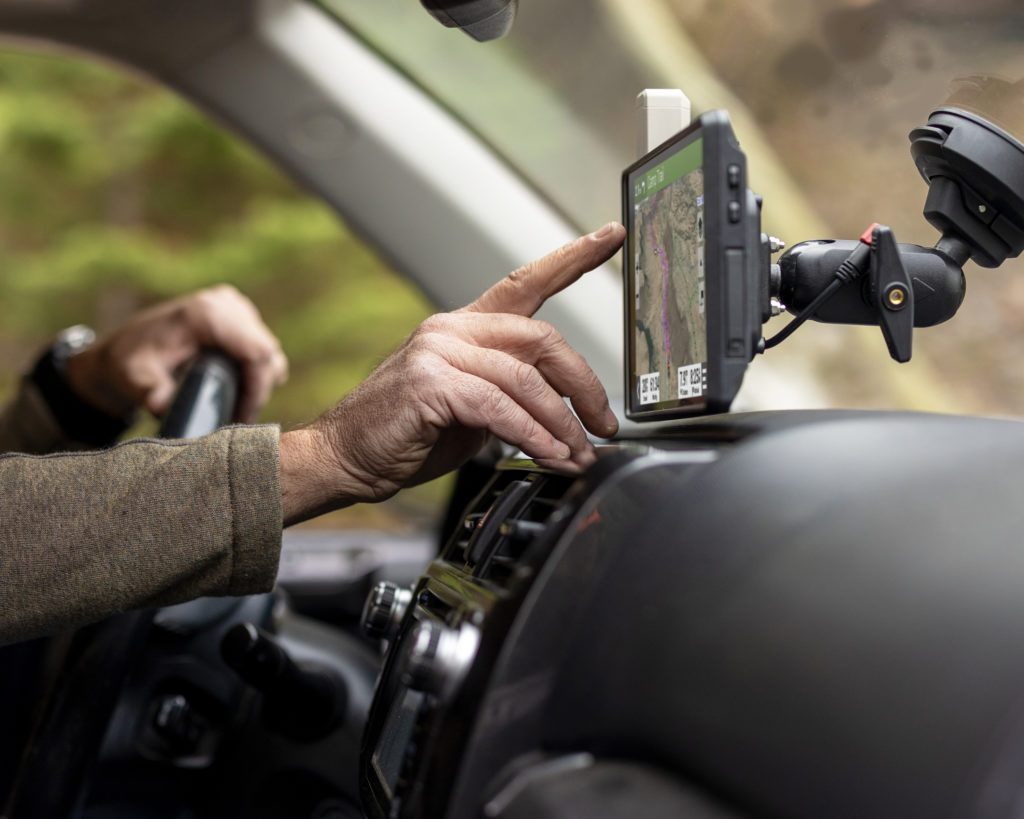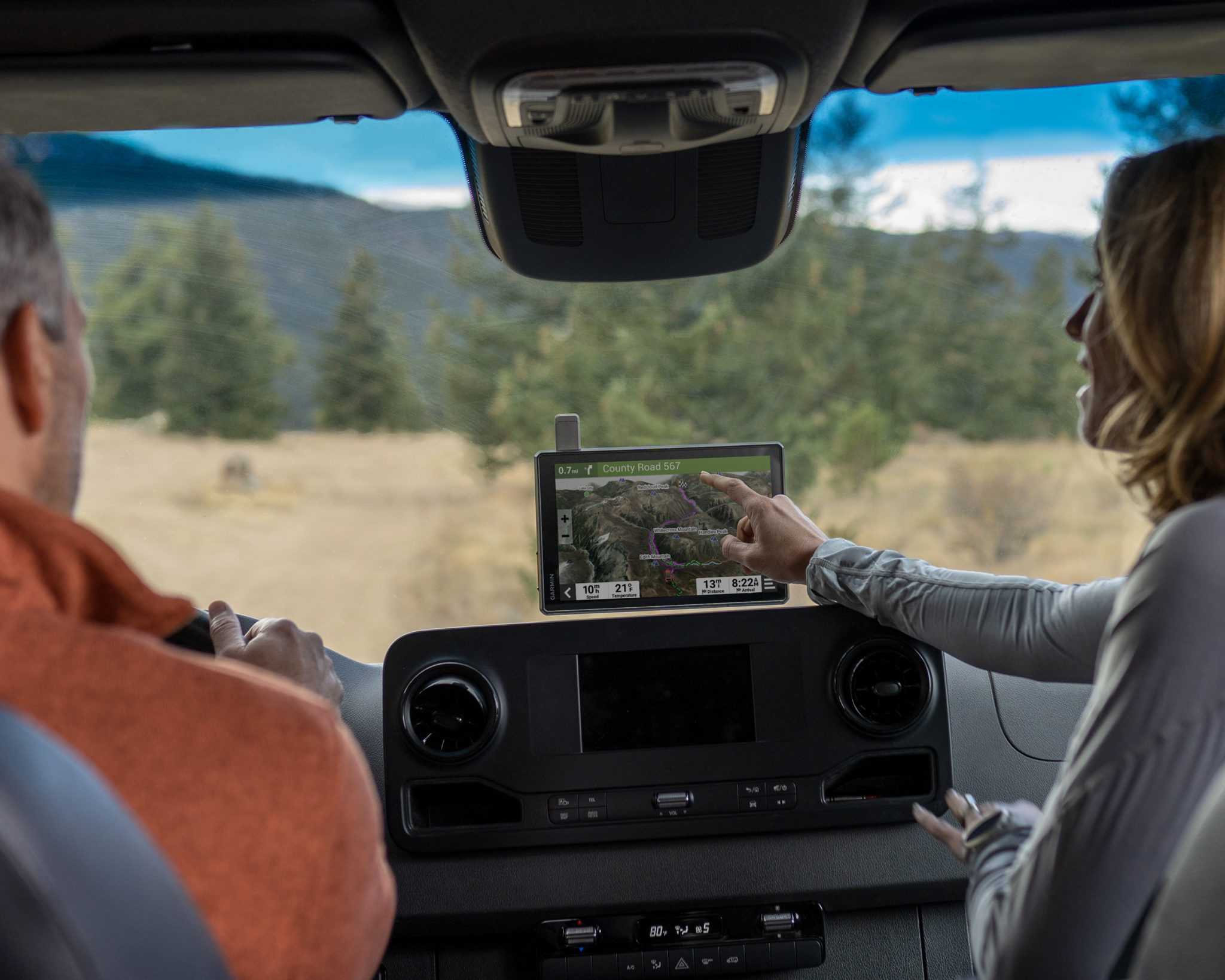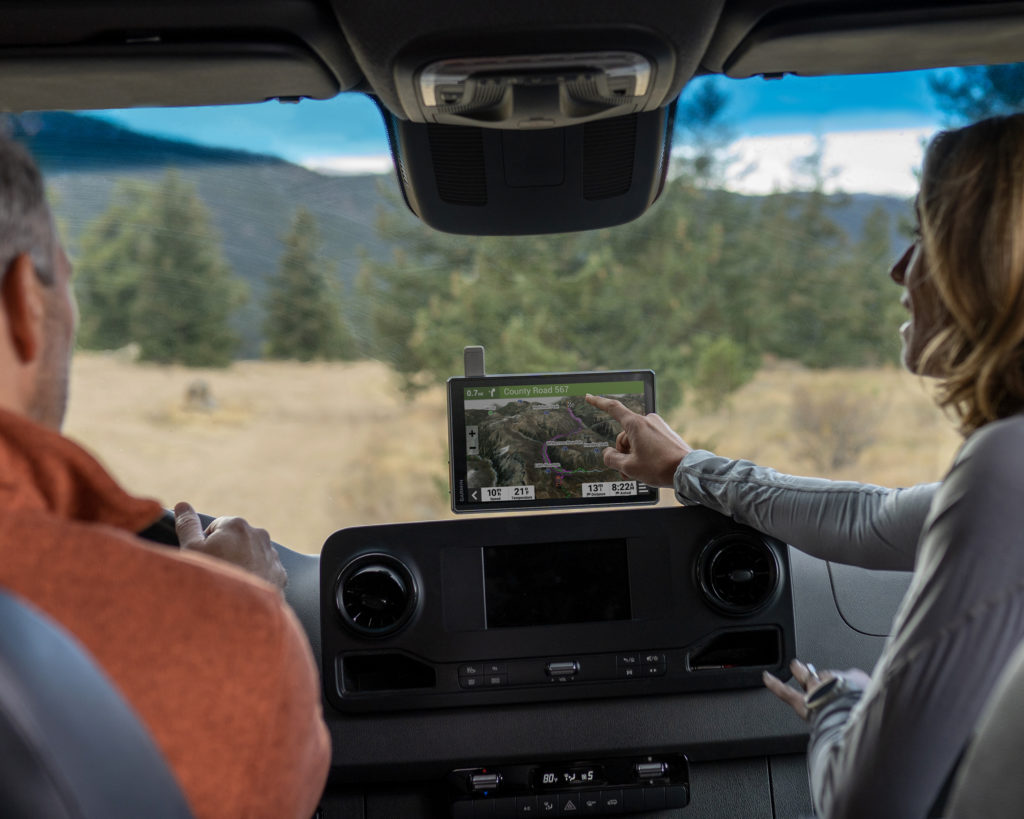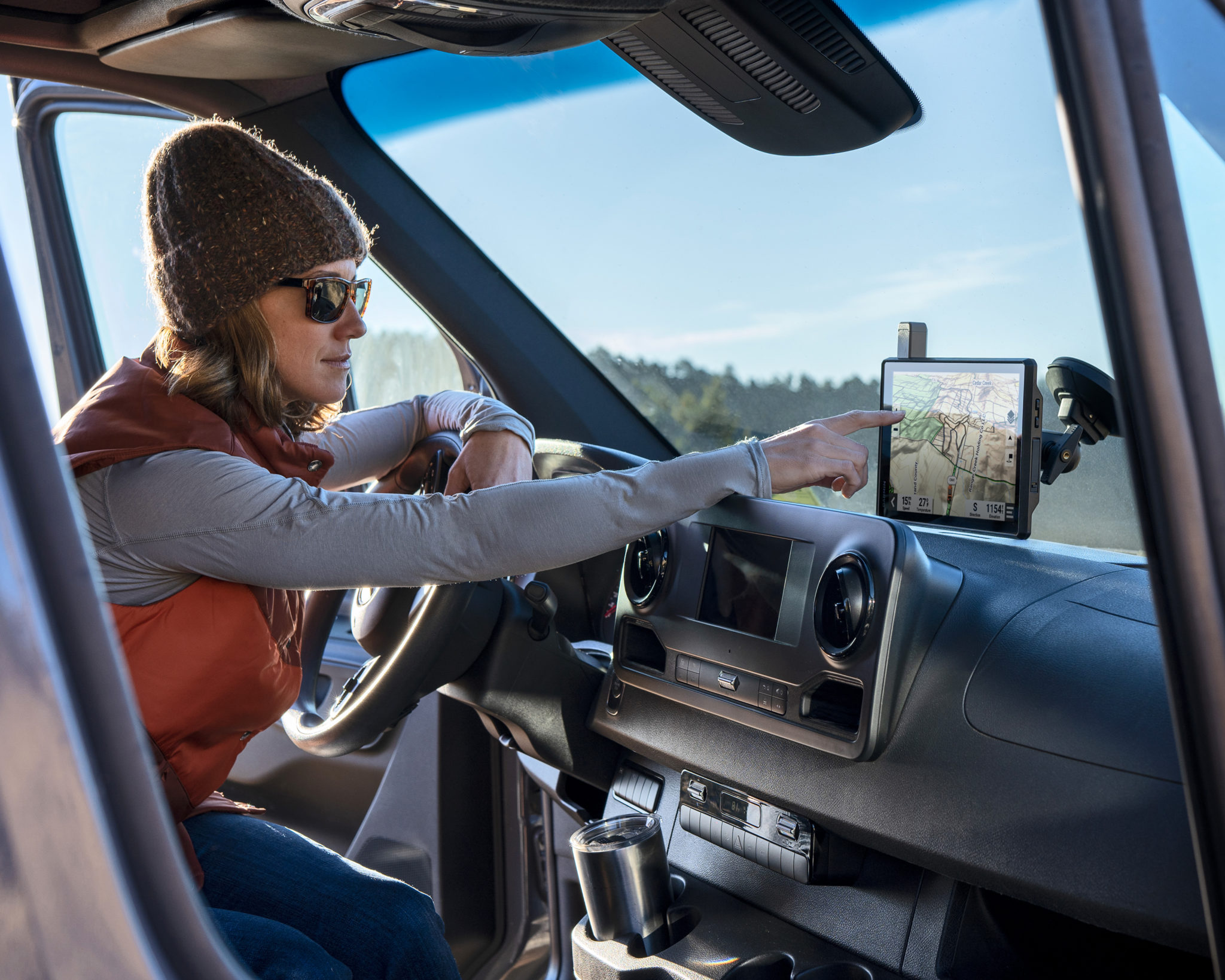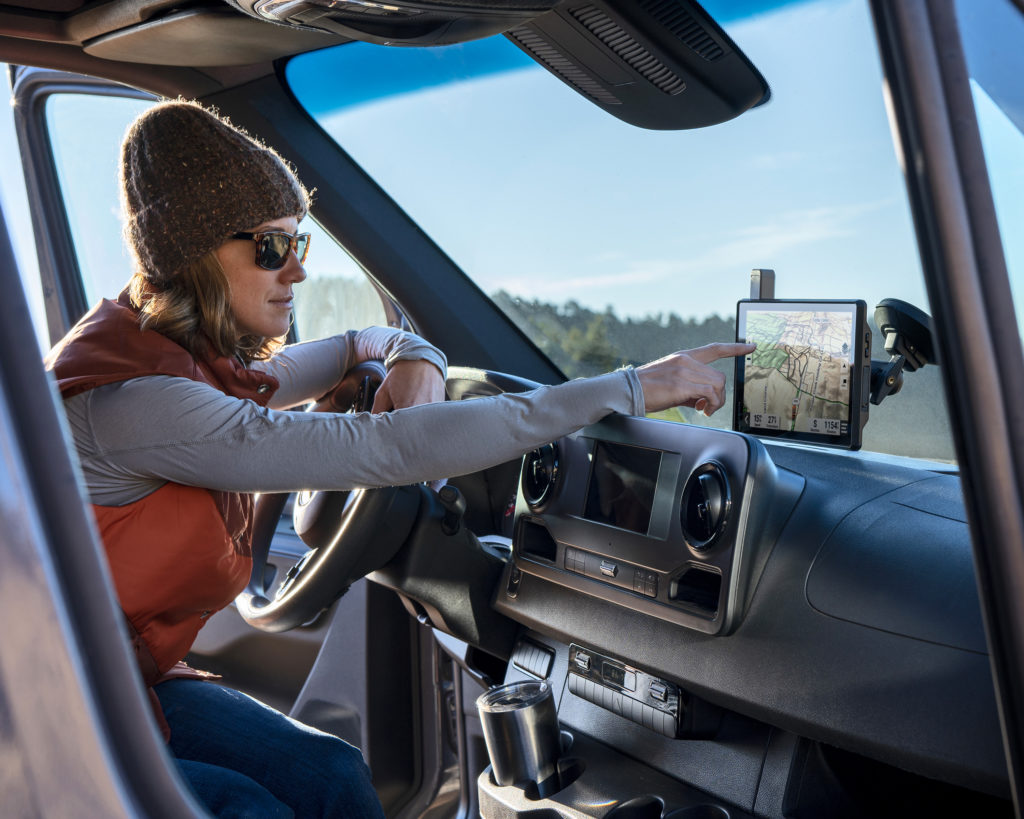 Roam the unknown with Tread® XL – Overland Edition from Garmin. It's the extra big, extra rugged all-terrain navigator with a 10-inch ultra-bright display made for every overlanding expedition. Enjoy turn-by-turn trail navigation for traversing unpaved roads and trails, plus custom street routing for the size and weight of your vehicle. The navigator includes preloaded topography, subscription-free BirdsEye Satellite Imagery, iOverlander™ points of interest, and Ultimate Public Campgrounds, so you won't need a signal to route to the best-established, wild and dispersed campsites. With an active satellite subscription, built-in inReach® technology offers global satellite communication, two-way text messaging, location sharing, and interactive SOS3. Pair your device to the Tread® app on your compatible smartphone to track up to 20 friends using the Group Ride Mobile4 feature and plan routes with the same maps and route preferences that you have on the Tread device.
MSRP: $1499.99
Goat Box Company — HUB Cooler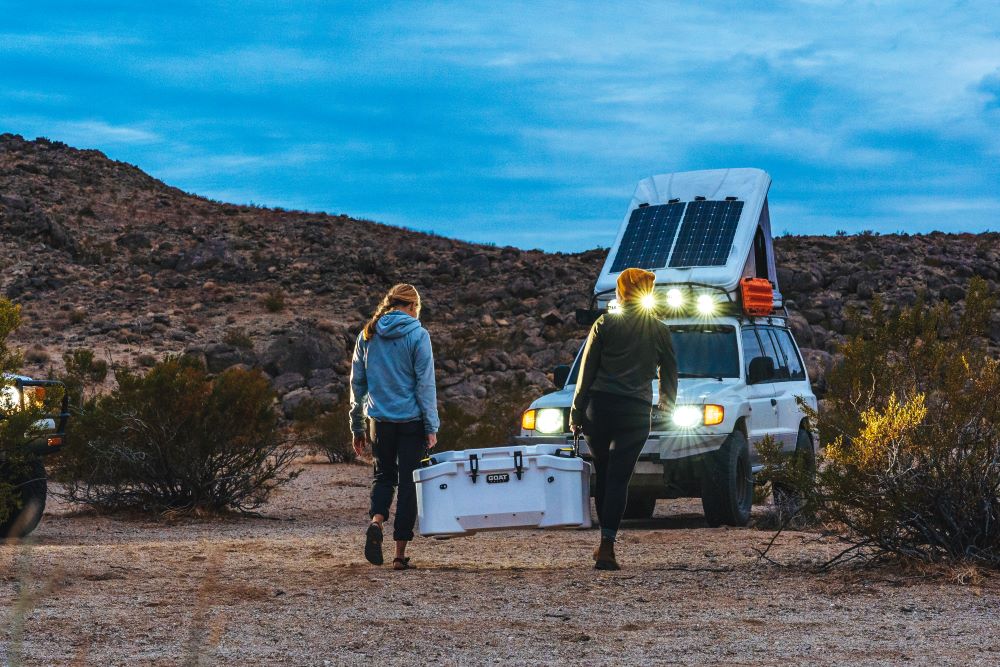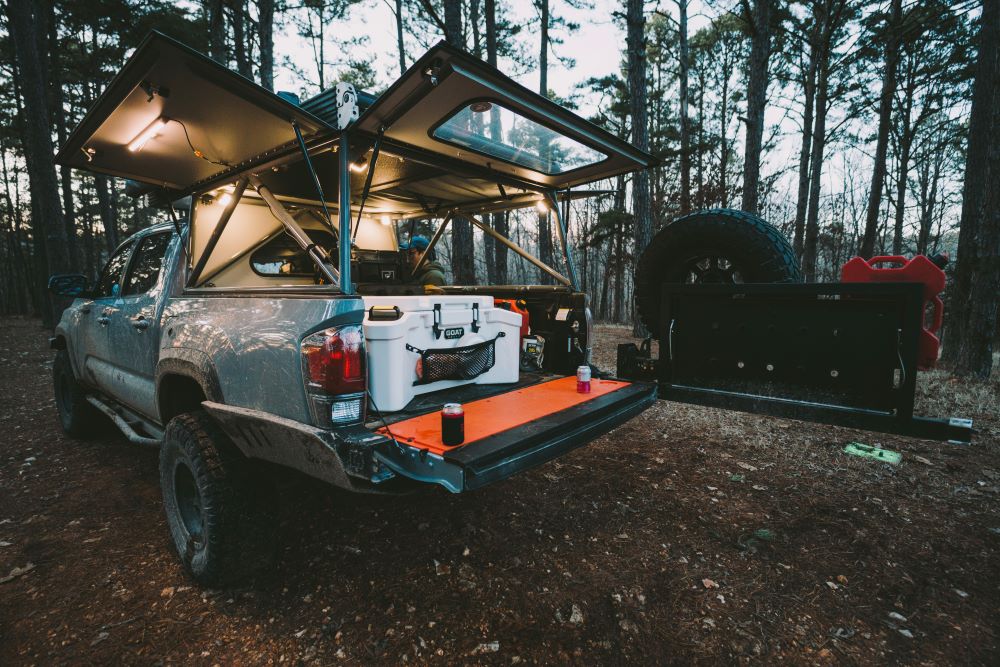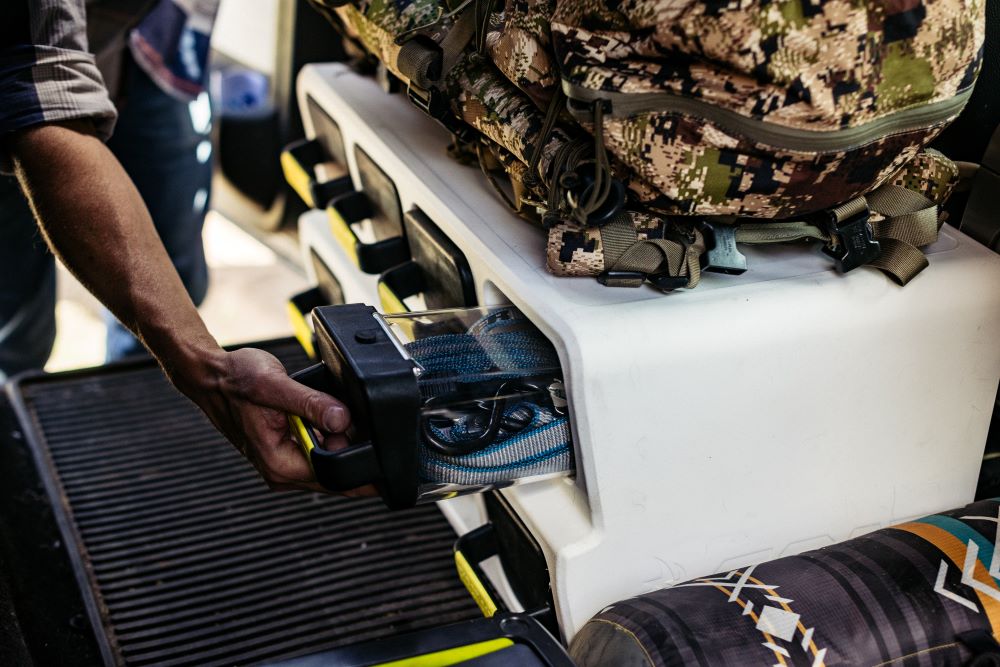 Looking for a way to store and organize key gear at home and in the field? Worried about damaging or misplacing gear at the campsite? GOAT BOXCO's systems are designed to transport, protect and organize gear for outdoor adventures, disaster preparedness, tailgating, and more. The GOAT HUB 50 is a rugged and premium rotomolded cooler with tie-downs, a locking lid, and a non-slip base. The HUB 50 is proudly made in the U.S. and is certified bear-resistant. The HUB's two inches of insulation provide excellent ice retention, and its front-facing cargo net serves as a go-to stash for bulky items like tarps, pans, shop rags, fly boxes, or flip flops.
The trim (14.27″ x 28.54″ at base) and lightweight (25 lbs.) design of the HUB 50 makes it easy to carry and ideal for fitting perfectly in a boat, ATV, truck bed, SUV trunk, or hitch basket. The HUB 50 boasts a capacity of 38 quarts.
GOAT named its cooler the "HUB" for a reason — it houses another key component of the GOAT gear management system – the CAN. Also made in the U.S., the GOAT CAN is a clear, water-resistant container designed to hold and protect essential gear. The CAN is made of a polycarbonate blend that keeps it lightweight and able to withstand a wide range of temperatures while maintaining good drop strength. Its transparent body allows for easy identification of the CAN contents. For even faster identification, the handle of the CAN has an interchangeable label, allowing the user to swap labels as needed. The HUB 50 includes four mission-ready CANS, perfect for storing tools, headlamps, koozies, BBQ essentials, or whatever kit the occasion demands.
Speaking of kits, GOAT has curated custom KITS from top-quality brand partners like MyMedic, Katadyn, Sea-To-Summit, NOCO, and others. These KITS are designed to fit seamlessly into the CANs and are purpose-built for various pursuits. In addition to first aid, some of the options for KITS include hydration/filtration, shelter, freeze-dried food, hygiene, fire starter, field dress, and even a "Power Boost" charging KIT complete with a NOCO battery charger and jumper cables.
Proudly made in the U.S., the GOAT BOXCO HUB 50 is a rugged and ready gear management and cooler system.
MSRP: $399.99
Scrubblade — Platinum & Heavy Duty Wiper Blades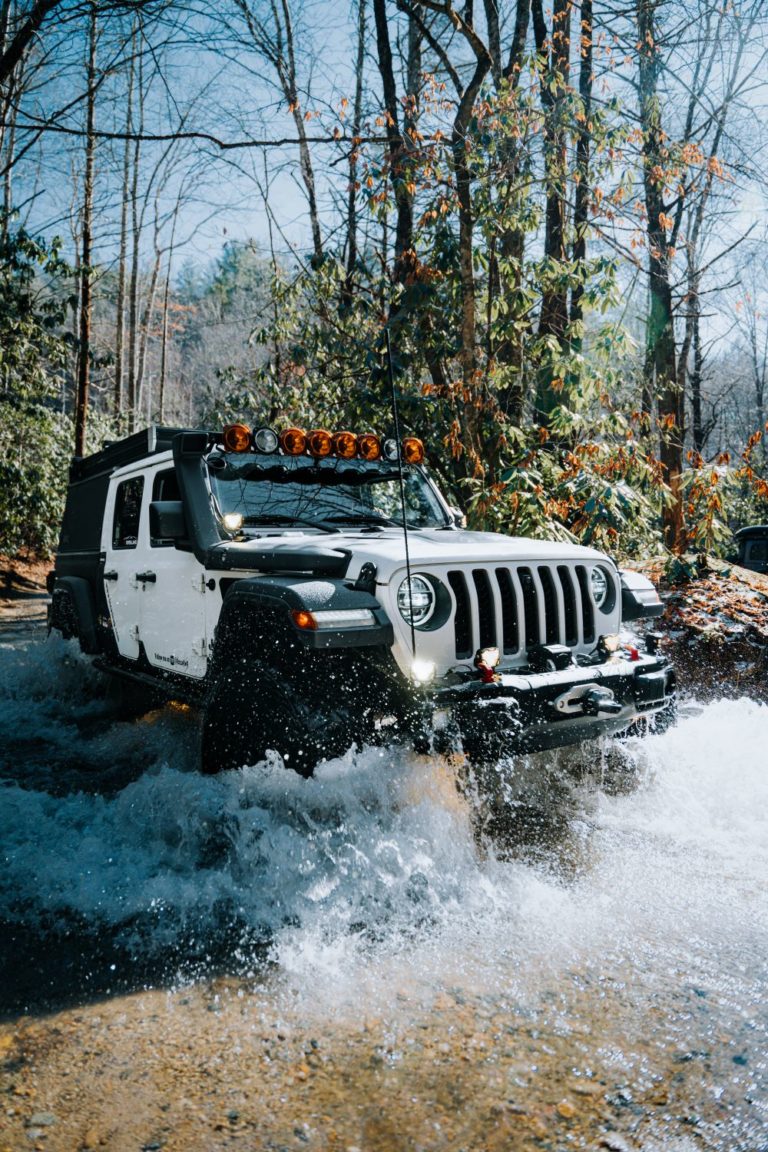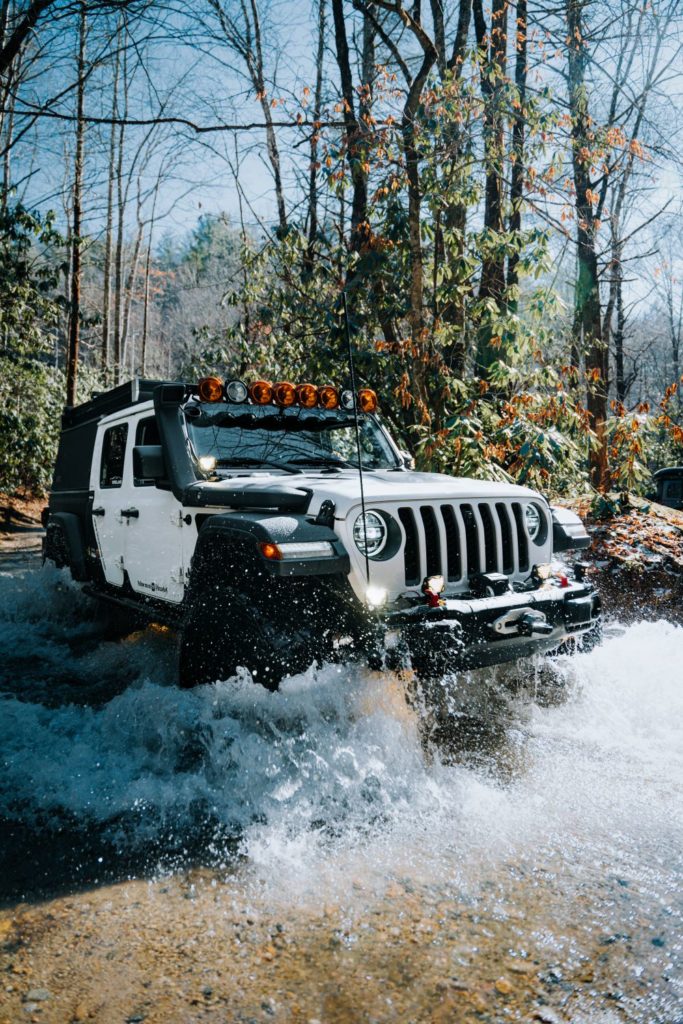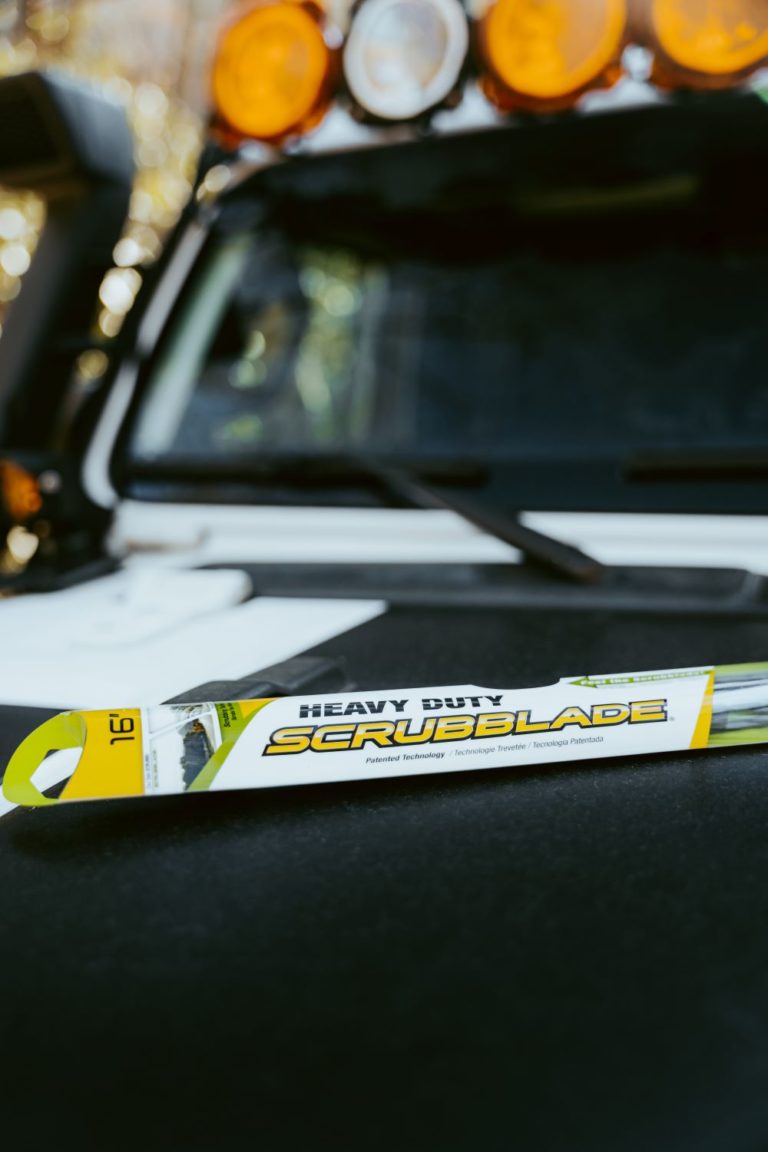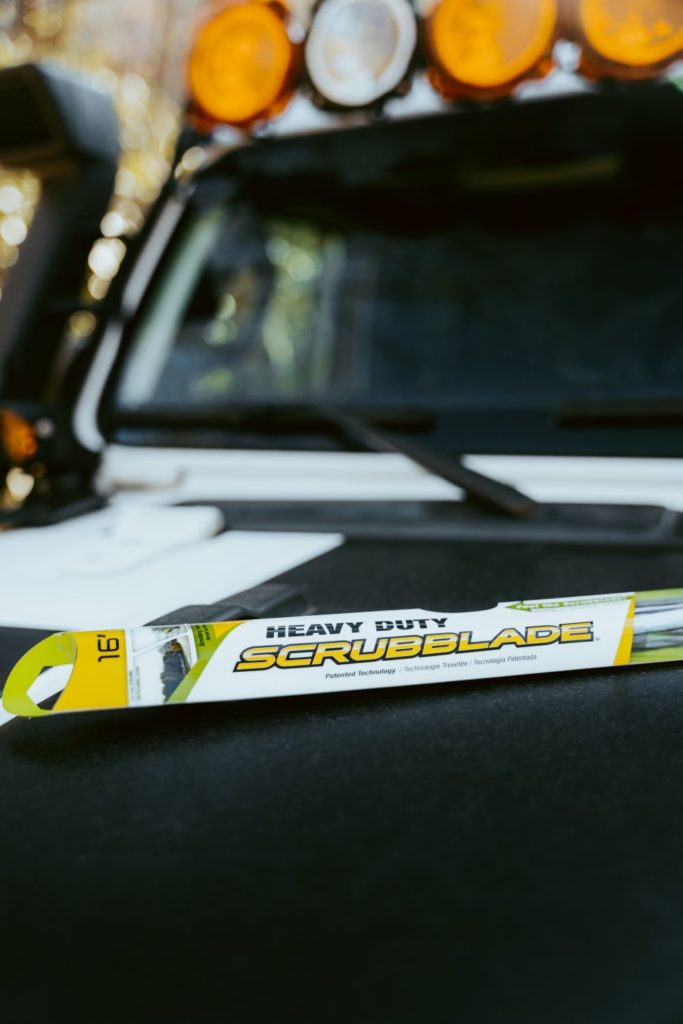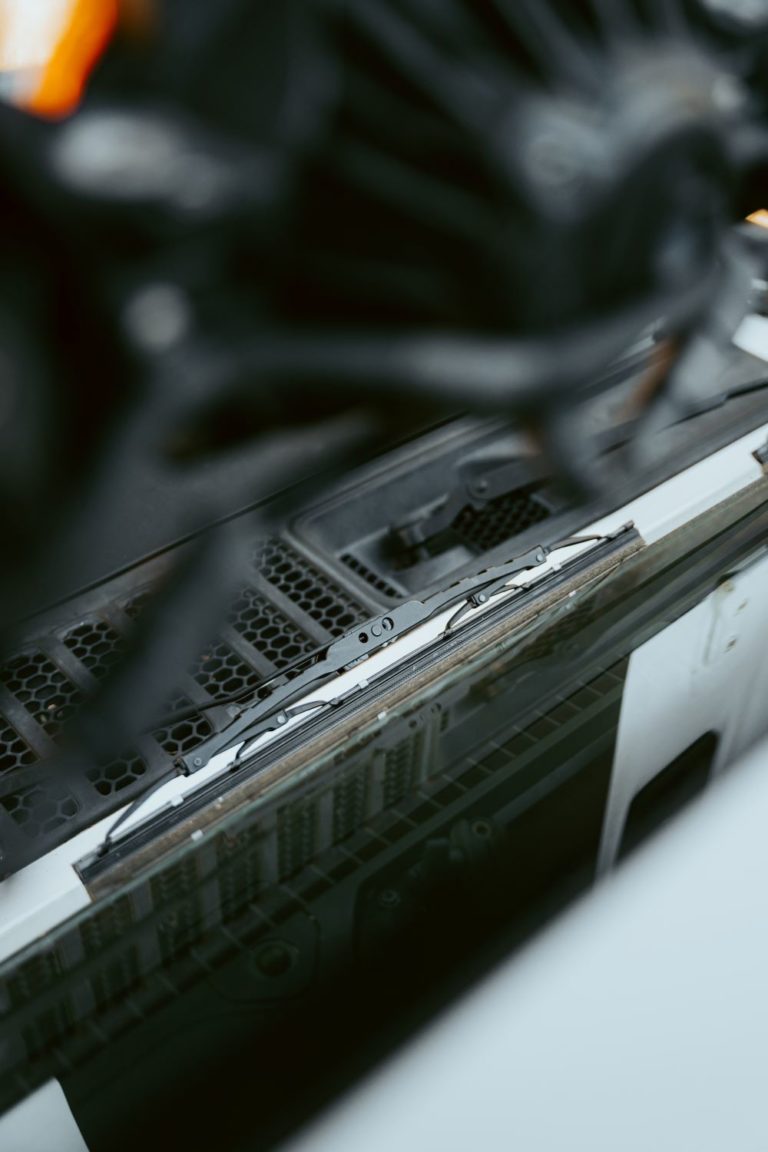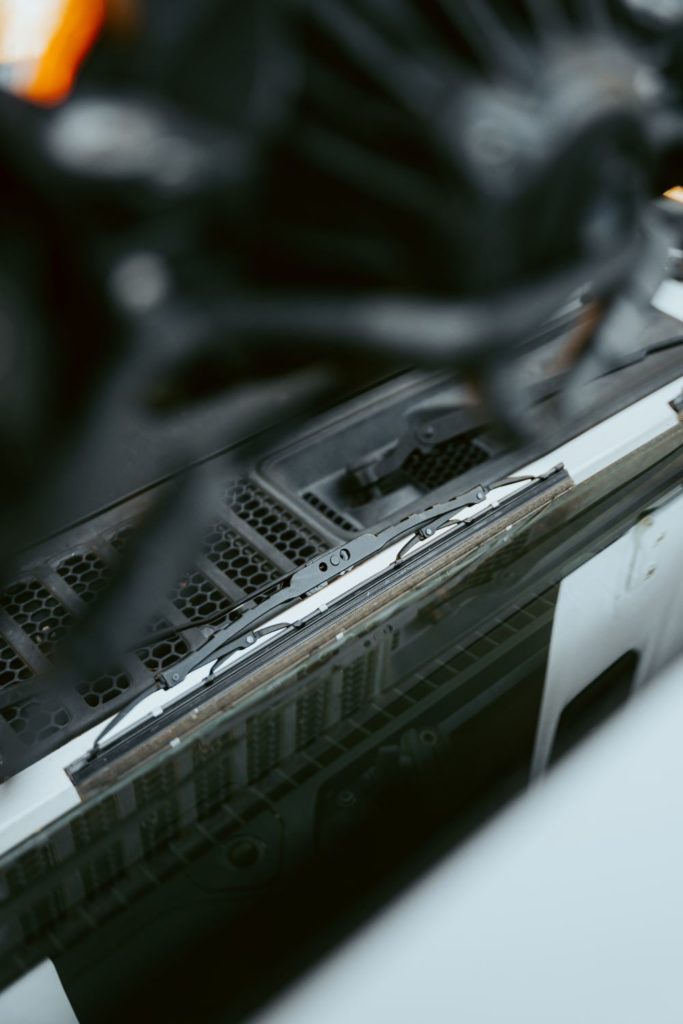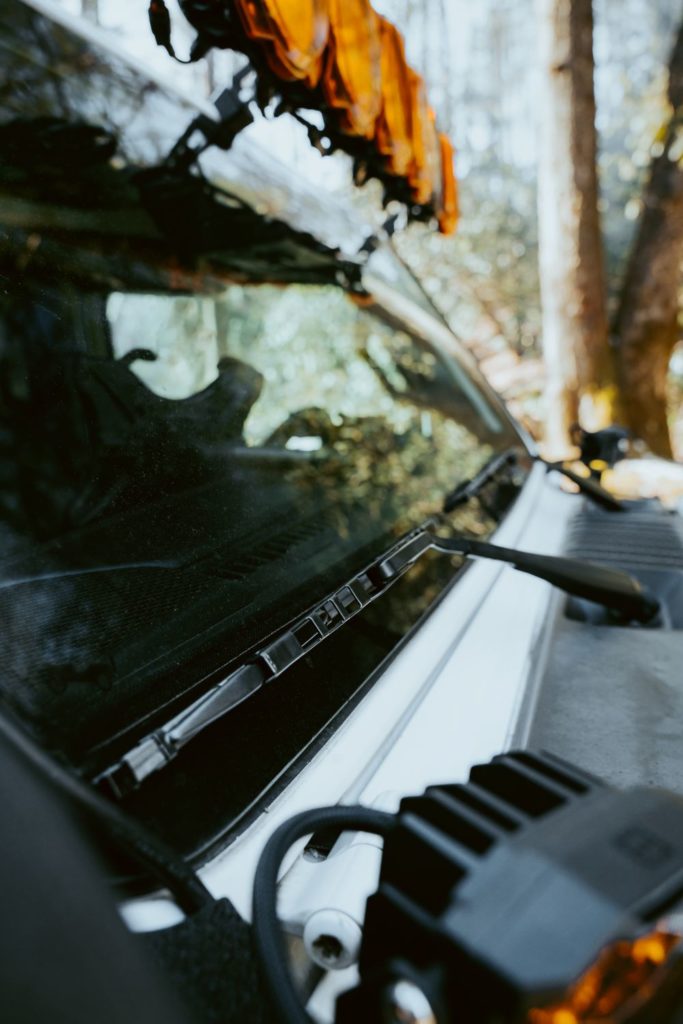 Let's face it, windshield wiper blades are innocuous, pretty much there, and largely taken for granted. That is until you encounter thick, muddy, claylike sod in the Southeast or ice sheets in the Antarctic. Right about then, you probably wish you had a wiper blade that did more than smear dirt and debris and drag it across your windshield to the other side.
It was in 2007 that Scrubblade was born, a novel idea created on the backside of a napkin for a more effective, better cleaning windshield wiper. If dual blades worked well in facial hair removal, why not on the windshield of an overlanding rig? There really is an advantage in getting rid of dirt, water, snow, or accumulated gunk in fewer passes from a wiper blade whose name says it all: Scrubblade.
If Scrubblade doesn't register immediately, you're not alone. While they have been sold for more than a decade, it was big rig truckers that first adopted them. They use the best products available to get their cargo to the destination, regardless of weather or road conditions. They discovered that not only did Scrubblades wipe and clean their windshields more effectively, the small triangular scrubbers found on the blades were designed to cut through debris for a cleaner, particle-free windshield. A trailing blade then removes any remaining water and debris for a significantly better wipe. Compared to the other wipers available in the Heavy Duty market, Scrubblades were found to be longer lasting and more durable.
Pilot/Flying J, Love's, and Travel Centers of America/TA/Petro are among the truck stop and travel center chains that carry Scrubblades nationwide, along with many independent truck stop owners and operators. Last year, Birmingham, Alabama's AllPro Distributing became the first performance warehouse to begin carrying Scrubblades, and their retailers in Florida and the Southeast are starting to feature them in their stores.
In testing done by AllPro, Scrubblades were found to be a remedy for love bugs, insects found throughout the South that swarm and drift into oncoming traffic. The result is a bug-coated windshield that's almost impossible to see through, a potentially hazardous occurrence. While love bugs don't sting, bite, or pose a threat to crops or plants, they can be a serious menace. Swarms of love bugs will coat windshields and quickly limit visibility. This is why Scrubblades' popularity is growing and will continue as word of their efficacy spreads, and more points of sale are added.
Meanwhile, Scrubblades are available through their website and at events such as Overland Expo.
MSRP: $12.99 – $24.99
Kokopellis — XPD Packraft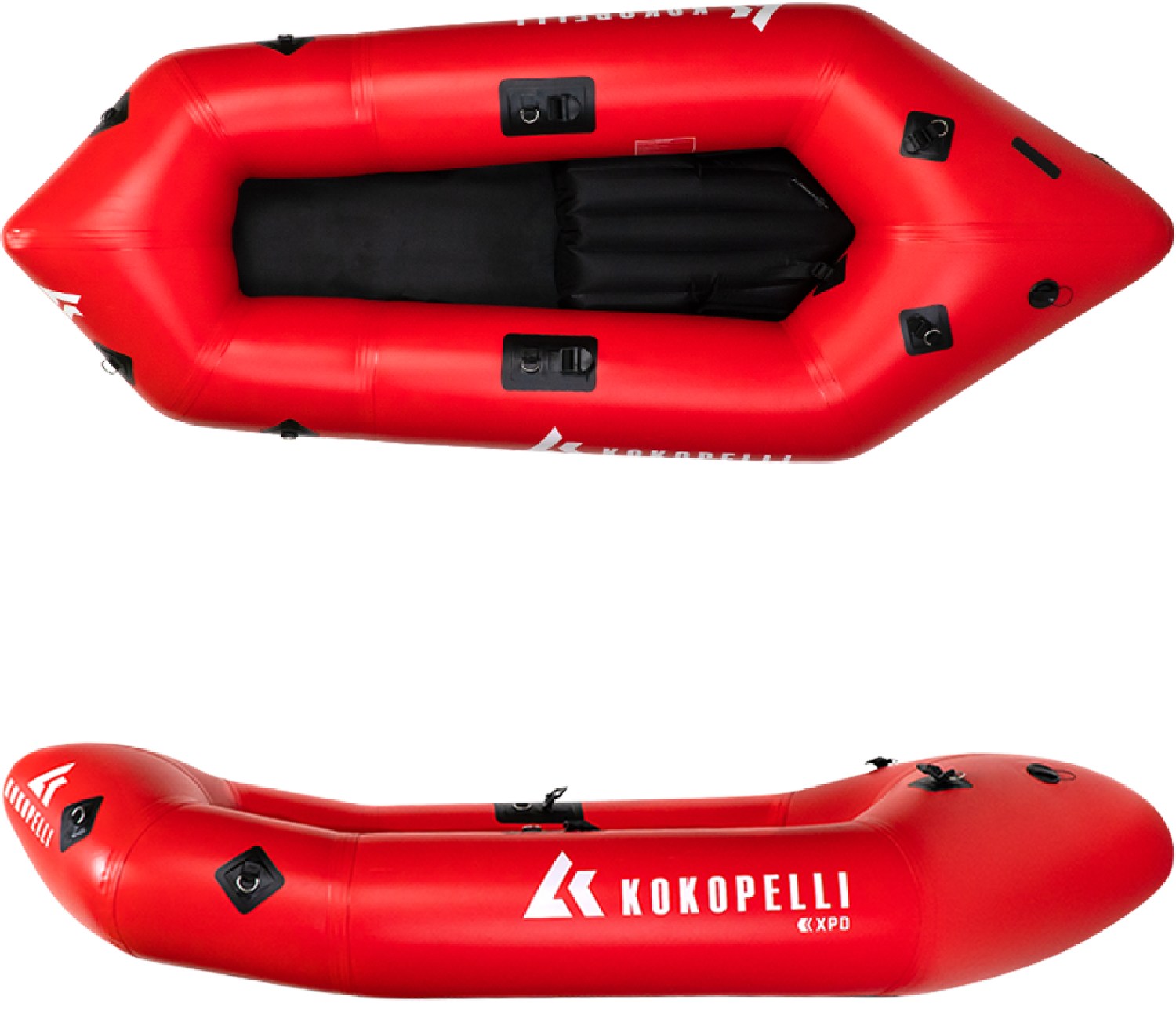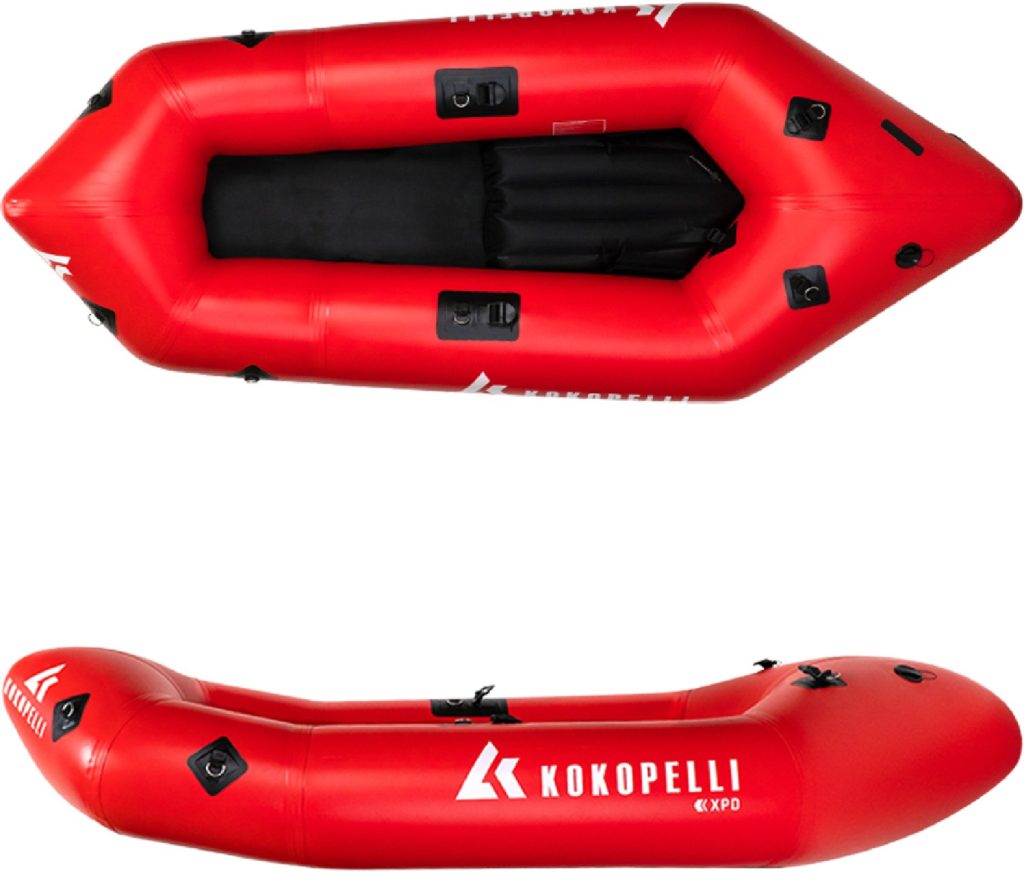 Just because we're heading into cooler temperatures doesn't mean we can't hit the water for some backcountry adventures. With the Kokopelli XPD, you can always have a boat in your rig so that you're prepared to hit the water when the opportunity arises. Weighing in at only 14 lbs., and packing down into a small duffel, it's an incredibly handy piece of kit to add to your gear loadout. We got to check out this small but mighty boat at Overland Expo Mountain West, and we were very impressed with the overall quality and capabilities. The XPD is an excellent choice for novice packrafters due to its 1,000d reinforced PVC construction, removable fin for improved tracking, and compact air pump. It only needs to be inflated to a couple of PSI, so it isn't a chore to get it up the required pressure like some inflatable watercraft. This is essential a parred down and portable version of a commercial whitewater raft that's meant for clear lakes, calm rivers, and up to Class-1 rapids. You can take it out for a nice sunset paddle, or load it up with some gear for a day of fishing and exploration. When you're done, you can toss it in your storage drawers, where it will be ready for the next adventure.
MSRP: $799.99
Kelty — Backroads Shelter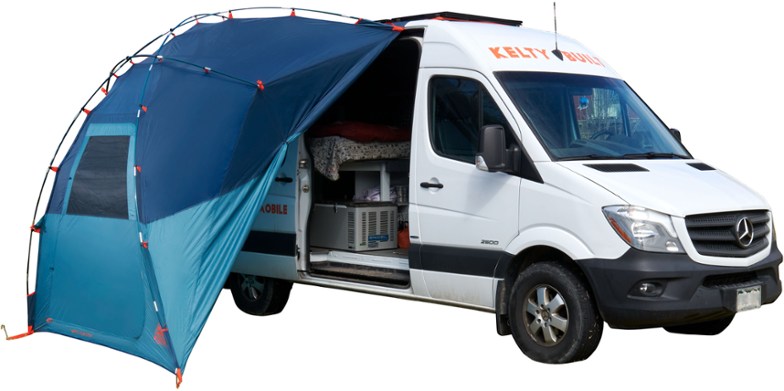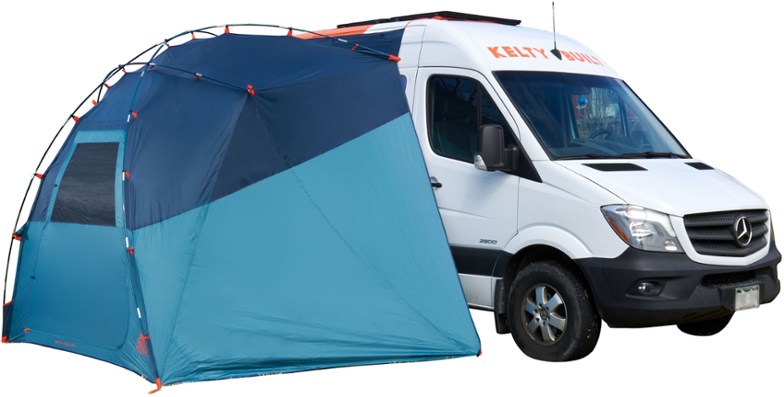 Kelty has been making gear since 1952, and in that time, they've produced just about every type of tent and tarp imaginable. They're now breaking into the vehicle-dependent travel market with their Backroads Shelter. This dome-shaped awning includes multiple universal mounting options so that it can attach to just about every roof rack on the market or the vehicle itself. The domed portion is angled down from the mounting points and features a large entryway. When you need more protection, the open ends can be rolled down, and it still has space for up to six adults. The whole awning packs up into a duffle for easy transport. No matter if you have a hatchback, a van, or an SUV, the Backroads Shelter can provide shade and weather protection in a simple package.
MSRP: $169.95