If you've got your deposit in for the new 2024 Toyota Tacoma that we have covered extensively and are looking to outfit it for some off-pavement adventuring, then GoFast Campers is ready to take your call.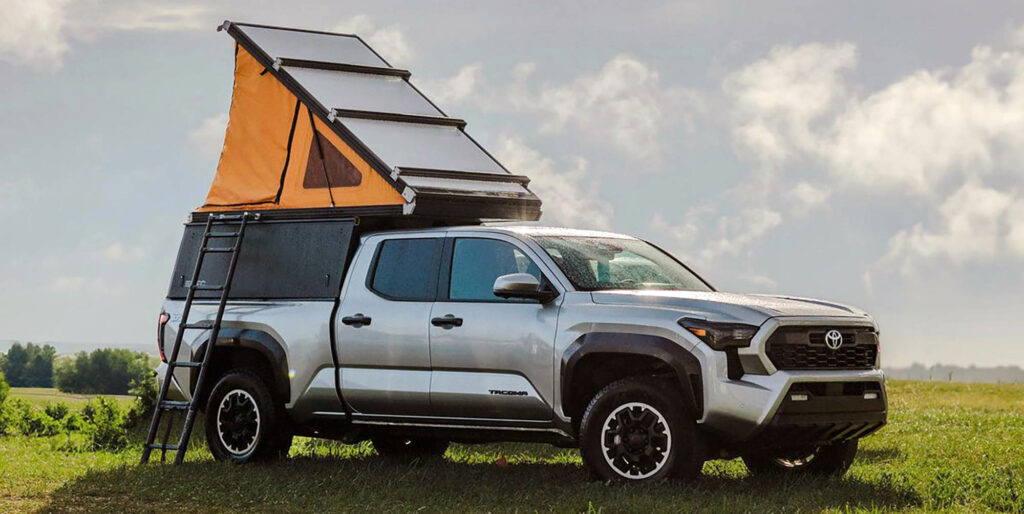 Long a supporter of the Tacoma overlanding aftermarket, Bozeman, Montana-based GoFast Campers (aka GFC) will offer a camper solution for every version of the all-new Tacoma, including the TRD and new Trailhunter trims. Prices start at $7,700, and there will be versions for five- and six-foot bed options.
The pop-top camper only adds 266 or 278 pounds to the truck, the heavier version covering the six-foot bed. The system adds just a tick under seven inches to the overall vehicle height.
Once installed, the tent pops up to give over seven feet of element-sheltering headroom towards the back of the bed. In sleep mode, the tent features a three-inch memory foam mattress and 90 inches of space to spread out in. The tent boasts a 500-pound weight limit, so bring those furry friends along on the adventure.
GFC says they are taking deposits on the new setup and that delivery is likely 10-12 weeks after an order is placed, which puts it on schedule for some early spring outings. Contact GoFast Campers for more information, pricing, and accessories.