Overland Expo is thrilled to welcome the Highland Family back to Flagstaff, AZ, in May! Eric, Brittany, and little Caspian last joined us in September of 2021 before heading South and kicking off their epic round-the-world journey.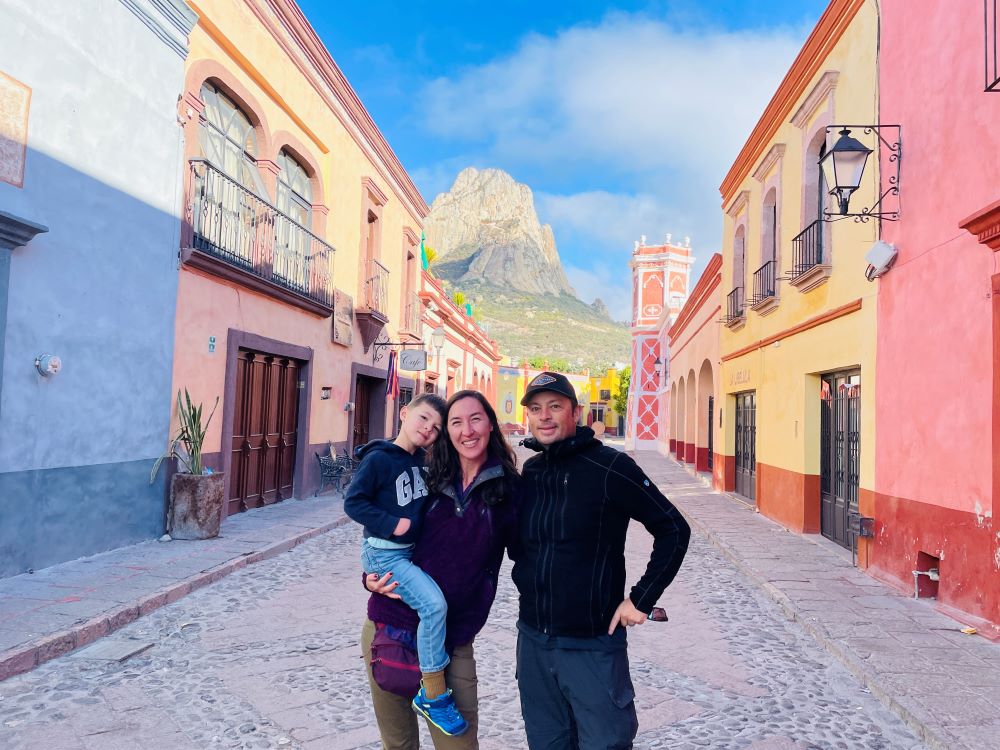 The Highlands are in the midst of driving their Jeep Gladiator around the world. Eric and Brittany have been traveling full-time by vehicle since 2014, and Caspian was born into wanderlust six years ago. Since leaving the United States in 2021, they've traveled through Mexico, every country in Central America, and shipped their Jeep Gladiator to Colombia. Known as Hourless Life online, their family mission statement is "Love. Explore. Study. Share." This spells LESS, as the threesome intentionally chooses experiences and relationships over material possessions. This mission will serve them well as they intend to be on the road for 10-15 years in total.
During Overland Expo WEST 2023, attendees will have a chance to meet the Highlands and hear their incredible travel stories firsthand. We hope you'll join us in the Around the World Pavilion for their presentation "Driving the Pan-American: What You Should Know," and you'll also be able to catch them on several panel discussions.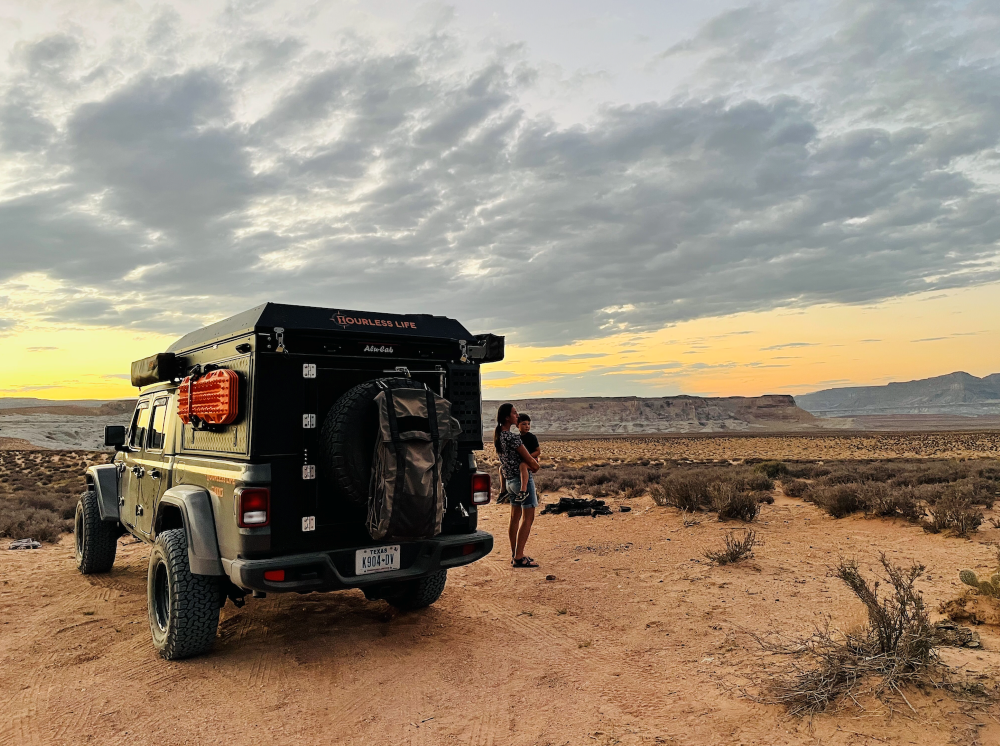 To learn more about the Highland Family, please continue reading below.
Tell us about your rig:
We selected a 2021 Jeep Gladiator Sport S with Max Tow Package, which provides the highest payload capacity for a Gladiator out of the automatic transmission options (1,565 pounds). We equipped it with an Alu-Cab Canopy Camper, which has proven itself after almost 300 nights, including six months of daily rain during an unusually long wet season in Central America. We have several other Alu-Cab products, like the 270-degree Shadow Awning and 13-gallon water tank. We have a Goose Gear 60 High Seat Delete in the back seat of the cab, with a National Luna fridge that slides out of the rear passenger door. Goose Gear also supplied the cabinetry for the Canopy Camper. Our entire build is geared toward making daily life sustainable. Quick set up and tear down are essential since we do both almost every day in all kinds of weather conditions. For video footage of our home on wheels, see Overland Expo's Why We Roam and Community Spotlight videos.
What is your all-time favorite campsite?
Do we each get to pick one? Brittany's favorite may be a grassy lawn outside Panajachel, Guatemala, overlooking Lake Atitlan and the towering volcanoes on the opposite coast. The weather was perfect during our stay—before the rainy season started and not too hot. In five minutes, we could take a tuk-tuk to the boat launch, where water taxis transported us to the colorful villages around the lake.
Eric's all-time favorite campsite is a wild camping spot on the Pacific side of Costa Rica. We were located on a bay with a sandy beach, no rocks, 270-degree views, a gorgeous sunset, small waves where Caspian could boogie board, and very few bugs. It was peaceful and sublime, and I still think about it.
What's your go-to overlanding meal?
Finding quality meat in Latin America can be difficult outside of major cities, so we're happiest when we've found a good steak to put in the cast iron frying pan. Eric has managed to stay on keto for most of our 18 months outside the United States (he manages Type II diabetes with his diet), but meal choices are definitely limited when we can't find good meat or cheese.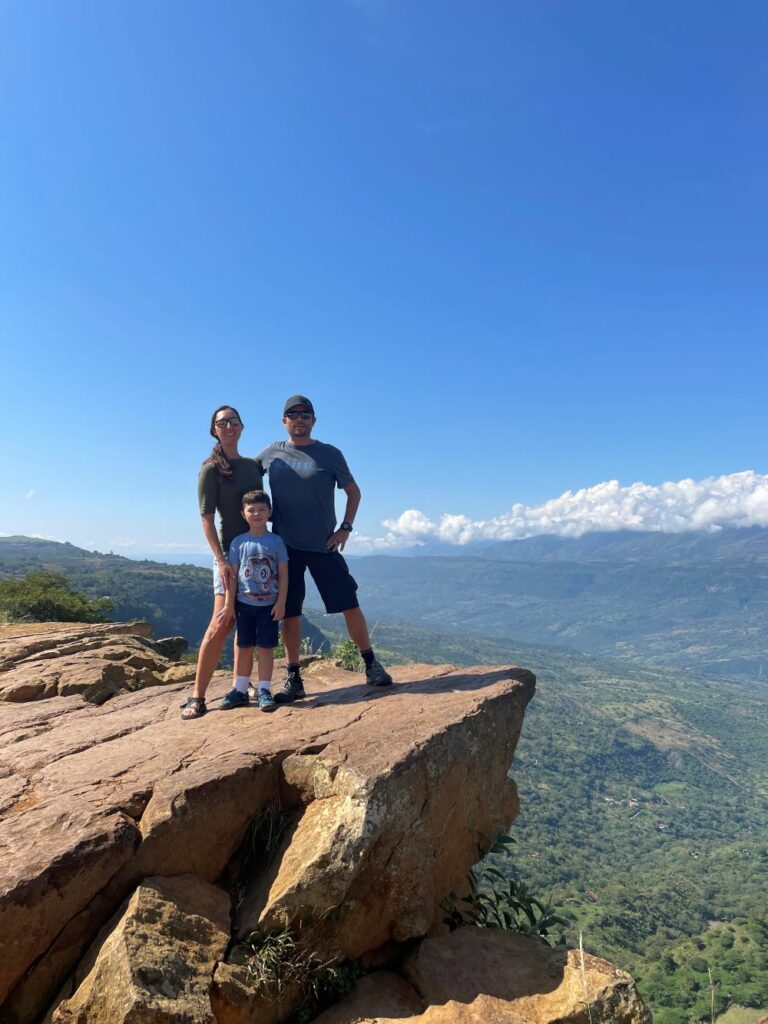 Best silver-lining story?
We were camped near a waterfall on a sunny day in Honduras when a storm came out of nowhere. The tailwind of a tornado bent our awning up 90 degrees, and we had to quickly evacuate the field as tree limbs and live power lines came down. It was the beginning of the rainy season, so it was urgent that we replace our awning. Jim, Rin, and their team at OK4WD worked with us quickly to figure out how to ship a new awning to Central America. Because we had to find an installer, we had the privilege of meeting Rolo at TJM Costa Rica. Through Rolo, we made friends in the wider off-road/overland community in that area and even got to camp with them.
Every time something goes sideways, the best (and most humbling) part is seeing how people go out of their way to help us.
What is an area of overland travel that you think you have nailed? And what is an area of overland travel that you feel you could use some improvement in?
Every item we own has its place in the Jeep. When it comes to set up and tear down, each of us knows what to do and what order to do it in. After so long living on the road, we're pretty much going off muscle memory and don't even have to talk to each other.
Eric would like to improve his mechanical-handyman-DIY-trail-fix skills. He's got super glue mastered so far.
Brittany needs to figure out how to deal with heat before we get to Africa.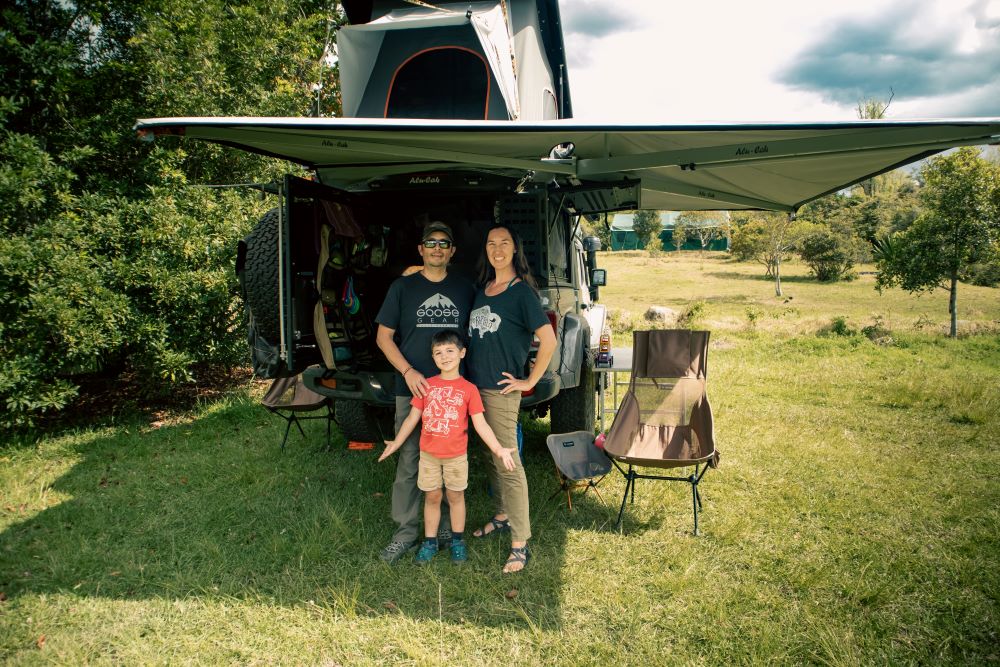 What does your "division" of labor look like while traveling?
We share travel planning. Before entering each country, Brittany creates a Google Map with pinned places of interest. These pins inform the route, which we usually decide on the fly. Eric researches to determine the best route when there are multiple choices, and both of us share the task of finding specific campsites.
At borders, Eric interacts with officials, while Brittany takes care of guarding documents and providing the right ones upon request.
Brittany takes care of the typical household upkeep, including meal planning, shopping, and cooking. Eric leads the mechanical-oriented chores.
Eric manages YouTube filming and editing and makes daily video updates for our Patreon community via a real-time video app called Marco Polo. We use it to share behind-the-scenes insight into what we're seeing and dealing with each day. Brittany writes blog articles and takes care of most of the social media posts.
Does Caspian have any chores or responsibilities while you are on the road?
Caspian has certain items he likes to travel with, like his tablet and water bottle, and he's responsible for making sure those items get to his car seat on travel days. He is constantly helping around camp and learning how to do different tasks. Sometimes he helps do dishes or cook a meal. He likes to watch Eric edit videos. We'll be happy to share that job with him someday!