Requiring little more than a functional motorcycle and an eye for exploration, adventure motorcycling is riding in its purest form. Often associated with big motorcycles sporting knobby tires, adventure riding simply means venturing into the unknown on two wheels.
There are a few things that separate adventure riding from other forms of motorcycling. Though your lane-splitting commute through rush hour traffic may feel like an adventure, ADV riding is different. To be on an adventure ride, you need to be self-reliant and focused on exploration. Just like overlanding, the journey, rather than the destination, is what it's all about. Whether you hit the road for an afternoon or a decade, your bike is the tool and your experience is the goal.
The Adventure Motorcycle
The motorcycle is the key to adventure. Your bike doesn't have to be fancy, but a capable machine that can withstand the rigors of extended exploration is a prerequisite.
Adventure motorcycles can range in size and engine displacement, but they need to be reliable and capable to carry you through the tough stuff and keep you rolling on your journey. Don't feel like you have to get a brand-new motorcycle to start adventure riding; a quality used bike is a great choice when you're starting out. Whether you choose a dressed-up dual sport or a full-blown adventure rig, you'll want your bike to be off-road capable and able to handle whatever sort of terrain you choose to ride on.
When to Choose a Smaller Bike
Though you might sacrifice power and long-haul comfort, you'll make up for it as you nimbly navigate trickier trails on a smaller motorcycle. Smaller adventure bikes have the advantage of inspiring confidence when your feet can touch the ground and you can easily lift your bike in the event of a tip-over.
When to Choose a Bigger Bike
Bigger adventure bikes deliver plenty of power and often come equipped with touring features that are great for long-haul adventuring. Though they're a bit more difficult to ride off-road and require heavy lifting when they hit the ground, big bikes are generally smoother and more comfortable for longer distances.
Adventure Riding Gear
Because you're fully exposed to the elements when riding your motorcycle, having good gear is essential. Your gear not only protects you from rain and heat, but your riding gear is your first line of defense in case of a casual tip-over or serious accident.
Even if you bought your adventure motorcycle with your leftover lunch money, skimping on riding gear is never a good idea. Before you head out, you'll need a helmet, jacket, and boots to keep you protected. Plus you'll want rain gear and layers to keep you out of the elements.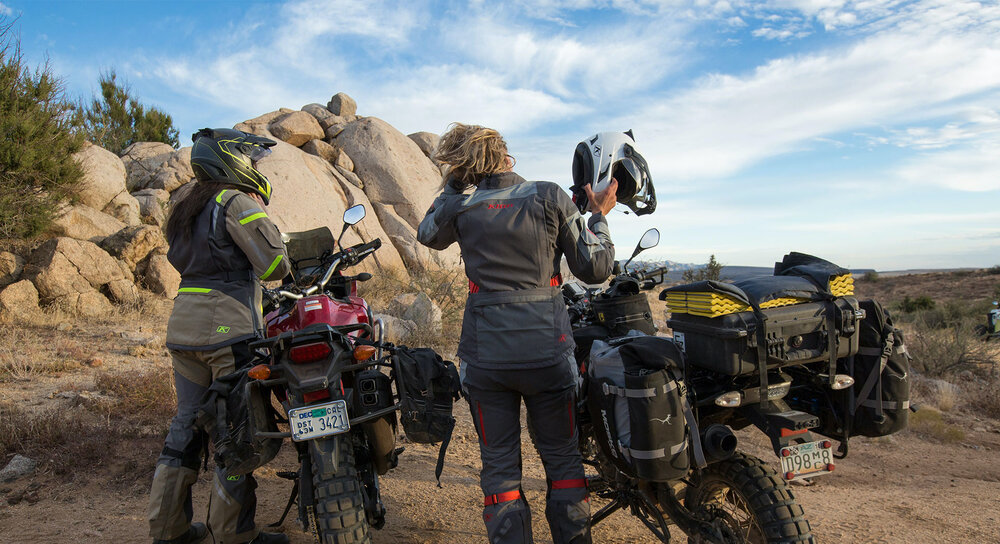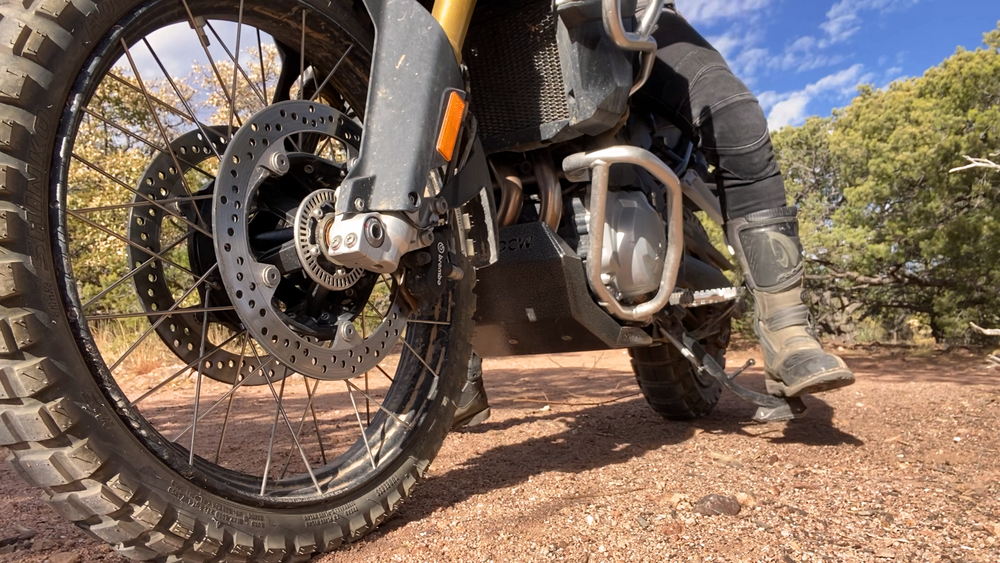 Camping Gear
One of the best parts of adventure riding is heading out for days at a time. Because getting off the beaten path is one of the goals here, you'll want camping gear that lets you rest well under the stars. For shorter trips you can get by with a simple setup, but a complete camping kit is a lovely luxury for longer adventures.
Carrying capacity on the motorbike is always at a premium, so set yourself up with compact gear that fits in your panniers or duffle bag. Think backpacking rather than car camping as you plan your off-road overnight gear. Having plenty of water and a bedroll is the minimum to get by with, but cooking equipment and a tent sure make things a little nicer out there in the long run.
Tools and Skills
More important than almost any other part of your adventure kit, having the tools to fix your bike and the skills to get yourself out of a sticky situation are truly the key to successful adventure motorcycling. That said, you don't need to be a master mechanic or a Baja champion to be a good adventure rider.
Your toolkit should go with you wherever you ride. At the very least, you need a tire repair kit and some basic hand tools to do maintenance and make minor repairs. Assemble your toolkit with wrenches and hexes size-specific to your bike. Don't forget to pack zip ties, baling wire, SteelStick and duct tape as well— you'll be surprised how often they come in handy when you have to make a minor repair in the backcountry.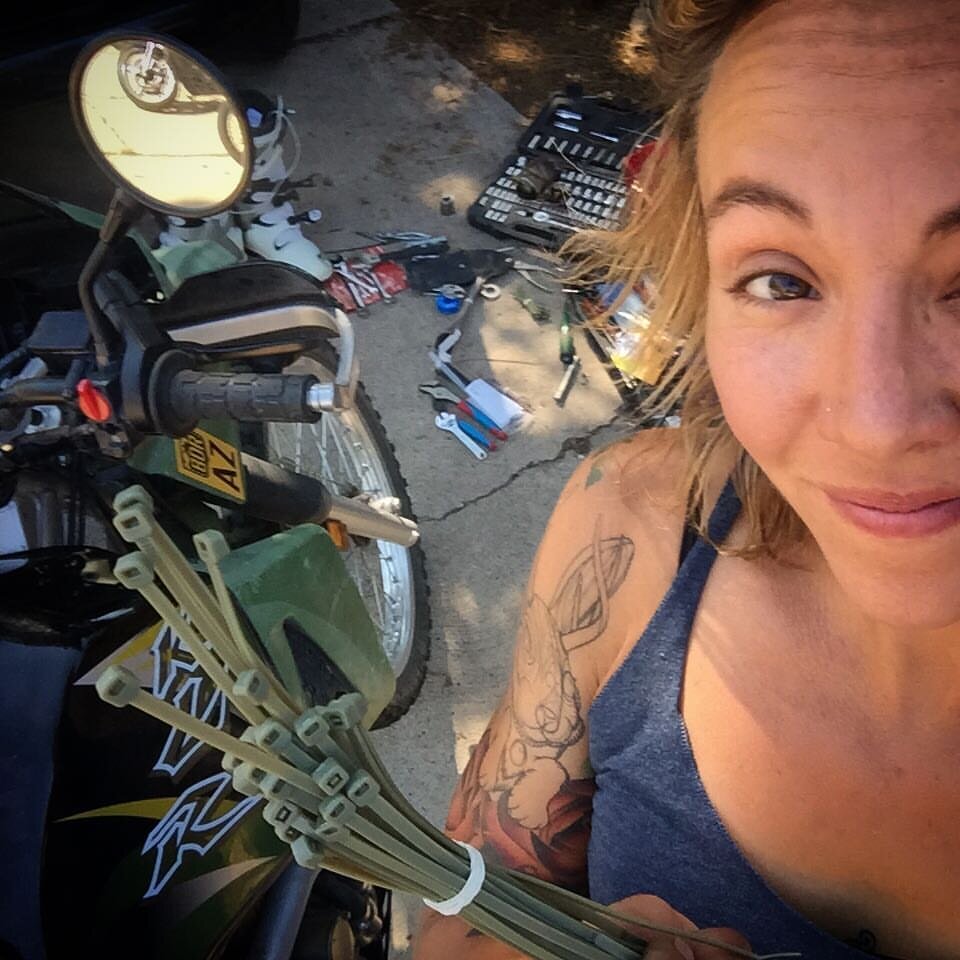 Adventure motorcycling is, without a doubt, one of the best ways to spend your time, see the world, and have a blast. Most importantly, adventure riding doesn't have to be an expensive, esoteric pursuit if you go about it wisely. Start by setting yourself up for success with a used motorcycle, some quality gear, and a training class appropriate to your level. Over time, you'll find yourself off the beaten path with confidence, exploring the world, and realizing that the best adventures are just a throttle twist away!
---
Motorcycle Industry News by Eva Rupert. Follow Eva @augusteva.
Header photo by John Allen