For 2021, beyond creating the world's premier do-it-yourself, adventure-travel event series, Overland Expo embarked on an entirely new kind of project. For the first time ever, Overland Expo built an Ultimate Overland Vehicle, the Toyota 4Runner TRD Off-Road.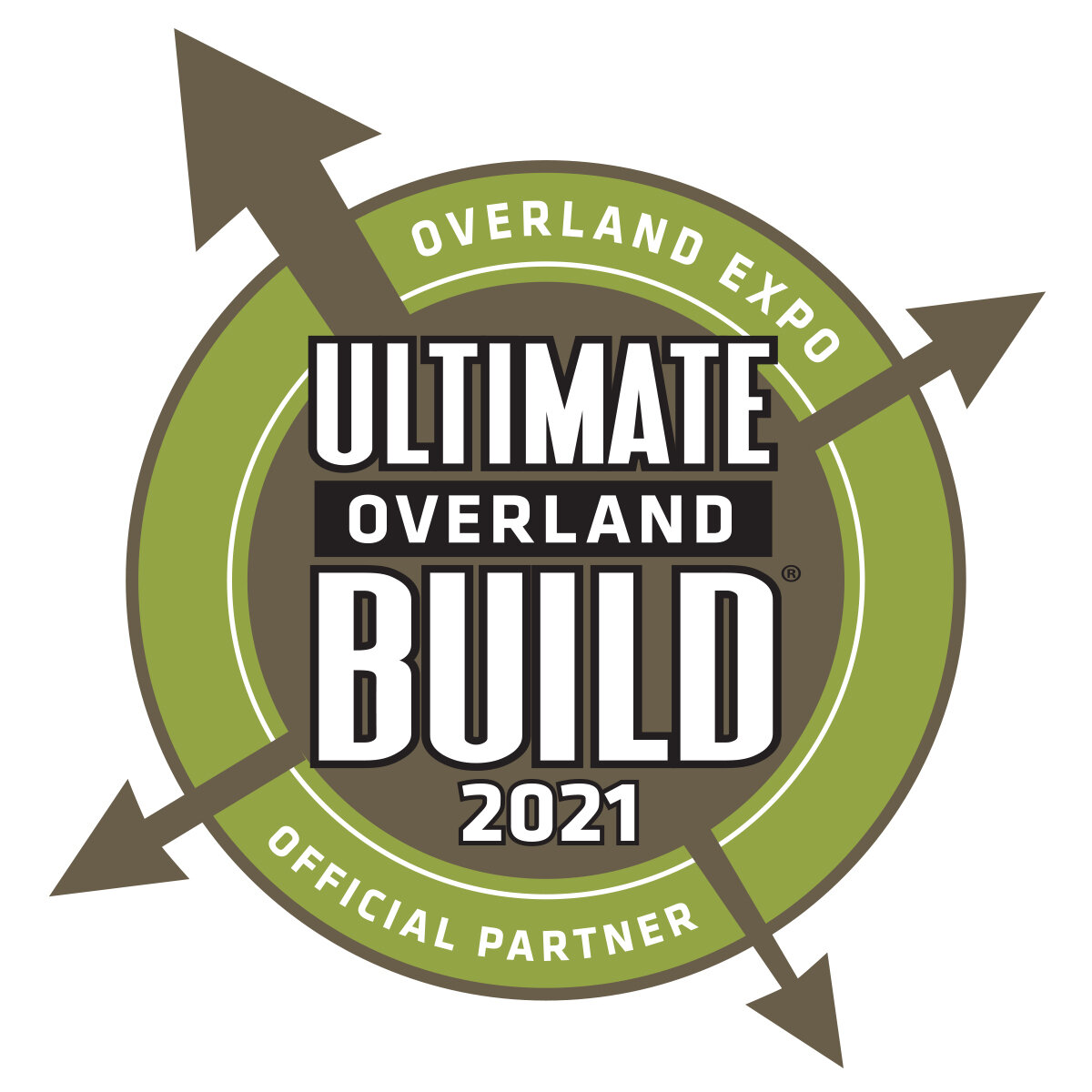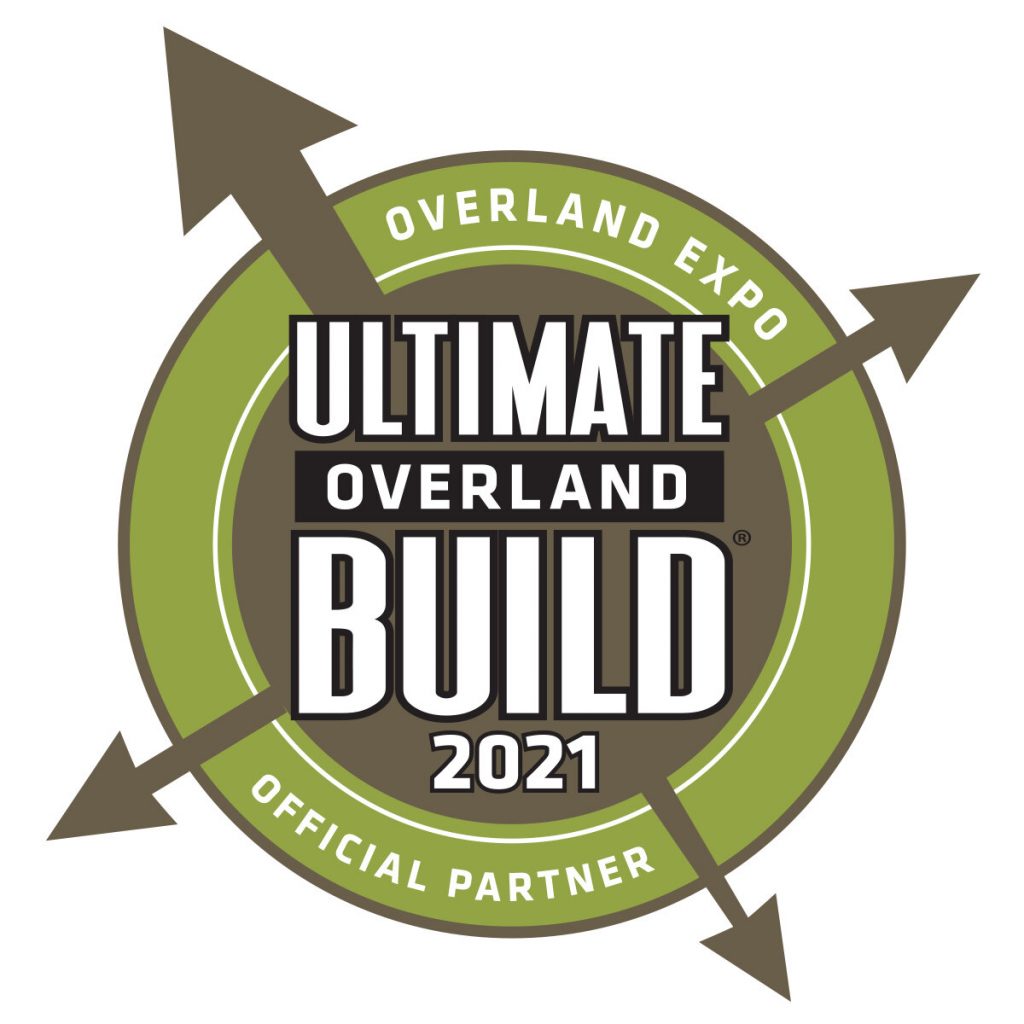 Overland Expo has always been about educating, outfitting, and inspiring overlanders. The Ultimate Overland Vehicle build, however, was the first time the organization had put all of those concepts into a physical form. The 4Runner, outfitted with the latest and greatest overlanding equipment, is the literal embodiment of Overland Expo's ethos.
Over the last year, the 4Runner has been on display at all Overland Expo live events. What's more, it traversed the United States as well, playing starring roles in Overland Expo editorial content on the Compass. This includes How-to, Trips & Trails, and more. If the build was the 'outfitting,' the Compass content was the 'inspiring and education' portion of the project.
Now, with those trails traversed, stories told, and lessons taught, it's time for the final portion of the 4Runner's lifecycle; Bring a Trailer auction to benefit the Overland Expo Foundation.
Here are all the stories the 4Runner has been a part of:
Since the outset of the build, it has been Overland Expo's goal to send the Ultimate 4Runner to auction on the leading online auction website Bring a Trailer. All 100% of the proceeds of the auction will go directly to the Overland Expo Foundation.
As we send the 4Runner off for auction, we wanted to take one last look at all the incredible gear that we added to the 4Runner, transforming the already capable truck into our vision of the Ultimate Overland Vehicle. In alphabetical order, here are the gear categories:
Builder: MULE Expedition Outfitters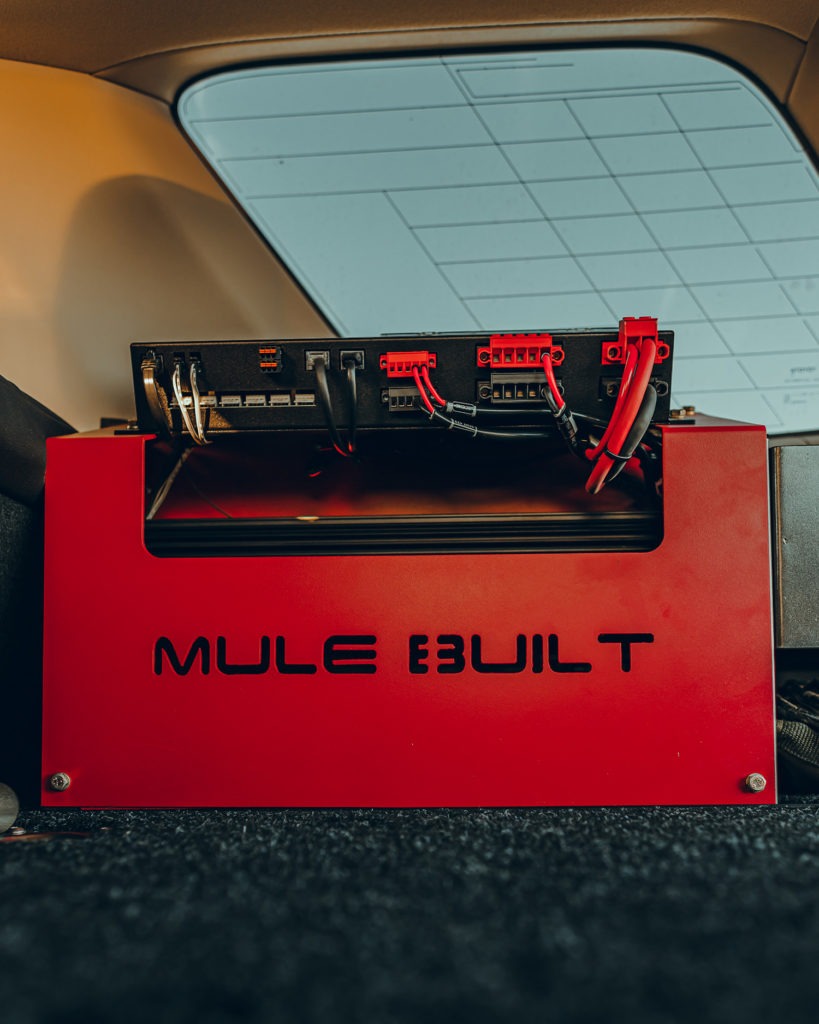 Mule Expedition Outfitters is the leading overland vehicle outfitter in the Pacific Northwest. With a combined staff knowledge of over 250 years, Mule is not only a store that sells overlanding equipment, but an expert resource for all things overlanding. Mule Expedition Outfitters has retail stores and installation departments located in Issaquah, Washington, and Tualatin, Oregon. Mule only sells and installs premium products. With so much staff knowledge, Mule has an extensive internal knowledge base of what works and doesn't. This valuable information is then passed to customers to help them build the ultimate adventure vehicle.
Communications: Midland MXT575
The MXT575 features a Fully Integrated Control Microphone ideal for vehicles with limited dashboard space, allowing the radio base unit to be stashed away. We can transmit on 15 GMRS channels and eight repeater channels. The MXT575 is equipped with NOAA Weather Scan + Alert technology to inform us about local weather conditions.
Camp Tools: Max Tool Kit by Forrest Tool Company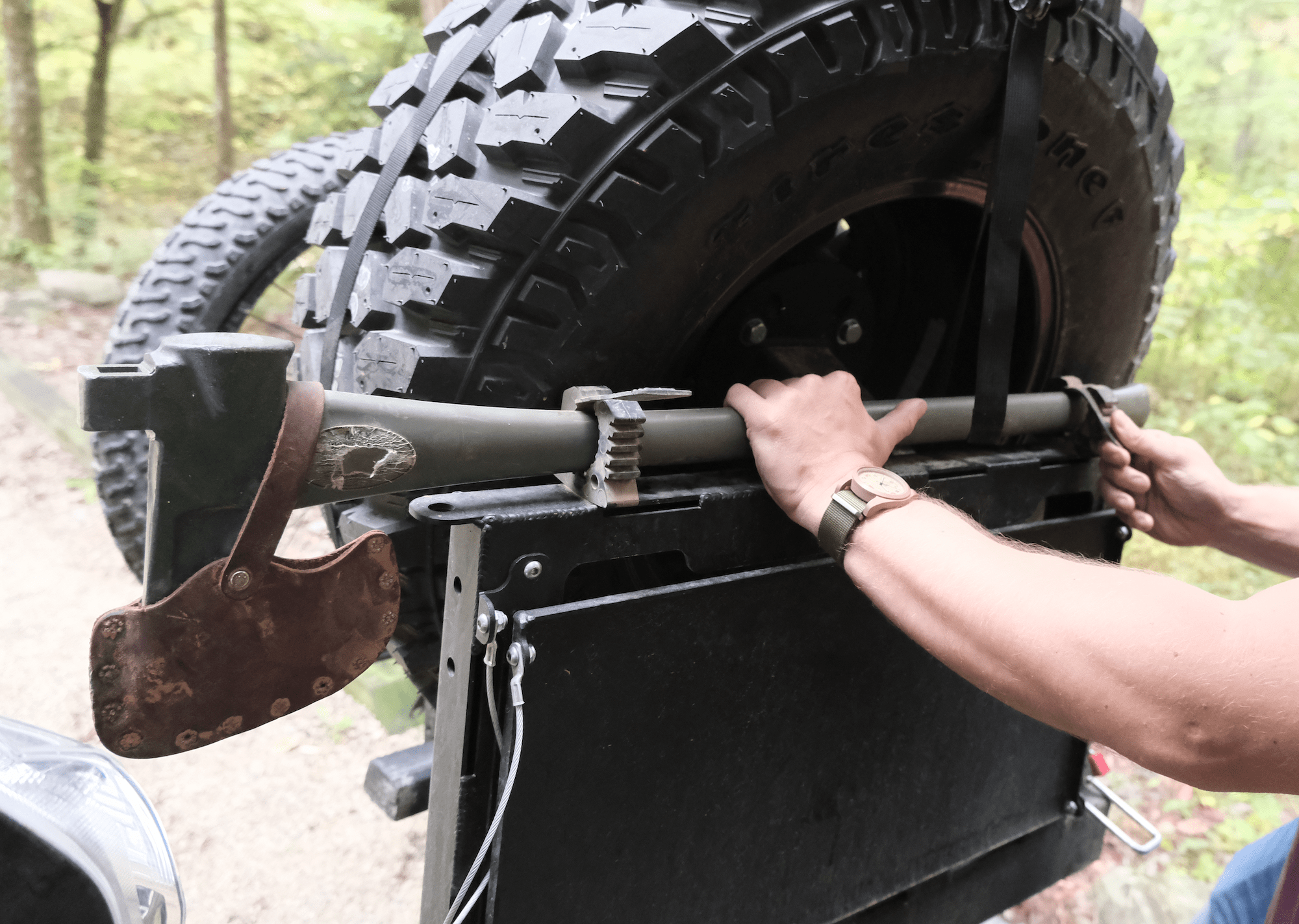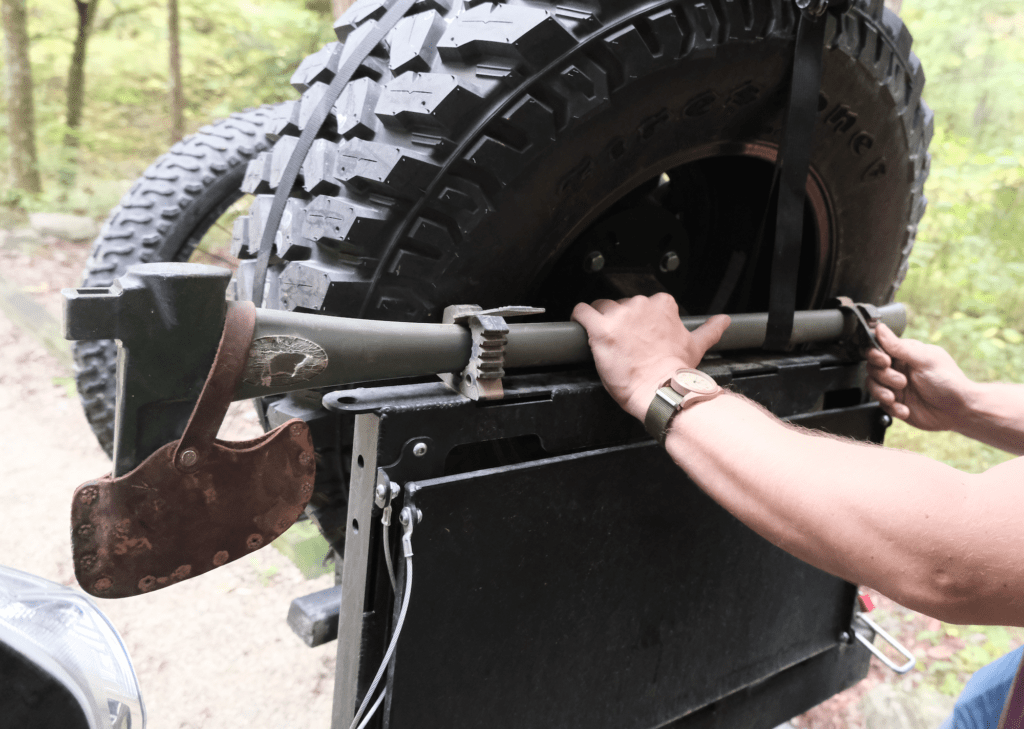 The Max Tool Kit is based around a 3.5-pound axe head mounted on a 34-inch composite polyglass handle. The head has a unique eye that runs perpendicular to the tool's handle. Using lock pins, you can mount the other tool heads to the axe. The kit includes a McLeod combo hoe/rake, shovel, pick, broad pick, and mattock blade. Additionally, the Hudson Bay patterned axe-head has a striking surface on the backside to assist in driving stakes or wedges.
Drawers: Dobinsons Dual Drawer System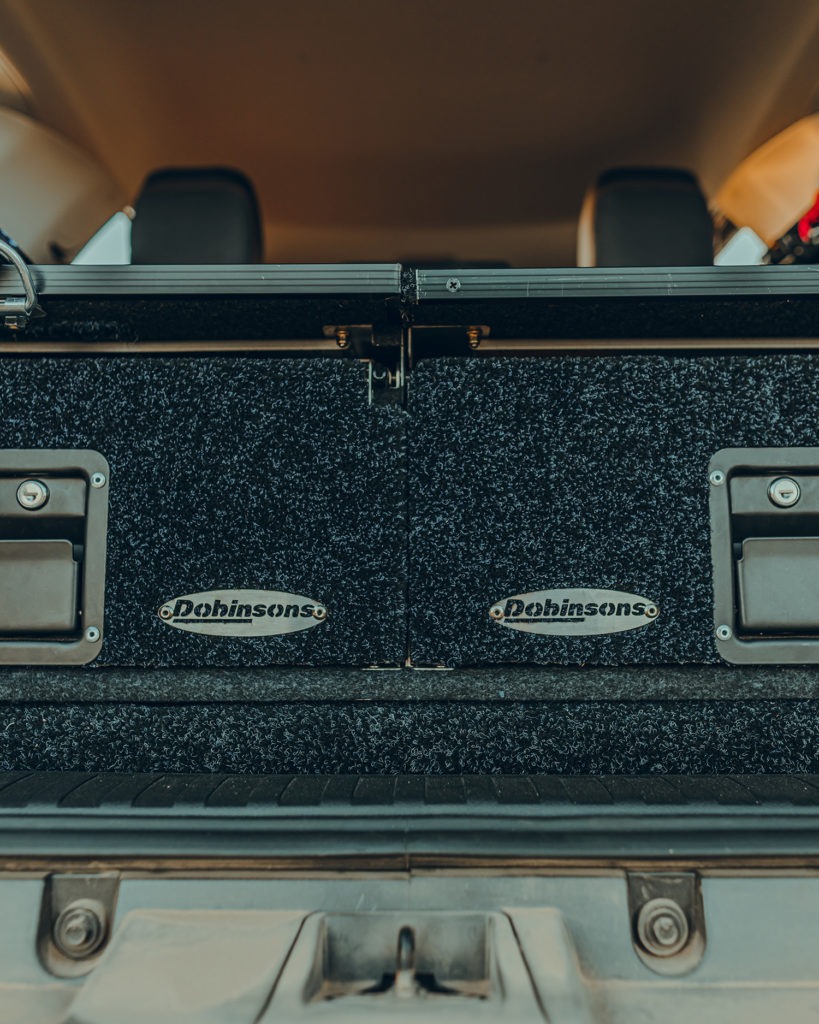 With an SUV, finding a way to secure gear in the cargo area is key. You don't want gear tumbling around loose, nor do you want to have to Tetris a series of cargo boxes in and out of the back of your vehicle every time you stop. The best solution to this conundrum is with a drawer system. We chose the one from Dobinsons. Specifically, we picked the brand's dual drawer system for 5th-gen 4runner with top slide and wing kit.
E-Bike: QuietKat RidgeRunner eBike
Sometimes on an overland trip, you want to set up camp for a couple of days in one spot and explore the region from your new home base. The perfect satellite rig for that duty is an e-bike. And we chose the QuietKat RidgeRunner, powered by a 1000-Watt BAFANG ULTRA MID-DRIVE MOTOR. It allows the rider to accelerate up steep inclines with ease. An average-size rider can easily hit 30 miles per hour using the thumb throttle on flat terrain.
Exhaust: Magnaflow Overland Performance Exhaust System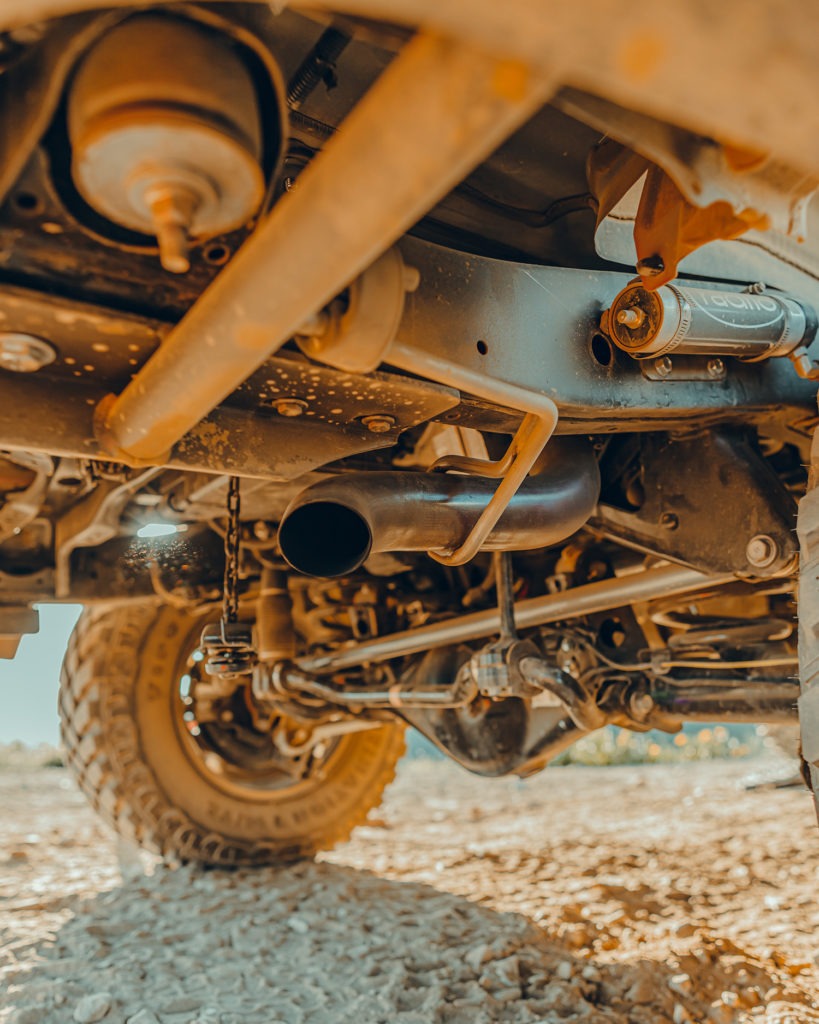 The Magnaflow Overland Exhaust System improves performance, increases departure angle, and provides a throaty exhaust note. With stainless steel construction and lifetime warranty, the Overland Exhaust System was a no-brainer for our Ultimate Overland Build. The new exhaust series from Magnaflow has a high-clearance design that hugs the undercarriage and recoups precious inches of departure angle. With an integrated 2.5-inch angled exhaust tip, your departure angle is preserved, even with an aftermarket bumper ensuring that you will scrape armor before you bend up your exhaust pipe.
Fridge/Freezer: Dometic CFX3 55IM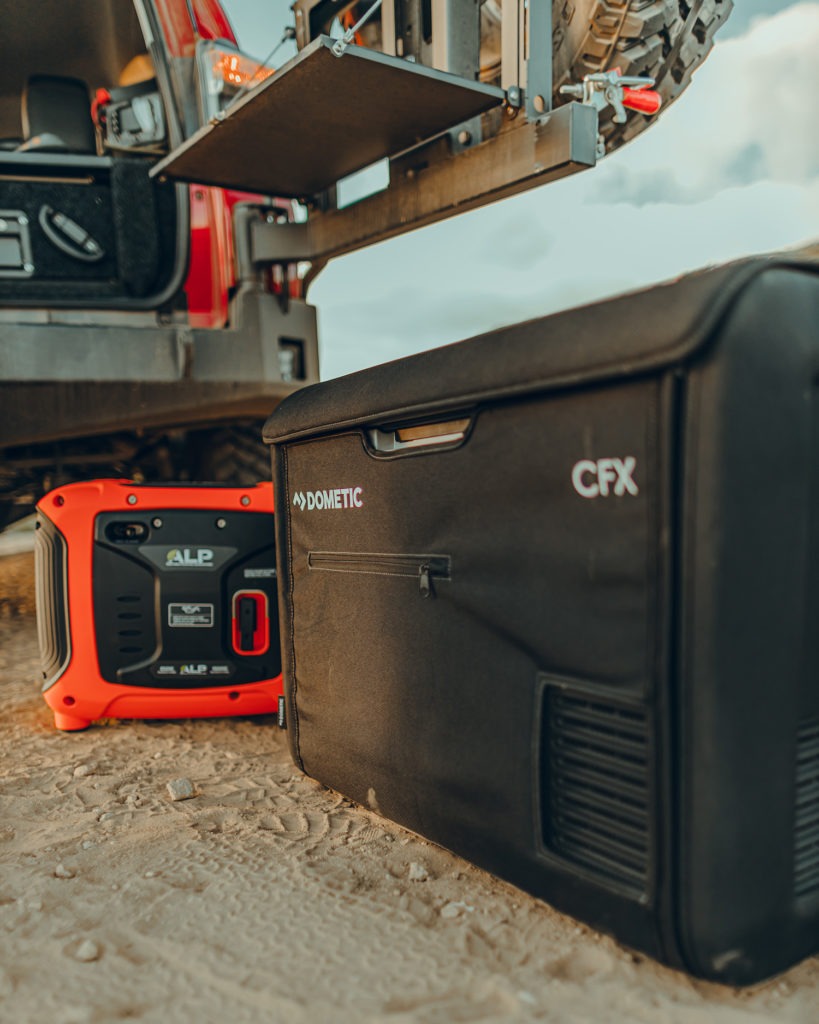 Fresh food is critical for any extended overland trip and Dometic makes some of the best solutions for mobile cooling on the planet. When we started our Ultimate Overland Vehicle Build, we knew we wanted Dometic products on board. The newest generation of powered coolers from Dometic, the CFX3 Powered Cooler Series, has impressive design and performance upgrades while retaining its rugged history that outdoor enthusiasts demand. The range includes the world's first single zone powered cooler with a built-in ice compartment: the Dometic CFX3 55IM.
Fridge Slide: Clearview Easy Slide Via Atlantic British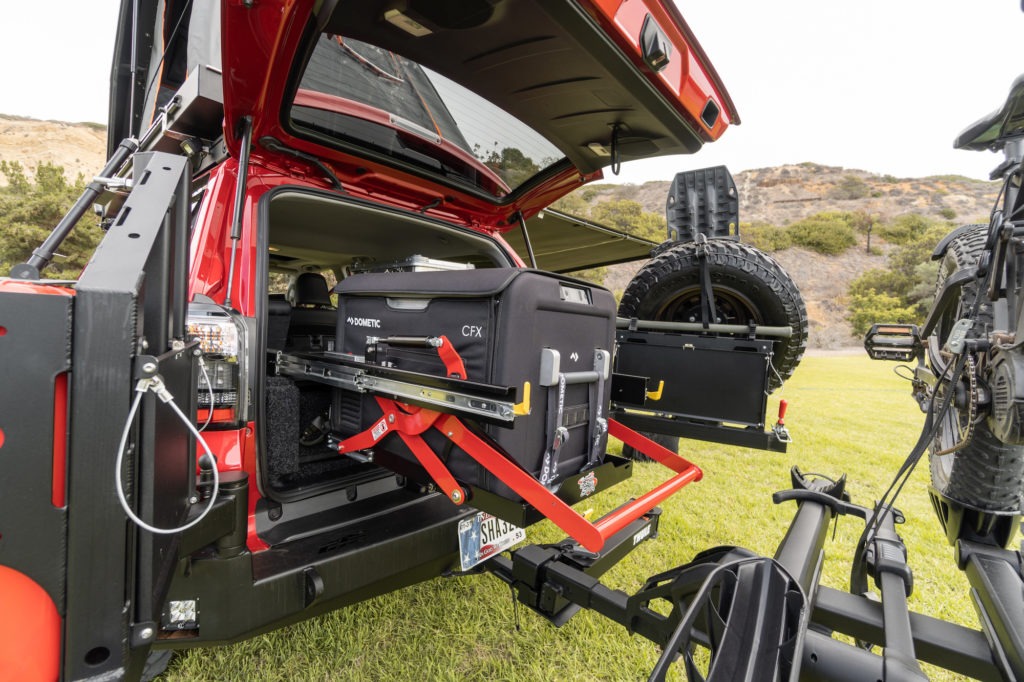 We wanted to add some modern convenience equipment to our 4Runner build, so our friends at Atlantic British provided the Clearview Easy Slide System to ensure ease of access to our Dometic portable refrigerator. We worked with Atlantic British because they are the exclusive North American distributor for Australia-based Clearview Accessories.
Front Bumper: ARB Winch Bumper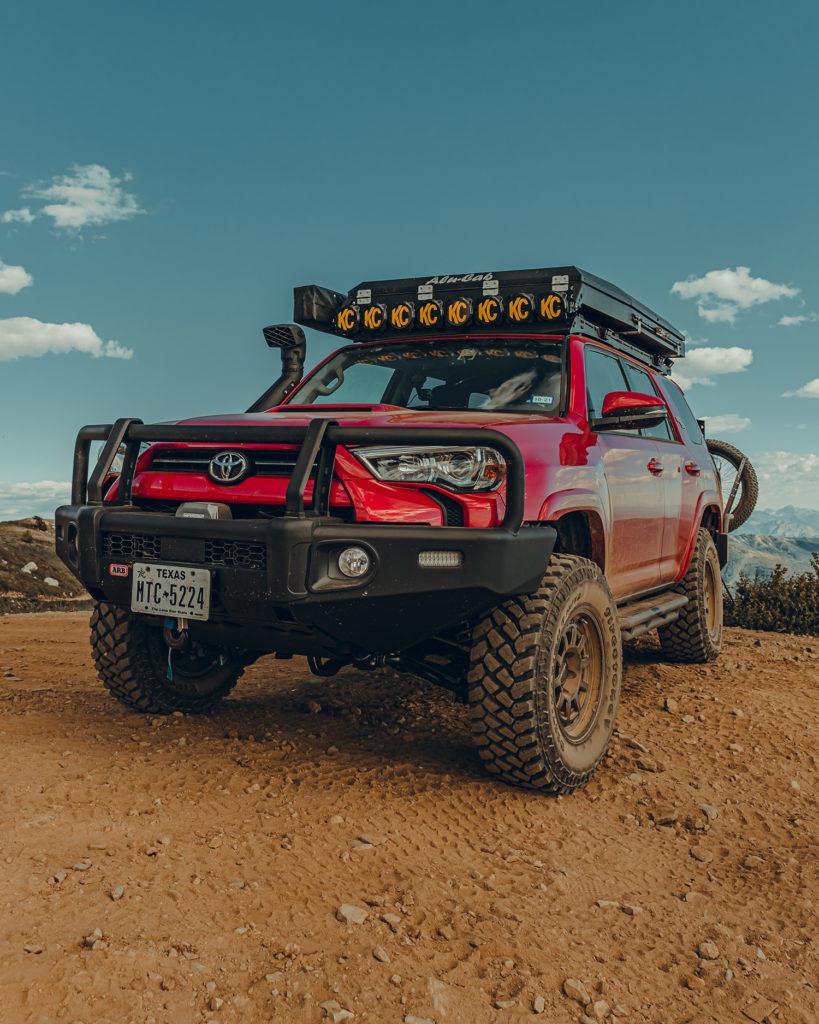 Whether you plan to add a winch and recovery points to the front of your vehicle or you simply need additional front end protection from animal strikes, a front bumper is likely on your wish-list. There are few bumpers that provide higher time-tested performance than the ARB Winch Bumper. Designed to stand up to the rigors of outback travel, including tough recoveries and 'roo strikes, the ARB Winch Bumper is up to the task of protecting your overland vehicle.
Generator: ALP Next-Gen Propane Generators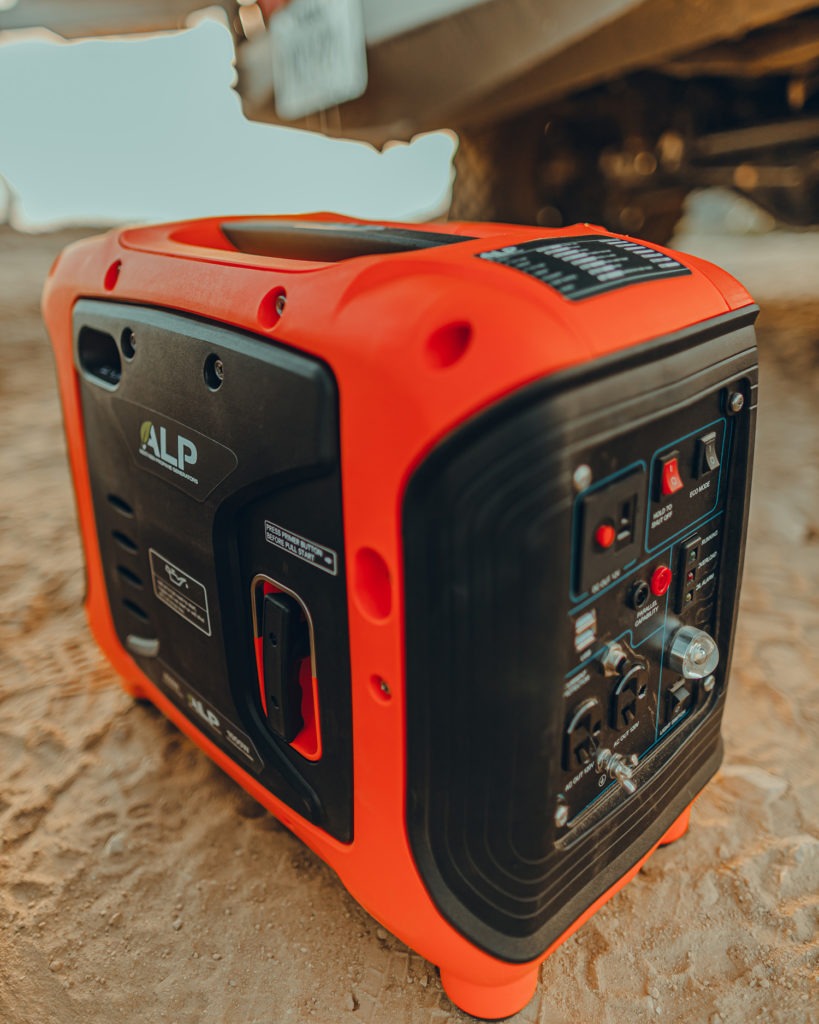 When it came time to pick a portable generator to throw into the 4Runner, we had to go back to our old friends at ALP and ask for one of their propane generators. The ALP generator offers all the on-demand power generation of a gas generator but without the drawbacks. For example, the ALP is spill- and fume-free. This is the nature of a propane generator. Without noxious gasoline sloshing around inside its tank, it doesn't suffer a lot of the drawbacks of a gas-burner.
Lighting: KC Adventure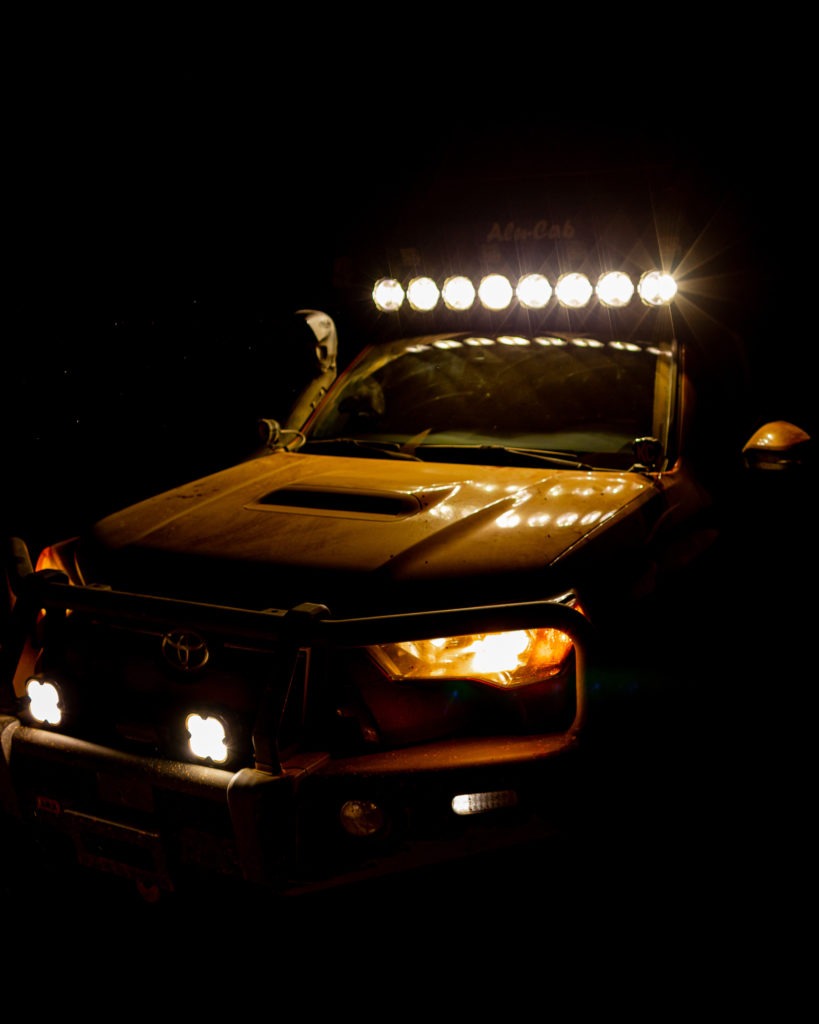 Lighting is one thing the Ultimate Vehicle does not lack, thanks to KC Adventure. We wired up a slew of KC's latest and brightest lights to the 4Runner, including Gravity Pro6 LED Light Bar on the roof, Flex Era ditch lights at the edges of the cowl, Flex Era 4s on the front bumper, pair of C3 LEDs in the rear bumper, C2 LED flood lights on the roof rack, and Cyclone Accessory Lights that we are using as rock lights underneath.
Long-Travel Suspension: Total Chaos Fabrication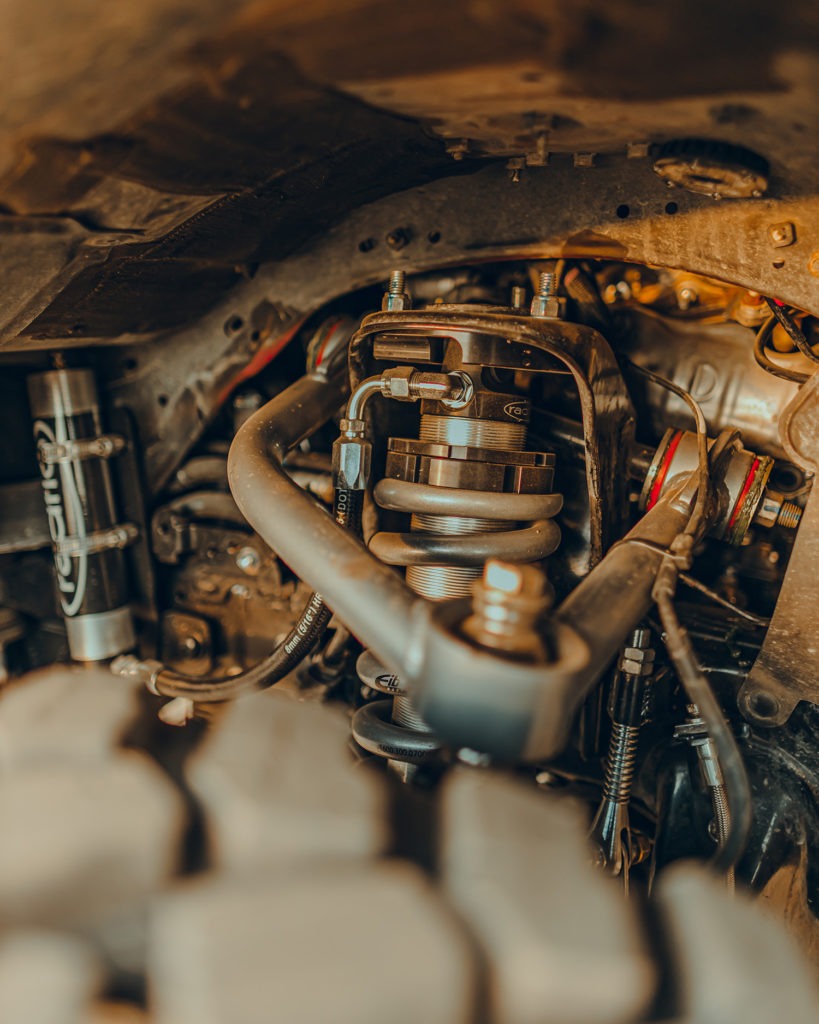 For 25 years, TOTAL CHAOS Fabrication has been affiliated in the sport of off-road — participating as racers, chasers, spectators, weekend warriors, customers and as a manufacturer. Reliable and durable suspension is a key component to ride quality and handling when commuting to the office or going off grid. That's why we chose the bombproof suspension products from TOTAL CHAOS Fabrication for our Toyota 4Runner build.
Navigation: Overlander by Garmin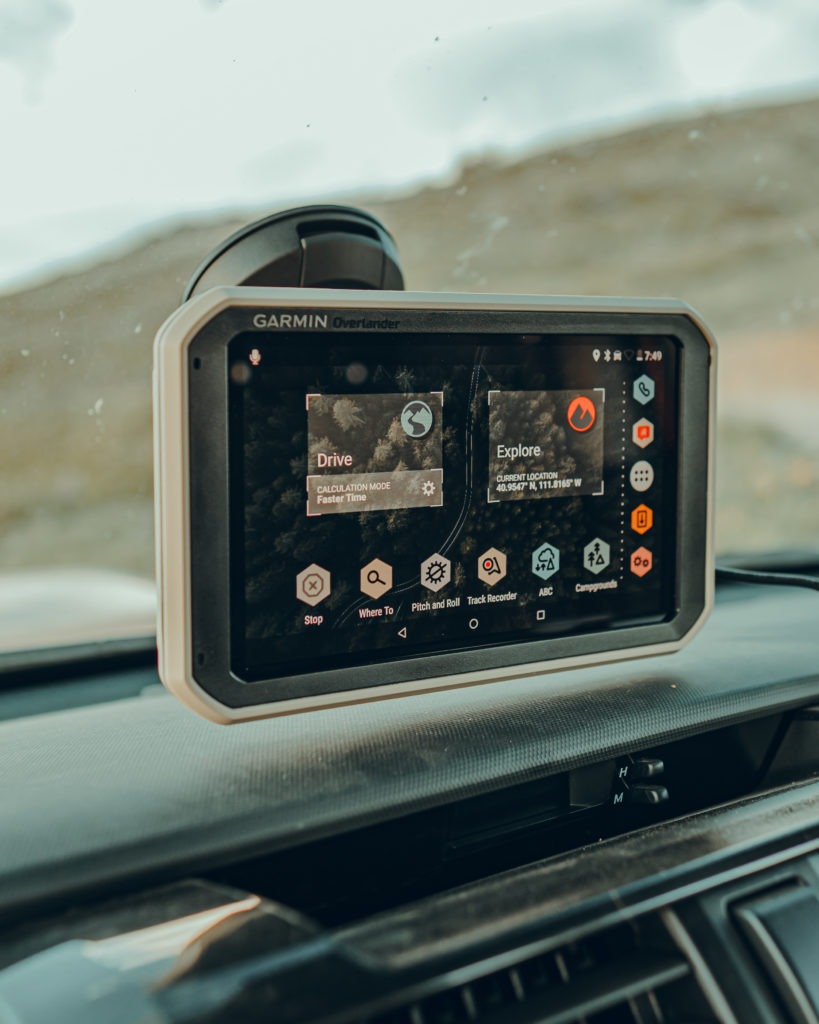 A capable, reliable, high-functioning GPS is a must-have on any overland journey. We chose Garmin's Overlander, because of the wealth of functionality and cool navigation tools it provides, including a variety of map types and safety-enhancing options. Overlander is a rugged, all-terrain navigator with a 7-inch color touchscreen that features turn-by-turn directions for on-road navigation and topography maps for off-grid guidance.
Power Inverter: Wagan Tech Pure Line 2000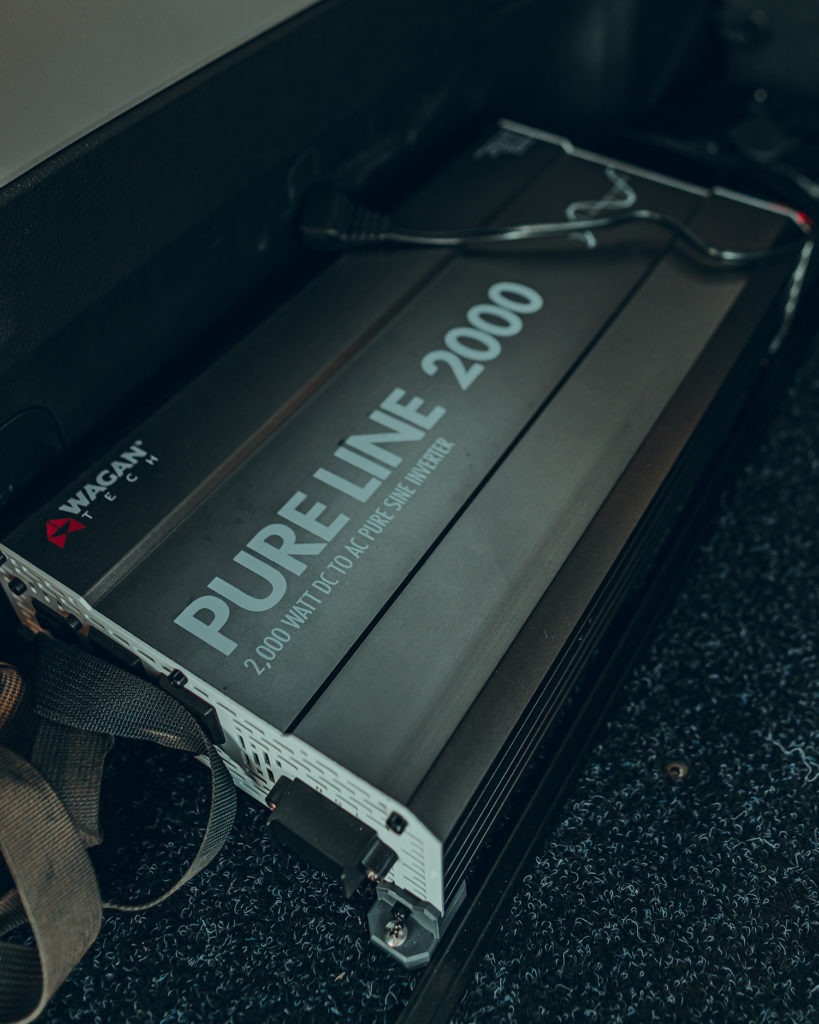 If you're adding solar power to your rig like we did, you'll need an inverter. We picked Wagan Tech's Pure Line 2000. All Wagan Tech's models are RoHS compliant, CE approved, and ETL certified to conform to UL458 Standards & CSA C22.2#107.1.
Power Management: REDARC RedVision & Manager30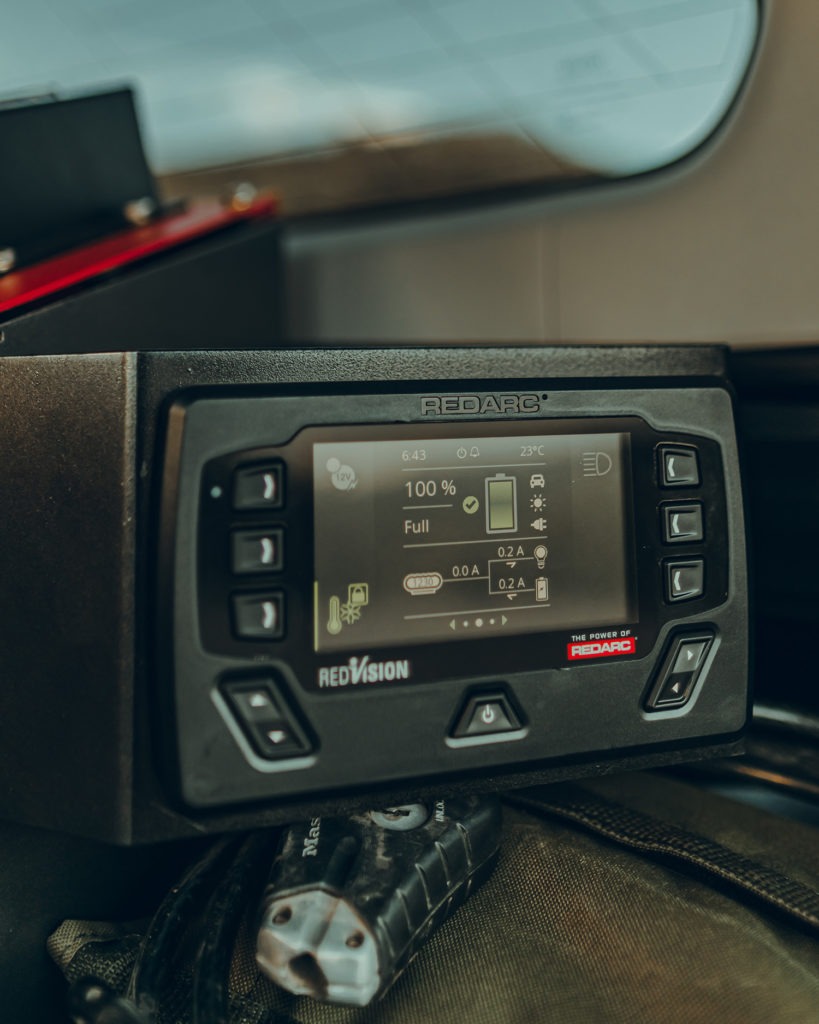 Since we've added a bunch of powered accessories to the 4Runner, not least of which a fridge, we wanted to go with a state-of-the-art power management system to ensure our vehicle's 12-volt battery as well as our auxiliary battery both remain fully charged and ready for an adventure at a moment's notice. We picked the REDARC RedVision and Manager30.
Roof Rack: CBI Offroad / Prinsu Design Studio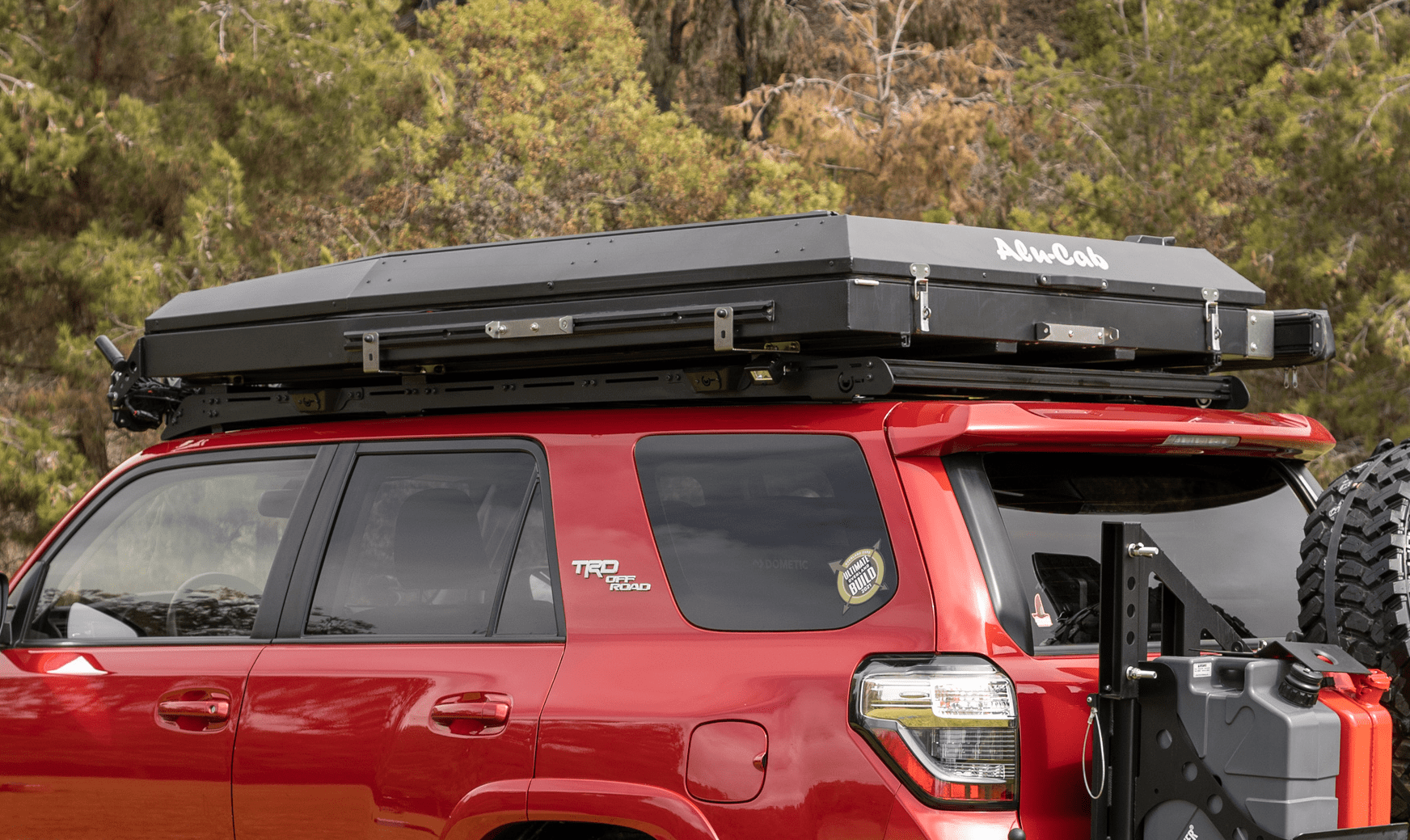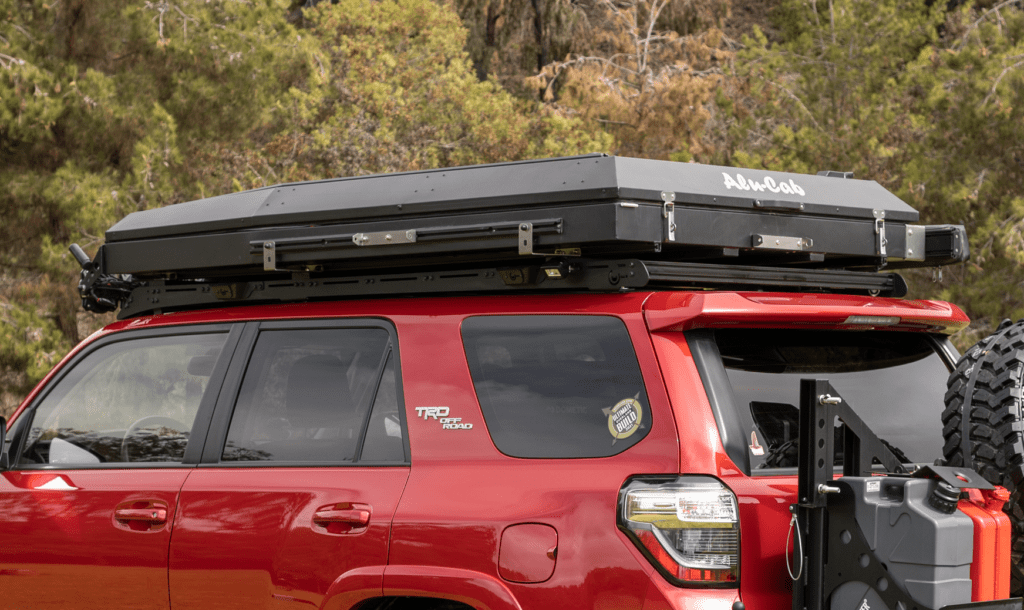 CBI Offroad is a company that was founded on principles of quality craftsmanship and impeccable design for off-road vehicles. We chose the Prinsu Design 4Runner Roof Rack Full for our Ultimate Overland Vehicle Build because we love the styling and high-quality build materials of Prinsu Design racks. We know that this rack will get many years of good use on the Toyota 4Runner TRD Offroad.
Rear Bumper and Skid Plates: CBI Offroad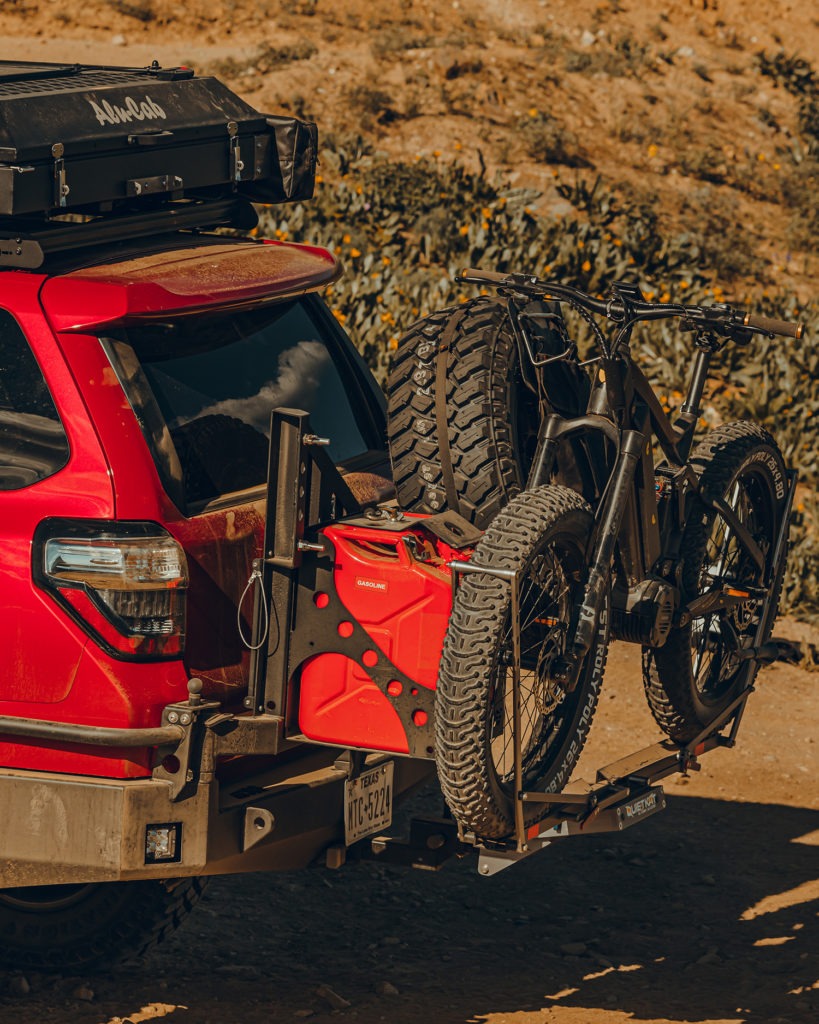 CBI is a company that was founded on principles of quality craftsmanship and impeccable design for off-road vehicles. Their line of off-road body armor, protection, and rack systems match their motto: "Trail Proven – Adventure Ready!" We chose CBI Offroad's 4Runner Swing Arm Rear Bumper and Skid Plates to protect our Ultimate Overland Vehicle Build because we love the styling and high-quality build materials. We know that this bumper and skid plates will protect the Toyota 4Runner TRD Off-Road for years to come.
Recovery Gear: 4×4 Recovery Kit by 7P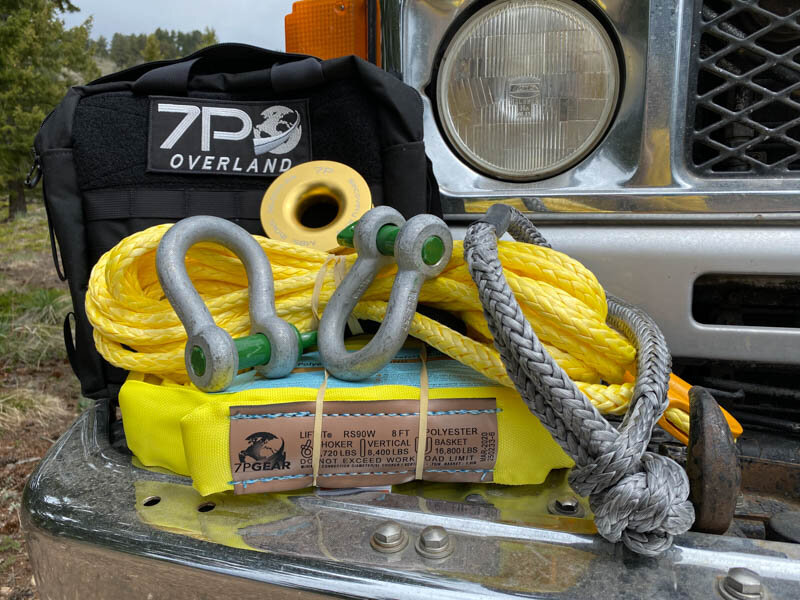 We chose to throw the 7P 4×4 Recovery Kit into the ultimate overland build because… well…. if it's good enough for the Camel Trophy veterans, international adventurers, desert diehards, and jungle junkies that make up the 7P Overland crew, it'll definitely get our 4Runner out of any trouble it can find. Over many decades the 7P Overland team has used all sorts of recovery equipment from the heights of the Himalaya to the depths of the Sahara and even in their own backyard.
Rooftop Tent: Alu-Cab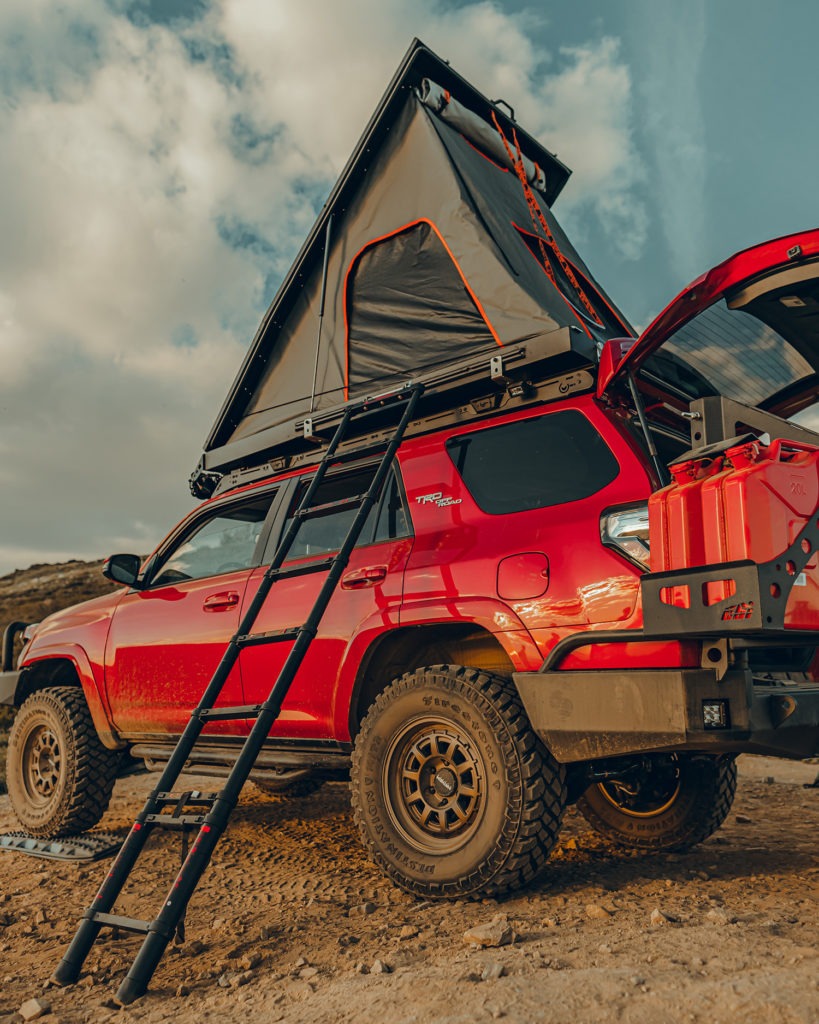 Released in early February 2021, the Gen3.1 Expedition Rooftop Tent is Alu-Cab's most tried, tested, and proven rooftop tent. Alu-Cab's reputation is built on a rugged, usable, and utilitarian approach that includes "everything you need and nothing you don't." The Gen 3.1 is packed with features such as condensation remediation, built in storage, lighting, and USB charging outlets.
Shocks: Radflo Suspension Technology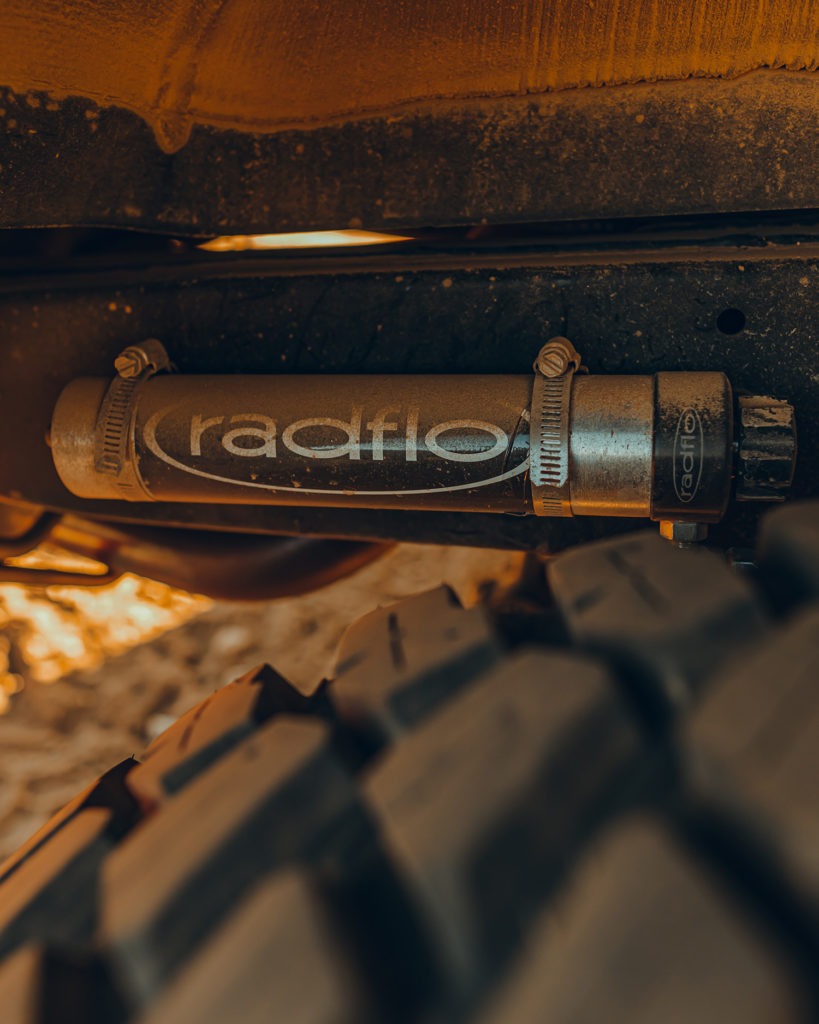 Radflo Suspension Technology has been around since the 1980s and they've always taken great pride in manufacturing premier shock absorbers that are engineered to outlast and outperform the competition. When we started our Ultimate Overland Vehicle Build, we knew we wanted Radflo shocks on the Toyota 4Runner TRD Off-Road. Radflo has applications for most Jeeps, trucks, and SUVs, so they've probably got you covered for your current or future vehicle builds.
Snorkel: ARB Safari Snorkel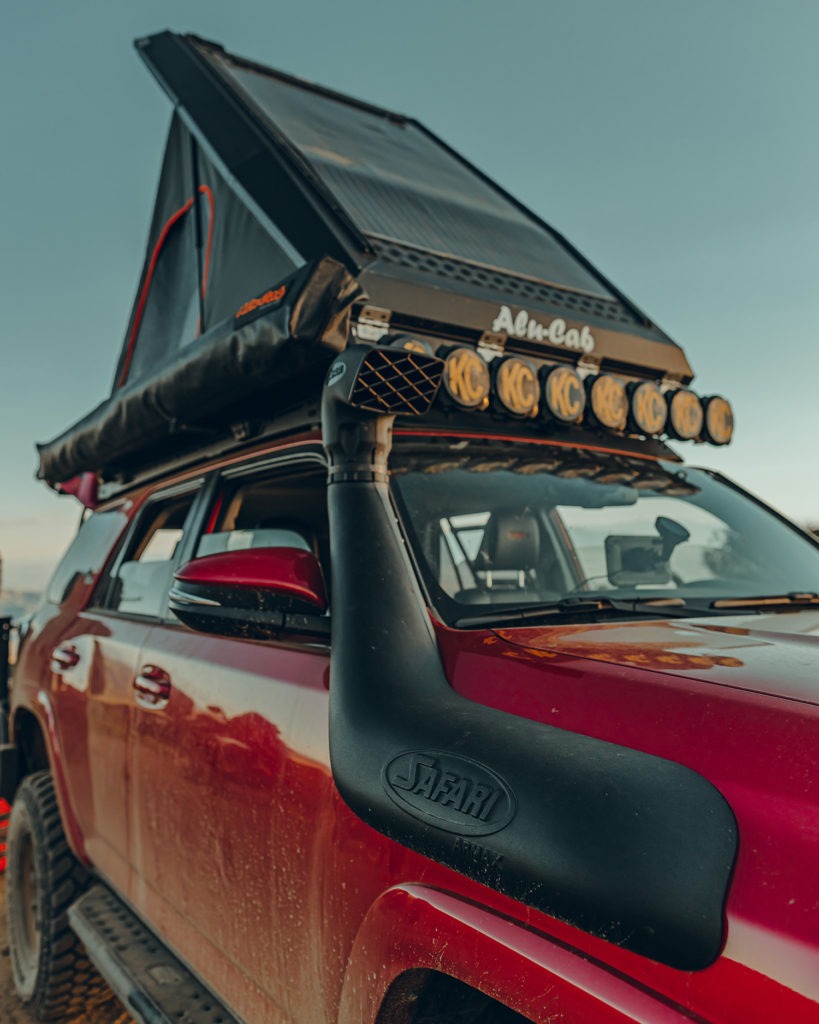 We didn't attempt any deep water crossings with our 4Runner. But we will spend hundreds of miles traversing dusty roads. And few additions to an overland vehicle build provide as much utility in extreme driving conditions as a snorkel, especially in preventing dust from getting into the engine. The ARB Safari Snorkel raises the intake piping from the engine compartment and in line with the roof of the vehicle to suck in the maximum volume of cold, clean air.
Solar Panels: XPLOR by Sunflare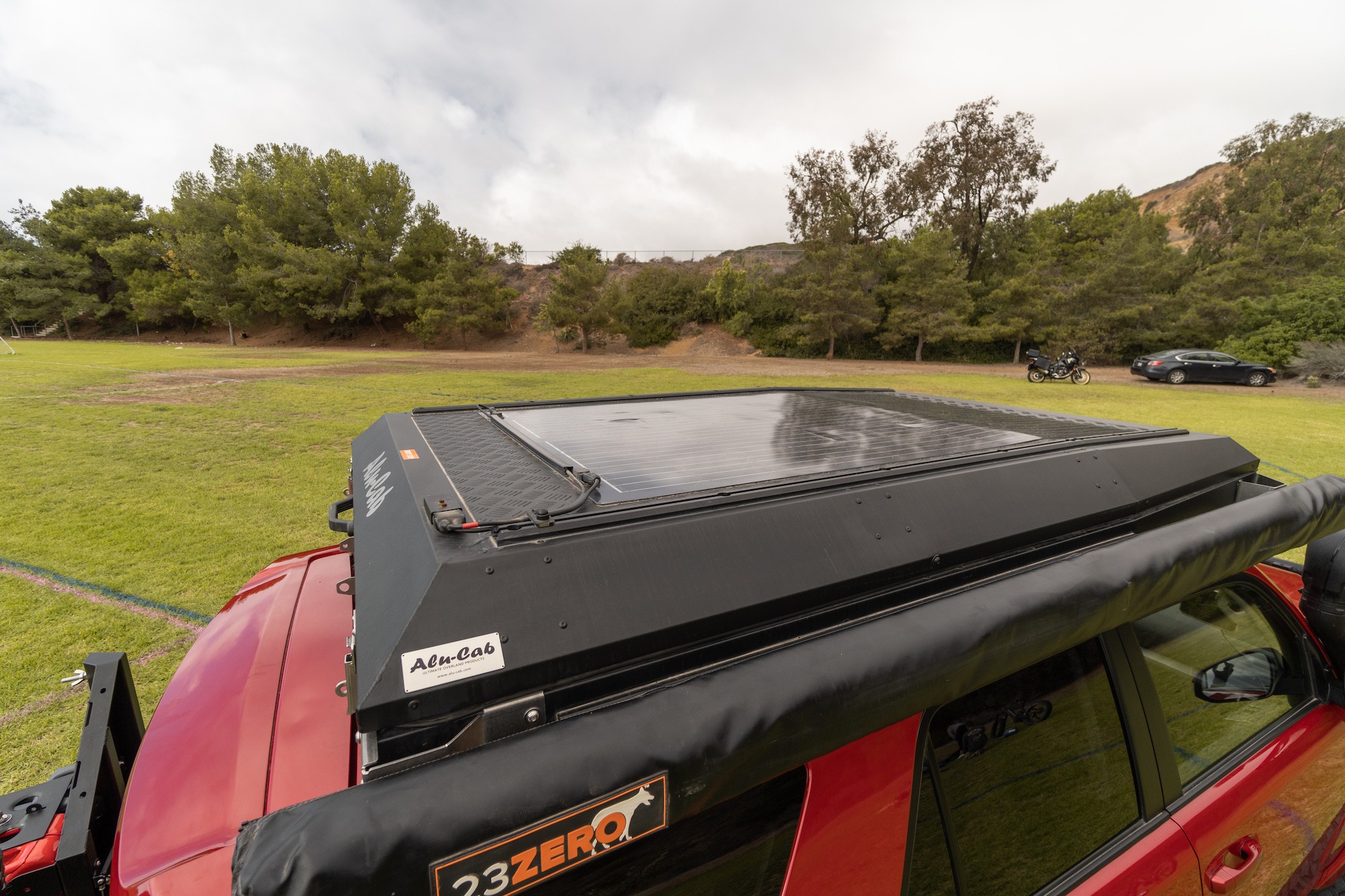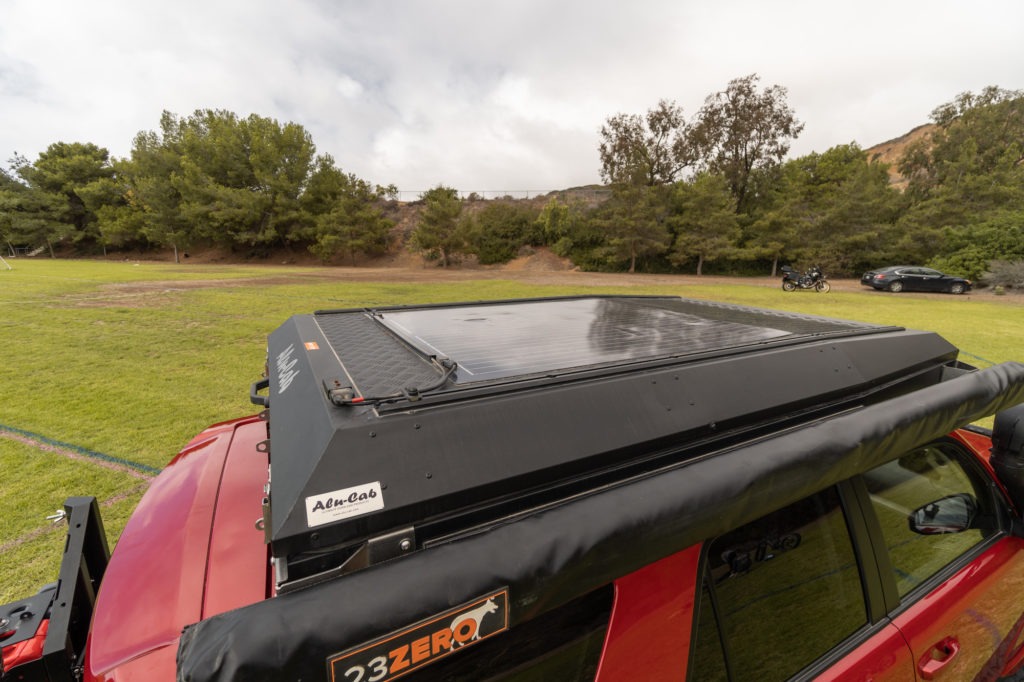 The addition of solar to a rig allows overlanders to stay out there – wherever "there" is – which is why we chose to add the 180-Watt Expedition XPLOR series solar panel to the 4Runner. Sunflare, the parent company of XPLOR, designed and engineered the XPLOR solar panel series specifically for the off-road, RV and overland market. Sunflare is the leader in the next generation of solar technology, reinventing the energy landscape. Sunflare has perfected a new, proprietary technology revolutionizing CIGS solar. Their rapid cell-by-cell manufacturing process yields efficient, shade-resistant, micro-crack-proof modules. These light, thin, flexible and rugged modules can go anywhere and everywhere.
Step Bars: Outlaw Nerf Step Bars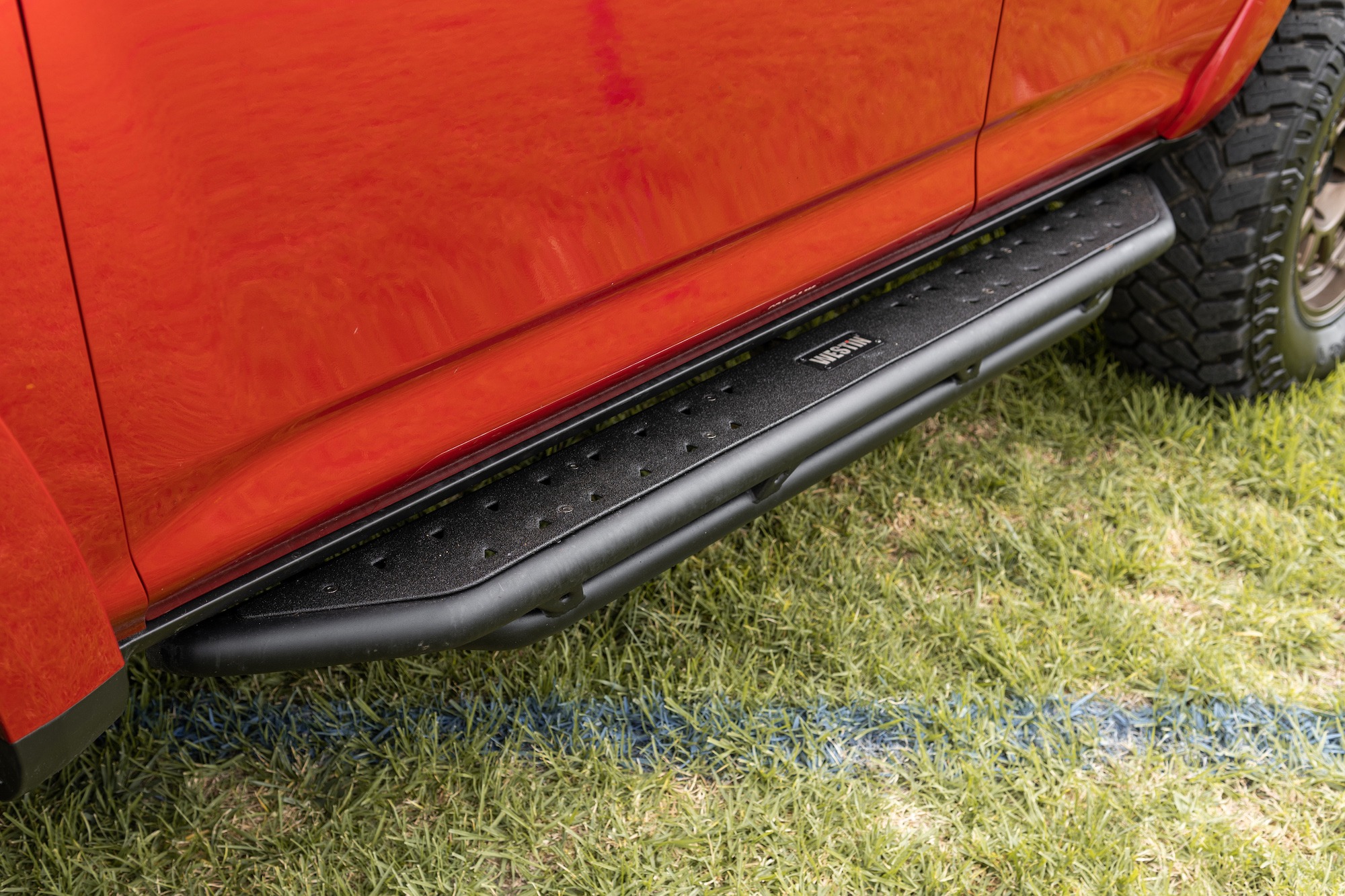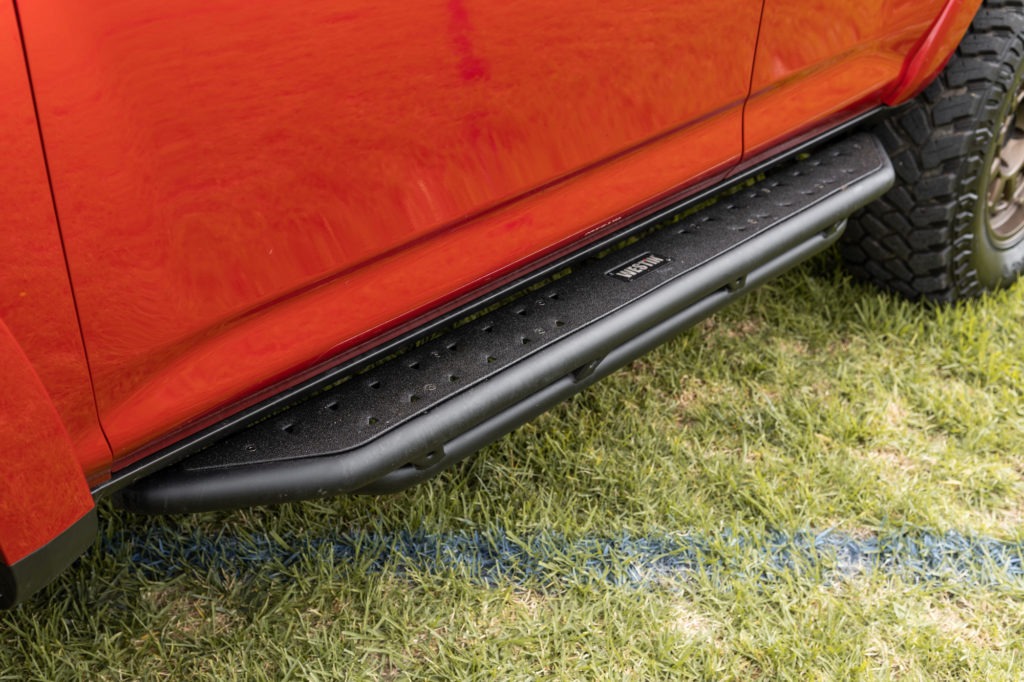 When overlanding, you need purpose-built gear that won't let you down. We added the Outlaw Nerf Step Bars from Westin to the Ultimate Overland Vehicle and knew we'd be in good hands. Westin's 40-year history of building industry-leading gear spans recreation, recovery, industrial, and military applications. Whether traveling in rugged terrain or simply climbing into and out of the vehicle these step bars are designed to exceed all expectations.
Storage: AluBox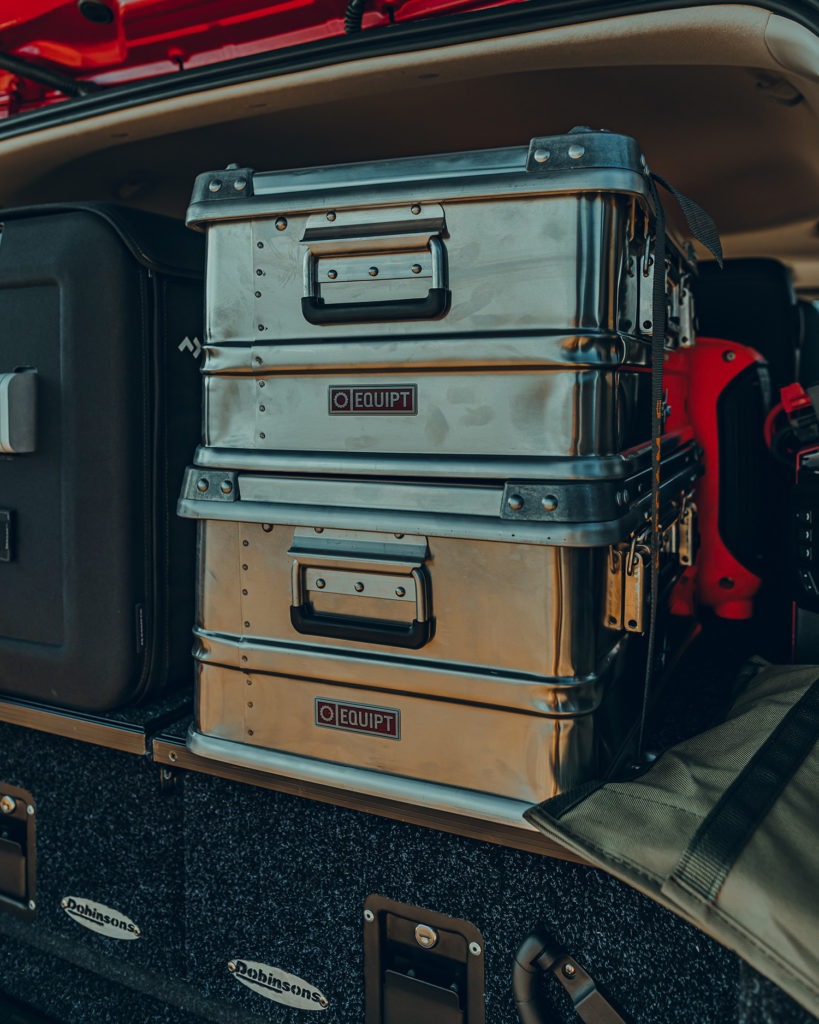 We will need to store our gear when we're on the trail. And since this is the ultimate build, we opted for the ultimate gear storage box: AluBox from Equipt Expedition Outfitters.AluBoxes are made of EN AW-5754 (AlMg3) and are one millimeter thick across all sizes. This Aluminum is a mid-strength material, non-hardening alloy that offers excellent corrosion resistance against seawater and industrial polluted atmospheres. It is widely used in the food and chemical industries, vehicle construction, ship building, architecture, and interior design.
Tires: Firestone Destination M/T2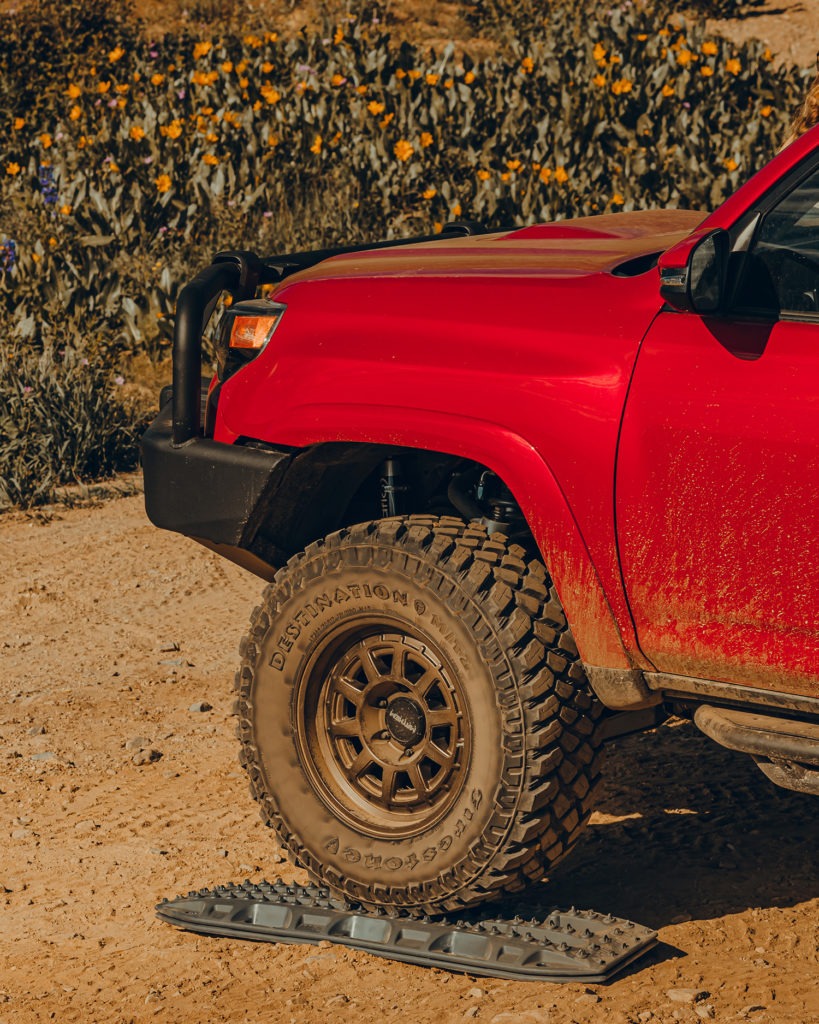 The Firestone Destination M/T2 tire is the best-kept secret in overlanding. We say that because it seems not many overlanders have heard of the Destination M/T2s. And that's a shame. They're one of the highest-rated mud-terrain tires on the market today. Unlike some tires on this list, the Destination M/T2s are relatively new, released just a couple of years ago. Maybe that's why they're not as prolific in the overlanding community as they should be — they're too new to be tried and true. Nevertheless, they should be on your list for your next overlanding tire.
Wheels: Voyager 8303 By Mayhem Wheels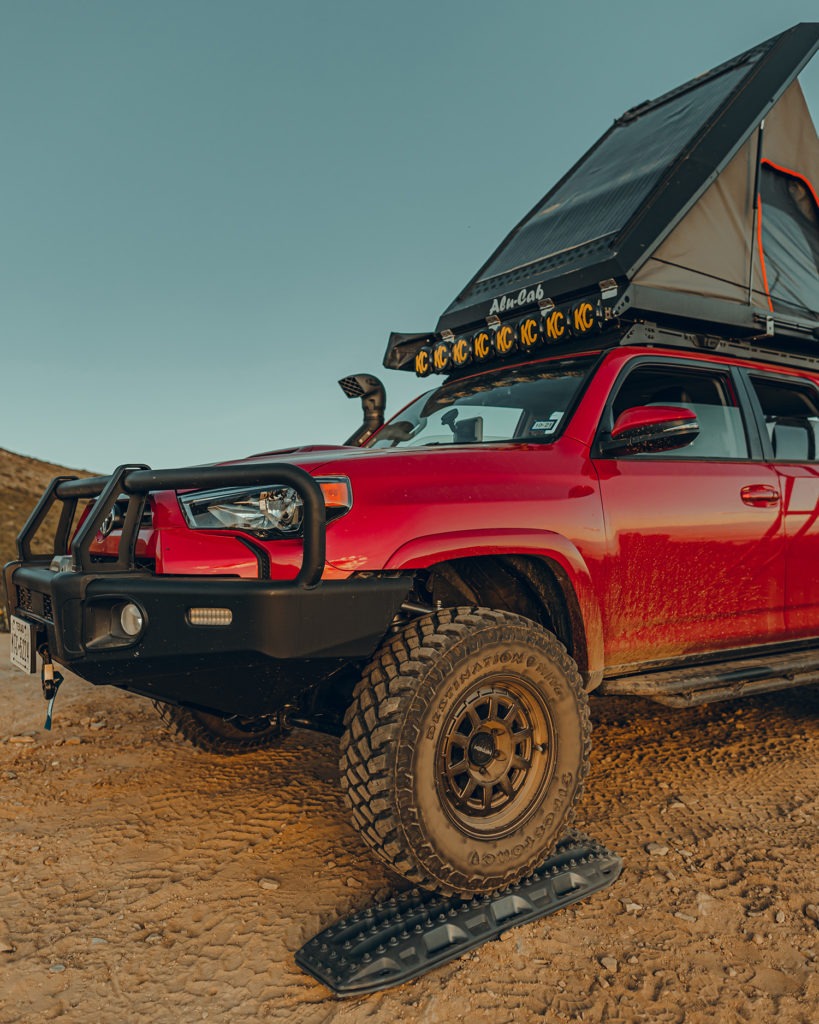 We chose the Voyager 8303 in Dark Bronze by Mayhem because the Voyager is an ideal wheel for the full time traveler or for the weekend warrior. It was designed for adventurers by adventurers. The team at Mayhem uses their extensive knowledge in wheel manufacturing to create a finished product worthy of the utility vehicle — testing the wheels to the limits.
Winch: Superwinch SX 10,000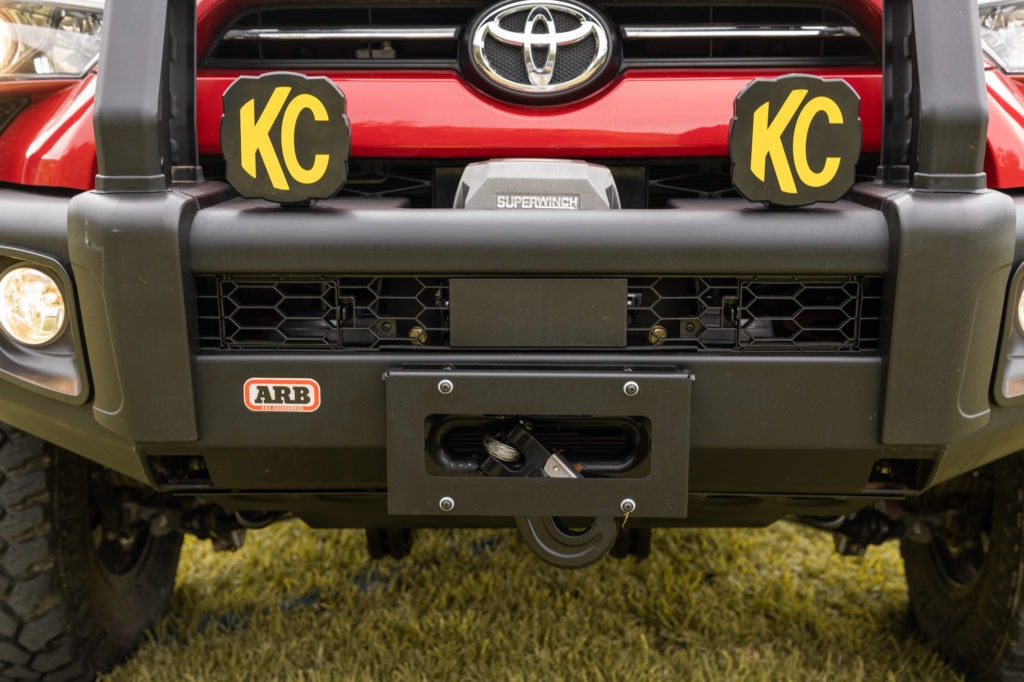 When it comes to serious vehicle recovery, Superwinch builds purpose-built gear that won't let you down. Designed to perform when the going gets rough in the Ultimate Overland Vehicle, we're sure to be adventuring in good hands with the Superwinch SX 10000 Winch on board. With 10,000 pounds of raw pulling power and an incredibly durable design, we knew that the Superwinch SX 10000 would be perfect for the Ultimate Overland Vehicle Build.
Additional accessories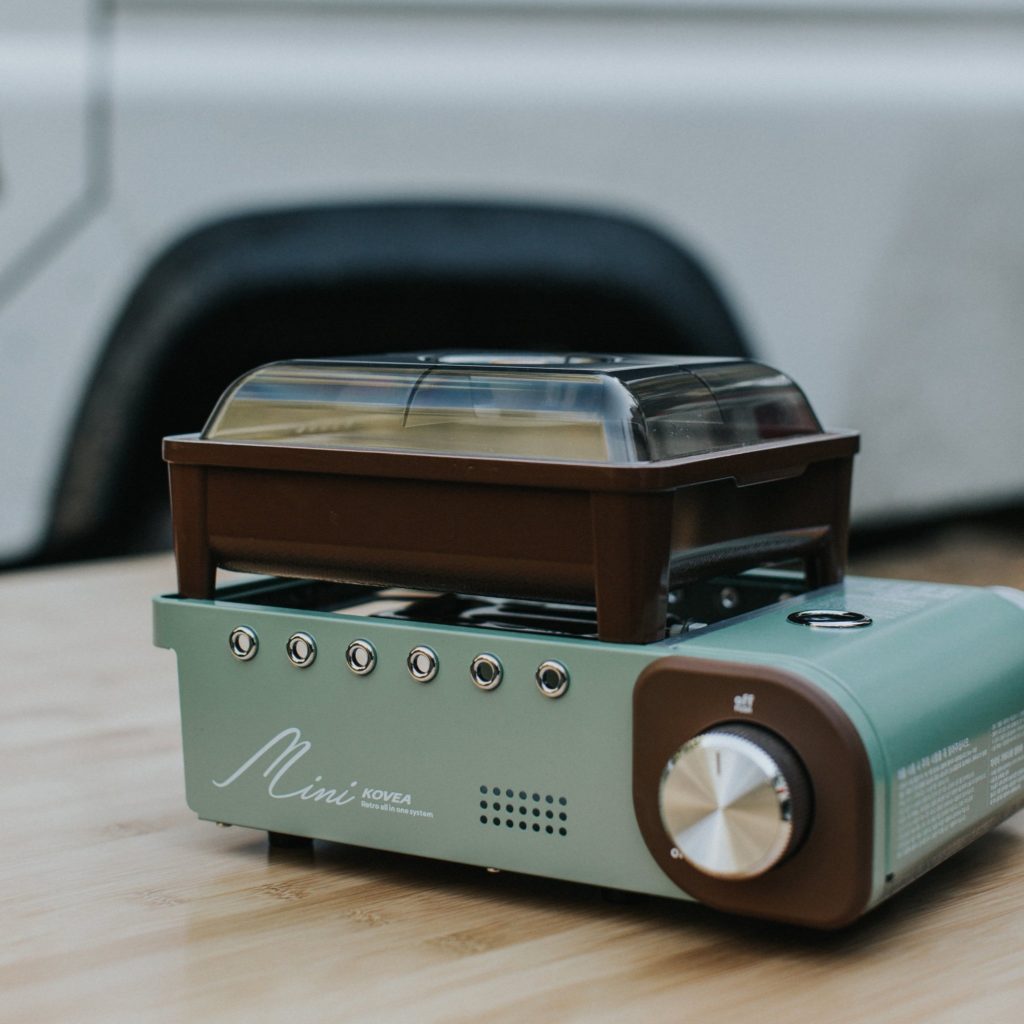 Nomadica Outfitters provided a host of items to enhance camp kitchen duties, gear organization, and time around the campfire. The Ultimate 4Runner carries cookware, mugs, and camp stoves from Nomadica. After the dinner, the AL Bamboo One Action Table and Field Luxury Chairs offer the perfect spot to relax before turning in for the night.
Filtering and transporting drinking water is never easier than when using the LifeSaver Jerrycan. This sturdy container not only protects against punctures and spills but also removes viruses, bacteria, cysts, and parasites so that it's ready to drink safely. With an 18.5-liter capacity, it can provide drinking water for a couple of adventurers for a long weekend.
Providing additional shade on the opposite side of the 4Runner is the Bushman awning from 23 Zero. The Bushman is one of the most compact and strongest awnings on the market. Combined with the 270-degree awning, it allows access to the interior of the 4Runner during inclement weather without worry about soaking the gear inside.