West

EXHIBITOR REGISTRATION
MAY 17-19, 2024
FT. TUTHILL COUNTY PARK // FLAGSTAFF, AZ, USA
FRI 8-5 | SAT 8-5 | SUN 9-3
CONNECT WITH A HIGHLY ENGAGED AUDIENCE
Overland Expo connects your company with people who are serious about overlanding products, services, and educational opportunities.
We deliver customers, not bodies: expect to be engaged with consumers who want to know about your product, and have the means to purchase high-quality gear and services.
No other event offers this combination of products, education, and inspiration for consumers or exhibitors. We are at the forefront of an exciting, growing industry. Now is the time to be a part of it.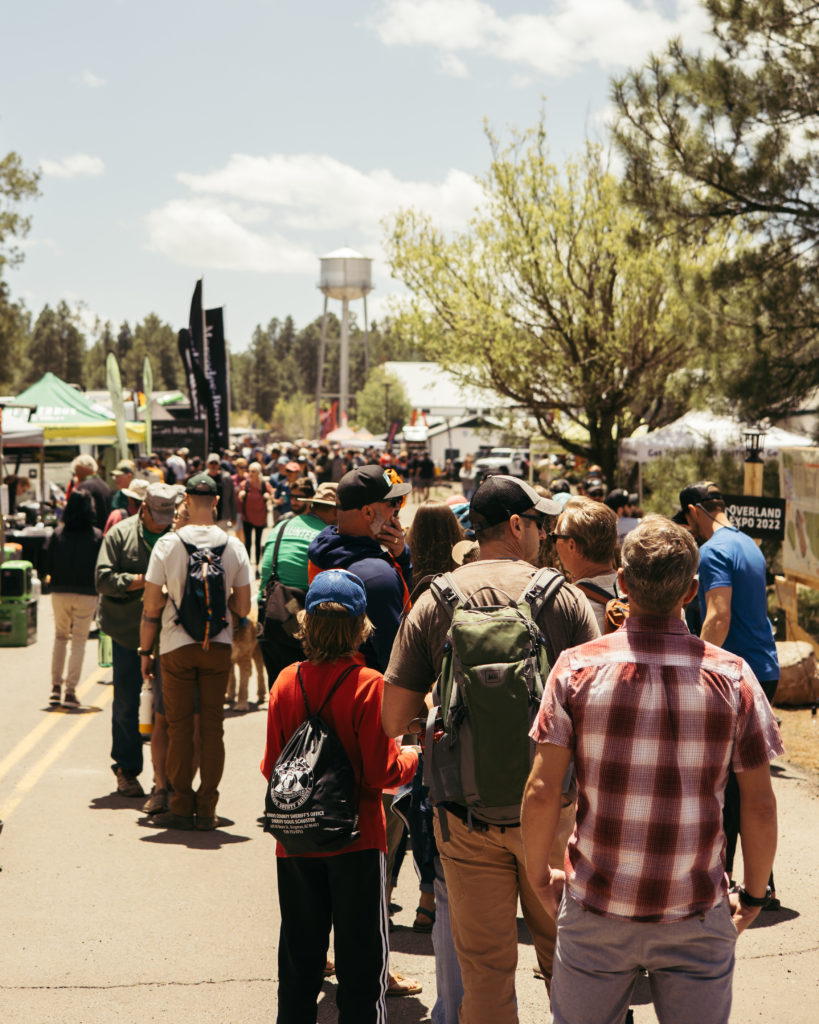 EXHIBIT WITH US!
Overland Expo West 2024 is on a waitlist for booth space for the 2024 event.  Visit the exhibitor portal below to join the waitlist.  
EXHIBITOR &
SPONSORSHIP DECK
Current 2024
Sponsors & EXHIBITORS
Sponsor & Exhibitor
Testimonials
To the whole Overland Expo Staff and volunteers… Thank you so much for putting together an amazing event. From the time we got there on Thursday to the end of the day Sunday, everything felt so orderly and put together. Also, a huge thank you to the staff, anytime we needed anything at all they were willing and ready to help. The best part of the show by far was seeing how genuinely interested the attendees were. It's not everyday that people truly care what you have to offer and have to say. Thank you!
We had an absolute blast at EAST this weekend! Always great to meet attendees from different regions of the country as we wrap up the Overland Expo season. Got some invaluable feedback from consumers and it's great to hear about how much people love the brand. All in all, very successful weekend. I'm looking forward to coming back next year!
The overland expo team is absolutely phenomenal; you can tell from the second you walk into the expo grounds that everything was very well thought out. The service of the team is genuine and takes care of their partners, exhibitors, and guests to create a world class experience. We are excited to continuously come back to the overland expo events and be a part of this terrific community. Thank you!
This was my first time exhibiting at overland expo west and I was totally blown away. This event dwarfs other off road retail events on the west coast. We had strong traffic throughout the weekend. Attendees were in a great mood and eager to purchase products for their vehicles. We also had a great experience with the expo staff and volunteers. Everyone was friendly and responsive to any issues. We look forward to returning next year.
We definitely had great traffic flow; we were pleasantly surprised. We weren't sure what to expect here at Mtn West but the amount of traffic was phenomenal. We had a lot of riders come out. We feel like we had really good visibility and the traffic flow was great. Getting the messaging about our Pan America demos out to the overland folks worked really well. We appreciate the video that was made to help educate attendees that we are doing on road demos as well as off paved demos. I can't wait for Flagstaff.
It's Your Turn to
Get Going &
Get Inspired
Download our free guide to the overland industry as your year-round resource and start living your adventure.
Photo by Brett Willhelm, Willhelmn Visual Works