MAY 20 – 22, 2022
FT. TUTHILL COUNTY PARK
FLAGSTAFF, AZ, USA
PLEASE NOTE: THESE DATES WILL BE STRICTLY ADHERED TO.
THERE WILL BE NO EXCEPTIONS.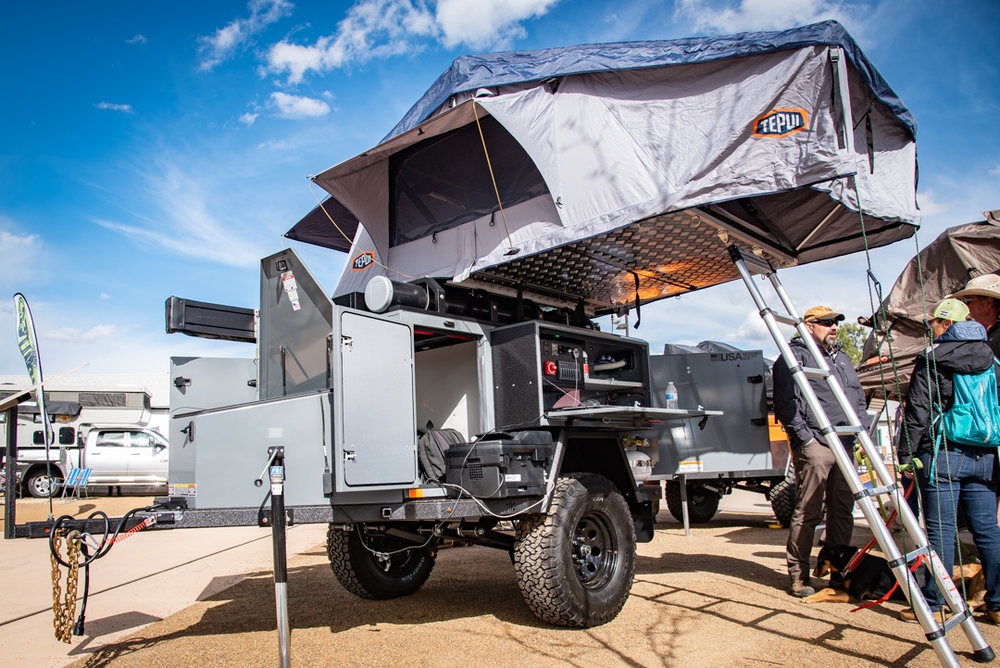 TERMS AND CONDITIONS, RULES AND REGULATIONS, AND SPECIAL CONSIDERATIONS OVERLAND EXPO® WEST 2022
Lodestone Events, (Lodestone), owns and produces Overland Expo and are hereinafter referred to as "Show Management."  The term Show Management shall include the owner, promoter and manager of the show.  The exhibition areas, parking lots, air space and grounds of the event are hereinafter referred to as "the venue."  The exhibit space rental agreement, these exhibitor rules and regulations, the exhibit display regulations are hereinafter referred to as the "agreement" and constitute the agreement between show management and the Client.  Show Management Rules and Regulations are incorporated as a part of this Lease and violation thereof would constitute a breach of the Lease.
It is understood that by registering for and purchasing exhibition space at Overland Expo WEST 2021 that the show rules and conditions will be adhered to.
SHOW HOURS/LOCATION/DATES:  The site of the Overland Expo West is at the Ft. Tuthill County Park. The Dates and Hours are: Set Up: Wednesday May 18, 2022 12pm – 6pm and Thursday May 19, 2022  9am – 6pm. Exhibition Days: Friday May 20, 2022  9am – 5pm; Saturday May 21, 2022 8am – 5pm; Sunday May 22, 2022 8am – 3pm. Teardown: Sunday May 22, 2022 3pm – 10pm; Monday May 23, 2022 8am – 11am.
PAYMENT: All bookings must be paid in full upon receipt of invoice, by check or credit card. Any cancellations by the client will be charged at the following fees:  50% refund up till 60 days prior to event date, within 60 days No Refunds will be processed or honored, unless the event is cancelled by event organizers.  If the event is cancelled in its entirety for any reason, clients will be offered refund options at the time of cancellation.  If the event is postponed for any reason, clients will be transferred to the postponed dates.  There are no refunds due to inclement weather.
COMMUNICABLE DISEASE HOLD HARMLESS: It is acknowledged that I am aware that there are risks to me and my participating employees, co-workers or organization members of exposure to directly or indirectly arising out of, contributed to, by, or resulting from an outbreak of any and all communicable disease, including but not limited to, the virus "severe acute respiratory syndrome coronavirus 2 (SARS-CoV-2)", which is responsible for Coronavirus Disease (COVID-19) and/or any mutation or variation thereof; and I and my organization voluntarily agree to waive, hold harmless and indemnify the owners of Overland Expo, Lodestone Events, LLC and its trustees, agents, volunteers and employees from any and all claims, demands, damages and causes of action of any nature whatsoever arising out of ordinary negligence which I, my heirs, my assigns or successors may have against them for, on account of, or by reason of my participation in Overland Expo.
COMMUNICABLE DISEASE SAFETY REQUIREMENTS: It is acknowledged that I am aware that there will be measures put in place by Show Management, state and local health officials, and state and local government officials to ensure the safety of the public; and my organization understands and voluntarily agrees to abide by all implemented safety requirements which could include but are not limited to mask wearing, temperature checks, medical screenings, contact tracing, limited audience levels and managed traffic patterns for social distancing.
FORCE MAJEURE: Show Management shall not be responsible for any loss, theft, damage, or delay due to strikes, lockouts, acts of God, communicable disease, government restrictions, enemy action, civil commotion, unavoidable casualty, or other causes similar or dissimilar beyond the control of Show Management.
LODESTONE EVENTS/OVERLAND EXPO/OUTSIDE ADVENTURE EXPO; TRADEMARK, INTELLECTUAL PROPERTY, & UNAUTHORIZED USE: Lodestone Events maintains a strict policy on intellectual property rights and will take action on any intellectual property infringement. The term "Intellectual property" or "IP" is used to describe various types of intangible property, patents, registered trademarks & service marks, and registered copyrights. Use of any Lodestone intellectual property or creating, selling, or promotion of any likeness of Lodestone's intellectual property will carry severe consequences, which may include rejecting an exhibitor's application to participate at Lodestone sponsored shows, closing an exhibitor's booth, banning an exhibitor from future Lodestone-sponsored shows. It is the sole responsibility of the exhibitor to ensure they are not in violation of this contract term. Examples of violations would include merchandise, apparel, products and services provided, sold or promoted at any Lodestone Events that carry the trademark of Overland Expo® or Outside Adventure Expo®; resemble the likeness or references to these events including but not limited to event location coordinates, Expo East, Expo West, Expo Mtn West, Adventure Expo; resemble the likeness of Overland Expo's signature compass or any Lodestone event logo; or resemble the services or format of Overland Expo® or Outside Adventure Expo®.
PATENT, TRADEMARK, COPYRIGHT, SERVICEMARK: Exhibitor represents and warrants that it has obtained all licenses and other authorizations related to its use of any patented, trademarked, copyrighted or service-marked materials, equipment, devices, processed or dramatic rights furnished or used by Exhibitor in connection with this Exhibit Space Lease. Exhibitor assumes all costs arising from its use of patented, trademarked, copyrighted, or service marked materials, equipment, devices, processes, dramatic or music license rights used on or incorporated in the conduct of this event; and the Exhibitor agrees to indemnify and hold harmless Show Management from all damages, costs and expenses in law or equity for or on account of its use of any patented, trademarked, copyrighted or serve marked materials, equipment, devices, processes or dramatic rights furnished or used by Exhibitor in connection with this Exhibit Space Lease.
EXHIBITOR REPRESENTATIVE: The signer of this Agreement shall be the official representative of the Exhibitor and shall have the authority to act on behalf of the Exhibitor in all matters relating to the Show. I, the duly authorized representative of the Lessee intending to be bound hereby, have read and signed the Overland Expo West 2021 Exhibit Space Lease and Rules and Regulations, Terms and Conditions and on behalf of the Lessee subscribe and agree to all terms, conditions, covenants, and authorizations contained herein.
SAFETY, FIRE, HEALTH AND APPLICABLE LAWS:
The Exhibitor shall assume all responsibility for compliance with all rules and regulations of the venue and all local, city, state and federal safety, fire, health and other ordinances and laws regarding installation of and operation of equipment, display, exhibit materials, and overall operation and conduct while onsite at the venue.  All display, exhibit materials and equipment must be protected by safety guards and fireproofing to prevent fire hazards and personal accidents to visitors.
OPERATION AND CONDUCT: Regulation and Restriction – Show Management reserves the right to regulate and/or restrict exhibits to a reasonable noise level and to suitable methods of operation and display of materials. Neither the exhibit area nor other areas of the venue shall be used for any improper, immoral, illegal or objectionable purpose. If for any reason Show Management deems an exhibit and/or its contents objectionable, the exhibit shall be subject to removal at exhibitor's sole expense. This reservation includes persons, things, conduct, printed matter, signs, or any item of poor character which in the sole judgment of Show Management is detrimental to the Show. In the event such a restriction is enforced, Show Management shall not be liable for refund of exhibit space rental fees or exhibit equipment rental fees, except at its sole discretion. Exhibitor hereby expressly waives any right and all claims, actions or demands for damages, costs and expenses, including legal fees, against the venue, Show Management, their directors, officers, agents, employees and/or servants for such restriction or removal.
SETUP: Exhibitors must set up by 6:00 pm on Thursday prior to show opening. You must fit within your allocated space, no exceptions. SPACE ABANDONMENT: Any space not claimed and occupied by 5:00 pm on Thursday, May 19, 2022 may be resold or reassigned by Show Management without obligation on the part of Show Management for any refund whatsoever.  NO MOVE-IN or SETUP ALLOWED DURING EVENT HOURS. Event opens promptly at 9:00am on Friday May 20, 2022.
TEARDOWN: TIMELY DISMANTLE: Exhibitor agrees to dismantle the exhibit as soon as practical after the end of the Show and when Show Management deems it is safe to close, but dismantle must be concluded no later than 11:00 a.m., Monday, May 23, 2022. All freight, equipment, and materials not removed by 11:00 A.M Monday, May 23, 2022, will be removed at Exhibitor's expense by the service contractor. Exhibitor further agrees to indemnify and save Show Management harmless against any and all claims which may arise by virtue of damage to the premises caused by Exhibitor's display or costs paid by Show Management due to holding over by Exhibitor past its allotted time of occupancy. EARLY TEARDOWN: Exhibitor shall not initiate teardown or abandon exhibit prior to the official Event closing time of 3:00pm on the final Event day. Violation of this paragraph will cause exhibitors to be subject to a loss of participation in future shows.
FLOOR PLAN:
METHOD: The method of determining space assignment shall be established by Show Management and may be changed from time to time without notice to exhibitors in order to accommodate what Show Management perceives as the best interest of the event. No rights or privileges are created for any exhibitor as a result of previous space assignments or years of participation in the event. Should conditions or situations warrant, Show Management reserves the right to rearrange exhibitors or adjust the floor plan to accommodate the best interest of the event. The floor plan maintained by Show Management shall be the official floor plan. Changes may occur at any time to accommodate show needs.
SUBLETTING SPACE: Exhibitor shall not assign, sublet, share or apportion the whole or any part of the space allotted, or have representatives, products, equipment, signs or printed materials from other than its own firm in the said exhibit space without the written consent of Event Management.
VENDING: To sell products directly you may be required to acquire a Privilege Tax License or special permits due to the nature of your product for the state in which you have registered to participate. These permits and licenses are the responsibility of the vendor.  Food/drink may NOT be sold or distributed in any way (unless you are a registered food vendor with Overland Expo) . All goods or services sold at the show should conform to current trading standards legislation.  Overland Expo does not allow any gaming such as raffles or any other games of chance except by special permit. Any fundraising is done solely through our own permitted charity program.
Here is a link to the Arizona Privilege Tax website for your reference. https://azdor.gov/transaction-privilege-tax/special-events-craft-shows-trade-shows/vendors 
ALCOHOL/ PARTIES / ORGANIZED GATHERINGS: You must inform Show Management of any intent to host a gathering that includes the distribution of alcohol on venue premises and obtain a permit. Due to liquor licenses and rules set by the Alcohol and Beverage Commission in each state, there are strict rules on distribution of alcohol.  Any organized party not registered with Show Management and not complying by the rules will be considered illegal and dealt with by the County Sheriff and will be shut down immediately.  There is no distribution of alcohol allowed on venue premise without a properly obtained permit through event management.
WEAPONS: All venues state no weapons are allowed.
ADMISSION REGULATIONS: BADGES: Admission to the Show is by official Show Management registration badge. Badges must be worn at all times, including set-up and teardown. Badges are the property of Show Management and are non-transferable. Exhibitor badges will be issued in the quantity provided on the Exhibit Space Rental Agreement only. Exhibitors are responsible for those the company provides with badges. Exhibitor badges may not be ordered for or transferred to buyers or non-employees. PRE-SHOW HOURS ENTRY: Exhibitor personnel are allowed to enter the venue one hour prior to Show opening each exhibit day. Any exhibitor requiring earlier entry must make prior arrangements with Show Management.
SECURITY/LIABILITY: Limitation and Indemnification: Show Management and the venue jointly will provide regular security service during the event and the installation and dismantling days. Event Management and the venue will not be liable for damage or loss to Exhibitor's properties through theft, fire, accident, or any destructive cause. Exhibitor waives all claims for property damaged, lost, stolen or destroyed against Event Management and venue. Exhibitors shall insure its own exhibit and display materials where special protection is desired.
FIRE SAFETY: NO FIRES ALLOWED except as provided by the venue in designated areas. Show Management has the right to report violators to local authorities.  All exhibitors must have fire extinguishers.
CAR PARKING/DRIVING: All vehicles must be parked in the designated exhibitor parking lots unless they are an integral part of the display.  Display Vehicles are required to obtain a Display Vehicle Permit upon check in for access to the display area and need to be in place before the Event is open to the public, There will be no exceptions. Traffic control: ABSOLUTELY NO driving in and out during public hours.
EXHIBIT CLEANING: Exhibitors are responsible for the cleanliness of their stands and all trash must be removed daily.
ELECTRICITY:  Electricity is not available. Be self-contained. Ultra-quiet generators only, and they must not interfere with neighboring booths and cannot be run after 10pm.
DRONES: Due to safety Facilities policies, drones are not allowed
ADVERTISING ORDERS AND INVENTORY AVAILABILITY:
Details. Lodestone Events and Client may execute advertising orders along with booking exhibition space. As applicable, each advertising order will specify: (i) the type(s) and amount(s) of Deliverables, (ii) the price(s) for such Deliverables, (iii) the amount of money to be spent pursuant to the booking, and (v) the identity of and contact information for any Ad.
Availability; Acceptance. Lodestone Events will make commercially reasonable efforts to notify Client within five (5) business days of receipt of an advertising order booked by client if the specified inventory is not available. Notwithstanding the foregoing, modifications to the originally submitted advertising booking will not be binding unless approved through the booking system.
Revisions. Revisions to accepted advertising orders will be made in writing and acknowledged by the other party in writing.
AD MATERIALS:
Submission. For orders received along with booking exhibit space, Lodestone will accept these orders through the online booking system and in accordance with 21.
Late Creative. If Advertising Materials are not received by the submission date, Lodestone Events is not responsible for any refund of booking dollars.  Advertiser on the start date on a pro rata basis based on the full booking, excluding portions consisting of performance-based, non-guaranteed inventory, for each full day the Advertising Materials are not received. If Advertising Materials are late based on the Policies, Lodestone Events is not required to guarantee full delivery of the advertising order. Lodestone Events and Client will negotiate a resolution if Lodestone Events has received all required Advertising Materials but fails to commence a campaign on the IO start date.
Compliance. Lodestone Events reserves the right within its discretion to reject or remove from its Site any Ads for which the Advertising Materials, software code associated with the Advertising Materials, or the website to which the Ad is linked do not comply with its Policies, or that in Lodestone Events's sole reasonable judgment, do not comply with any applicable law, regulation, or other judicial or administrative order. In addition, Lodestone Events reserves the right within its discretion to reject or remove from its digital advertising assets any Ads or content for which the Advertising Materials or the website to which the Ad is linked are, or may tend to bring, disparagement, ridicule, or scorn upon Lodestone Events or any of its Affiliates (as defined below), provided that if Lodestone Events has reviewed and approved such Ads prior to their use on the Site, Lodestone Events will not immediately remove such Ads before making commercially reasonable efforts to acquire mutually acceptable alternative Advertising Materials from Client.
No Modification. Lodestone Events will not edit or modify the submitted Ads in any way, including, but not limited to, resizing the Ad, without Client's approval.
Trademark Usage. Lodestone Events, on the one hand, and Client and Advertiser, on the other, will not use the other's trade name, trademarks, logos, or Ads in any public announcement (including, but not limited to, in any press release) regarding the existence or content of these Terms or an IO without the other's prior written approval.
AD PLACEMENT AND POSITIONING:
Compliance with Advertising Booking. Lodestone Events will comply with the Advertising Booking, including all Ad placement requests and will create a reasonably balanced delivery schedule.
Technical Specifications. Lodestone Events will submit or otherwise make electronically accessible to Client final technical specifications within five (5) business days of the acceptance of an Advertising Booking. Lodestone Events will use commercially reasonable efforts to comply with the Editorial Adjacency Guidelines with respect to Ads that appear on Lodestone Events Properties, although Lodestone Events will at all times retain editorial control over the Lodestone Events Properties.
HAVE FUN! This event is a collaborative venture of the global overlanding community. We appreciate your involvement and will endeavor to make this event the best possible for everyone. Please communicate needs and concerns with us well in advance and we will do our best to make your experience the best it can be.
It's Your Turn to
Get Going &
Get Inspired
Download our free guide to the overland industry as your year-round resource and start living your adventure.
Photo by Brett Willhelm, Willhelmn Visual Works