2022 EAST

Motorcycle Activities
Whether you're training for an international moto adventure or staying local and just want to come out and play in the dirt, we have something for everyone.
OCTOBER 7 – 9, 2022
OAK RIDGE ESTATES  //  ARRINGTON, VIRGINIA
FRI 9-5 | SAT 8-5 | SUN 8-3
ADV Rider Training - Vendors - MOTO PARTY - CLASSES
Overland Expo East will be a weekend packed with activities designed for the adventure rider.  Experience the exciting and challenging activities at our Motorcycle Expedition Skills Area and spend time with old and new friends in the Motorcycle Village. 
See the latest apparel, luggage, accessories, and technologies in Motorcycle Village.
Learn from the best with 150+ hours of demos and seminars.
Motorcycles must park in general attendee parking lot.
Pricing starts at $15/individual
MOTO WEEKEND PASS WITH CAMPING
Participate in all Day Pass activities, plus:
On-site, rustic camping amongst hundreds of other adv riders!
Saturday afternoon Slow Race.
Saturday Moto Party Dinner + Raffle (additional fee).
Nightly happy hour events (drinks available for purchase)
Discounted motorcycle weekend camping pricing starts at $165/individual
VIP STATUS, PREMIUM EDUCATION, HANDS-ON RIDER TRAINING, HAPPY HOURS + MORE
Participate in all Weekend Pass with Camping activities, plus:
Premium track of education, classes and workshops.
Tailored instruction on our custom adv rider skills course—bring your own motorcycle.  Our team of experts created at Dragoo Adventure Rider Training (D.A.R.T.) a curriculum based on real-world obstacles and challenging scenarios.
Sunday Overland Expo Motorcycle Skills Challenge. 
Goody bag + Sourcebook Magazine

Discounted moto Overland Experience pricing starts at $355/single
Stop by the following booths to sign up for a test ride — and bring your riding gear!
HARLEY-DAVIDSON, demo Harley-Davidson's all-new adventure bike – the Pan America. More >>
URAL, working to develop and refine the best adventure ready sidecar motorcycles available
TRAINING AT
THE MOTORCYCLE EXPEDITION SKILLS AREA (MESA)
With the help of our motorcycle training team, we've created a custom course at the Motorcycle Expedition Skills Area and geared it toward overlanders who want to travel global or local. Led by Bill Dragoo of Dragoo Adventure Rider Training (DART), experience top-notch instruction and learn the ADV riding skills that will take you confidently off-the-beaten-path. Whether you are new to off-pavement motorcycling or wanting to advance your skillset, we have classes for every level and all bike sizes are welcome.
THE MOTORCYCLE TRAINING TEAM
This team will build your riding skills so you can confidently tackle a variety of terrain and environments. Balance. Control. Judgment. Attitude. These are the cornerstones of adventure riding as taught by the Dragoo Adventure Rider Training (DART) team in the United States and South America, and at Overland Expo since 2017. Bill Dragoo is a certified BMW off-road instructor, certified Motorcycle Safety Foundation rider coach, a member of the U.S. 2010 BMW GS Trophy team, and a moto-journalist. He leads a team of coaches who will engage and encourage you in learning the finer points of managing a dual-sport motorcycle, from basic to advanced levels.
ADDITIONAL
MOTO ACTIVITIES
Ride With Us Moto Intro Experience
PRESENTED BY THE MOTORCYCLE INDUSTRY COUNCIL

Expanding their first ride experience program to the dirt, the Motorcycle Industry Council is delivering their free, 45-minute Ride With Us Moto Intro to the Overland Expo shows. The Ride With Us Moto Intros give prospective riders the opportunity to experience the thrill of their first ride and during the Overland Expos riders will be on dirt bikes in a closed dirt course.  Read More >>
Ride with us experience is free with a paid Overland Expo ticket.
MOTO DINNER, PARTY + RAFFLE
PRESENTED RIDER JUSTICE
Hosted by our very own Moto Maven, Eva Rupert.
Exclusive party Saturday with dinner and drinks.
Your Moto Party ticket is your entry to win motorcycle-specific giveaways! With purchase, your name will be added to the drawing for some stellar motorcycle-specific prizes (must be present to win).
Moto party ticket sold separately as an add-on during ticket purchase; if you already have a ticket, you can still buy the add-on.
BRING YOUR BIKE TO THE SLOW RACE AT 4PM ON SATURDAY
Speed counts, in this case, going as slow as you can without stopping or dabbing your feet, and while staying in your lane. Anyone can participate; bring your bike to the Motorcycle Expedition Skills Area and test your skills. Winner gets Overland Expo Cash – redeemable with any vendor at Overland Expo.
TEST YOUR RIDING SKILLS!​
JOIN US AT 10AM ON SUNDAY, FOR THE CELEBRATION OF SKILLS
Overland Experience attendees can test what they've trained all weekend for with real-world based obstacles during our celebration of skills on Sunday. From sand to ruts to logs and hills, maneuver your motorcycle through turns and terrain challenges to test your focus and finesse.
HAPPENING AT EAST
ADV MOTO NEWS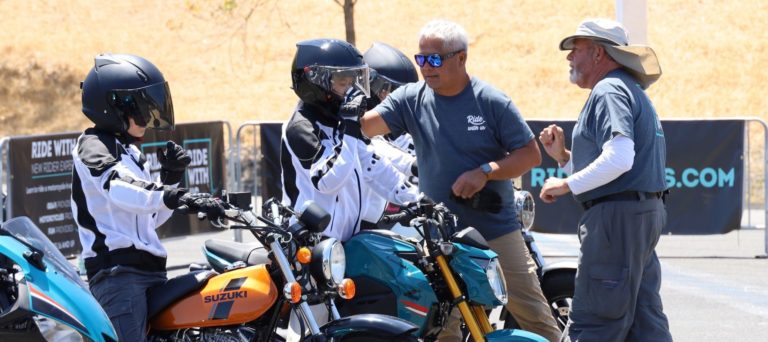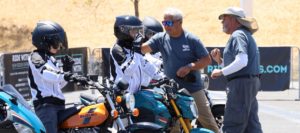 The Motorcycle Industry Council (MIC) is expanding its free first-ride experience to the dirt! At Overland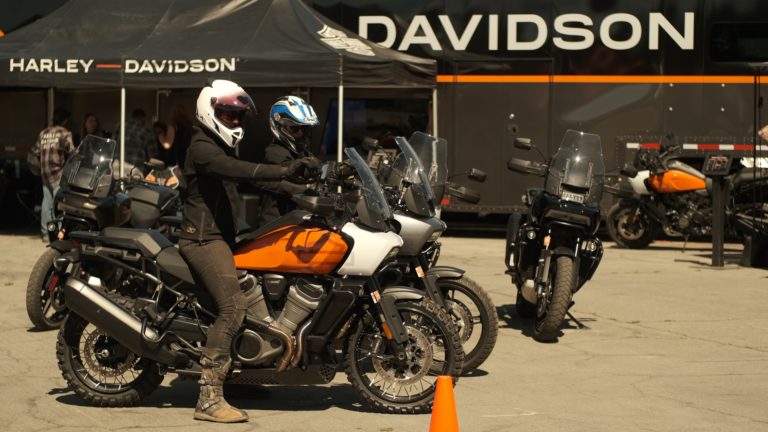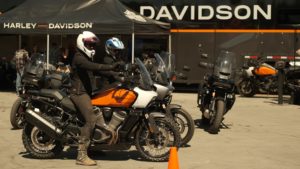 Adventure motorcycles belong in the dirt and at Overland Expo you'll have the chance to demo
THE WORLD IS OUT THERE
GO SEE IT!
Join attendees from all over the world at this year's Overland Expo East in Arrington, VA.