JULY 7-9, 2023
DESCHUTES COUNTY EXPO CENTER // REDMOND, OR, USA
FRI 8-5 | SAT 8-5 | SUN 8-3
ABOUT THE OVERLAND EXPO
PACIFIC NORTHWEST
DESCHUTES COUNTY EXPO CENTER
REDMOND, OREGON, USA
With 340 acres and more than 300,000 square feet of flexible event space and state-of-the-art amenities, Deschutes County Expo Center in Redmond, Oregon is the premier event facility in the Pacific Northwest.
The venue is conveniently located 20 minutes north of Bend, Oregon, and less than a mile from Redmond Municipal Airport.  Bend is set in Central Oregon's high desert region just outside of Deschutes National Forest.  The area is well known for its majestic Cascade mountain views and never-ending outdoor recreation.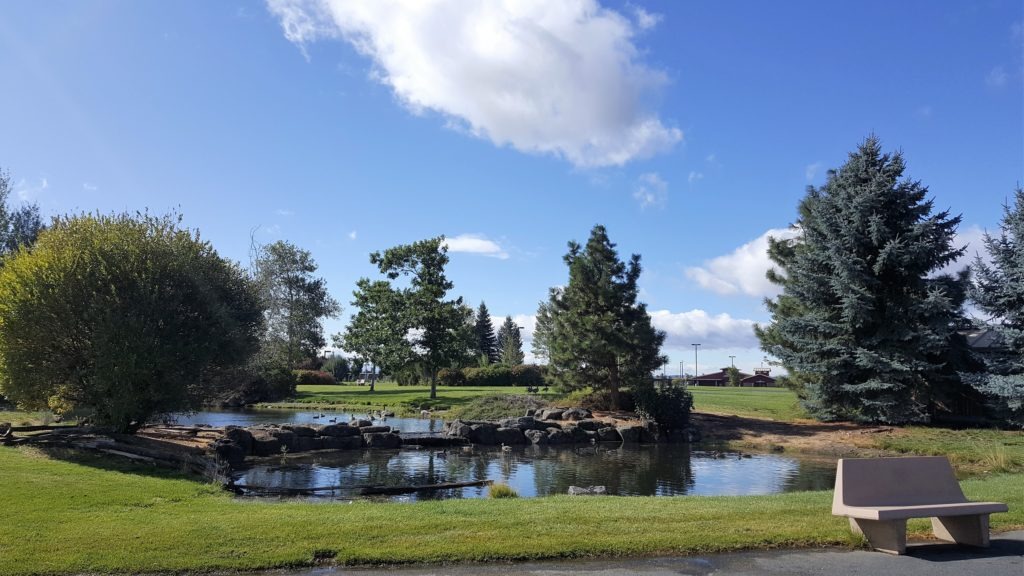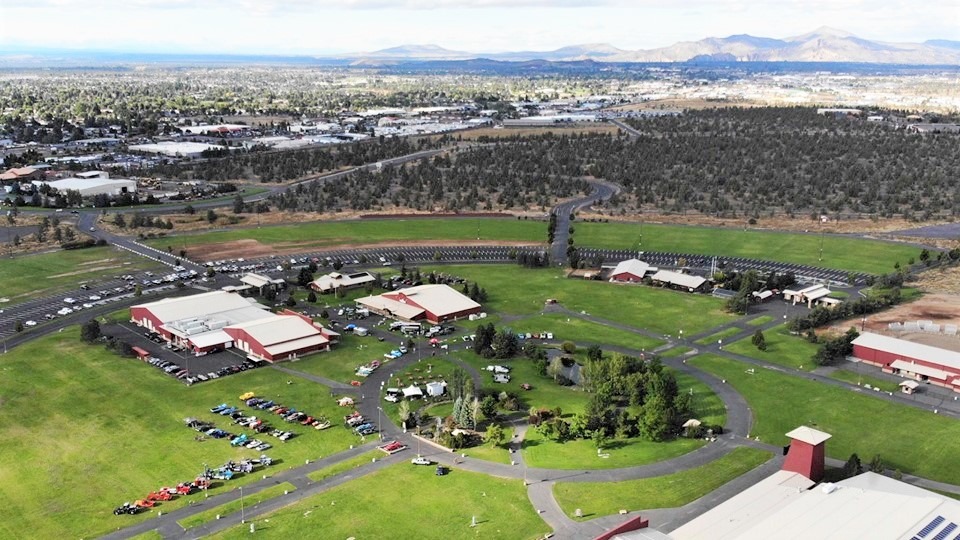 When: Overland Expo PNW • July 7-9, 2023
Public Hours: Friday 8 am – 5 pm  •  Saturday 8 am – 5 pm  •  Sunday 8 am – 3 pm
Location: Deschutes County Expo Center, 3800 SE Airport Way, Redmond, OR 97756
Ways to Attend: on an Overland Experience package, Premium Weekend Pass with Camping, General Admission Weekend Pass with Camping, or a Day Pass (Friday, Saturday or Sunday). See our Tickets page to buy tickets.  Camping passes sell out so get yours early!
On-site Day Pass parking is available at

the Deschutes County Expo Center for free with your ticket purchase.

 

No overnight parking or camping allowed with Day Passes (so please don't ask!).
Although we are an event that promotes the use of vehicles and motorcycles for overlanding, we ask you keep driving to a minimum while on the venue grounds. No vehicles / motorcycles are permitted in the vendor/exhibitor area.
Mountain bikes are a great alternative for getting around and may be used for transportation to and from camping and the main event entry, but NOT within the exhibitor/vendor area due to the high volume of attendees in these areas. Please note: NO ATVs, quads, or side-by-sides except for those with appropriate handicap placards and solely used for assisting low-mobility attendees with accessing campsites and other event areas.
Attendees with limited mobility will be able to park in our handicapped-designated areas. There are accessible port-a-johns in the camping and exhibitor areas. The venue is level, with a large amount of pavement (though rough); some is graveled; the camps are dirt and grass, and will be difficult for wheelchairs and low mobility. Please have your ADA placard visible for parking/camping attendant to easily assist you with location placement. We will have staff members available with carts for assisting low-mobility attendees to and from their vehicles/campsites.Unfortunately, there will not be individual carts or wheelchairs available for rent. Please bring any personal devices as needed.Please contact us for more information, and we'll do our best to make your visit as easy as possible. 
NO. Drones, paramotors and other flying apparatuses are not allowed, for safety reasons; additionally, we are within 1 mile of an airport and within the flight zone.
There will be a good selection of food, beverage and coffee trucks onsite in the Oasis Bar & Food Court.
Bar hours vary—see newspaper (receive at check-in) for hours.
Drinking= NO Driving. Zero-tolerance is in effect—you will not be allowed to participate in any driving / riding / recovery courses.
Supplies such as groceries, ice, gas, banks, etc are located in Redmond less than 5 minutes from the venue.
Overland Expo is an outdoor event—be prepared for any and all weather!
Daytime: average temp is 80°F; dry 
Nightime: average temp is 48°F
Elevation: 3,077 feet
Approx. sunrise/set: 5:30 am / 8:56 pm
RECOMMENDATIONS:
Bring sun protection such as a hat, sunscreen, long-sleeved light shirts.
Layering is highly recommended; temps drop quickly after sunset.
Drink lots of water; you will dehydrate faster and alcoholic beverages hit you quicker at higher elevations!
We will have potable water for individuals to use to fill up personal water bottles, but not enough for camp water tank refills.
Elevation can also affect those with cardiac issues, please use caution.
Primitive camping on-site (no hook-ups), interspersed throughout the grounds in an open field, is included free with any Overland Experience package for smaller overland vehicles and motorcycles only

(no large trailers

over 13 feet,

see

vehicle restrictions

) (Individual reservations are not needed as all camp spots are in open areas,

first come-first serve.

—see below.).

 

Premium and General admission who purchase Weekend Pass with Camping will also have access to the basic on-site camping (no hook-ups). 
Day Pass attendees (those visiting for only one day) ARE NOT eligible for camping. 

An Overland Experience or Camping registration MUST be purchased if desiring to camp on-site.

 

Due to space limitations and the high demand for on-site camping, all camping spots in all camping areas are festival-style.
Rustic camping is available to all on-site campers. Access is open to overland vehicles only; no hookups; no water hookups; no vehicles over 35 feet, no large trailers; see vehicle restrictions. There will be porta-john and cabana-style showers within the campground.  
Camping is festival-style. On-site camping is in demand. In order to accommodate as many on-site campers as possible, campers will be near fellow campers. 
For Overland Experience registrants that are camping on-site, Premium Weekend Pass with Camping, and Weekend Pass with Camping ticket holders, please plan to arrive during staffed hours of operations and allow extra time for parking and/or camp set-up. 
Thurs: 8am – 6pm

 

Fri: 8am – 6pm

 

Sat: 8am – 5pm

 

Sun: 8am – 10am

 
Pets are welcome, but please clean up after them; and keep them on a leash; make sure to read the Pet Rules.

 

There will be

roaming

24-hour security.

 

NO open (wood or charcoal) fires allowed in the  camping areas. Cookstoves (propane, white gas, etc) and gas-powered campfire units

with an on and off switch only are okay.

 

 

There is NO electricity. Please bring your own quiet generator or solar power solution.  Please turn off your generators at quiet hours, 10pm. 

 

Camping opens Thursday. You may stay over Sunday night, all campers must vacate venue property by 11am Monday morning.

 

Friends Who Want To Camp Together, Must Arrive Together: There will be no reserving space for friends within the campgrounds

(first come, first serve).

If you plan to camp with your friend, we will have a dedicated area on-site where you can wait to enter the campgrounds until their arrival.

 

FIRES: No campfires (wood or charcoal) in the camp areas due to fire danger. Propane is allowed (as long as it has an on and off switch), including portable campfire appliances. NOTE: All and any fires, including propane, could be banned in the event of extreme fire danger. 

GENERATORS: Quiet generators are allowed but must be turned off by 10 pm. 

FIREARMS: Venue rules state no firearms 
There are no hookups for electricity or water in the rustic camping areas.

 

We provide porta-toilets throughout the venue.

 

Portable shower trailer service and availability will be VERY limited.  

 

There are NO water spigots

within t

he camp areas for filling up trailers and water tanks. Please bring your own filled water containers / food / cooking gear, etc. Treat this like a true overlanding trip: be self-sufficient or plan to travel to Redmond (minutes away) for food, water, etc.

 
For Overland Experience registrants that are camping on-site and Weekend Pass with Camping ticket holders, plan to arrive during staffed hours of operations and allow extra time for parking and/or camp set-up.
Thurs: 8am – 6pm
Fri: 8am – 6pm
Sat: 8am – 5pm
Sun: 8am – 12pm
Once check in times end for the day, we will begin staging late arrival campers in a designated area to be ready for check in the following day at 8am.  Late arrivals will not be placed in the designated campgrounds area until after they have received their camping credentials the next morning.  We highly recommend arriving within the check in hours so that we can best accommodate you. 
NEARBY ACCOMMODATIONS & CAMPING
There are no on-site hotels available, but there are many options nearby, at all price levels. Check out our Accommodations section of our Guide to Bend page for links and information.
*Disclaimer: if you are contacted by Expo Housing Services (http:// www.expohousingservices.com), we are in no way associated and it is a scam.
There are many U.S. Forest Service campgrounds around the area. Read more about dispersed, campground and other camping options in the Deschutes National Forest.
TRIP AND VEHICLE PLANNING
Redmond Municipal Airport (RDM) is a 1-minute drive to the event facility.  RDM has direct flights to DEN, LAX, SFO, SEA, SLC, PDX, SAN, LAS, PHX, BUR and RNO.  All major car rental companies are represented at RDM.
For something a bit more interesting than a Kia sedan, Central Oregon Rentals rents off-road vehicles.
If you are looking to rent a motorcycle, MotoFantasy.net has a selection of bikes ready for your adventure.
If you have a personal vehicle for sale, and you are a registered camper,  you are allowed to display 1 (one) "for sale" sign at your vehicle in the camping area. 
Day Pass attendees may not display "For Sale" signs on their vehicles in the day pass parking lots.
If you are an overland vehicle builder / customizer selling for profit, contact us about displaying your vehicle in the event as a registered exhibitor to the show! 
No, Overland Expo does not provide or rent vehicles for classes. On any sponsored driving course, the test vehicles provided are for the session only, not for the whole weekend. You need to bring your own vehicle to participate in the exercises.
There are numerous groups organizing overlanding trips to the show, both for a fee or for free. The following forums are good resources:
Feel free to post about your caravan on our Facebook event page as well.
If you have other forum resources, please let us know.
Of course!  Visit our Guide To The Region page for a roster of overland routes available in the region. 
THE WORLD IS OUT THERE
GO SEE IT!
Join attendees from all over the world at this year's Overland Expo West in Flagstaff, AZ.